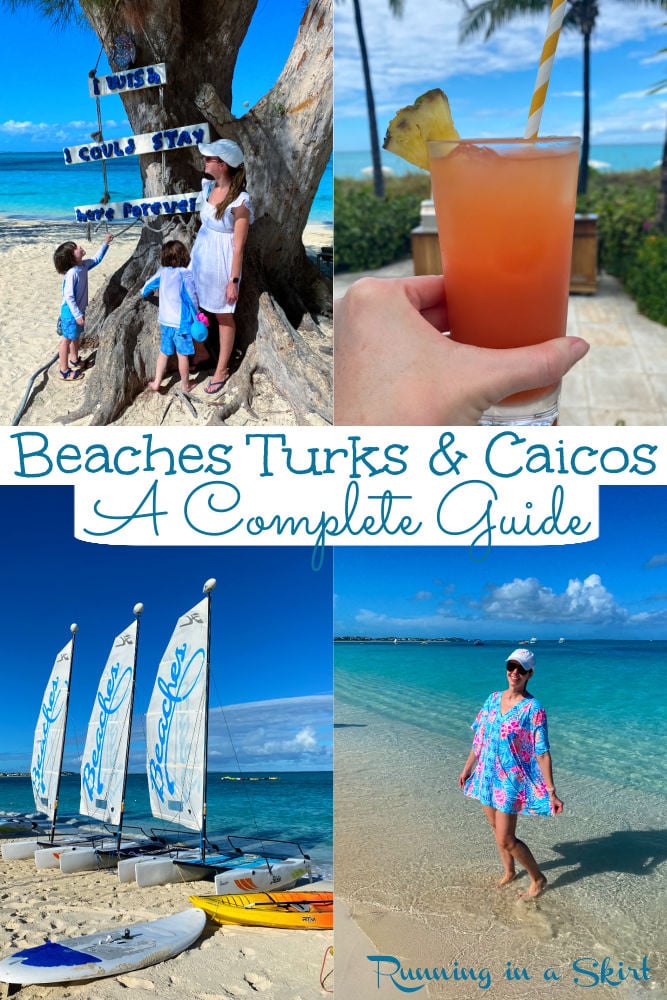 Looking for honest, unpaid Beaches Turks and Caicos reviews? Start here with my complete guide including real photos of this luxury all-inclusive resort on Providenciales and Grace Bay Beach. Does this kid and family-friendly spot owned by Sandals and Beaches resorts live up to the hype? Find out here!
Planning a trip to Beaches Resorts? Also, read my Beaches Turks and Caicos Restaurnt Guide plus my Top 20 Favorite Moments from my trip.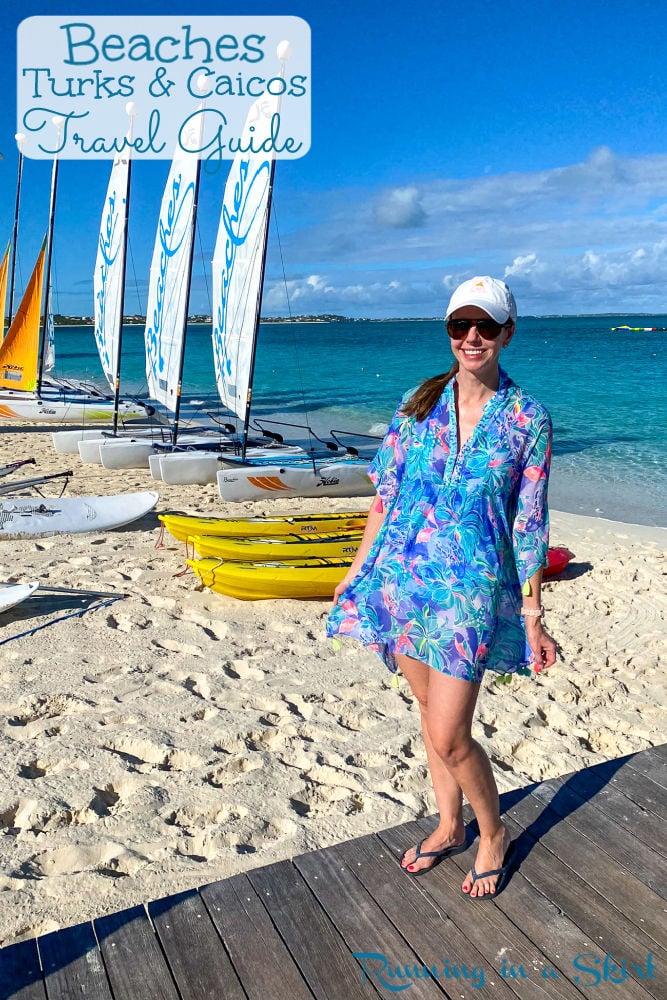 Beaches Turks and Caicos Reviews - Honest Review
Before we booked our vacation I found it hard to find honest Beaches Turks and Caicos reviews as many of them were done by paid bloggers. The vacation was on my bucket list, so we booked anyway, and I decided that when we came back I wanted to write that review. I visited the resort with an open mind and am giving my honest review of the entire experience now.
Here's a spoiler... we LOVED it.
Here's some background. I visited with my husband and four-year-old twin boys. And although we were avid travelers pre-kids, it was our first trip out of the country with the boys. I should probably also mention that we had stayed at Sandals resorts before - Antigua and Grenada - and overall really enjoyed the experience so we knew we liked this kind of vacation.
If you want to see many of my personal vacation photos from the trip start with this post...
Read first: Top 25 Moments from Turks and Caicos & Beaches Turks and Caicos Restaurant Guide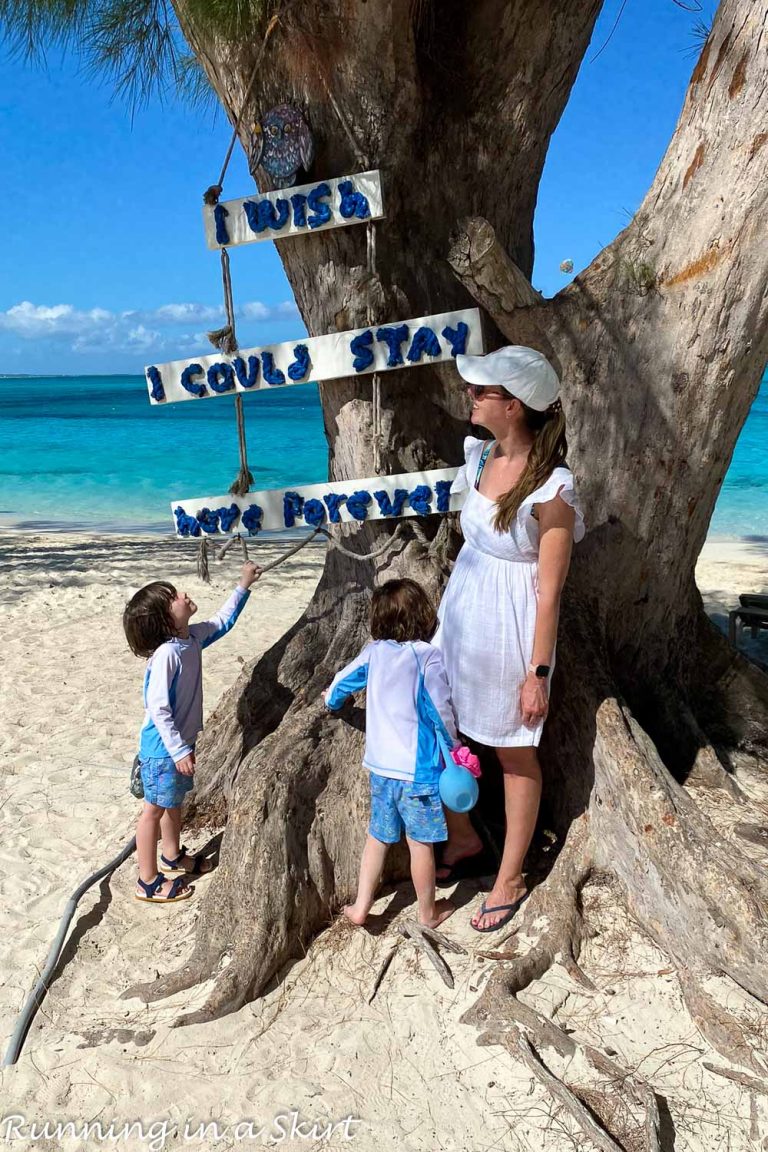 Beaches Turks and Caicos Reviews Overview
I'll start with my Beaches Turks and Caicos reviews overview. We really didn't know what to expect from Beaches Turks and Caicos and had a very reasonable expectation of what the trip would be like. With that being said, the resort exceeded our expectations in so many ways and we had such a lovely week in paradise. From the gorgeous beach to the fun pools, to the water park, we could not have had more fun as a family all week. Instead of feeling like your kids were a nuisance here, they went out of their way to make them feel welcome.
The food was delicious and all the themed restaurants were fun.
The resort was even more beautiful in person with beautiful landscaping and the turquoise ocean water in the background nearly everywhere you went. I literally felt like I was in paradise all week. We felt like guests at a high-end resort.
It didn't help that the weather was from 75-81 degrees - day and night- the entire time we were there with gorgeous blue skies. It was just the break from cold January weather that we desperately needed.
These are unpaid and unbiased Turks and Caicos reviews that I'm publishing to help others learn more about the resort. After I came back from the resort I did sign up to be a Beaches affiliate because I enjoyed the trip so much. If you sign up for your trip through my Beaches links I do make a small commission which helps my blog. I appreciate your support.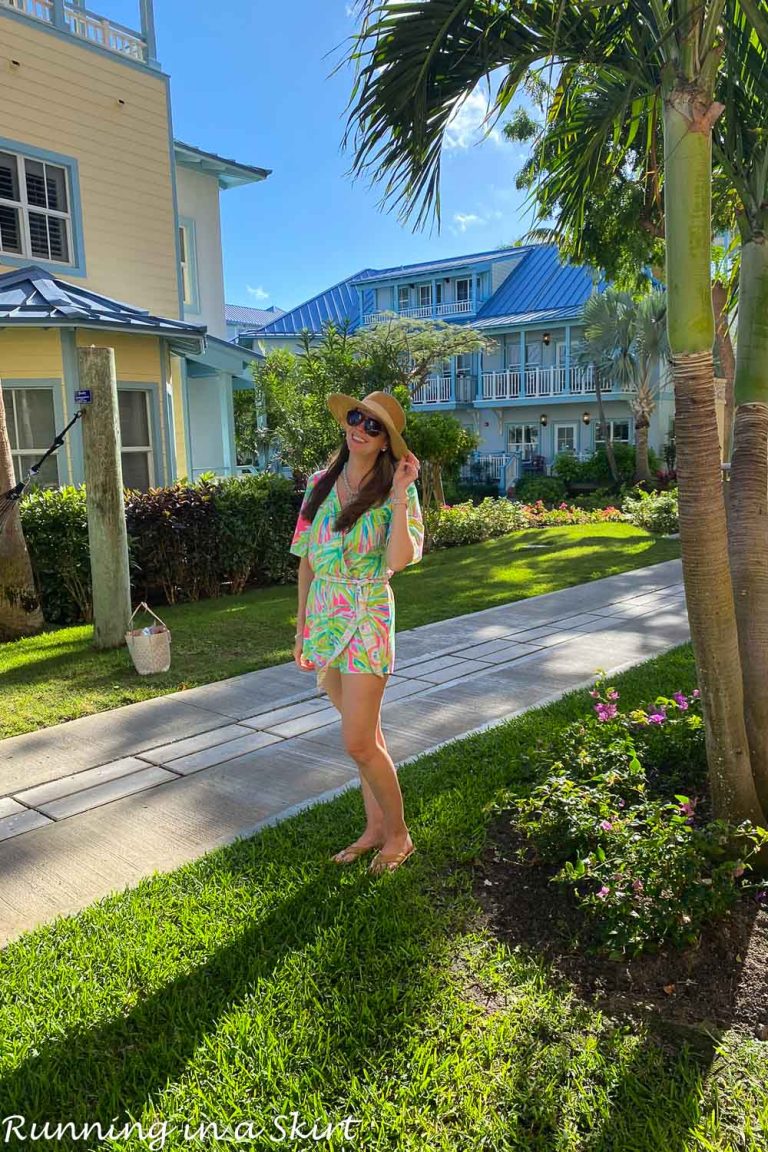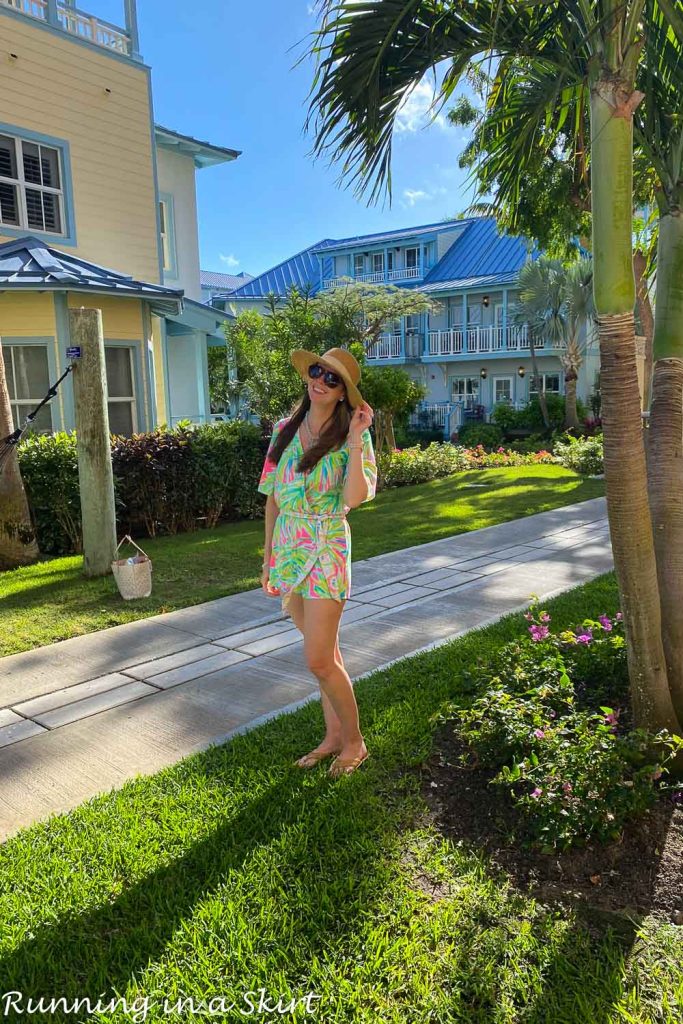 Pros
The resort is so beautiful. Beaches Turks and Caicos is beautifully maintained and landscaped. I walked around in awe of the gorgeous water, buildings, and especially the tropical vegetation all week. It was literally like spending a week in a tropical botanical garden.
The beach is drop-dead gorgeous. I consider myself a beach aficionado and Grace Bay Beach with its turquoise clear water and white sand is one of the best in the world. It's very similar to the ones you'll find in the Bahamas.
Everything is included. There were no added fees for anything from the Pirates Island Waterpark to airport transfers, tips (everyone wears buttons that say no-tipping,) to watersports, boat rides, all meals, fitness center, all drinks, shows, and more. We didn't do this but you can also scuba dive and snorkel at the included rates. We also didn't use the childcare, kids camp, or the teens lounge, but it is also included if you wanted that. The only thing we spent extra money on for the entire week was a stuffed animal and a t-shirt souvenir for the boys when we were leaving. The spa is the only thing that's not included.
It's easy to get to. We took a direct flight from Charlotte, which made it easier for us to fly through airports with small kids. It feels like an exotic trip but is still pretty easy to pull off with little kids. I felt safe too. There are also direct flights from New York, Miami, Newark, and Atlanta.
Kid-friendly rooms. We were able to book a room with a separate kid-friendly bunk room which made staying at a traditional resort much more appealing to us. We still want extra space with a closed door for our boys when we travel because they go to bed early and one of them still naps.
Everyone has kids. The place is super kid-friendly and crawling with kids of all ages, which made it a lot easier for us to take our four-year-olds out to a nice dinner. Everyone was doing it! Even though it was kid-friendly I never felt overwhelmed by kids either.
The food is good. We had reasonable expectations of the food since it's all-inclusive, but really enjoyed everything we ate. It's not the best food we've ever had, but it still was delicious and we were very surprised at how much we enjoyed it. With the kids, it was great to be able to order whatever they wanted without worrying about it. They had lots of kid-friendly options on the menus, but we found our boys enjoyed trying all of the adult food because we talked about going out to eat as such a big part of the vacation. As the main chef at home and usually, still on vacation, I was just glad that I didn't cook a single thing for an entire week. If you want to learn more about the restaurants, make sure to check out my restaurant guide which includes the best meals on the resort and an honest review of the dining there.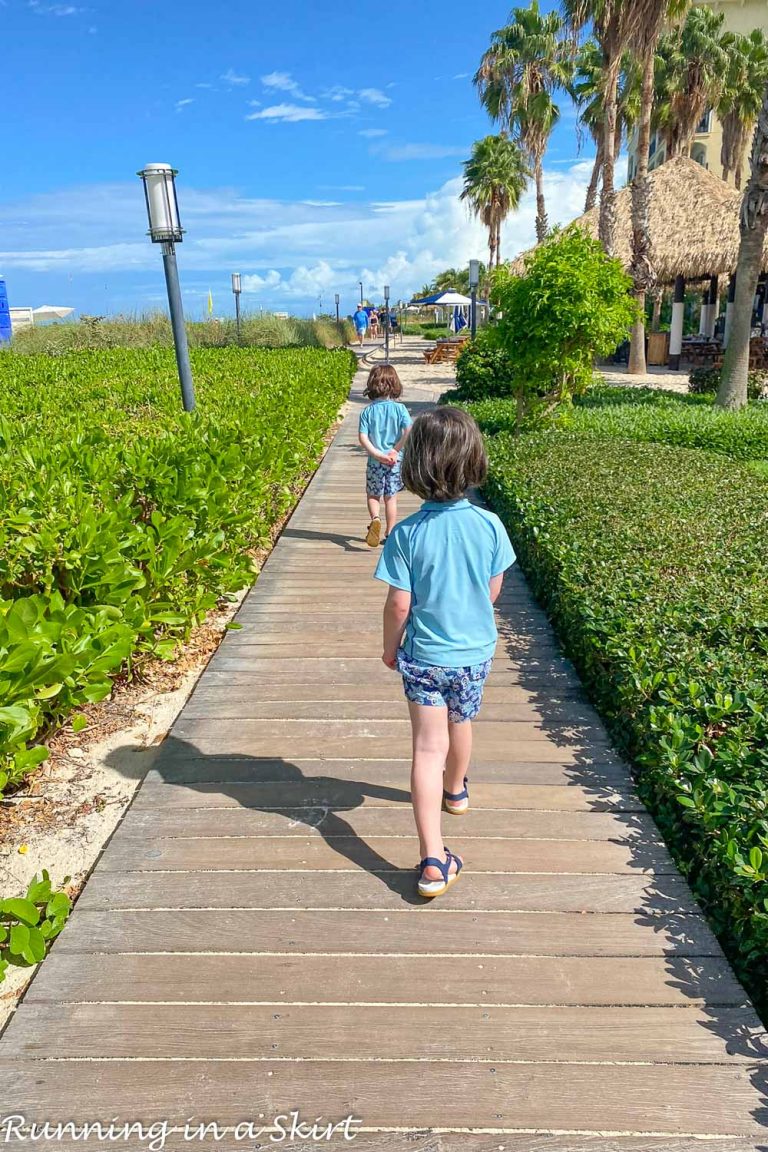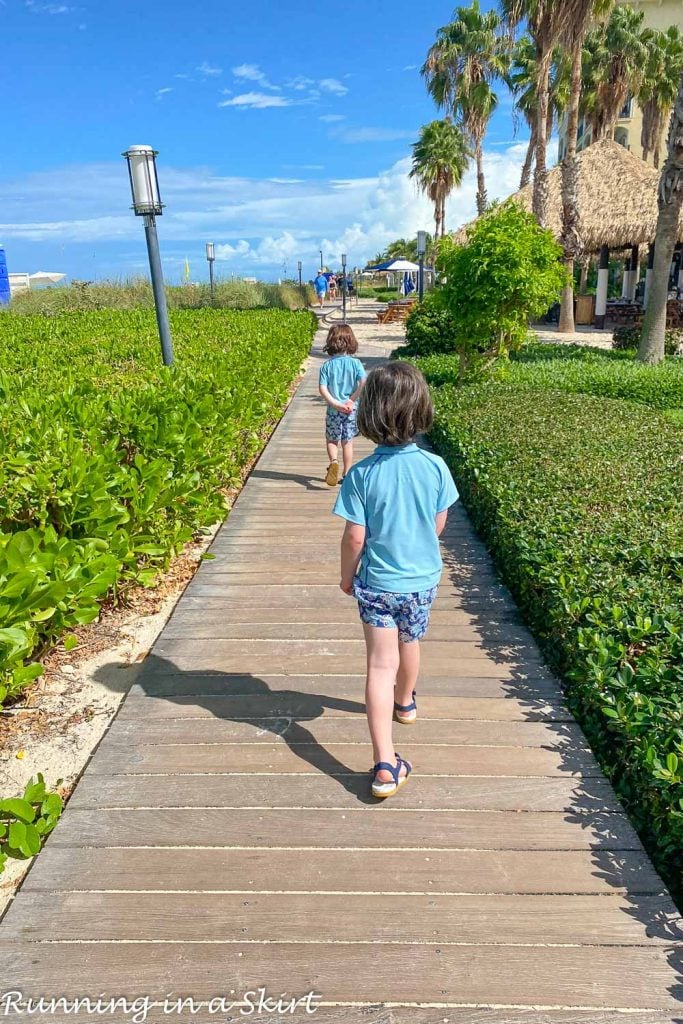 Cons
They play the chair game. Like many places in the Caribbean, it's a race in the morning to wake up and "claim" your chairs for the day or it's hard to find one at the main pool. If you have the extra money to get a Bulter for the week, they will do this for you, but it's quite expensive and we just could not justify paying for it. I'm an early riser anyway, so I just got up early and did it on my morning run before everyone else got up but I do find it a bit annoying when this is the protocol at resorts. I find some of the nicest resorts don't do this, but somehow this is still how it works at Beaches.
Walking. The resort is huge and required lots of walking to get around. We bought this travel double stroller for the week, and I'm glad we did because, by the end of the day, the boys were tired of walking. There were some days I walked over 5 miles. I really didn't mind and enjoy movement like this, but if you have any trouble getting around this could be a problem for you.
True foodies might not like it. If you are going just for food and restaurants, you might not love your experience. We are foodies but knew that all-inclusive food isn't quite the same as a luxury resort in the US and adjusted our expectations. We visited for so many other things, not just the food.
It costs more. The resort definitely costs more and is one of the more expensive all-inclusive resorts out there.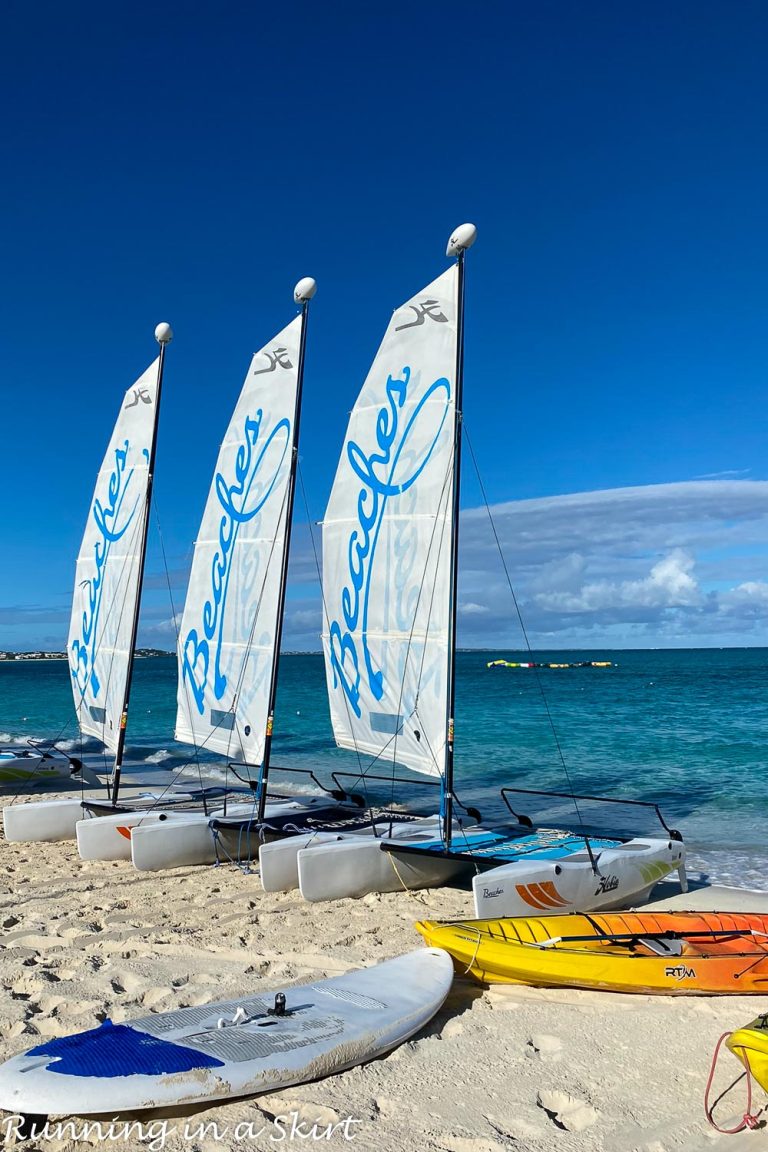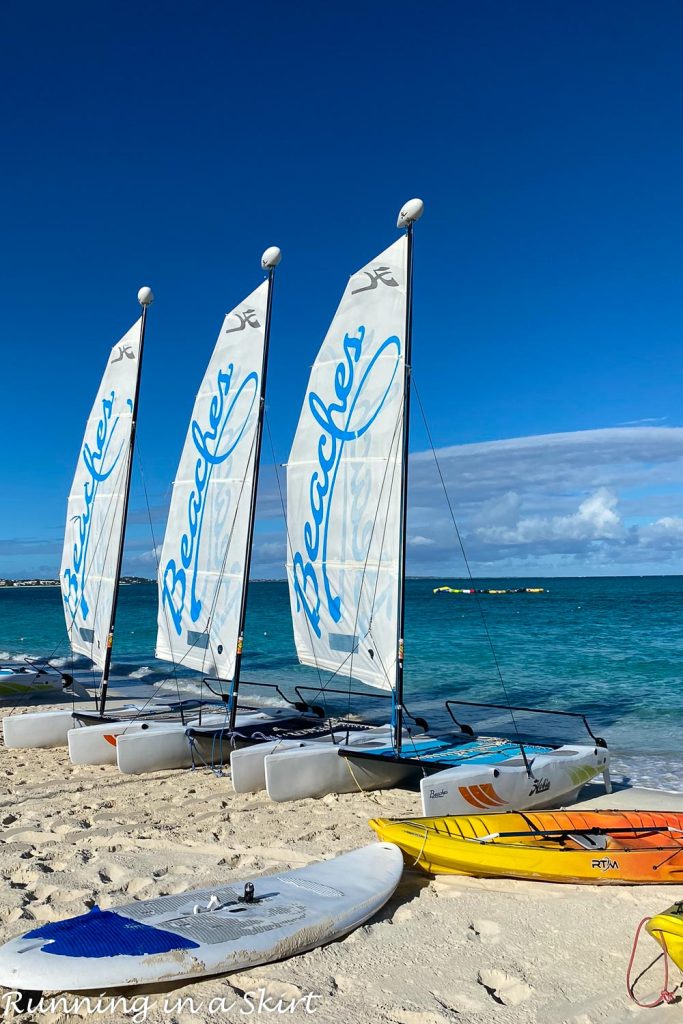 Beaches Turks and Caicos Highlights
In addition to my Beaches Turks and Caicos reviews, I wanted to share some of the highlights from our trip so you could get an idea of what to expect from your trip. The highlights list from our trip was long and so much fun.
Enjoy Grace Bay Beach
Grace Bay Beach has been rated one of the top beaches in the world, and for good reason. It has 12 miles of powder-white sand and clear turquoise water. The resort has chairs lined up to use and enjoy this world-famous beach. This beach is one of the reasons for my fabulous Beaches Turks and Caicos reviews. I just can't get enough of it!
The water is impossibly clear and still warm enough to enjoy in January. It's often pretty calm and you'll feel like you are in a swimming pool. I give the beach a 10!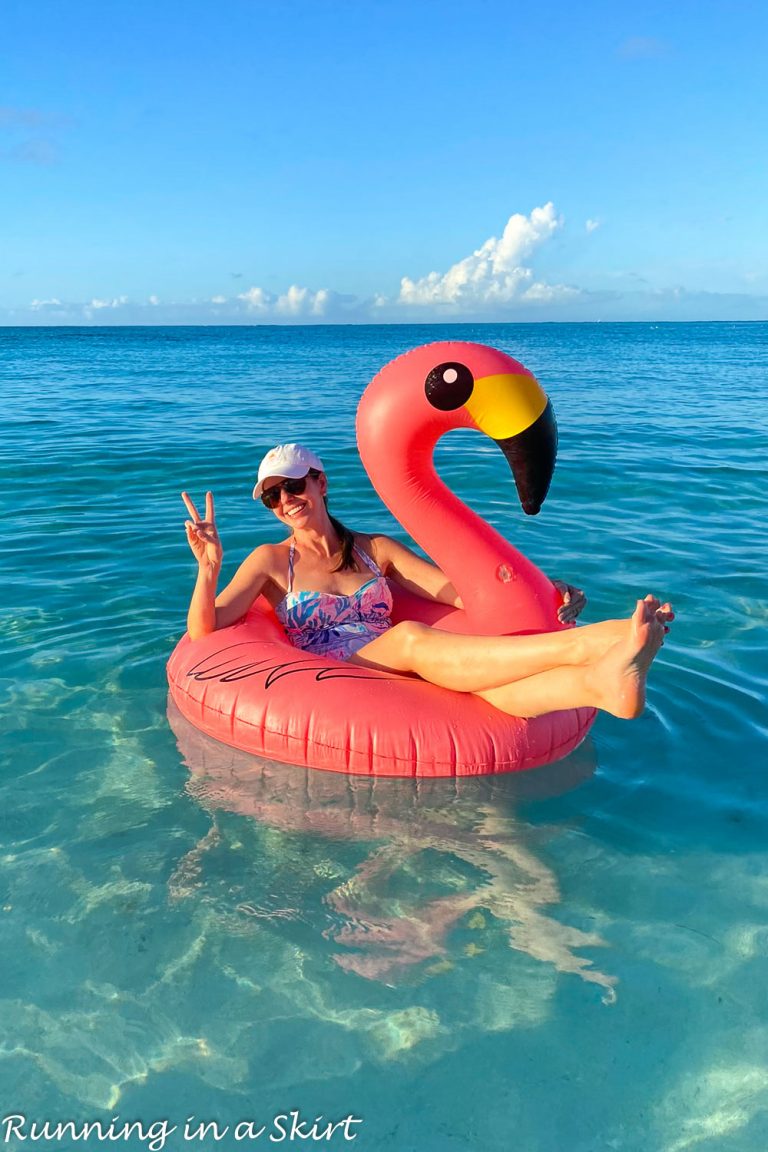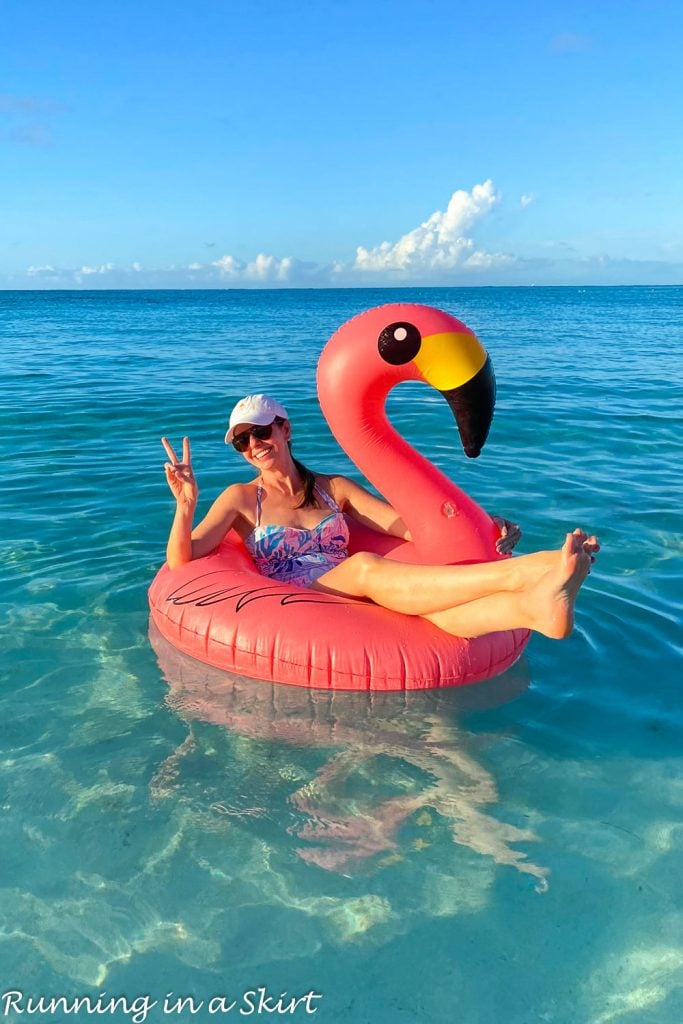 Adventure at Pirates Island Waterpark
I wasn't expecting much from the included Pirates Island Waterpark, but wow my kids LOVED it. This is another reason for my positive Beaches Turks and Caicos reviews. If you have kids, you really can't beat this experience. This isn't a small attraction either, it covers 45,000 square feet!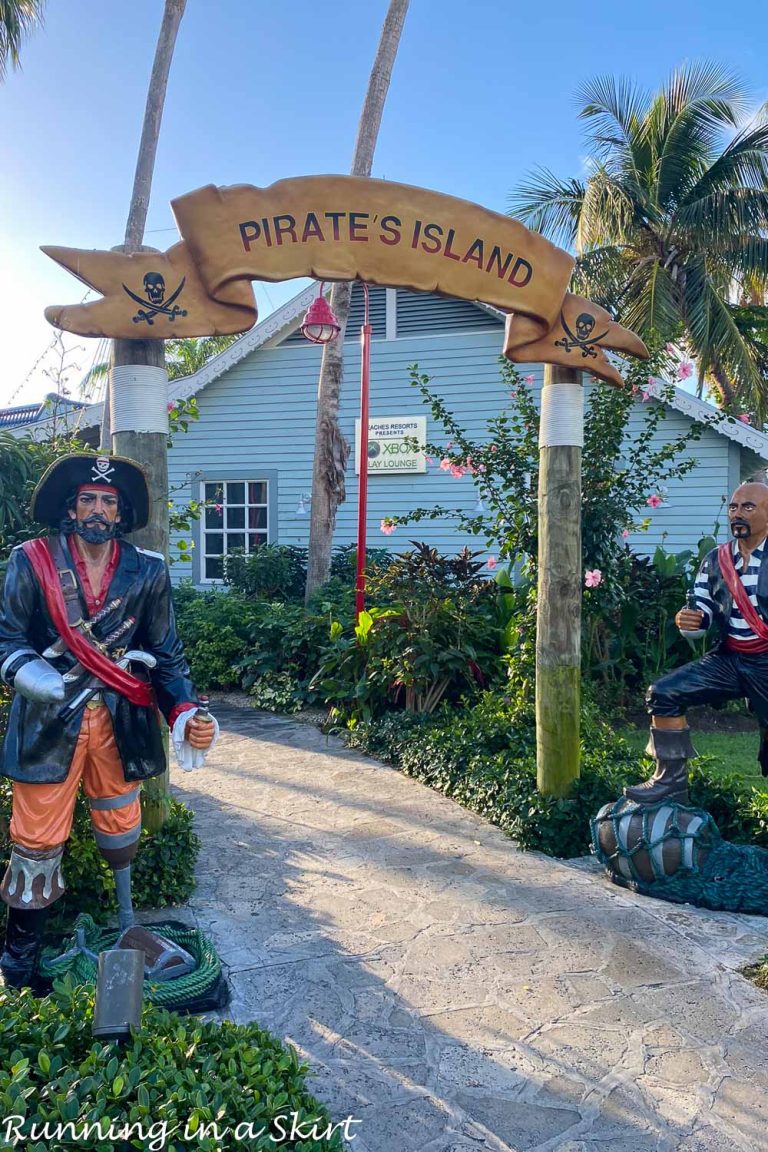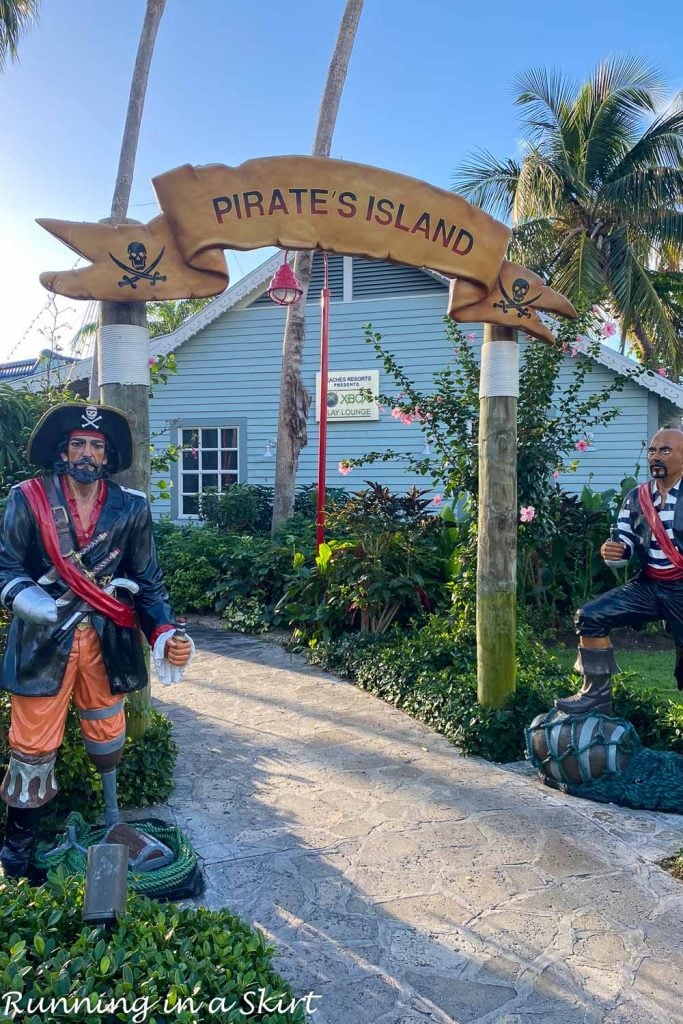 The waterpark was super toddler and small-kid-friendly with this entirely new kids' play area with water slides, splash pads, and water cannons. The bucket on top dumped water on the kids every five minutes or so and I've honestly never seen so many happy kids in my entire life. The kids kept running under it and laughing so hard. It made my day.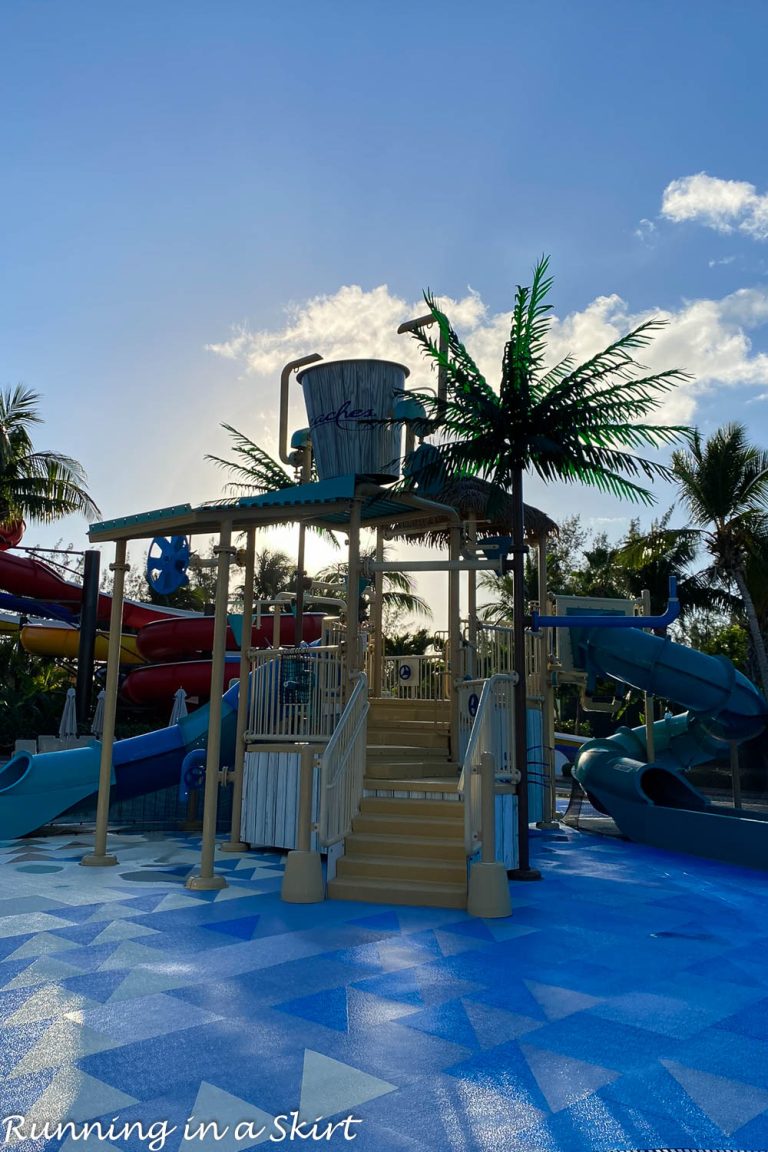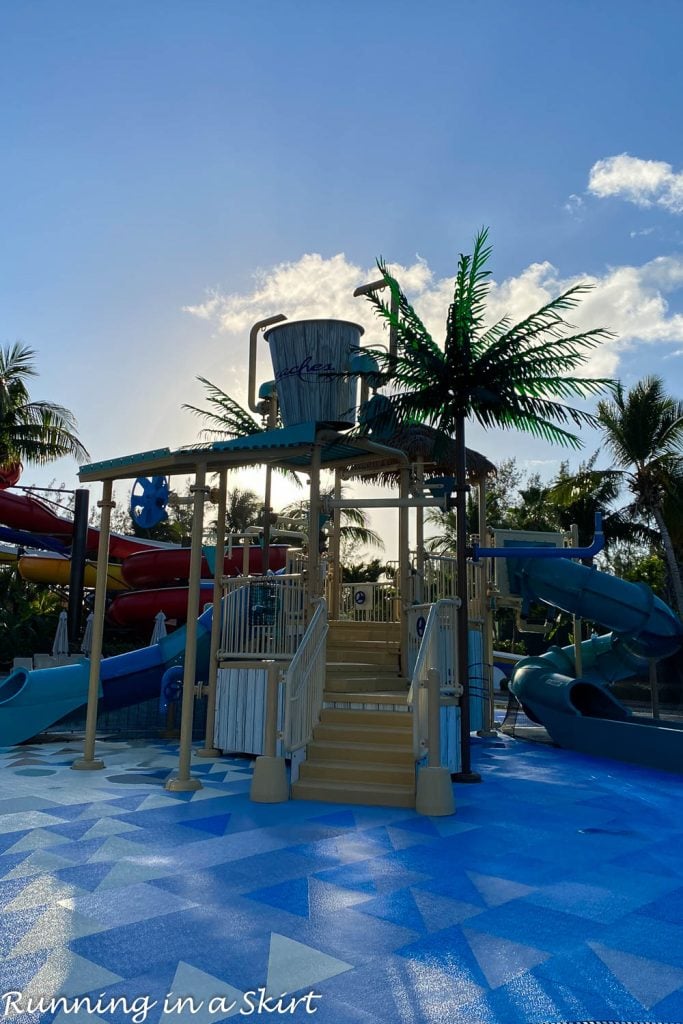 My boys were big enough for these slides and one of the larger kids' slides, which was a lot more than I thought they would be able to do. They really felt like big kids and loved it.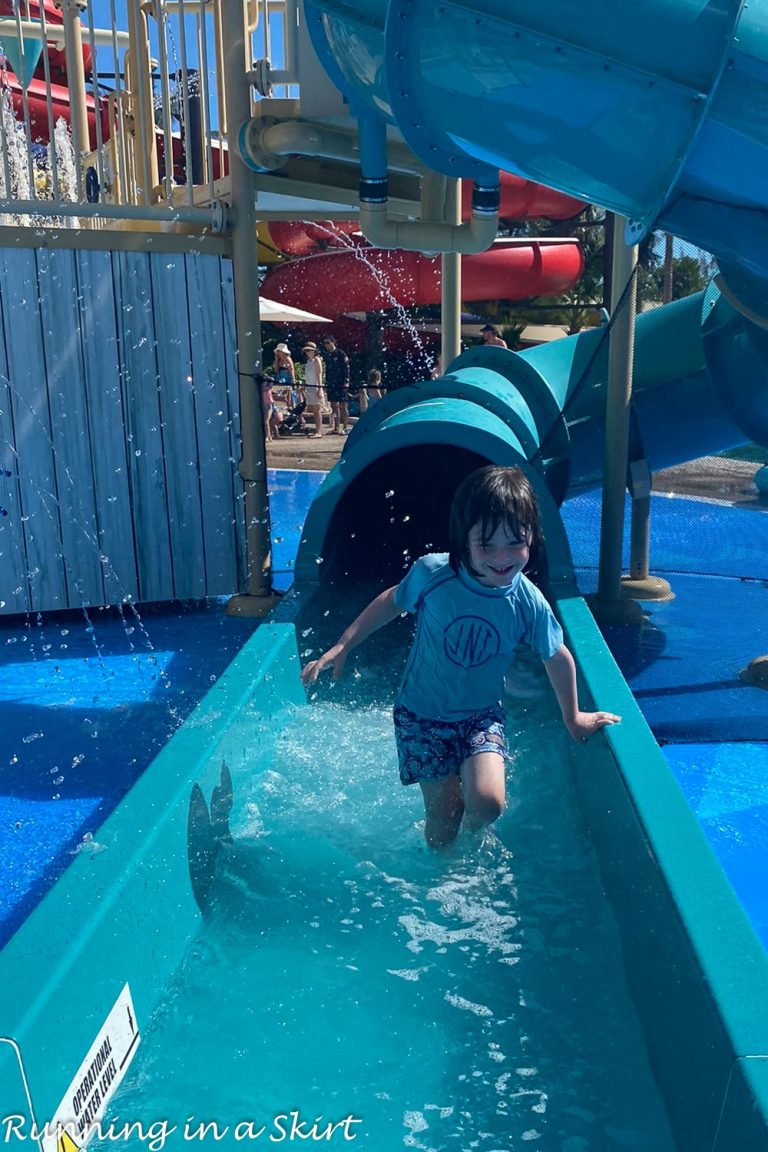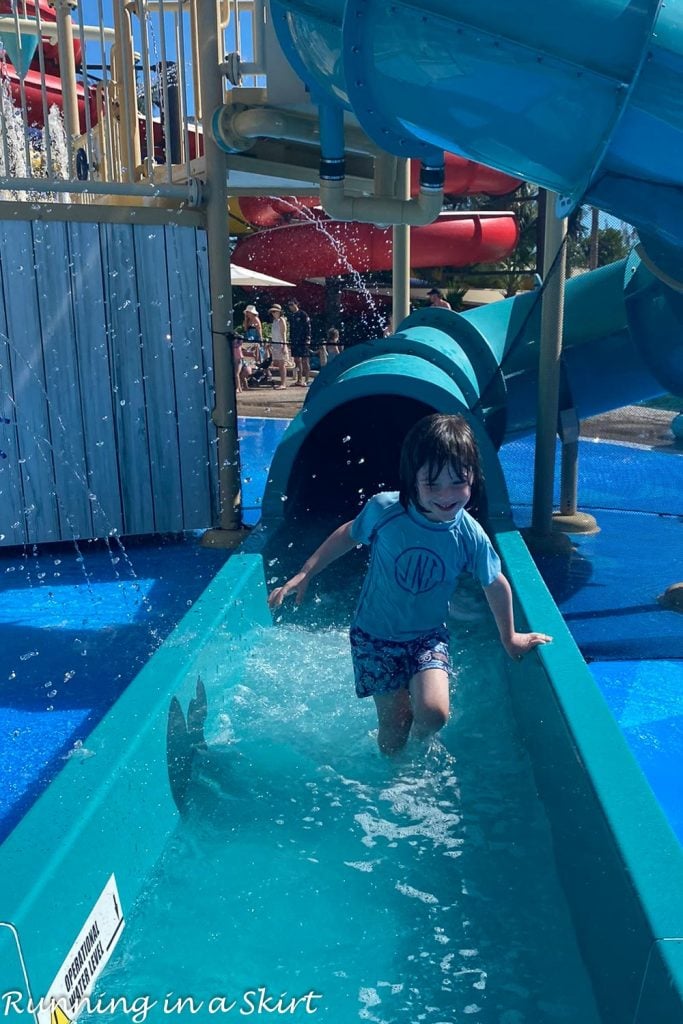 The water park also had a lazy river, which was so fun for the entire family.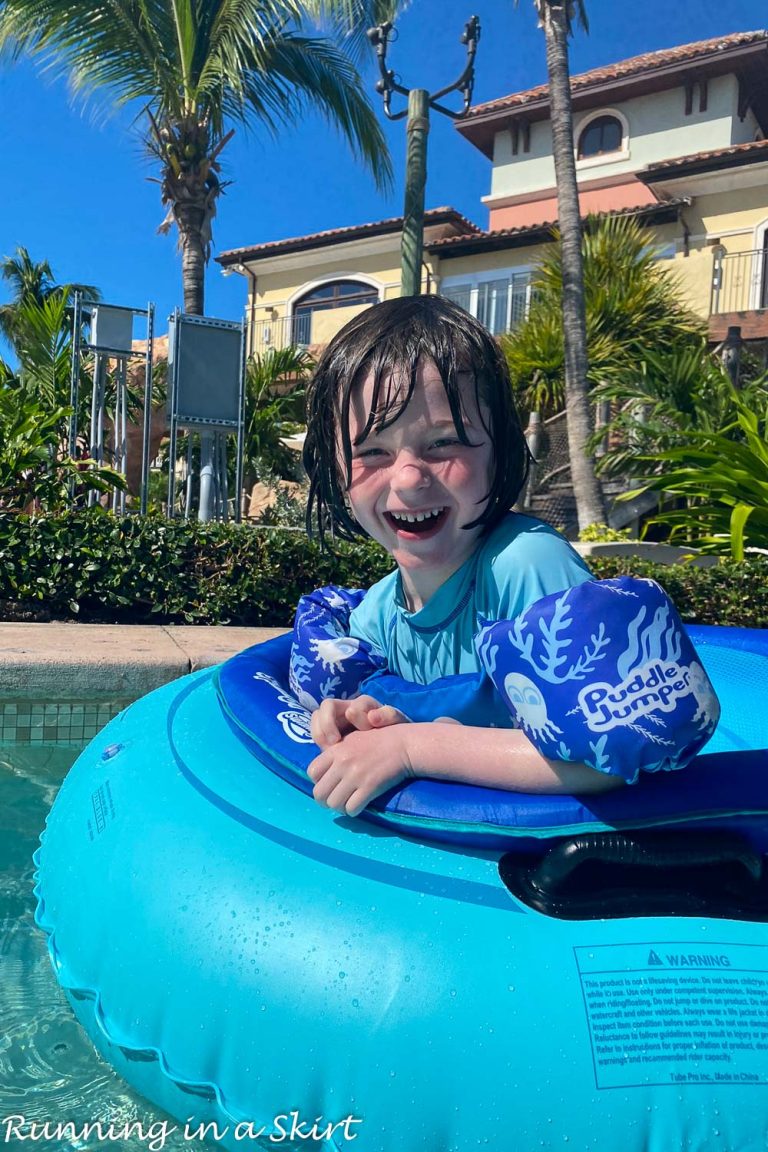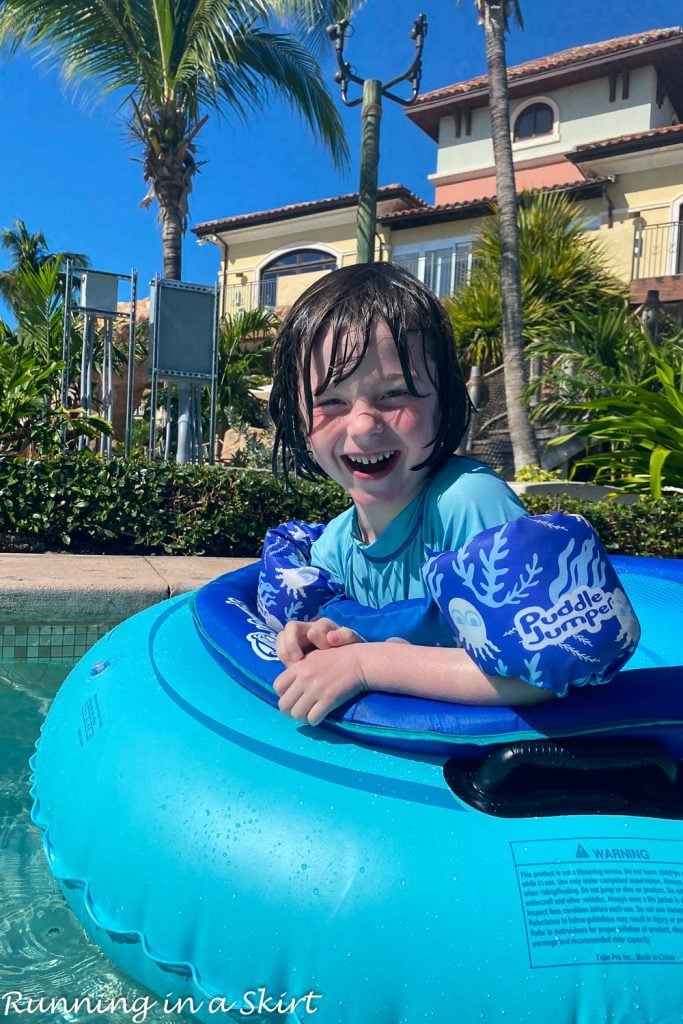 There were also some fun things that my kids were too young for including a surf simulator.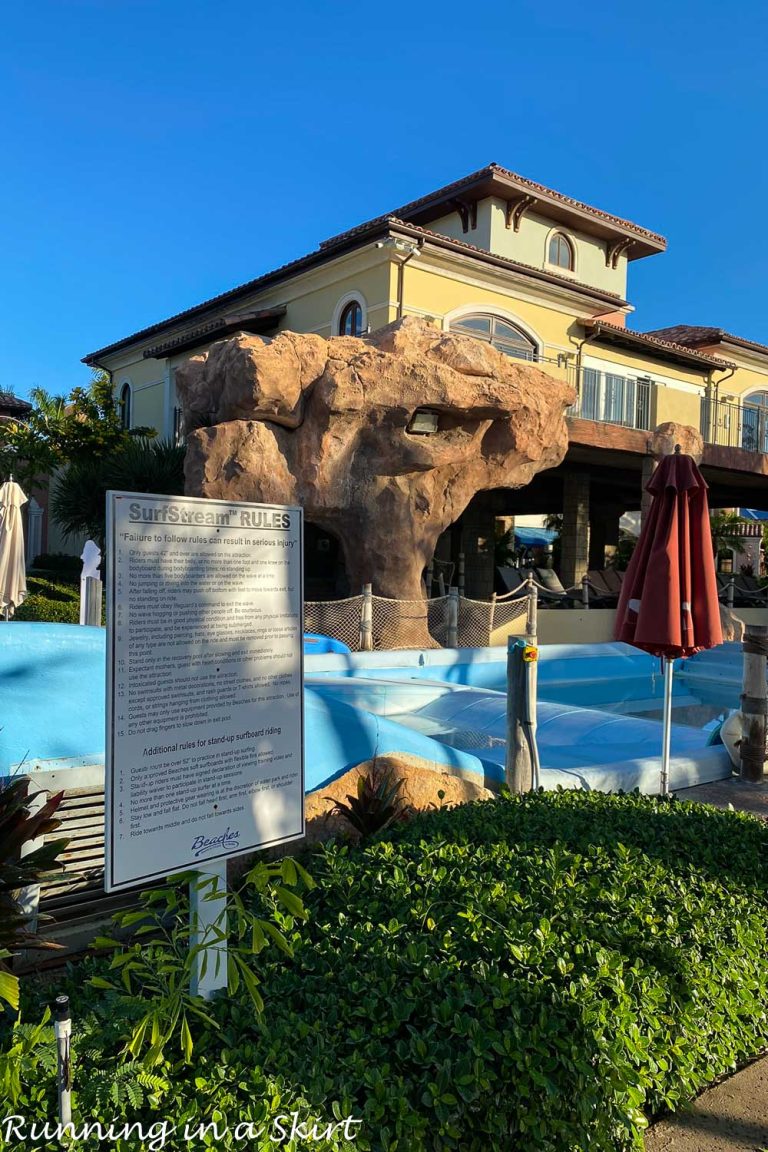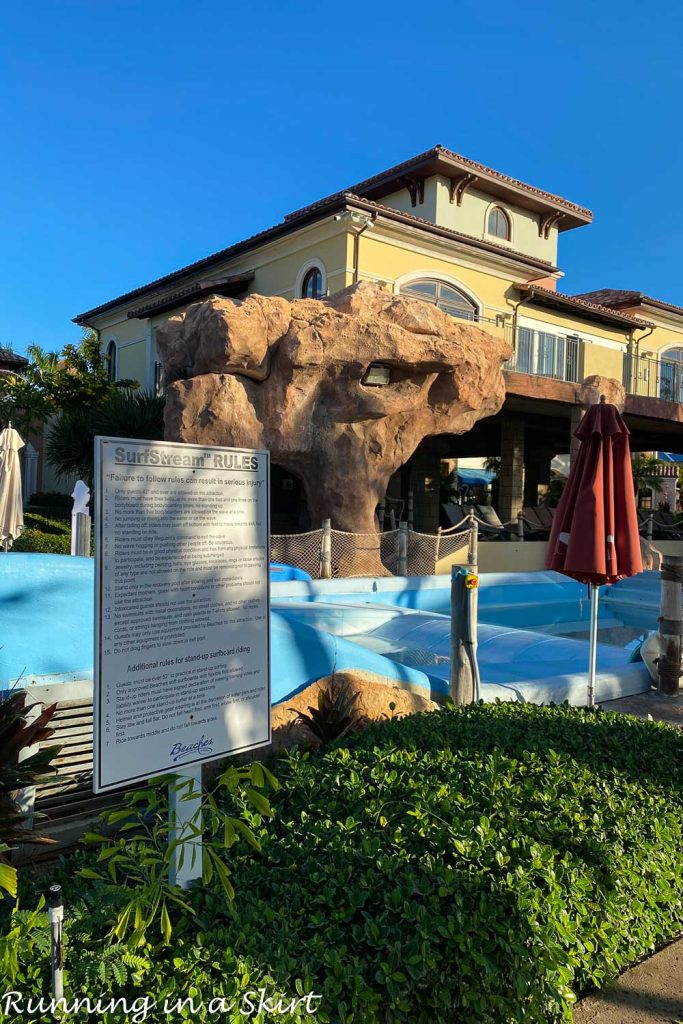 And those three larger waterslides in the back. My husband and I took turns doing them and they were a blast! It's great that the park has stuff for so many ages of kids. There is also an xbox play lounge for teens too.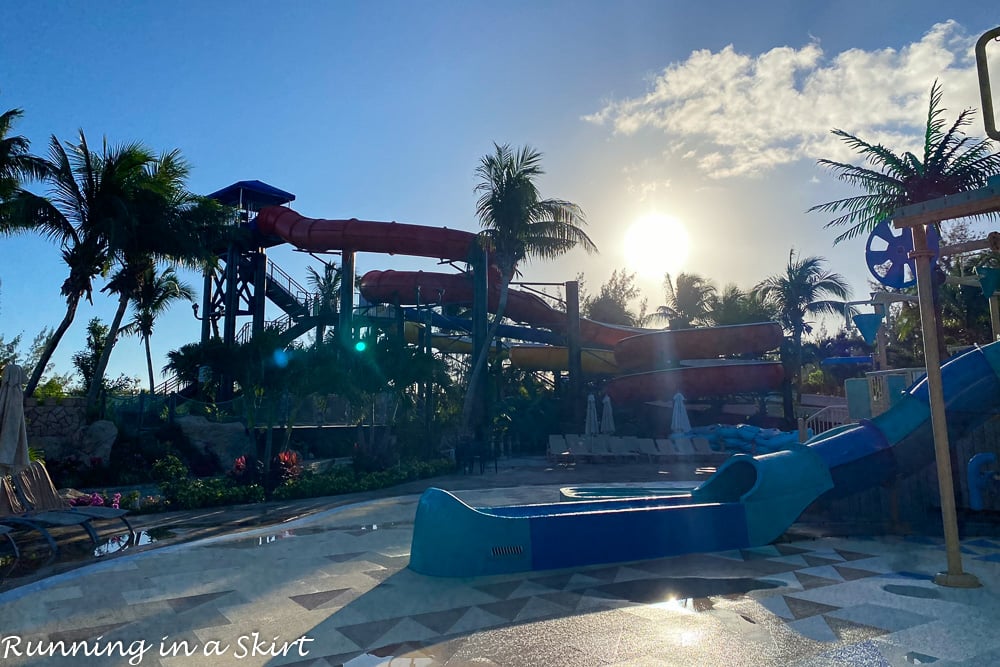 There is also a kid-friendly swim-up bar with fruit smoothies instead of alcohol. So much fun for everyone.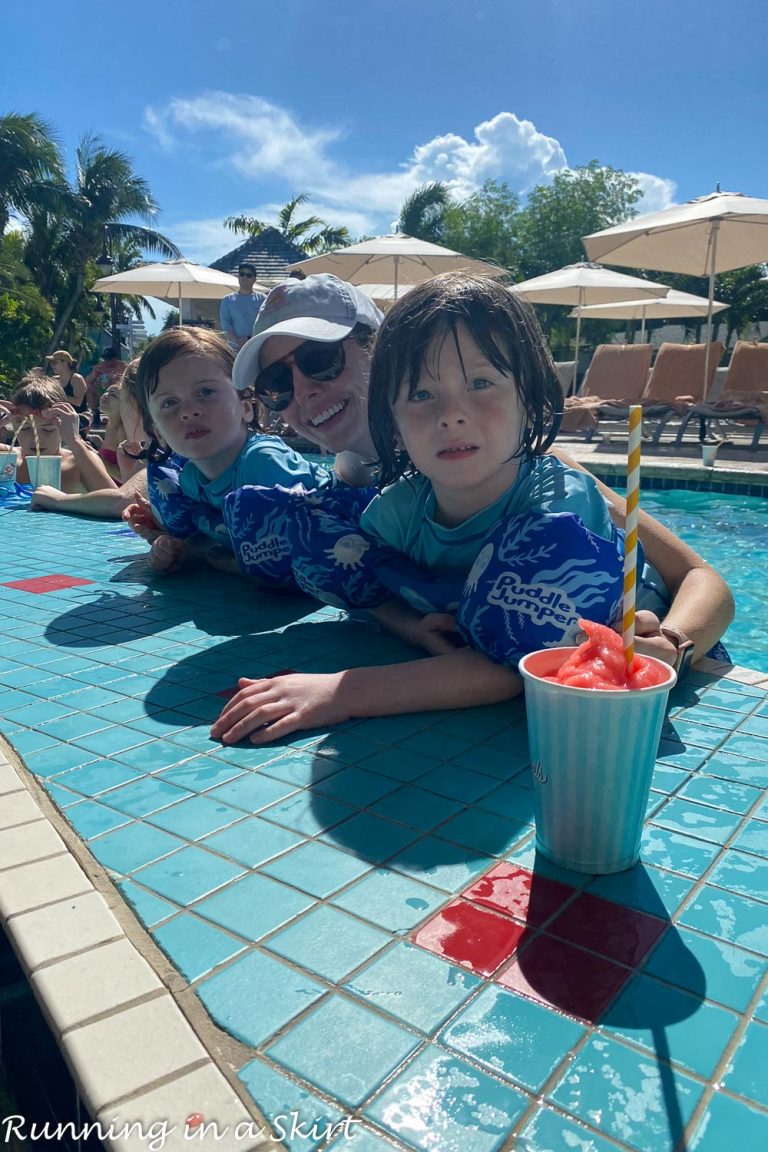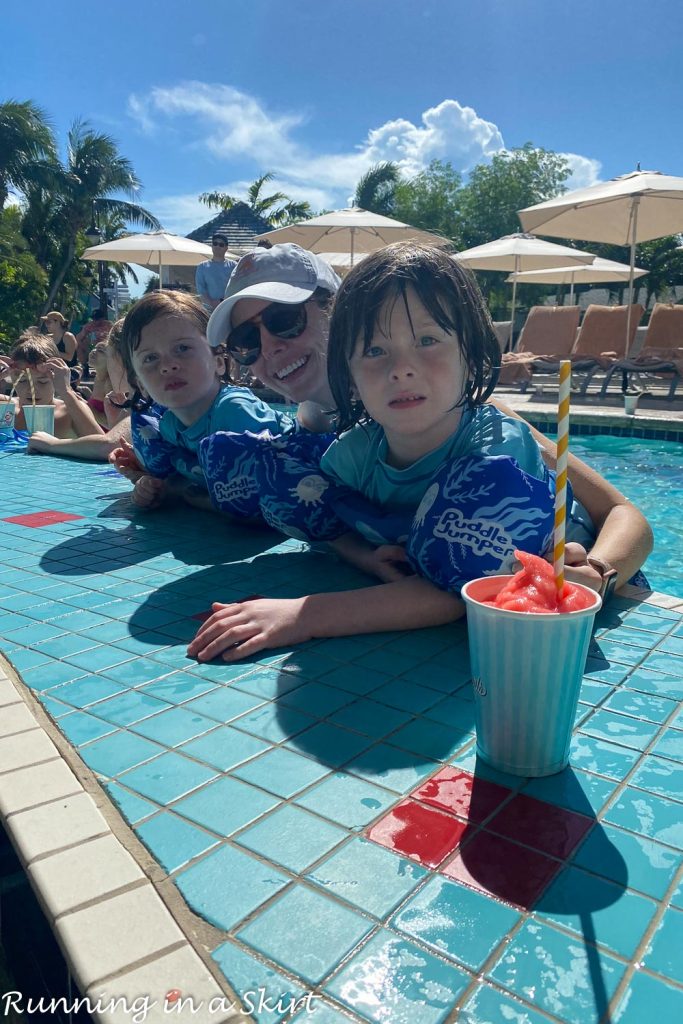 Soak in the Pools
There are nearly 10 pools around the resort all with a different vibe. I loved that they were all heated in January making them nice and comfortable to actually use! I hate when you travel in winter and the pools are frigid. This is the main pool at the Italian Village which was the center of most of the family activities.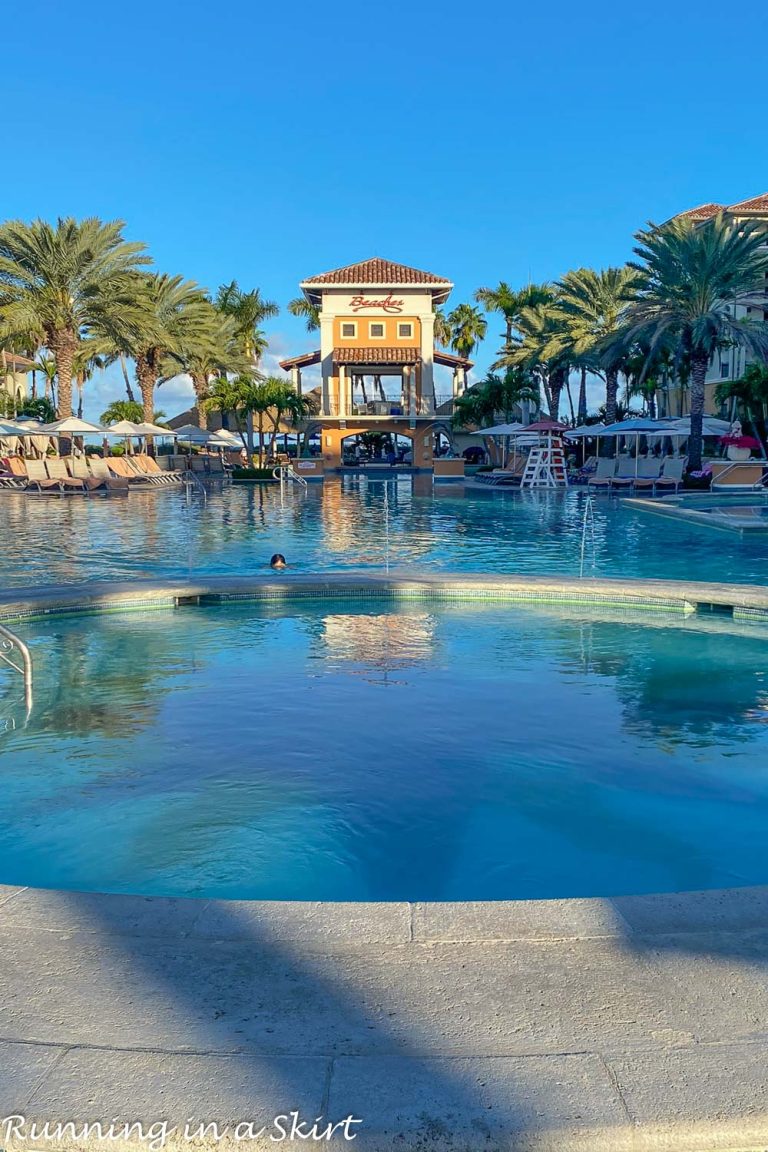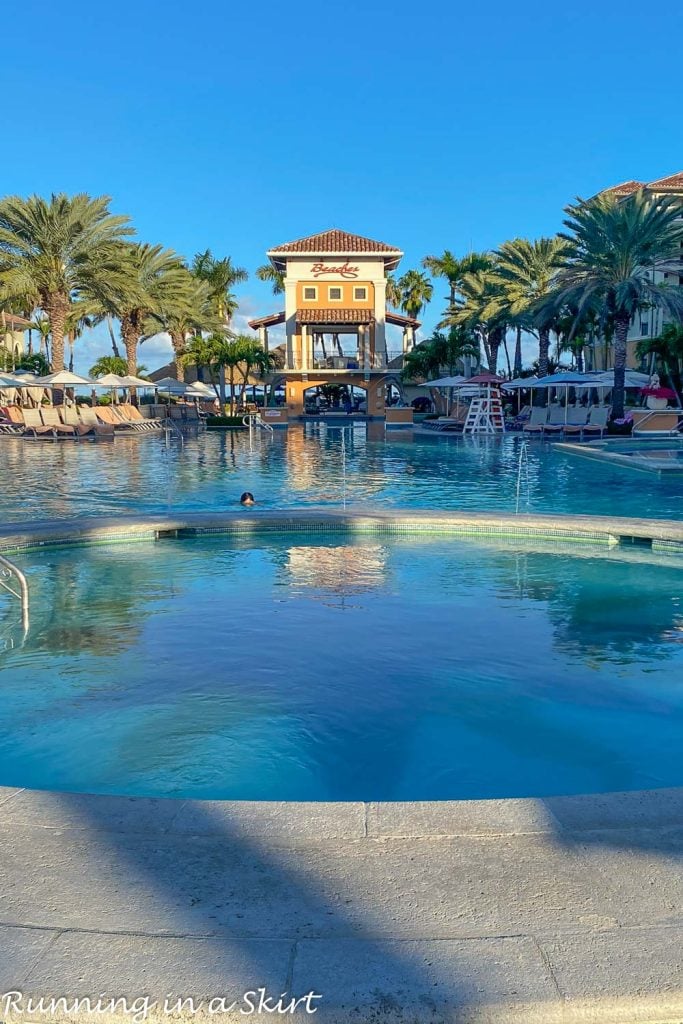 And here's the main Infinity Pool at the Key West village, which was a bit more low-key. Both were so fun and had gorgeous views.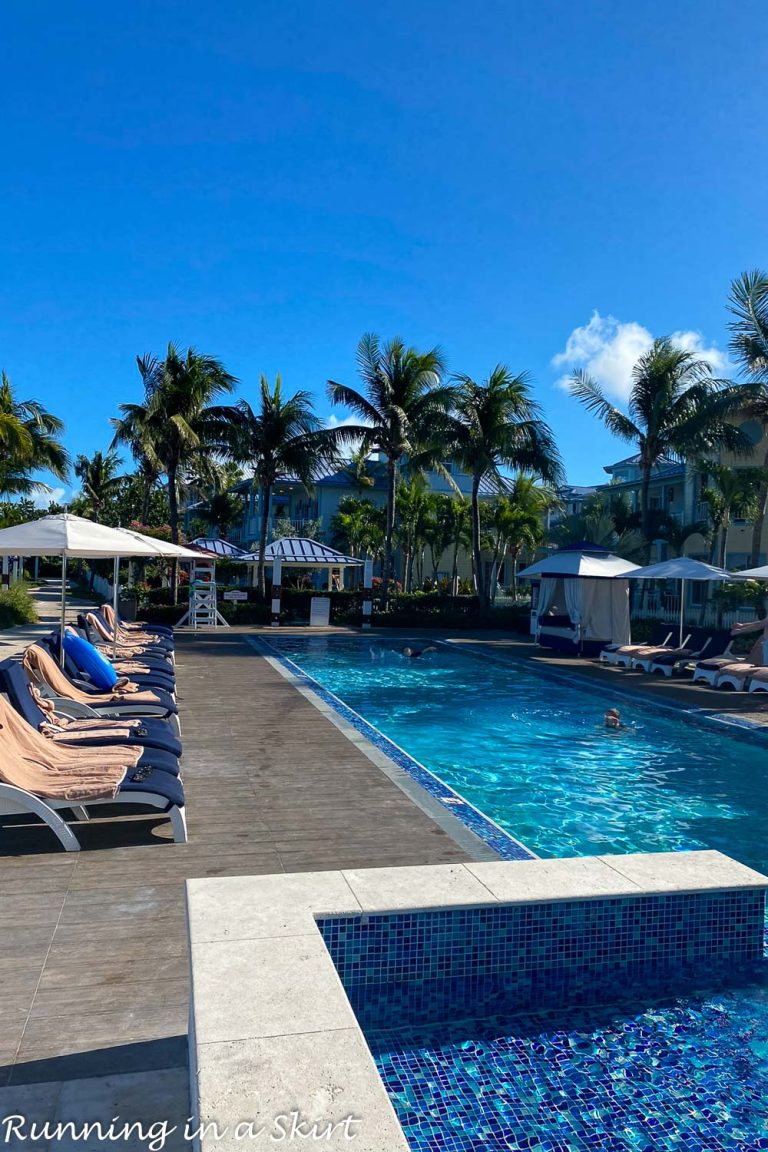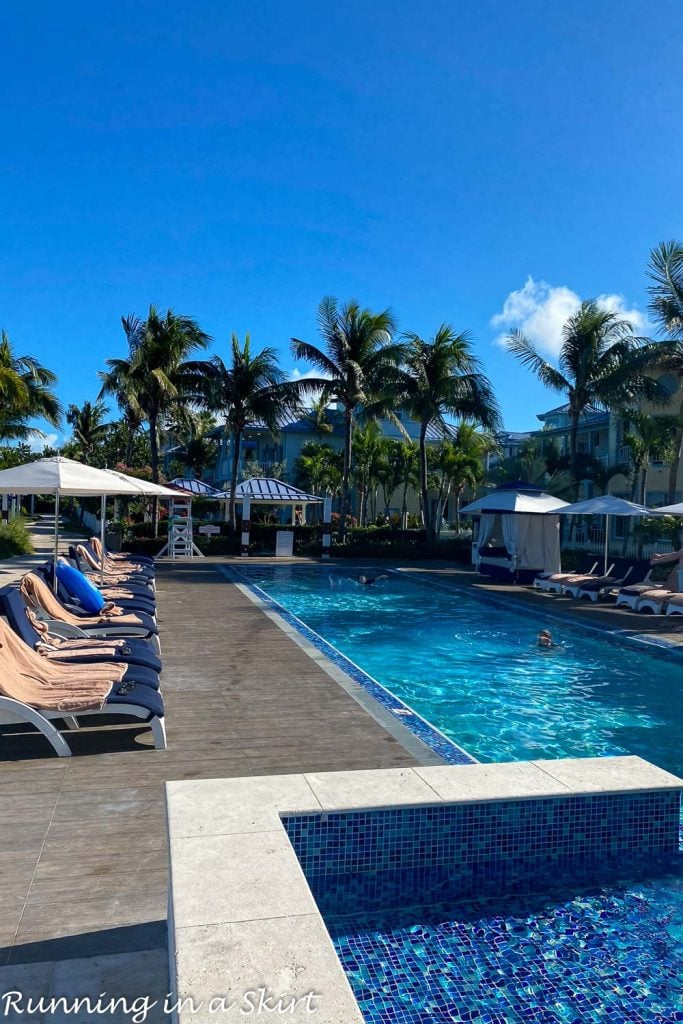 Watch a Sesame Street Show
Another reason for my positive Beaches Turk's and Caicos reviews was their collaboration with Sesame Street. The sesame street characters are a big part of any kid's program you attend. There is also a parade and nightly show for the kids at this stage.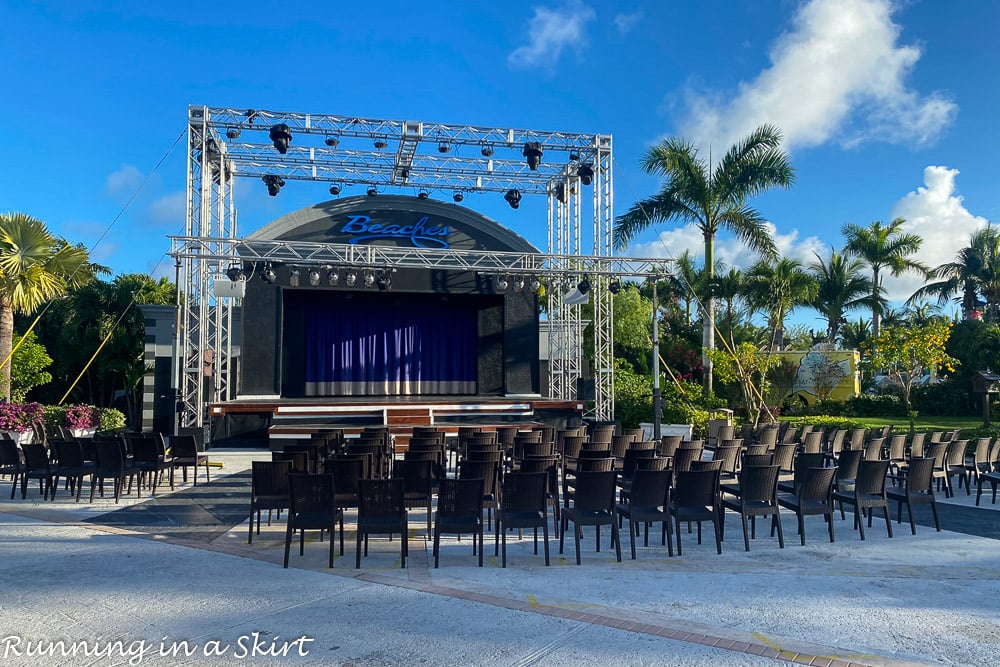 My boys had never even seen a big stage show like this and were in awe! And they got to meet the Cookie Monster, Elmo, and Grover, which was so fun for them. I loved that this was an included activity at Beaches Turks and Caicos.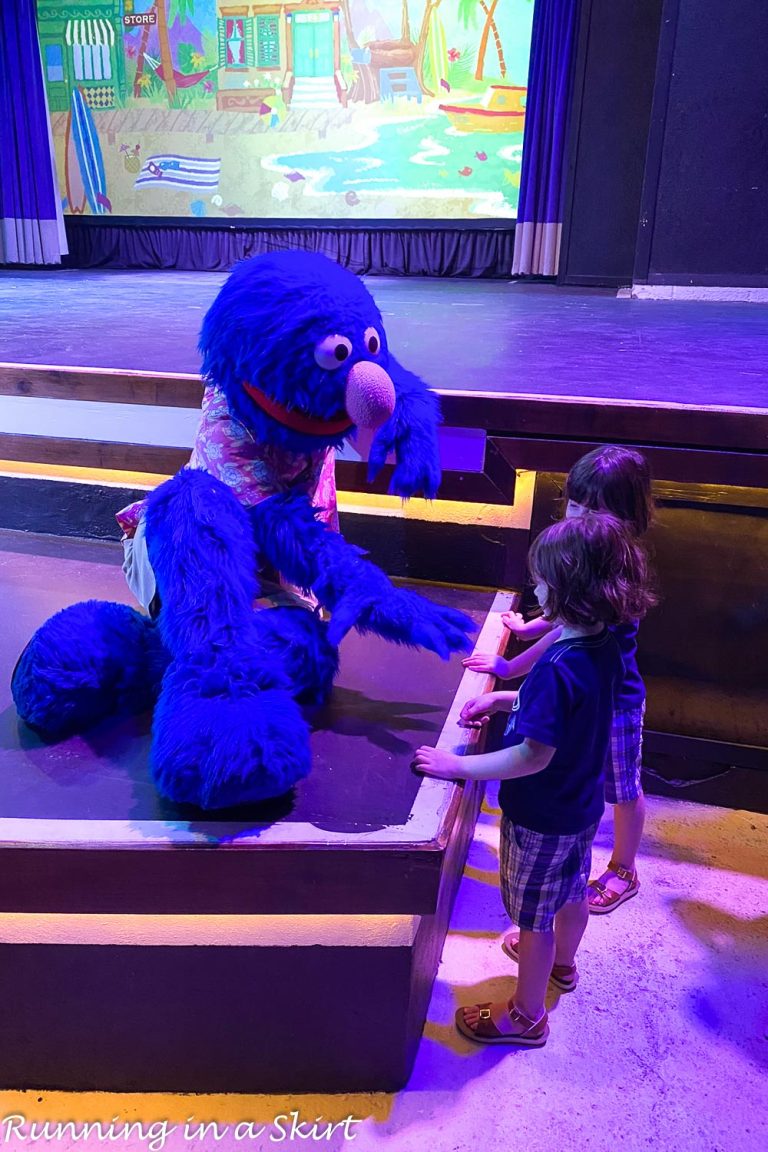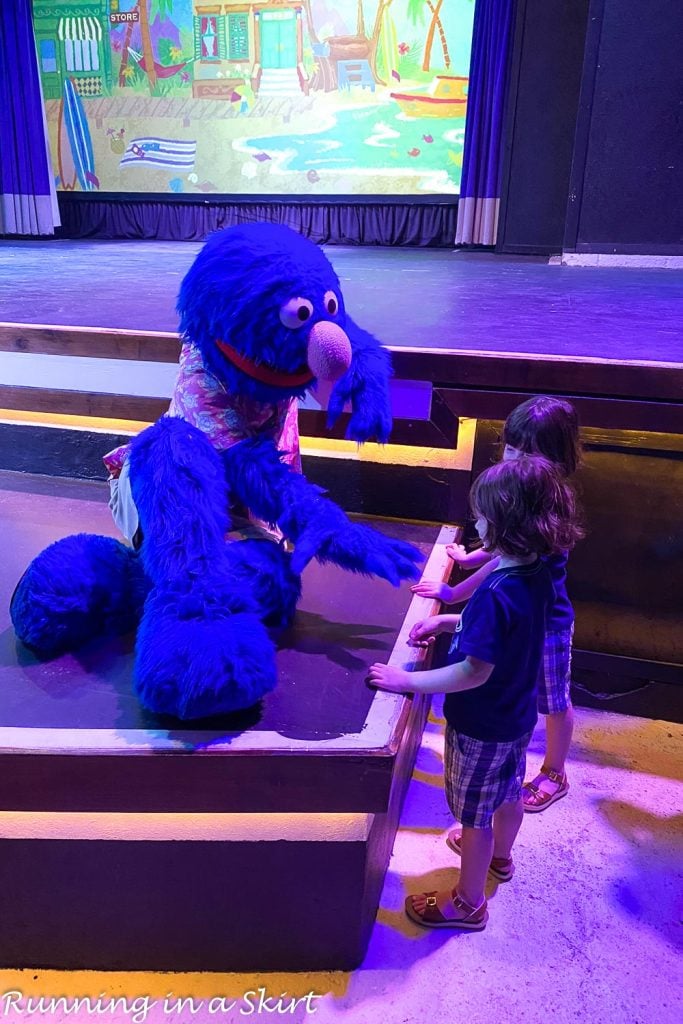 Enjoy the Included Activities
Add this to my positive Beaches Turks and Caicos reviews! There are SO MANY included activities and not only non-motorized water sports. They also have included Scuba diving for certified divers, snorkeling boats, and a glass bottom boat ride for little kids.
We did the glass bottom boat ride and it was so fun for everyone. The boat went over the reef and let the boys see coral and big fish for the first time and kind of understand what was under the water.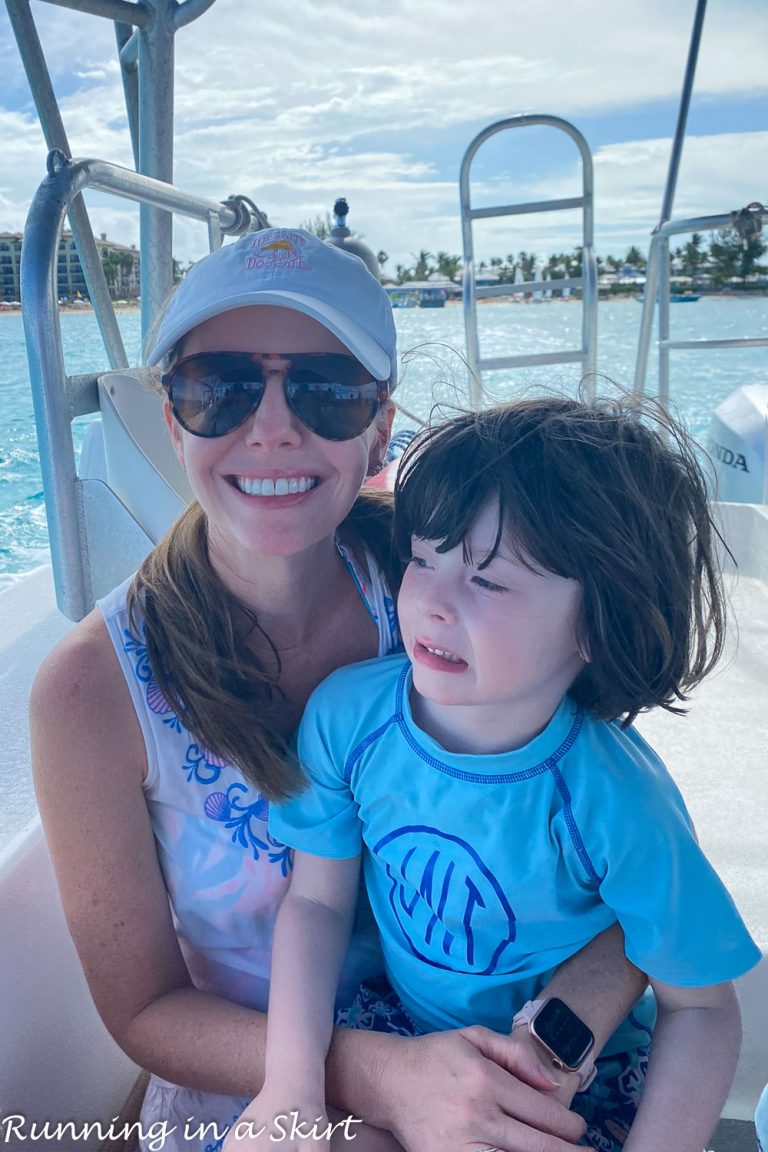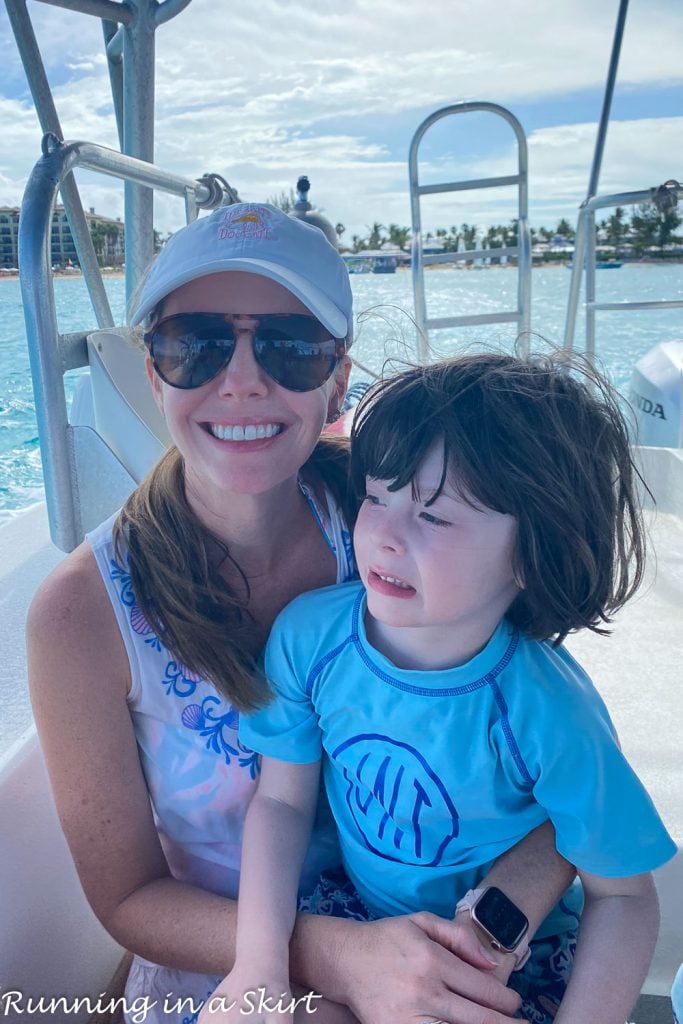 We also got to see a sea turtle (the shadow in the middle window) which was the highlight of the ride. The water was gorgeous and it was so fun to just be out on a boat. Plus, the ride was only 30 minutes which is the exact attention span of my children. 🙂
We also did a short kayak ride one day, which was super fun.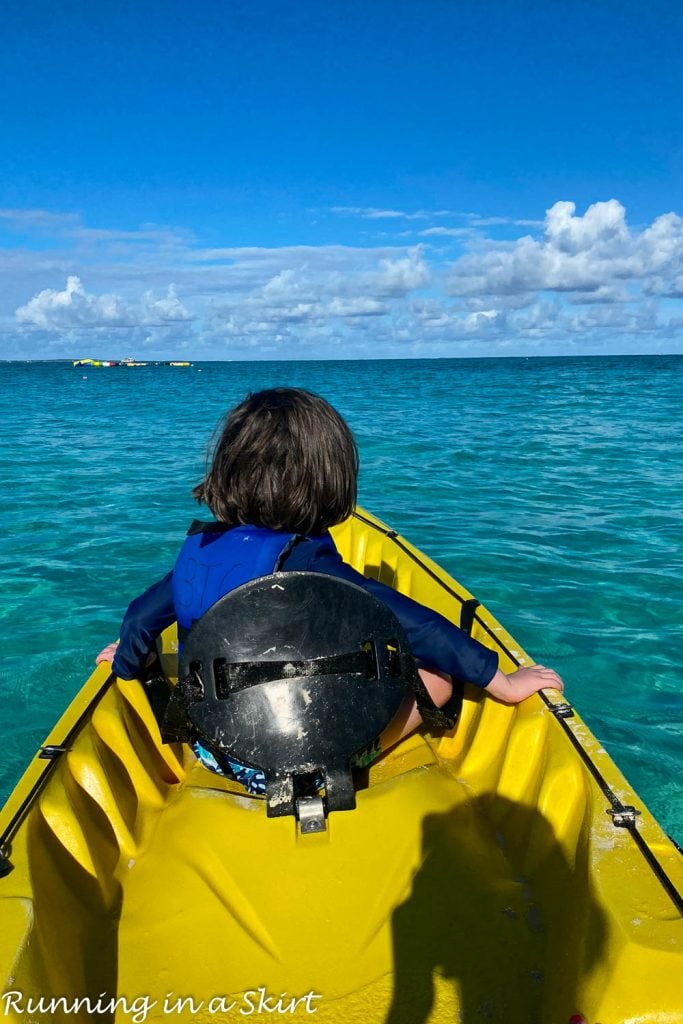 My husband and I each took out one of the boys to see the water and have the experience. We all enjoyed it so much and it was nice that we didn't have to pay extra for it because, like most things you do with toddlers, it didn't last long.

Watch the Sunset
I love a beach resort that has a sunset view and Beaches Turks and Caicos did not disappoint. With the early winter sunset, our family was able to go on a sunset beach walk each night before getting ready for dinner and it was one of my favorite memories from the trip.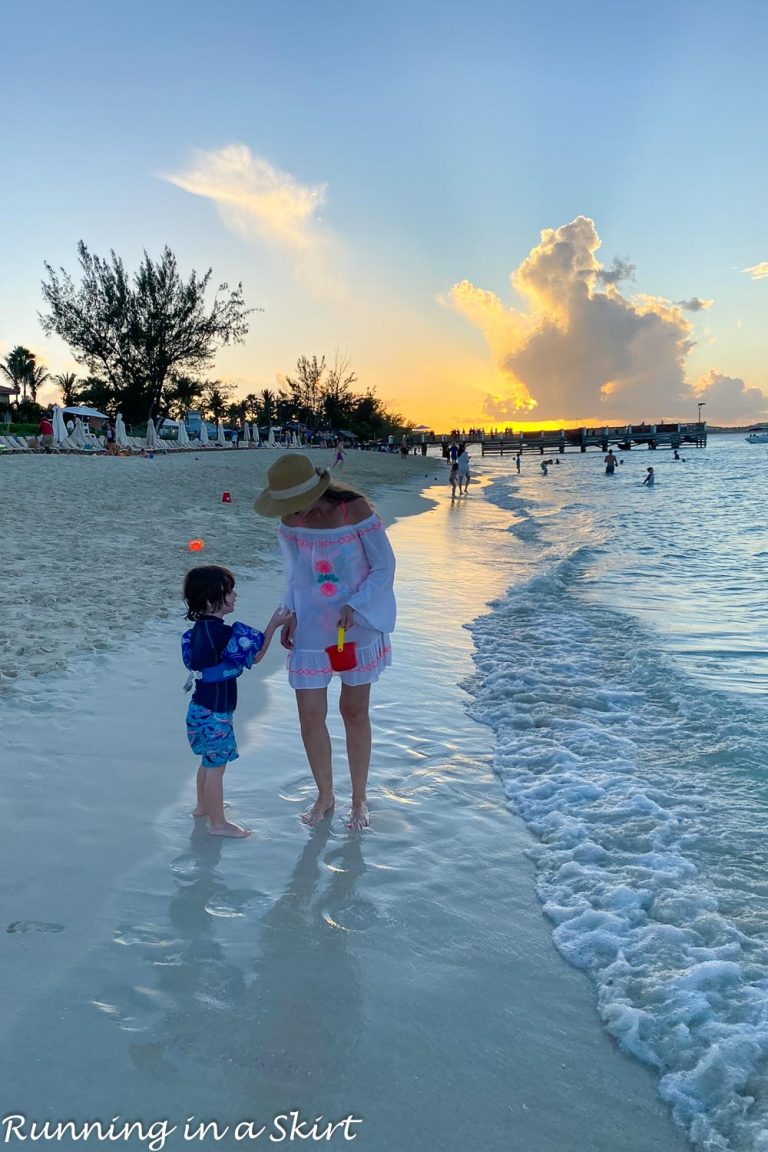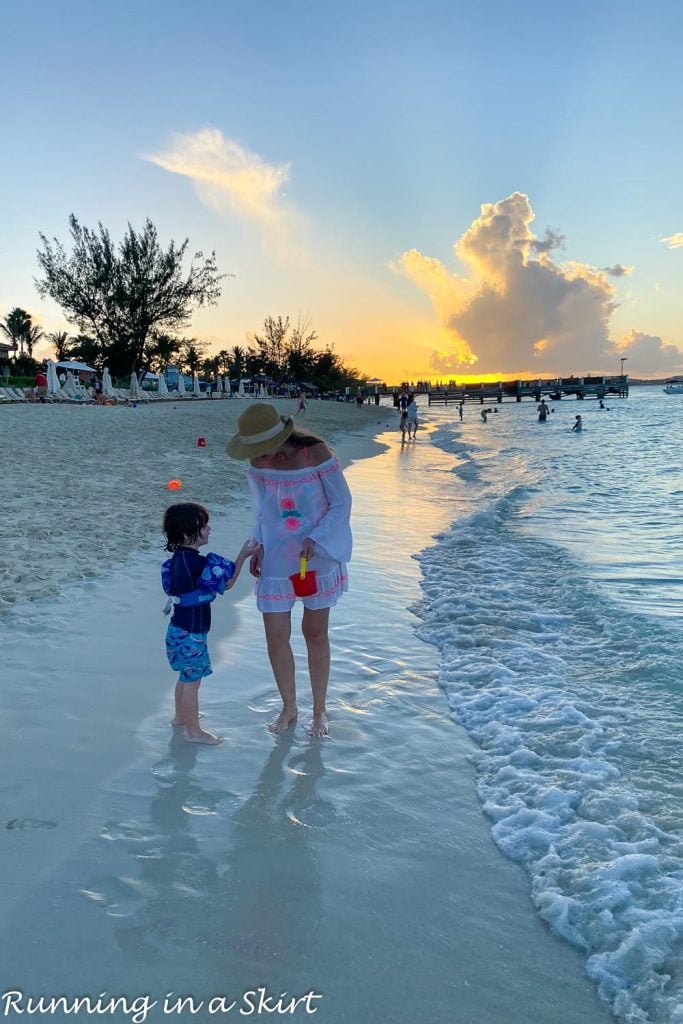 You can't beat views like this and add this to the reasons I have positive Beaches Turks and Caicos reviews.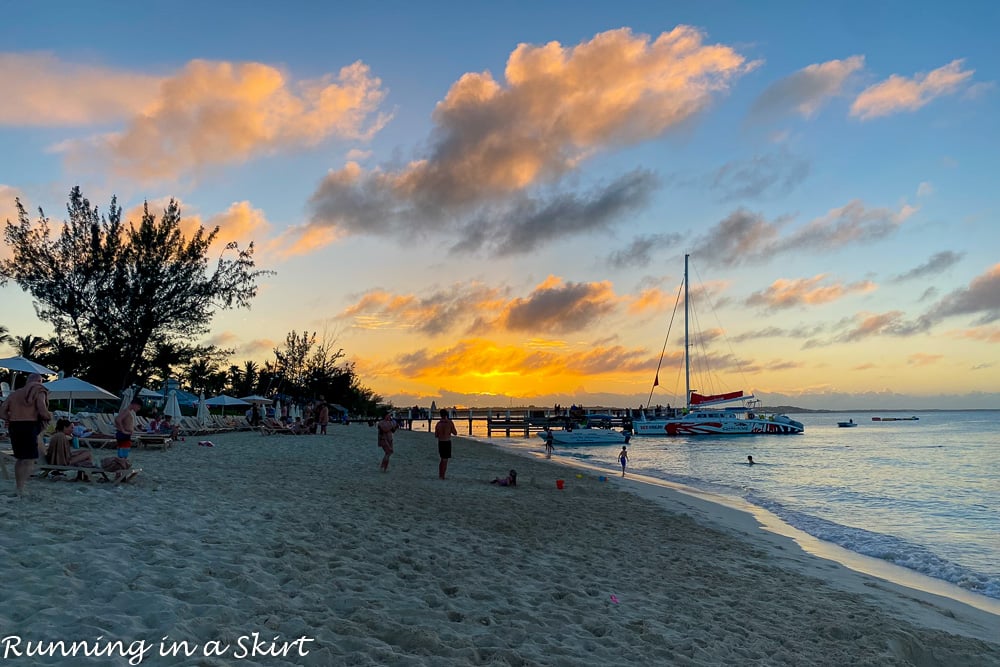 Dine in Style
With 21 dining areas at Beaches Turks and Caicos, you can't beat the variety of delicious food choices. We loved being able to eat out as a family and this is another reason for my positive Turks and Caicos reviews.
My boys are big eaters and really enjoyed trying the different food and restaurants. There were lots of kids' options - pizza, pasta, mac and cheese - and gourmet food too. We loved that we could take them out without feeling like our loud kids didn't belong. There were several nights we were ordering the boys a second round of shrimp or mussels, which was a hoot for us and the waiters.
I was a little nervous about my kid's patience with eating out for all the meals, but it worked out in the end. Our trick was to fit in some of the buffets for some meals so they didn't always have to wait a long time for food. I'm not a huge fan of buffets, but my boys had never even seen one and got a kick out of picking out what they wanted to eat.
We enjoyed the food so much that I put together an entire restaurant guide on the restaurants, including our favorite meals. A few of our favorites were Schooners, Neptune's, Arizona's, and Bayside.
Beaches Turks and Caicos Reviews - Which Village to Stay In?
The Beaches Turks and Caicos resort is divided into four different villages. Each Turks and Caicos resort village has a very different feel - Italian, France, Caribbean, and Key West - and in some ways feels like a slightly different resort. Booking a room at the resort can be a little confusing because of the number of room categories and all the different villages. If you are looking for honest Beaches Turks and Caicos reviews which help you decide which village to stay in? Start here!
Italian Village
We stayed in the Italian Village Oceanfront Concierge Suite with a Kids' room. I was blown away at how close we actually were to the water and could not get enough of this view. So many places we visit the building are built off of the beach in good ways, so it was amazing to be this close to the ocean in the room. Because of this view, I could not recommend this category of room enough.
The room was very nice, but not super modern.
We also love the setup of the Italian Village rooms which had a regular kind resort-style room with a wet bar, a nice bathroom, and an entire extra room for the kids with their own sink and bunk/trundle bed. It was great for us all to be together but still be able to put them to bed early. The other option for us would have been a more expensive and not oceanfront two bedrooms suite, but I'm glad we made the choice we did. The small extra room was more than enough space for them.
We did not pay for butler service because it was just so high, but I watched everything Buter's did for guests all week and it looked so nice. If you want room service, someone to get you pool chairs, or someone to get you special tables at restaurants, you'll need one.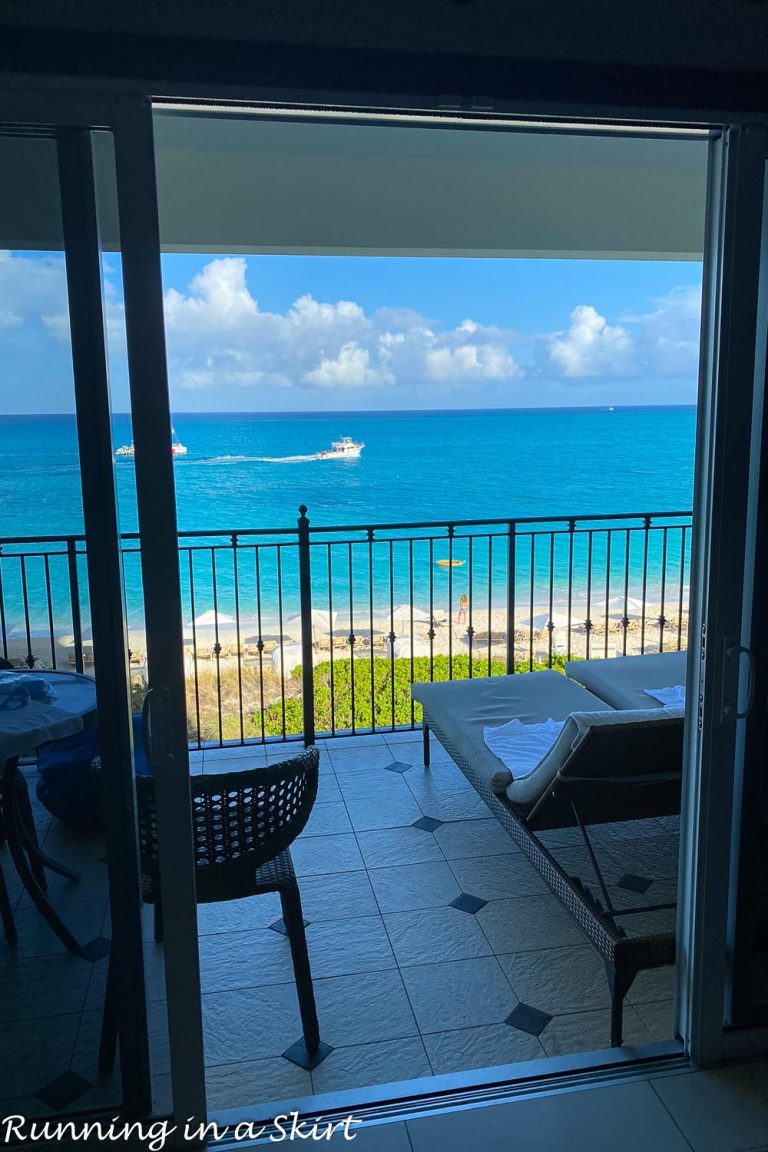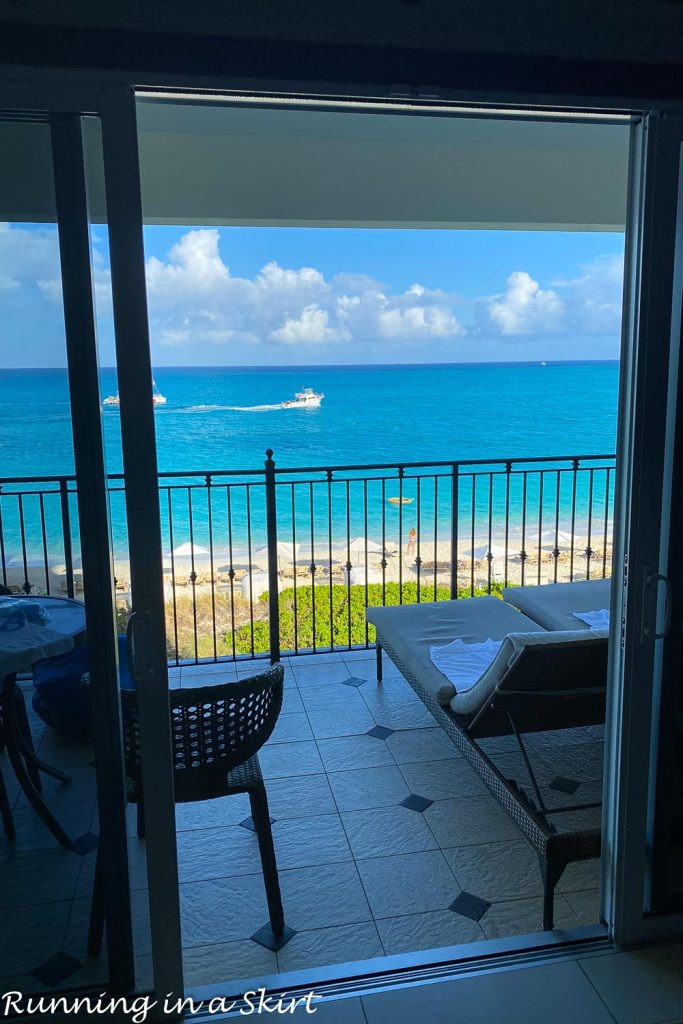 The buildings had an Italian vibe, as did most of the decor in the room and outdoor areas. The village is located beachfront, right in the center of the resort making it a great centralized location to stay.
It also is where a lot of the activities happen, especially around the pool. The centralized location along with the convenient kid's bunk room made this a wonderful option for us.
It was the most crowded area of the resort though, so if you are looking for something quiet, I might stay in another village.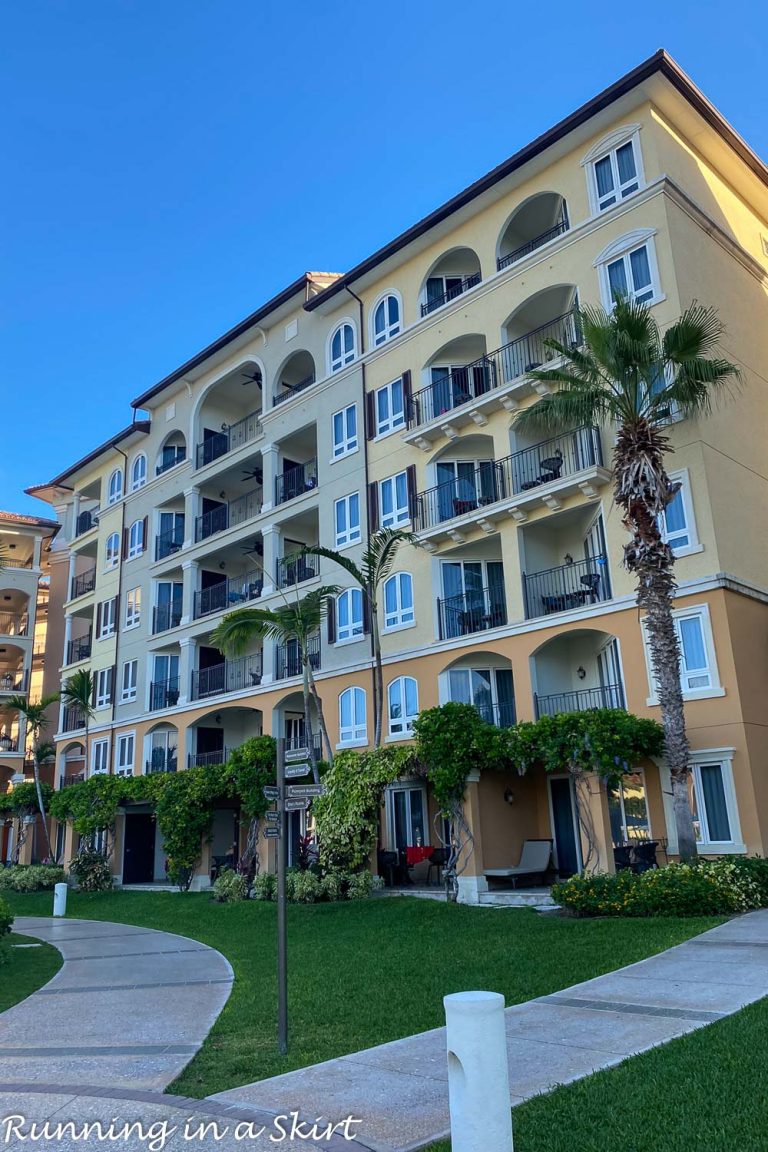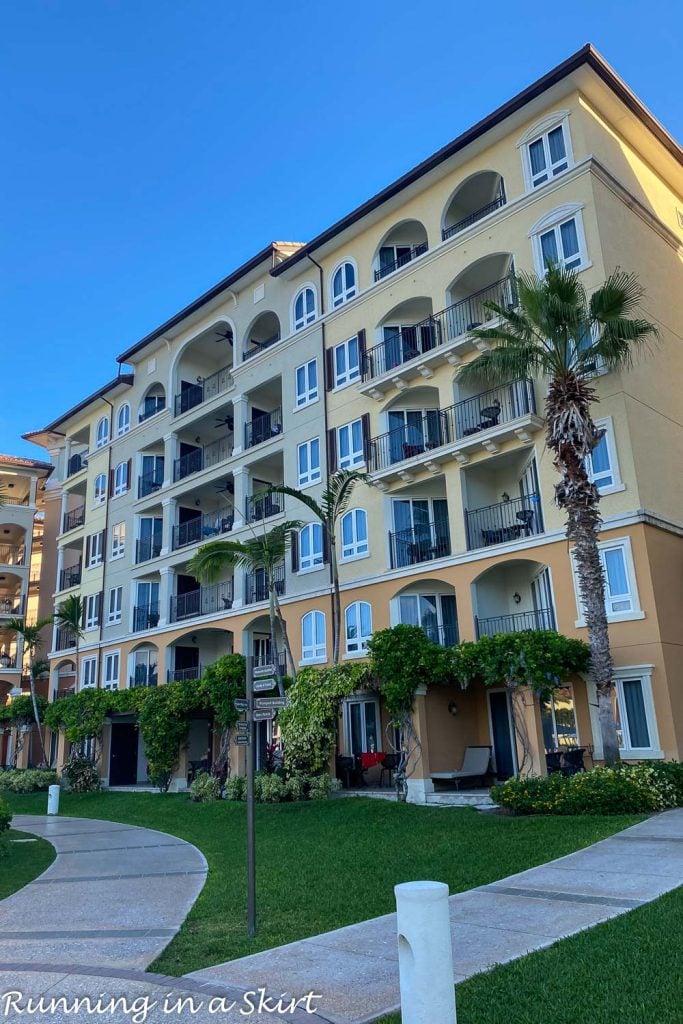 Key West Village
The Key West Village is the quiet and most pricy section of the resort. It's also the newest so the rooms and amenities have a slighter more modern vibe. It definitely feels a bit out of the way, quieter, and more secluded if that is what you are looking for. It has a generally more upscale feel.
There are smaller pools in this area, which are generally much quieter too.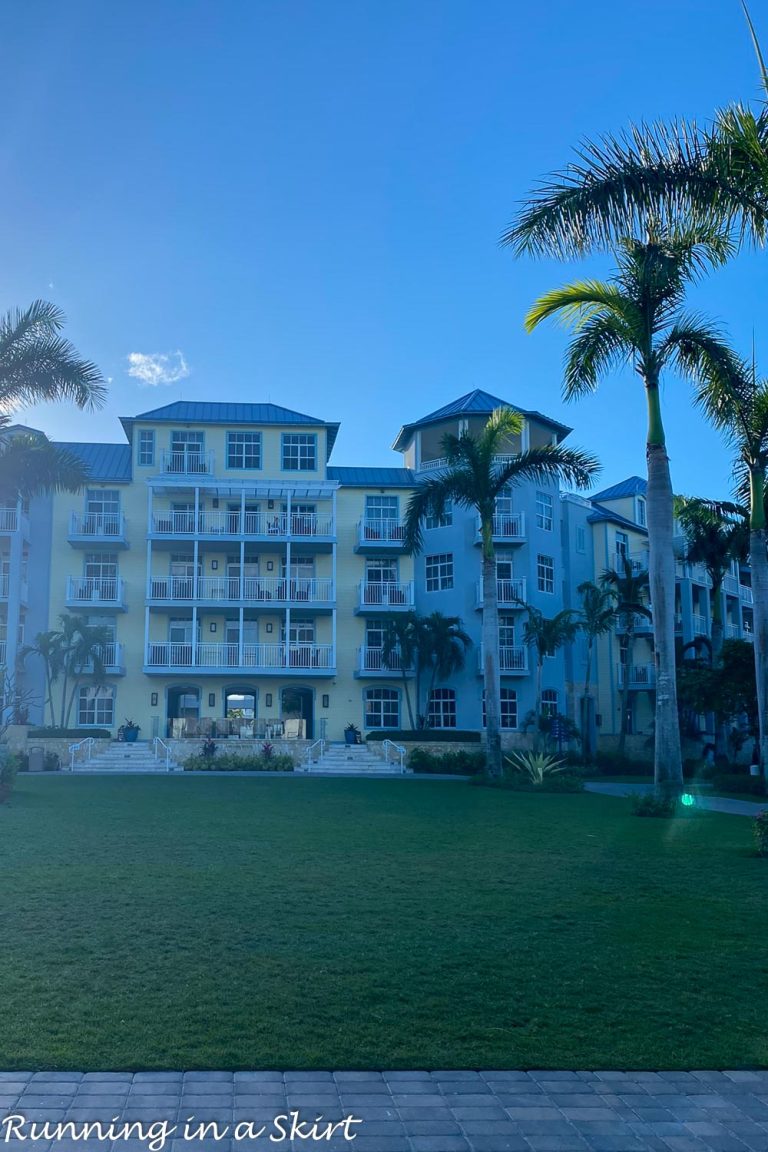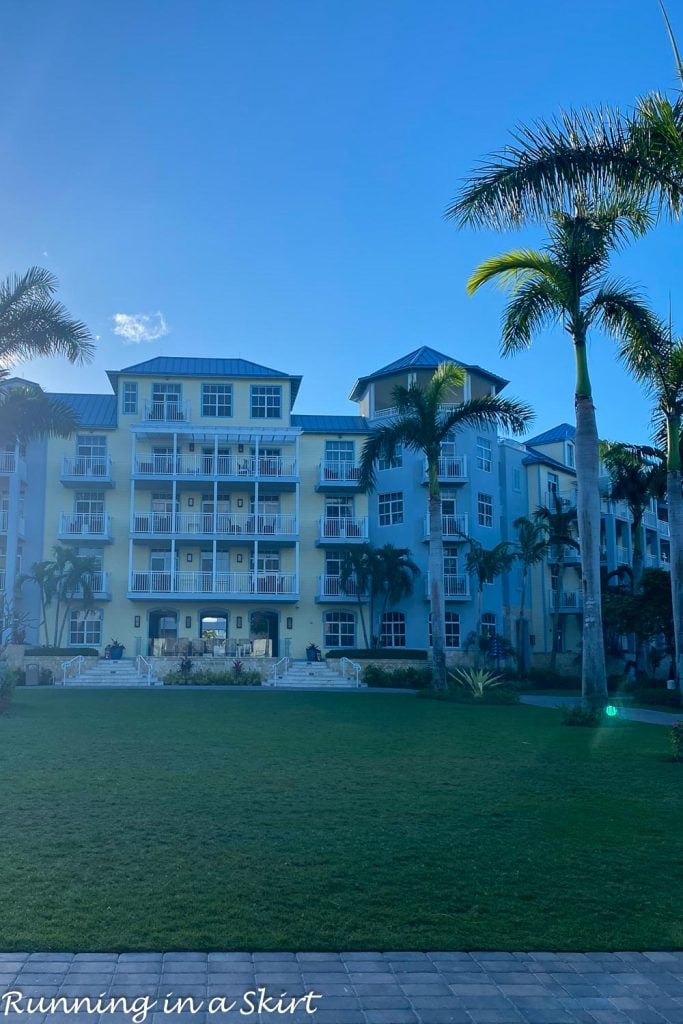 This is where many of the multi-room family suites are located.
The only negatives I came up with the staying here are the price and how far it is away from especially kid activities. I preferred the Italian Village room we chose because it was right on the water, which we prioritize in booking rooms.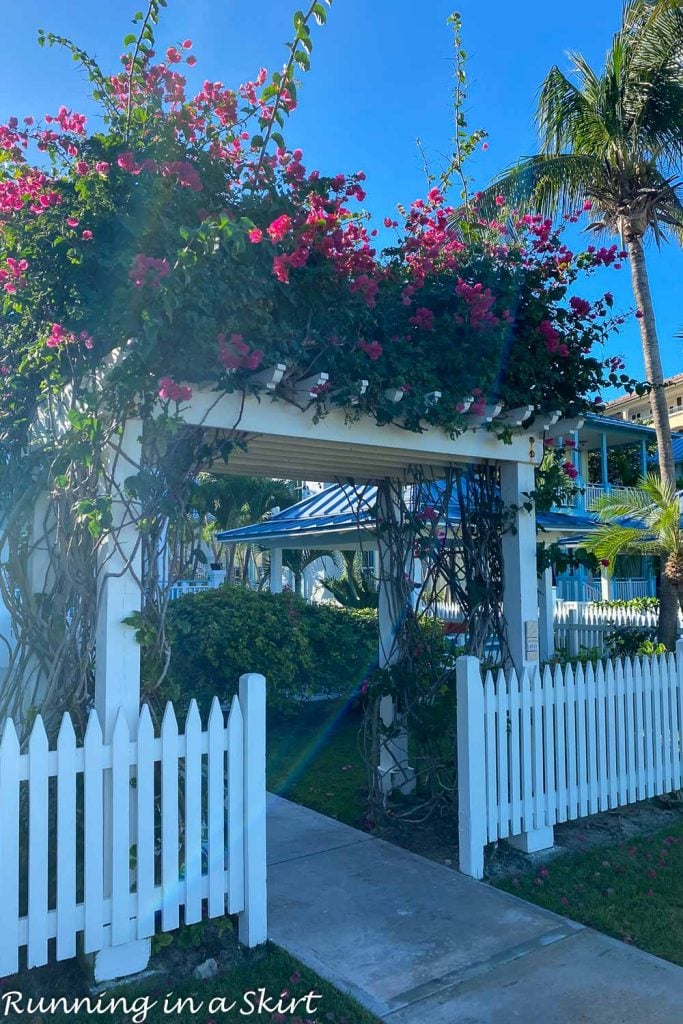 The Caribbean Village
The Caribbean Village has more of an old-school Caribbean vibe. You can tell it's one of the older parts so the resort and its pool even has a more vintage Beaches tower. Many of the rooms looked updated motel style. This is where many of the least expensive rooms on the resort are.
Even with that being said, I found this village to be super charming and endearing. The landscaping was gorgeous and I loved the feeling over here.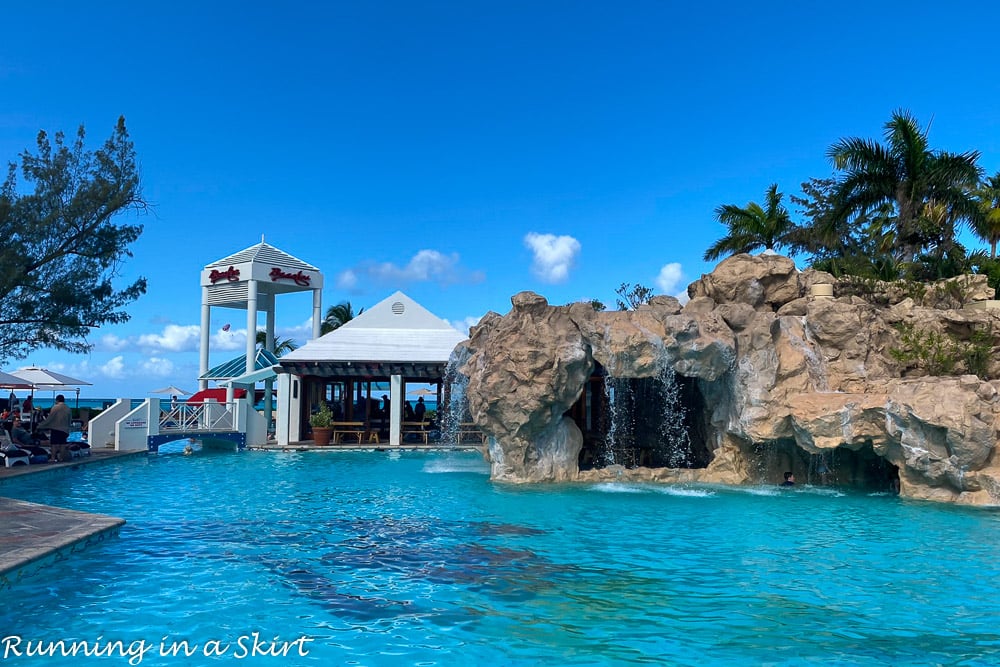 It's still on the beach but is much quieter than the neighboring Italian Village. You walk out with gorgeous views like this.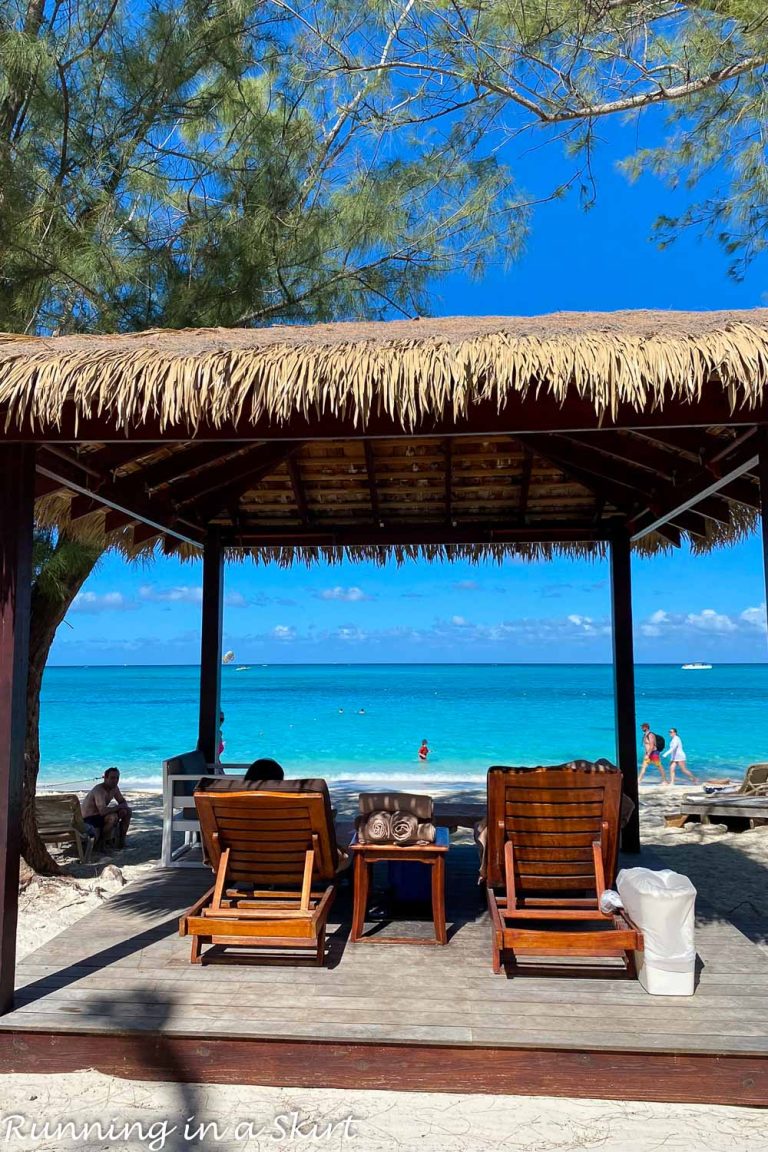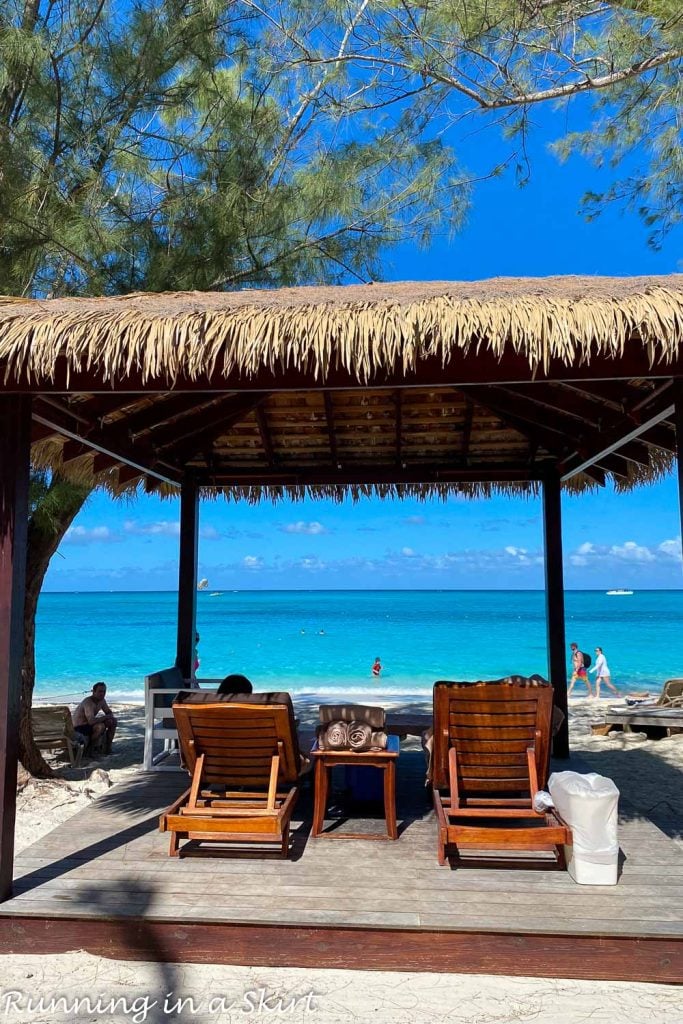 And the far of the beach on this section is super charming with fewer chairs and crowds.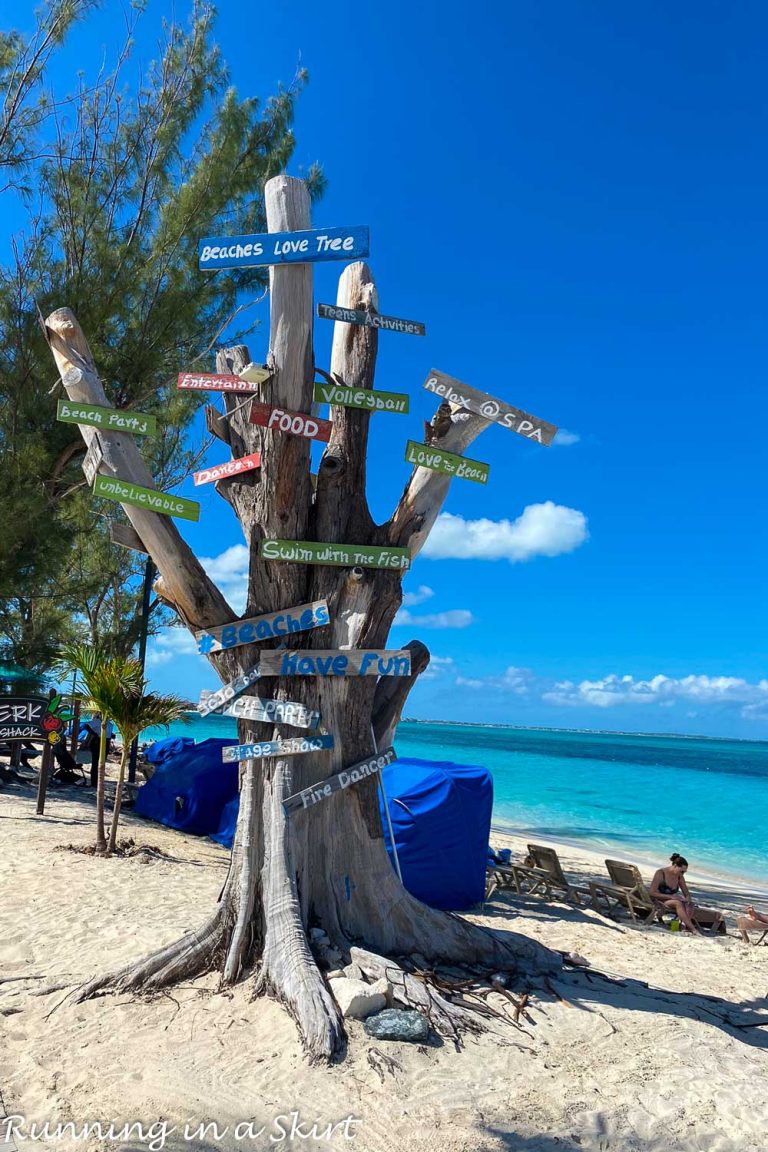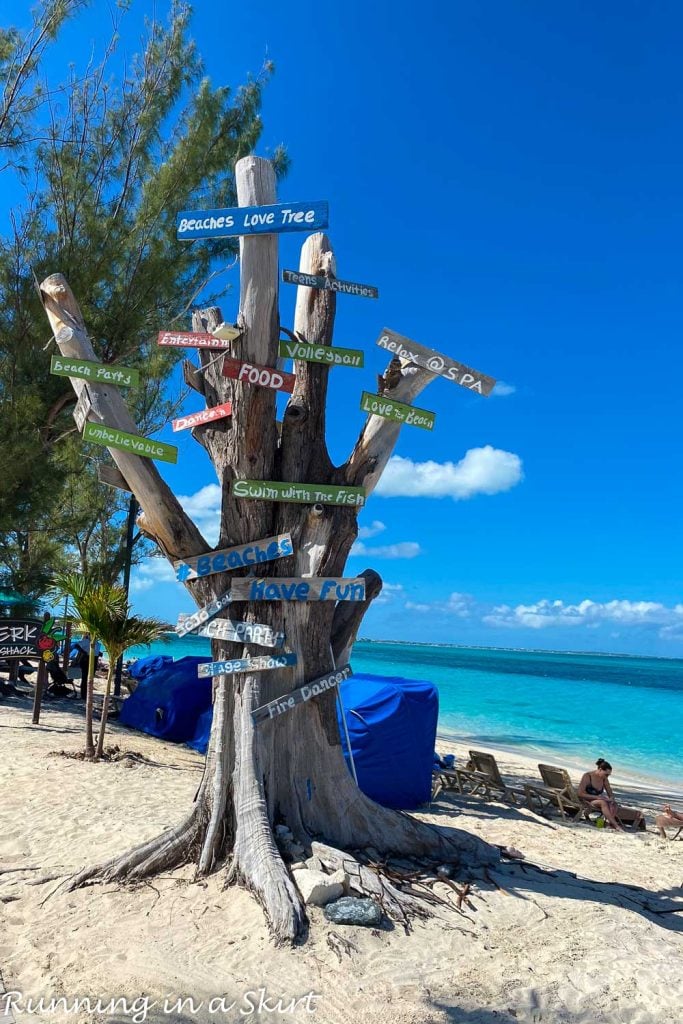 French Village
The French Village is furthest away from the ocean and beach and is overall pretty quiet. The buildings have a charming French vibe and the restaurants match the theme. If you aren't a huge ocean person or don't care about an ocean view, this could be a good choice for you.
The rooms are generally less expensive than in the Italian Village and Key West but more than in the Caribbean because they are newer. We found the pools in the area less crowded. If you don't mind being away from the beach and are on a budget, this could be a great choice for you.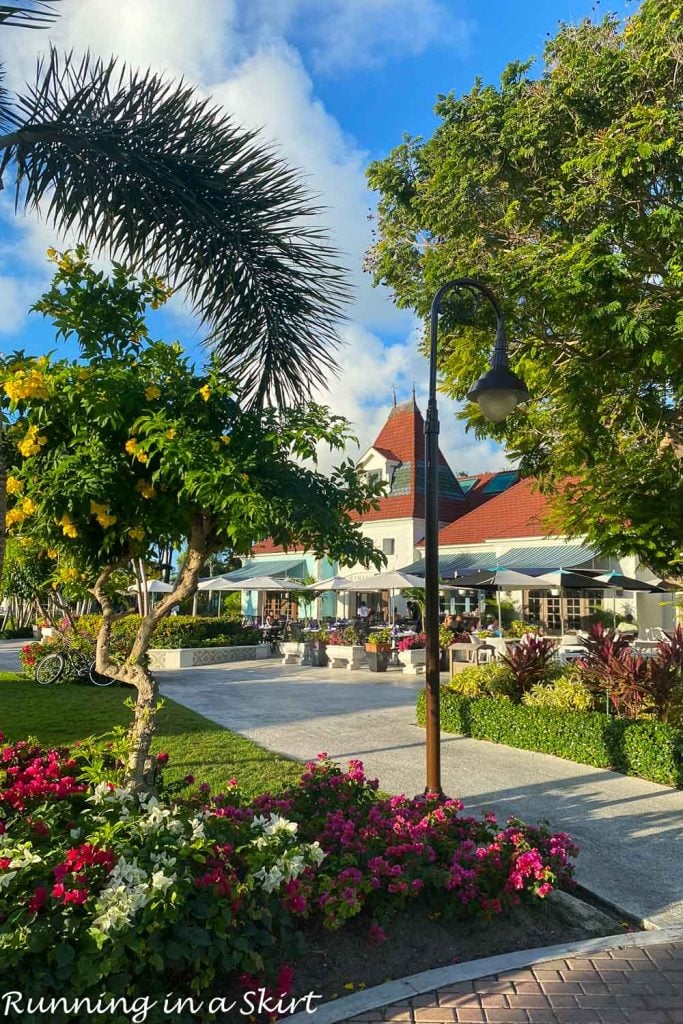 It is where the water park is located, so if you want to be super close to that this is a great pick for you too.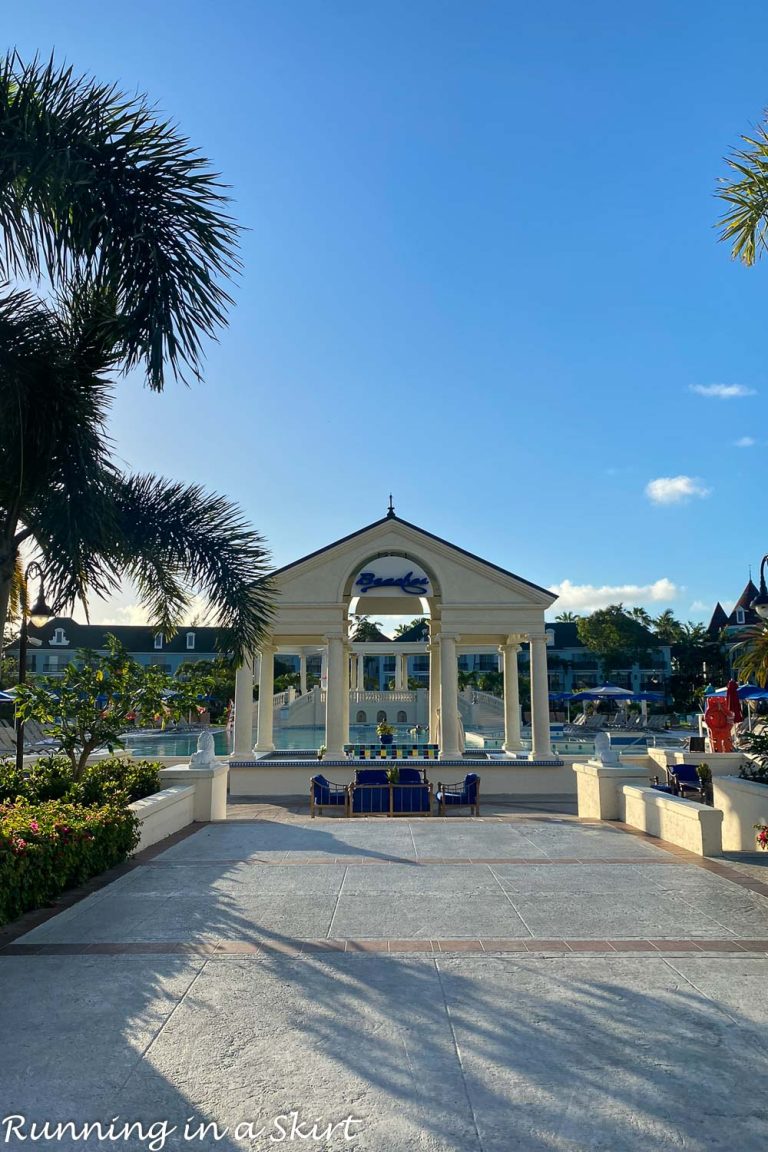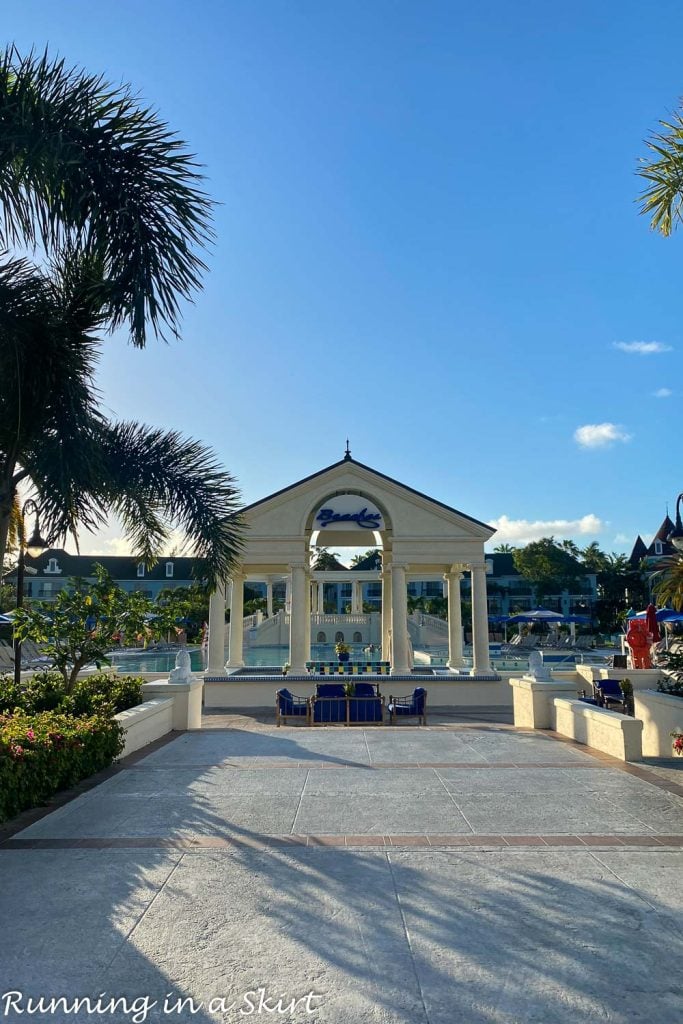 Although I didn't stay in the rooms at each village, I can honestly say they all looked nice for different reasons. Plus you still get the enjoy all the amenities at the entire resort, so pick one in your budget and just enjoy the entire resort!
For my Beaches Turks and Caicos reviews, I would still pick the Italian Village if staying on the resort again, but you really can't go wrong with any village!
Beaches Turks and Caicos Reviews
I'll wrap up these Beaches Turks and Caicos reviews by saying we loved the resort. I expected to have a good time, but this place charmed me every day with its views, endless food and drinks, and amenities. I love how easy of a vacation this was with little kids and this trip really did feel like a vacation. Plus it doesn't hurt that Grace Bay Beach is stunning.
I really feel like this is one of the best all-inclusive resorts available. It's by far the best one I've been to over the years.
Our kids were just old enough to do so many of the things there and it was a great time to visit with them. Like any place, there were a few hiccups, but overall our experience was amazing and we are already dreaming about going back again someday.
More Beaches Turks and Caicos Travel Information:
Again, this post is not sponsored, paid, or biased. I did really enjoy our trip! If this review makes you want to book the vacation make sure to sign up through this Beaches link for the latest sales, deals, and packages.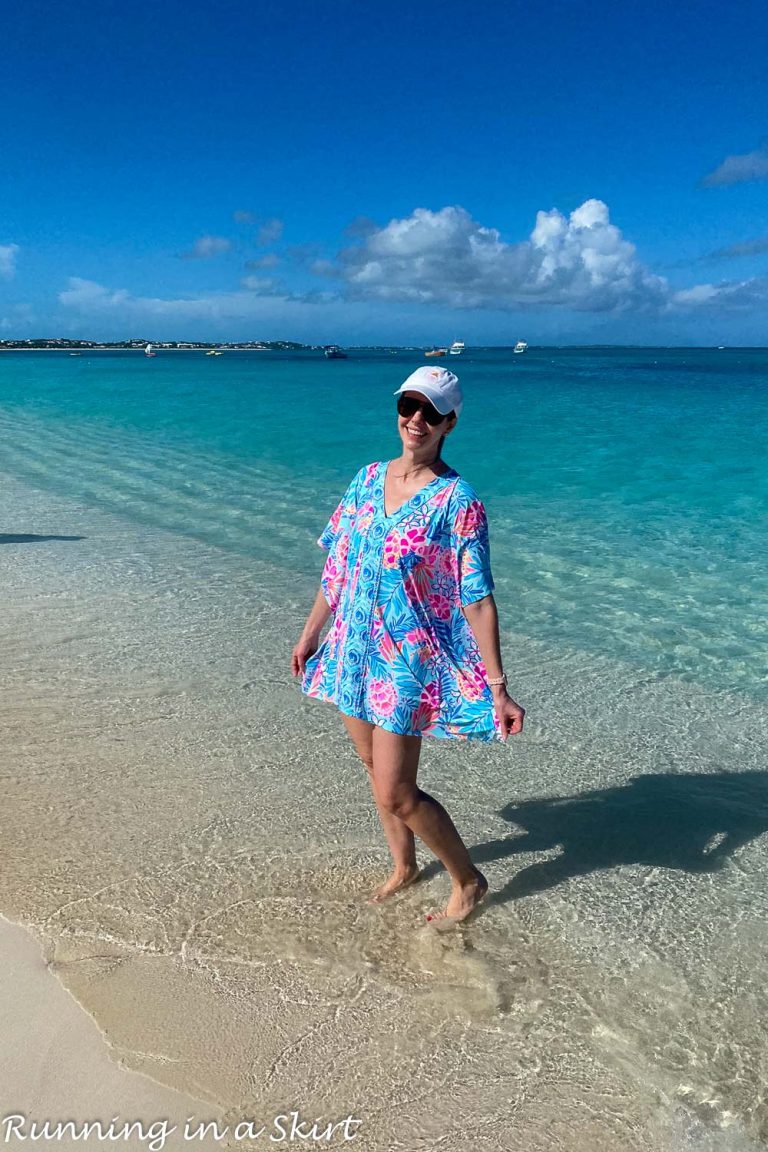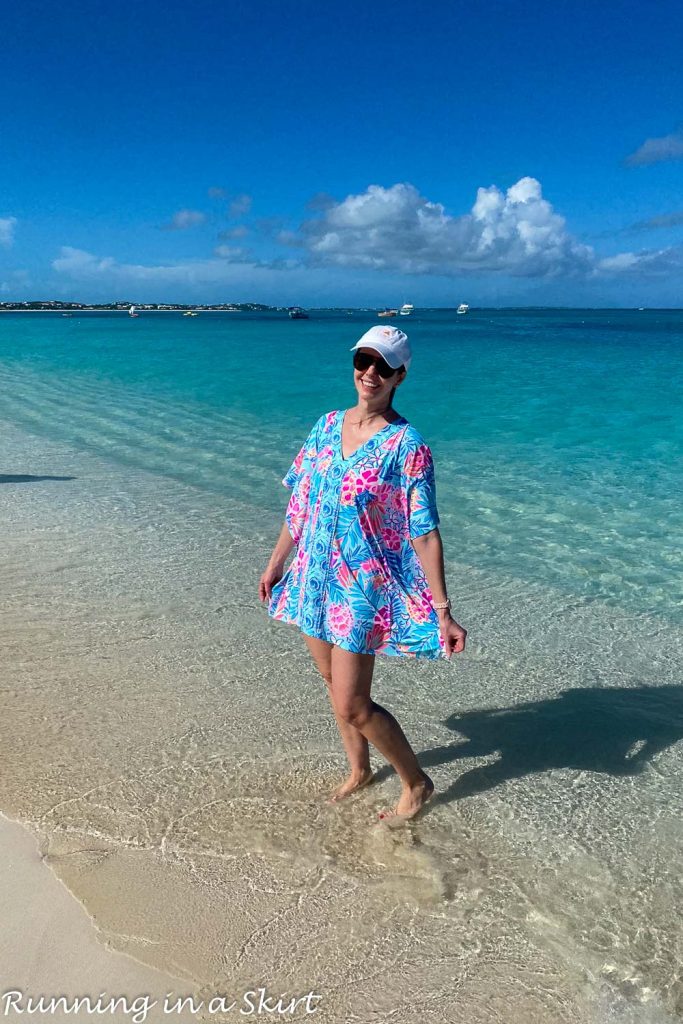 Overall I would highly recommend this resort to people who enjoy all-inclusive resorts, beach people, pool people, travelers with kids of any age, people who like to stay on the resort, multi-generational travelers, and more.
If you like more adventurous travel, super-luxe hotels, or are high-end foodies, this might not work for you but for where we are in life right now we loved it. I can't wait to go back again.
Pin for later: