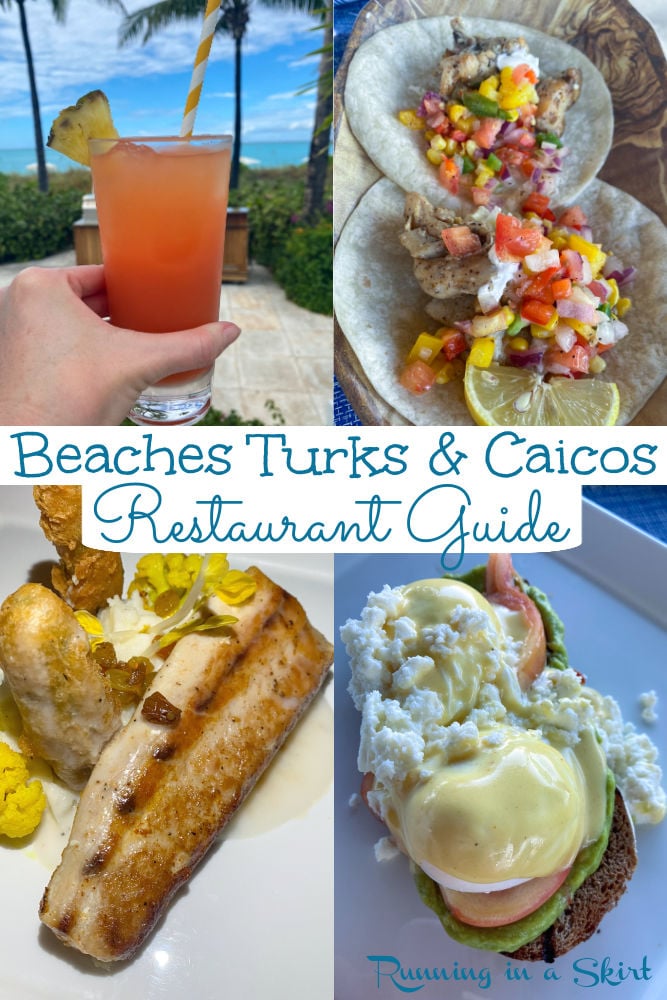 Curious about Beaches Turks and Caicos Restaurants? Dining at this luxury, all-inclusive resort in Providenciales, Turks & Caicos is anything but boring. This Restaurnt Guide has everything you need to know about dining at all 21 restaurants on your vacation. Plus, the 9 meals you can't miss!
Planning a trip to Beaches Resorts? Also, read my Beaches Turks and Caicos Resort Guide and Unpaid Review plus my Top 20 Favorite Moments from my trip.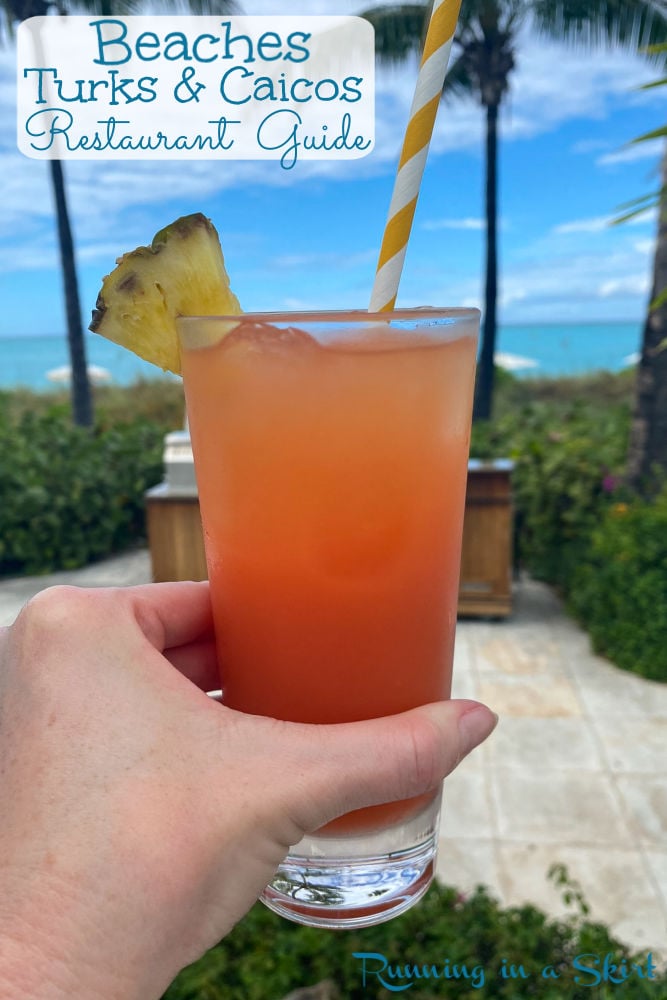 Beaches Turks and Caicos Restaurants
Beaches Turks and Caicos Restaurants are one of the highlights of visiting Beaches resorts or all-inclusive resorts. Unlike many all-inclusive resorts, you will not find a bunch of buffets and uninteresting food here. In fact with 21 restaurants, dining on your vacation might be one of your top memories from your trip! The restaurants are all themed, with most la-cart menu ordering. The food is good and it's more than enough to keep a family entertained for the week. They have everything from beachfront dining, sushi, Mexican, seafood, and fun kids' spots to a few adult-only spots for a date night.
When my family went to Beaches Turks and Caicos, I wasn't sure if we'd like the food because we are such foodies, but I was pleasantly surprised that we enjoyed most of our meals and the resort exceeded our expectations. It wasn't quite the same as dining at high-end restaurants at home, but it was still really good and easy, this trip was for our family, and we loved the entire experience. It was so fun for the kids to dine out and try all the new foods, without a bunch of fuss. Out of all the all-inclusive resorts and cruises I've done in my life, the food here was my favorite. If you are a real food snob, you might find fault in the food BUT we enjoyed it.
We never went hungry and I was actually surprised at the healthy options available I felt like I had the chance to eat more fruits and vegetables on this trip than the ones I planned myself. I loved that nearly all the restaurants were kid-friendly and everyone else had kids so you didn't feel too awful dining out if your kids started acting as kids do sometimes. My kids actually surprised me at how well they did dining out so much!
If you are looking for a full review of the resort, start with my Beaches Turks and Caicos Resort Guide.
If you are planning your trip, make sure to book your vacation here for the best deals on your Beaches trip. This review is not paid but if you book through my link I do get a small compensation which helps support this site.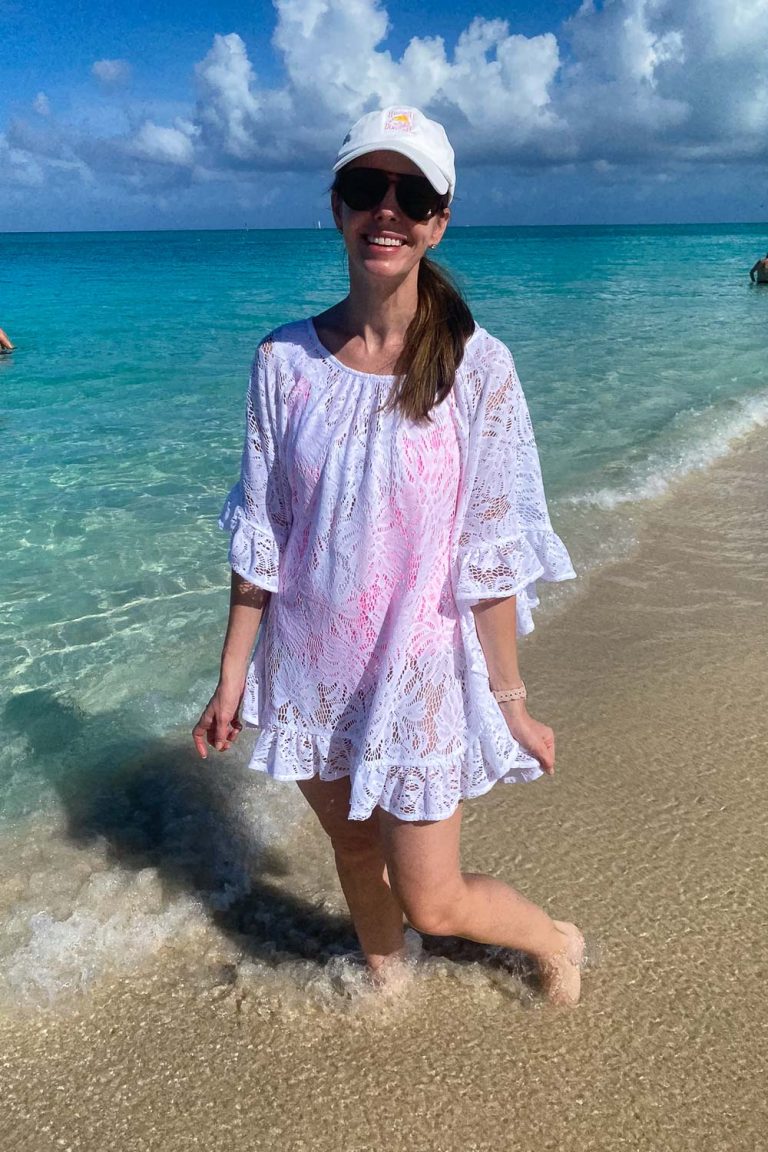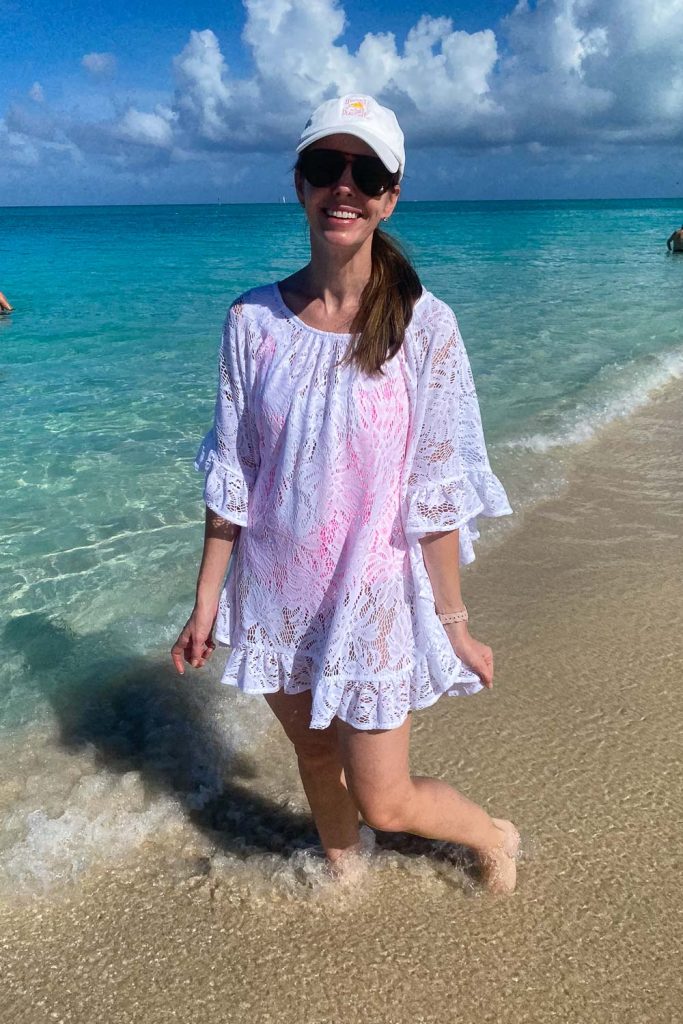 Beaches Turks and Caicos Restaurant Logistics
One thing that surprised me was you didn't have to fight for a reservation here! In many resorts like this I've visited in the past you had to get a reservation and they were often hard to get and late at night. At Beaches Turks and Caicos, almost every restaurant is first come first serve and we didn't have to wait for more than 30 minutes for any restaurant. The only place that required reservations was Kimonos and we were able to snag an early evening spot early in our trip.
My tip is if you want to avoid a wait go right when the restaurant opens or even a few minutes early.
As a mom of two four-year-olds on the trip, it was nice to not have to stress about arriving at reservation times with two kids!
As for a dress code, we got by everywhere we went with nice shorts and collared shirts for the men-boys. I wore a dress. The only places that had Resort Evening attire that required pants were Sapodillas and Sky for dinner. Both of those places had age restrictions and were adults-only restaurant spots so we did not visit.
If you have food allergies make sure to reach out to your concierge or butlers early in the week. The resort is known for being able to prepare food for folks with restrictions to enjoy.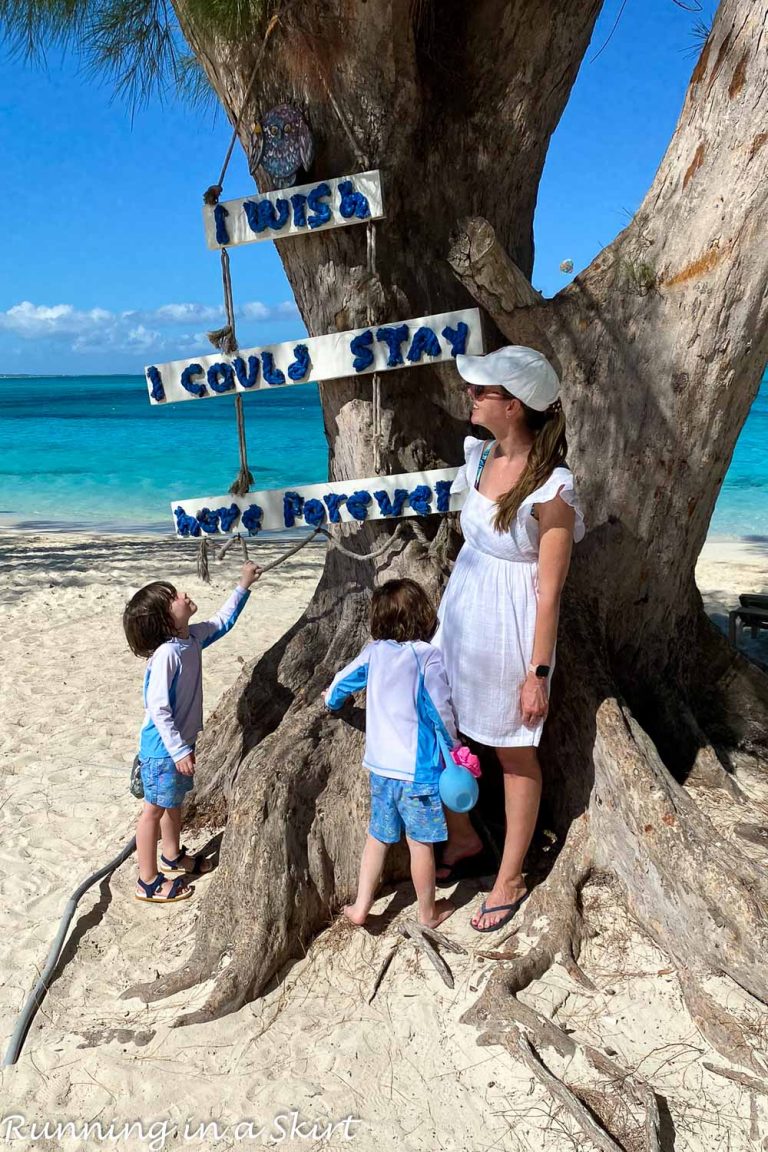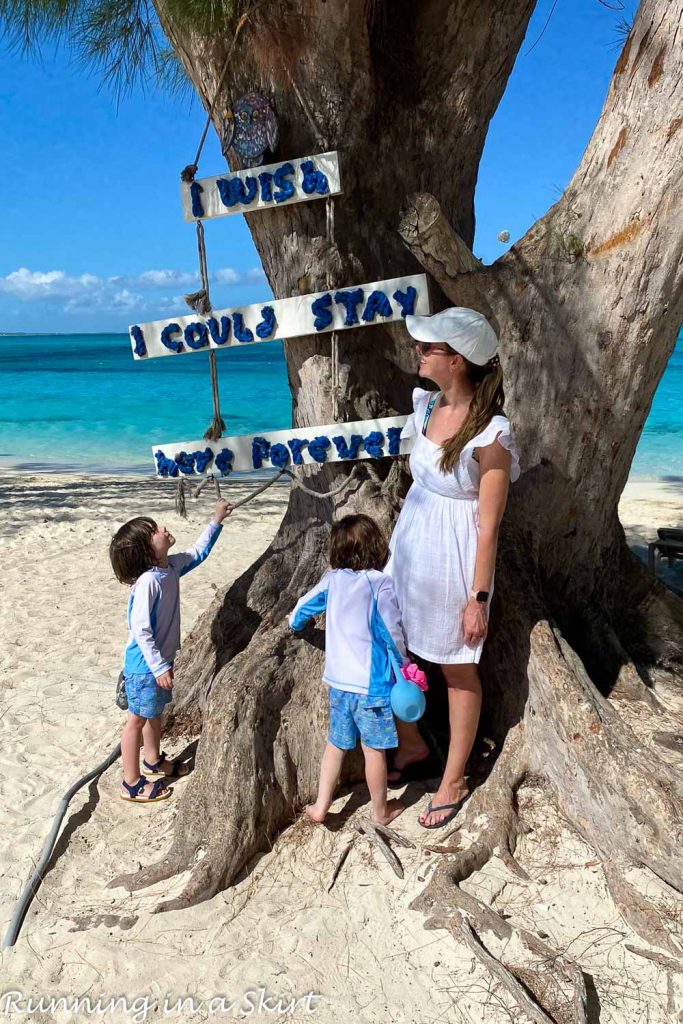 Beaches Turks and Caicos Restaurants Review - Italian Village
Barefoot By the Sea
Barefoot By the Sea was one of our favorite Beaches Turks and Caicos restaurants. It is beachside at the Italian Village and you see it from our room, making it an easy choice for us. The tables and restaurant are built directly in the sand, which is quite charming. Plus, you can't beat the ocean breeze and view with the outdoor seating with a view of Grace Bay Beach.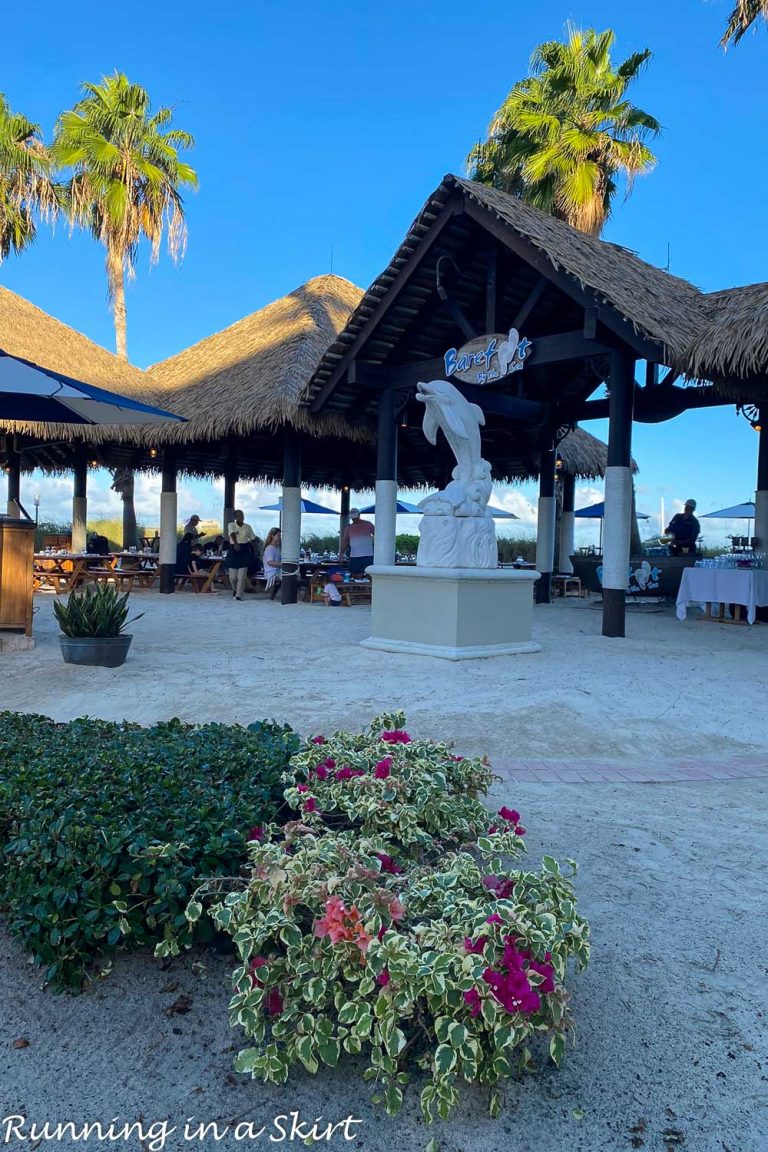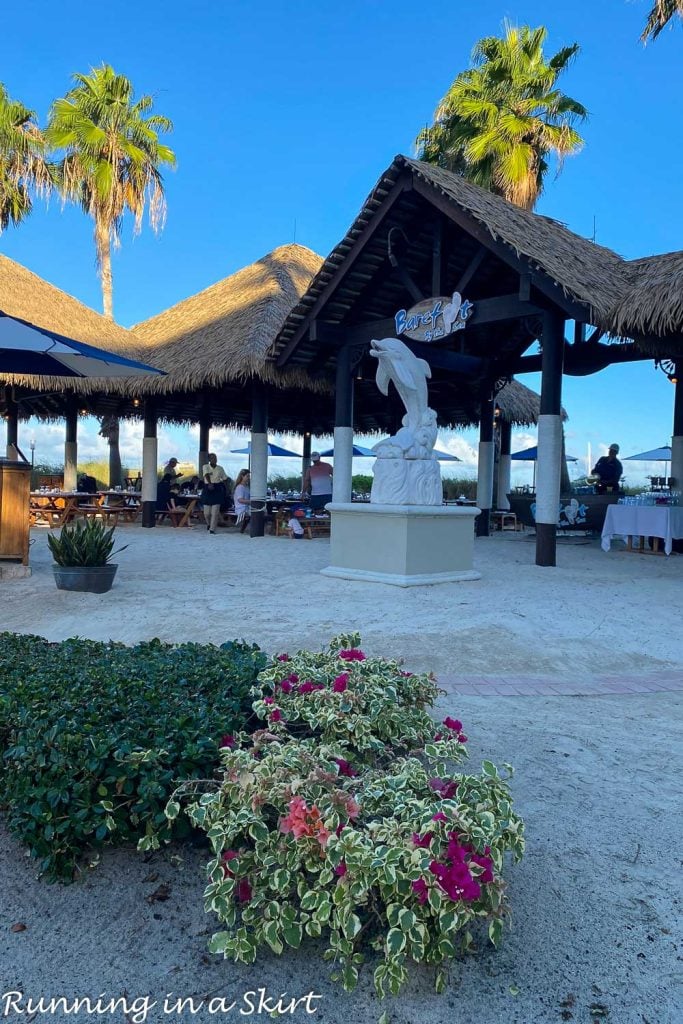 They even had these adorable kids-sized tables, which my twins thought were terrific.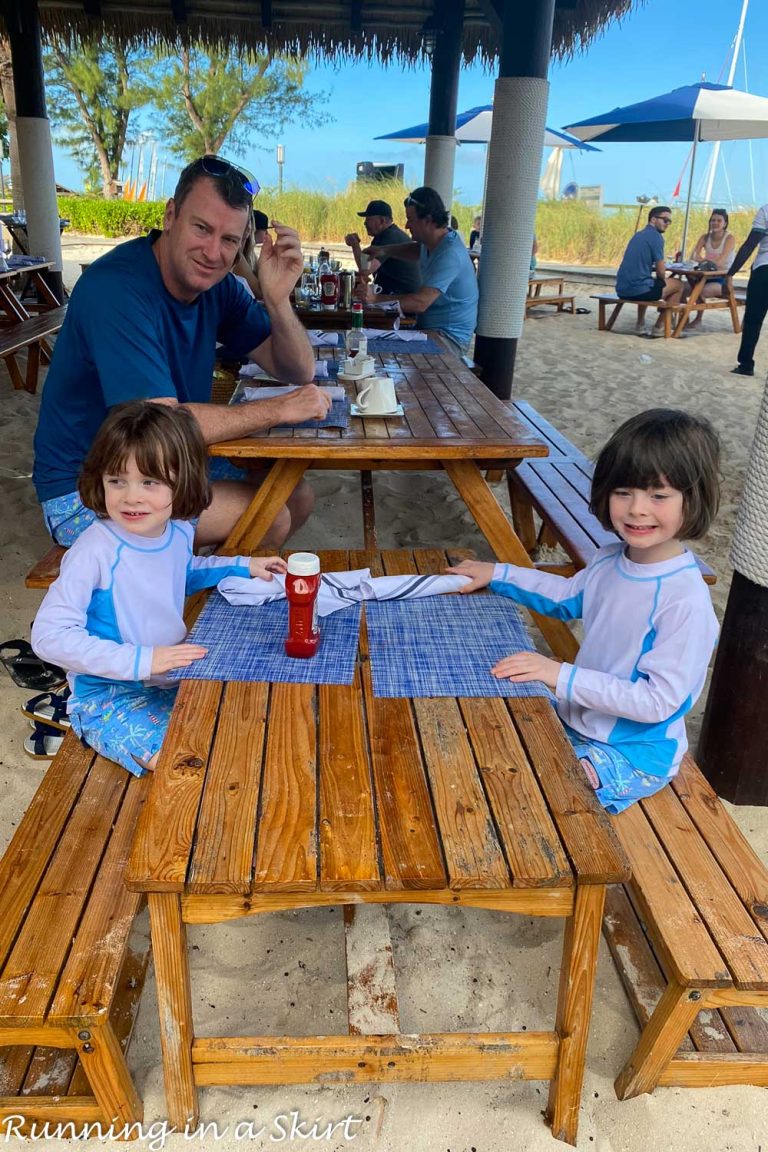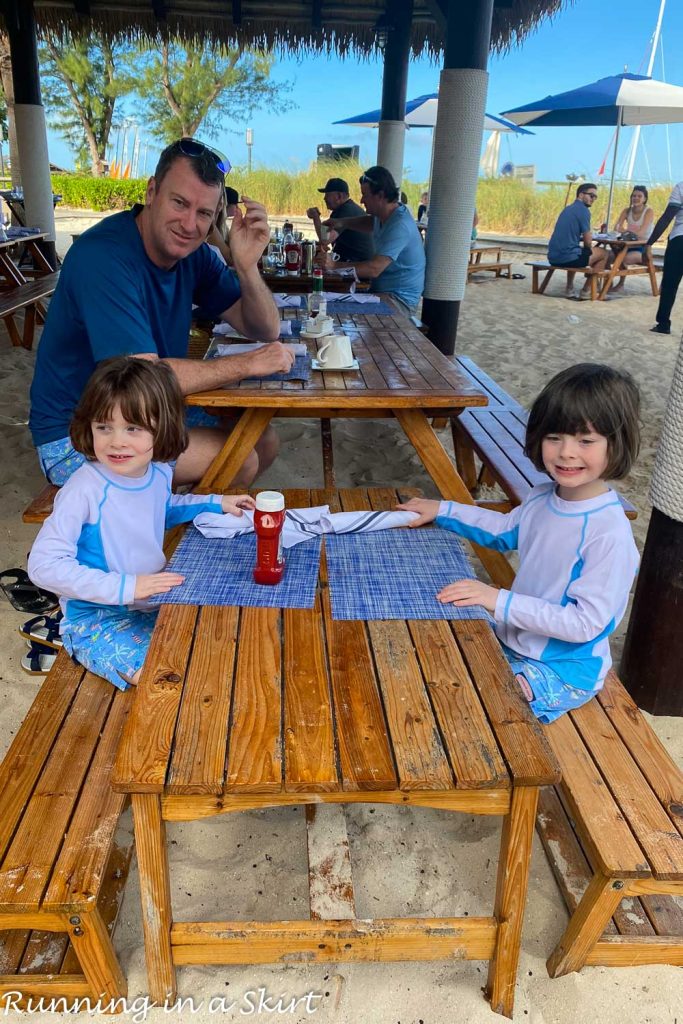 We ate there for breakfast, lunch, and dinner because of the charm and ease of it. We thought lunch was the best and was one of our favorite meals on the trip.
This is the Turks and Caicos conch salad, which was so good! If you haven't had conch salad before it's like ceviche but with conch. I loved that it was made from a local conch.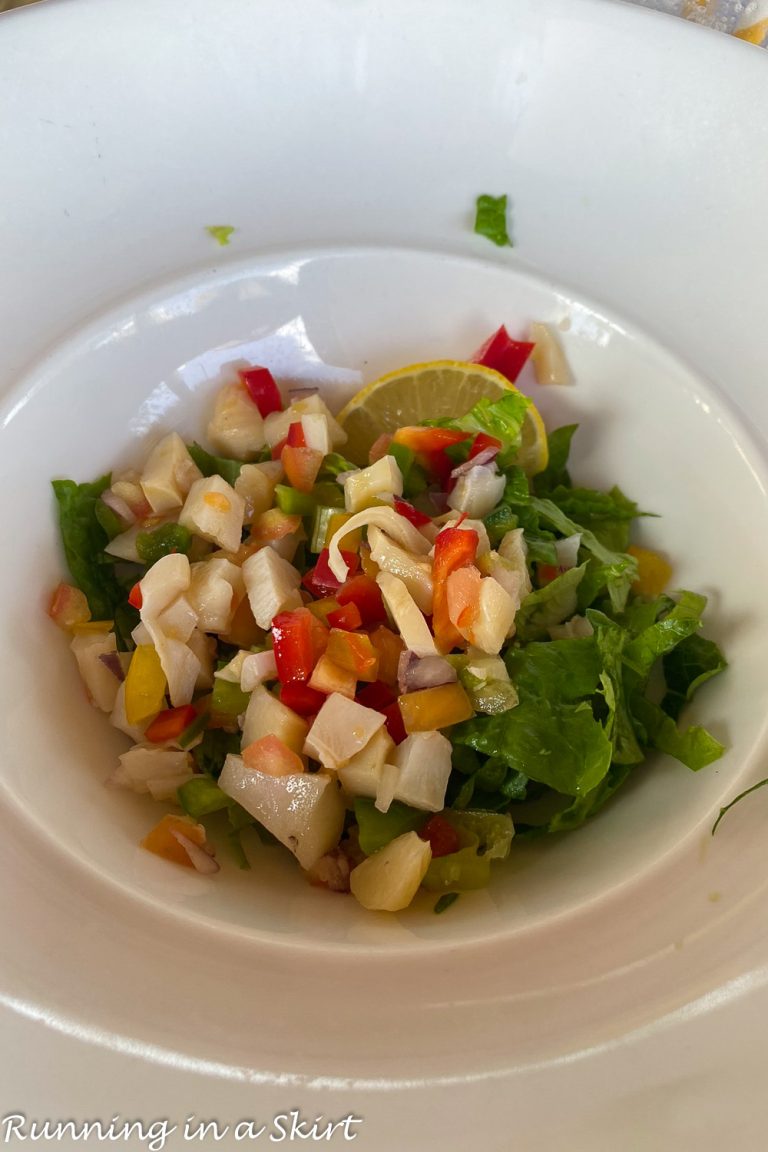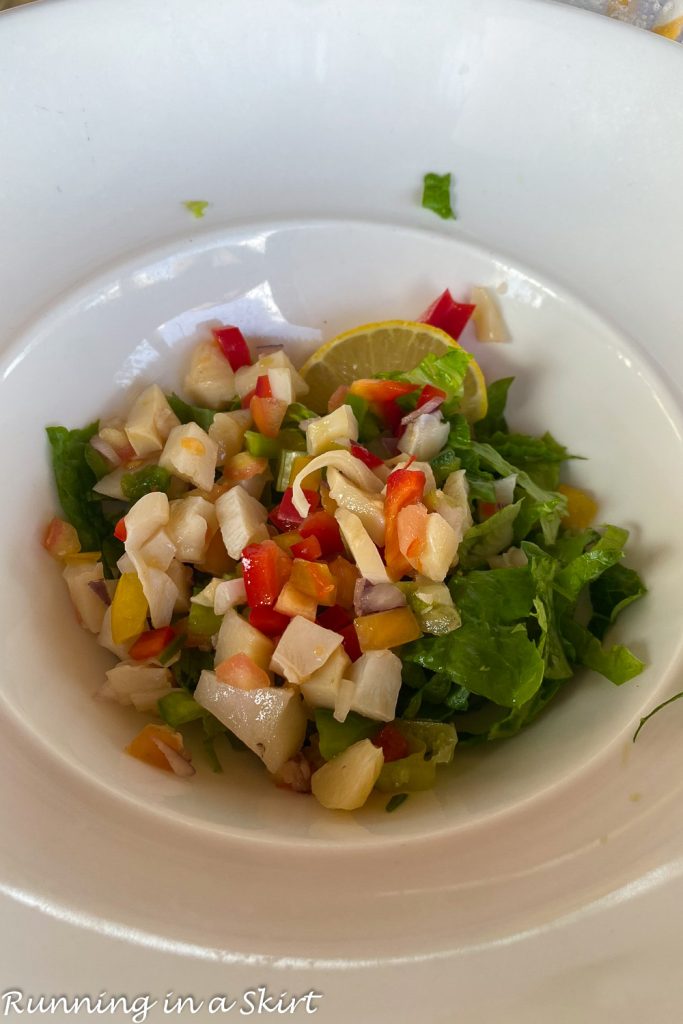 We also love the Fish Tacos which were made with seared snapper. The boys gobbled this up!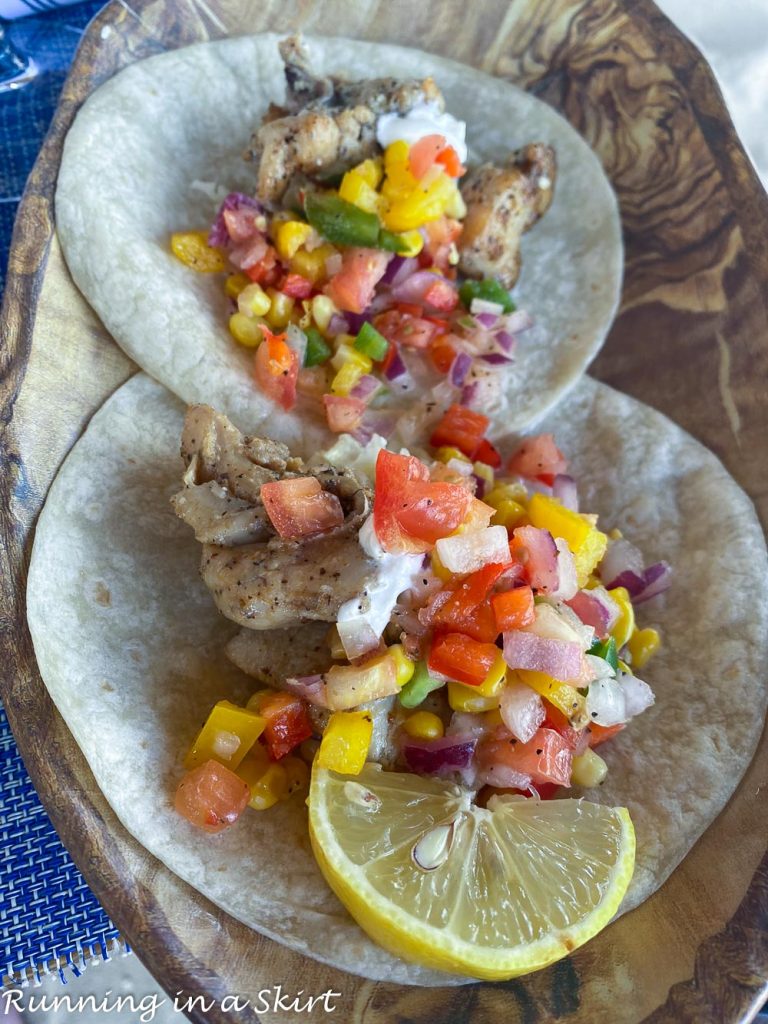 For dinner, we tried a big variety and shared. These are the Turks and Caicos Conch Fritters. They were tasty but I'm not a huge fan of heavily fried food like this.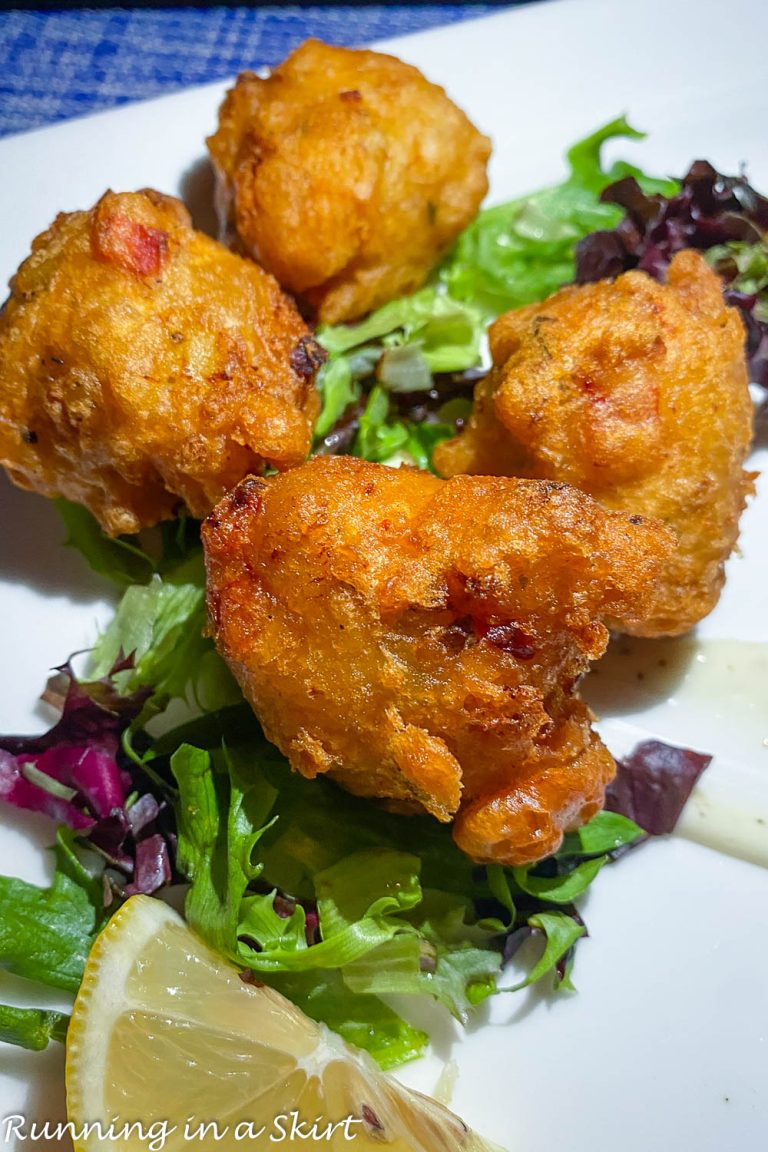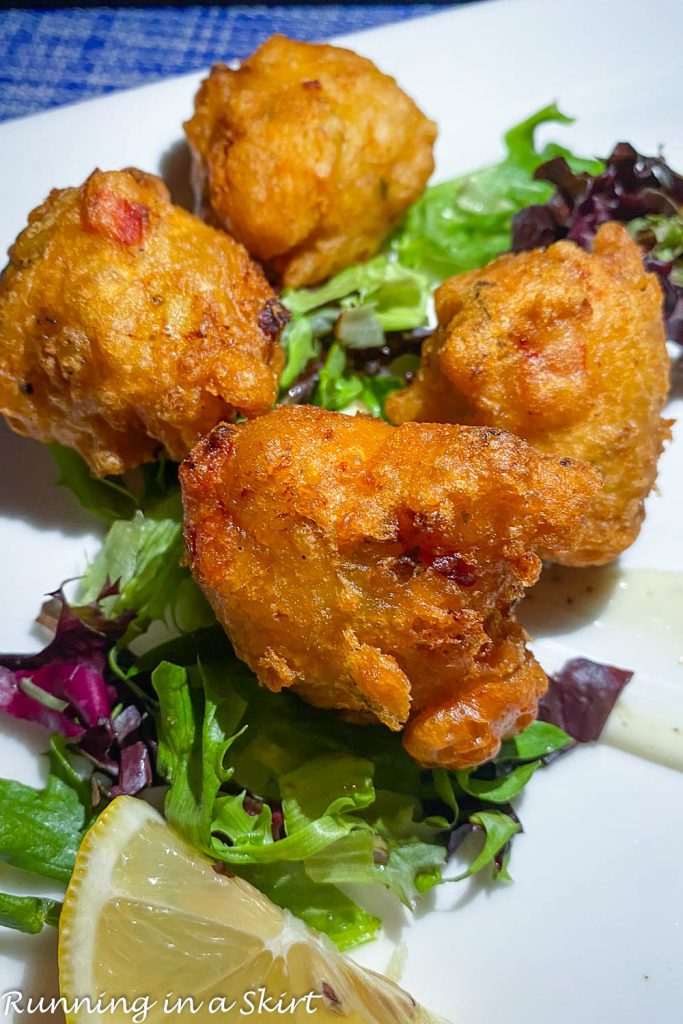 This Line Caught Snapper was another favorite dinner from our entire trip. It was light, flavorful, and flaky.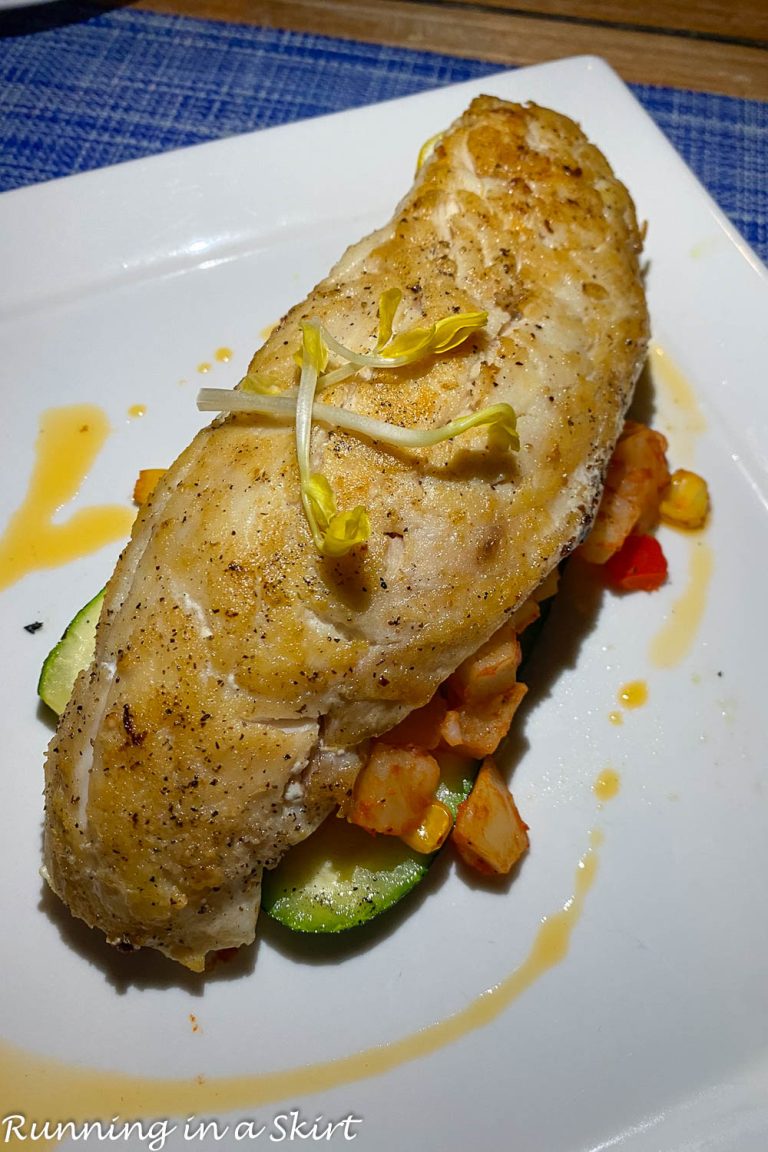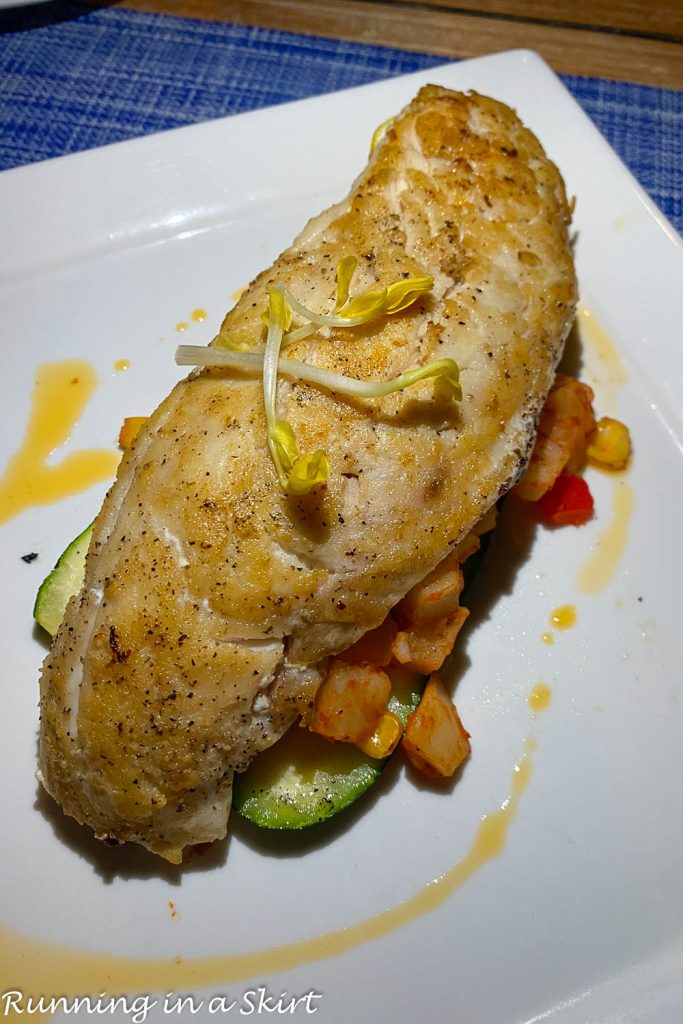 We also really enjoyed the Grilled Mahi Mahi, which was the restaurant's signature dish. The presentation and flavors were tasty.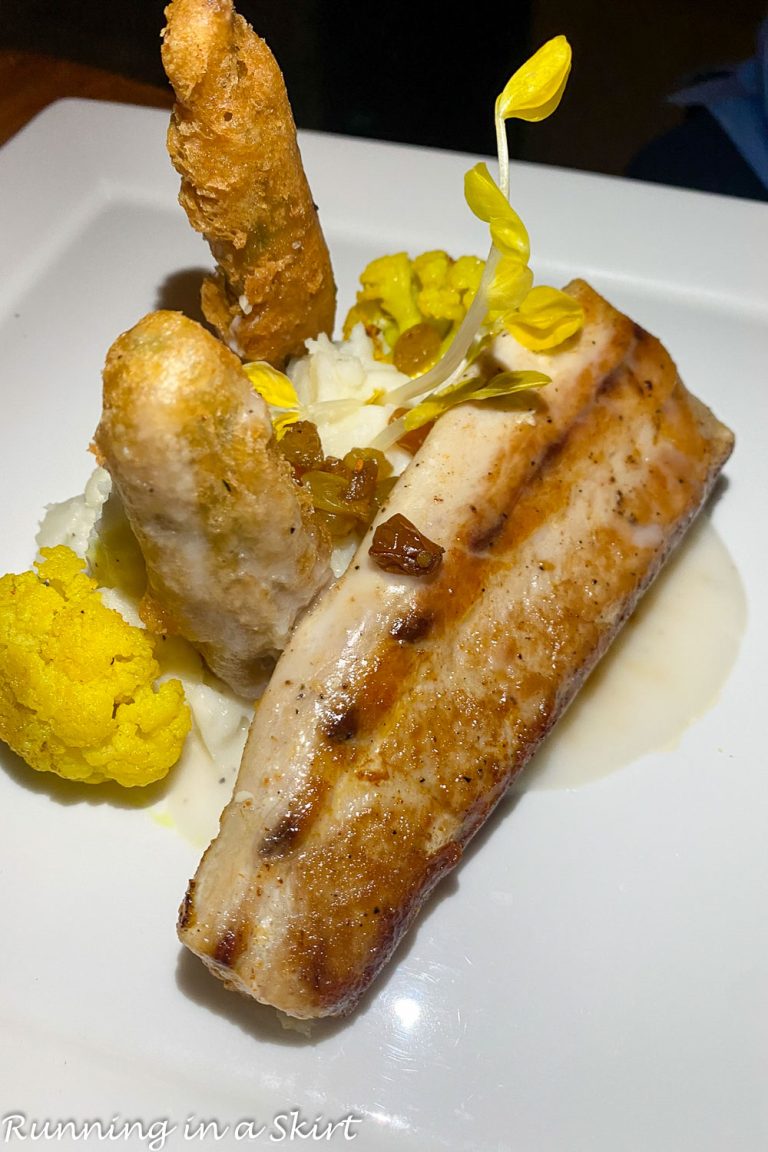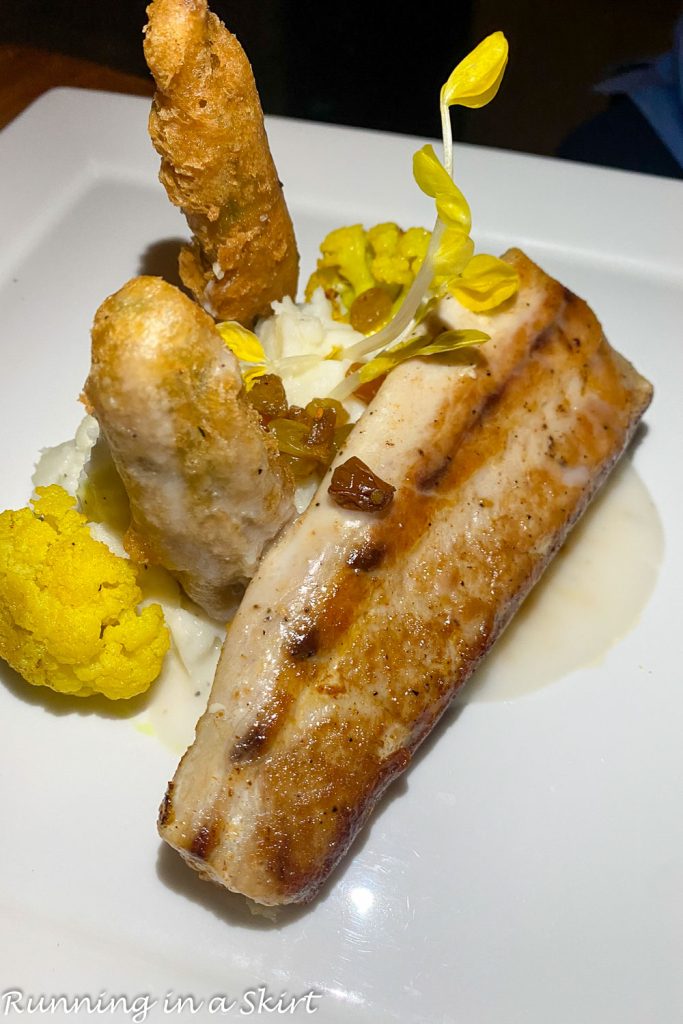 Dino's Pizzeria
Dino's Pizzeria is another one of the top Beaches Turks and Caicos restaurants. The location is in the Italian Village but it's tucked behind the village entrance closer to the waterpark. Because of that, it was a great to-go option to enjoy while at the water park or pool. They actually had pretty easy-to-go ordering with a counter just for that service. There was also a sit-down restaurant.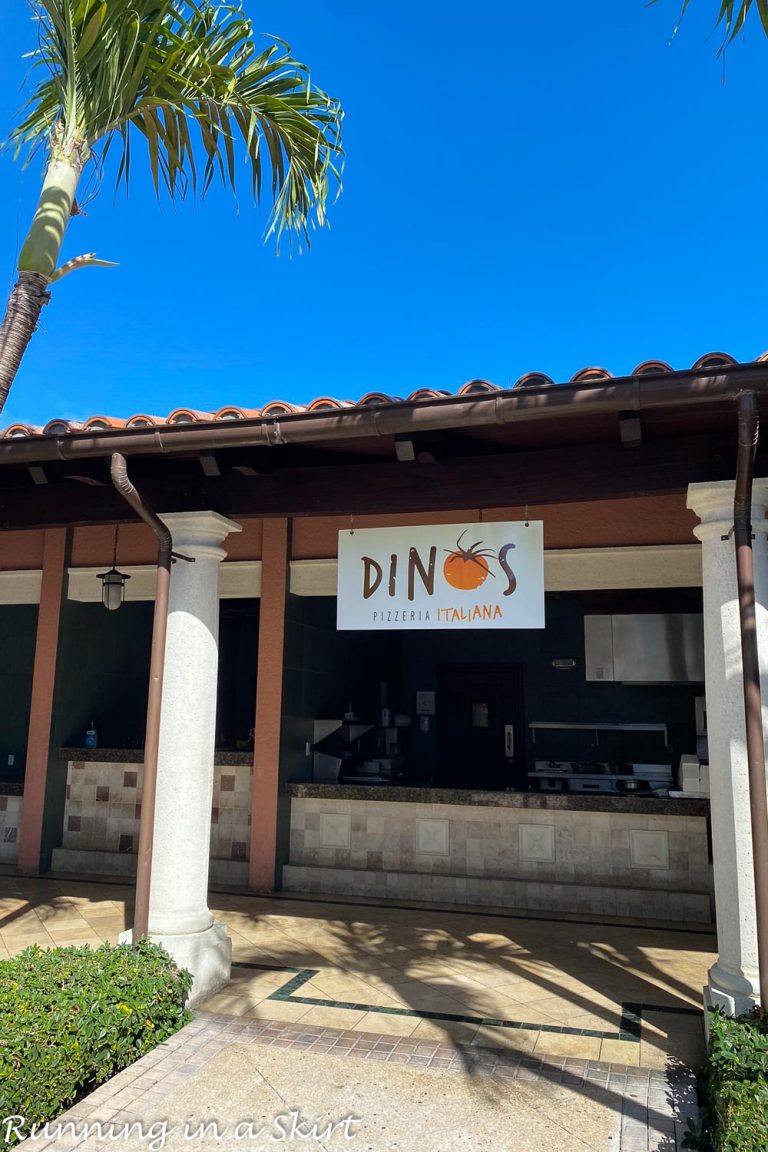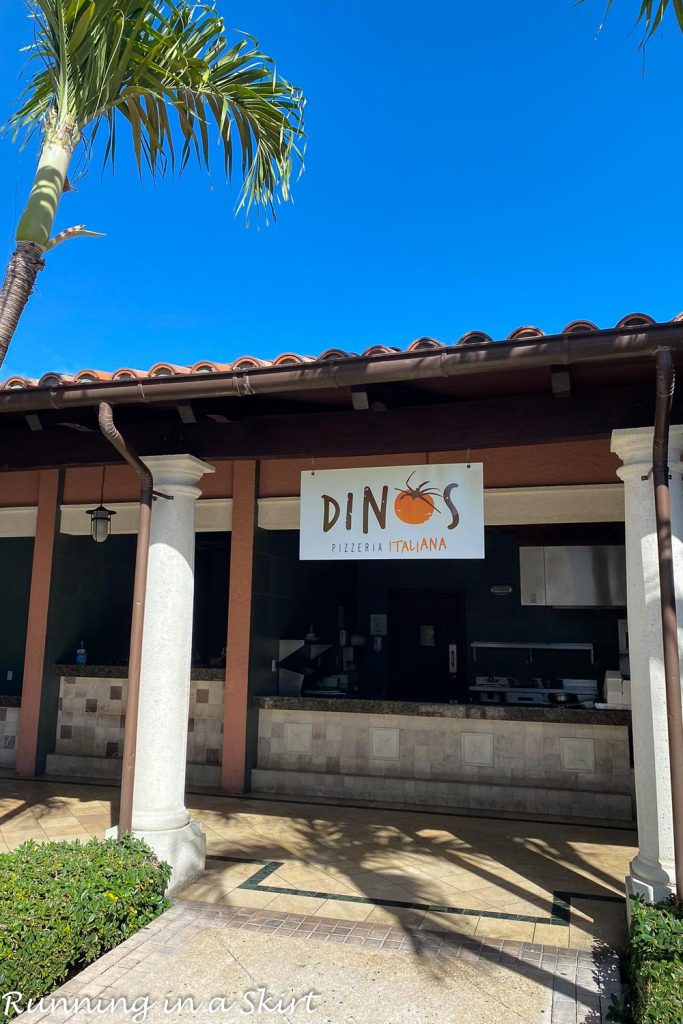 The pizza was surprisingly tasty and flavorful. It was one of our favorite meals and we enjoyed it so much that we got it several times during the trip.
My only not about this is it takes a long time for them to make it, so plan 45+ minutes ahead of time especially if you have young hungry kids.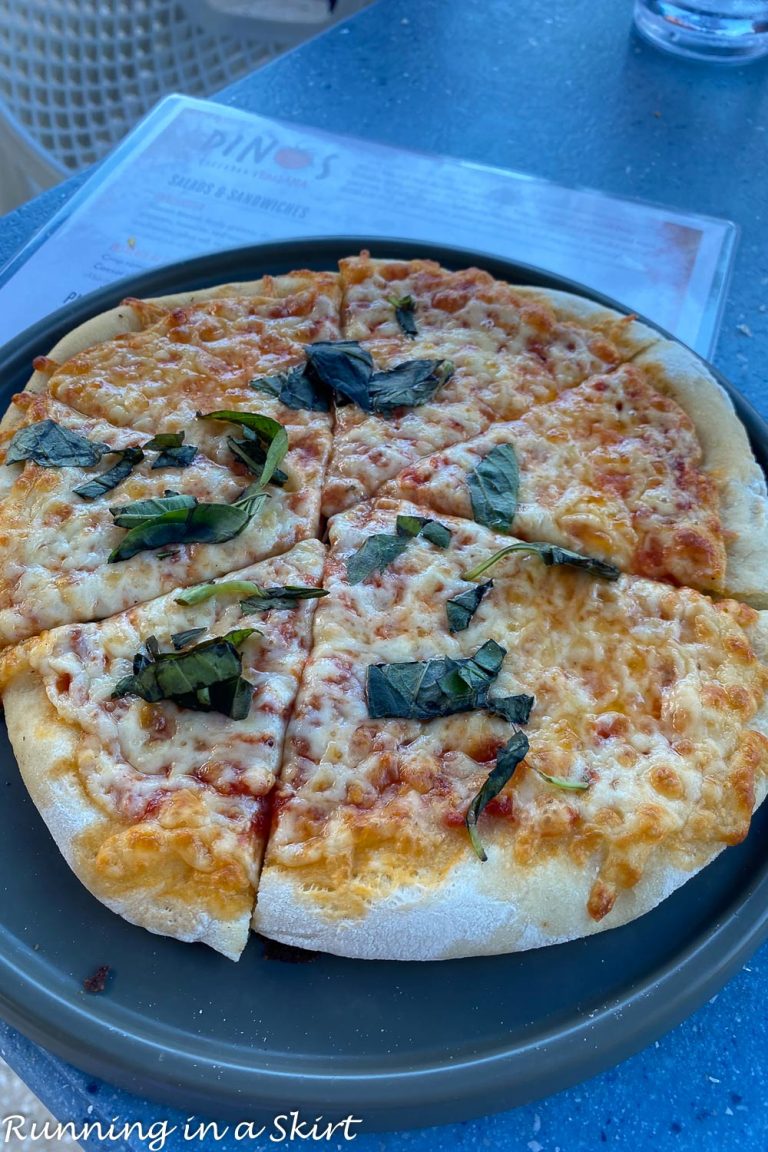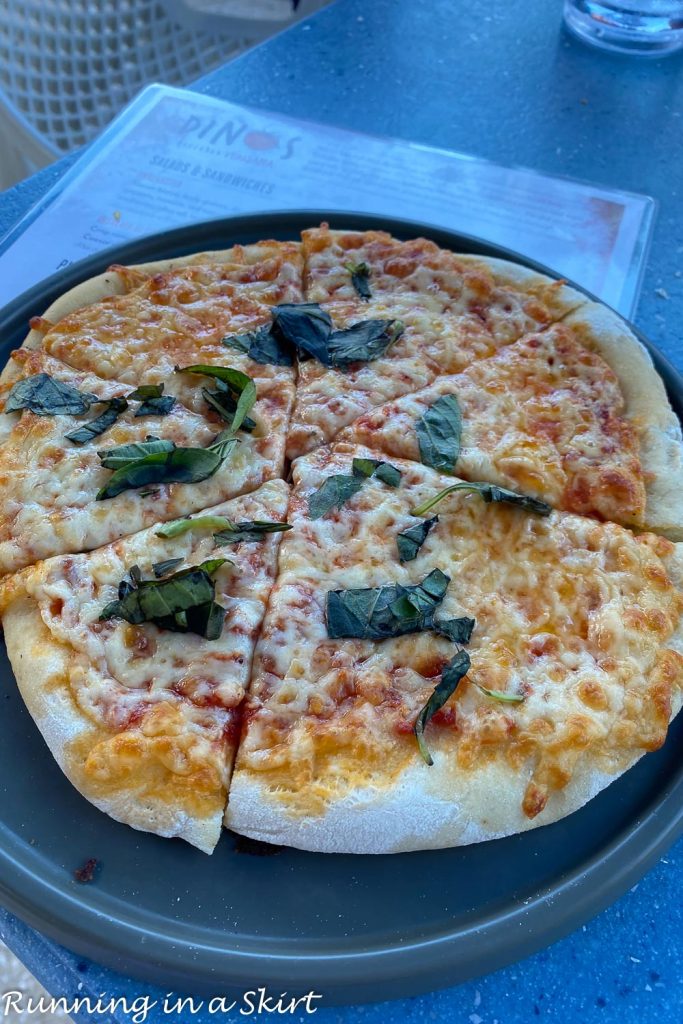 The Bombay Club
The Bombay Club is actually in the same location as Dino's Pizzeria but is open at night. They offer Indian-style dishes like Chicken Tikka and Lamb Samosas. If you love Indian food it's a great opinion or if you haven't tried it and want to, it's also a great place to taste it.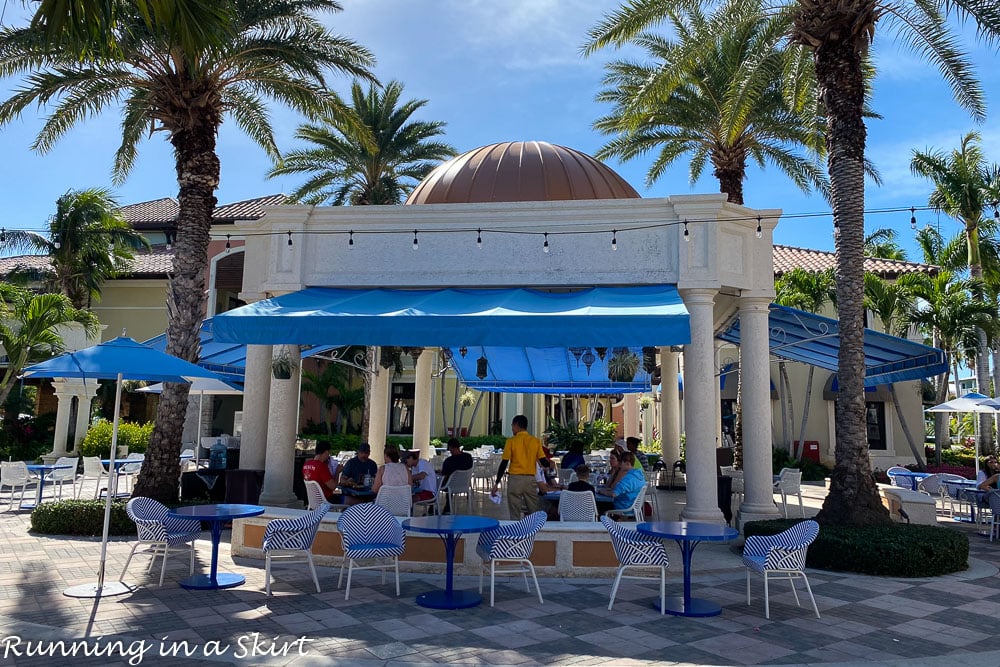 Mario's
Mario's is right in the middle of the Italian Village and offered a wide variety of buffet foods for breakfast and lunch. We had their buffet breakfast and it was good it had more variety than any breakfast buffet we at including made-to-order omelets.
For dinner, they have an appetizer buffet and al a cart menu ordering for dinner with Italian classics like pasta, lasagna, and risotto.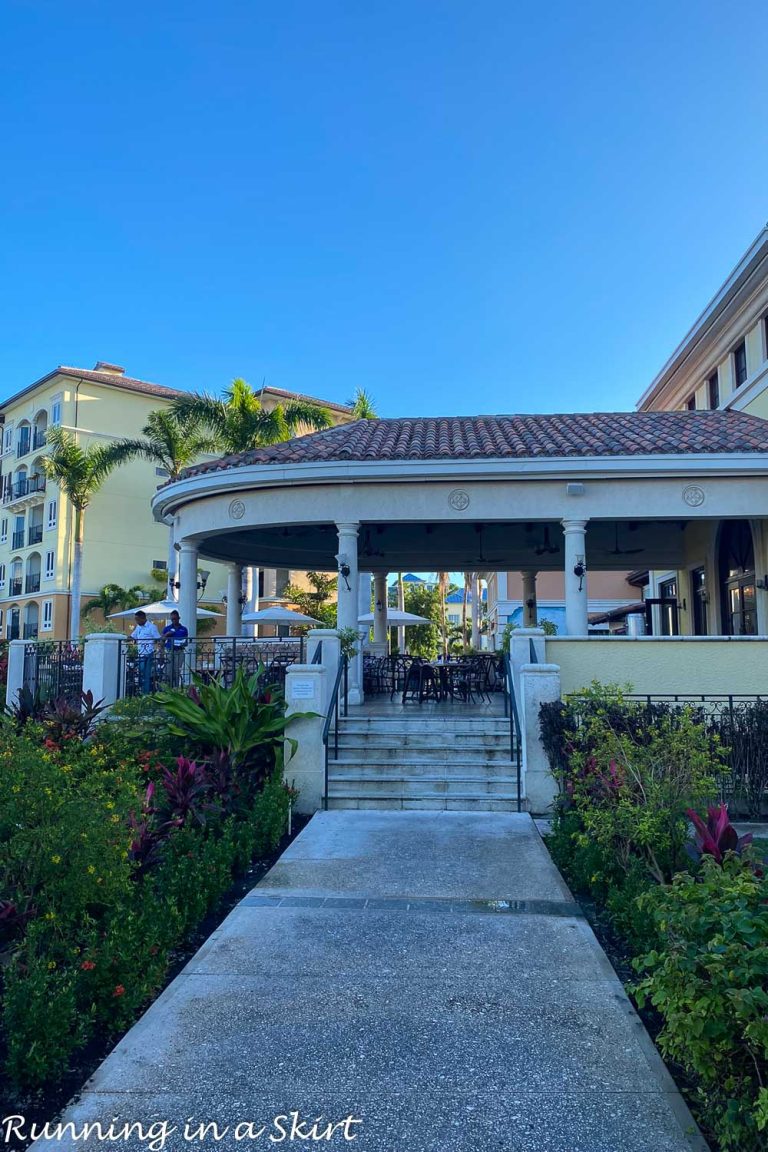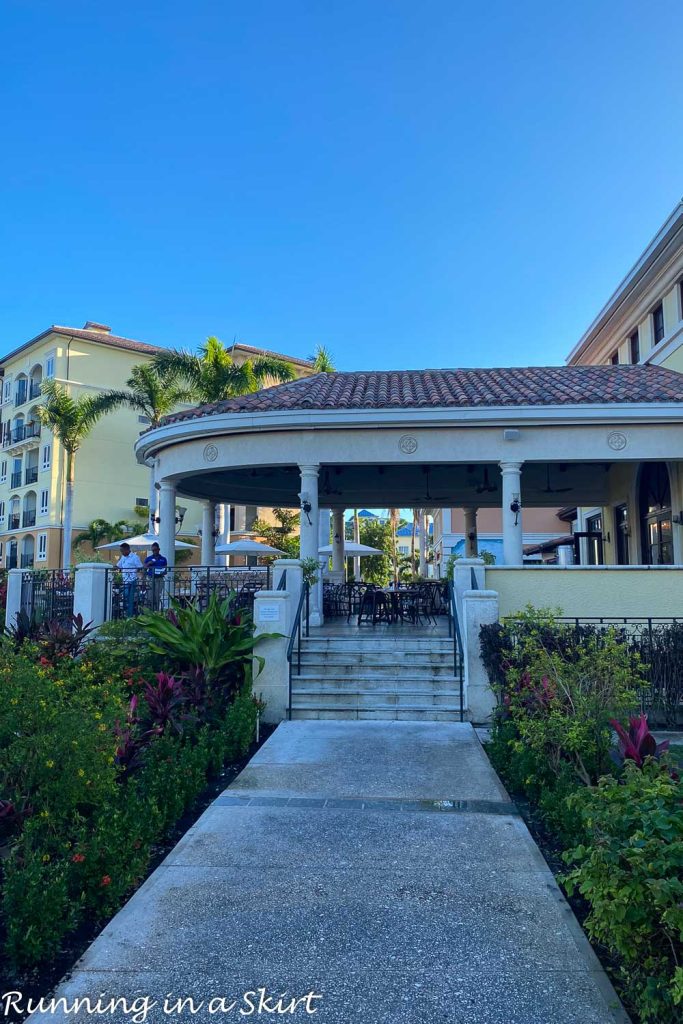 The Cricketers Pub
The Cricketers Pub is another on the list of Beaches Turks and Caicos restaurants. They are also in the Italian Village located adjacent to Mario's. The theme for this spot is traditional British pub food including Fish & Chips, Beef, and Stout Pie.
They are one of the few spots open late at night and they don't close until 2 AM.
Beaches Turks and Caicos Restaurants Review - Caribbean Village
Schooners Seafood Grill
Schooners Seafood Grill is one of my favorite dining options from the Beaches Turks and Caicos restaurants. We loved it so much that we ate dinner there twice on our trip. This was our favorite dinner of the week in terms of food. It has a fun vibe and is located with a water and sunset view. It's just past the Italian Village and water sports area.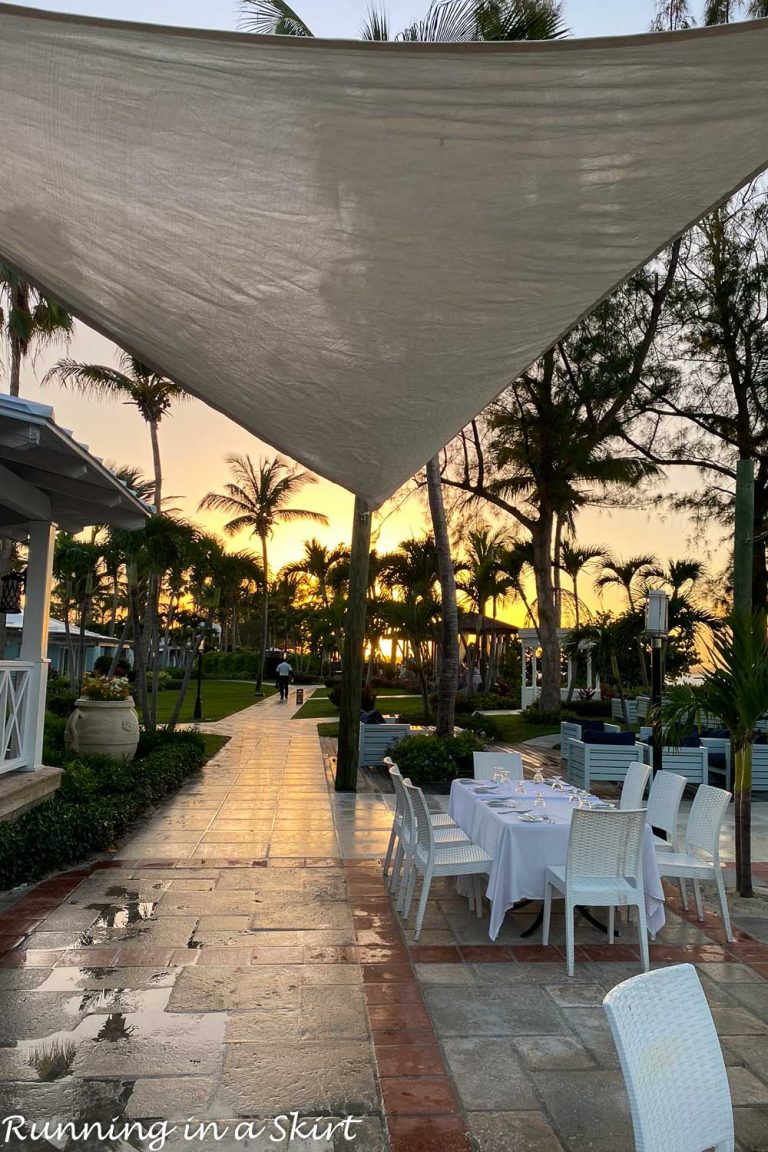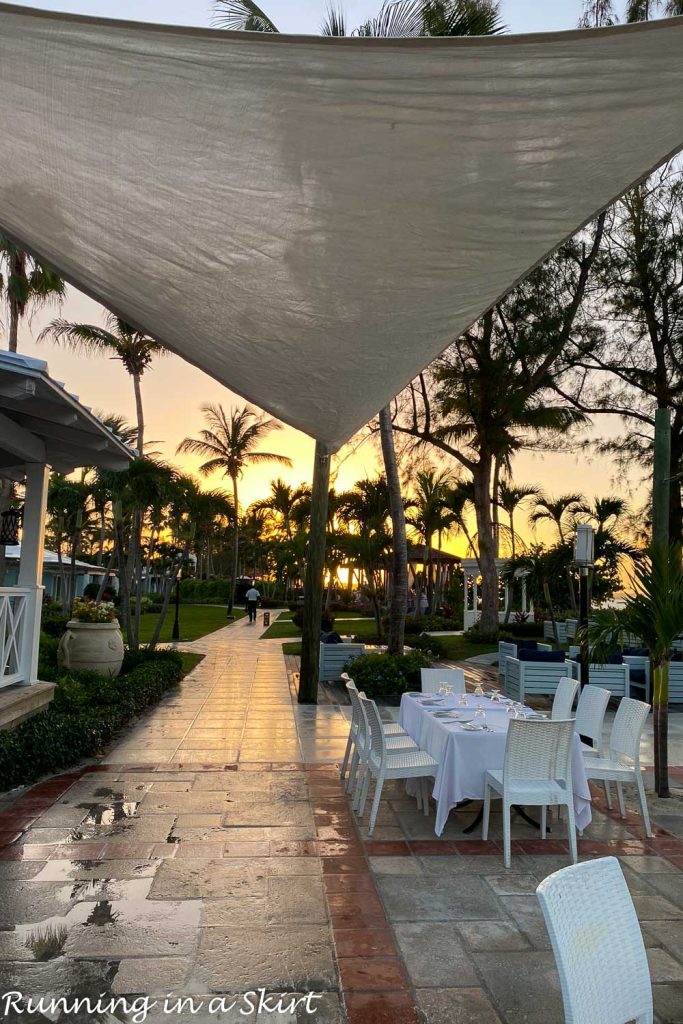 It was fun because it felt like a fancy dinner for my boys with white tablecloths and such.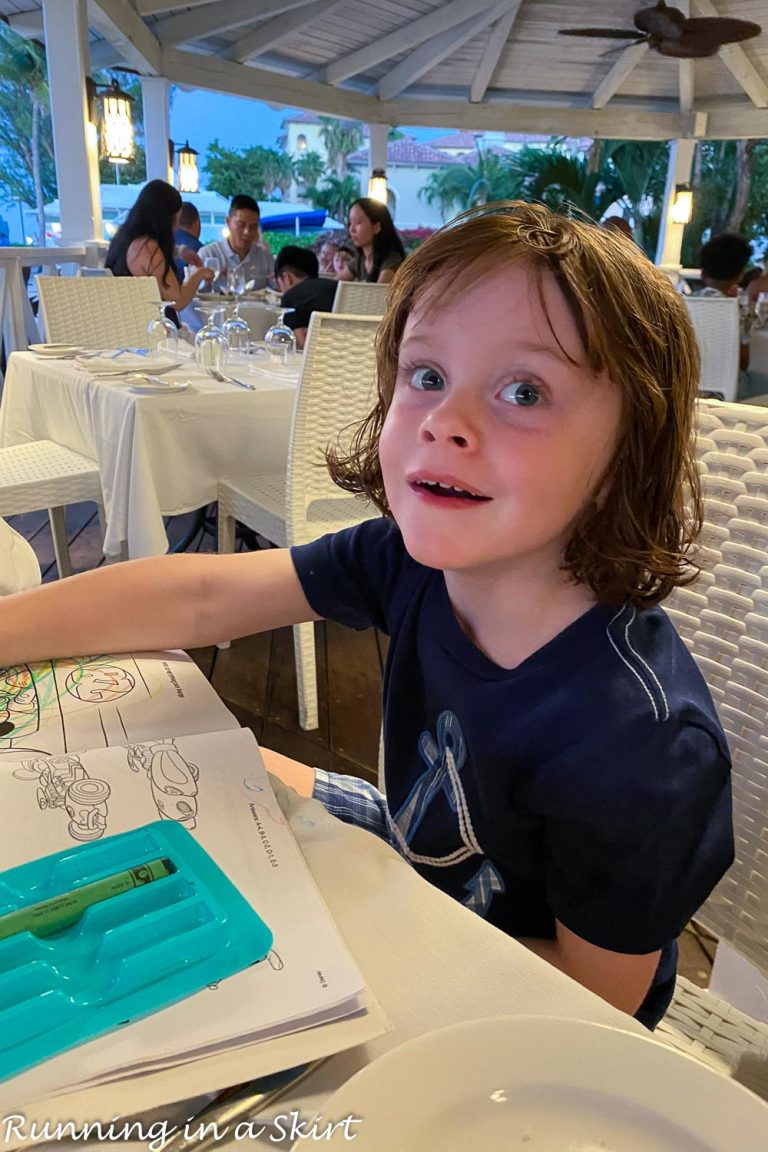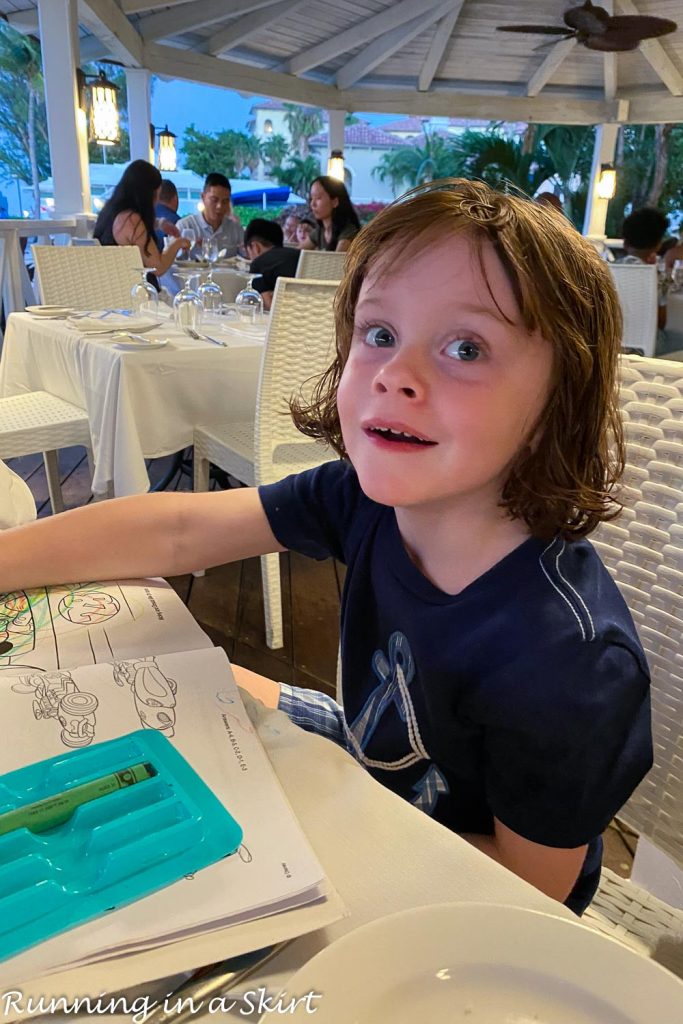 The menu is loaded with fresh seafood options and a nautical theme. We love the shrimp ceviche.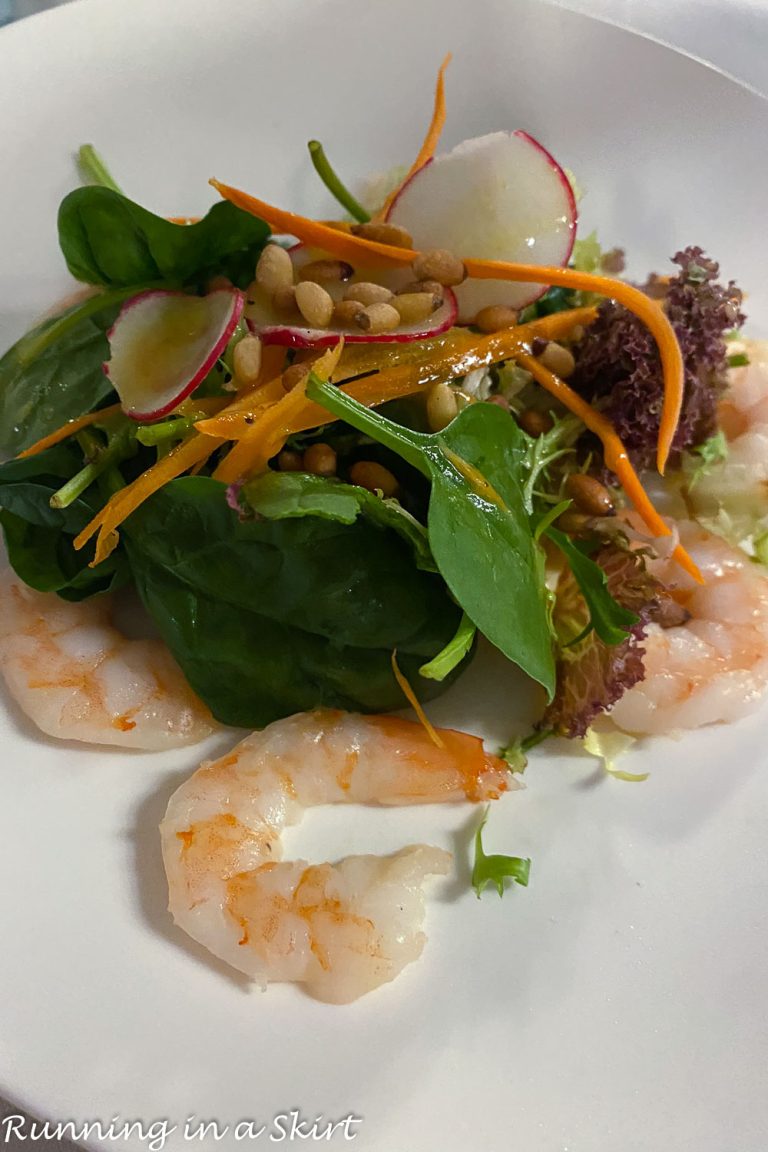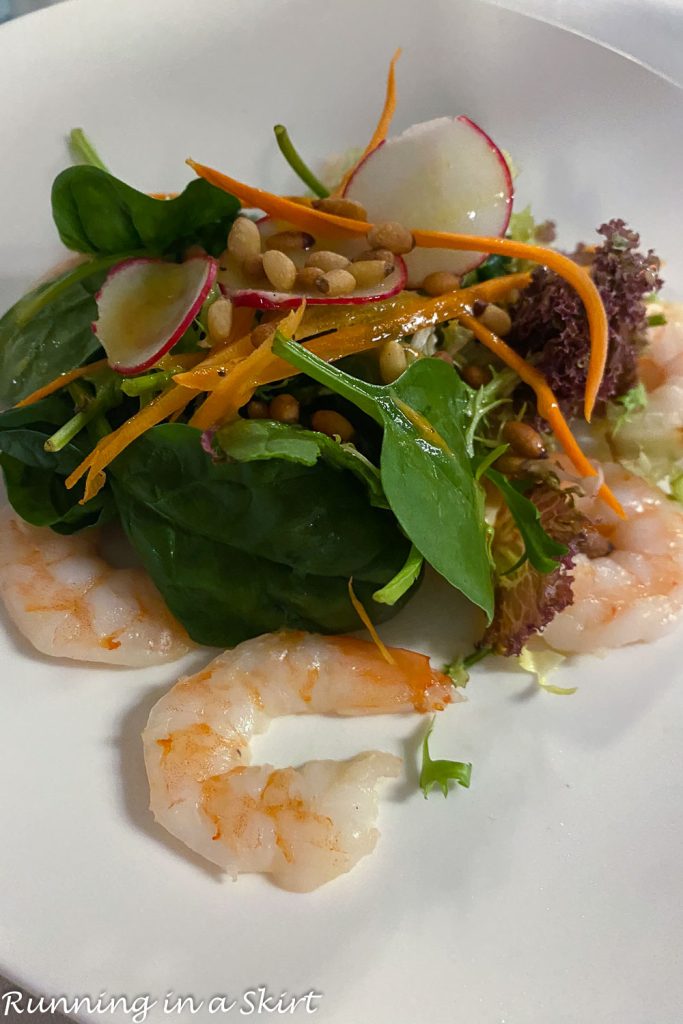 We also shared the scallops which were large and tender! They seared them to perfection.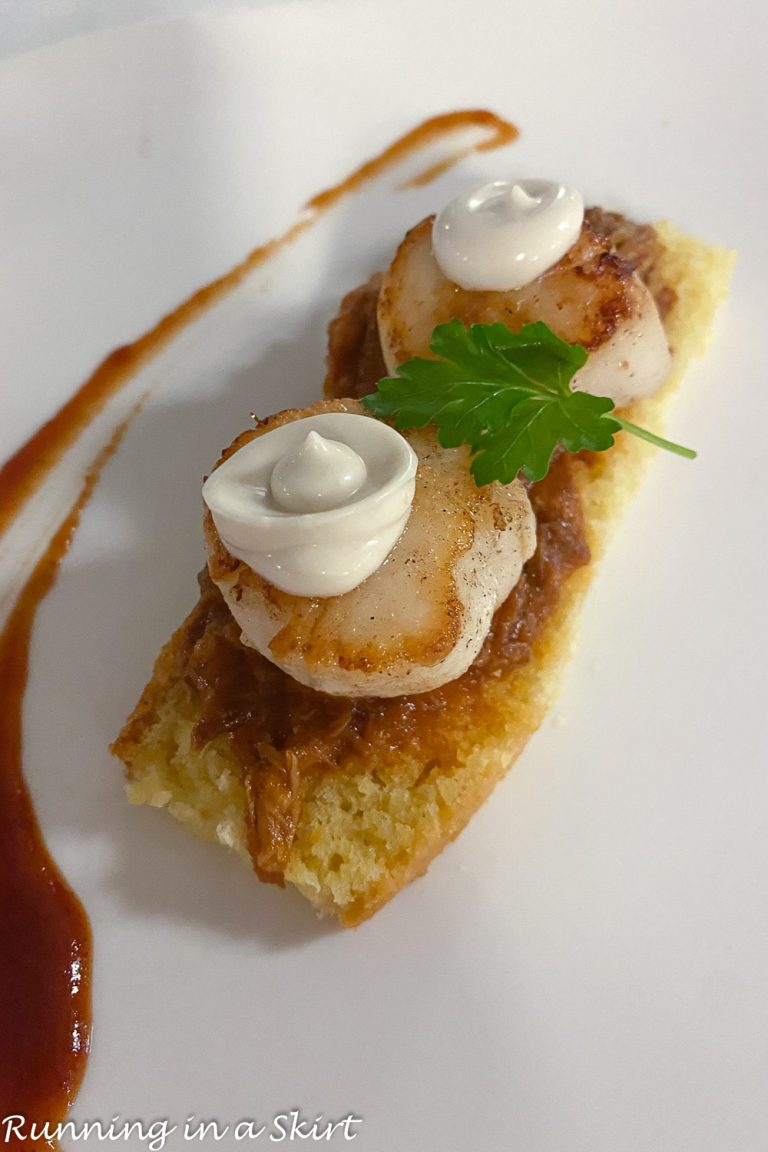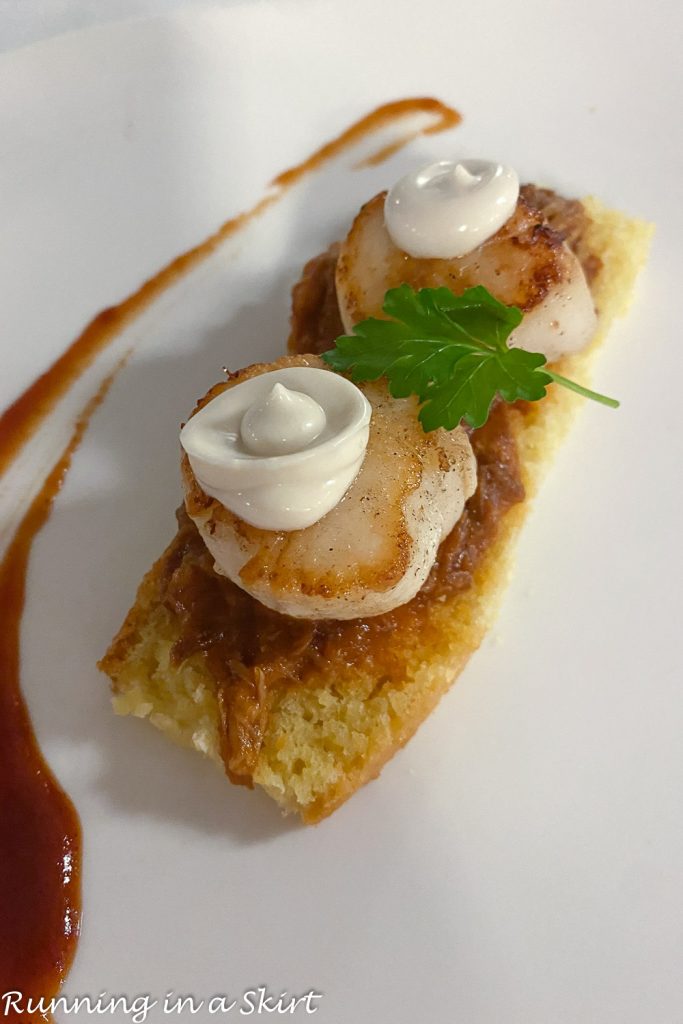 We also loved the crab cakes.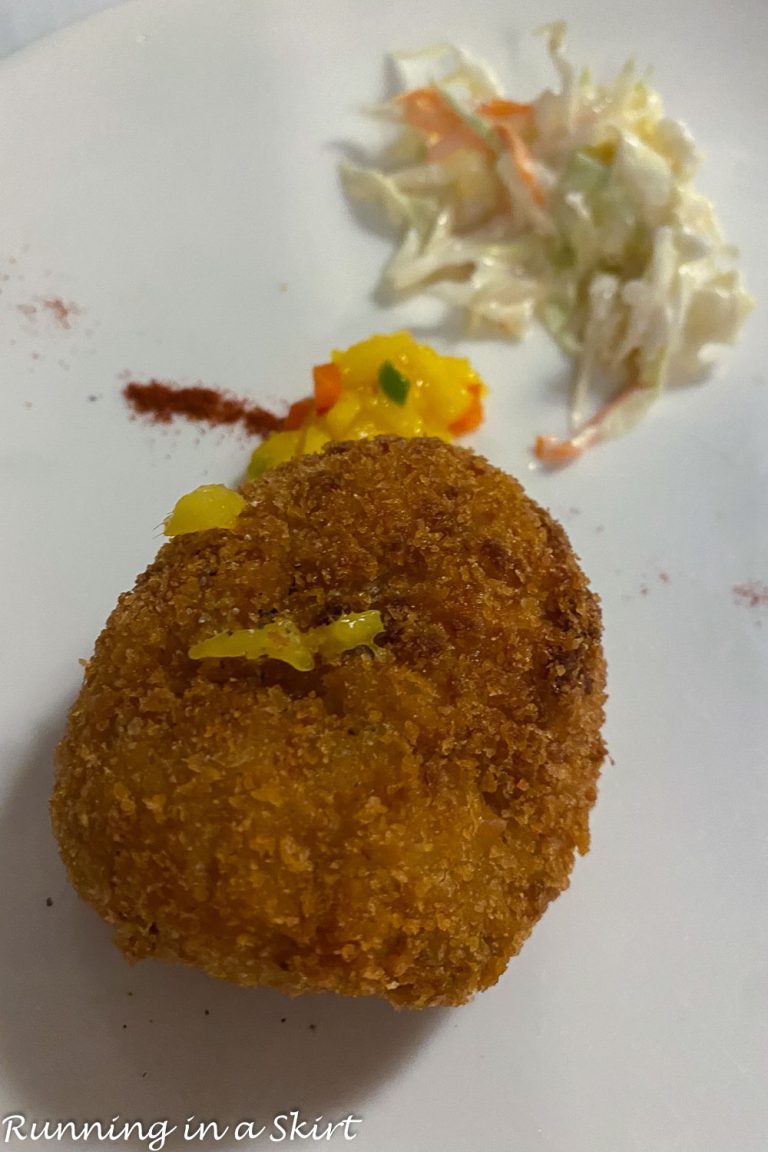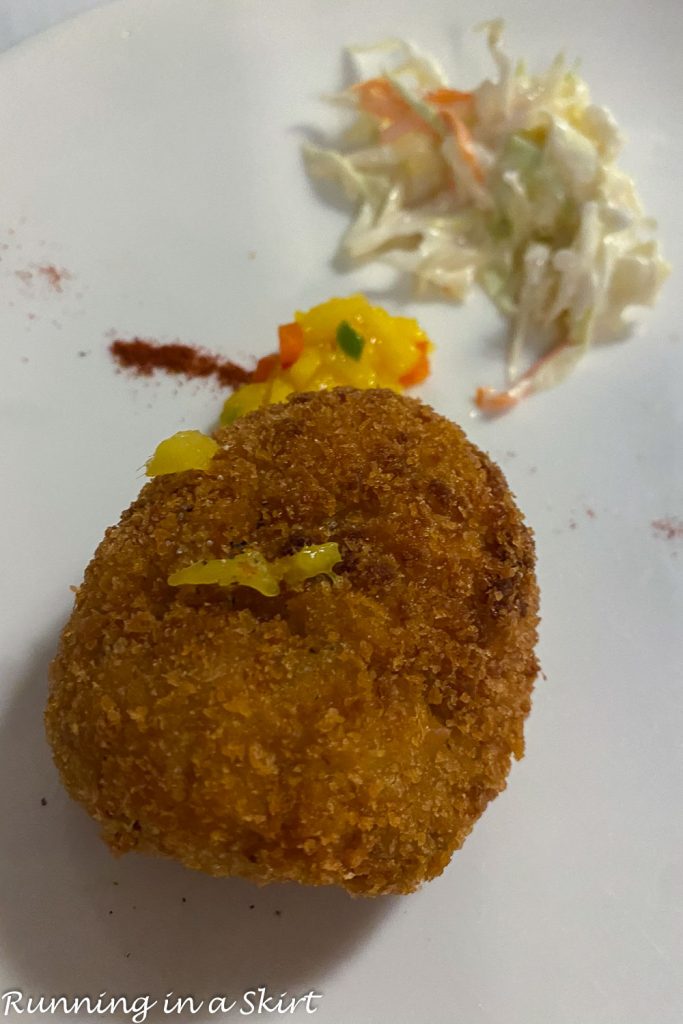 For the main course, we got the seared tuna, which was one of our favorite entrees of the entire week.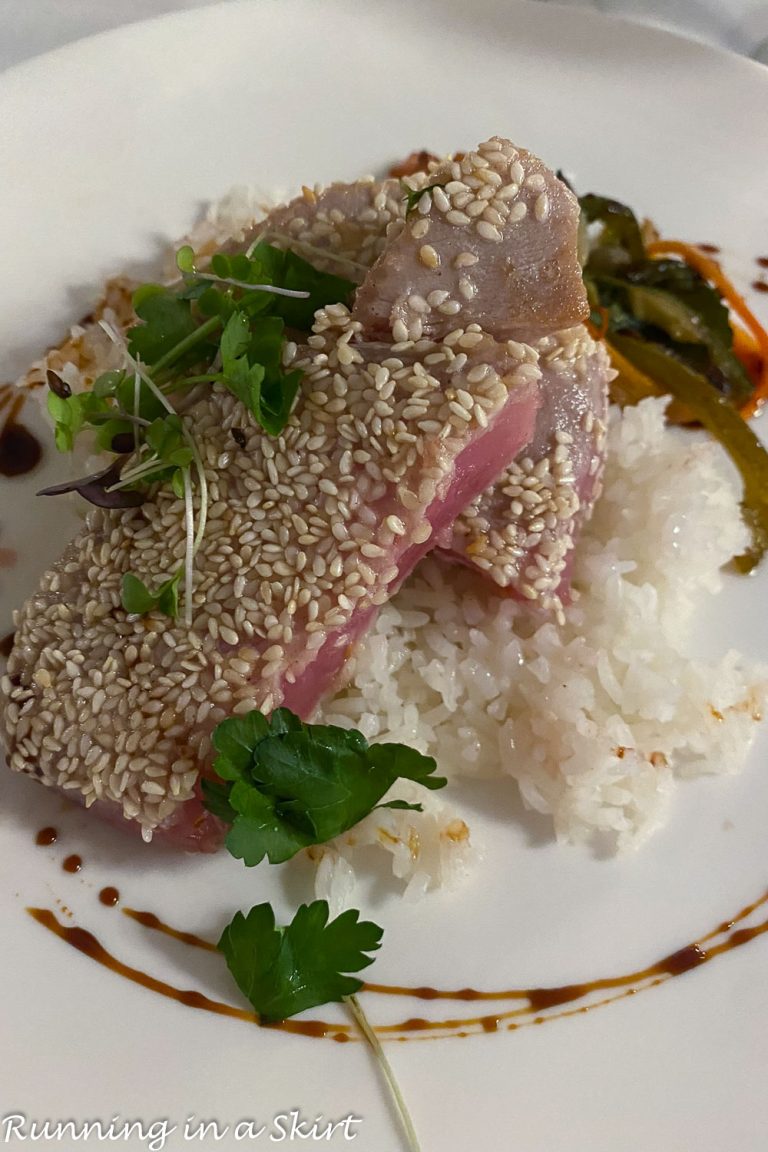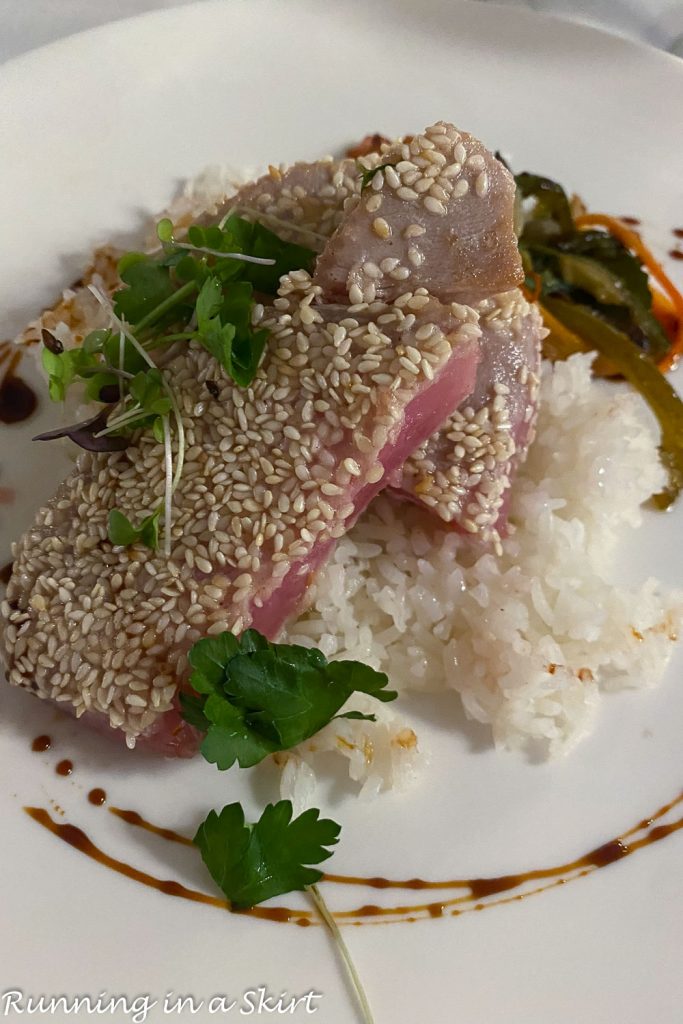 We also really enjoyed the signature dish which was the Pan-Seared Swordfish Steak. The presentation and taste of the food here were one of the best at the resort! Plus you can't beat the oceanfront location and open-air dining.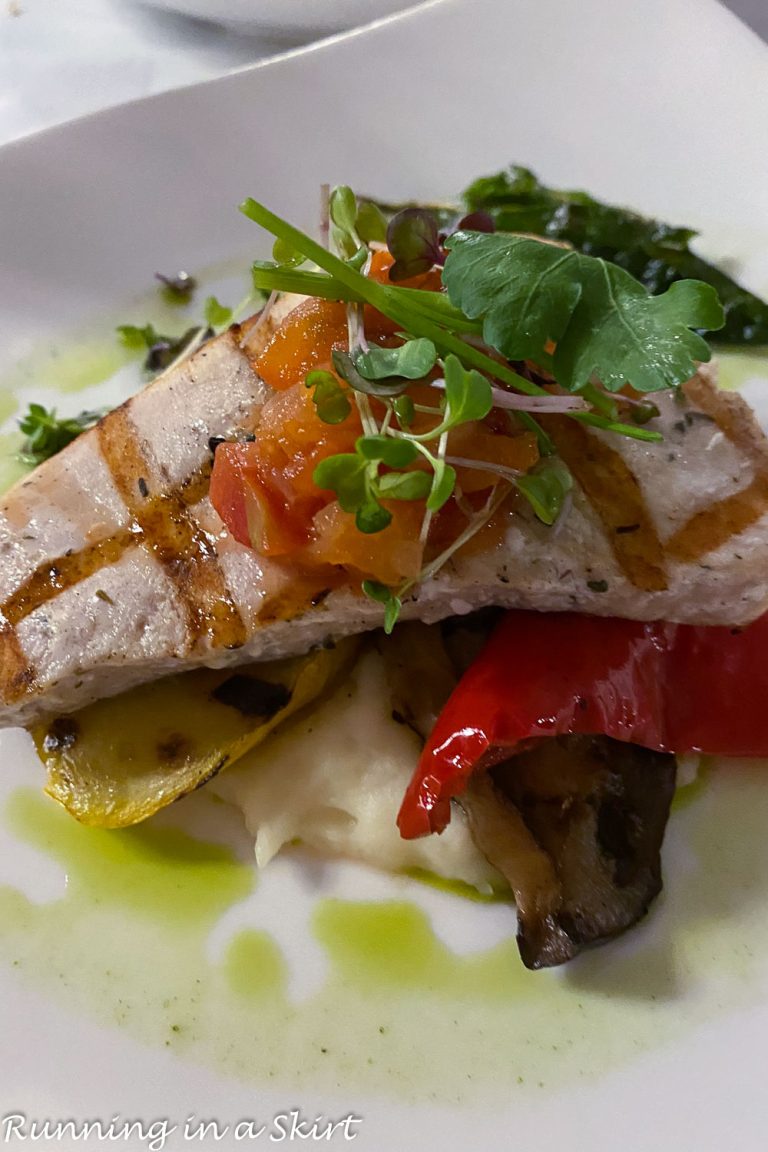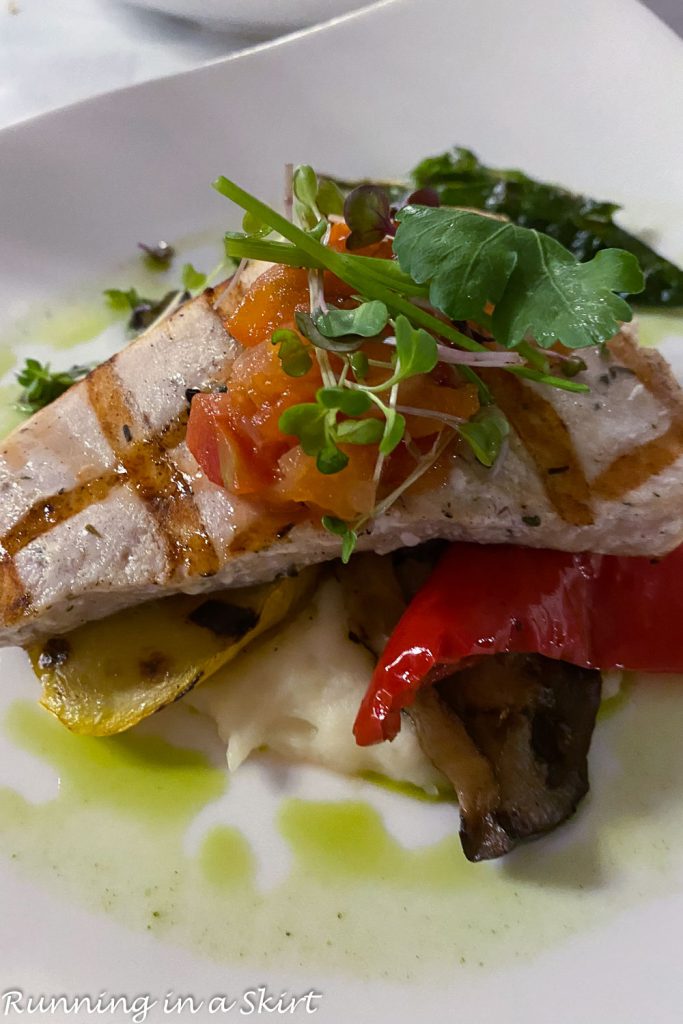 The Jerk Shack
The Jerk Shack is another one of the top of the list of best Beaches Turks and Caicos restaurants. It's a super casual spot in the Caribbean Villlage all the way at the far edge of the resort right on the beach.
My only complaint is it's a bit of a walk to get to if you are anywhere but the Caribbean Village.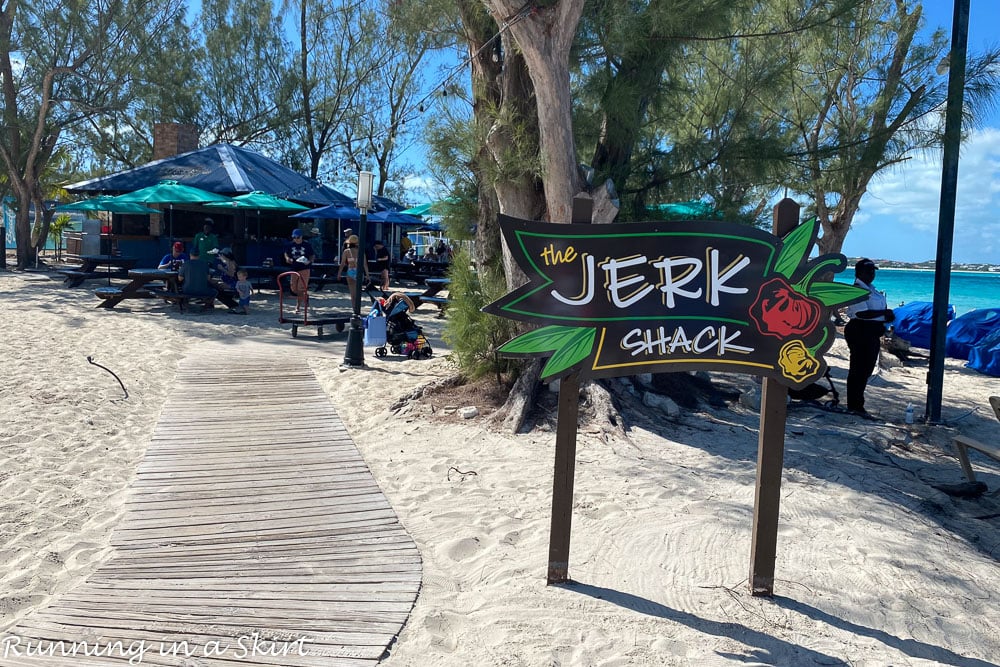 I reluctantly dragged the family there one day for lunch and after they got over the walk, they fell in love with the place. Look at the view!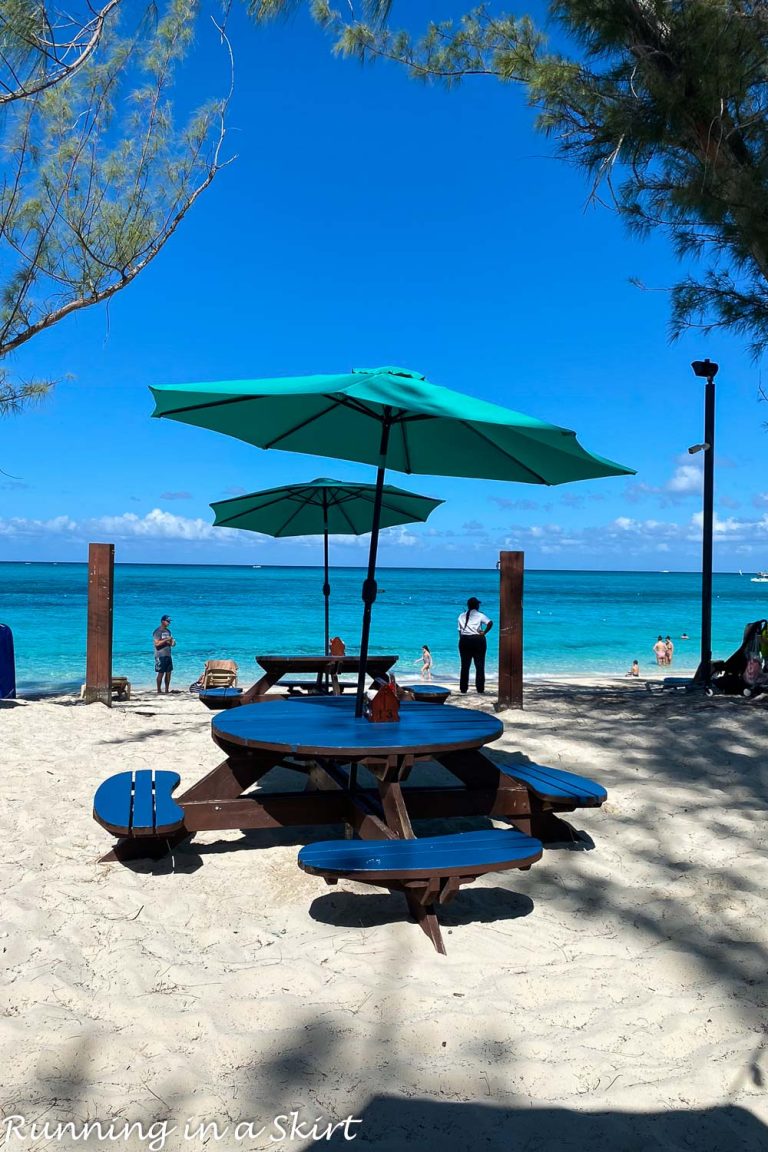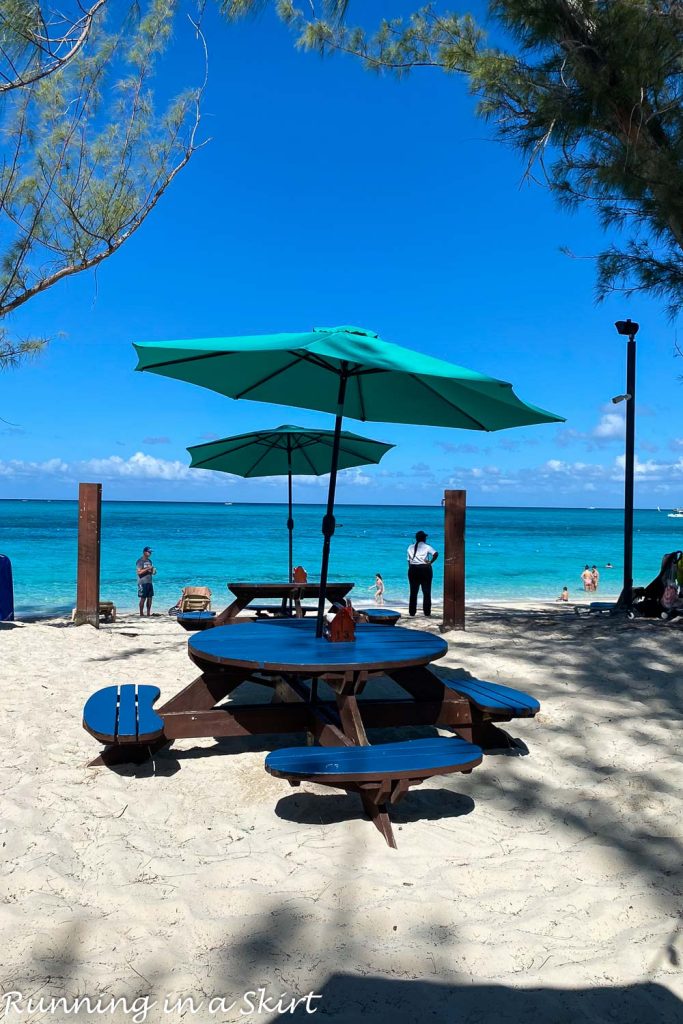 They have fun picnic tables in the sand with shaded umbrellas and a quick counter service menu with just a few items like Jerk Chicken, Jerk Pork, Jerk Fish, and fries.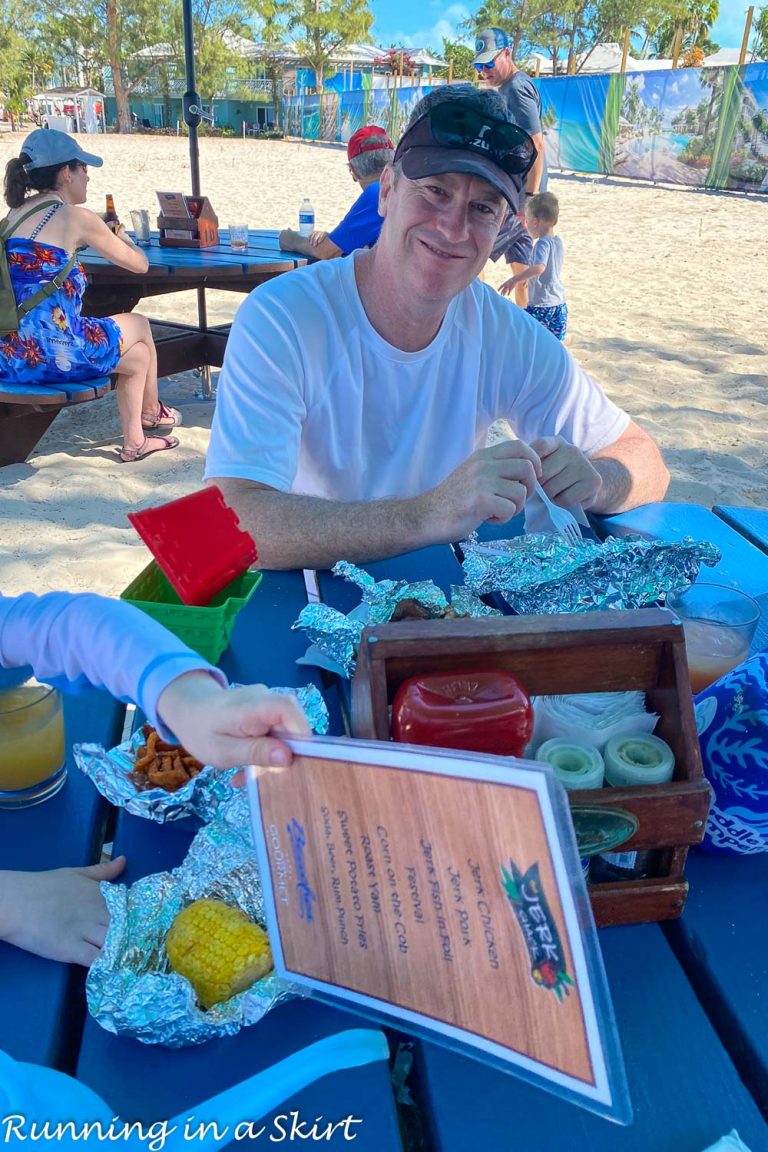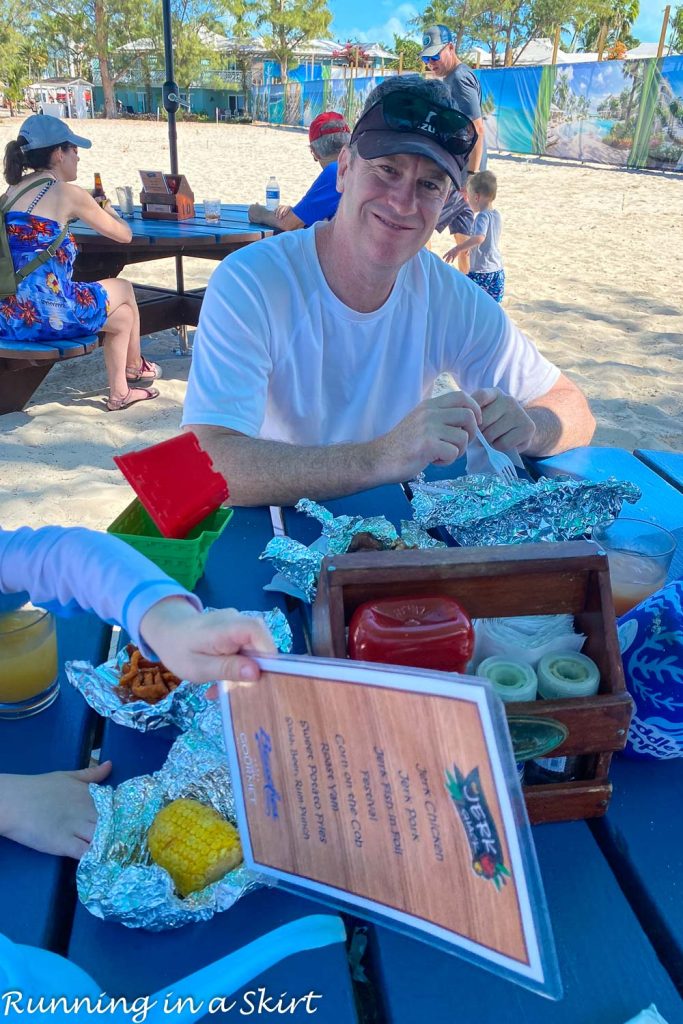 I love the fish in foil which had jerk seasoning and lots of yummy veggies! I wish I would have gotten two.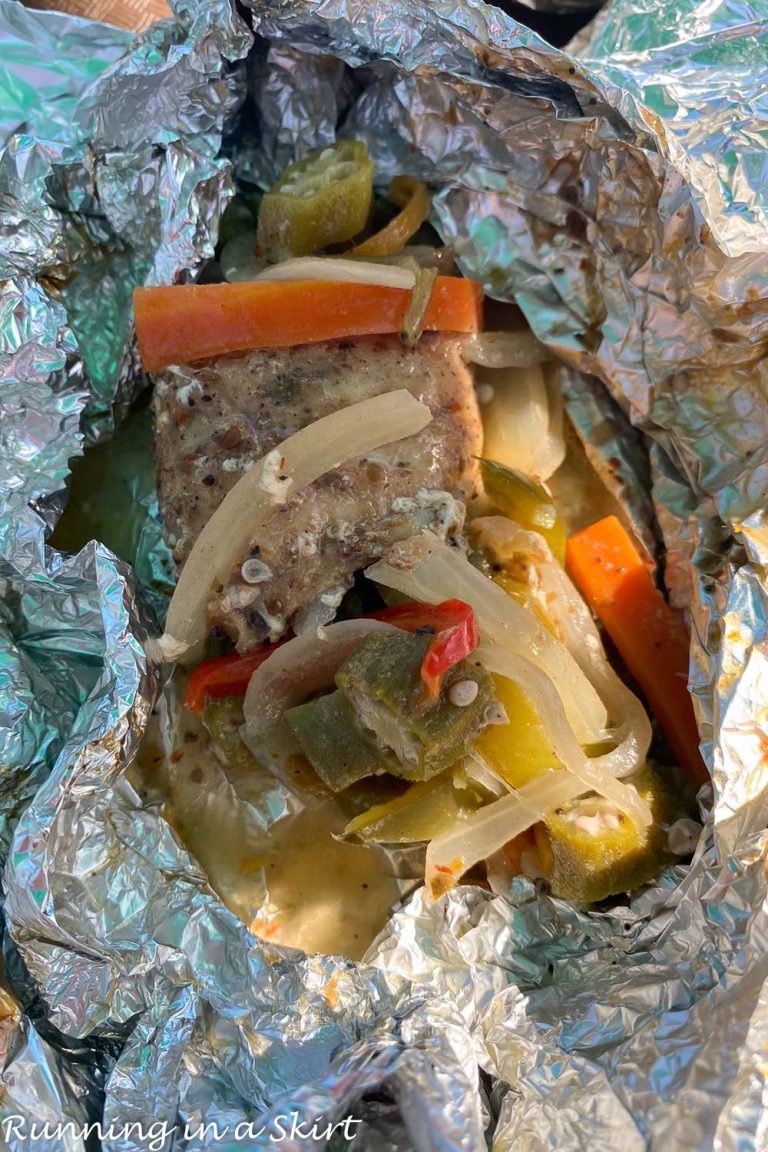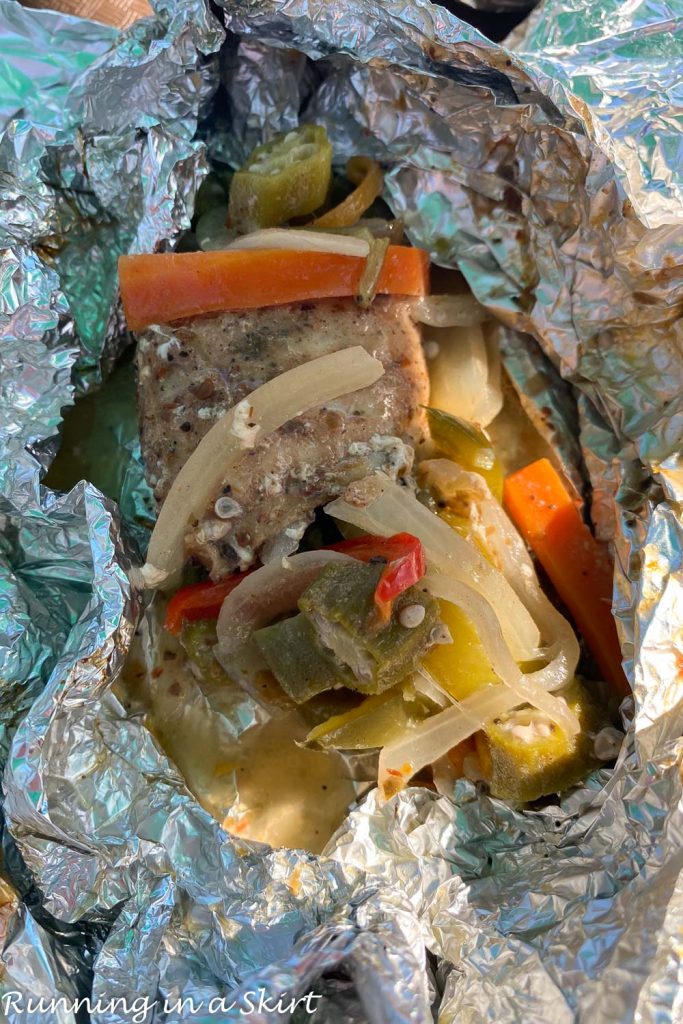 The Hubs and the boys go to the pork and chicken and said it was good too. The fun presentation in foil felt very authentic and casual, which was a great vibe after lots of fancy food.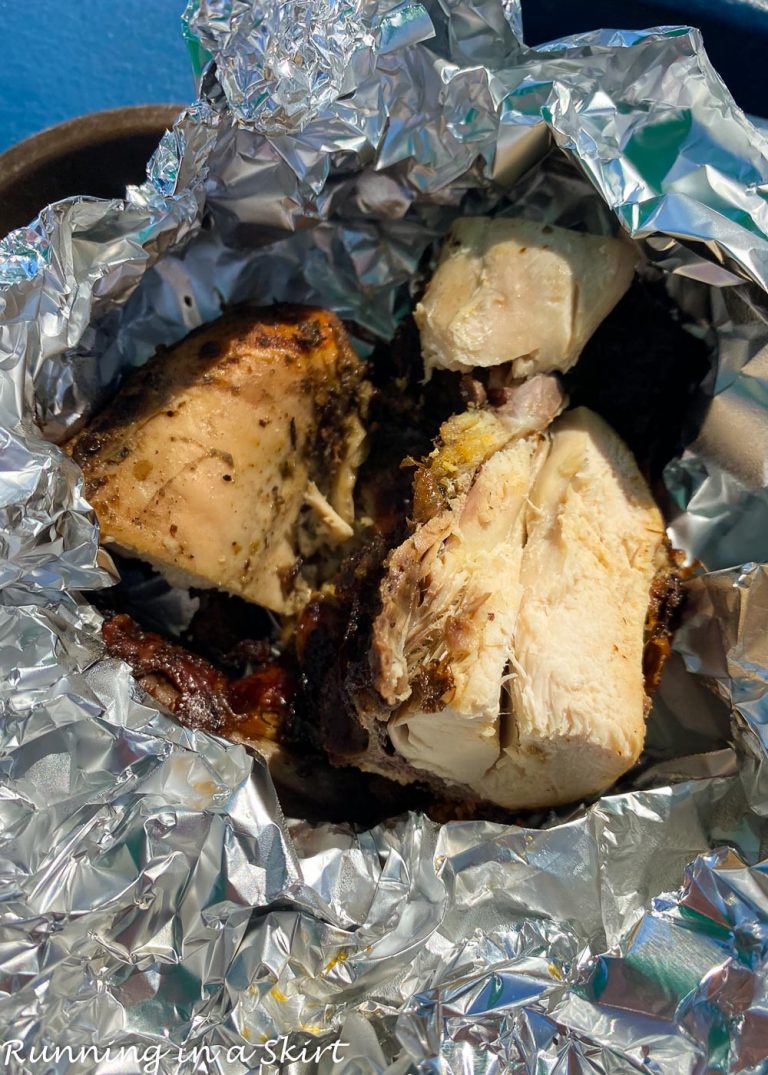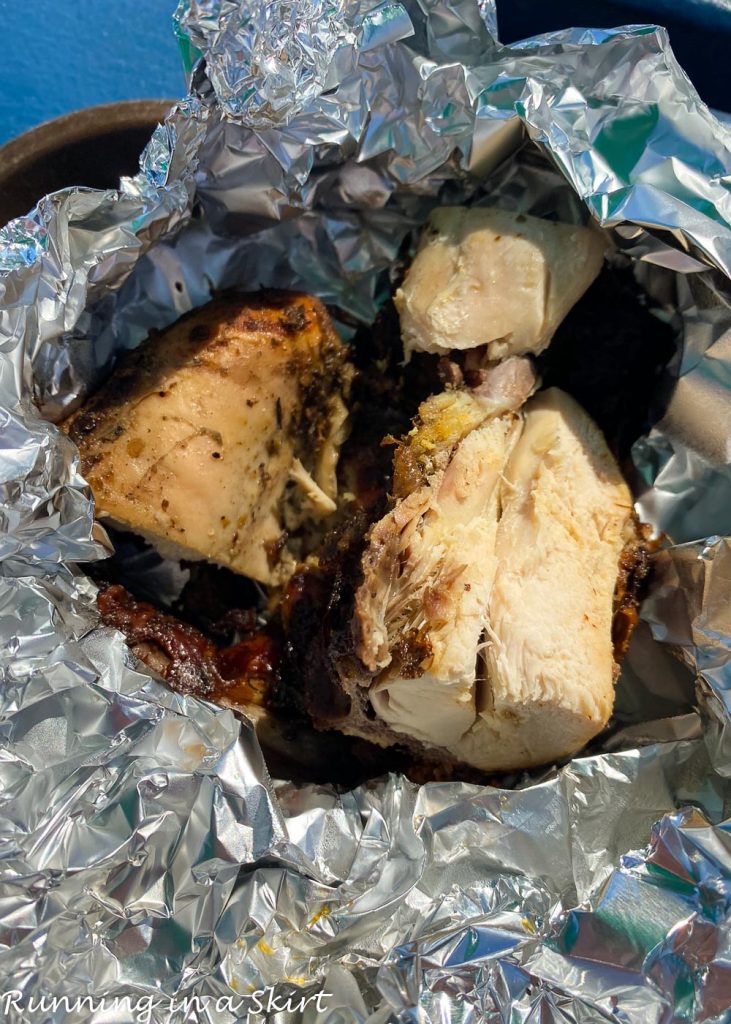 They also have a bar with some specialty rum drinks including rum punch, which was one of my favorites from the trip. The Jerk Shack is a little out of the way, but totally worth the time to visit.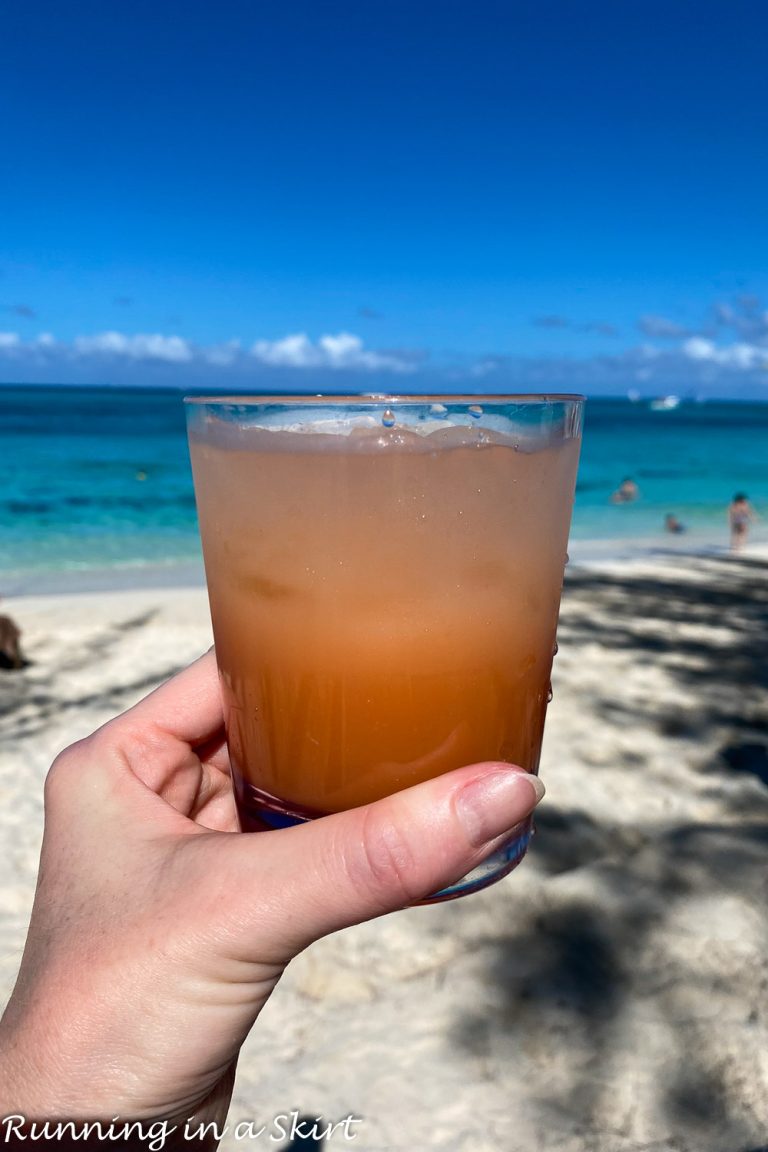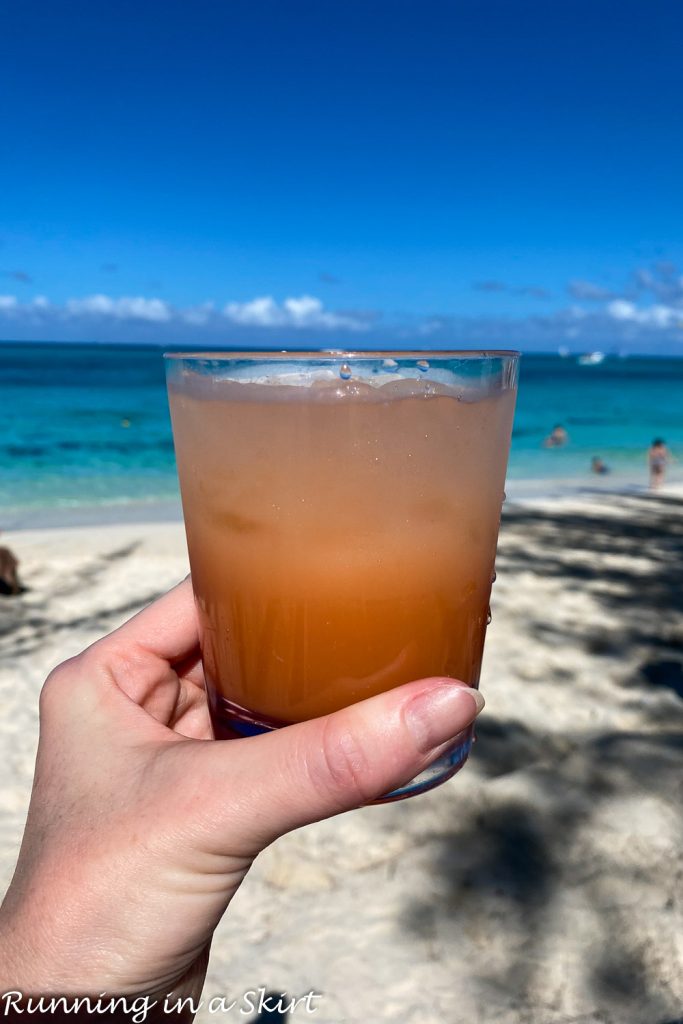 Arizona's Southwest Cuisine
One of our favorite meals at Beaches Turks and Caicos restaurants was Arizona's Southwest Cuisine. It wasn't our absolute favorite food of the entire week, but it was the perfect combination of drinks, setting, and food that led us to have one of our favorite family meals.
First off, the restaurant is located near the main pool of the Caribbean Village. It's actually right adjacent to it. They have fun tables for the kids and bring out chips and salsa right away, which is always a plus for our family dining experience.
The drinks here were also tasty and they brought the boys fun virgin daiquiri in fun cups which they liked too.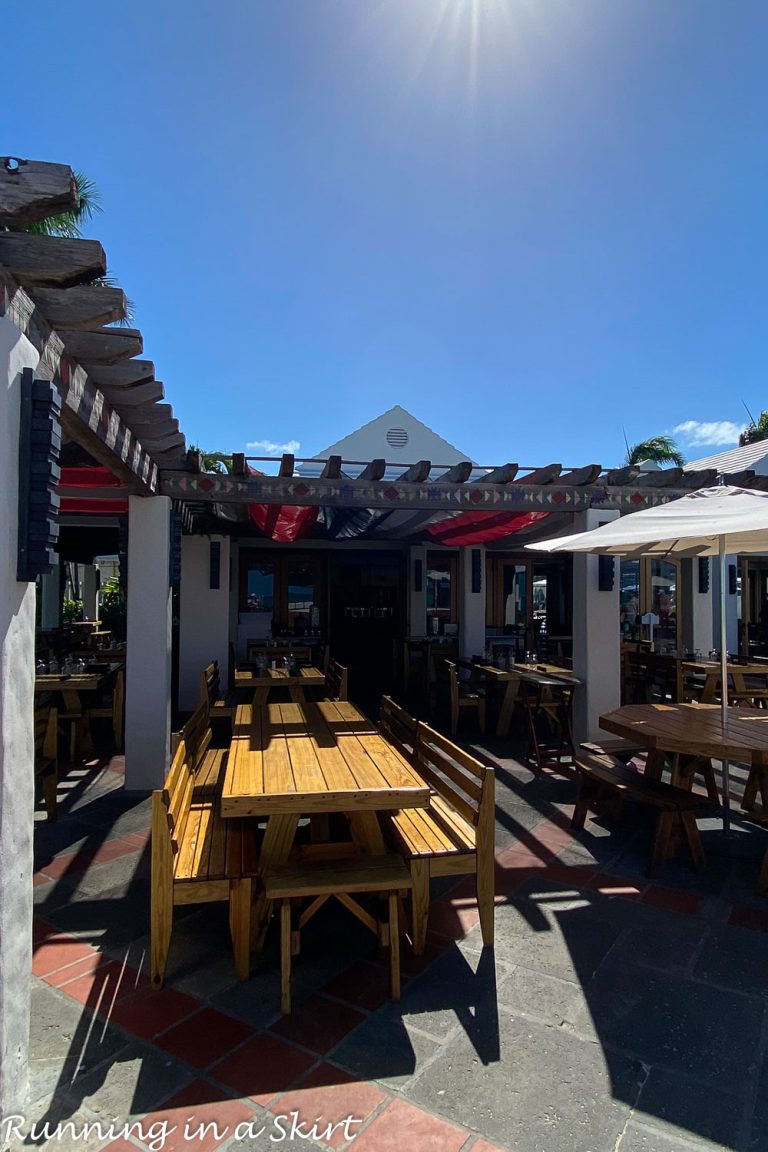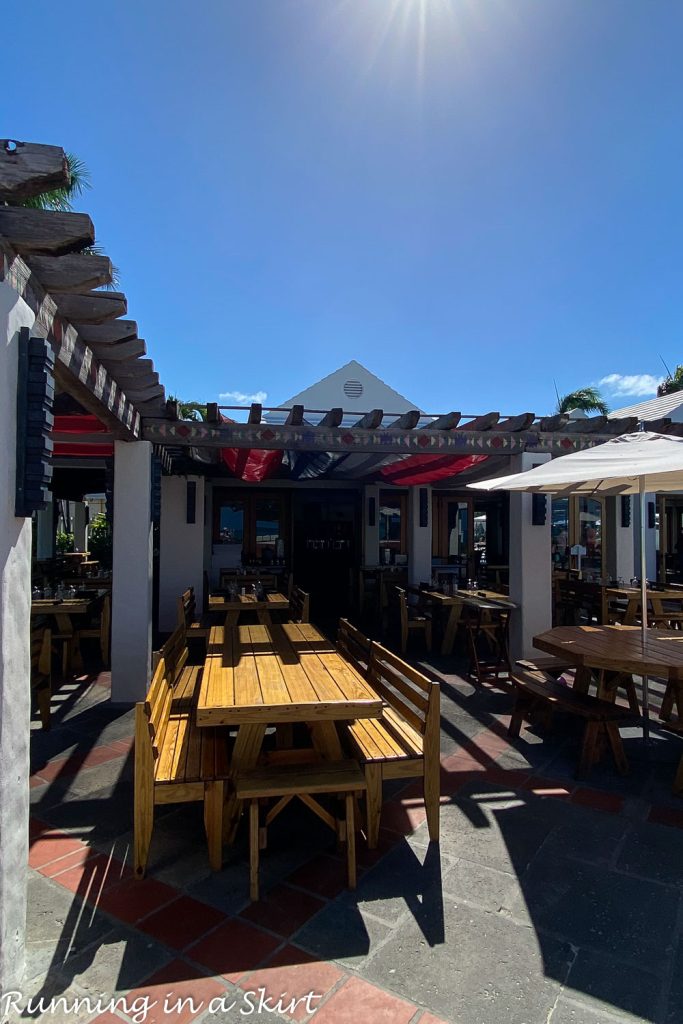 The food was good too! We love the Red Chili Tuna Tartare.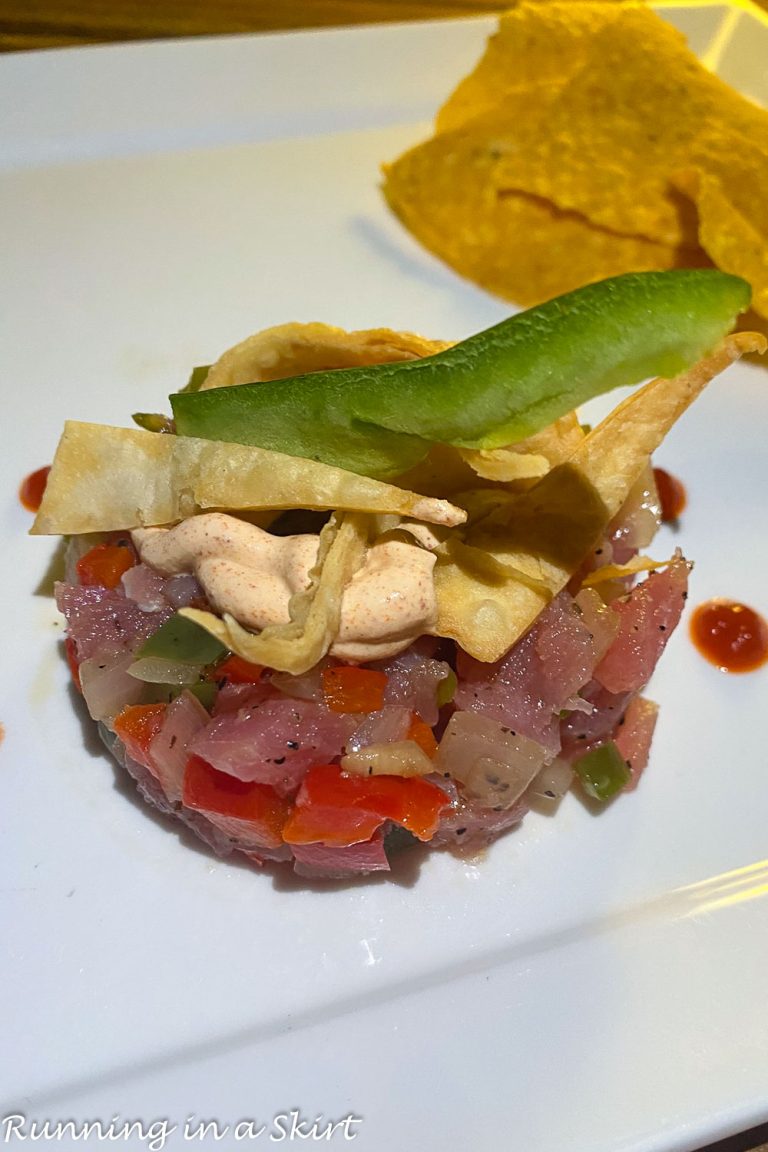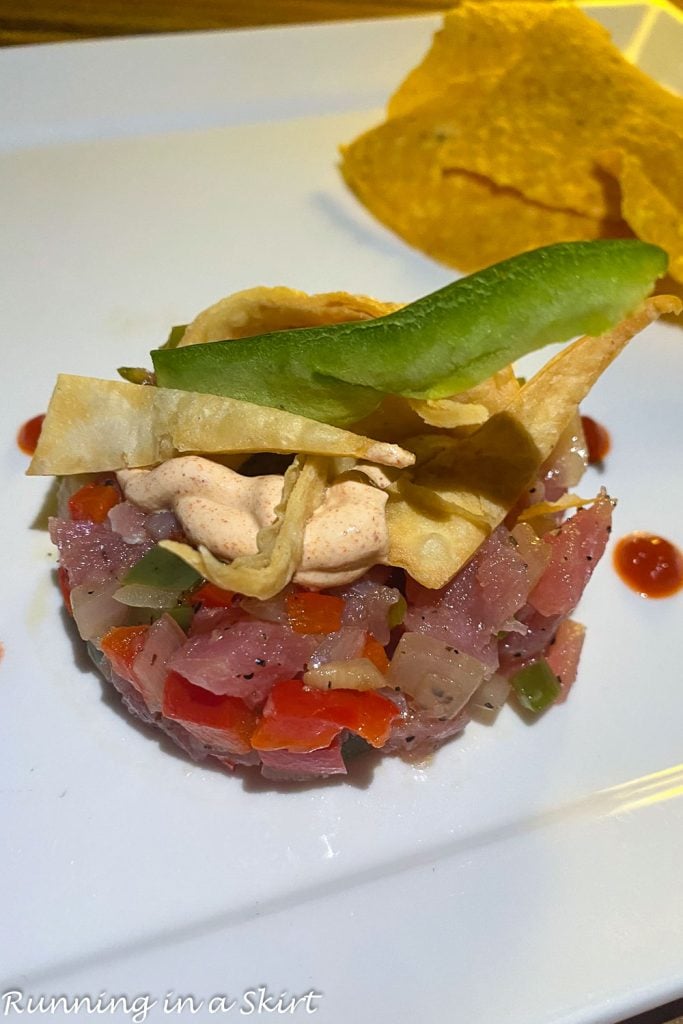 They also had tasty shrimp tacos, which are always a hit in our family! We got several orders for the boys and us.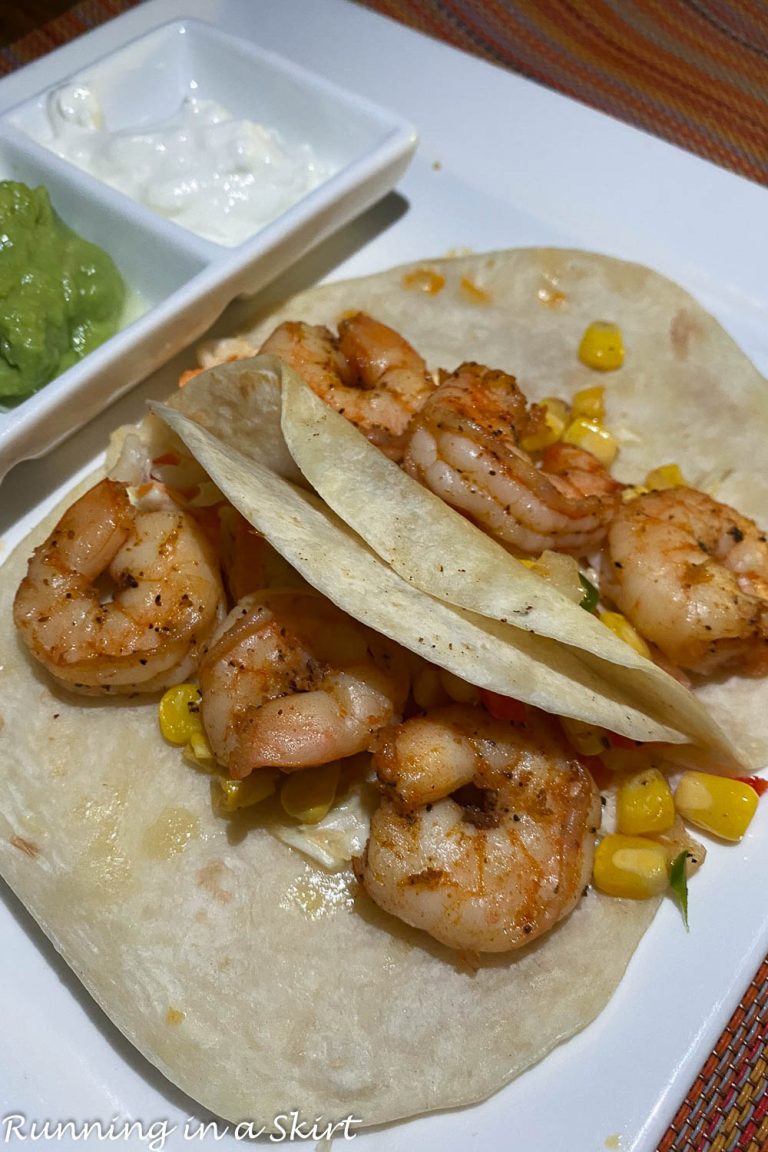 The Hubs tried their signature dish which was Bourbon Baby Back Ribs.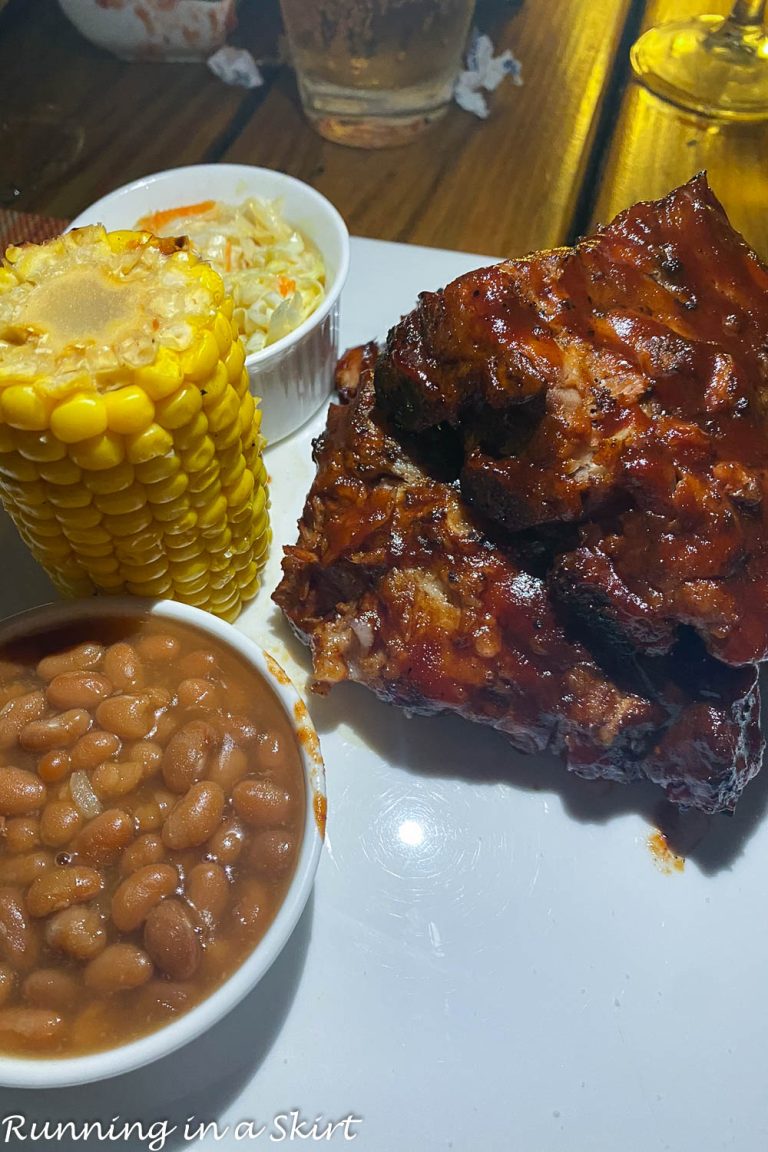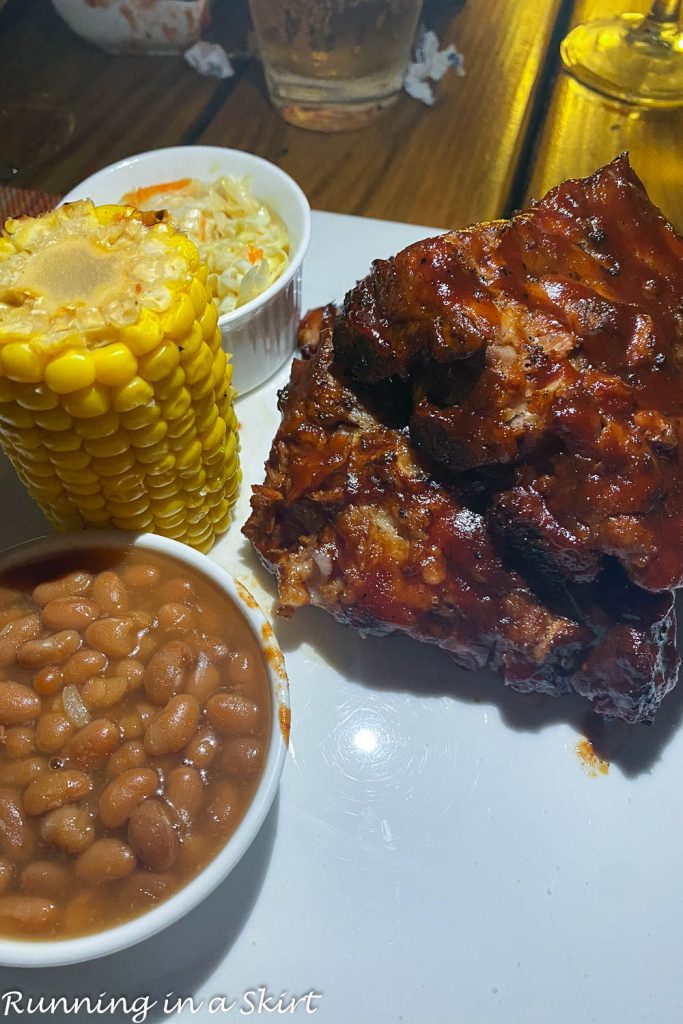 And finally, we tried the Mahi Mahi La Veracruzana. It doesn't look like much in the bowl but was actually super flavorful and tender. It was one of the better dishes of the entire week.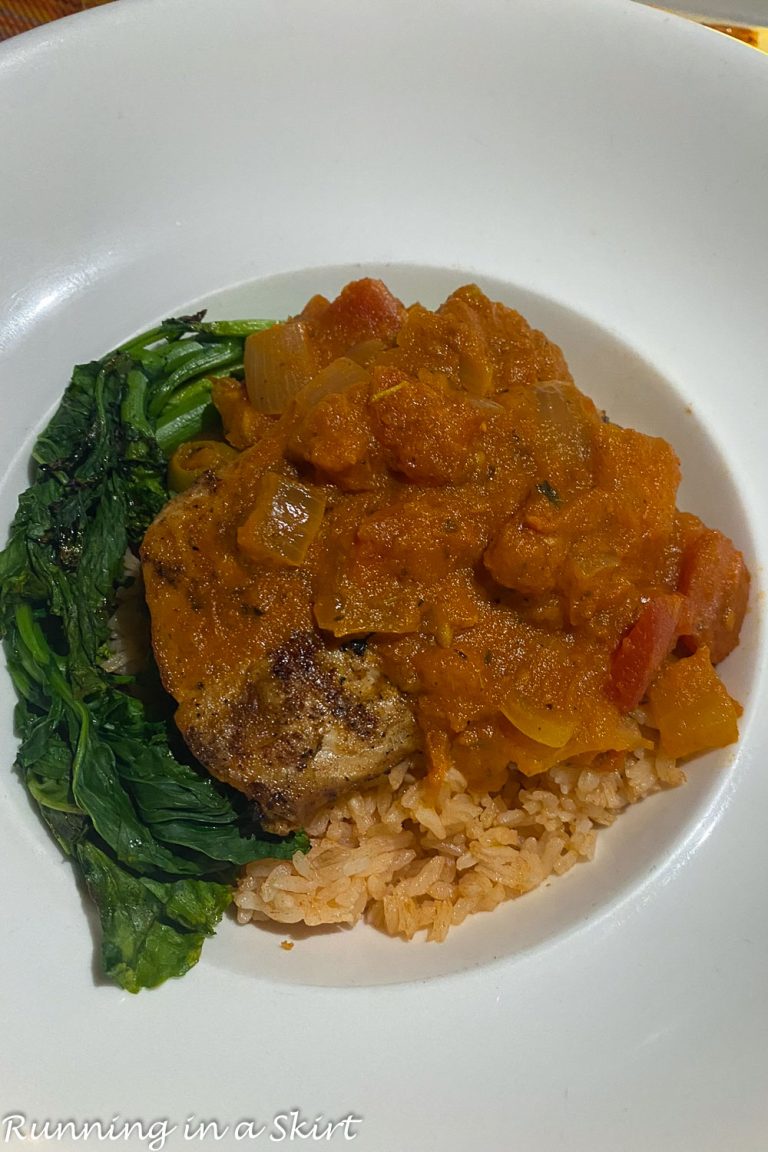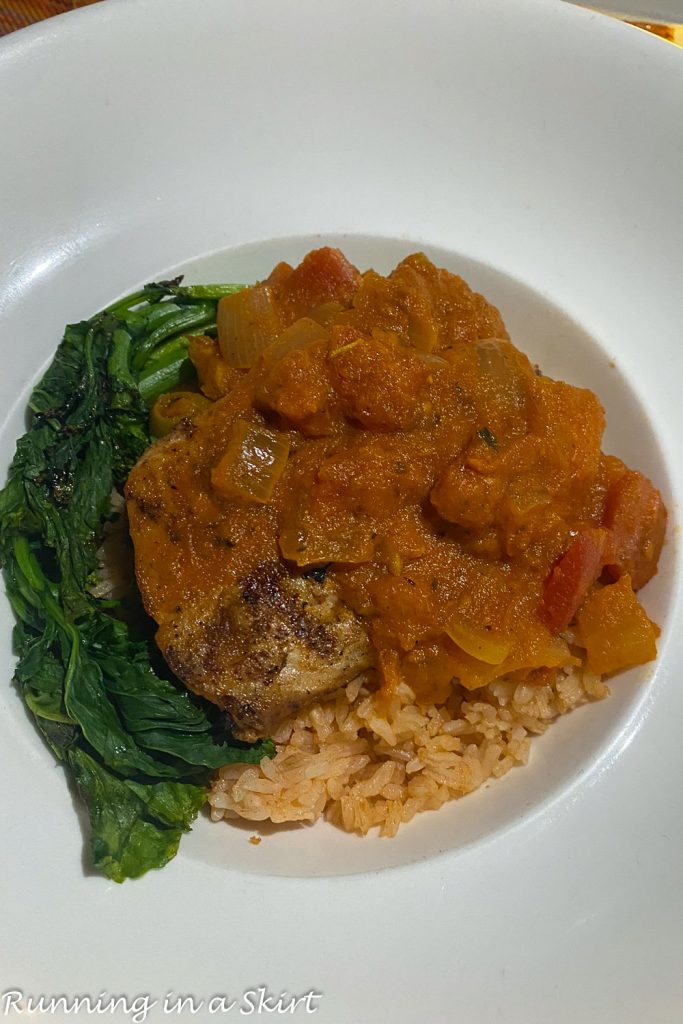 Sapodillas
Sapodillas is another on the list of best Beaches Turks and Caicos restaurants. It's tucked in the Caribbean Village and is one of the few restaurants at the resort that is adults-only.
They feature Caribbean cuisine favorites like cracked conch, snapper carpaccio, and pan-seared halibut.
Bella Napoli Pizzeria
Bella Napoli is the second pizza restaurant on the resort and is near the pool of the Caribbean Village. It has more diverse pizza choices than Dino's including a pizza with local conch, Hawaiian pizza, and bbq pizza. They have all the classic choices too, but this is a fun spot to try some different varieties. Also, try their sweet calzones!
They are cooked to order in a brick oven, much like Dino's.
Reflections Restaurant
Reflections Restaurant is a more classic buffet in the main building of the Caribbean Village. They offer breakfast, lunch, and dinner in a quicker fashion than the al cart restaurants.
Beaches Turks and Caicos Restaurants Review - Key West Village
Bayside Restaurant
Bayside Restaurant was another one of our top choices for best Beaches Turks and Caicos restaurants. It's located right on the water in the Key West Village and is another buffet-style restaurant. They offered breakfast, snacks, and dinner.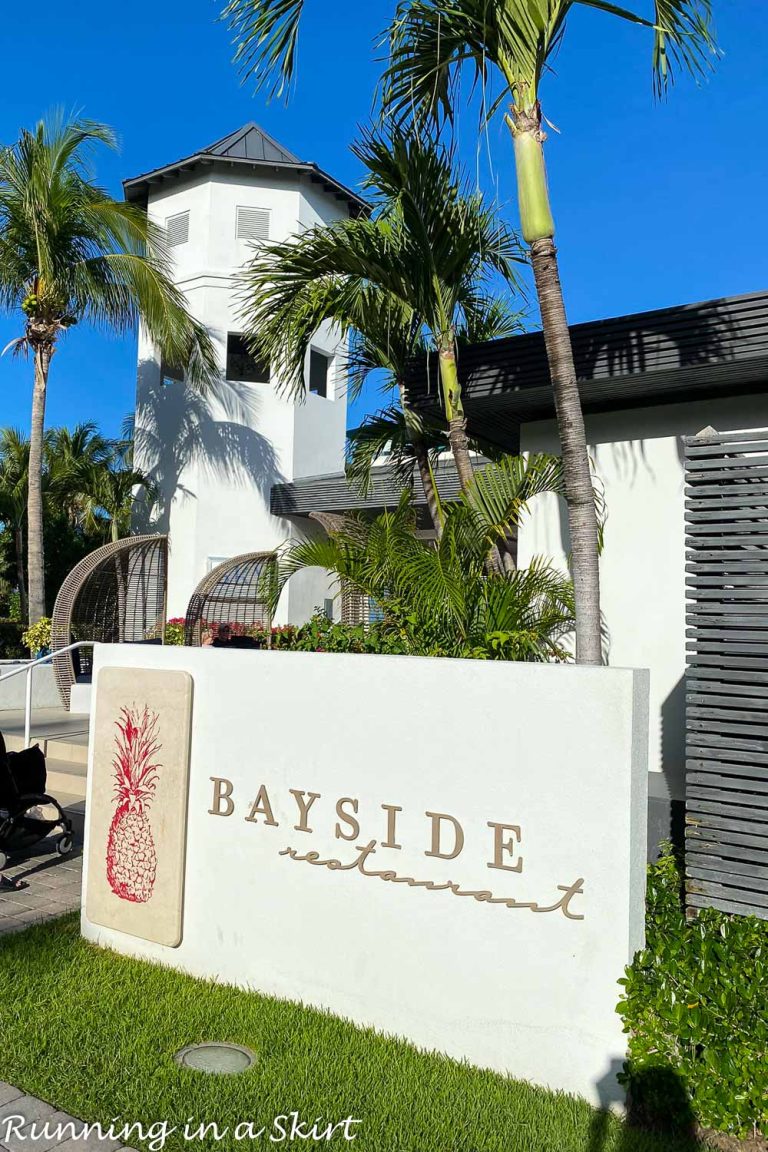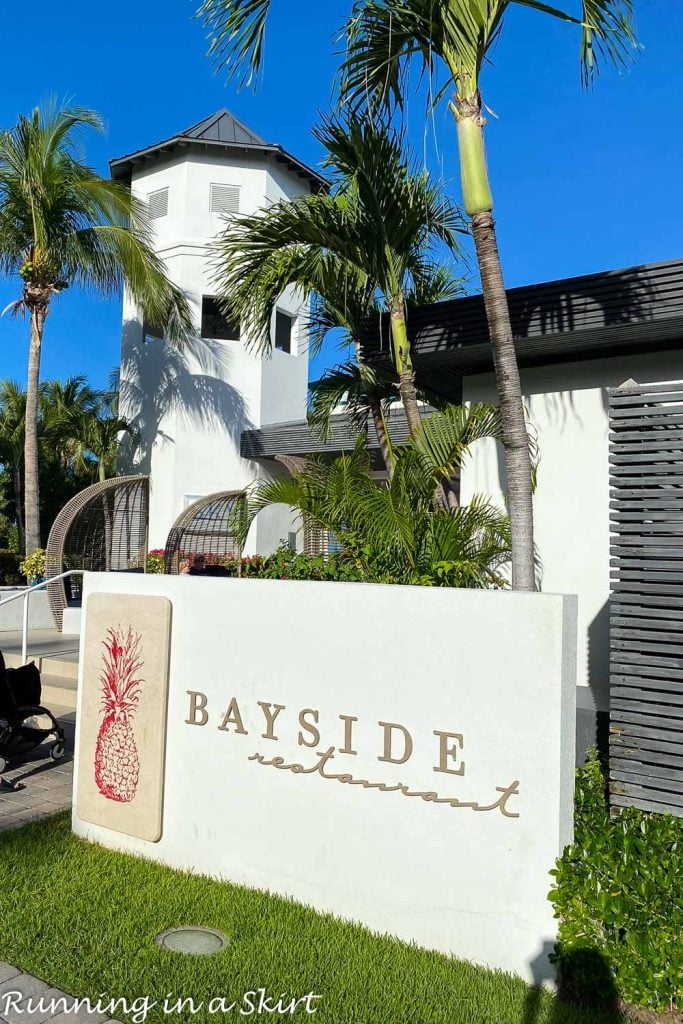 The tables here are elevated here and have a gorgeous view of the water. Due to the way they sit on the platform, you can see over the dunes and it's just gorgeous. They are also just shaded enough to enjoy some sunshine but not be hot. In terms of beauty and view it was one of my favorite food spots at the resort.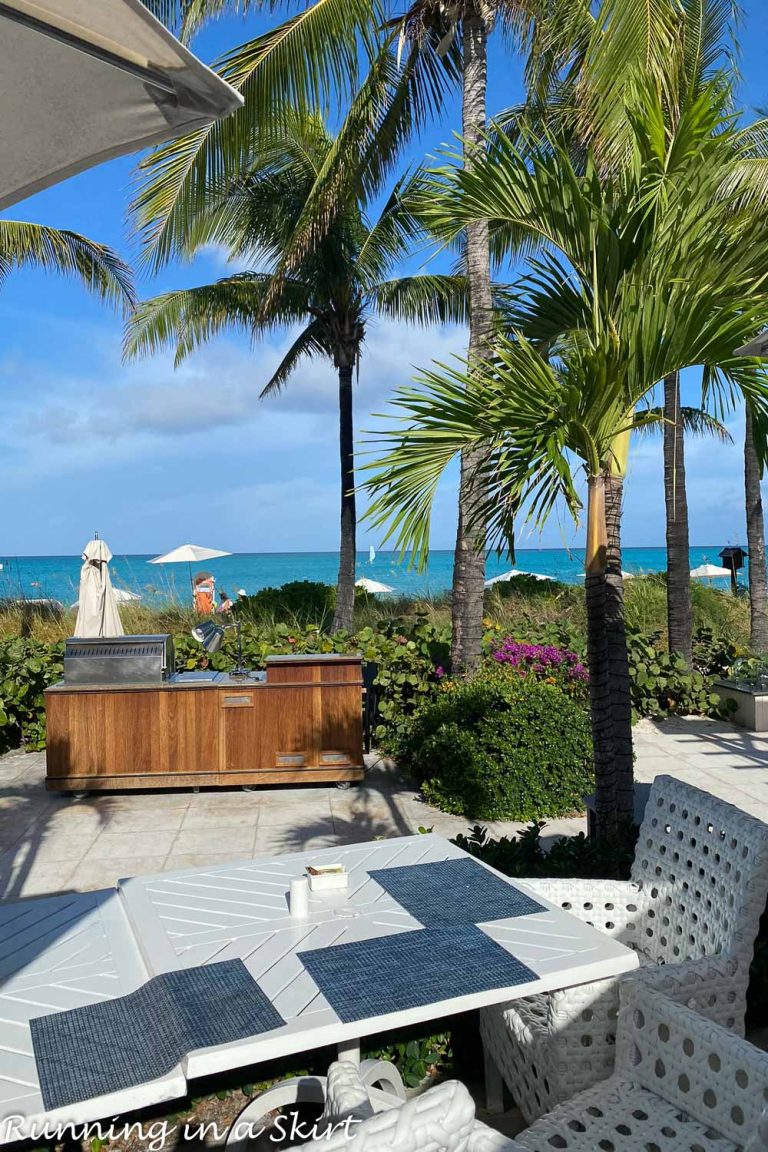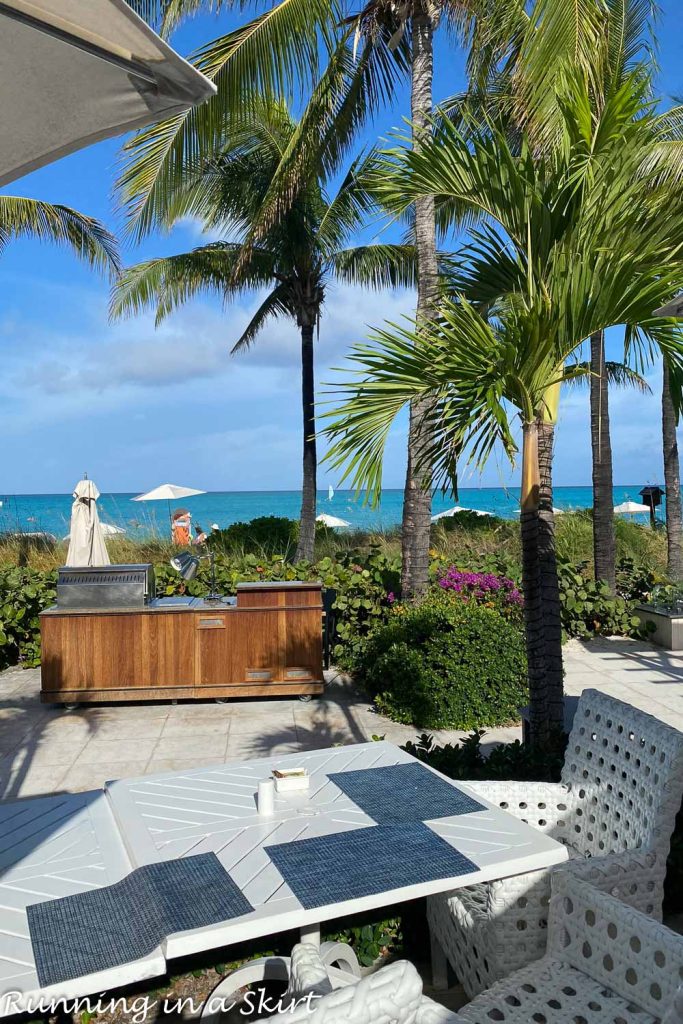 We really enjoyed the breakfast buffet here and actually ate it most days because of how easy it was for the boys and how close it was to our room. It did get a little busy at this spot for breakfast! I suspect everyone loved the fast meal and gorgeous views.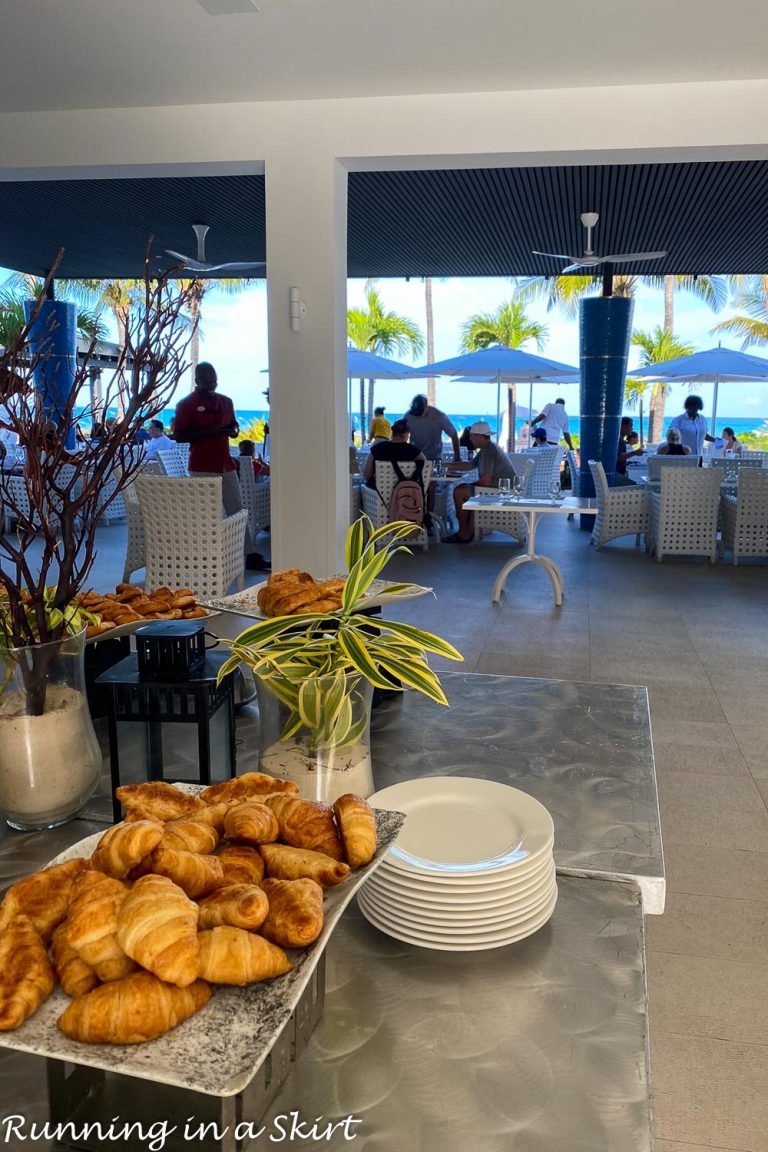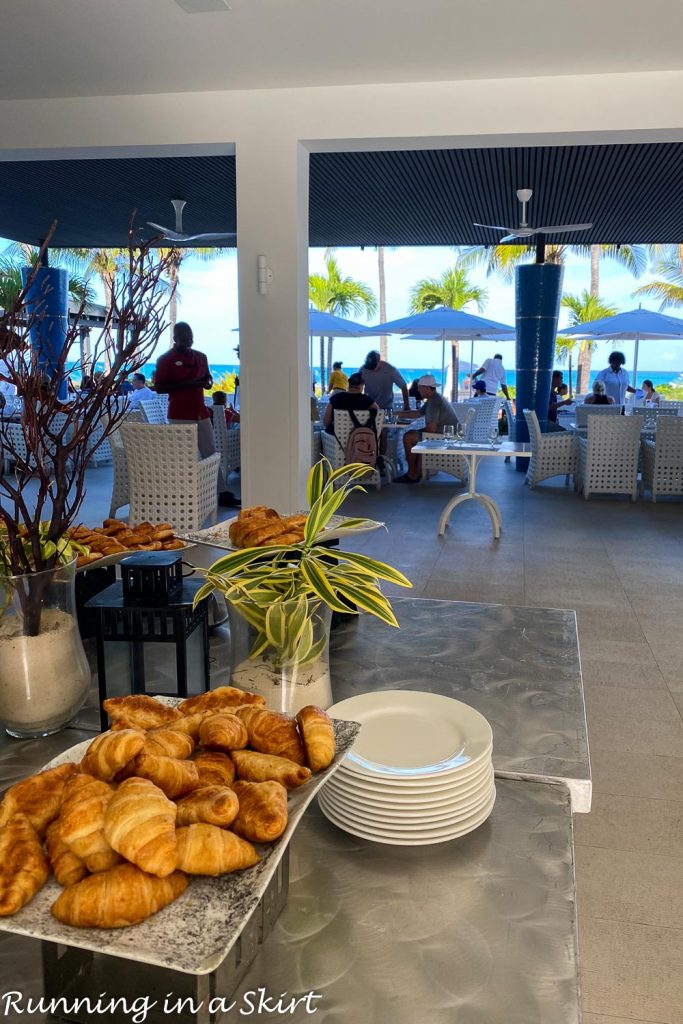 The breakfast didn't vary from day to day but was still really tasty with eggs, pastries, cheese, potatoes, fruit, pancakes, french toast, and more. The variety also wasn't as large as the other buffets like Mario's and they did not have made-to-order eggs. I do wish they would have mixed it up some day-to-day, but we decided it was worth eating the smaller buffet for the view. Many of the other buffets are tucked away in the back of the resort with no views.
Again I'm not a huge buffet fan normally but it was nice for our young boys not to have to wait for every meal and they got a huge kick out of picking out what they wanted in the buffet every day.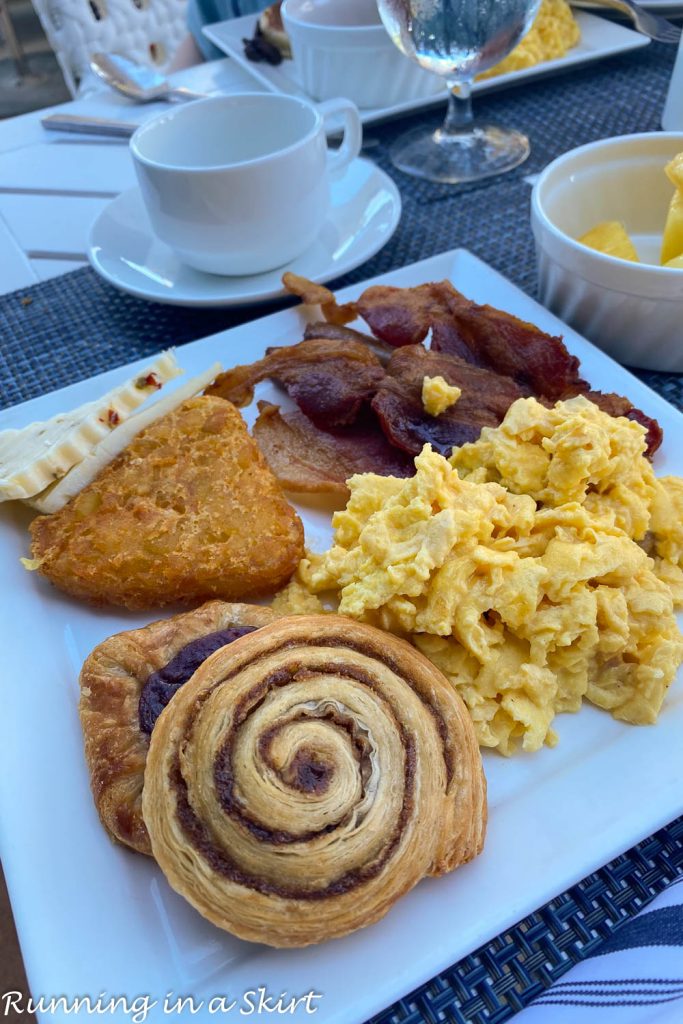 We also ended up eating dinner there our first night because it was later and the boys were so tired from traveling. We didn't dare try a longer meal that night. It was actually surprisingly tasty too! I got fish, rice, veggies, and salad which was one of the better meals I had all week.
Bayside surprise ended up being one of our favorite spots to eat at Beaches Turks and Caicos restaurants.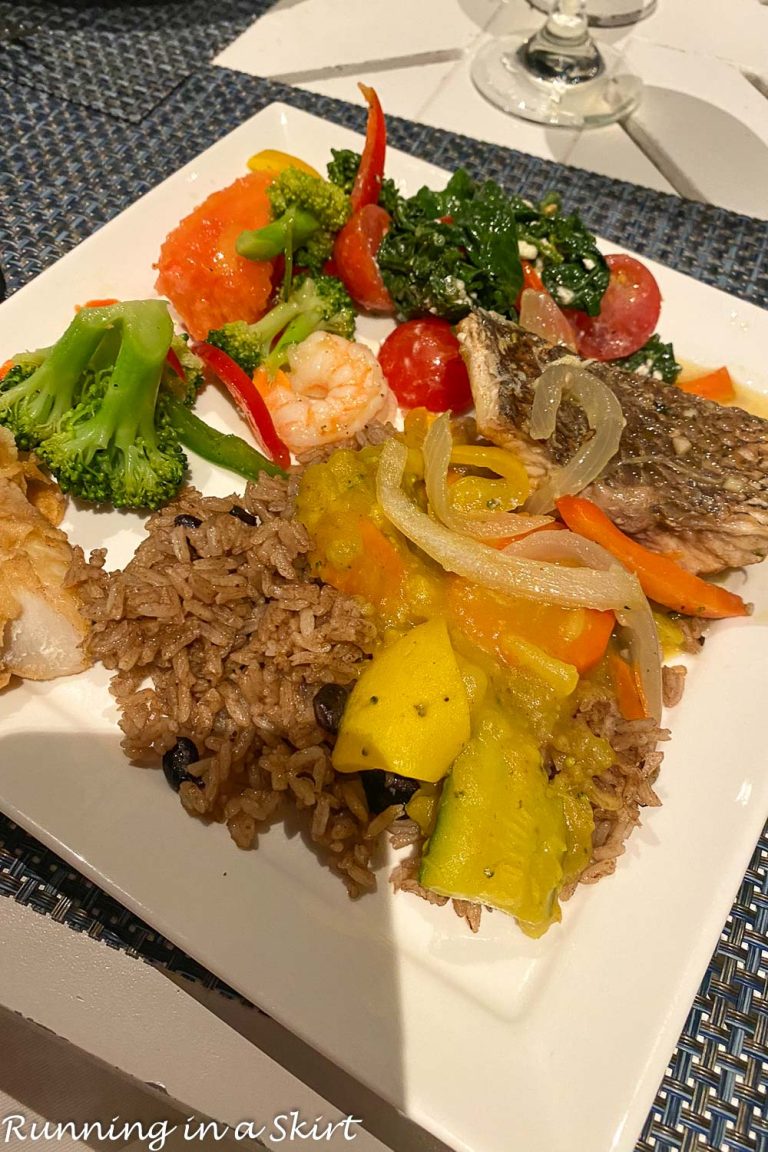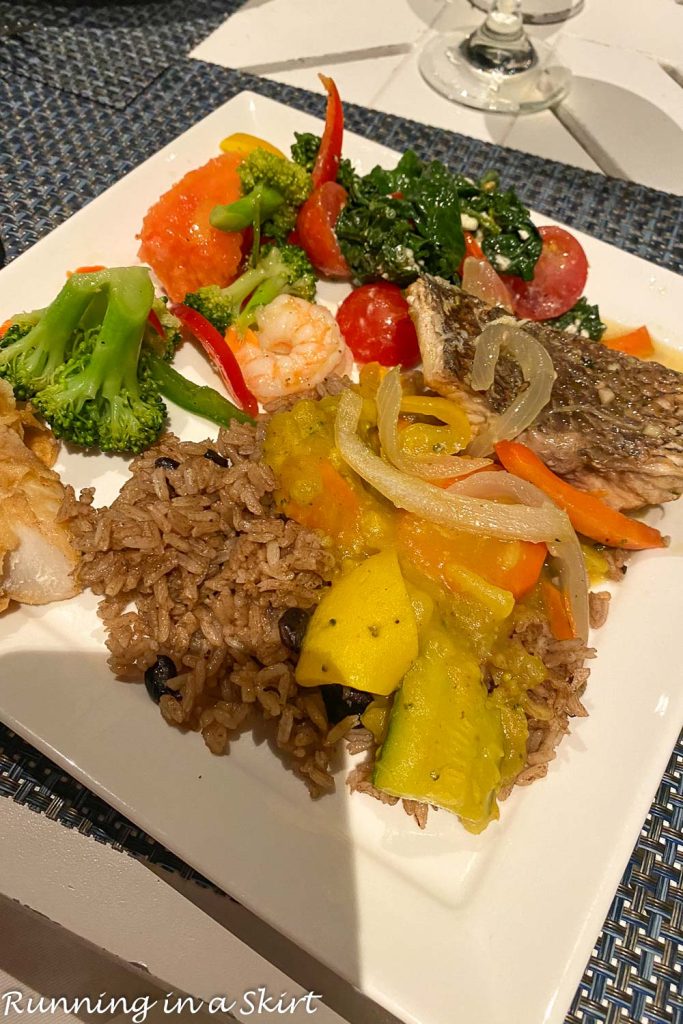 Neptunes Mediterranean Seafood
Neptunes Mediterranean Seafood was another pick for best Beaches Turks and Caicos Restaurants. It's located right on the water in the Key West Village fairly close to the Italian Village.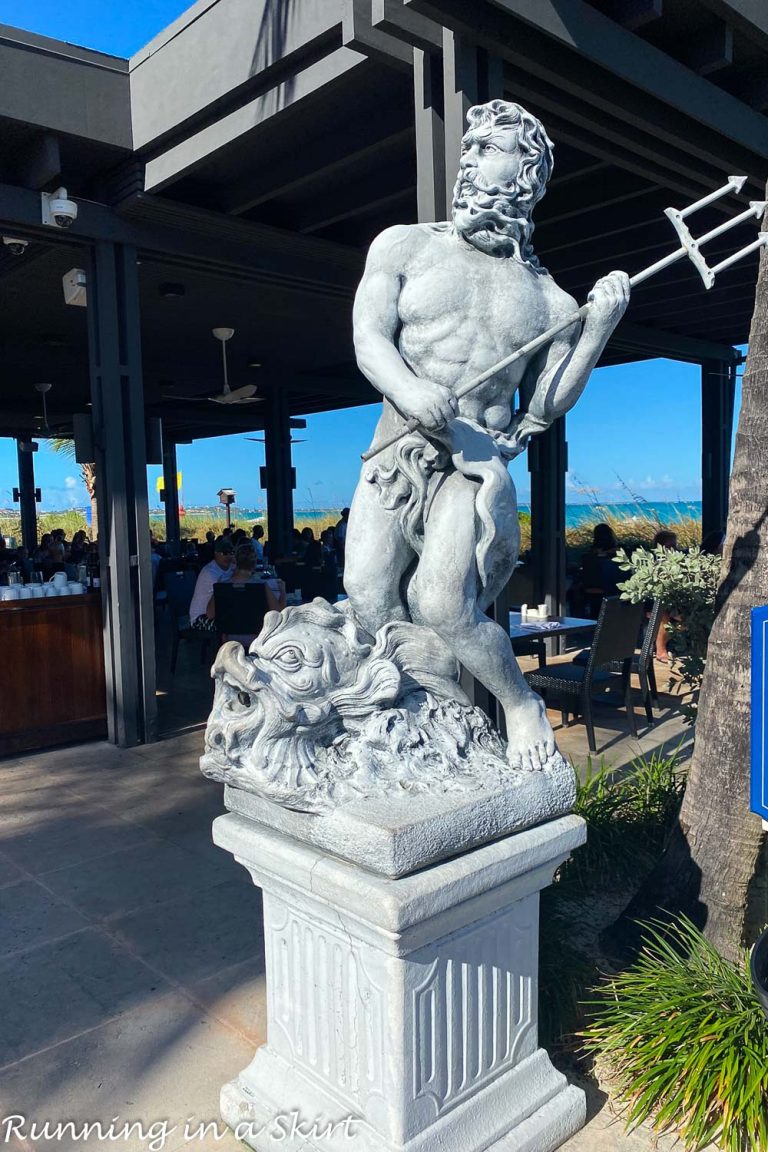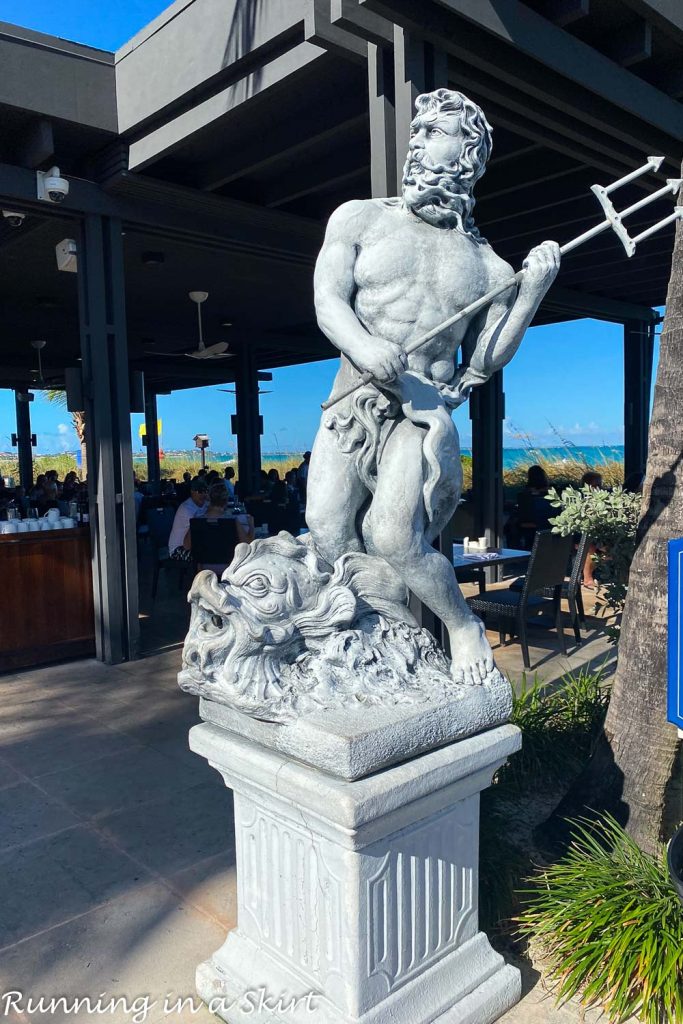 We loved the pretty views here too. We ate there twice for breakfast and once for dinner.
In terms of food, it was by far our favorite breakfast. I loved this Avocado Toast and the Hubs were able to order Eggs Benedict, which is his favorite breakfast at a restaurant.
This just happened to be one of my favorite meals the entire week! It was so tasty and good.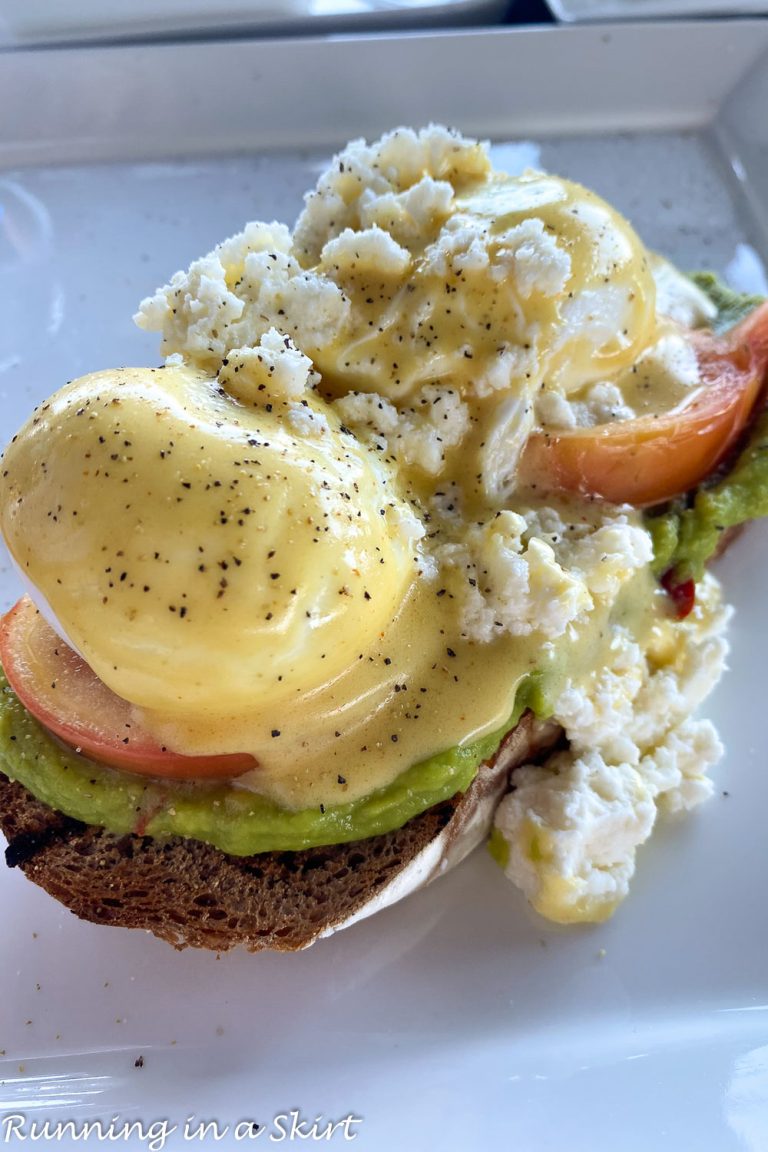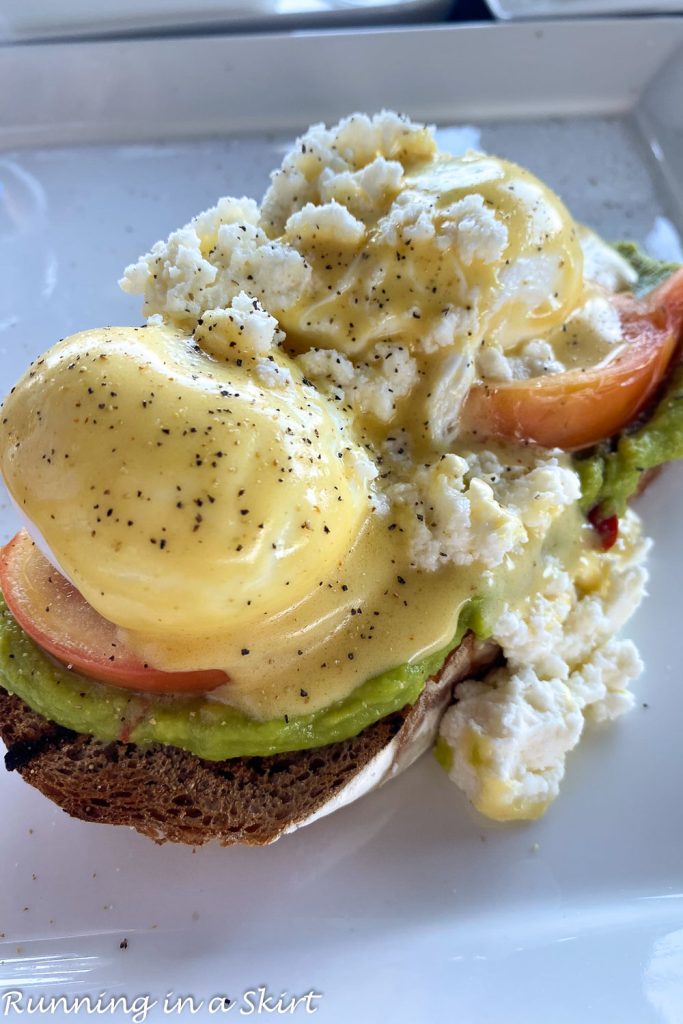 We really enjoyed our dinner at this spot too. We had a delicious salad with melon.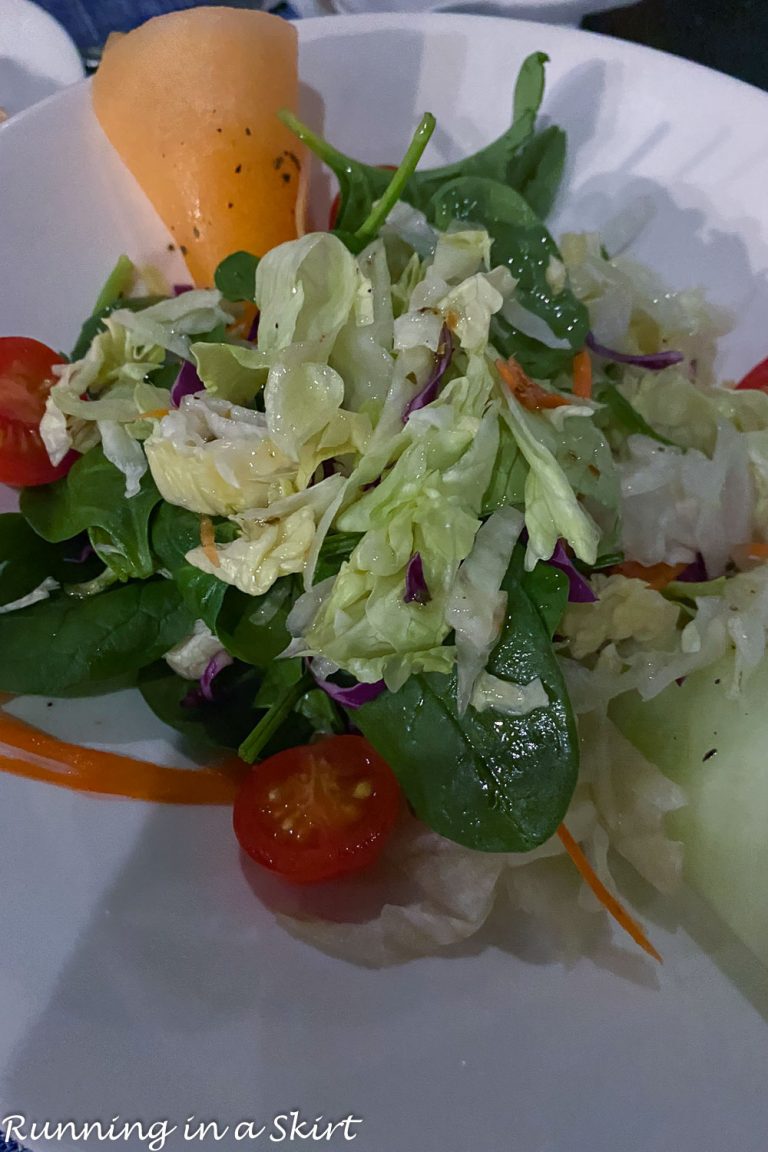 The highlight was the Seafood Tagine, which was their signature dish.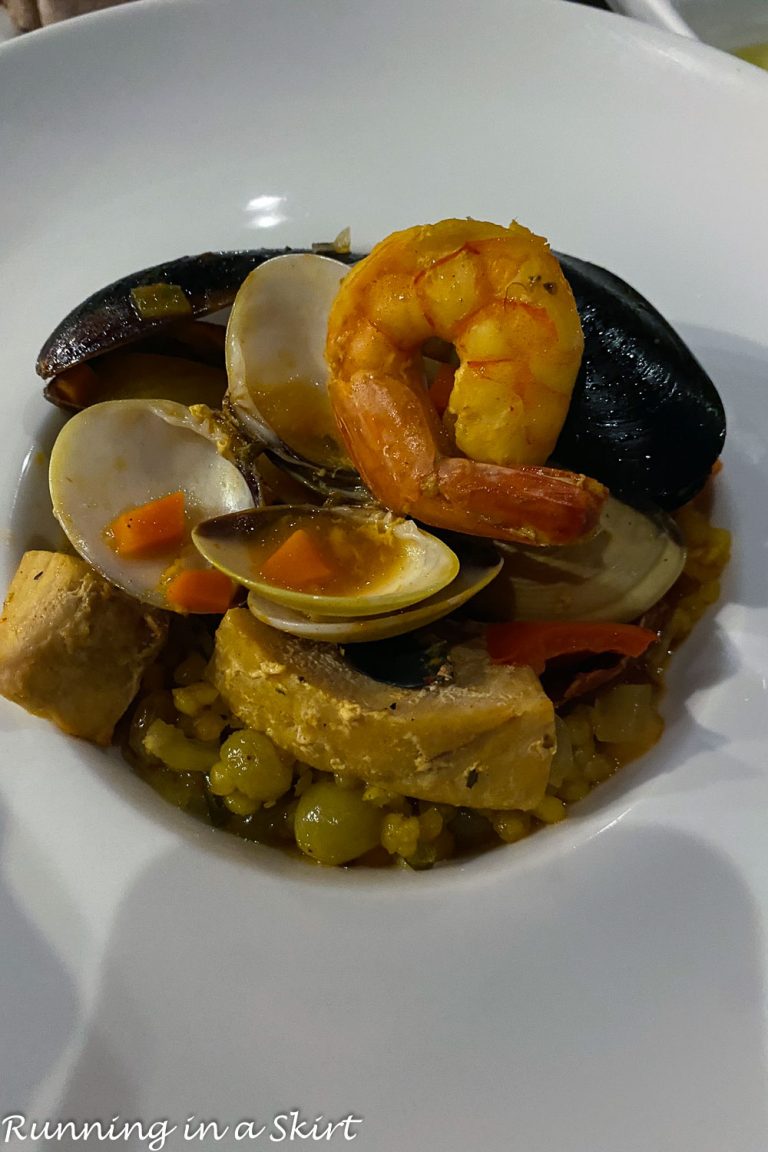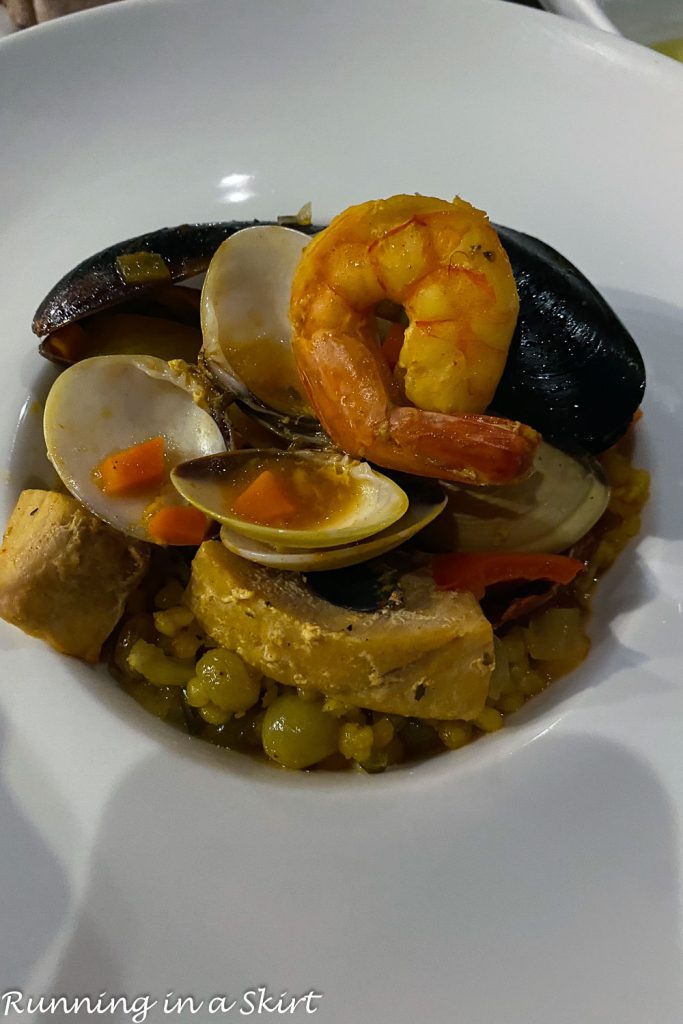 And finally, we had Swordfish, which was another one of our favorite dishes.
Our boys also got two rounds of mussels in a yummy sauce here.
Because of the gorgeous view, location, and high-end food, Neptunes is definitely one of the best Beaches Turks and Caicos restaurants.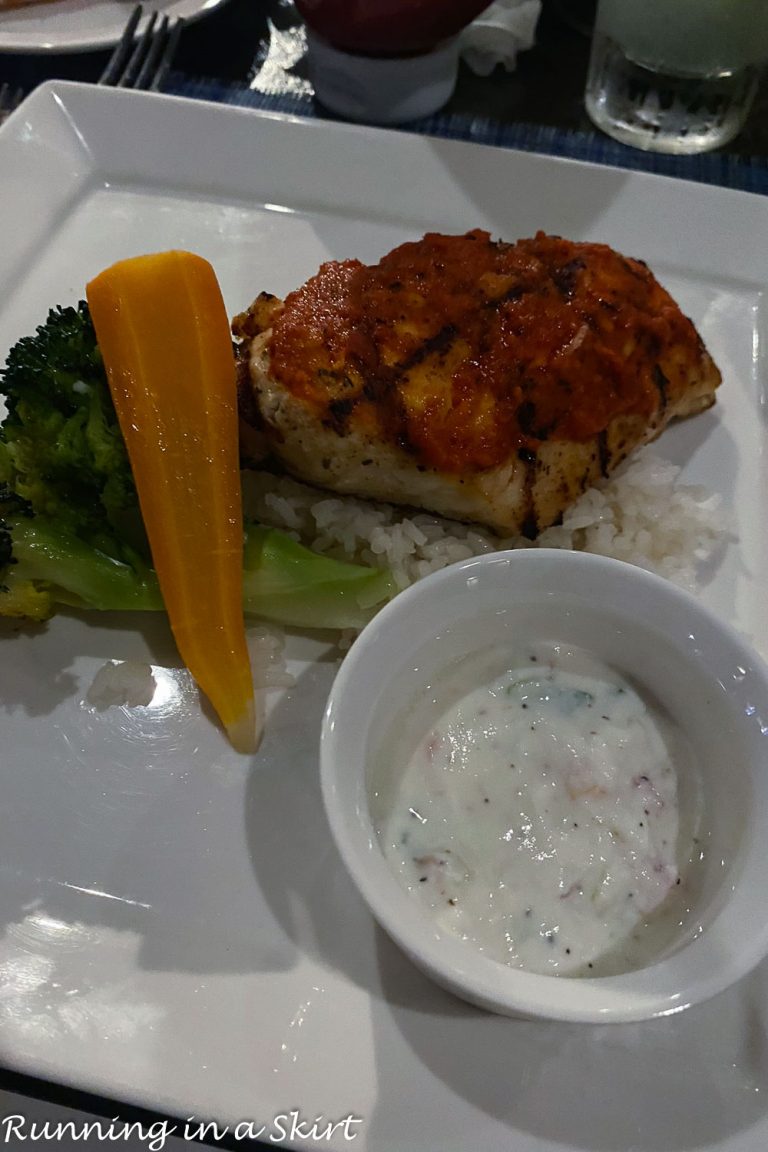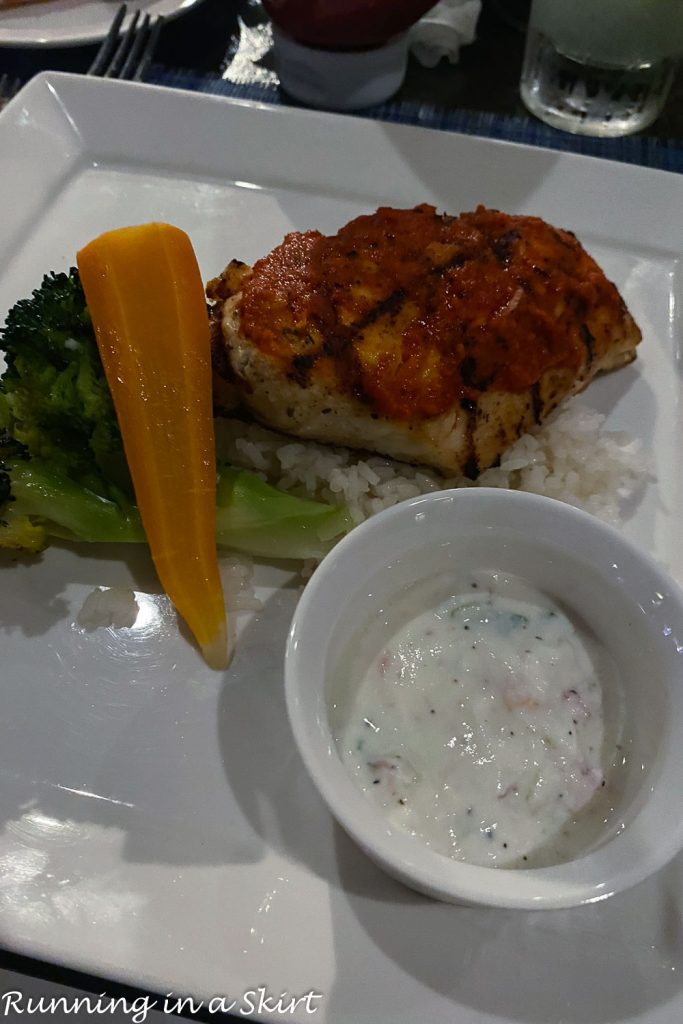 Sky
Sky is actually located on the roof above Bayside. It's also in the Key West Village.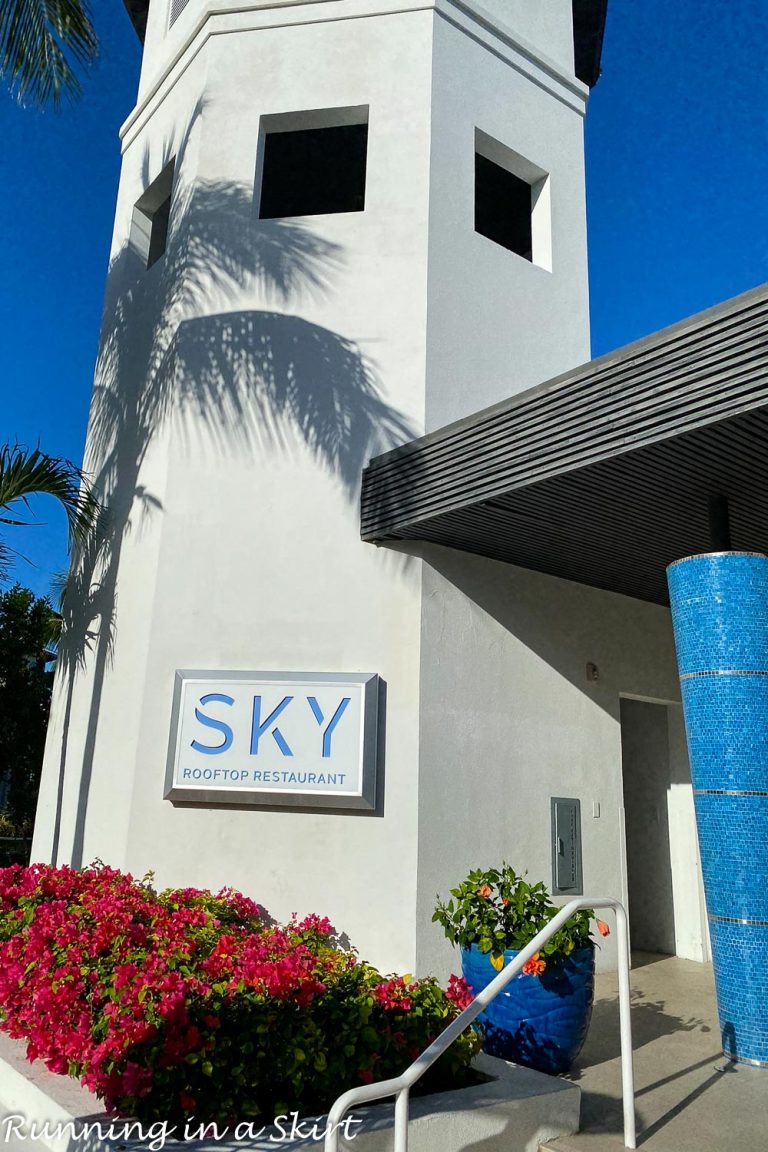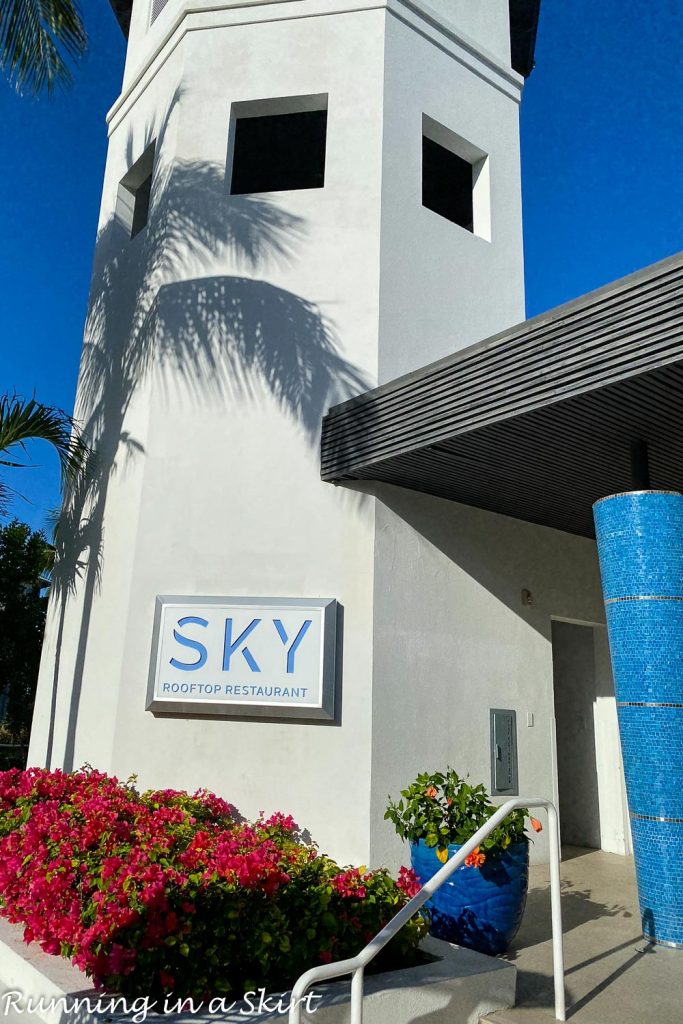 It's open to everyone for breakfast but is for adults only at dinner. They are known for their Smoked Salmon Eggs Benedict and Tangerine Benignets.
During the morning the sun angle is a little harsh up here and the umbrellas don't really make a lot of shade, making it hard to dine with kids but it looked gorgeous! Because of the lack of shade for the kiddos and my sun sensitive hubby we ended up dining downstairs at Bayside, but this looked like a fabulous breakfast and dinner spot.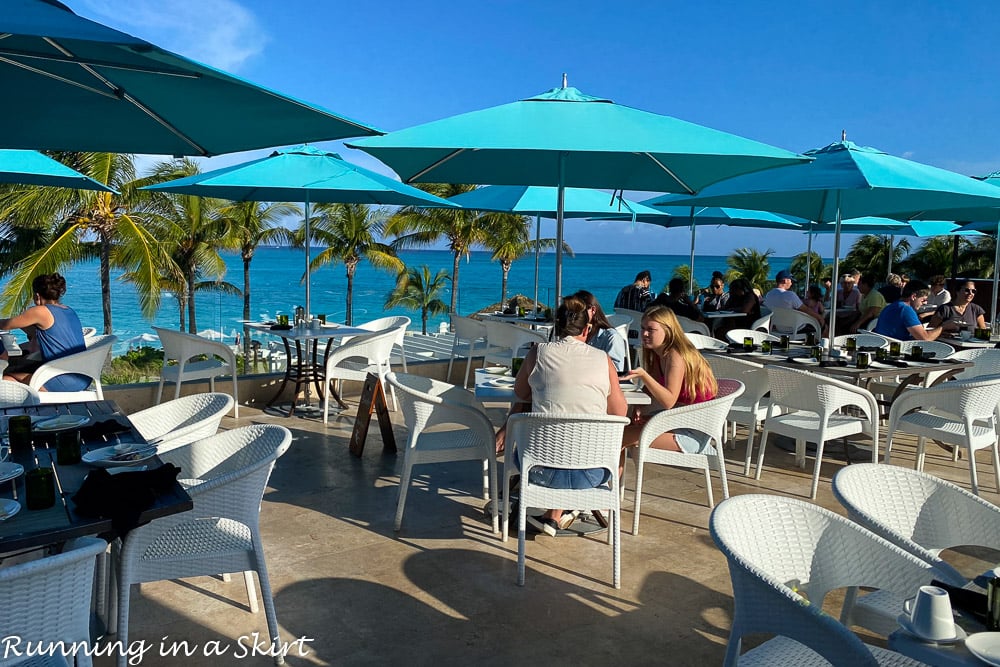 Beaches Turks and Caicos Restaurants Review - French Village
Bobby Dee's
Looking for more best Beaches Turks and Caicos restaurants? To be honest, Bobby Dee's was actually my least favorite BUT the entire restaurant is super focused on kid food, so my kids loved it. If your kids are tired of eating fussy foods, this is your spot!
It is located in the French Village right in the Pirates Island Water Park making it an irreplaceable spot for family food when you are enjoying a day at the water park. It's also shaped like a fun pirate ship, which is hard to resist.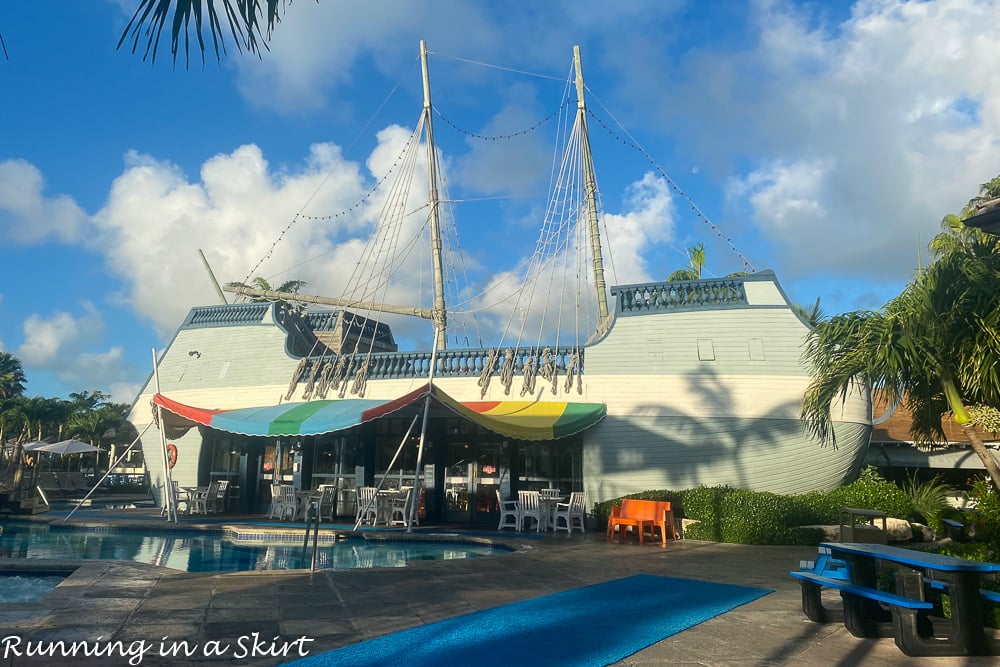 The inside as a 50's diner vibe with a heavy emphasis on a burger, fries, and kid-friendly options like grilled cheese, mac and cheese, and chicken nuggets.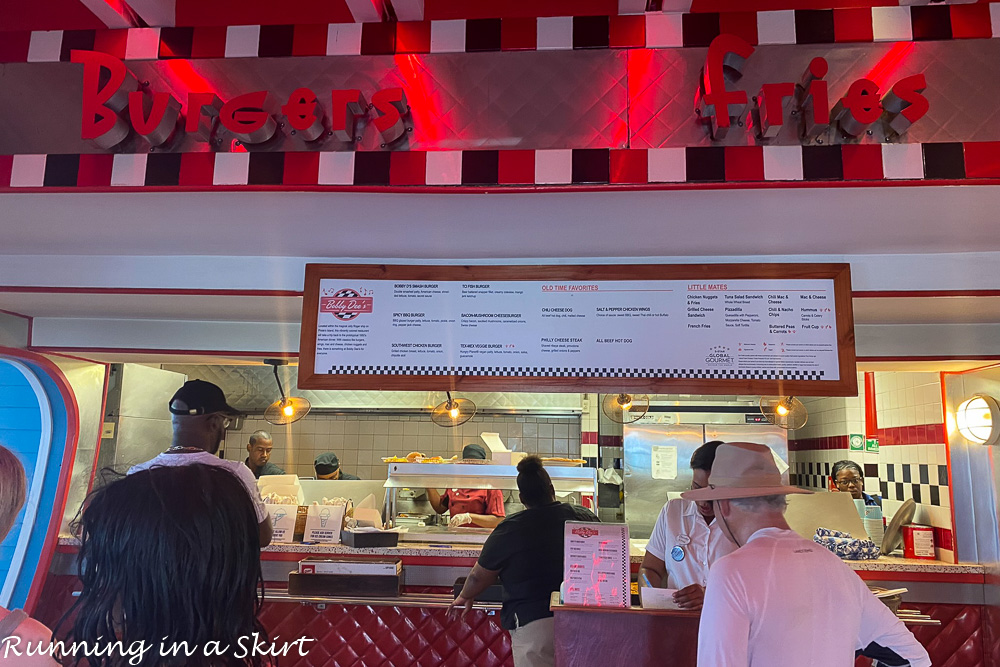 I ended up ordering a veggie burger, which was just ok but my boys gobbled up their grilled cheese, fries, and mac and cheese. You can easily get it in take-out boxes to enjoy by the water park pools too.
They also have grab-and-go pizza and cookies tucked in the back. You can additionally find ice cream and often cotton candy!
It wasn't my cup of tea, but if you have kids I'm sure they will love it.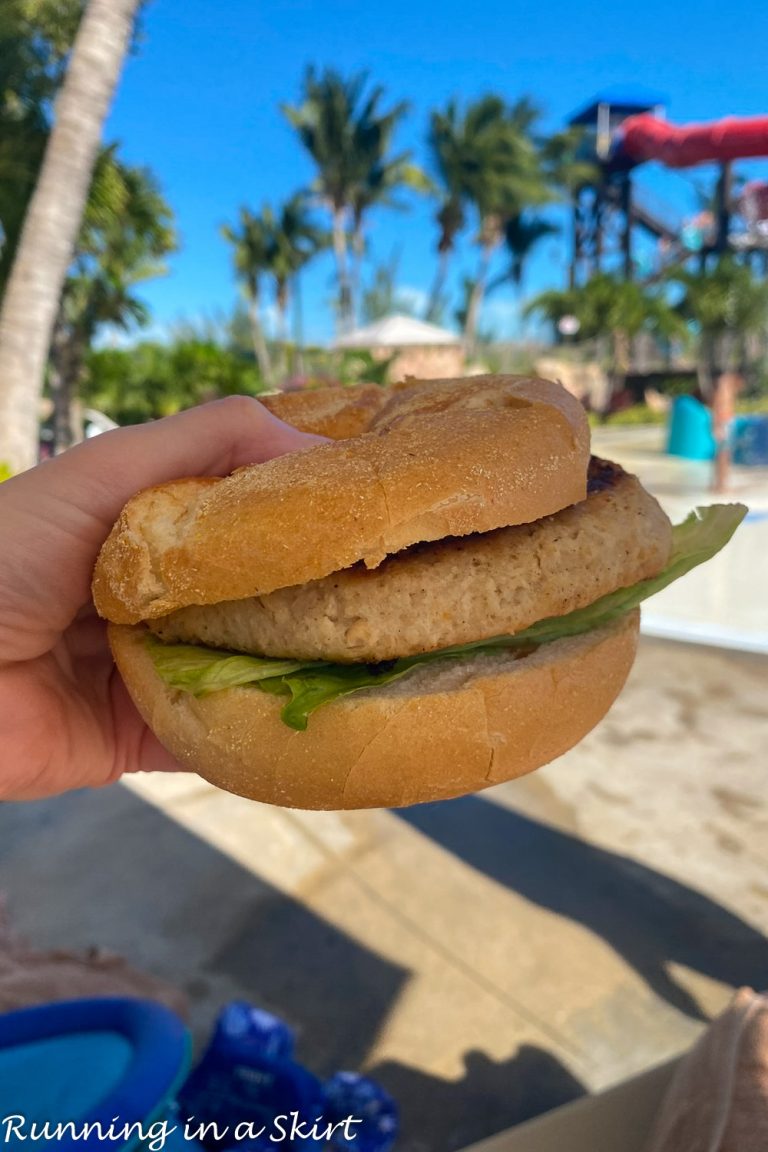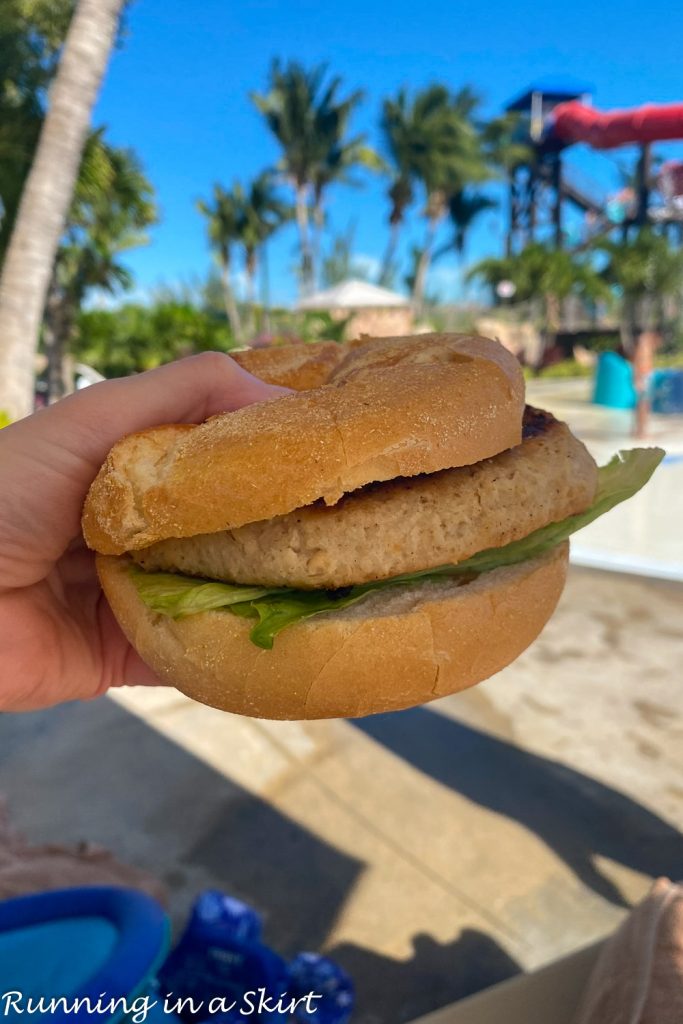 Mr. Mac Truck
Mr. Mac Truck is another fun one on the list of best Beaches Turks and Caicos restaurants. This fun food truck store eatery is located in Pirate's Island Water Park and is such a fun spot for kids and adults. It's easy to walk up and order making it a great dining choice for kids while they play on the slides.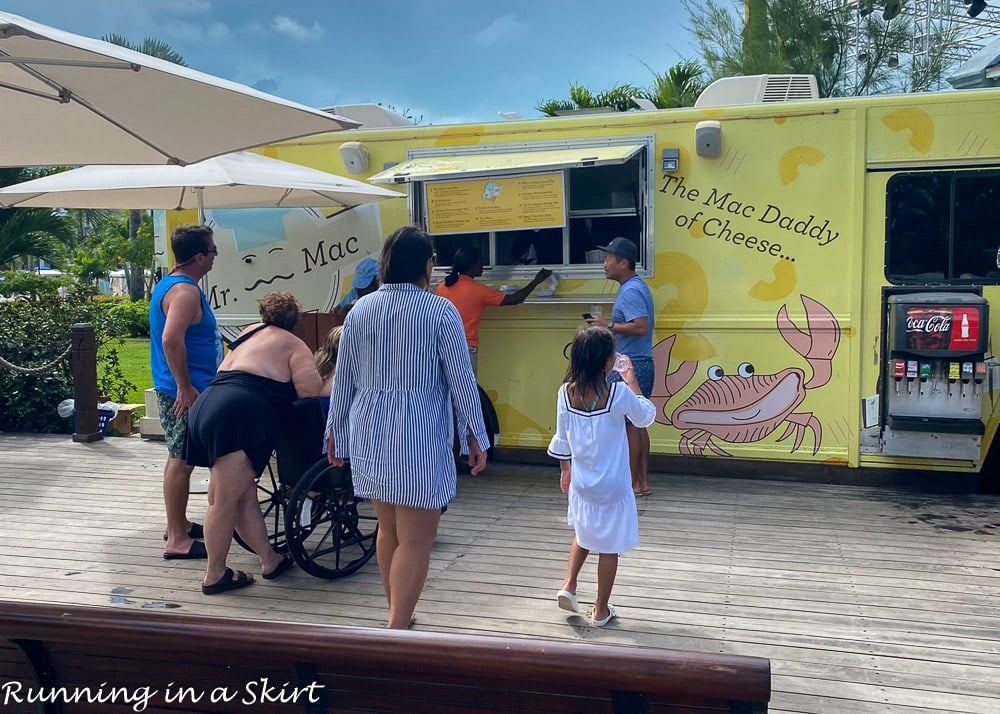 They had Crab mac and Cheese which was delicious. Other favorites included the Fried Mac and Cheese Balls.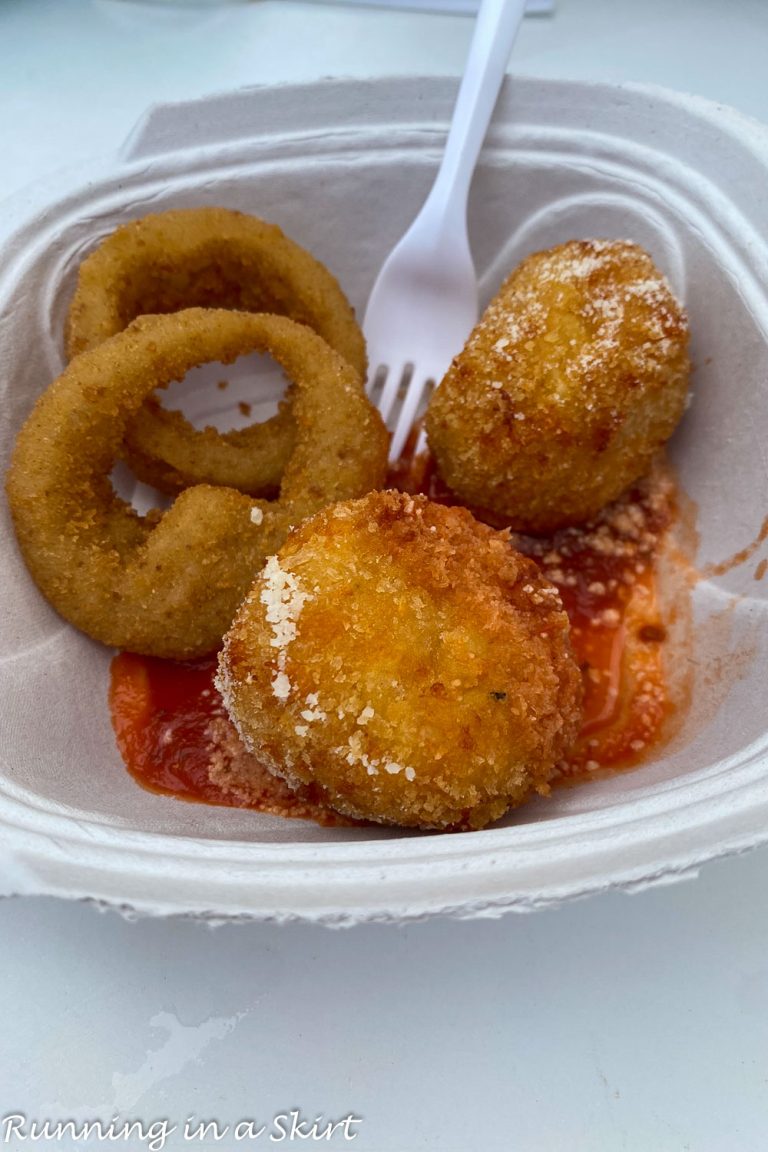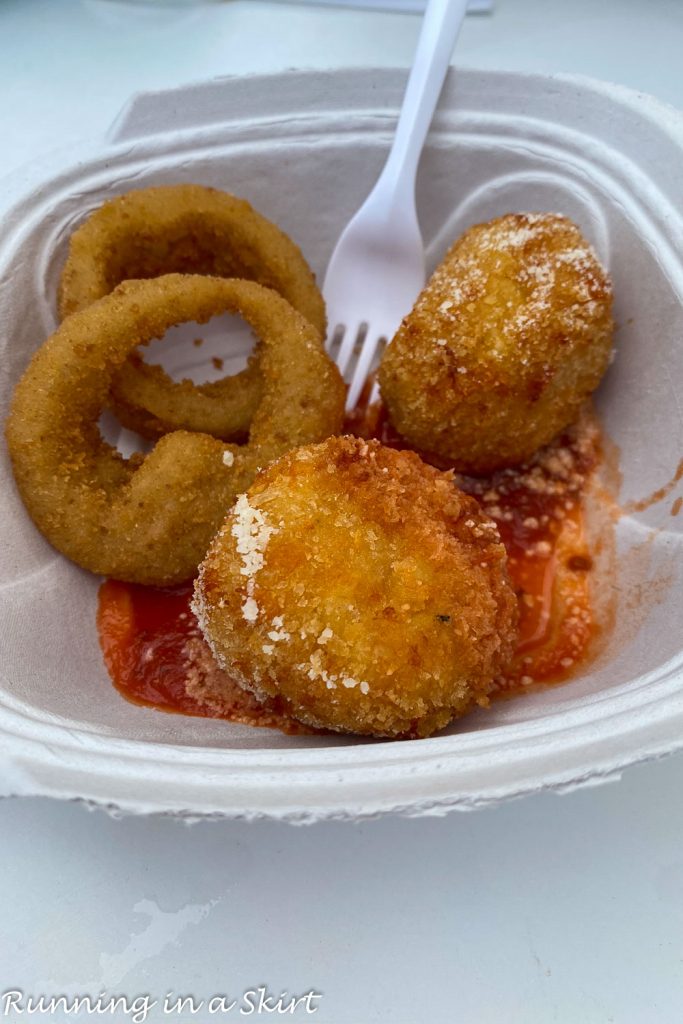 The Hubs like the Buffalo Chicken Mac and Cheese.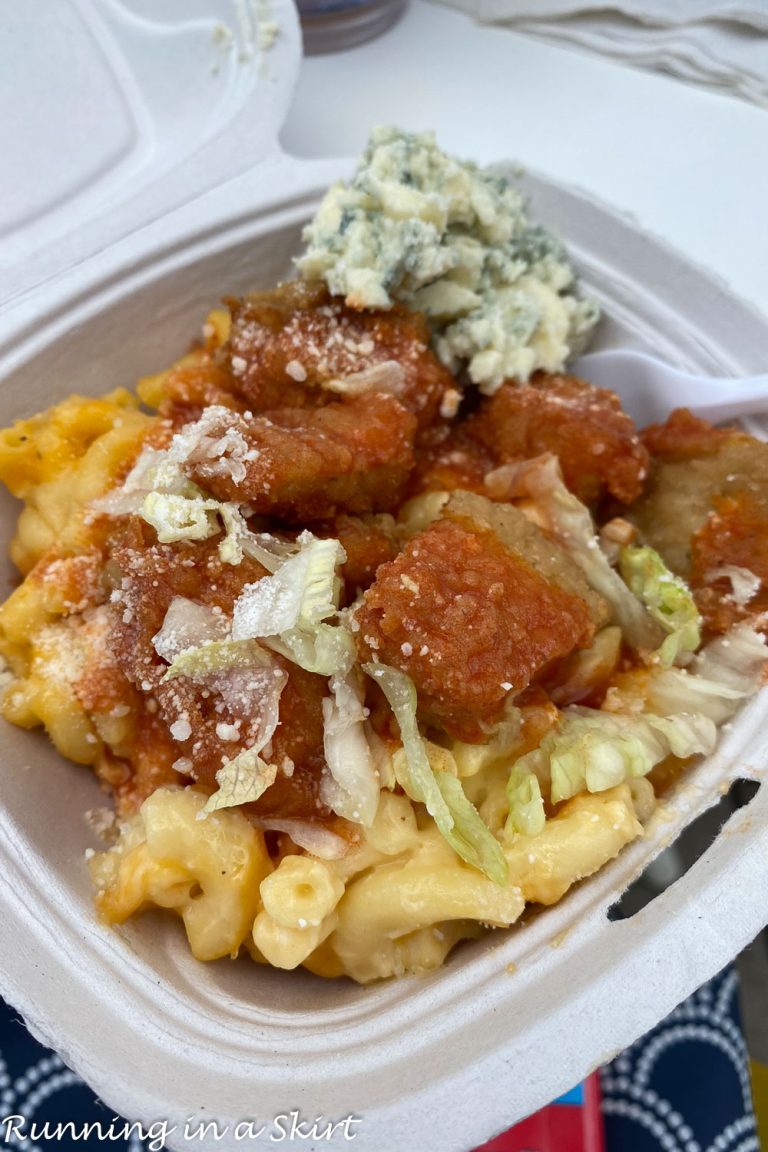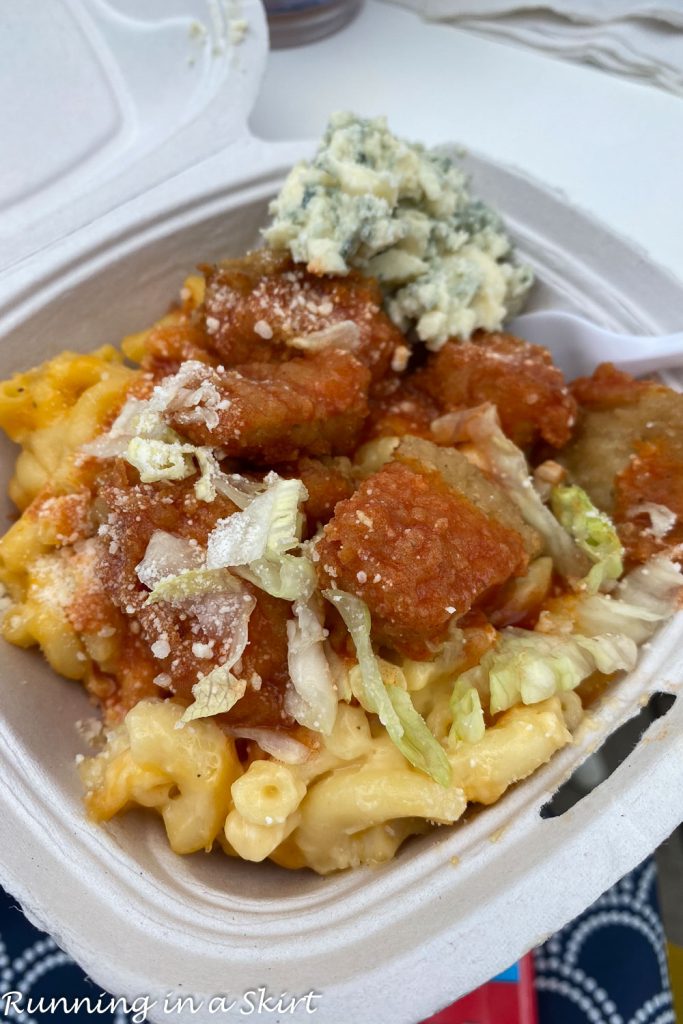 We also liked the Mexican-style mac and cheese with salsa and guacamole on top. I'll be recreating this at home for sure!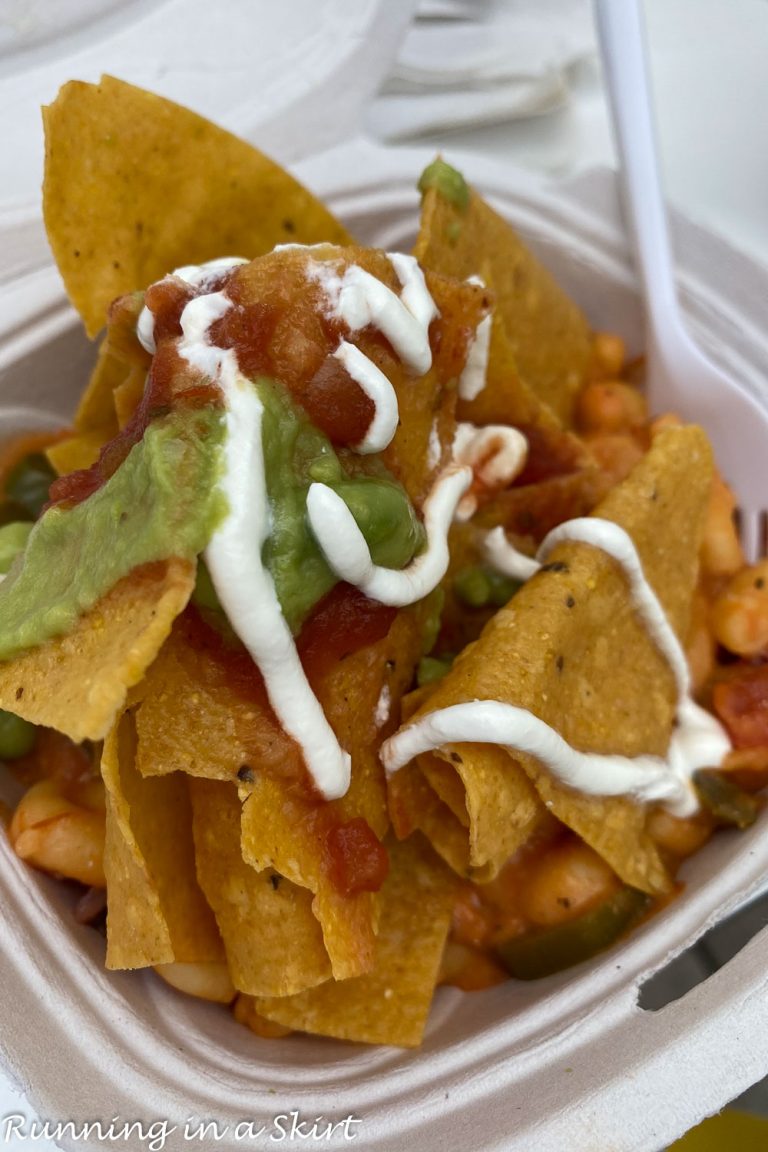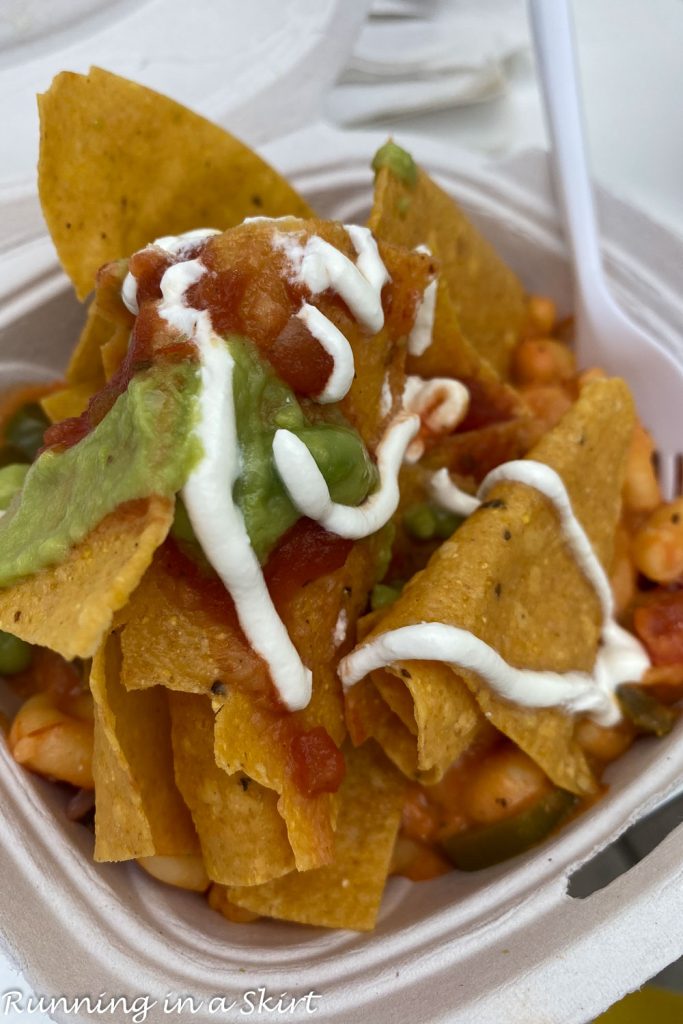 Mr. Curls Ice Cream Truck
The water park is also home to a delicious ice cream truck called Mr. Curls & Swirls Ice Cream Truck. It's a fun spot for the entire family and had fun flavors of milkshakes in addition to the ice cream.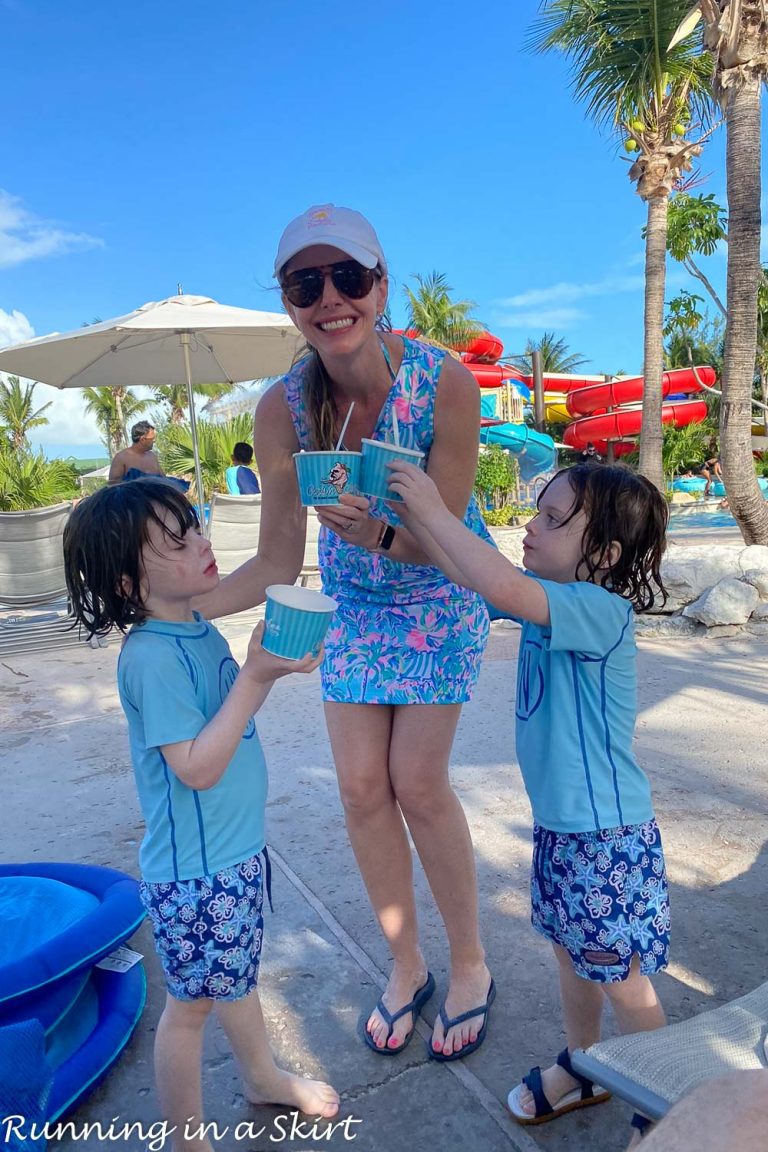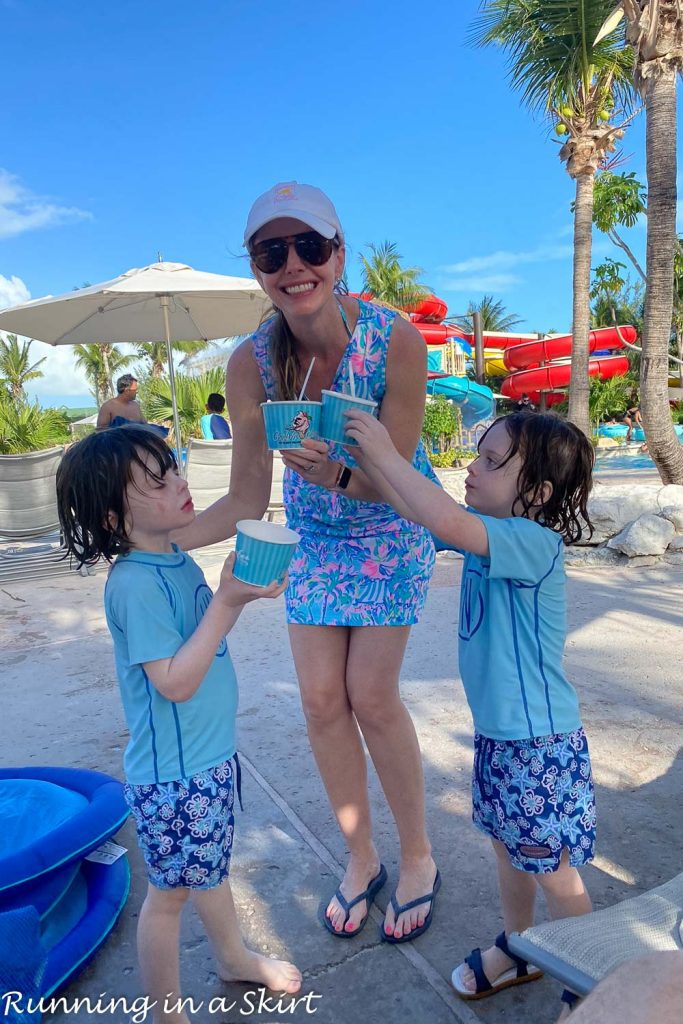 Cafe de Paris
For a light bite or coffee, Cafe de Paris is where to go when looking for Beaches Turks and Caicos restaurants. This spot is located in the French Village and is the spot to get specialty coffee drinks.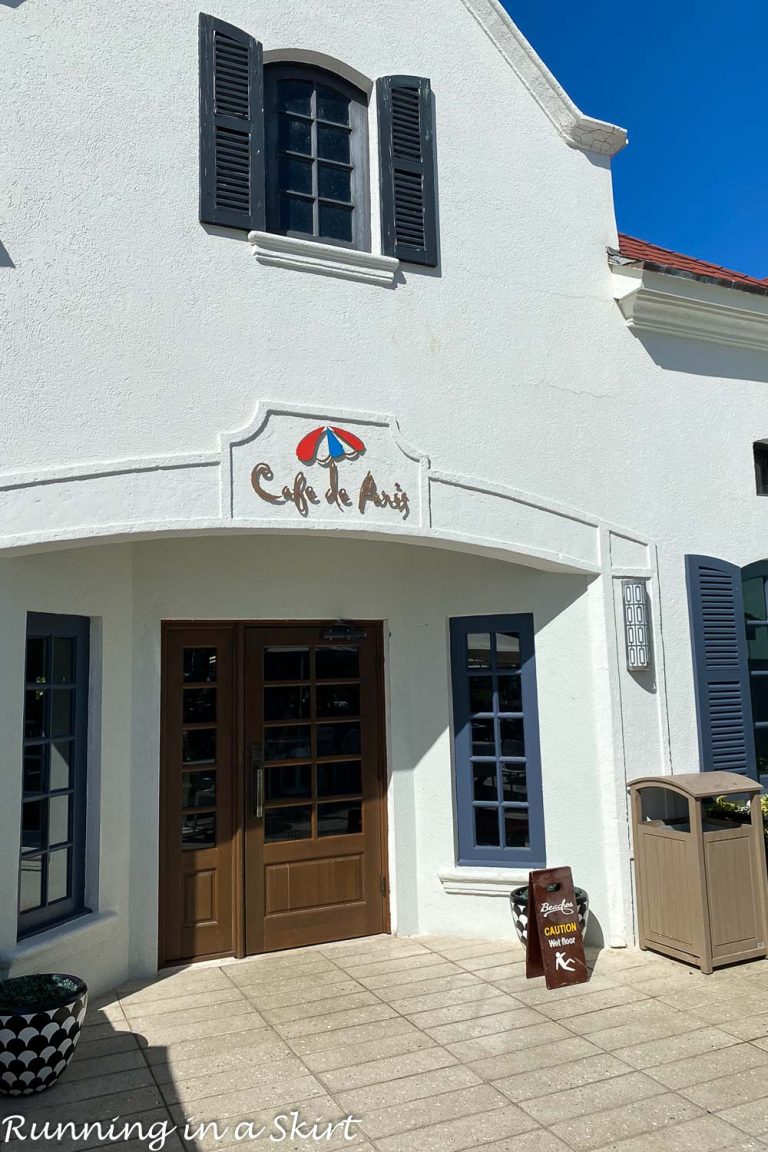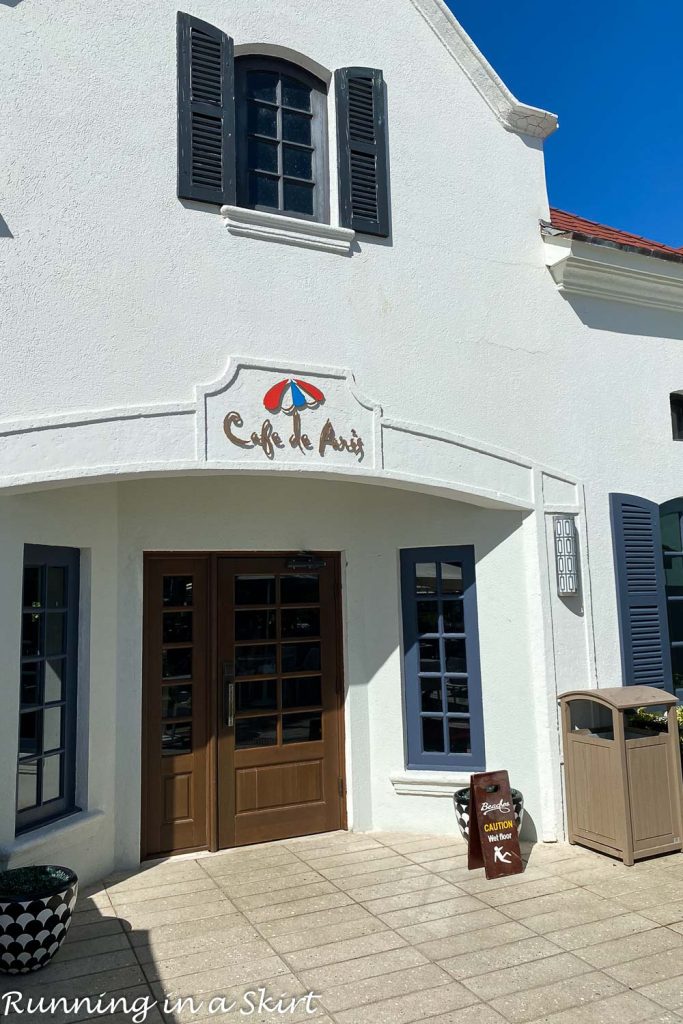 They also have pastries in the morning and fun french desserts in the evening. We tried of nearly everything one evening with the boys and it was a lot of fun.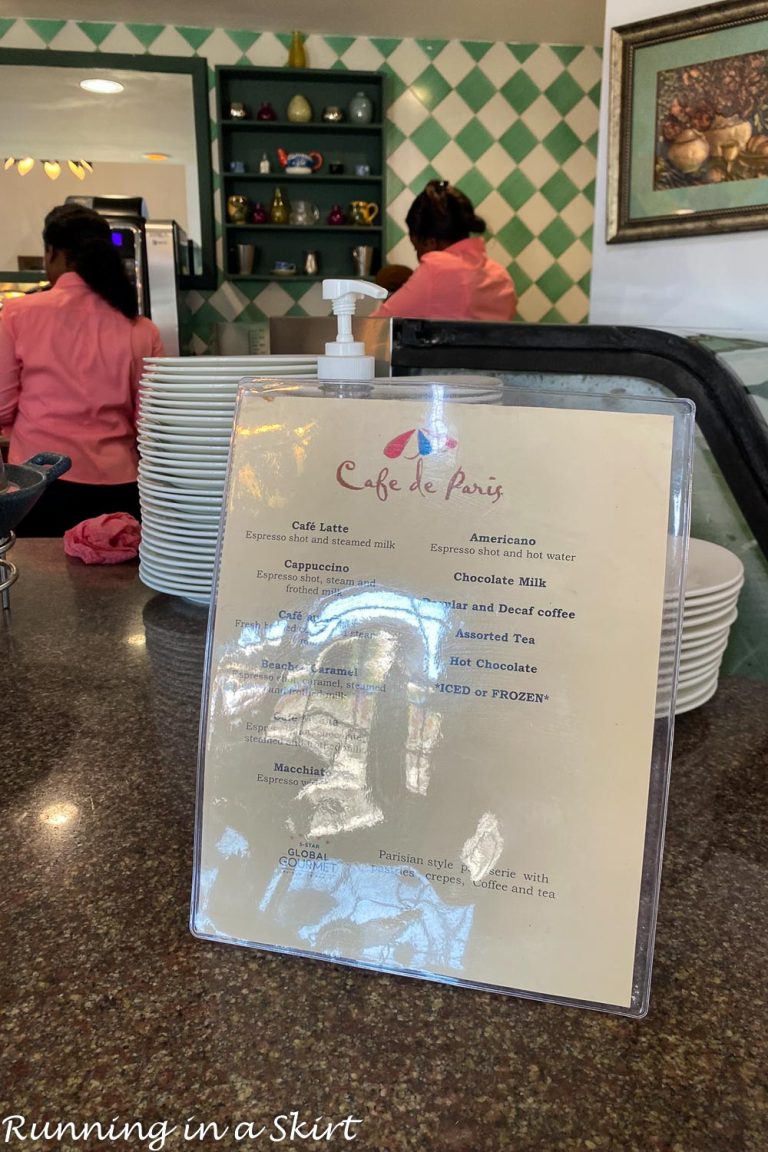 Kimonos
In terms of experience, Kimonos has to be on the list of top Beaches Turks and Caicos restaurants. This pretty spot in the French Village actually feels like you are in Japan with the cool decor and delicious Teppanyaki-style eatery. The food is cooked on big grills with the chefs providing entertainment and delicious food.
My twins had never been to anything like this before and they LOVED it. They had so much fun watching the chef and really enjoyed the food too! They actually both ate their entire plates.
I enjoyed the experience and the food too. This is the only Beaches Turks and Caicos restaurant where you need reservations and they do fill up fast, so make sure to schedule your dinner here when you arrive.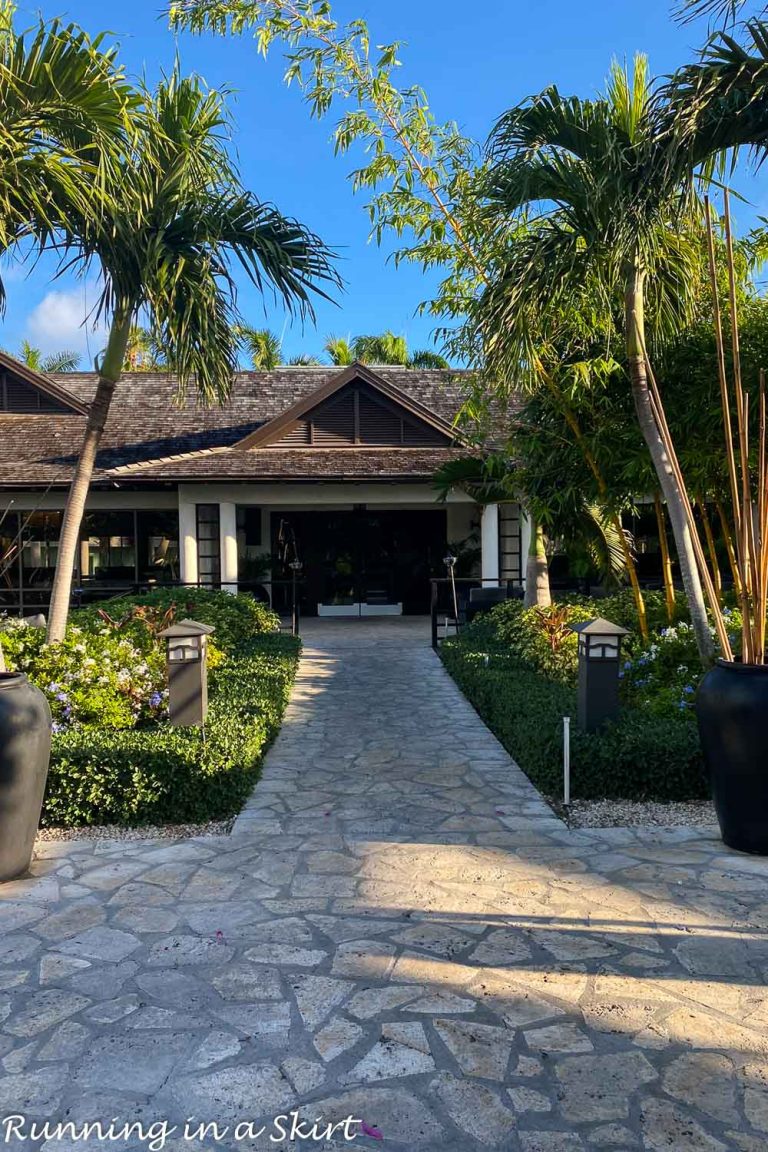 Soy
Soy is another fun one on the list of Beaches Turks and Caicos restaurants. This spot sits near Kimonos but offers a delightful and extensive sushi menu and sushi bar that will surprise any sushi lover. They are open just for dinner and it does take a while for the rolls to arrive, so plan accordingly.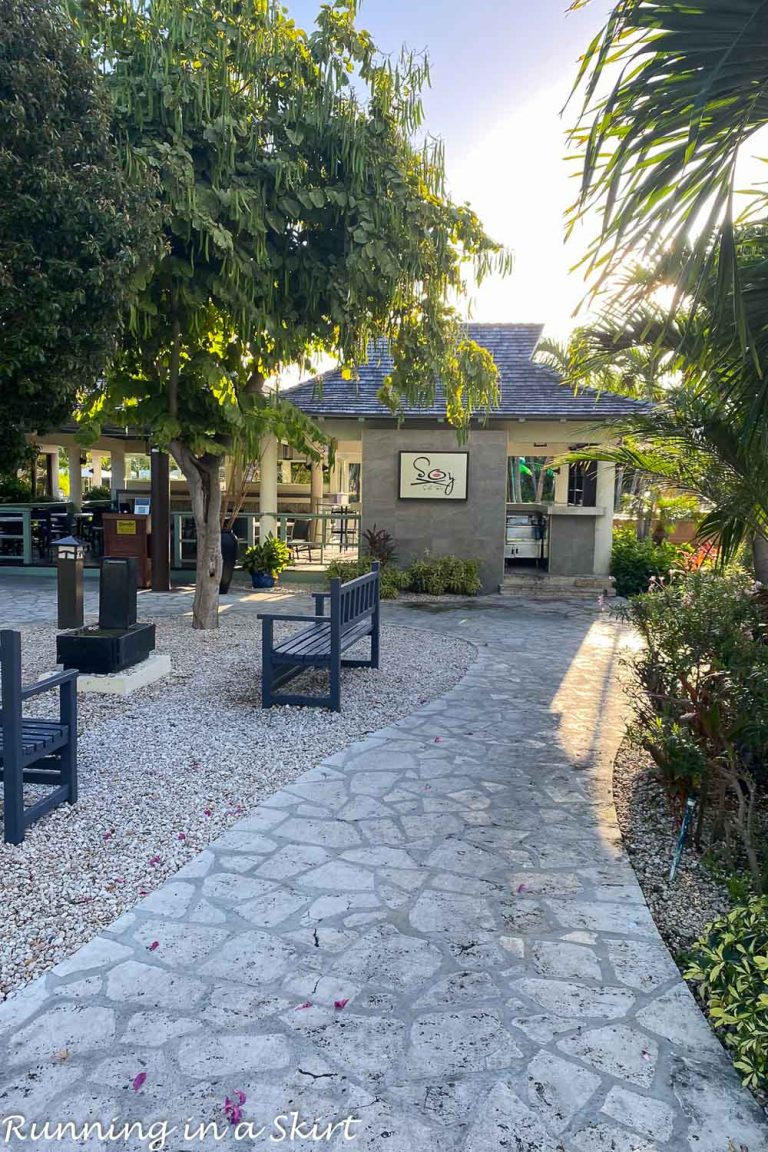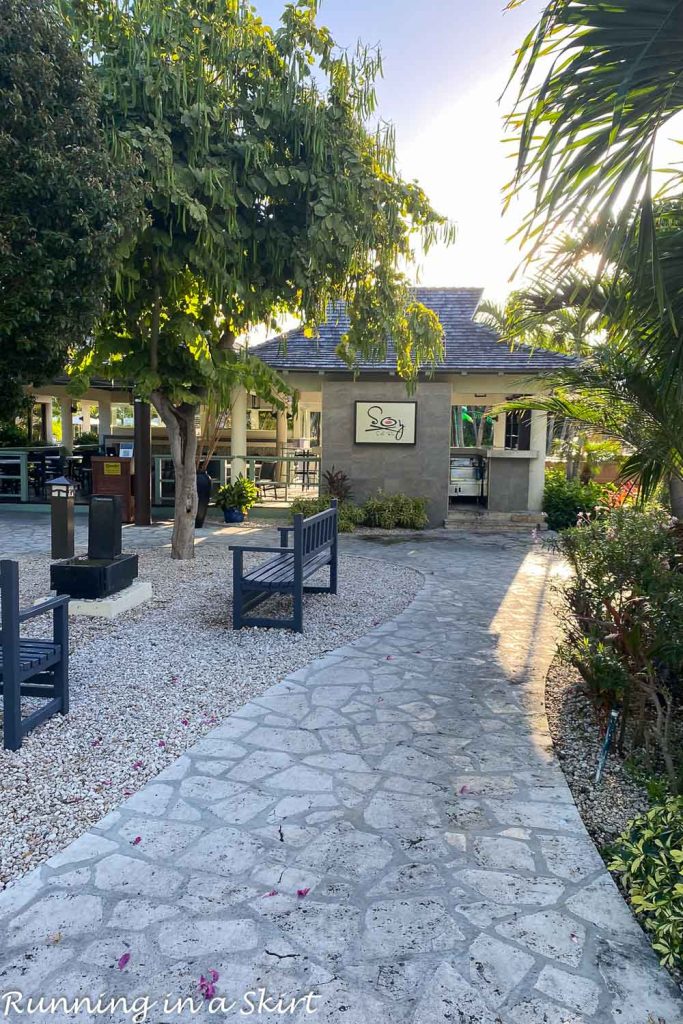 Le Petit Chateau
Le Petit Chateau is the last spot on my guide of Beaches Turks and Caicos Restaurants. This is another spot that is for older guests and they only accept 12 and up. It's located in the French Village.
As the name suggests, this spot offers French food and Parisian-inspired cuisine. It's a great spot for a romantic meal without toddlers.
Beaches Turks and Caicos Restaurants - Favorite Meals
We had so many great meals at Beaches Turks and Caicos restaurants, but for fun, I thought I'd share my favorite 9 meals for the week.
For breakfast, my favorite was Neptunes. I really enjoyed the Avocado Toast and Stuffed French Toast. The view and dining experience were fabulous. If you want to order your breakfast off of a menu, this was my top choice.
For a breakfast buffet, my favorite was Bayside. You really could not beat the incredible view and comfortable tables in this spot. They didn't have as much variety as some of the other buffets, but it was worth the trade for the view.
My favorite lunch was Barefoot by the Sea. I adored their fish tacos and conch salad made with local conch. If you haven't tried conch before, this is a must-try and truly local food in this area.
Another favorite lunch of mine was at The Jerk Shack. It was gorgeous at the end of the resort and the food served in foil felt fun after a week of fancier food. The rum drinks here were also spot on!
My last favorite lunch was Dinos! I wasn't expecting to like the pizza, but I really did. It was tasty and great for taking back to the pool or room. They also had a salad which was nice to add some greens!
We had so many lovely dinners during the week that it was hard to pick a favorite. But my top choice for food was Schooners. As a seafood lover, their menu was super delicious! The tuna there was probably my favorite dinner of the week. We also love the mussels and scallops. Schooners have a pretty water view and is a bit more upscale, but still, kid-friendly.
Neptune's was our second favorite dinner of the week in terms of food. We liked the Seafood Tagine and the swordfish. They brought my seafood-loving kids a second order of mussels, which was sweet.
Arizona's was another pick for my favorite dinner. Our kids loved the chips and salsa and shrimp tacos. They also enjoyed the bench seating there and it was overall a really fun family dinner for us.
And finally, I have to add Kimonos to my list of favorite meals because it was my kiddo's first time trying that kind of food. We all had so much fun and if you are going with kids, it's a must-stop place to eat.
Beaches Turks and Caicos Restaurants - An Honest Review
Here's my honest review of Beaches Turks and Caicos restaurants. In terms of all-inclusive food in the Caribbean, this resort offers some of the best dining options out there. True food snobs might find fault in the food, but even we as foodies enjoyed it. We actually had pretty low expectations of the food and were pleasantly surprised that we enjoyed the food all week. I loved how many choices they had, the fun variety and that my kids could come along for the entire dining experience.
I think it's also important to note that we have stayed at all-inclusive resorts before and knew what to expect. That being said this was my favorite all-inclusive resort I've ever stayed at in terms of food and everything!
If you are a busy family, I'm sure you will enjoy the food and vacation because of how easy they make it for families! We ate well on vacation and made such wonderful family memories at Beaches Turks and Caicos! I hope we get to go back one day.
More Beaches Turks and Caicos Information:
If you read my reviews and want to book your own trip, make sure to book here for the latest sales and deals!


Pin for later: