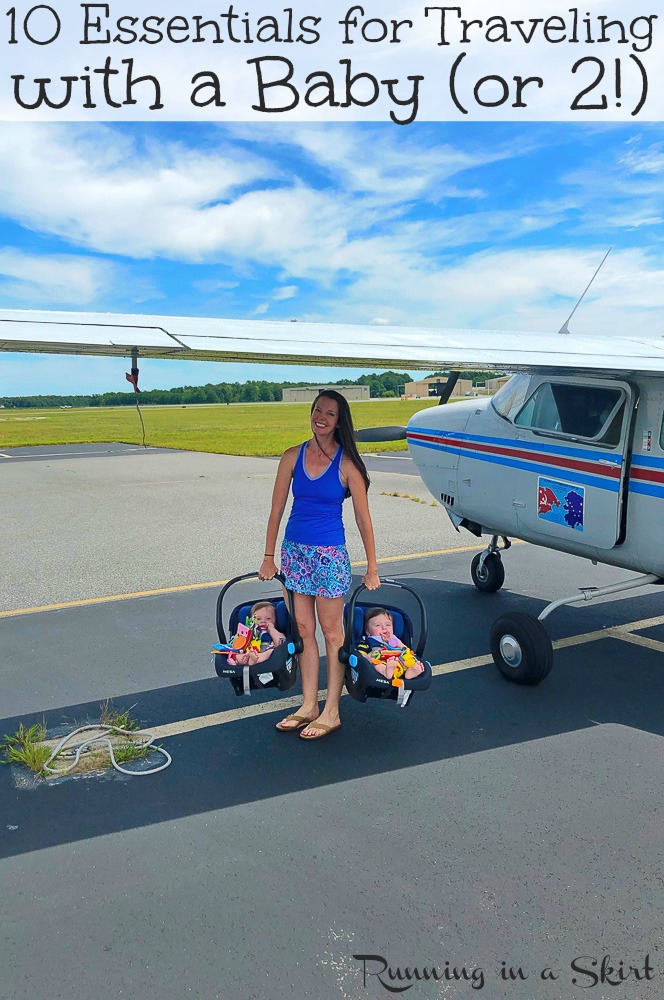 Traveling with a baby or 2? Here are my must take baby travel essentials!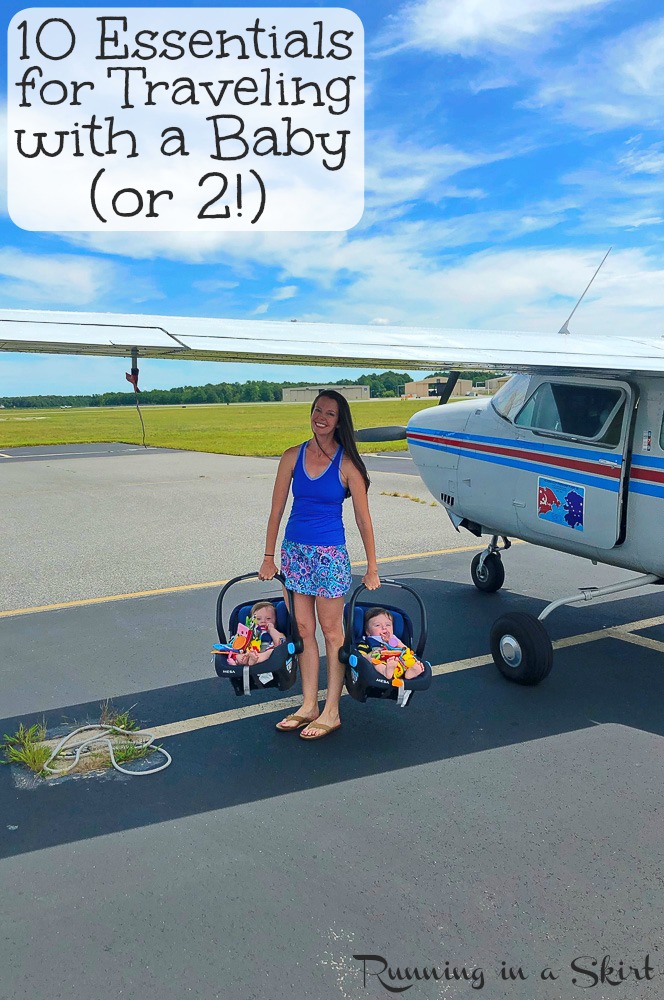 Hi guys!
I don't claim to be an expert at parenting at all. In fact, most of the time I feel like I'm making it up as I go along. Parenting seems to have that special way of humbling you quickly! However, I have been lucky enough to take the boys on lots of trips during their 10 short months. We've been to 6 states, 9 cities and on 15 flights. We've even gone to my favorite place, Hilton Head, three times with them including the first trip at 10 weeks old. So I do have a good amount of experience traveling with not only babies but twin babies.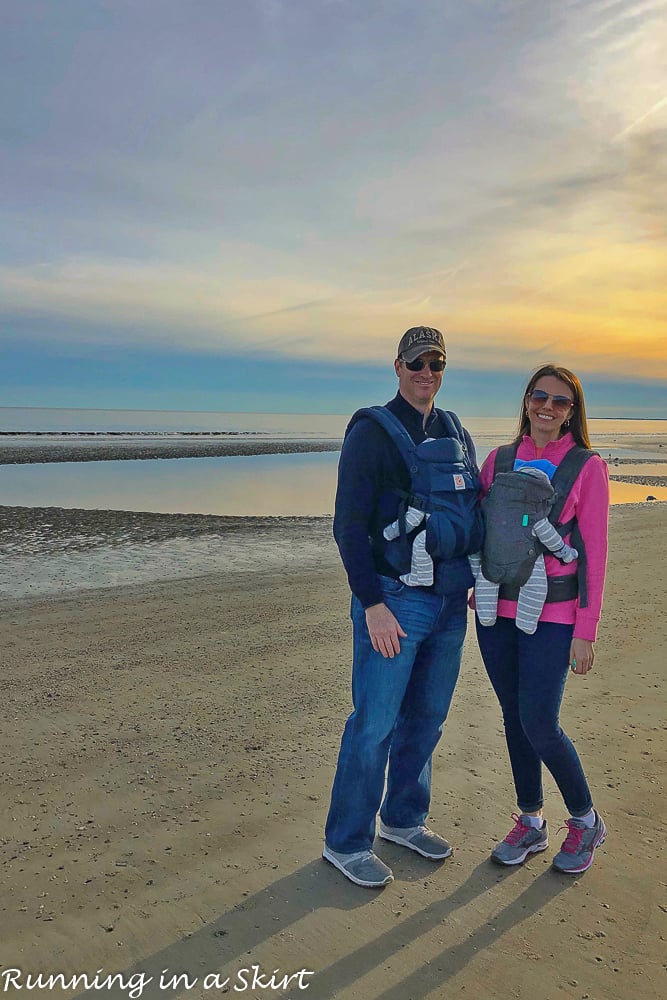 Travel is a bit easier for my family because my husband is a general aviation pilot and we share ownership of our own small plane. Even though it's a bit easier, traveling with babies is never in any way easy. I still have to pack extensively for the twins for each trip and we can only do so much with the babies' tight schedules including two naps and an early bedtime. It's definitely not traveling like we used to, but we've decided the extra effort is worth it.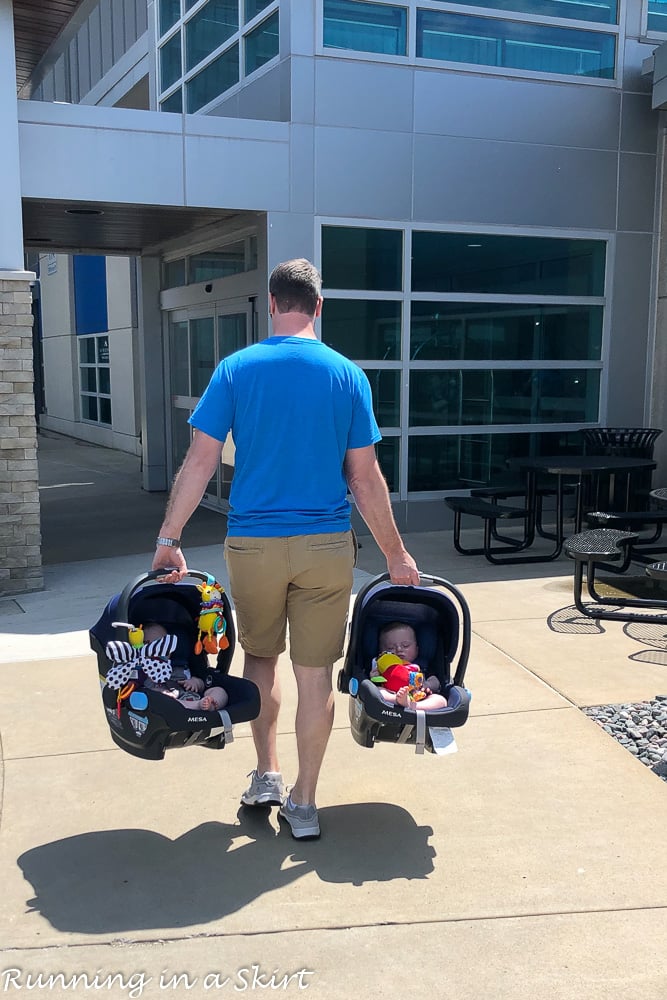 So even though I can't call myself a parenting expert, I do feel like I can call myself a baby packing expert. I've done a lot of thinking, refining and tweaking out baby packing list over the last few months and come up with some things that have really helped us travel with the babies. The plane is small so it really limits the amount and weight of things we can bring. That means that much like flying commercially I've had to really edit what we bring. I feel like I've finally got it down though and can get the babies packed and ready to go in a fraction of the amount of time it took early on!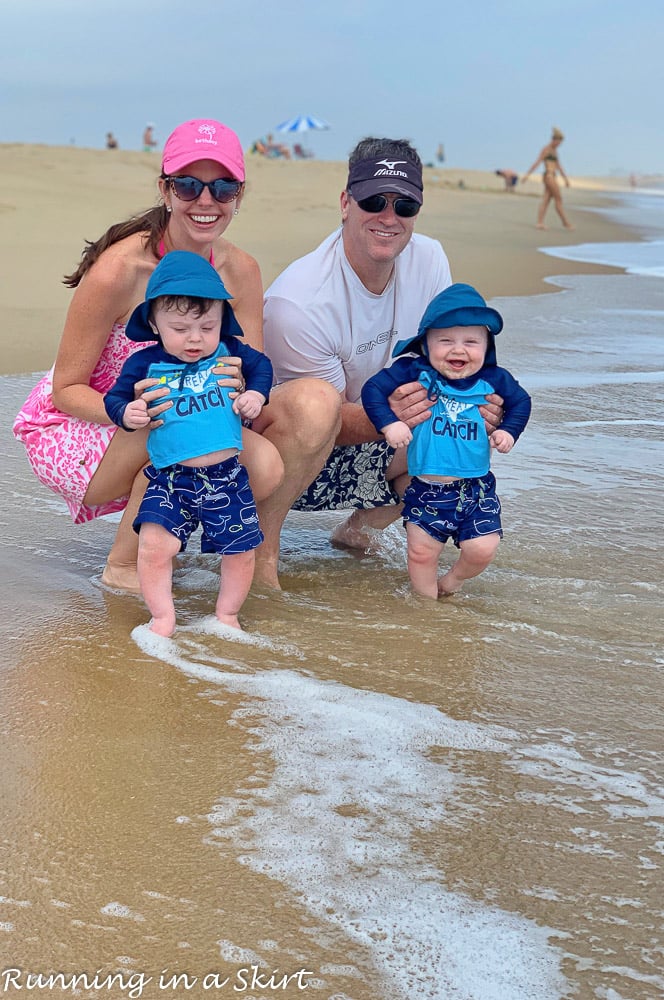 I've gotten a lot of questions about how we travel with the twins so I decided to share a few of my favorite baby travel essentials - a list that would work whether you have one baby or two! This isn't our extensive travel packing list though. Instead, it's just 10 of my favorite things we've gotten that has made travel easier!
Baby Travel Essentials
I wanted to have our own travel cribs so the babies had a familiar place to sleep wherever we went instead of using or renting something different every time. We also have some serious weight and space constants with what we can take on our plane so I needed something small and light.
Since traditional pack and plays are so big and heavy there is no way we could fit two of them on the plane. I did some research and found these amazing Lotus Travel Cribs. They are only 13 pounds each, fold into a backpack and are so much easier to put together than a regular pack and play. They were a bit of an investment (especially buying TWO!) but the boys have slept well in them for all of our trips. Buying these once has also been cheaper and a lot less hassle than renting something everywhere we've gone. I can not gush about them enough and if you plan on traveling with your baby I would get this!
There were several months when the big traditional baby bouncers we have in our basement for the twins kept my sanity. It was hard to keep them both happy and entertained and they both loved the bouncers enough to were putting them in them would buy me some time to catch my breath. The thought of traveling without them for that time period felt impossible however there was no way they were going to fit in the plane or car!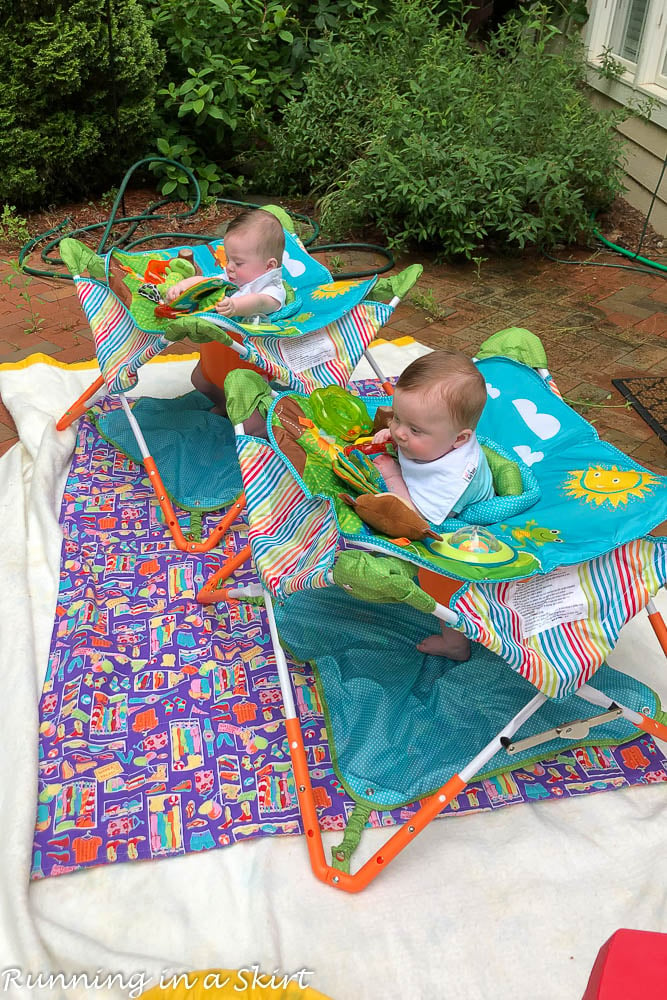 I found these collapsible, portable bouncers on Amazon and my Dad got them for us as a gift! They gave us a way to contain and entertain the babies even on a trip which was a lifesaver. We ended up using them outside at home too.
Once the boys were eating solids in high chairs travel got even tricker! I thought about renting a high chair everywhere we went but once again that sounded like more work than I needed. Instead, I found these small collapsable travel high chairs that can either be attached to a regular chair OR sit on the floor. The tray snaps off to be washed and the cover is entirely washable too! If you've seen my boys eat you'd know this is mandatory!
They fold up into a small carry pouch and only weigh four pounds each! They have been perfect for eating on the go and are one of my top baby travel essentials.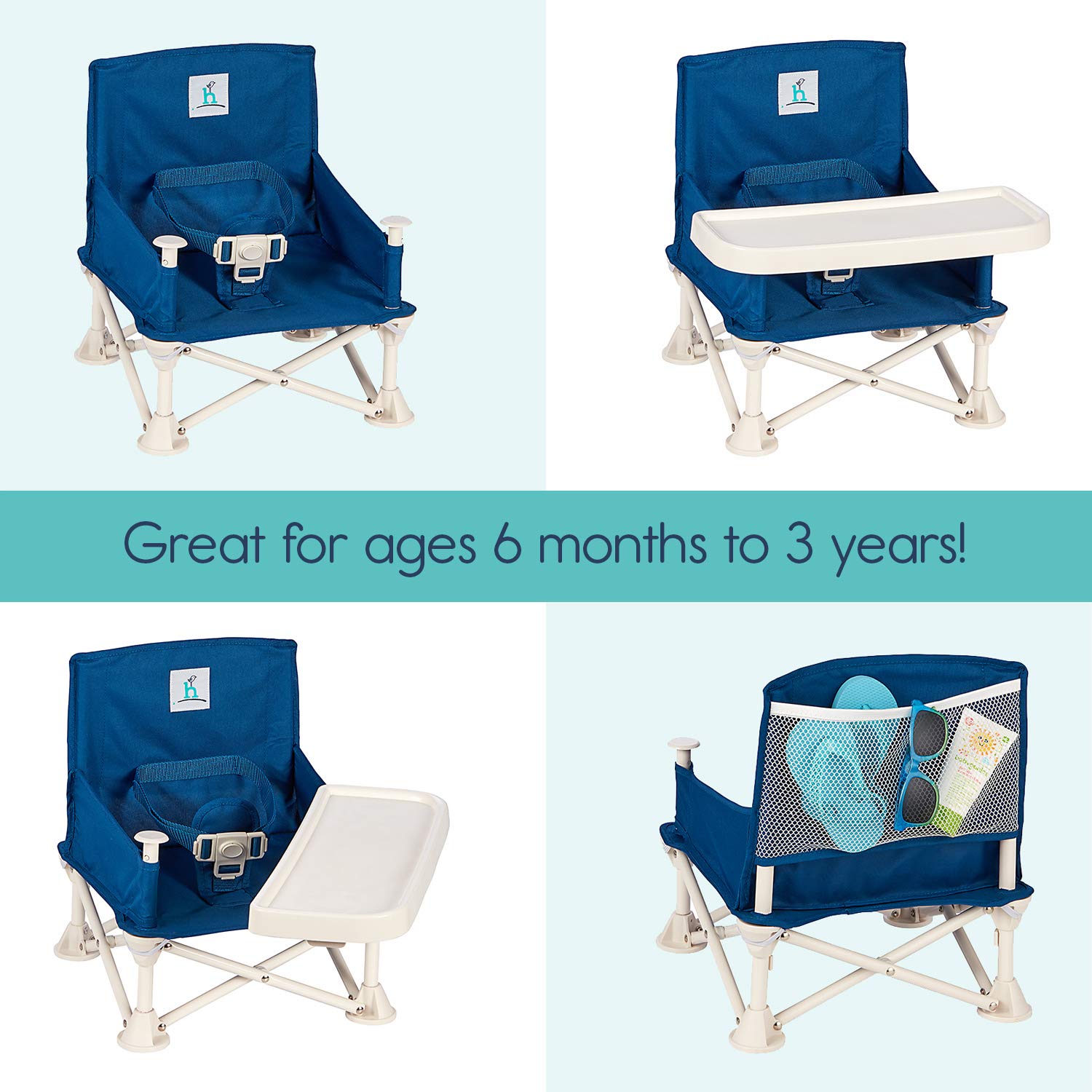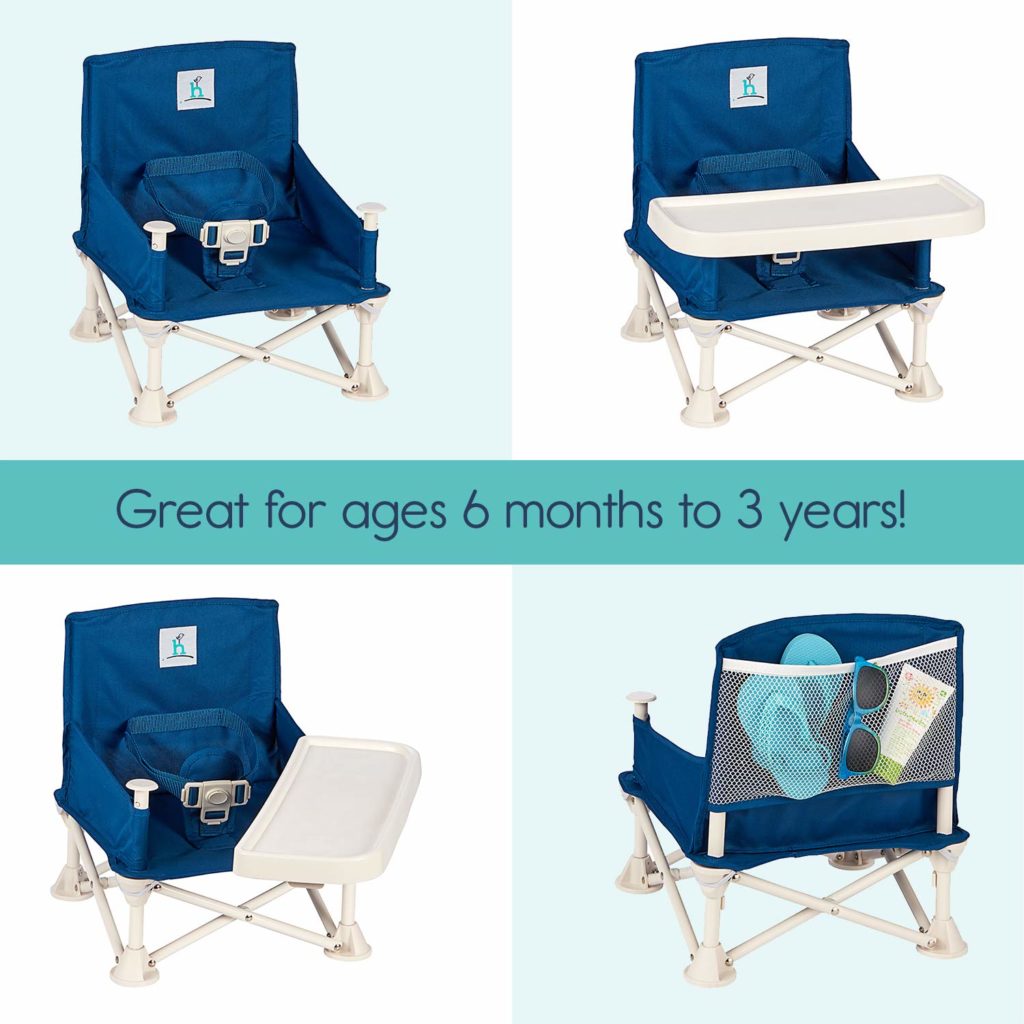 Baby Carrier
We went through a period where our baby carriers were the most valuable tool we had to take care of the twins. In fact, for months Hunter was only happy if he was in a carrier. When they were younger I really liked a hand me down Baby Bjorn I had however now the babies are most comfortable in the Ergobaby Carrier. This one is great because the babies can now face out and see the world.
We also had great luck with
this budget carrier. If you can't swing the more expensive ones, this one actually worked really well too! You can't beat it for the price.
Backpack Diaper Bag
When trying to keep two babies happy you need all your hands free! That's why a backpack diaper bag is the way to go. I love my diaper bag because it is big, easily cleanable, has nice outside pockets AND had pink palm trees inside. 🙂
My SIL got one like that is more of a budget buy and is also so nice!
Stroller
With two very heavy babies to tote everywhere a stroller is how I get them almost everywhere! We've loved out UppaBaby Stroller because everything from car seats, bassinets and toddler seats can snap into it. It folds up into a nice travel bag and has served us well on all of our trips. We have taken this stroller everywhere.
They don't make a lot of strollers for twins and after a lot of research, this was our best option!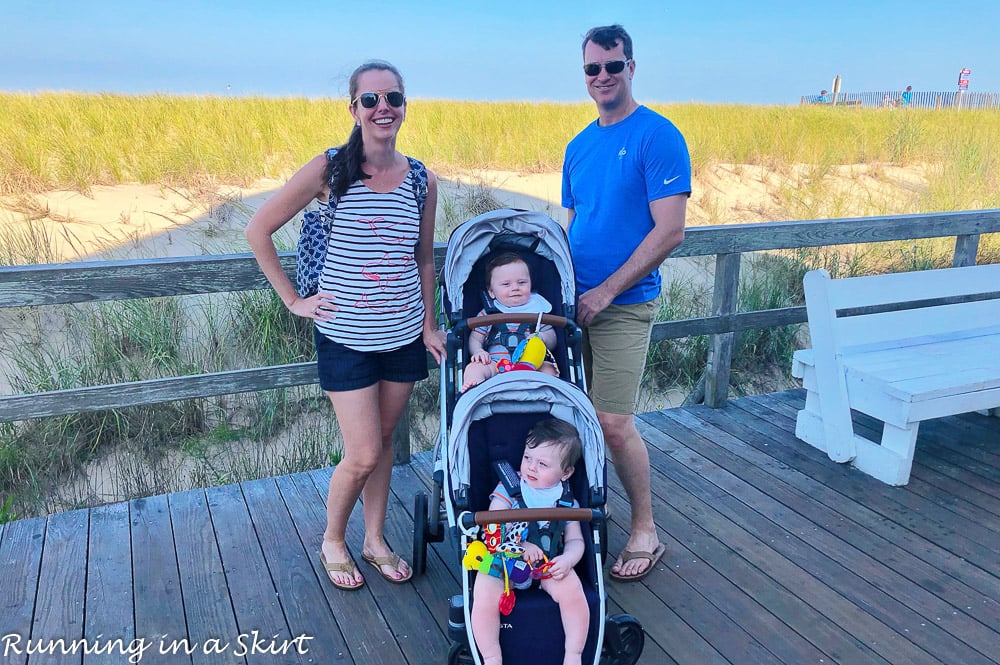 A sound machine has been a big part of the twin's sleep routine and so it's been critical that we travel with it. The sound machine makes each room they sleep in sound familiar so they sleep better. So far the extra effort to travel with it has worked.
We swaddled the babies in Halo Sleep Sacks for as long as it was safe and then switched to the Zipadee-Zip Sleep Sacks. The sleep sacks are basically like a wearable blanket. They allowed us to have a seamless transition from swaddling and are a key part of our nighttime bedtime and nap routine so we don't travel without them. The boys seem to really like them! I can't say enough about keeping your sleep routine the same when traveling. I think these small details have helped the babies travel a bit easier.
Washing bottles on the go can be tricky! Our first few trips I tried to improvise and wash the bottles in a dish I found at our rental but nothing worked well. I then started traveling with our own wash bin on longer trips and it made the day to day chores of taking care of babies a bit easier. This one is great because it collapses and is easy to carry.
Ziplock Bags
It can be hard to stay organized traveling with two babies. To help I've used ziplock bags to keep different things together like medicine, socks, and even pacifiers. I now keep a stack of them in the baby's luggage to reuse for each trip. They are an inexpensive way to help you stay organized when packing.
I also keep them in my diaper bag for dirty diapers on the go and potential blowouts.
Once again this is only a fraction of the list I make to pack the babies but these few things are some of the most valuable things I pack. I hope they can help you travel with your little ones or help you buy a gift for someone who's expecting!
More baby travel...
Practical Tips for the Best Beach Vacation with a Baby
Pin for later!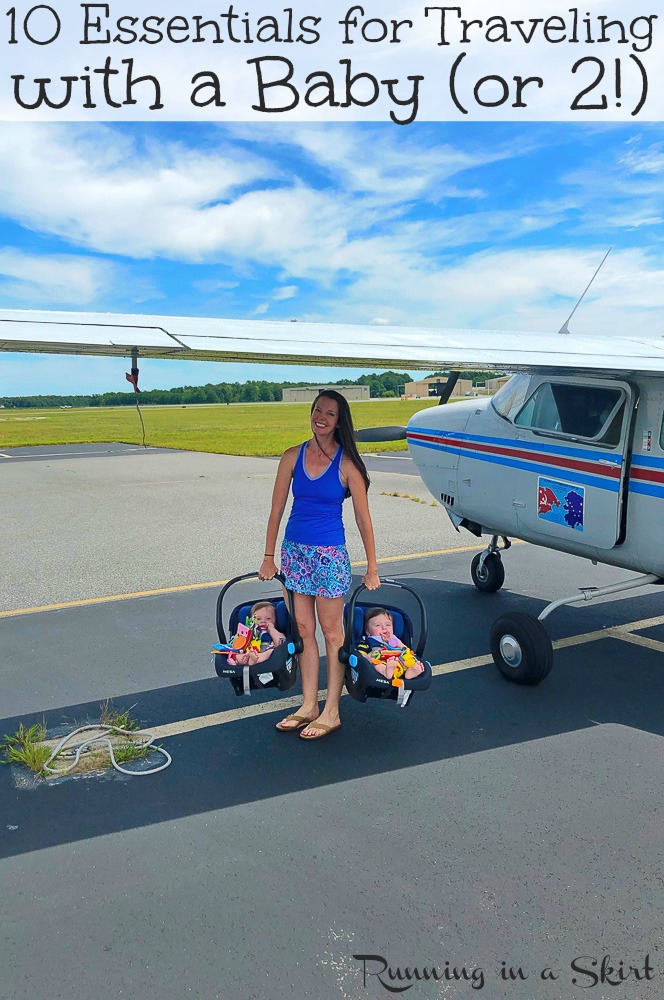 Your turn!
Do you travel with your babies? Would you when you have them?