Running can be hard! Get past the hard days with my favorite running mantras.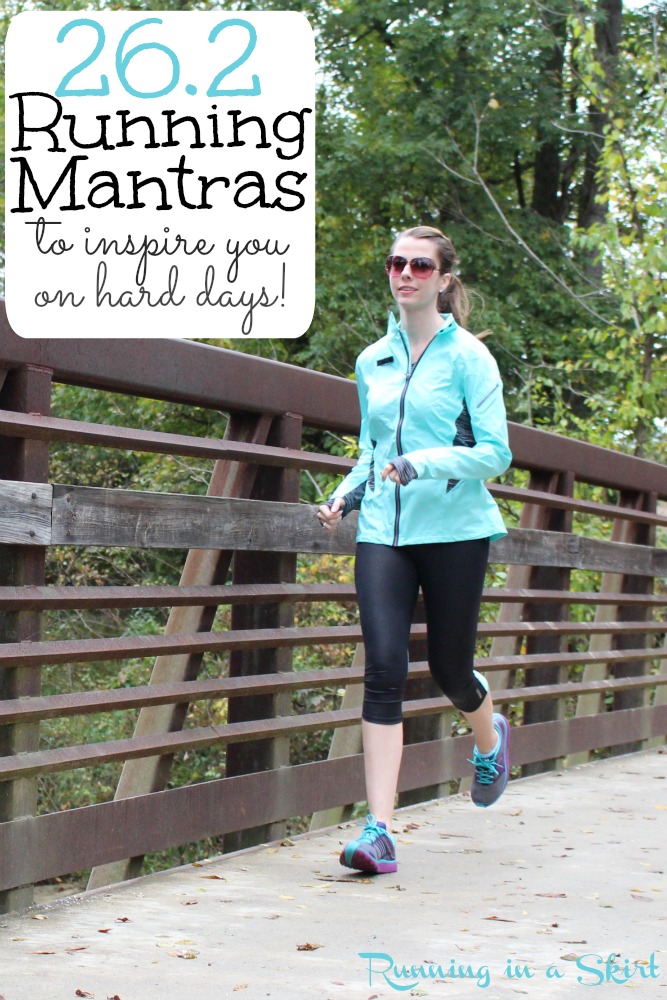 Hello! Hello!
I'm still in Alaska... follow along on Instagram for updates.
I love running. I literally created a list containing 101 reasons I love it. I thrive over the routine of it and the chance to unplug and clear my head. I feel strong and happy when I run. It makes me a better person in so many ways. I run chasing those fleeting moments where I feel like I could live forever and do anything. I long for the days when the trees are the perfect shade of green and the Carolina blue skies literally take my breathe away.
Let's be honest though, running isn't always easy. There are so many good things about it, but sometimes nothing clicks and my legs feel like 100 pounds weights that just don't want to move. Sometimes it's hard to breathe. Other times the whole thing just feels off and I struggle to get myself out the door. Those are the days I have to dig deep, especially if I'm training for an upcoming big race.
On hard days I pull out my trusty running mantras. My three favorite ones all pull from the same idea... "There will be a day you can't do this, today is not that day," "Remember when you couldn't do this?" and "Running is a gift." For me these all touch on the theme that I haven't always been able to run when I've wanted to. I've had issues with chronic illness, surgery and injuries that have kept me from running for months at a time. Remembering what it felt like to not be able to run, usually pulls me through. In the same vein, I know that I will have times in the future where I can't run. Because of that, I want to enjoy each run I can. Running mantras help pull me through.
I know most runners have similar mantras that go through their head on hard days. I asked some of my favorite running bloggers to share their favorite running mantras with you and they came up with some inspiring ones. I'm sharing my personal favorites at the bottom of the list. This list has 26.2 running mantras in honor of the marathon distance. If you happen to be training for one, I have one for each mile you run! If you run less... spread these out over weeks or months.
[fusion_builder_container hundred_percent="yes" overflow="visible"][fusion_builder_row][fusion_builder_column type="1_1" background_position="left top" background_color="" border_size="" border_color="" border_style="solid" spacing="yes" background_image="" background_repeat="no-repeat" padding="" margin_top="0px" margin_bottom="0px" class="" id="" animation_type="" animation_speed="0.3" animation_direction="left" hide_on_mobile="no" center_content="no" min_height="none"]Get moving with 26.2 Running Mantras! Click To Tweet
26.2 Running Mantras
Stronger and stronger by the mile. Amanda from Run to the Finish
I will run and not grow weary. Kerri from FitViews
Just keep moving! Heather from FitAspire
If you can do this, you can do anything. Katherine from KatherineEdgecumbe.com
You are Capable! Susie from SuzLyfe
Don't stop when you're tired, stop when you're done. Deborah from Confessions of a Mother Runner
The faster you run, the faster you get done! Marsha from MarshaApsley.com
Forward is a Pace. Tara from A Daily Dose of Fit
Remember the 40% rule. When you feel like giving up, you still have 40% left in your tank. Amber from Eats and Exercise by Amber
If you can dream it you can do it. Kathryn from Dancing to Running (courtesy of Walt Disney)
Run the mile you are in! Michelle from Fruition Fitness
Just one more mile! Priya from Masala Girl Travels
You can do hard things. Laura from This Runner's Recipes
It always seems impossible until it's done. Aimee from Forty by Forty Fitness (courtesy of Nelson Mandela)
Think it, Be it, Run it! Julie from The Healthful Peach
If running is hard, run more. Ilka from Ilka's Blog
Your body achieves what your mind believes! Kelli from Club Connect
Stronger than you know. Lauren from Breathe Deeply and Smile
Your legs are not giving out, you head is not giving up... KEEP GOING!
If I could do it before, I can do it again.
Suck it up, Buttercup (The Hubs motivation for me... lol!)
I eat hills for lunch!
When your legs can't run anymore, run with your heart
There will be a day you can't do this. Today is not that day.
Remember when you couldn't do this.
Running is a gift.
I hope these inspire you as much as they did me! Happy running.
[/fusion_builder_column][/fusion_builder_row][/fusion_builder_container]