Happy Fashion Friday peeps!
It's been a strange, smoky week in the mountains. It's been so dry that there are a few wildfires in the area and it's been really smoky. We're far enough away where we aren't in danger, but it's been hard for me to be outside much with my asthma. I know that is just a minor inconvenience and I'm mostly sad and worried for the firefighters and people with nearby homes.
On a completely different note, the Hubs and I finally picked out a car (we started shopping for it in the summer!) and are going on a road trip to pick it up this weekend. I'm hoping to make the most of it and turn the trip into a little adventure! I'll try to post on Instagram Stories as we go along.
AND it's finally been cold enough this week to KIND of wear clothes that are more fall-ish. Scarfs and boots are one of the few good things about cold weather in my opinion!
One of my favorite trends this year is the blanket scarf. It is back from last winter and I picked up this pink plaid one to dress up some outfits. I love the way this $20 scarf transformed this look! There are many ways to tie a blanket scarf, but this one is my favorite.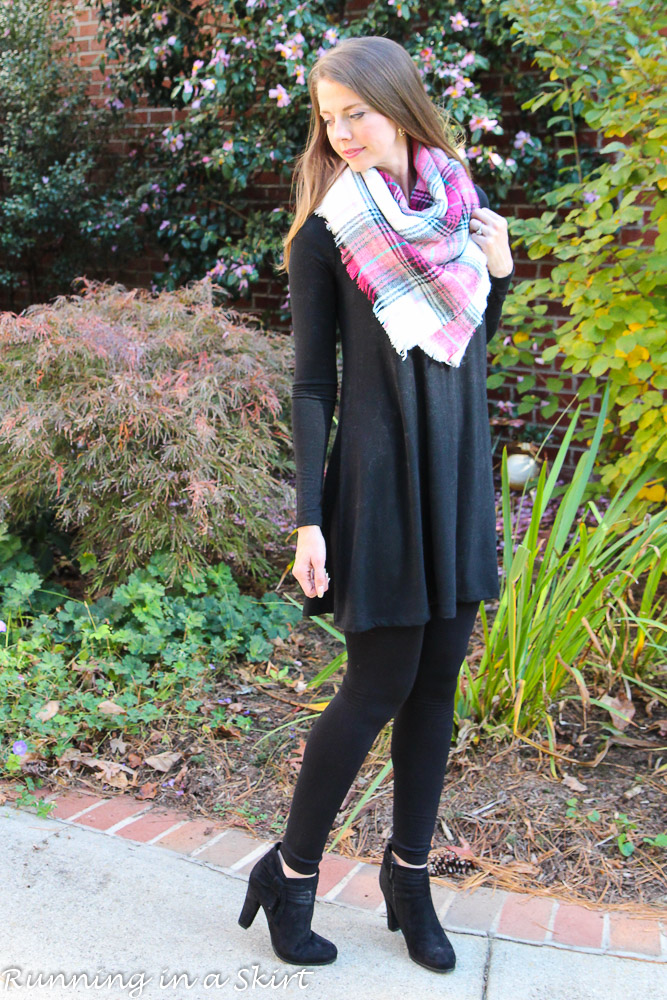 I found this one at Charming Charlies. It's available here in dark blue or the blush. I think both colors are adorable! Honestly I might need the blue too! haha. I've been doing way to much of that lately.... 🙂 We'll just call it retail therapy.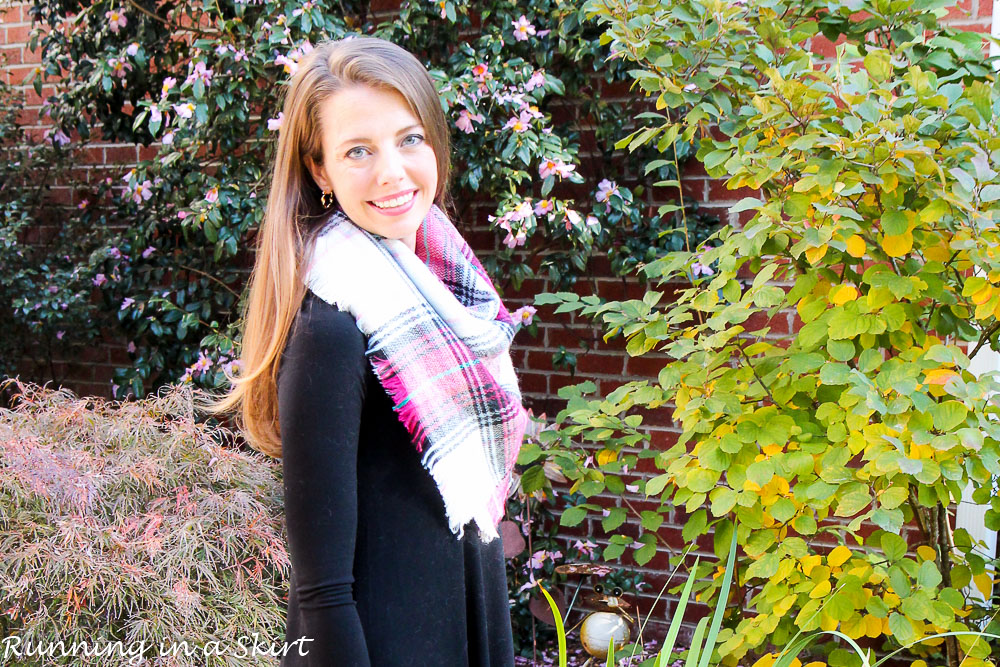 Remember the maroon Old Navy swing dress? This is the same dress in black, which is absolutely one of my favorite pieces of the season. It's available in different colors here for less than $30, some as low as $14. It's in two spots on their site HERE and HERE. Each link as different colors.
The leggings are fleece lined leggings, which are DA BOMB. Every girl must have them in their life and my favorite black suede booties.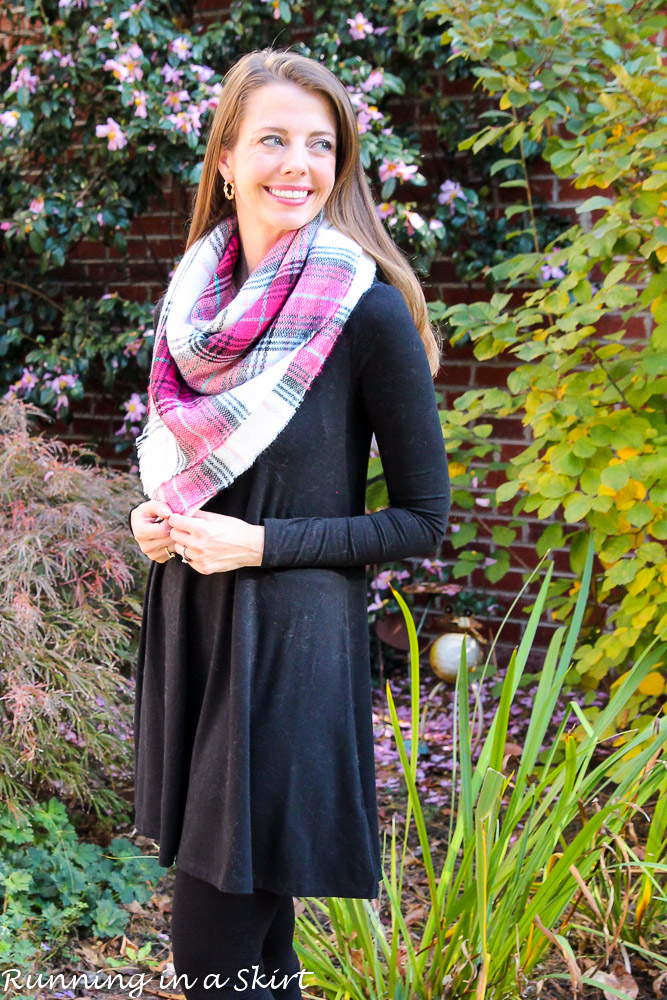 After I picked up my blanket scarf I had to google how to wear it, so I thought I'd give you a little demo here to save you the save trouble. Just call me your regular ole' problem solver.
Ways to Tie a Blanket Scarf
Start by folding it in half into a square.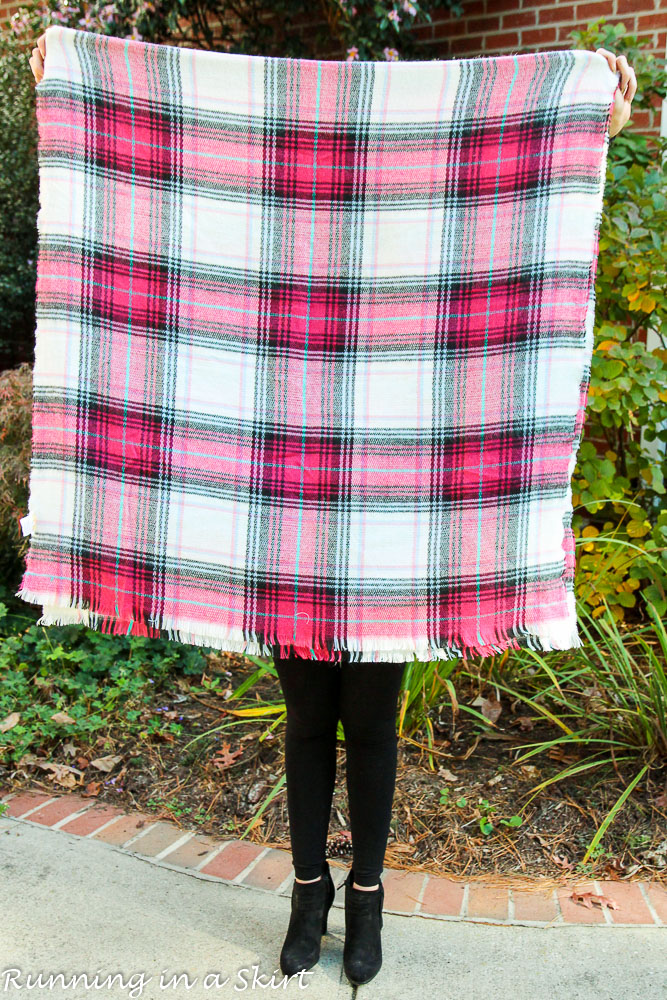 Then fold it corner to corner making a triangle.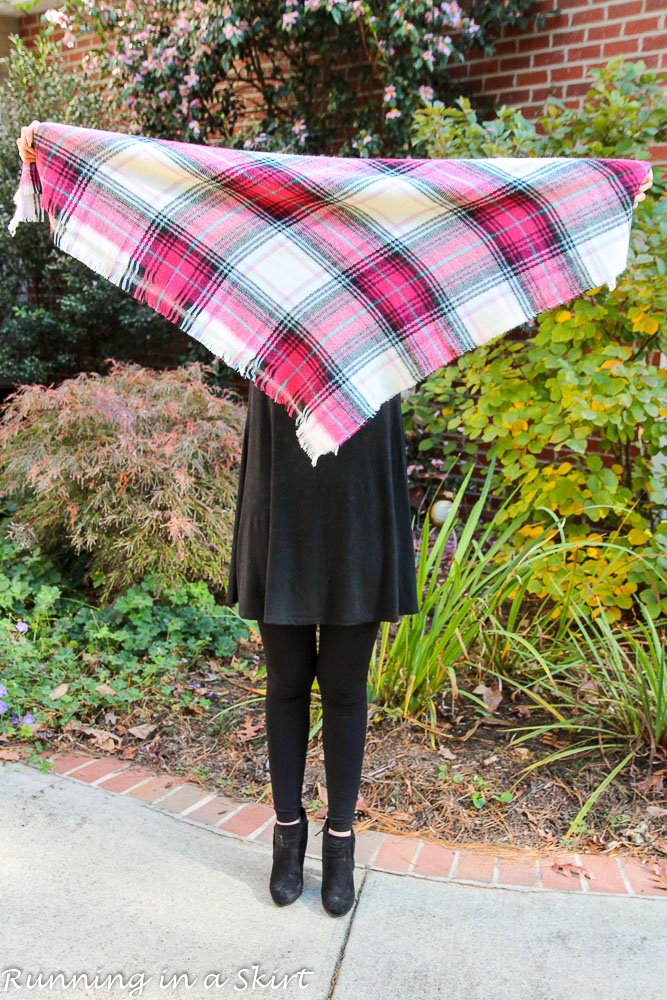 Next you take the corners around your neck.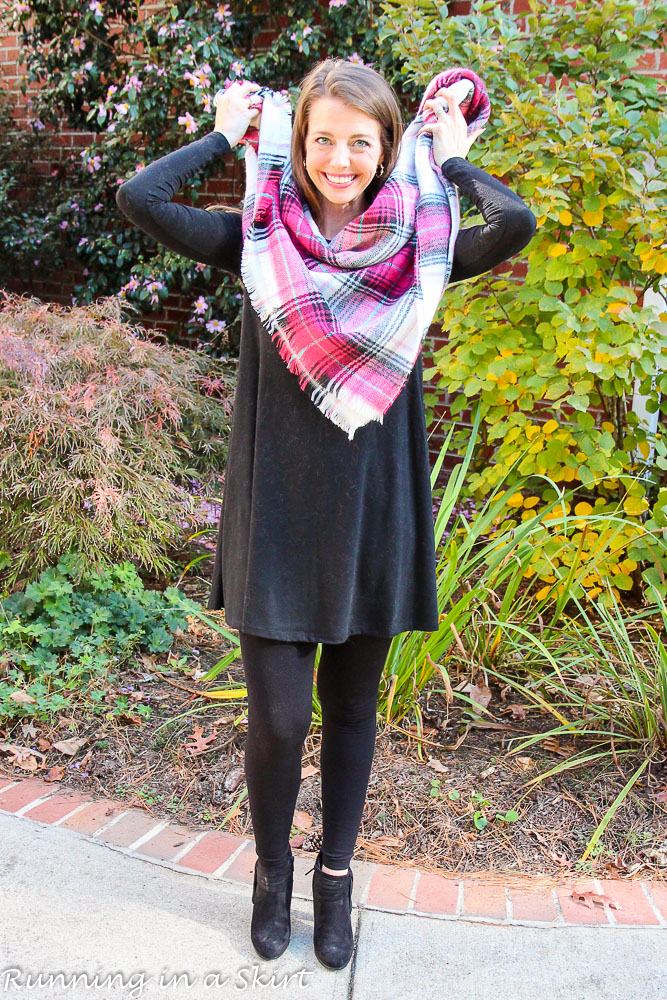 Then pull them back around to the front to secure.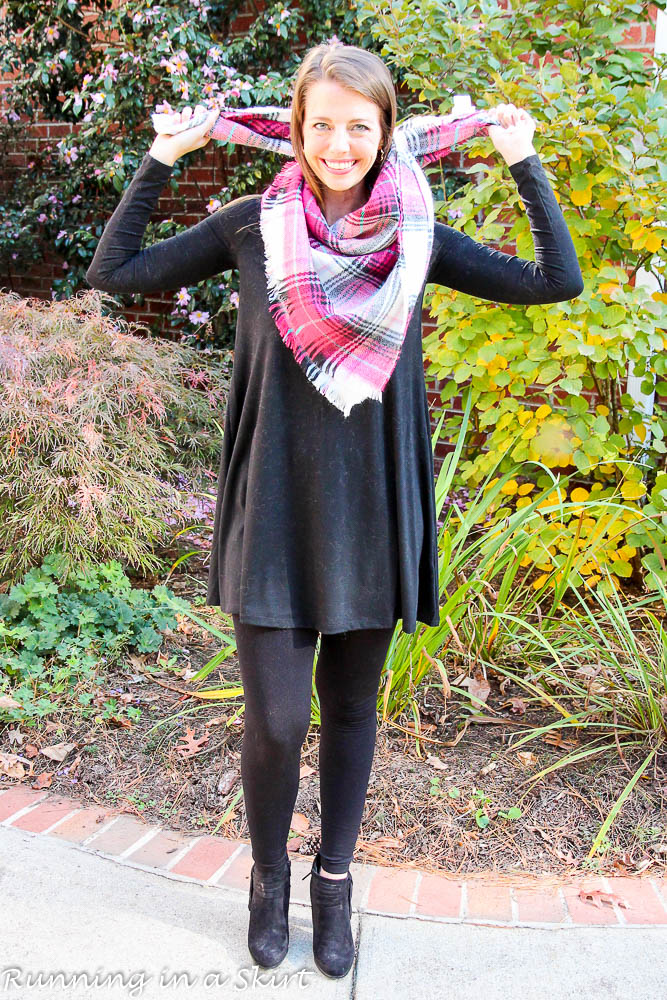 Fluff and tuck and you've got one super fashionable and warm look for the season.
It's downright cozy!!!! And my favorite ways to a blanket scarf ;-).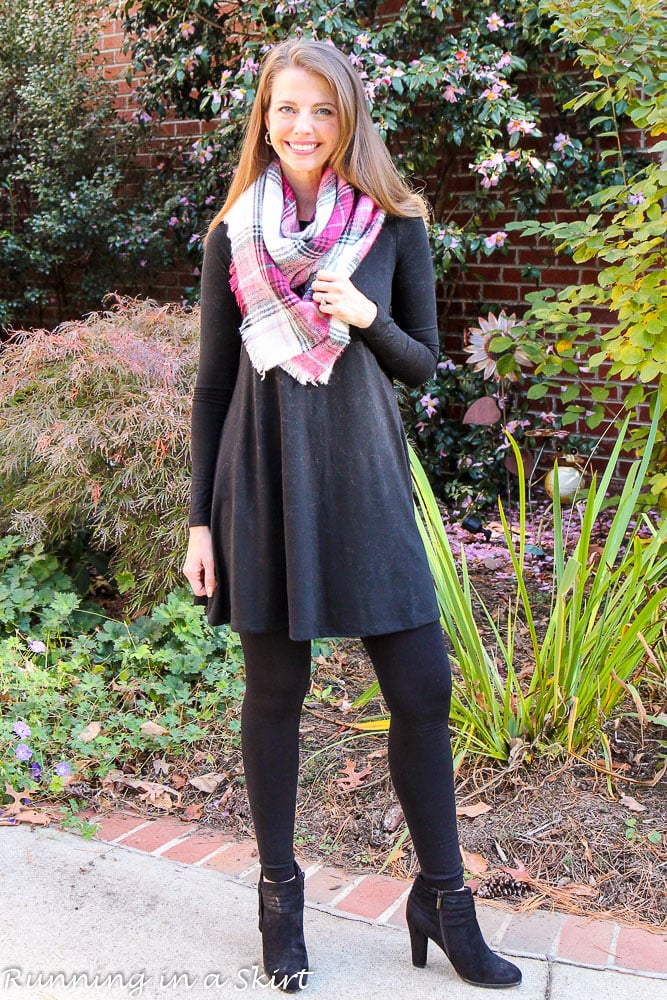 Have a blessed weekend everyone and happy shopping!
Shop the Look
Swing dress: Old Navy, HERE and HERE <--- black one on this link
Blanket Scarf: Charming Charlie
Suede Ankle Boots: Old, I love these BCBG <--- on sale less than $60, these <-- Sam Edelman on sale with fringe! and these <--- very 2016 with peep toe! And here's a budget friendly option from Old Navy
Like this demo? Help me out in return by pinning this " Ways to Tie a Blanket Scarf " pin to your favorite Pinterest board!

So nice to see you today. Have a great weekend and come back Monday for October's Currently post!
This post is not sponsored, but contains affiliate links. I do make a small commission for clicks and purchases. It cost you nothing. Thank you for supporting Running in a Skirt.
I'm linking up with: Nicole for the Fit and Fashionable, Jolynne Shane for Fashion Friday, Turning Heads Tuesday. Thank you so much for the lovely linkup ladies
Your turn!
What are you looking forward to the most about summer?
What are you doing this weekend?