My running shoes are the one thing I never leave home without. Today I'm sharing why they are so important and a new pair that I love.
I am working with Mizuno to share this post with you, but as always all opinions are my own.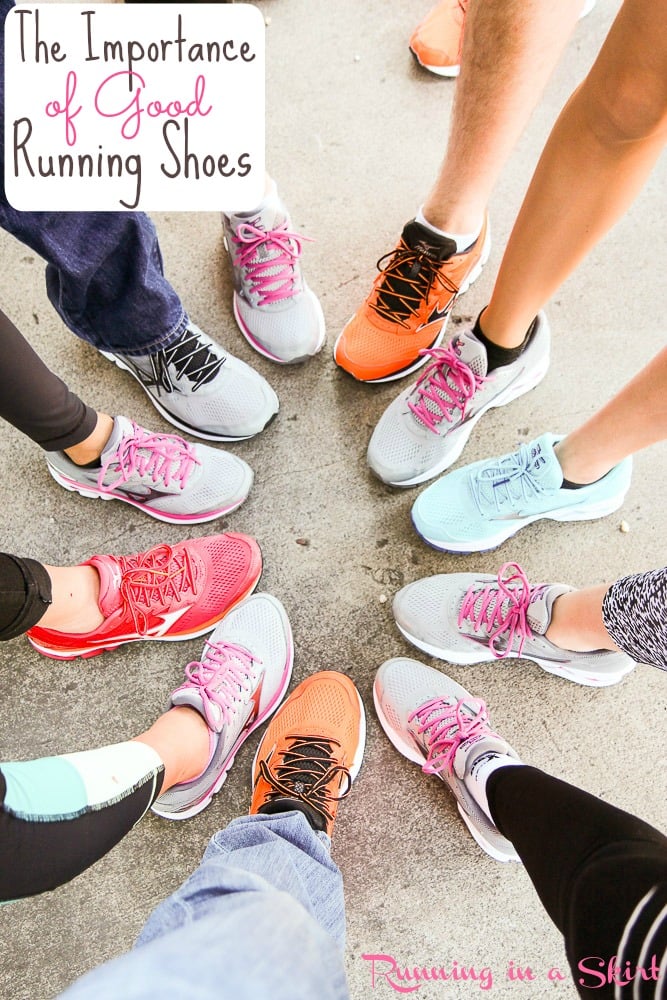 Hi all!
I had an amazing opportunity this past weekend to go to Atlanta to meet some other bloggers and members of the Mizuno team. I also got to try out the just released new Mizuno Wave Rider 20's.
[fusion_builder_container hundred_percent="yes" overflow="visible"][fusion_builder_row][fusion_builder_column type="1_1" background_position="left top" background_color="" border_size="" border_color="" border_style="solid" spacing="yes" background_image="" background_repeat="no-repeat" padding="" margin_top="0px" margin_bottom="0px" class="" id="" animation_type="" animation_speed="0.3" animation_direction="left" hide_on_mobile="no" center_content="no" min_height="none"]Curious about the new @MizunoRunning #WaveRider #Platinum20 ? Find out how the changes add up! #run Click To Tweet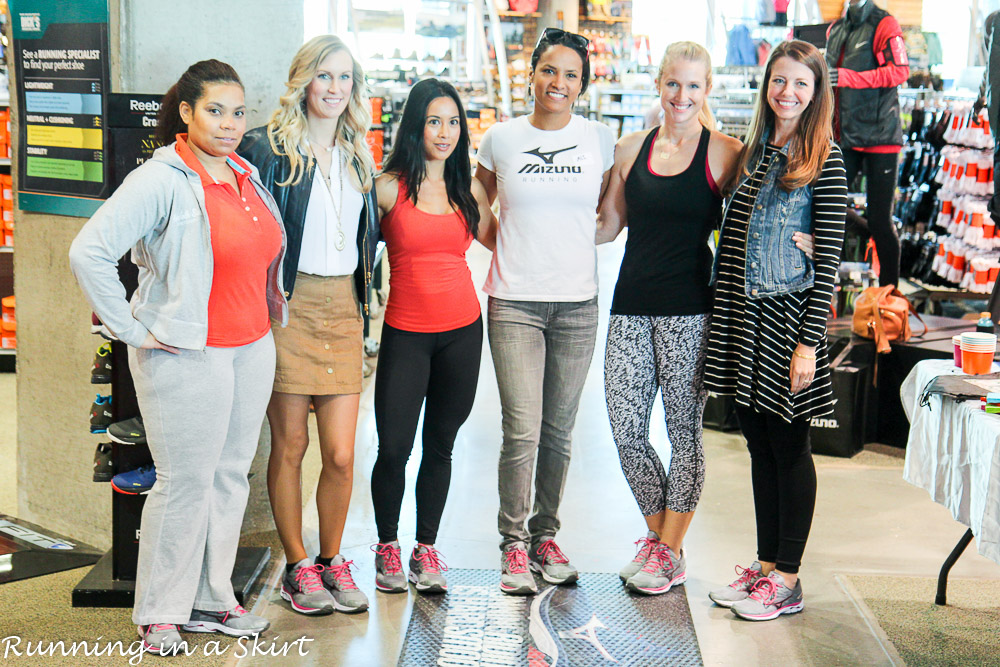 Yes, my outfit doesn't exactly match the shoes, BUT you get the idea. So today I thought I'd share some reasons why good running shoes are so important (for you newbies) plus some fun information on the new Mizuno Wave Rider 20's.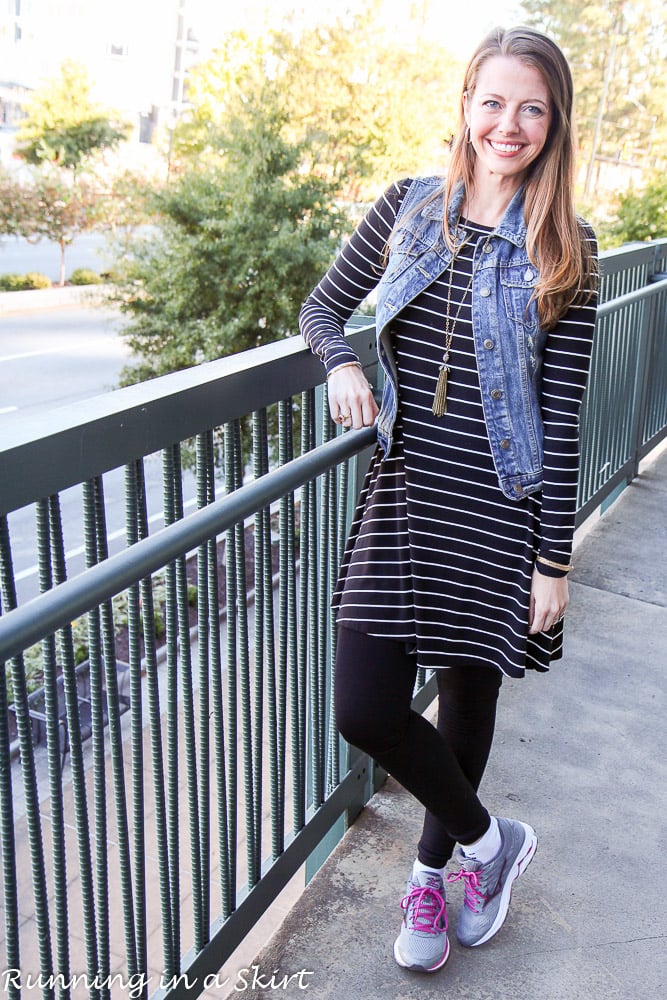 At the event we got to try out the new shoes, make homemade trail mix...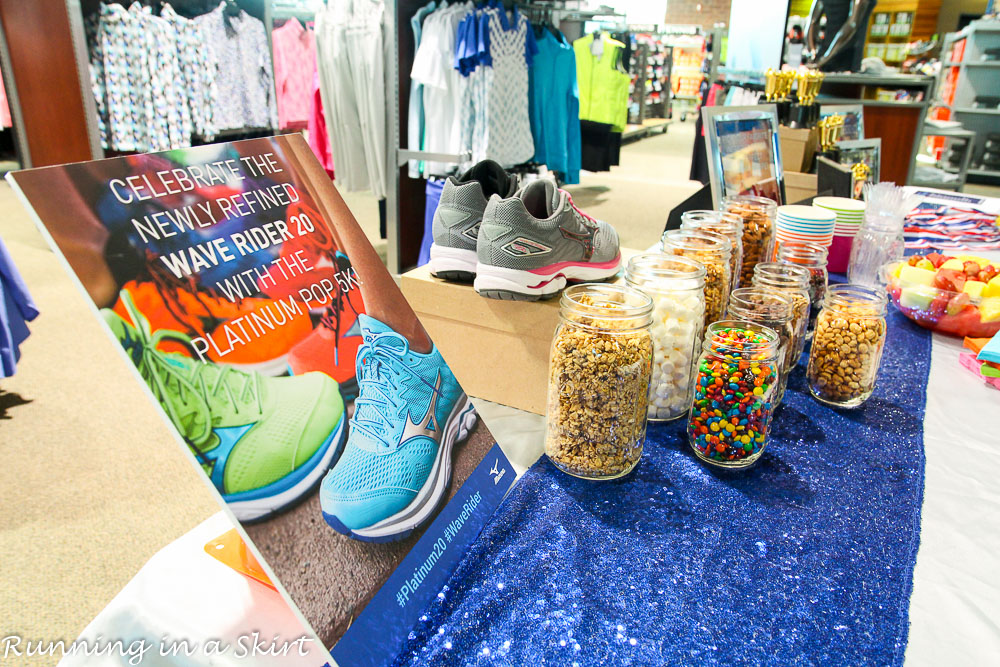 AND compete in a scavenger hunt at Dick's Sporting Goods.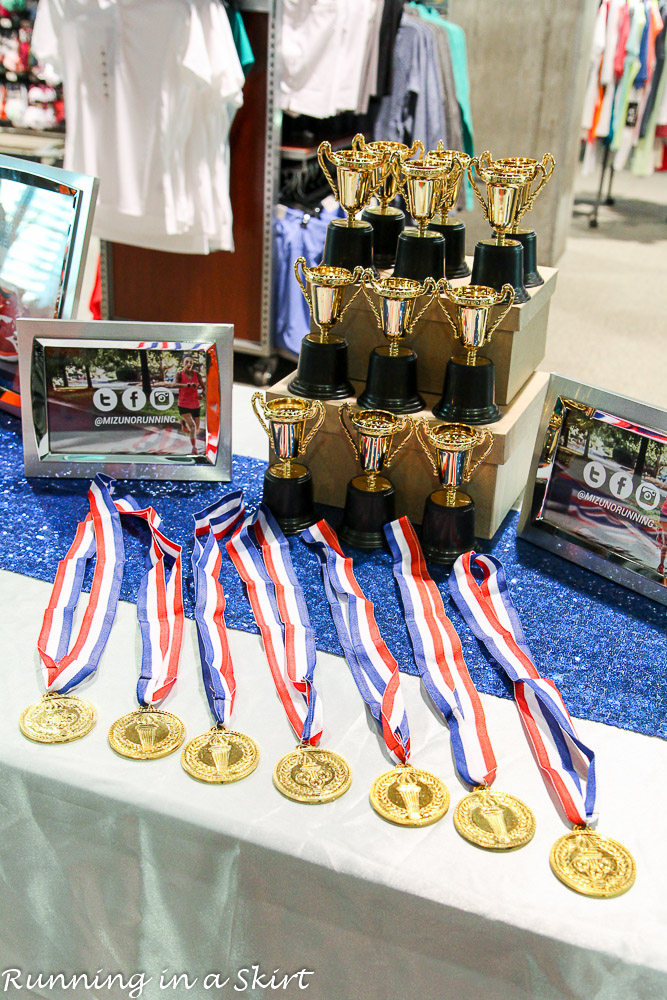 Did you follow along on Facebook Live Saturday morning? You can watch my live scavenger hunt skillz HERE, HERE and HERE.
It blows my mind that I can "go live" from my phone when it used to take a team of 3+ people and a huge satellite truck at the TV station!

Posted by Julie Wunder on Saturday, November 5, 2016
No I didn't win the scavenger hunt, but everyone left with a new pair of Wave Riders! It was a really fun morning.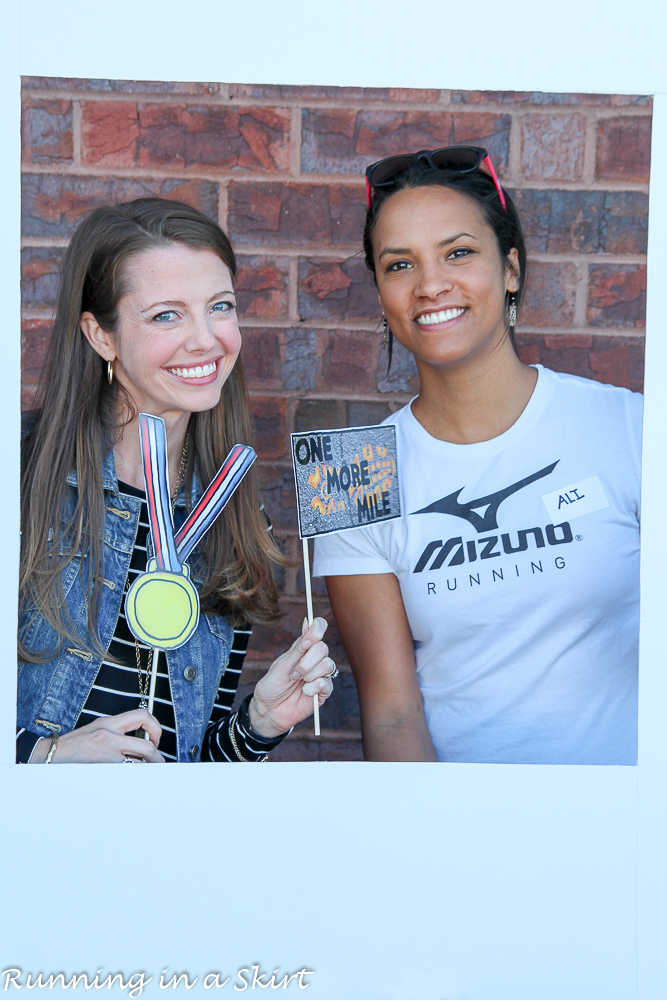 So about those shoes... 🙂
In full honestly I am a fan-girl over Mizuno Wave Riders. I got fitted in my original pair before my first 5K and I've had every model since then. I'd venture to say I've owned 20+ pairs. I go through running shoes every 3-6 months so I'm always needing a new pair of running shoes.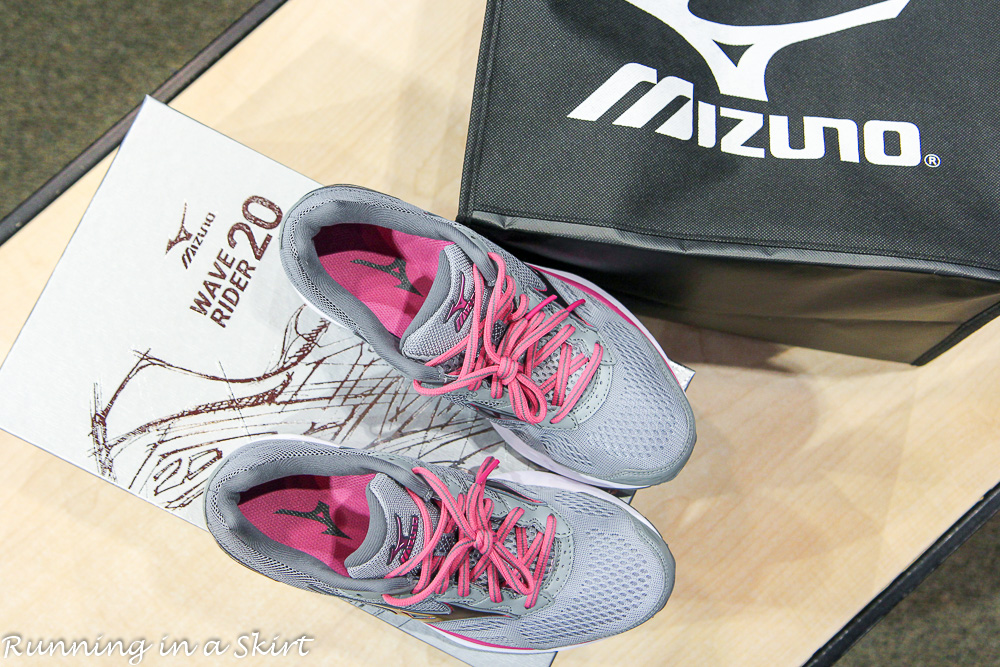 From the moment I slipped into my shiny new Wave Rider 20's I could tell they had made some nice changes to the shoe. It instantly felt a little softer, without losing the smooth responsiveness that I love about this shoe.
Beyond that I'm ga-ga eyed over the fun platinum color (for their 20th anniversary of the shoe) with pink accents. I think these babies will go with just about everything I own.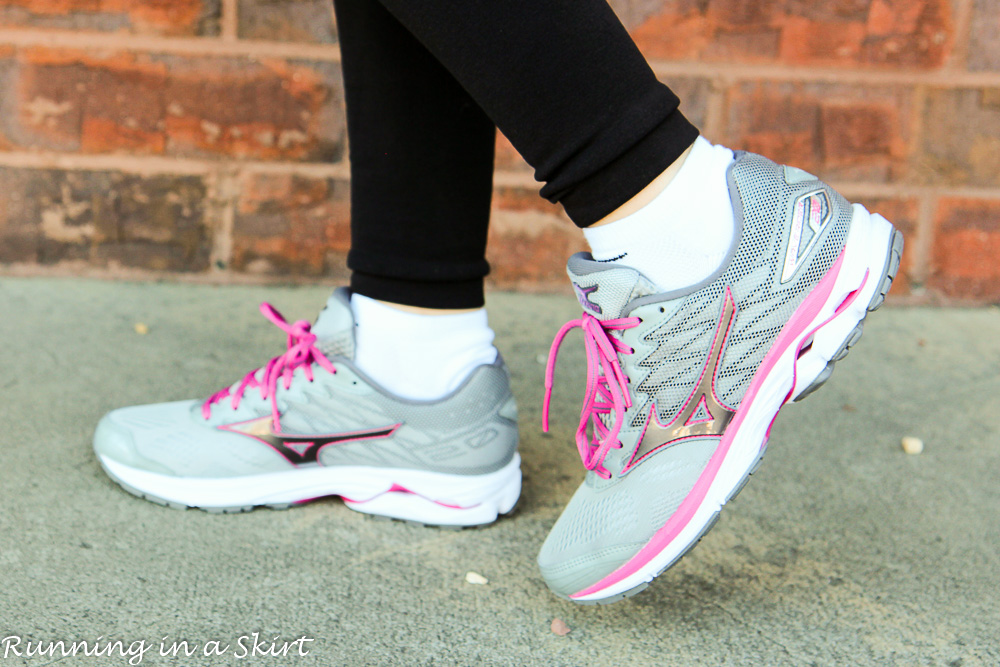 For those of you who who aren't into pink though, there are lots of other color options including a really pretty light blue.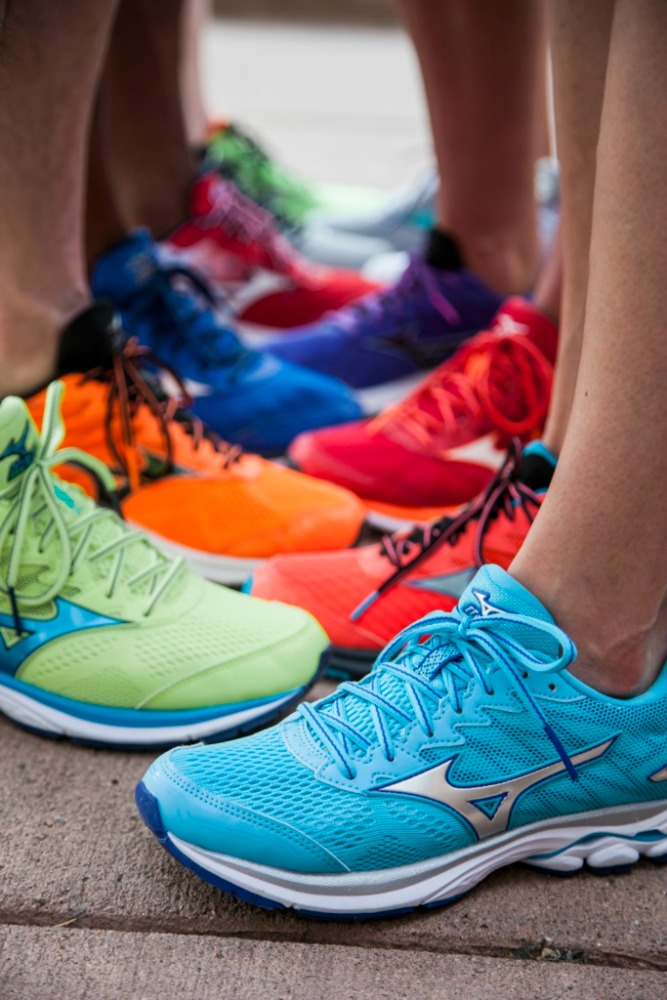 The Hubs even got his own pair at the event. He might be the best hubby ever because he woke up at 5AM to fly me there. Don't these look FAST!?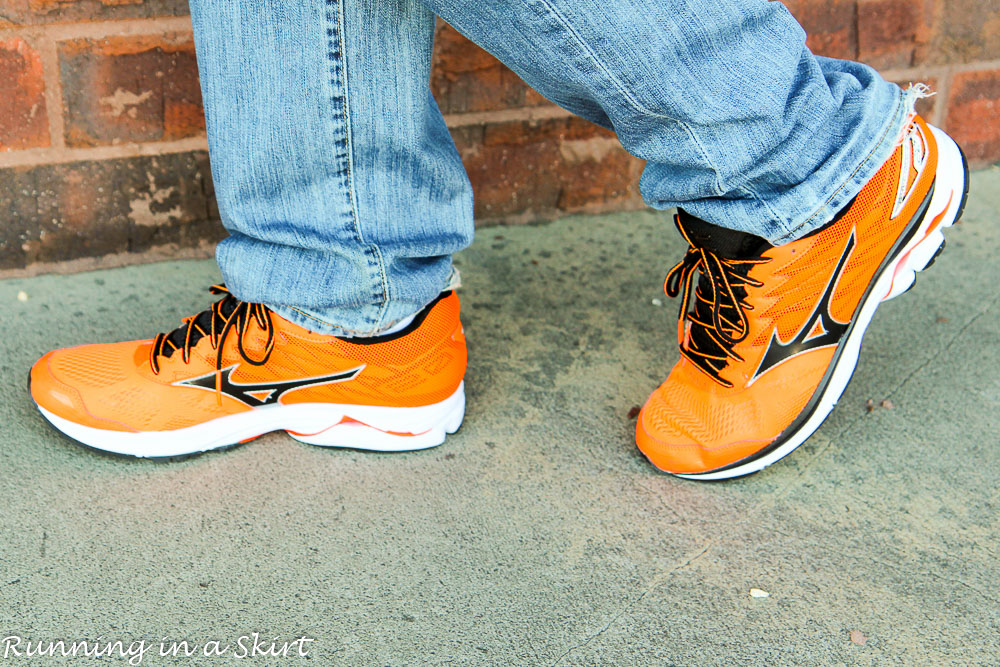 Before we get into the shoe details, I wanted to put out a little PSA for those of you who are just getting into running or are inspired to try by these posts. Before you run too much, invest in a GOOD pair of running shoes. It is so important and can be critical to your success!
I highly recommend getting fitted for the best type for your feet! Mizuno Wave Riders are a nice, neutral shoe and will be good for many of you but it is best to make sure with a specialist before you head out!
Good running shoes provide proper support and prevent injuries. They can be pricey, but they are worth every penny! They are the key to having a good healthy relationship with running.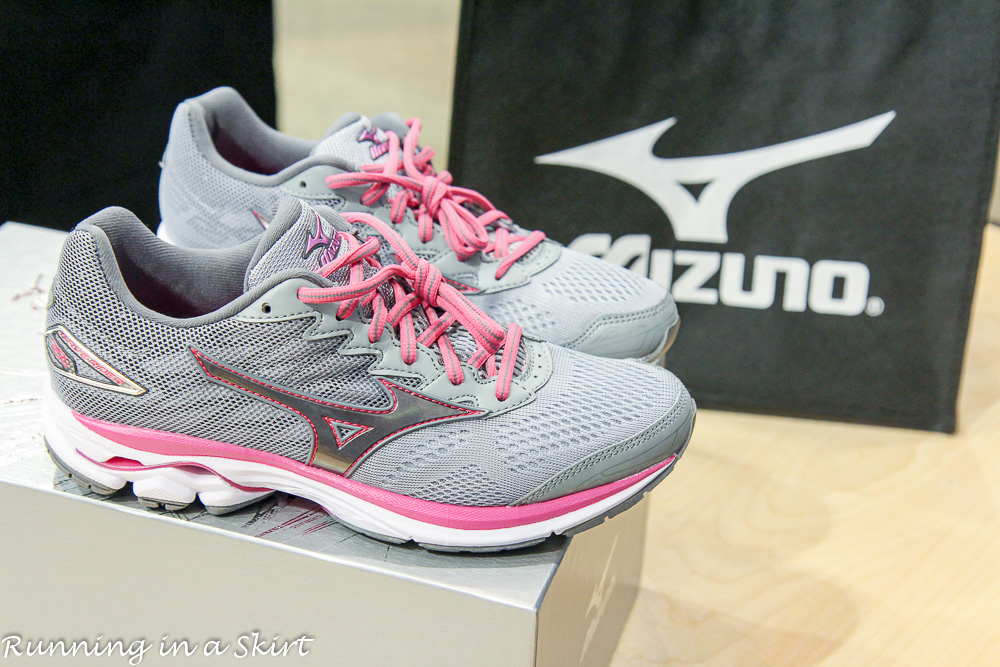 Mizuno Wave Rider 20
So if you do want and need a soft, smooth neutral shoe - Mizuno Wave Rider 20's are a great one to try! If you've tried Wave Riders before, this version is a little different.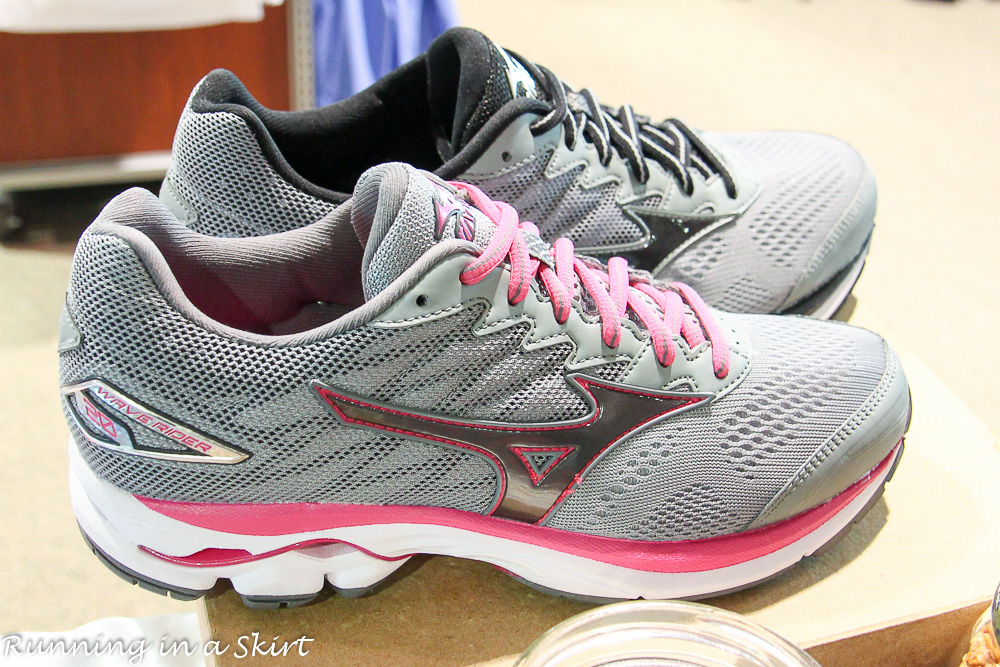 The Wave Rider 20 has new cloudwave® technology that brings more cushioning while acting as a spring at the same time! It uses convex (u-shaped) geometry – to provide soft cushioning underfoot while acting as a spring at the same time. The curve allows runners to convert more of the runner's heel impact into forward motion.
The upper of the shoe has also been redone with DynamotionFit and new "Triple Zone" mesh, engineered to stretch, breathe and hold the foot in its ideal position. It provides better flexibility to be able to move with the foot and maximize benefits of cloudwave.
In addition, the midsole has been redesigned using U4ic technology, a foam compound that retains the fresh-out-of-the-box feeling longer than ever before. <--- can't wait for this!
So that's a lot of techie stuff... but from my initial experiences with the shoe are all great. It feels instantly comfortable like all of my old Wave Riders BUT I absolutely noticed their changes in technology mentioned above including the springiness. The fresh cushioning is noticeable but you don't lose any responsiveness or flexibility. I also like that they made these changes while still keeping the sho relatively light (8.3 ounces for women; 9.6 ounces for men.)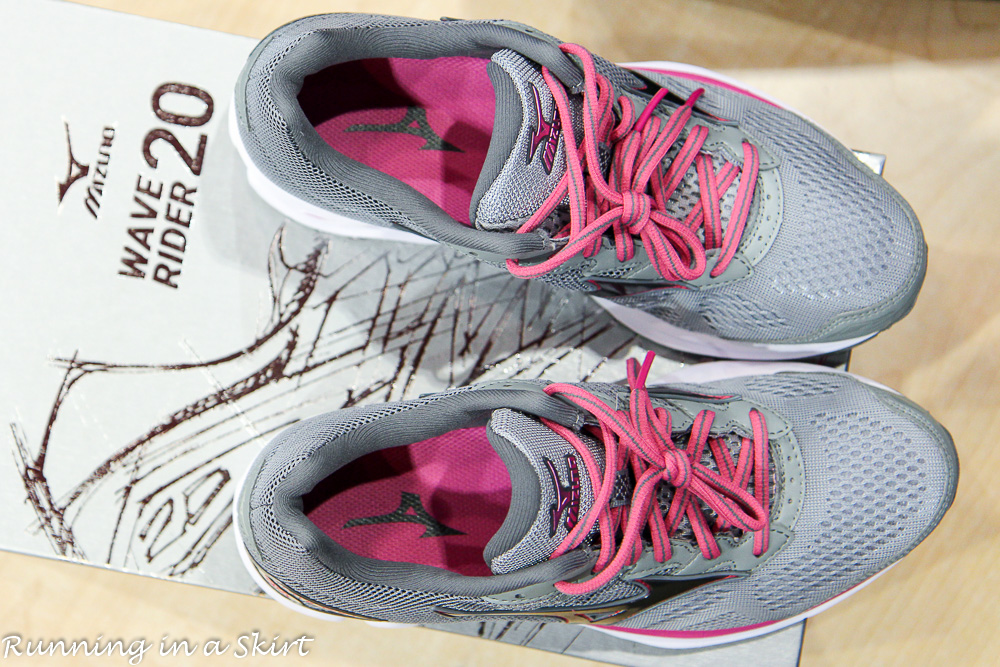 I honestly think the changes make these shoes great for even more runners. As someone who's tried many versions of this shoe, I believe these are the liveliest and softest version shoe yet!
You can get your own pair at Mizuno.com or at your local Dick's Sporting Goods!
Like this? Pin the image at the top of the post or this one to your favorite running board to find later!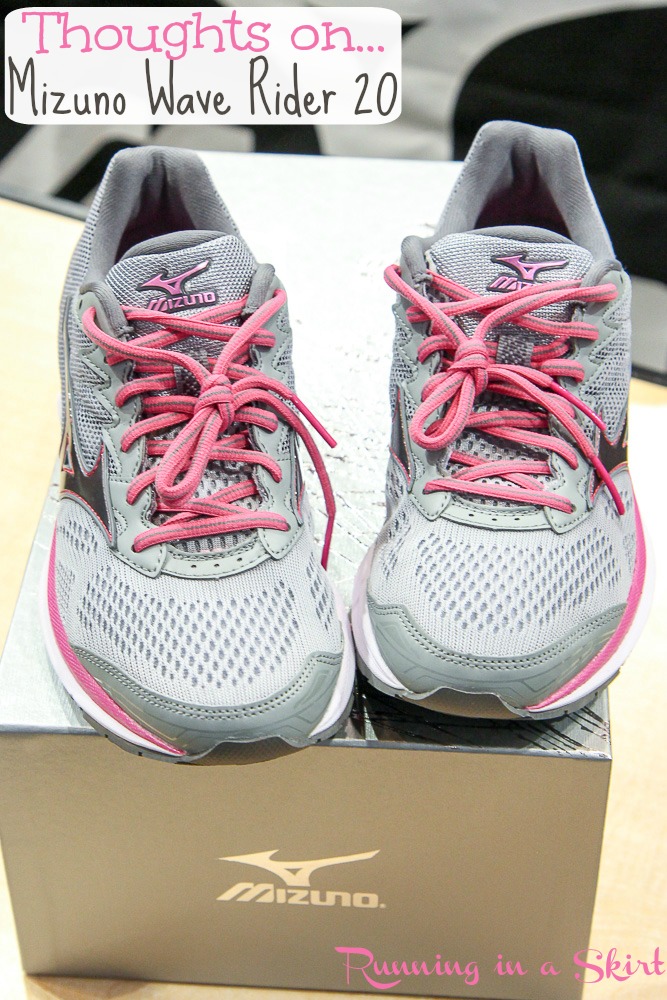 The Importance of GOOD #Running Shoes! Why all runners should invest. @MizunoRunning #WaveRider #Platinum20 #runchat
Click To Tweet
This is a sponsored post written by me on behalf of Mizuno, but all opinions are my own. Thank you for allowing me to share posts like this and for your support of Running in a Skirt.
Thanks for stopping by today! Stop by tomorrow for a must-see kitchen hack for three ingredient pumpkin muffins.
I'm linking this post with Marvelous Monday, Jill Conyers for Fitness Friday & Inspired to be Fit, Amanda for Thinking Out Loud Thursday, Coaches Corner, and Annmarie for Wild Workout Wednesday.
Your turn!
How do you choose your running shoes?
What's your favorite color of the new Wave Riders?
[/fusion_builder_column][/fusion_builder_row][/fusion_builder_container]