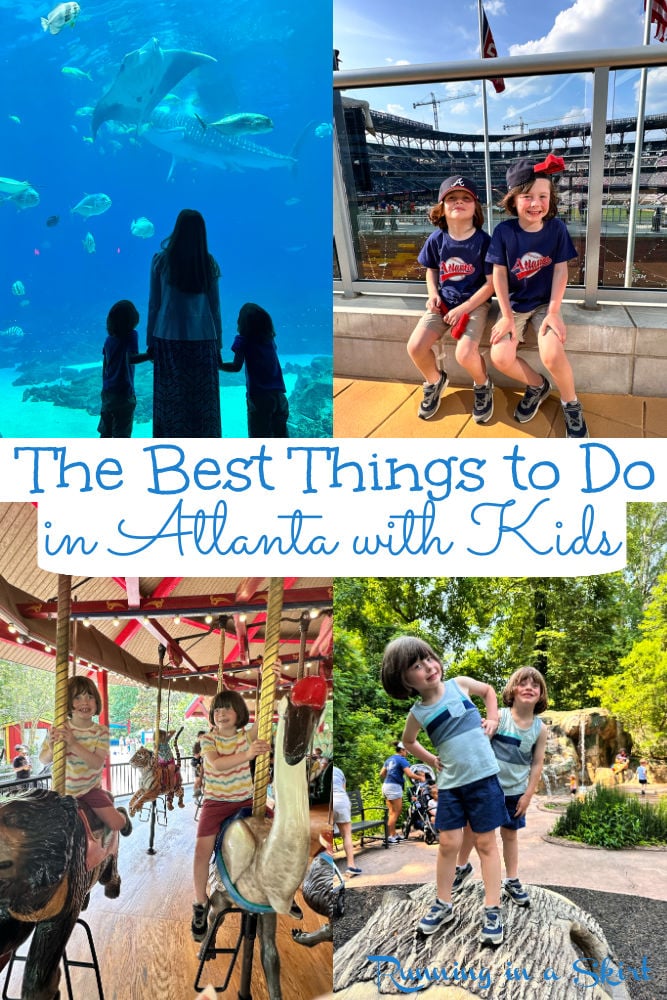 Curious about the best things to do in Atlanta with kids? This guide packs the best activities for little ones in this vibrant Georgia city. From the Georgia Aquarium, zoos, and Braves games, to other top attractions, I'm sharing 20+ things you can't miss when visiting the ATL.
Are you planning a trip to Atlanta, Georgia? Also, read my Georgia Aquarium Visitor Guide and Top 20 Moments from Atlanta.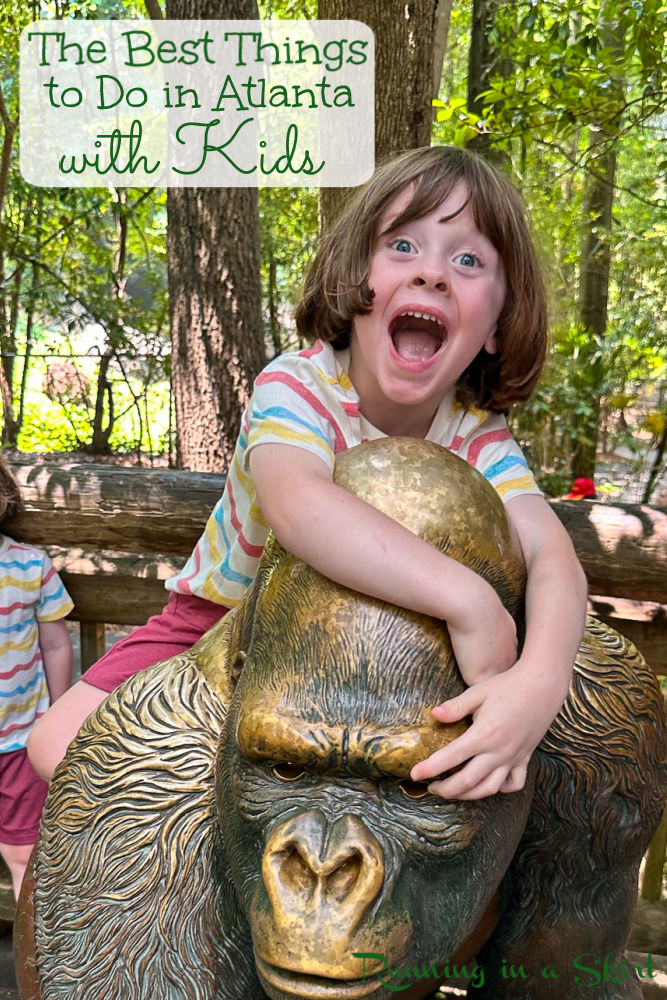 Things to Do in Atlanta with Kids
There are so many things to do in Atlanta with kids. This big urban oasis is packed full of exciting and entertaining activities for people of all ages, including the young ones. The Georgia Aquarium and Atlanta Zoo are obvious places to add to your list when visiting the ATL, but after doing some digging you might be surprised to see how many other hidden gems there are for kids in this city. There are even a surprising number of ways to get the kids out in nature.
Atlanta is a huge city though, with endless options to add to your vacation, so I'm breaking down the top 15 tried and true family favorites for families in this city. From unique experiences, must-see attractions, and hidden gems, these are the absolute best ones to add to your itinerary if you are planning a trip to the big city with your kids.
If you are planning to do more than one attraction in Atlanta, make sure to check out the Atlanta CityPASS for tickets which offers a bundle rate for several popular attractions including the Atlanta Zoo. It's a great deal if you are visiting for more than one day.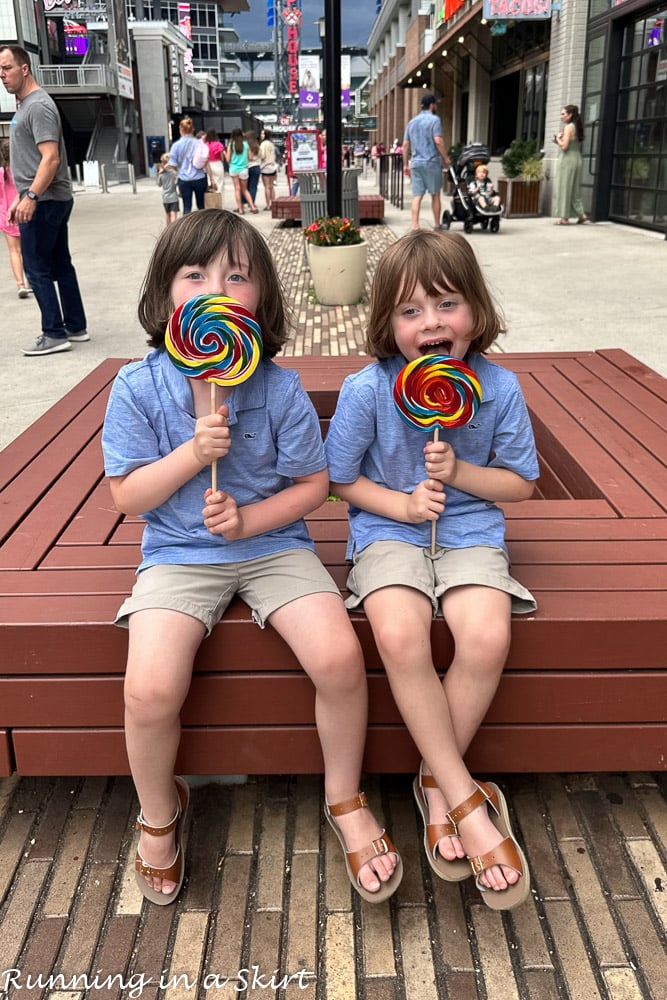 Top 15 Fun Things to Do in Atlanta with Kids
Click To Tweet
Top 15 Fun Things to Do in Atlanta with Kids
Georgia Aquarium
The Georgia Aquarium is one of the top things to do in Atlanta with kids. This spectacular aquarium in downtown Atlanta just happens to be one of the best and one of the largest aquariums in the world and is worth adding to any Atlanta itinerary, especially if you have kids.
The sea creatures at the aquarium are pretty special including whale sharks, manta rays, all different varieties of sharks, bottlenose dolphins, beluga whales, sea lions, African penguins, puffins, sea otters, sting rays, and even seals. There are tens of thousands of marine animals including 500 species from around the world and more than 60 habitats.
Visiting the Aquarium is part of the Atlanta CityPASS deal.
Don't miss the Ocean Voyager exhibit with this whale shark.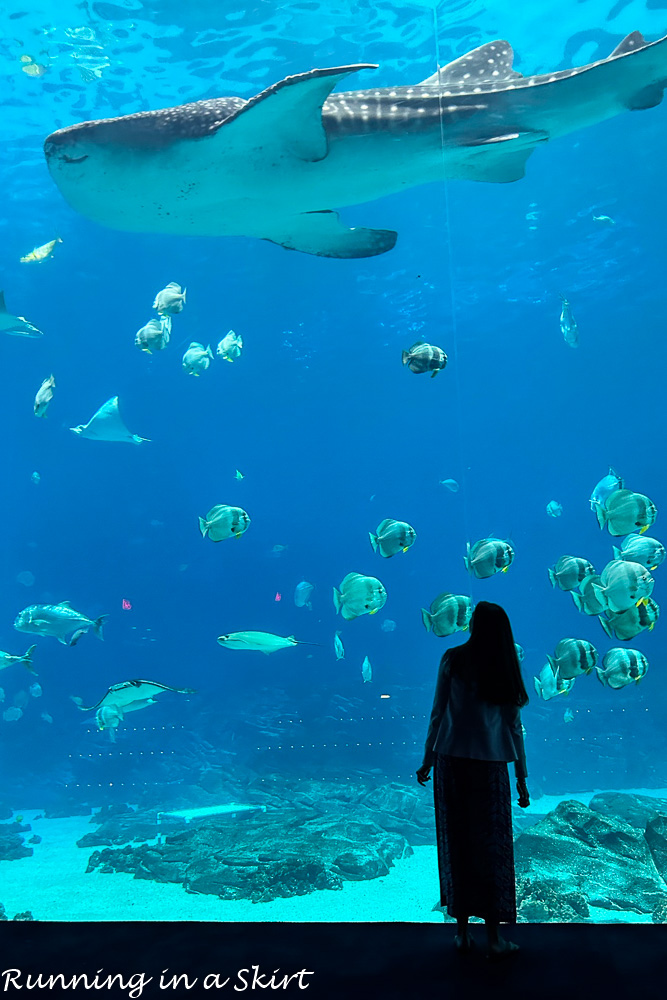 The aquarium has all sorts of kid-friendly activities including tunnels to climb through in the penguin exhibit, a rope bridge to cross, sting ray pettings, and more.
There is also a sea lion and dolphin show, which kids also love.
This is a big and busy attraction to visit, so plan ahead and make sure to read my Georgia Aquarium Visitors Guide before you go. With tricks on beating the crowds and saving money on going.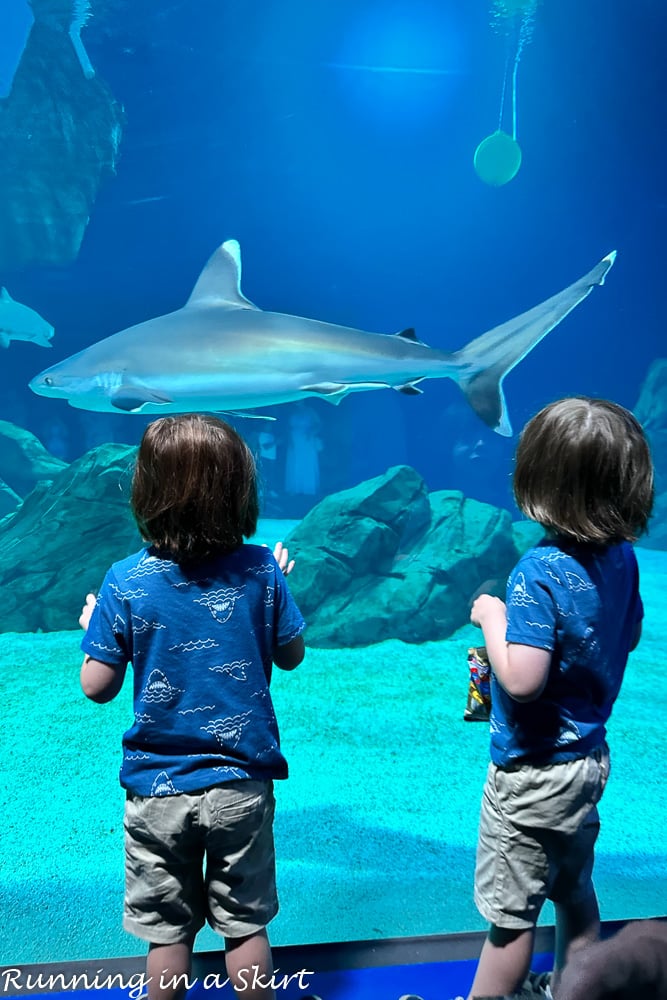 Zoo Atlanta
The Zoo Atlanta is another attraction at the very top of the list of top things to do in Atlanta with Kids. This vibrant spot is a cool oasis in the middle of downtown with a huge selection of animals to see including some big ones like elephants, giraffes, gorillas, lions, flamingos, lemurs, orangutans, zebras, red pandas, and even giant pandas. The animal collection here is pretty amazing.
Zoo Atlanta is also part of the Atlanta CityPASS deal. If you go to the aquarium and the zoo, you can basically visit several more attractions for free by buying them.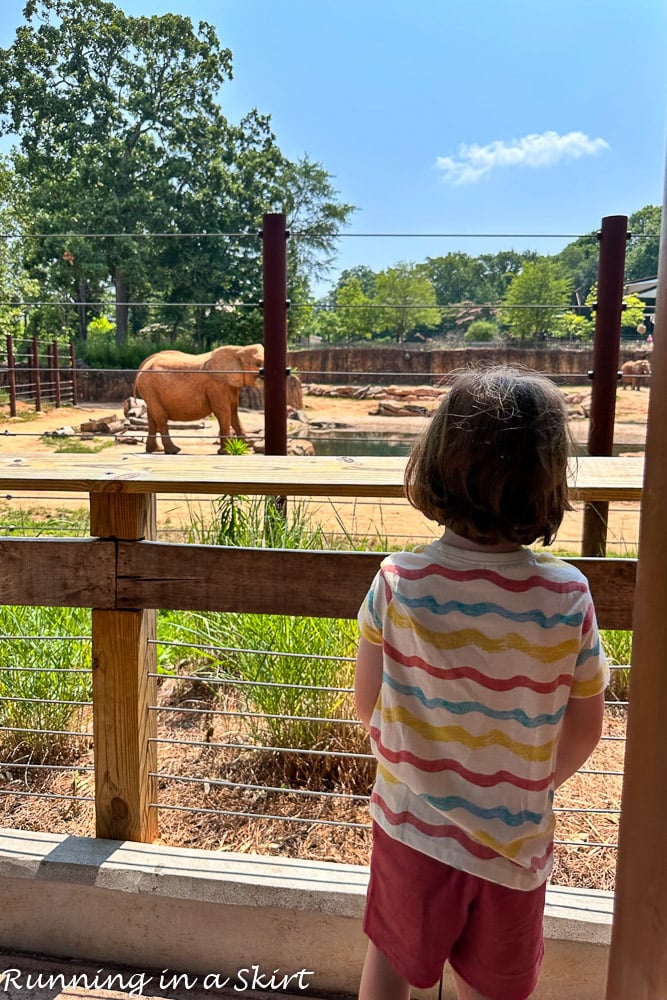 The zoo built in lots of interactive exhibits to keep the kids entertained including feeding giraffes, playgrounds, train rides, and even a fun petting zoo.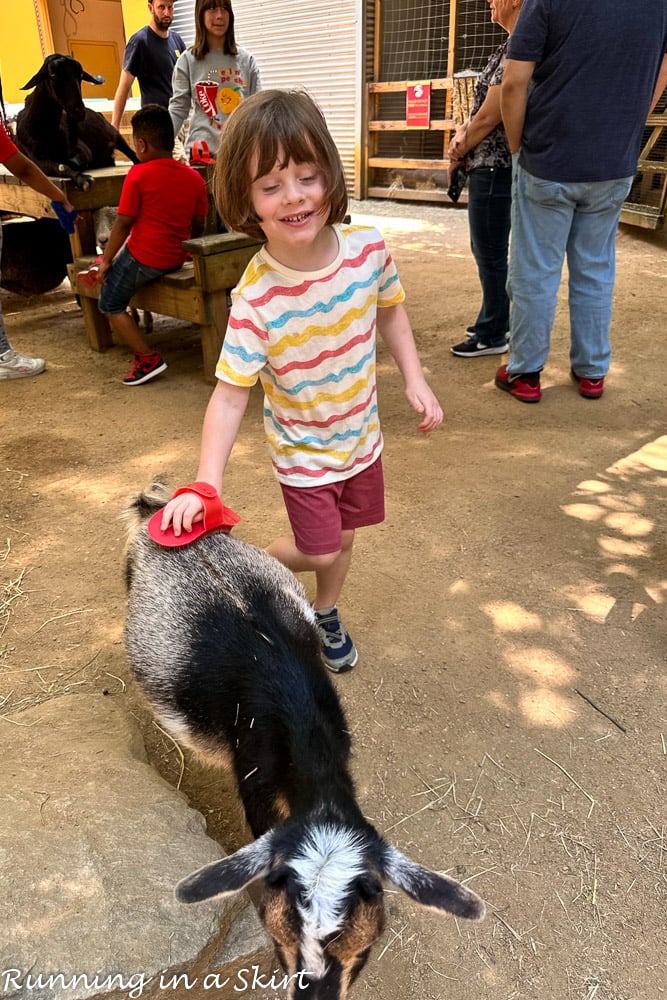 There is even a large section of the zoo for kids with a carousel, ropes course, and play area. It's a cool urban zoo with lots of options to keep kids and adults entertained. I'd add it to the top of any itinerary when visiting Atlanta.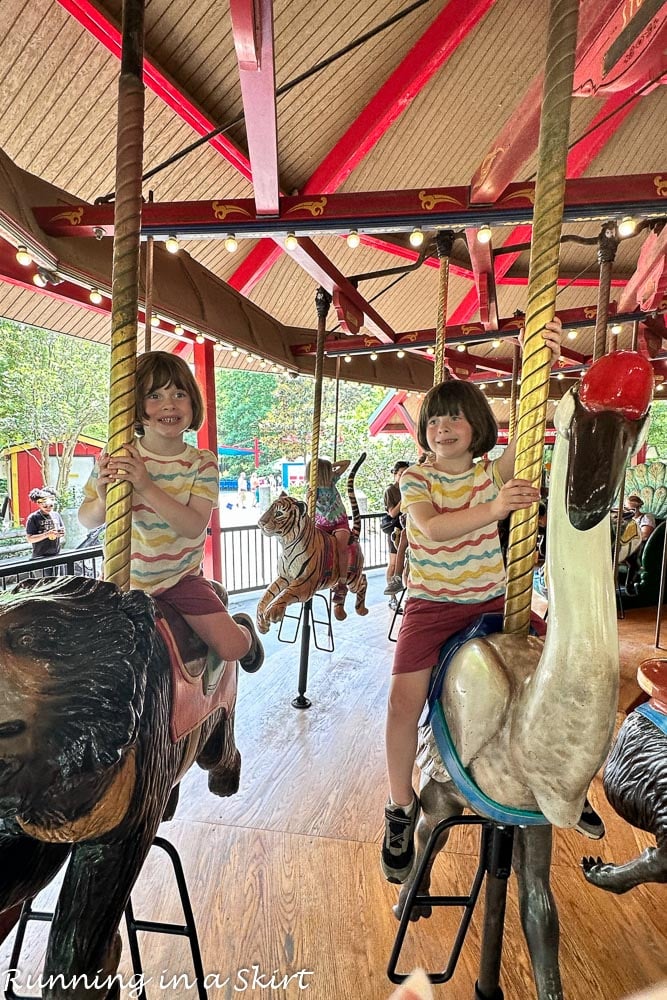 Atlanta Braves Game
Going to an Atlanta Braves Game is another top thing to do in Atlanta with kids. In addition to the amazing experience of attending a big city baseball game, the stadium, Truist Park, has all sorts of fun activities just for the kids. The Hope & Will's Sandlot kid zone has a rock-climbing wall, zipline, carnival games, and fun interactive experiences.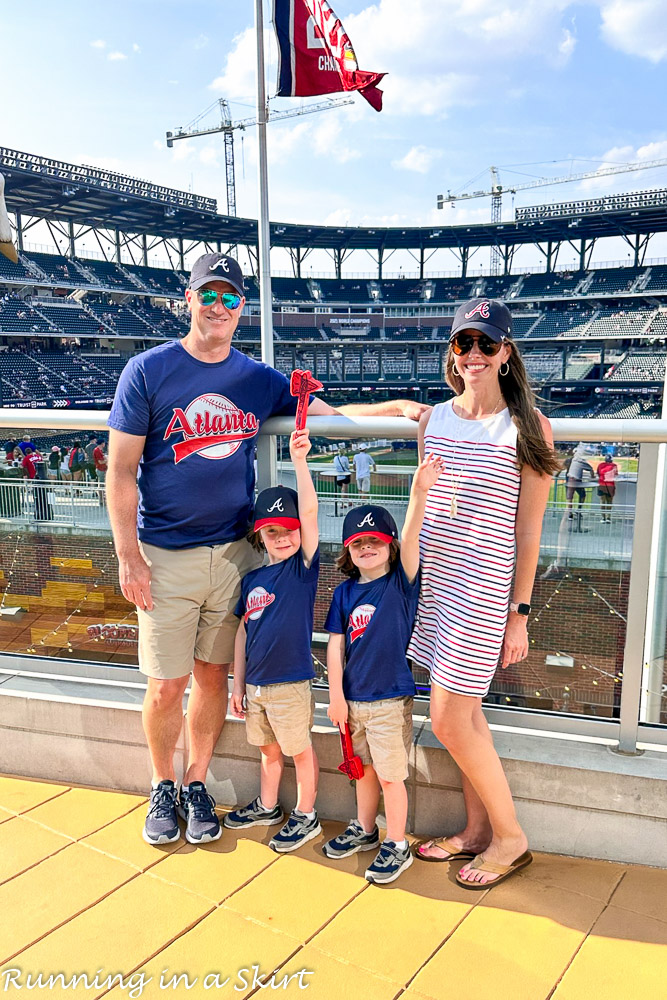 They even have a kids club area where the kids can meet the mascot, BLOOPER!
If you happen to be in town on a weekend, plan your game for a Sunday the Kidzone games are free plus they open up the field after the game and let kids 4-14 run the bases in the Kids Run the Bases program. It's such a great way to make the experience even more memorable for the kids.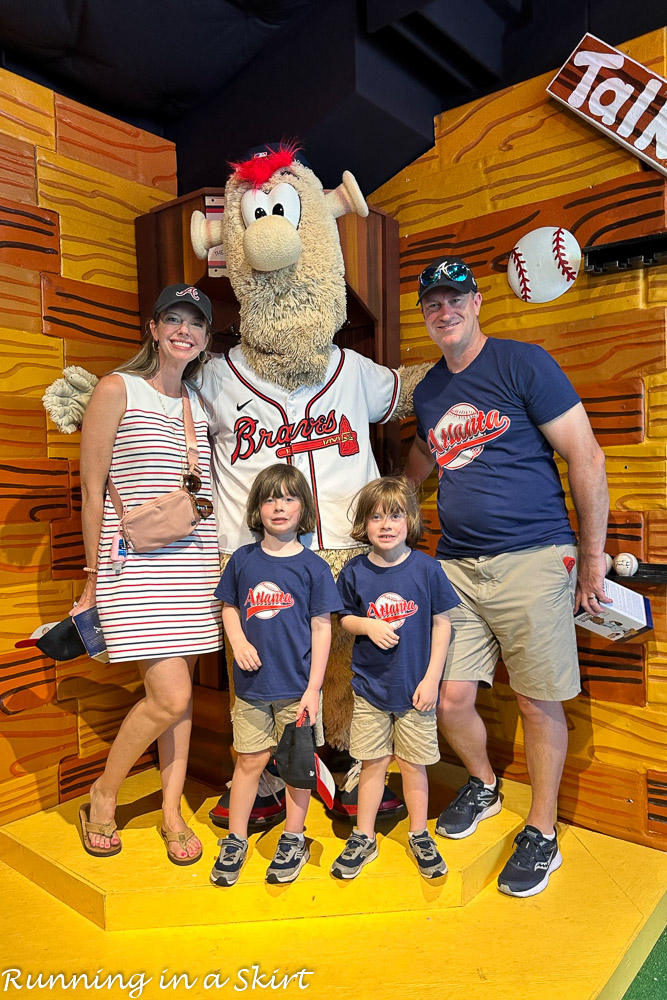 Children's Museum of Atlanta
Little kids and toddlers love the Children's Museum of Atlanta which is created just for kids eight and under. They have interactive exhibits covering everything from science to nutrition and even engineering. It's a really cool indoor spot in town and perfect for kids.
Check their hours because they are usually closed mid-day for a cleaning and have separate morning and afternoon sessions.
Fernbank Museum of Natural History
The Fernbank Museum of Natural History is another surprising attraction for kids in Atlanta with plenty to do. The museum features a wide collection of both indoor and outdoor exhibits including everything from a dinosaur skeleton, animals, rotating exhibits like a shell collection, a Giant Screen Theater, and a 75-acre urban tree oasis with trails, playgrounds, and more.
This is also part of the Atlanta CityPASS deal which offers a discount when you bundle tickets for multiple attractions.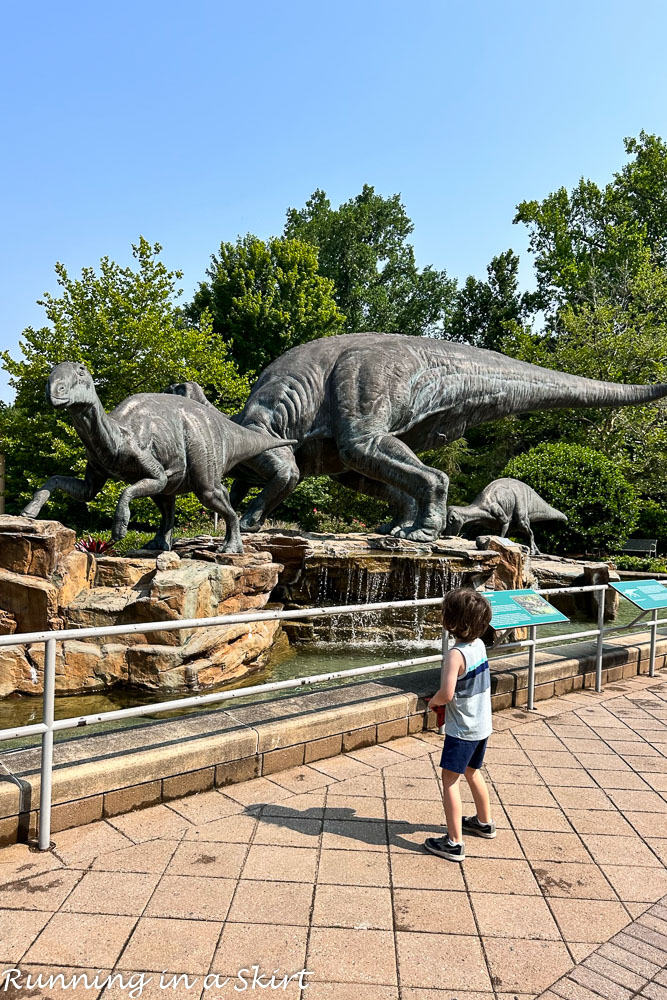 The best thing for smaller kids to do there is visit a really fun playground in the Fernbank Forest complete with a waterfall play area. You can also take a walk around the boardwalks with some gorgeous wildlife and trees. It is stroller friendly and easy to get around with little kids. There is even a play and climbing area for older kids.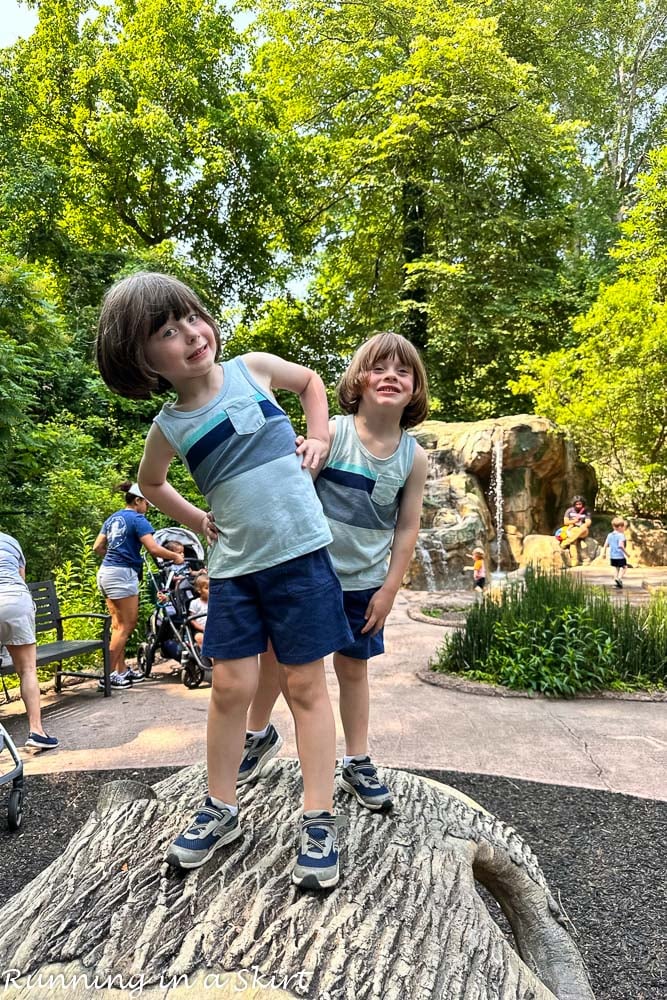 They also have a really fun indoor play area which is great for rainy days, hot days, or cold days. It's tucked away on the top floor of the museum, so don't miss it!
There are dozens of more things to see at this really cool museum, but these are some highlights to hit with the kids.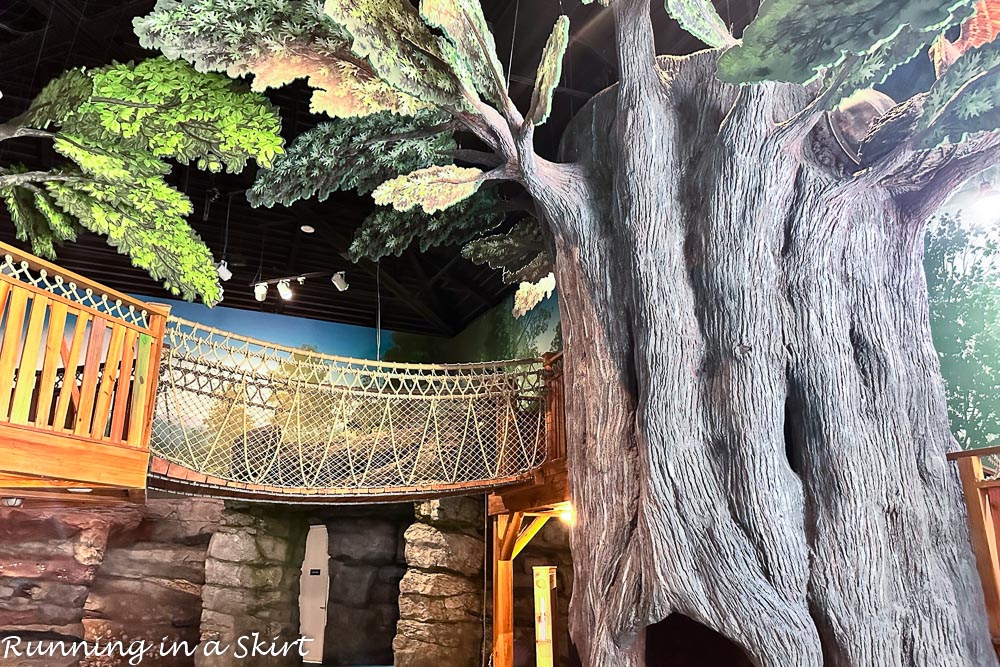 Centennial Olympic Park
Looking for another iconic one to add to your list of things to do in Atlanta with kids? Centennial Olympic Park was the site of the 1996 Olympic Games and is still a great spot for kids and adults to explore. It's a 22-acre urban green space.
Highlights to see with kids include a large water fountain of rings that puts on shows, playgrounds, a play area, and a garden for kids. The Olympic Park is downtown and surrounding it are many of the popular attractions including the Georgia Aquarium, Children's Museum of Atlanta, World of Coca-Cola, CNN Center, and College Football Hall of Fame, making it a great add-on activity to your day.
While not technically part of the park, make sure to check out the 20-story Skyview Atlanta Ferris wheel for a fun aerial view of the Atlanta skyline and beyond.
The Battery Atlanta
The Battery Atlanta is on the list of top things to do in Atlanta with kids because it's filled to the brim with fun things for them and their parents. The Battery is home to Truist Park where the Atlanta Braves play, but there is so much more to do than just going to a game that you could easily add an extra trip to this spot to your trip. It's free admission to visit and a lot of the activities are also free or very low cost.
For away games there is a large field with a huge screen next to the stadium where fans gather to watch the games. Kids also play baseball there, and you can bring a glove and play along. There is also a splash pad in the same area.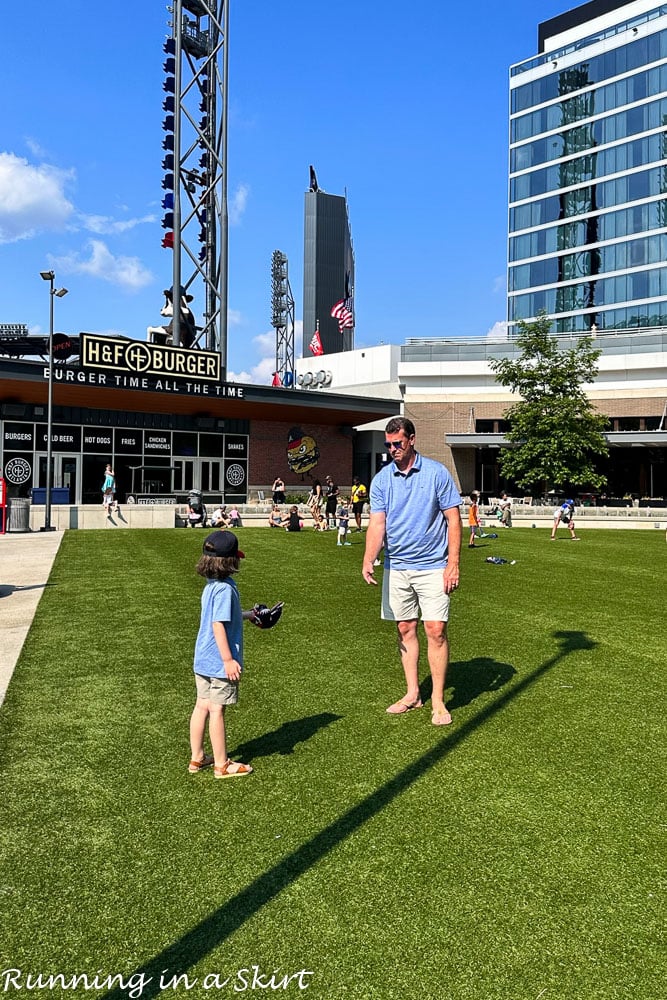 It's also a great place to grab a meal and let the kids pick out a treat. There are ice cream shops, but my kids could not resist the Savannah Candy Kitchen and their candy collection. You can also grab a free praline sample while you are there.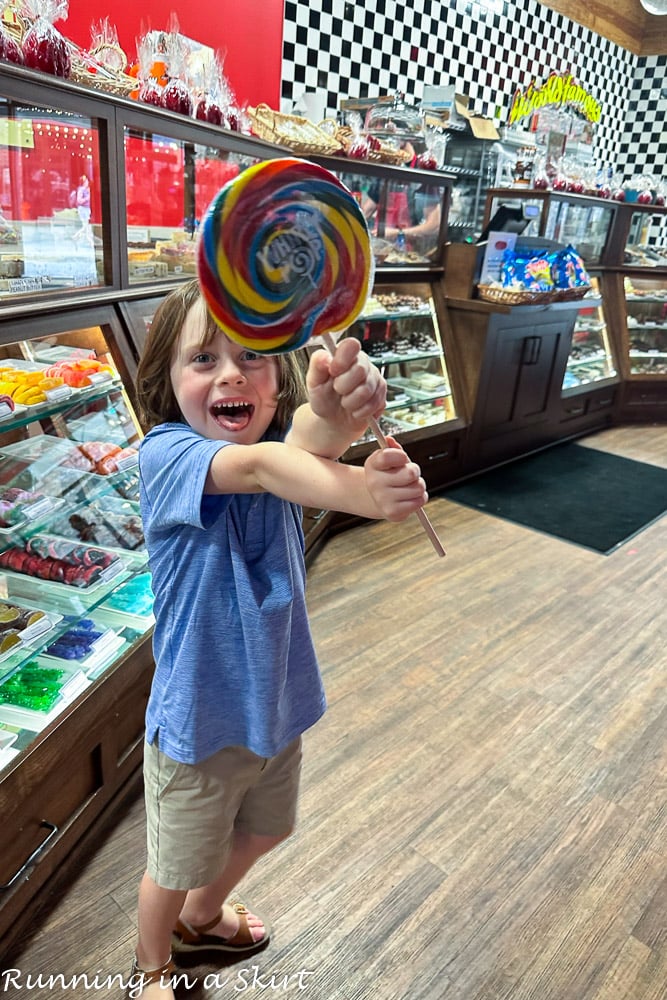 Also, check the schedule of the events for the battery. They offer weekly events like a farmer's market which includes a small petting zoo for the kids. It's a really fun spot to walk around, shop and explore. Go when there is not a home game to really enjoy the experience.
Older kids will love restaurants with games like TOPGOLF or Punch Bowl Social. They also can enjoy the Mizuno store which has golf and baseball simulators.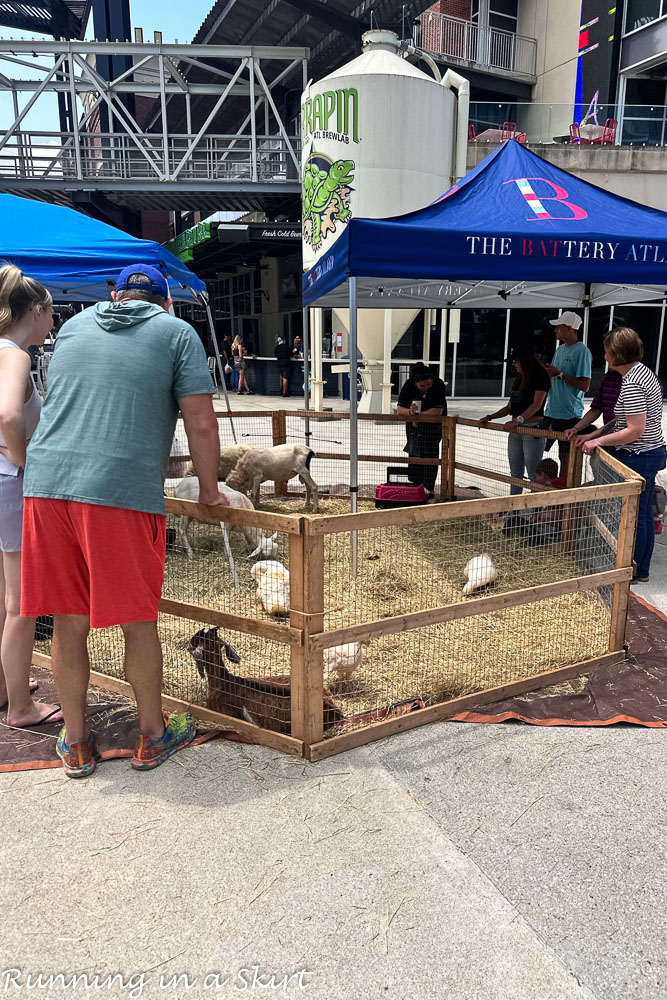 Atlanta Botanical Garden
The Atlanta Botanical Garden is another wonderful thing to do in Atlanta with kids. Sitting in Midtown, the 30-acre gardens even include the Leo Glenn Children's Garden which has a play area full of climbing nets, a super cool treehouse, water painting, a splash pad, and a fun Kendeda Canopy Walk, which is 40 feet above the ground.
It's a gorgeous urban paradise and they have enough fun stuff to make it worthwhile to visit with the kids. This spot might not be an obvious choice for kids, but they actually have a lot of fun options for them.
LEGO Discovery Center Atlanta
If you have kids who love LEGOs (and who doesn't?) the LEGO Discovery Center Atlanta is such a fun spot to visit. This fun spot is filled to the brim with a LEGO city with 1.5 million bricks, a cinema, a pirate playground, and interactive LEGO exhibits like a build-your-own spaceship and Minifigure. There are also places for the kids to build with Legos until their heart is content.
This is a great spot for a rainy, super hot, or super cold day on your trip.
More Things to Do in Atlanta with Kids
Center for Puppetry Arts - A unique museum dedicated to the art of puppetry. The big draw for kids is it features a large collection of Jim Henson puppets including Kermit the Frog, Miss Piggy, Bert, and Ernie. Check their schedule for puppet show performances before you go.
High Museum of Art - This lovely Atlanta museum features an abundance of African, Folk, and self-taught art. While the art exhibits might draw a more mature crowd, the museum offers a lovely event on Thursday called Toddler Thursdays where they have an engaging program for kids 15 months through three years that includes an art project.
World of Coca-Cola - Another top thing to do in Atlanta with kids is to visit the famous World of Coca-Cola. Atlanta is home to soda and this spot is a fascinating exploration of the history of soda. They also have a fun sampling room at the end of the experience to taste unique Coke products from around the world.
Atlanta Beltline - The Atlanta Beltline is a great place to explore the city with kids. It's a trail that loops all around the central part of the city with all sorts of fun spots along the way like parks, street art, attractions, restaurants, and more. Visit Westside Park for fabulous playgrounds and then travel to Butter and Cream for a spectacular Atlanta ice cream shop.
Piedmont Park - A large park nestled in Midtown with loads of green space, paved walking trails, a nice playground, pool, splash pad, and picnic tables.
Stone Mountain Park - A fun spot to enjoy nature in Atlanta that has everything from hiking, a scenic railroad, high-speed Swiss cable car, mini-golf, 4D theater, splash pad, and more. This spot has a whole day or more of adventures for the family.
Chattahoochee Nature Center - A 127-acre nature center on the Chattahoochee River with trails, exhibits, wildlife, canoeing, and even a zipline. This is a fabulous spot to get away from the concrete of the city!
Atlanta is Fun for Kids
Atlanta is such a fun spot for kids and there are so many top things to do in Atlanta with kids. Our favorites were the Georgia Aquarium, Braves Game, Battery Atlanta, Atlanta Zoo, and the Fernbank Museum of Natural History. My kids loved seeing a big city and are still talking about the animals at the aquarium and the Braves game. Any of these activities would be a fun addition to your itinerary though.
With a little bit of planning, kids can see, explore and learn so much in this vibrant Georgia city. From little kids to teenagers, there really is something for everyone. Plus I love that the city offers a nice collection of more urban things to do with some spots of nature still there.
When planning your trip make sure to check out the Atlanta CityPASS deal. It offers a bundle price on the top attractions in the city including the Georgia Aquarium, World of Coca-Cola, Zoo Atlanta, Fernbank Museum of Natural History, College Football Hall of Fame, and National Center for Civil and Human Rights.
More Atlanta Travel Guides:
Top 15 Fun Things to Do in Atlanta with Kids
Click To Tweet
Pin for later: