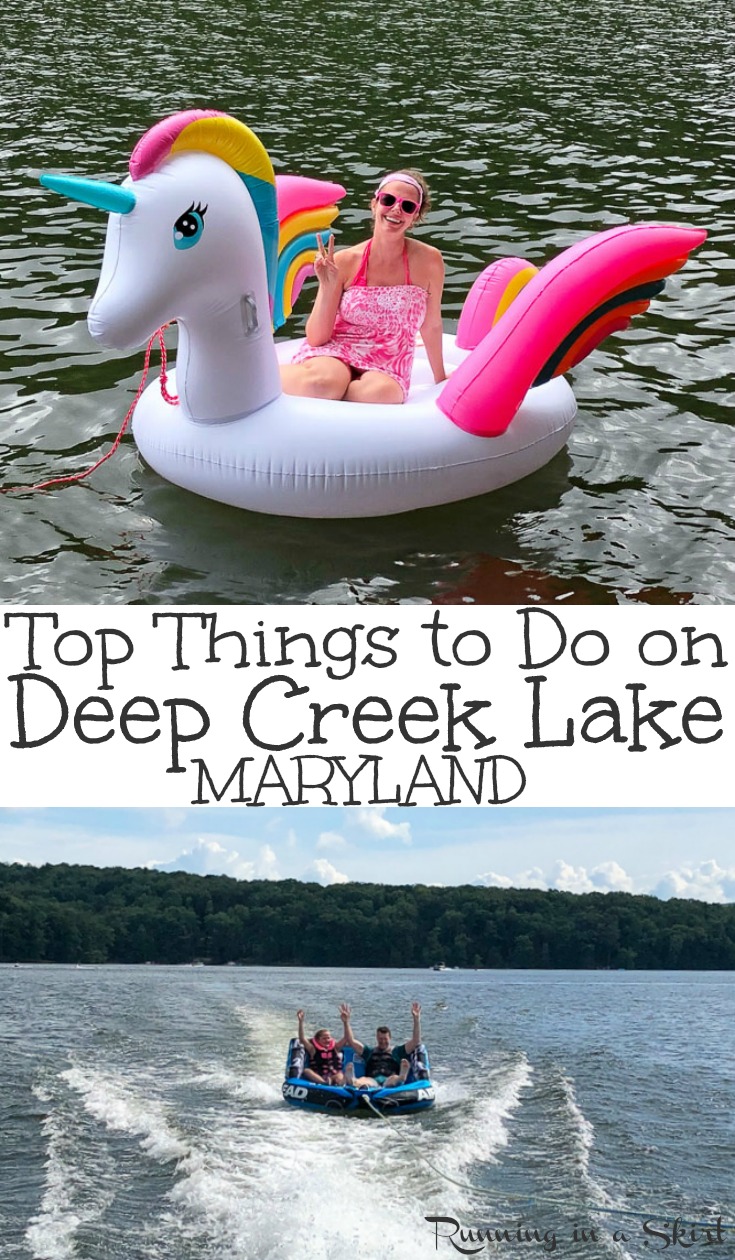 Deep Creek Lake is the perfect family vacation destination! Here are some of the things to do in Deep Creek Maryland.

Hi guys!
Last week's family vacation at Deep Creek Lake was a lot of fun. The Hubs very generous parents rented a house on the lake for a week and we had a lovely time catching up and enjoying the gorgeous scenery. We had quite the crew... 8 adults and 6 kids! I had never been to Deep Creek Lake but loved the pretty mountains surrounding the lake and the charming community around it that had delicious eats and all sorts of family fun.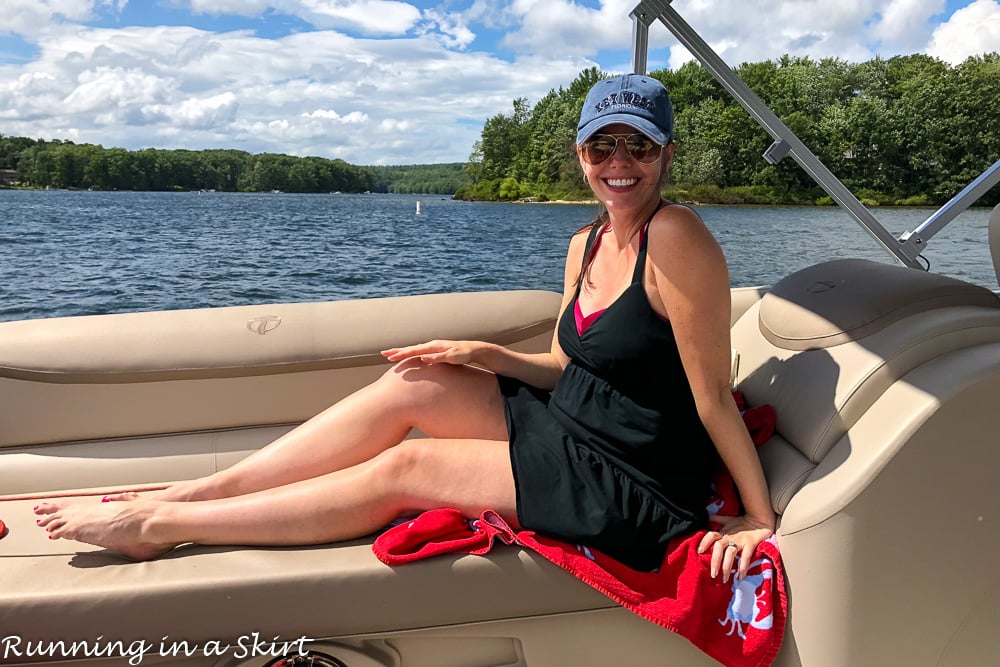 Unfortunately, the weather for our trip was a bit wonky... it was rainy, cloudy and cool. The forecast called for bad storms each day, but somehow we got lucky and mainly just got light rain. I think this photo above is one of the only times I was out on the water without a jacket with blue skies! In fact most days it barely broke 70 degrees, but we made the most of our time even putting on rain jackets to get out on the water. Luckily the kids didn't even seem to notice and practically lived in the water. Everyone still had a really nice time.
Just in case you decide to go here are some of my favorite things to do in Deep Creek Maryland.
Things to do in Deep Creek Maryland
Boating
There is nothing like a day out on the water! We rented a lovely family style pontoon boat for the week and enjoyed every minute of it even in the rain! This was one of our favorite things to do in Deep Creek Maryland.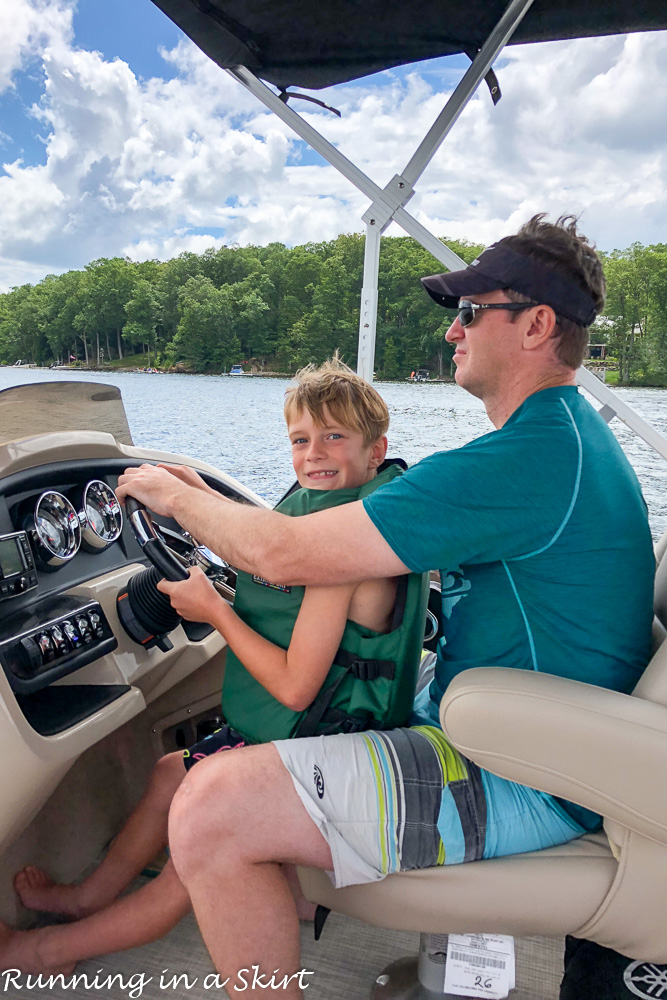 The kids and non-preggo adults spent hours rafting. My SIL brought two kinds of rafts and they were both a hit.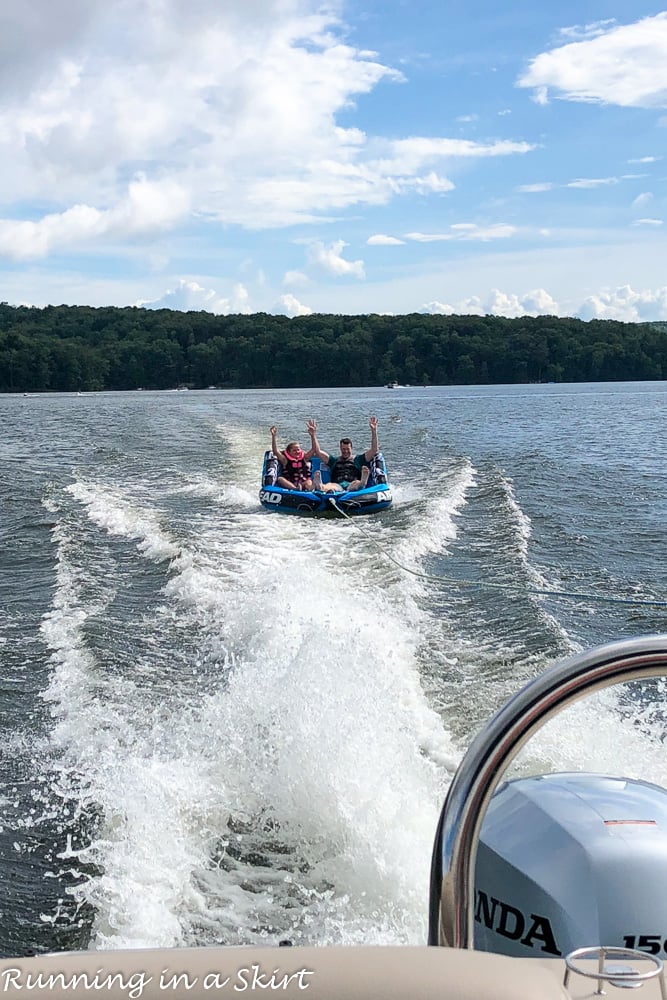 The older boys got such a kick out of the traditional tube that gave them a good ride. They are growing up SO fast!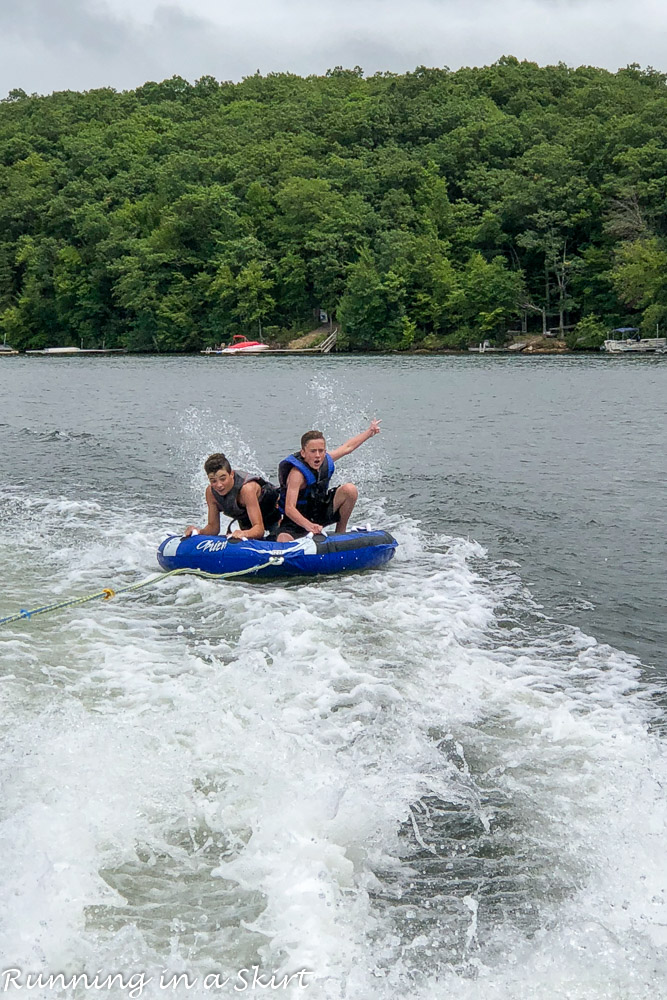 Sweet Owen just loved riding around and watching everyone.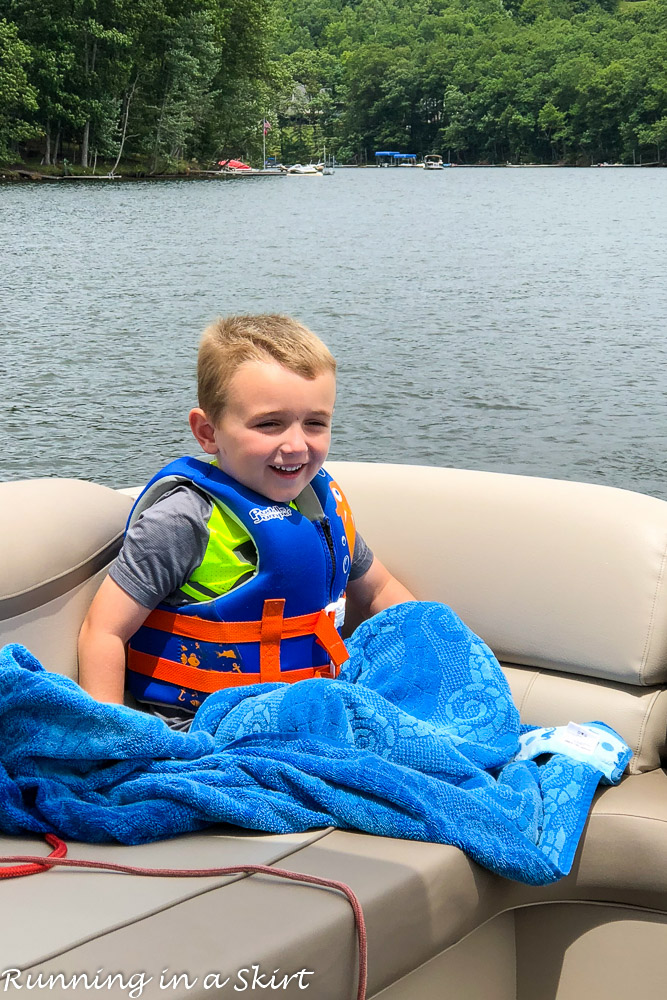 Even though it was rainy I'm so glad we got the boat. It was worth it to get out on the water and enjoy the lake.
Floating
Since I couldn't raft, I brought my own slower paced floatation device. I found this gem at Sam's Club at the beginning of the season and could not wait to use it. I honestly thought it would more be for photos, but it was SO comfortable and I ended up spending hours on this thing!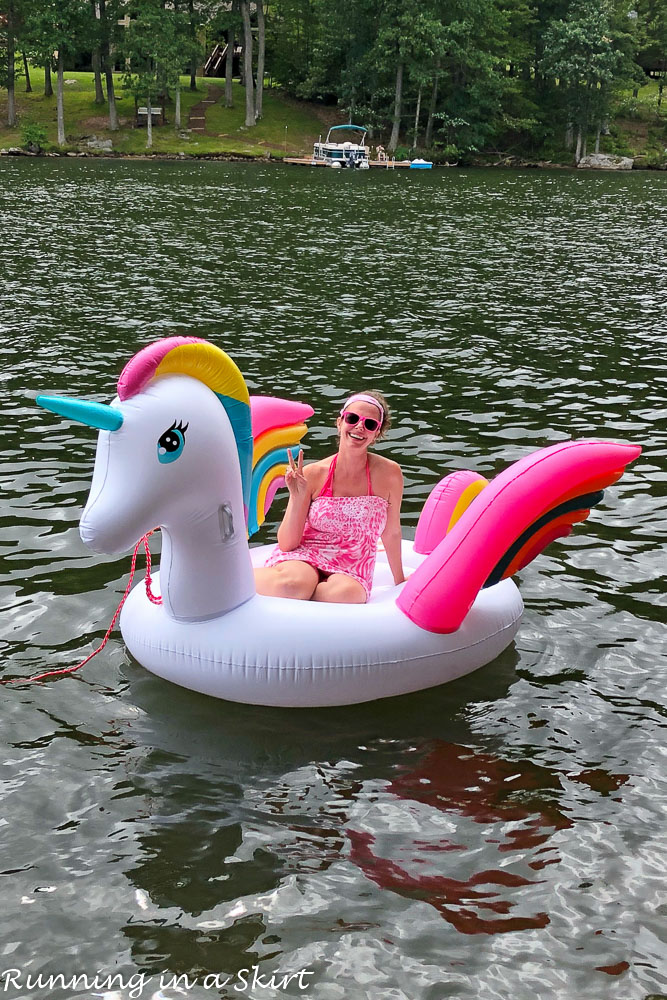 The rest of the family also enjoyed floating off our dock too.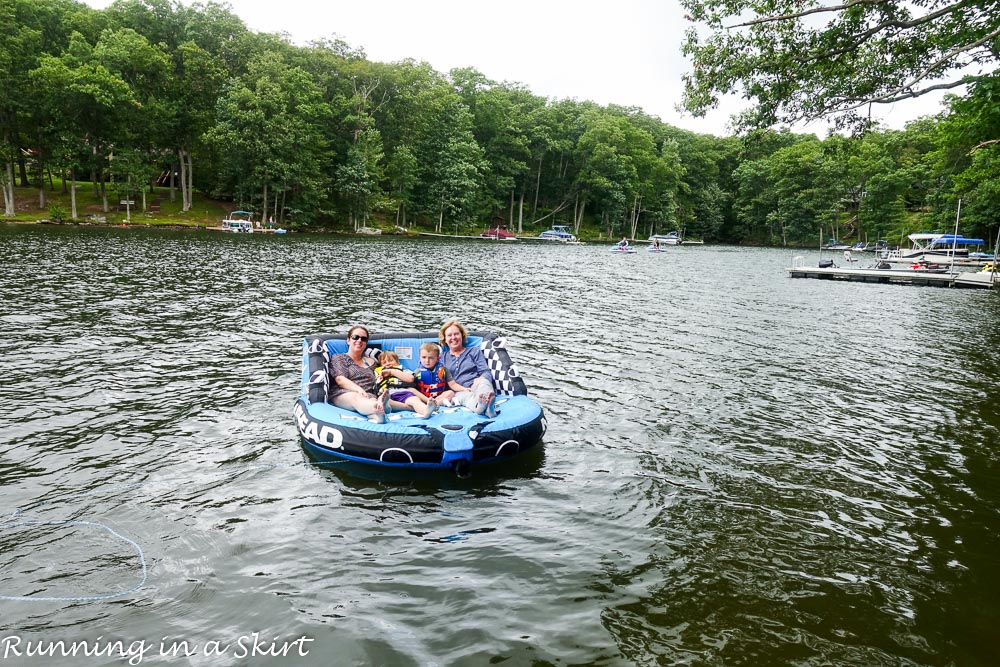 We didn't rent paddle boards or kayaks this time around, but I think they both would be perfect to enjoy this lake.
Deep Creek Lavender Farm
The first day we arrived we didn't have a boat yet, so my SIL Megan and my MIL and I went out for a girls adventure. We had a lovely lunch and stopped by the Deep Creek Lavender Farm.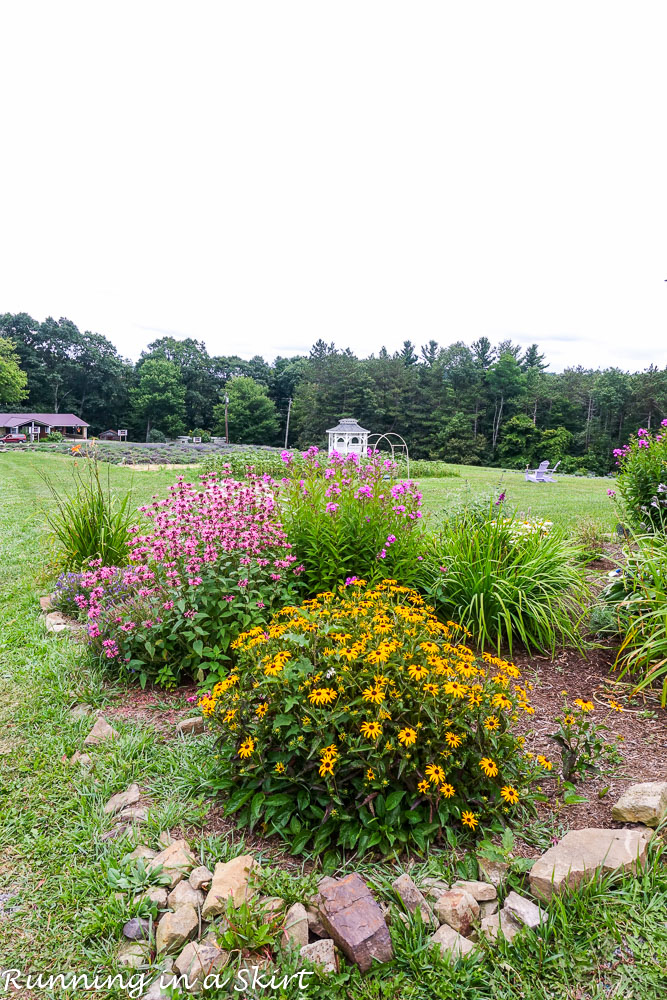 It was set in some gorgeous scenery and had some really pretty fields. It was a bit smaller than we expected but still lovely. We, unfortunately, also missed the picking season by a few weeks, but still enjoyed the views and the gift shop.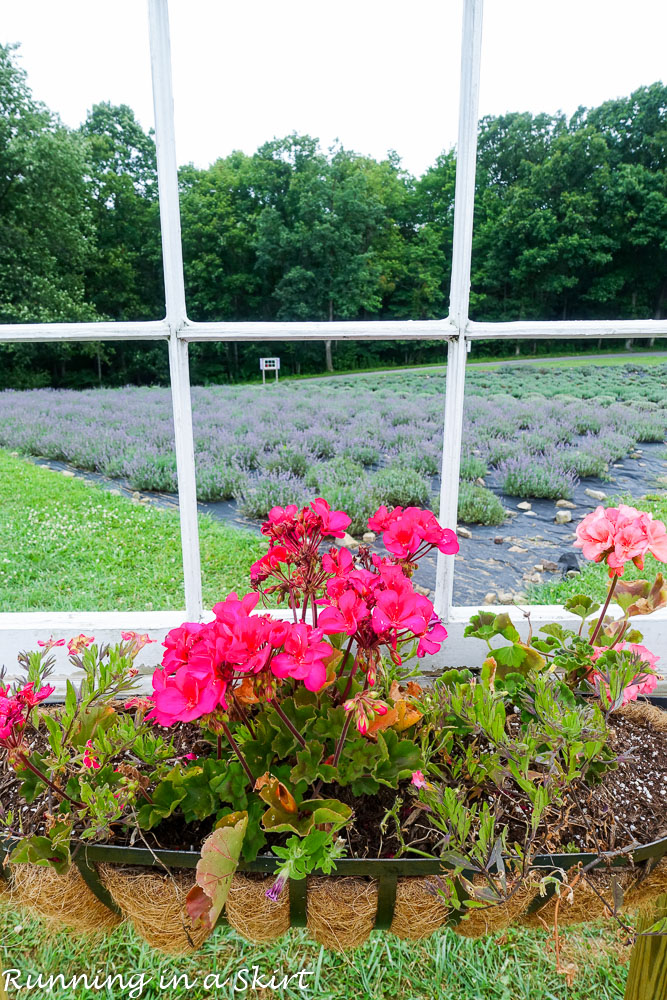 I got some really yummy lavender tea, which made the adventure worth it to me!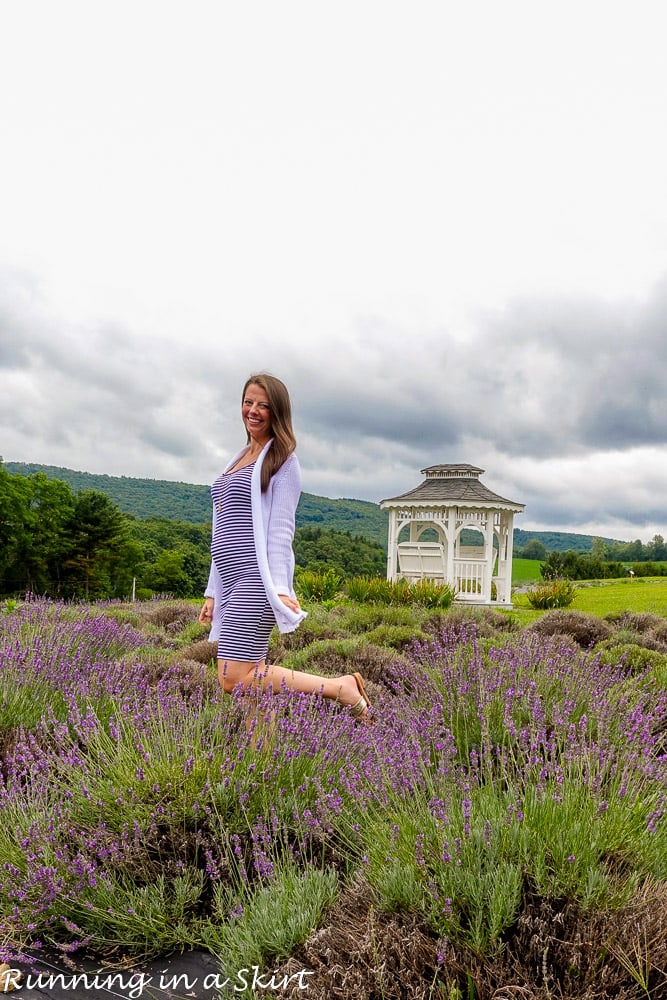 And yes... my baby bump popped!
Finding Great Eats
Since our group was so large and there were so many kids we ate most of our meals at the house, but the meals we did eat out were so delicious! I was surprised because of how small a town it was, but they had really good food.
A few of my favorites were the Crab Dip with Pretzels from The Greene Turtle.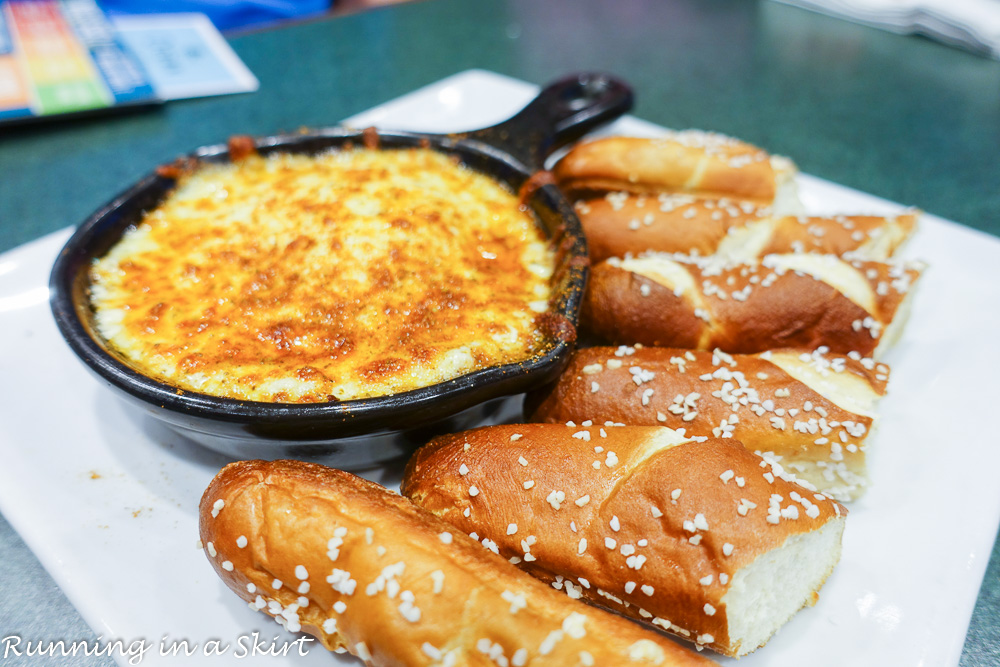 Crab and Avocado Salad from Moonshadow.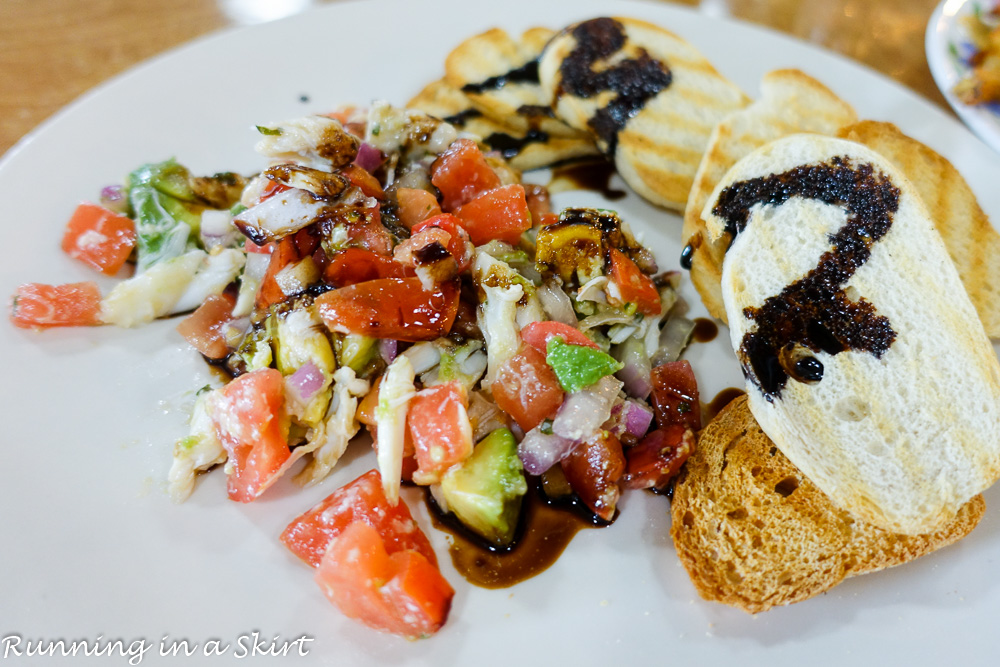 One morning we boated to Deep Creek Donuts and they did not disappoint!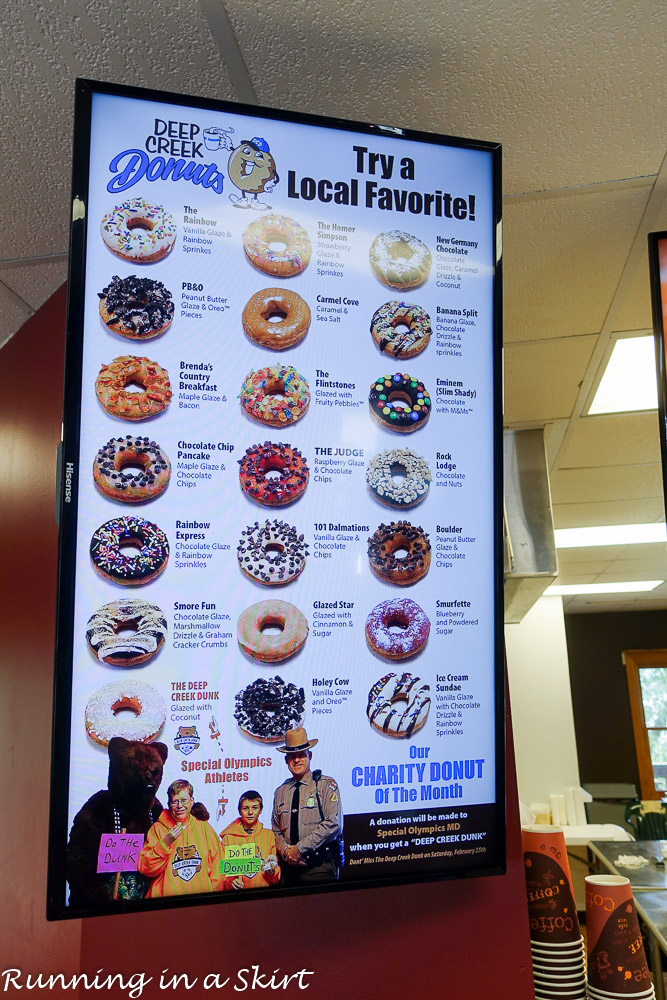 They made them fresh to order like Duck Donuts and the toppings were dreamy.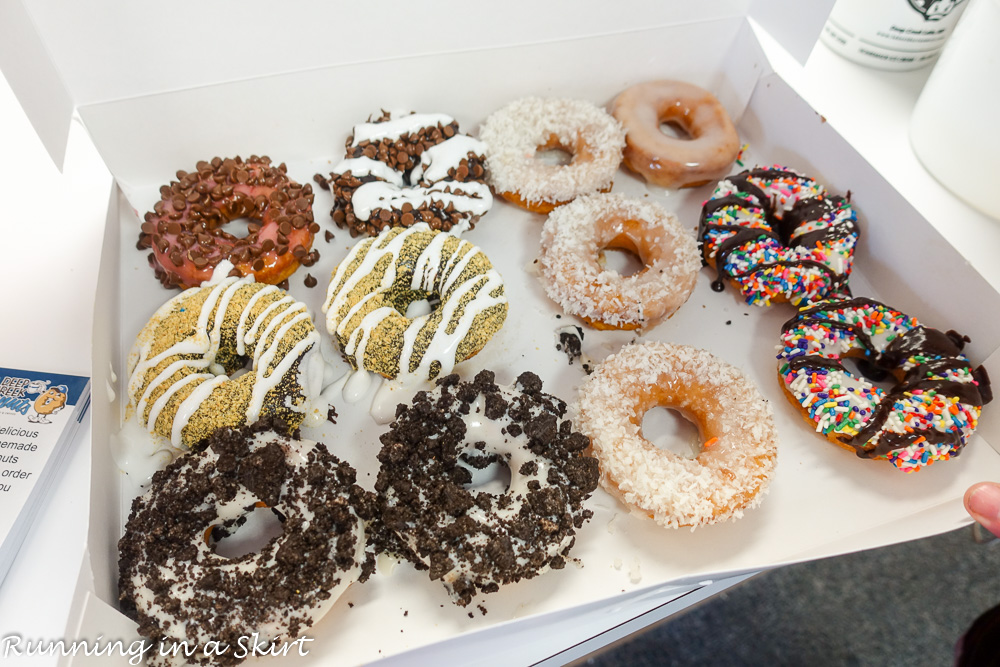 I also LOVED my Portobello Sandwich from Canoe on the Run.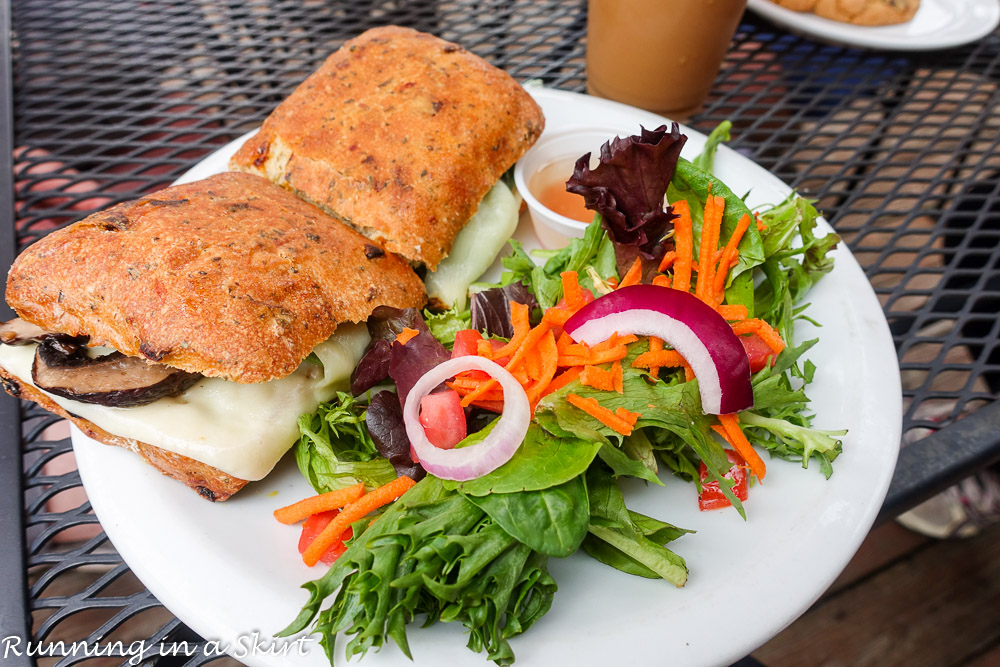 And finally what summer family vacation is complete without an ice cream stop?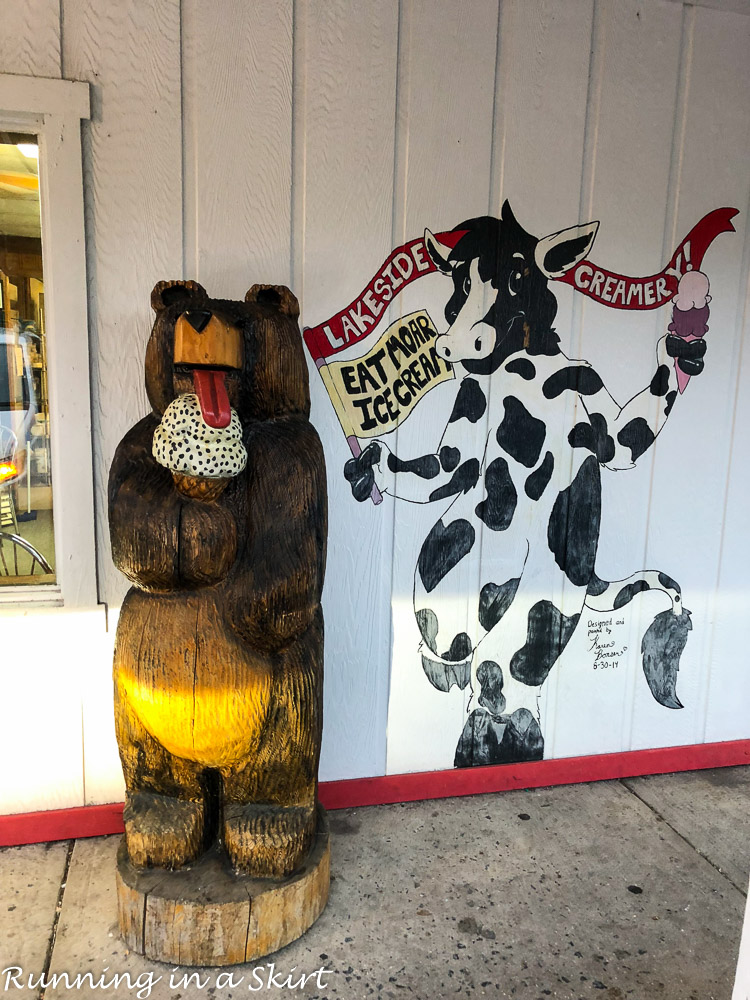 We all loved our treats from Lakeside Creamery. We didn't boat up, but you can... which is pretty darn cool.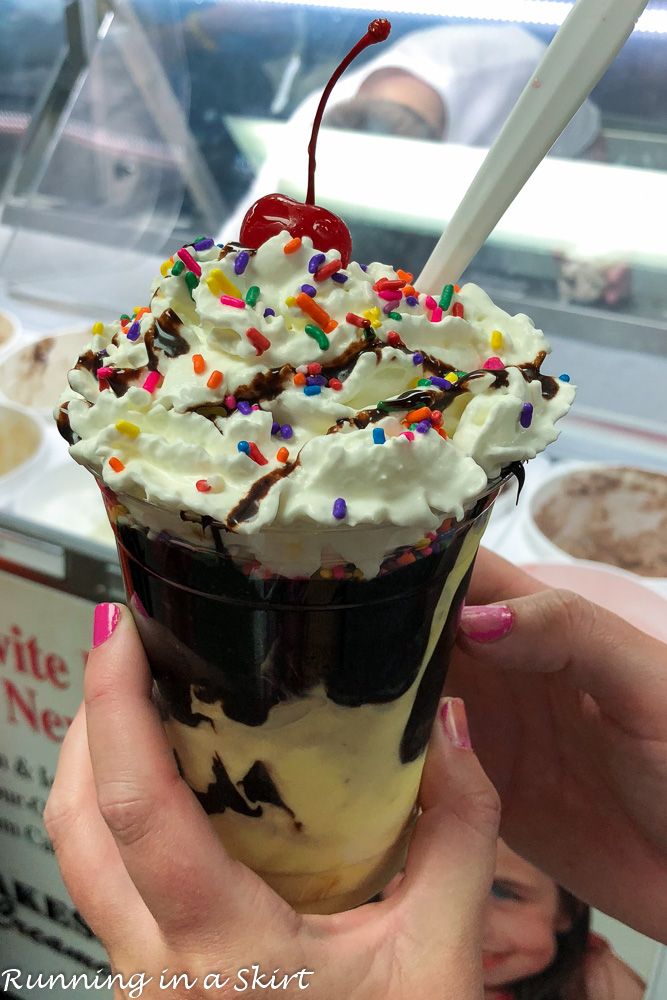 Honi Honi Bar
My family tells me a trip to Deep Creek Lake and the Honi Honi Bar go hand in hand! We decided to go out as a family one night to visit the bar and the nearby kid friendly Uno Pizzeria. Our meal was good, but the grounds surrounding the complex were so much fun.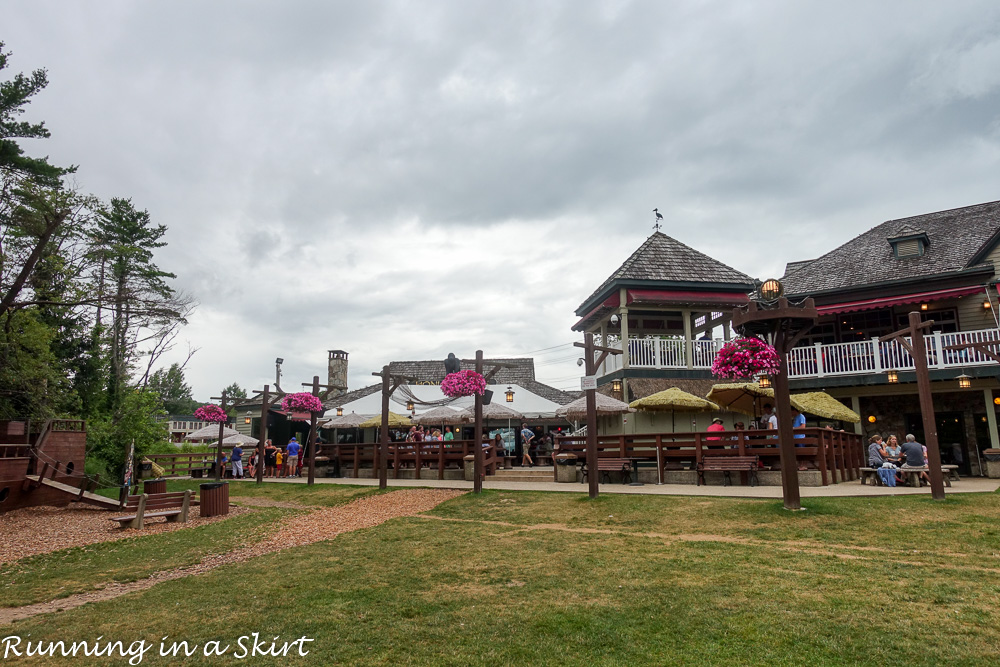 They had playgrounds for the kids and all sorts of fun places to climb.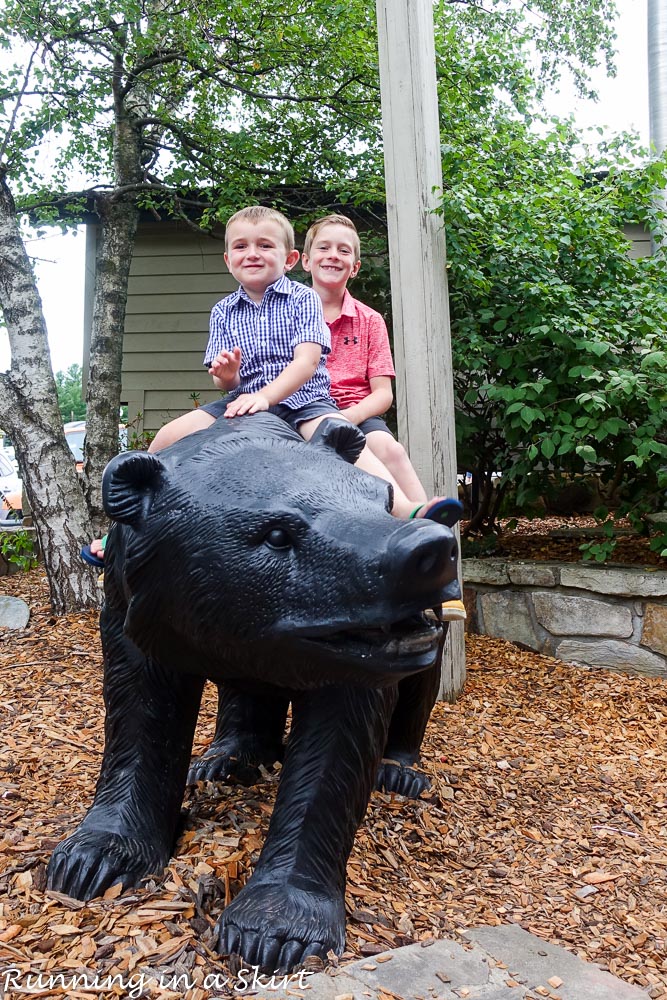 The older kids even played lawn games.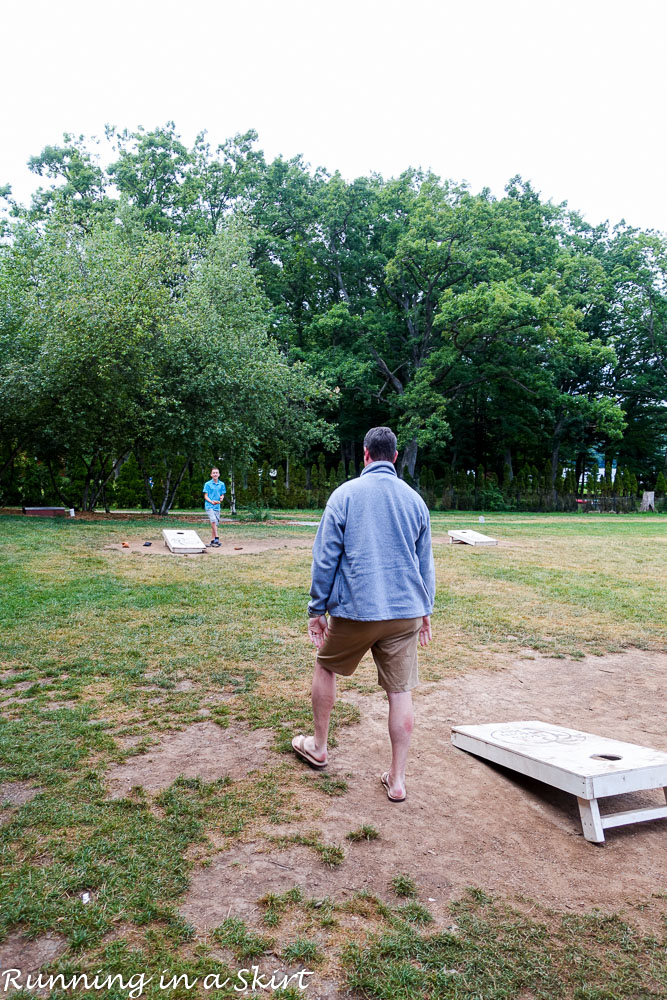 The entire family really enjoyed our outing and it was so nice they had games and entertainment for the kids.
ANDDDD.... for those of you who don't know my SIL Megan is also expecting a baby about the same time we are! We're joking they will be like triplets. I am over the moon happy for them. 🙂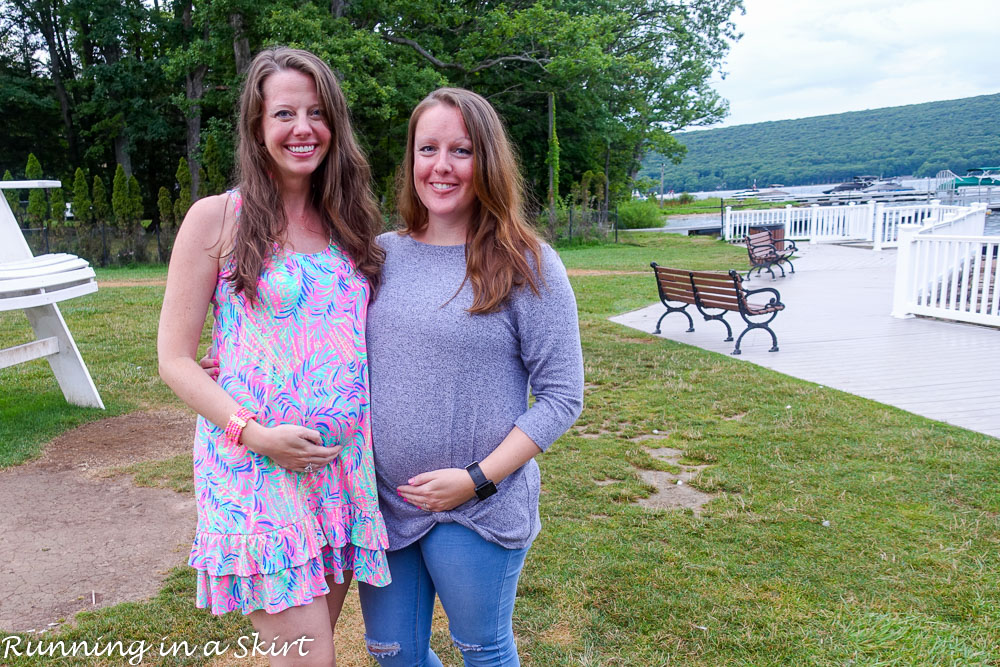 Swallow Falls State Park
I love a good hike and waterfall, so before we left I read about nearby Swallow Falls State Park.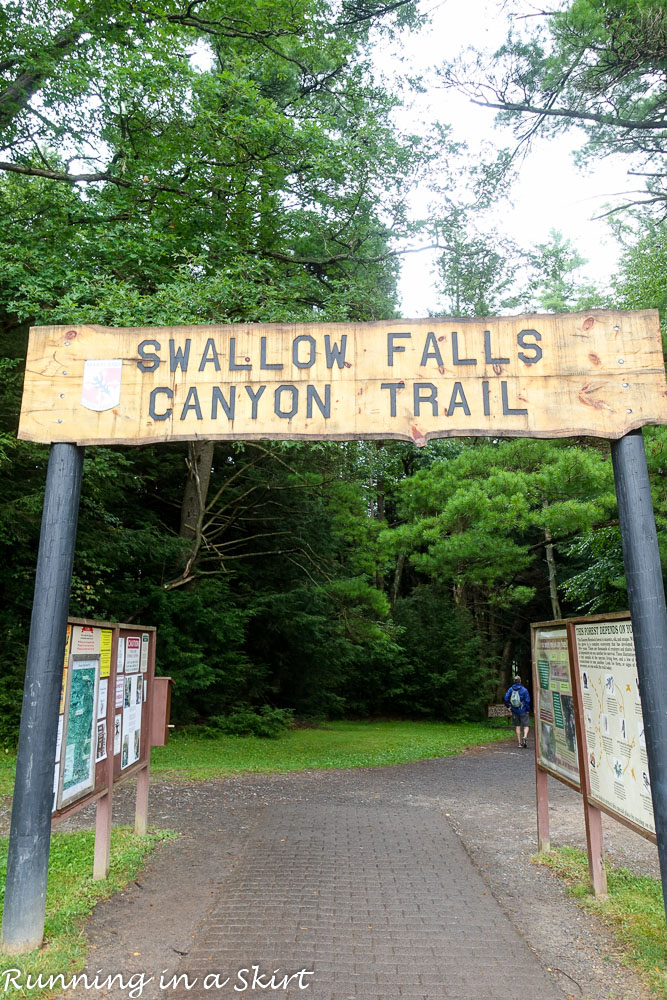 A small group came with me to brave the rain and see the waterfalls.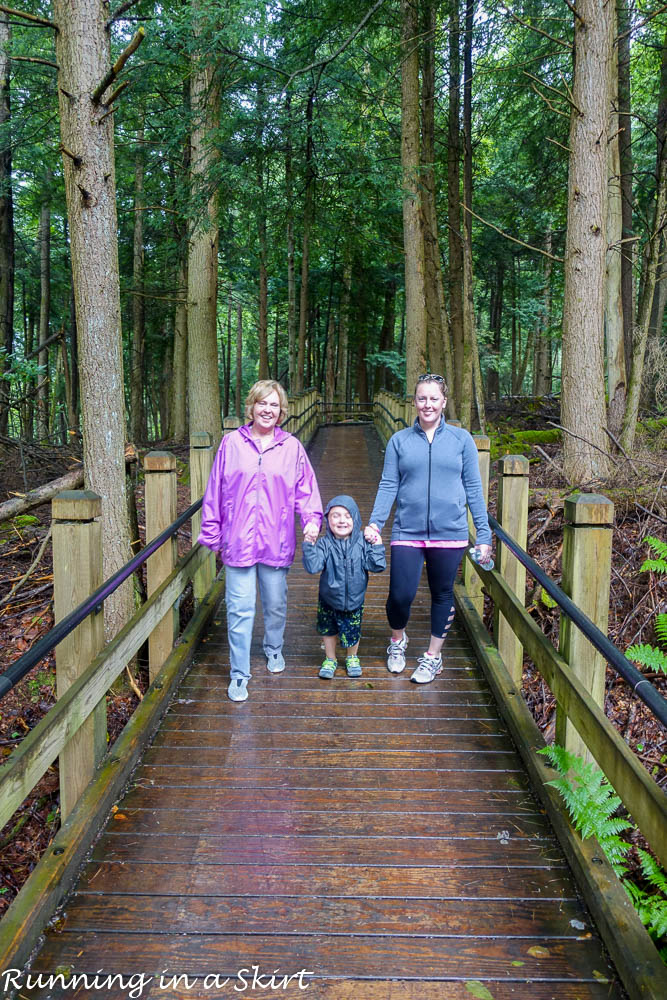 The hike was about a mile and quarter loop and pretty easy. Before no time we saw the first falls, Muddy Creek Falls which was 53 feet tall.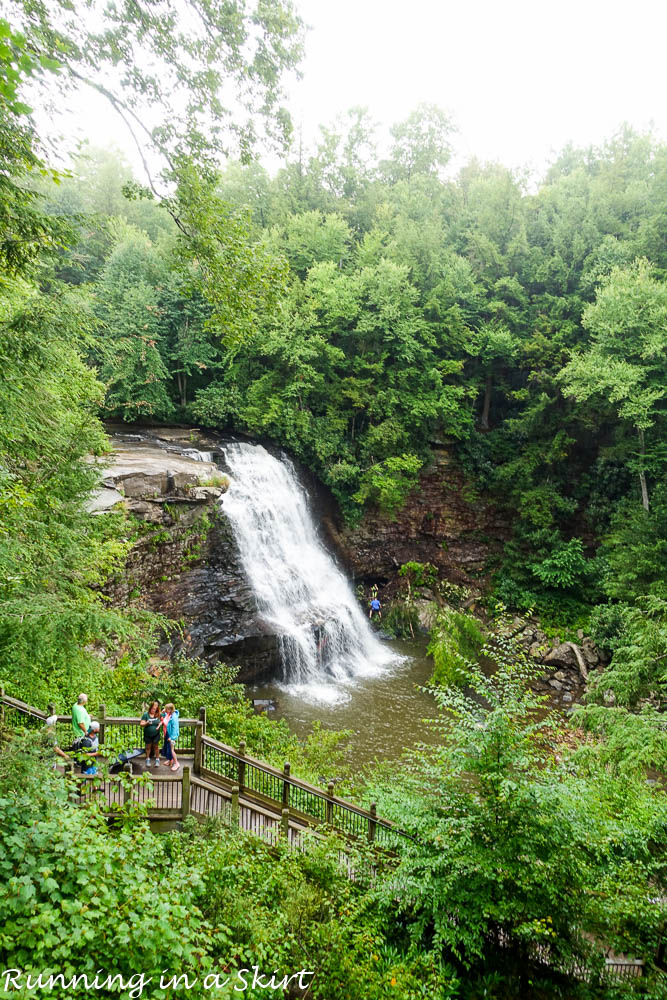 Even on a rainy day, it was a lot of fun.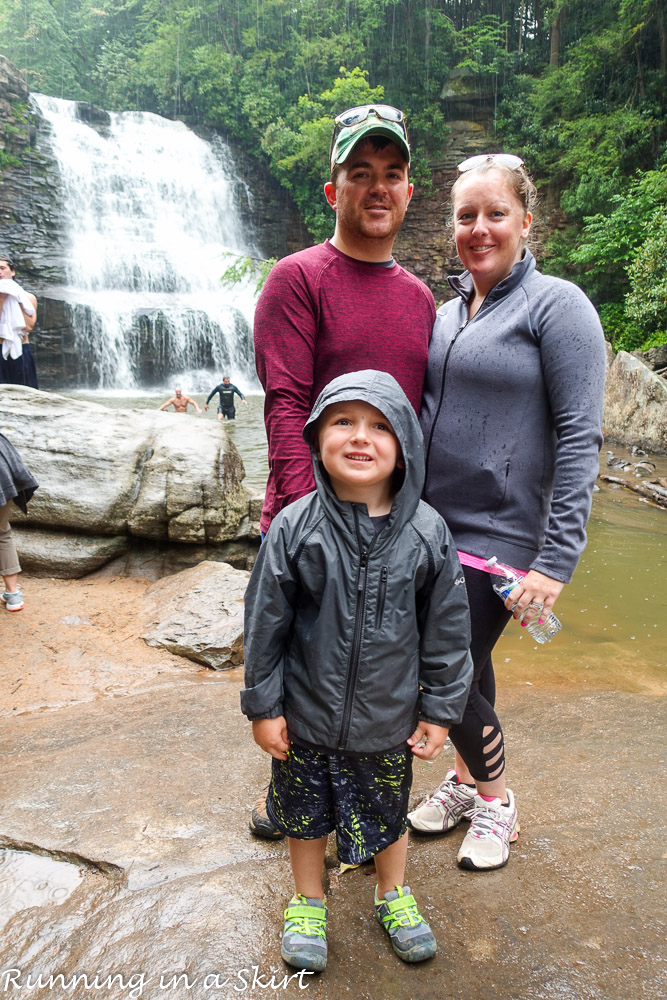 Ty and Owen looked adorable hiding in the "caves."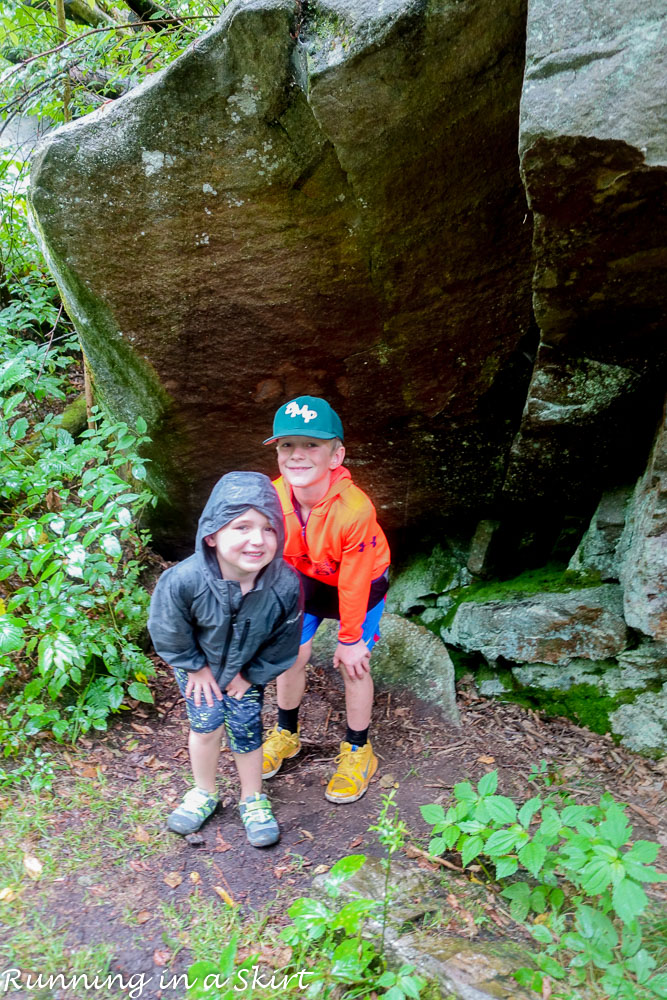 The hike kept getting better because we saw several more waterfalls in just a short walk.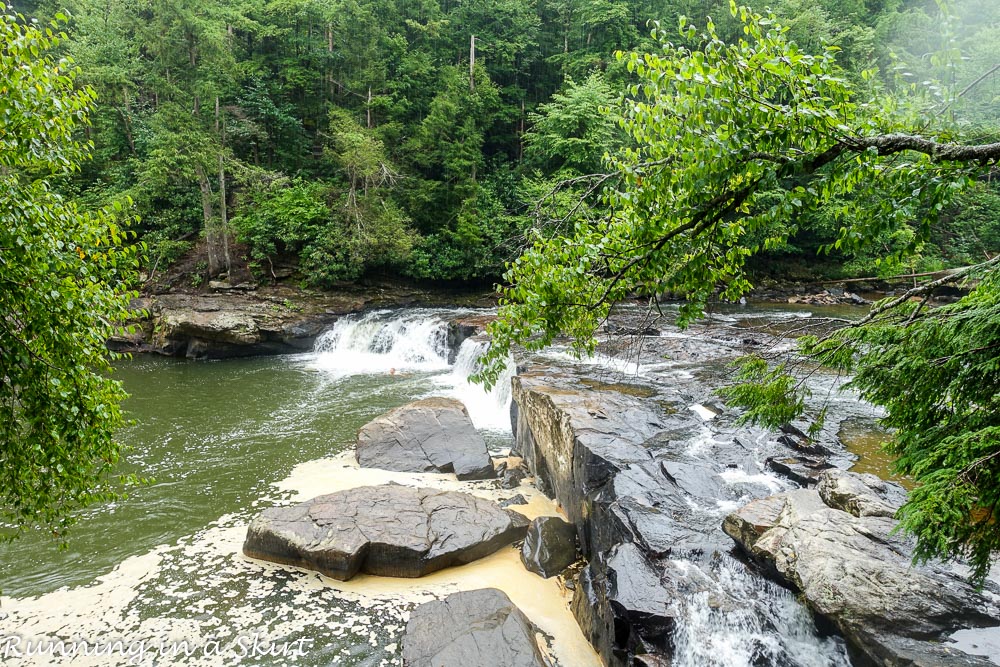 The loop was easy enough for all of us and turned out to be a fabulous family activity.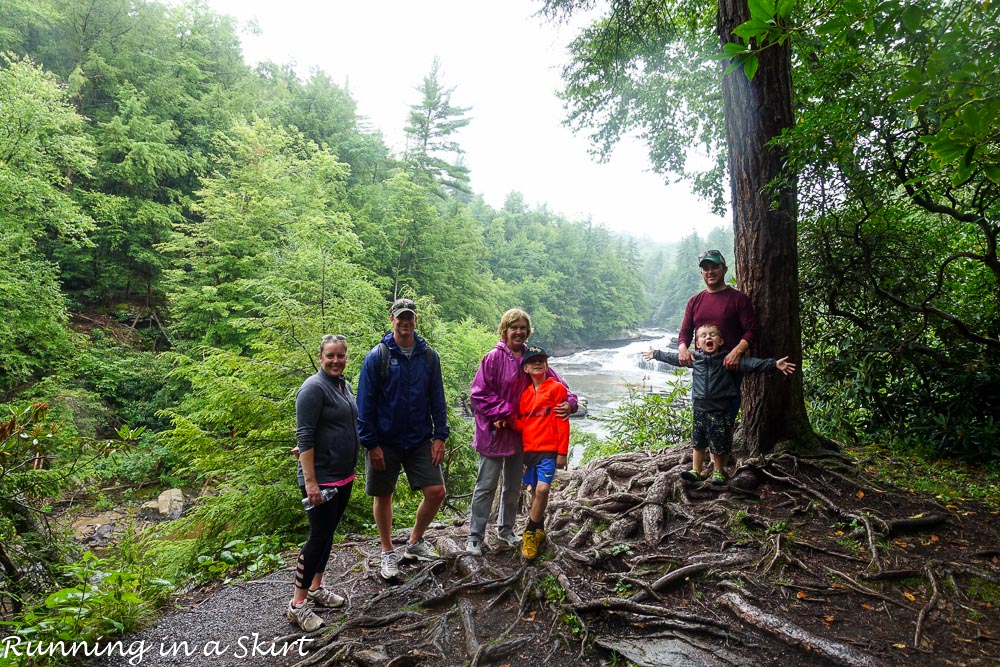 The woods surrounding the waterfalls were just as pretty with towering hemlock trees.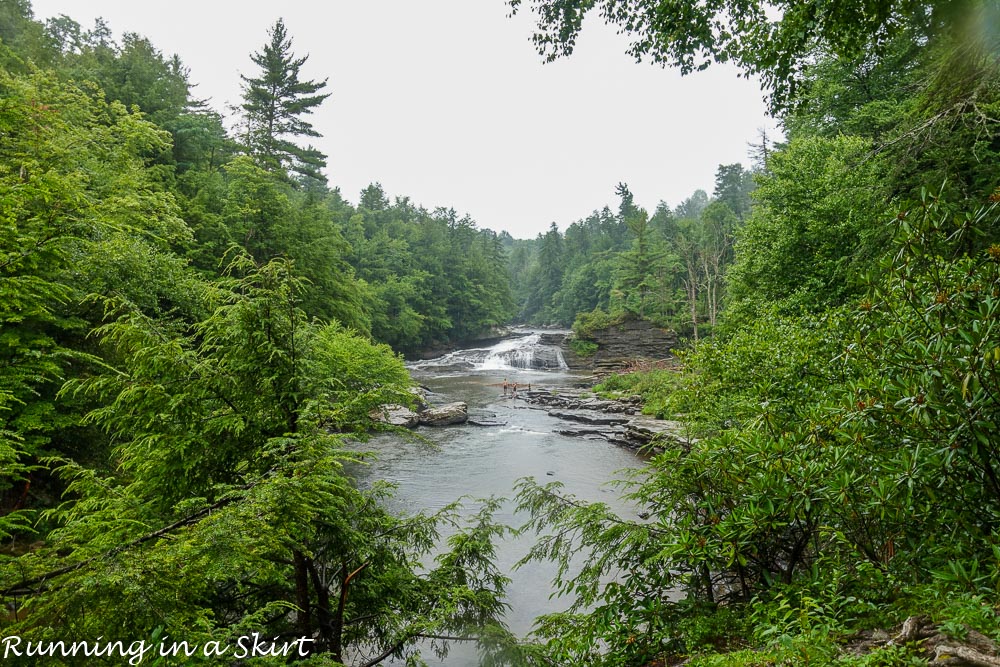 Our little hiking adventure was perfect and I loved doing something active!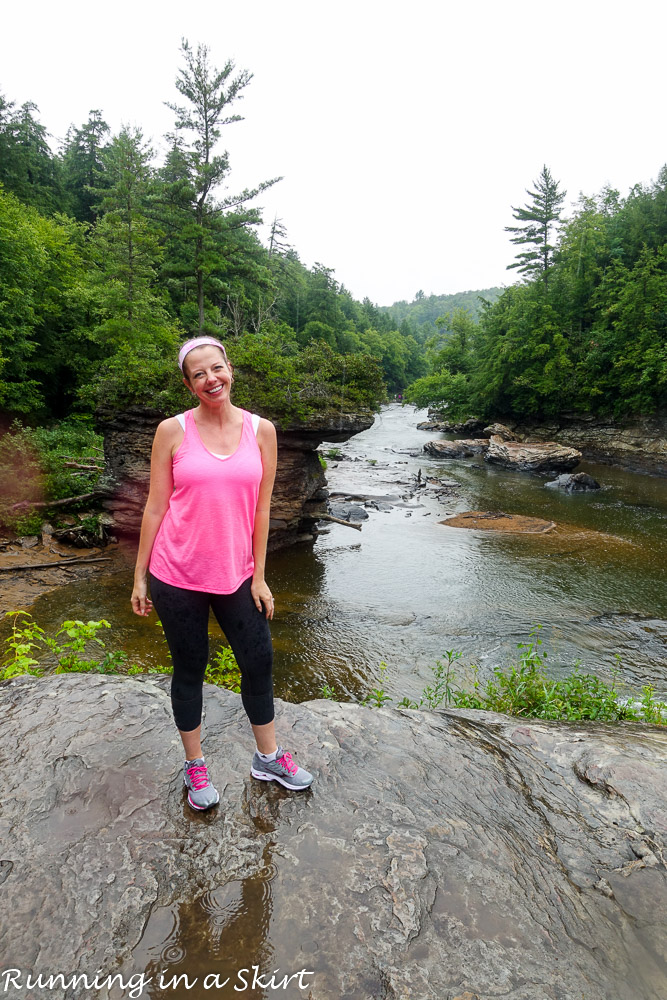 Family Time
Out of all the things to do in Deep Creek Maryland the best is spending time with family. Like many families, a lot of us are spread out and only get to see each other in times like this.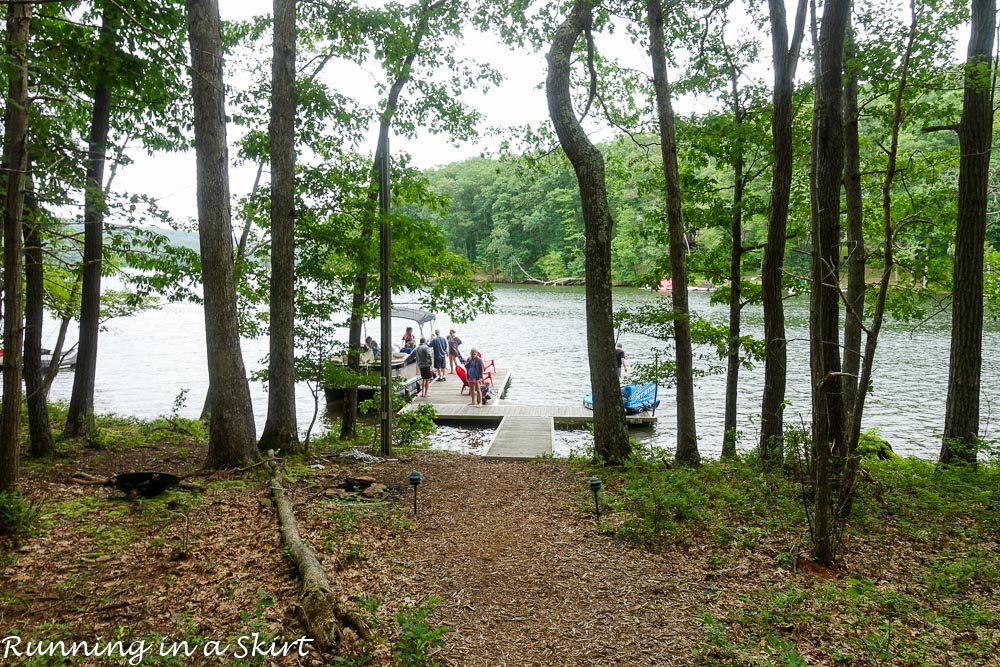 We ate well, shared stories and even had family dance parties on our dock and boat. The boys spent countless hours fishing together. We made memories we'll share for a lifetime!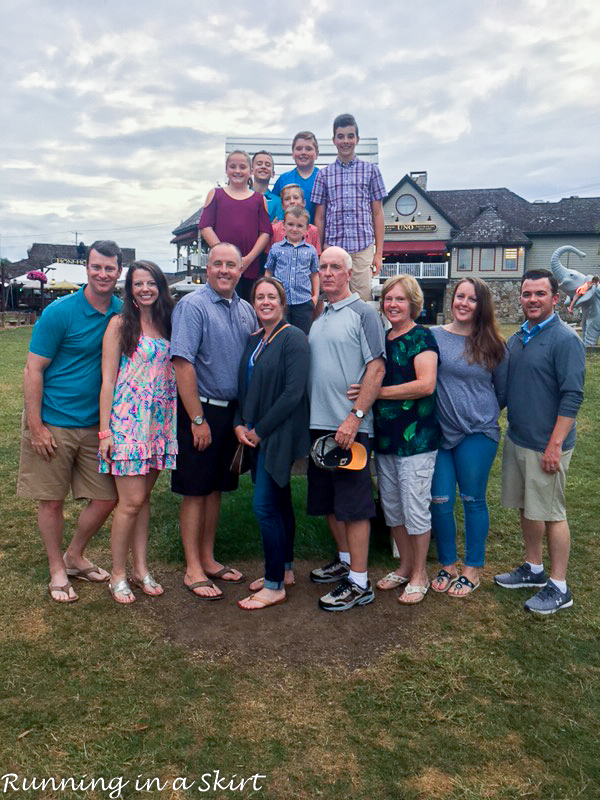 Want to go? Pin this post about Things to Do in Deep Creek Maryland!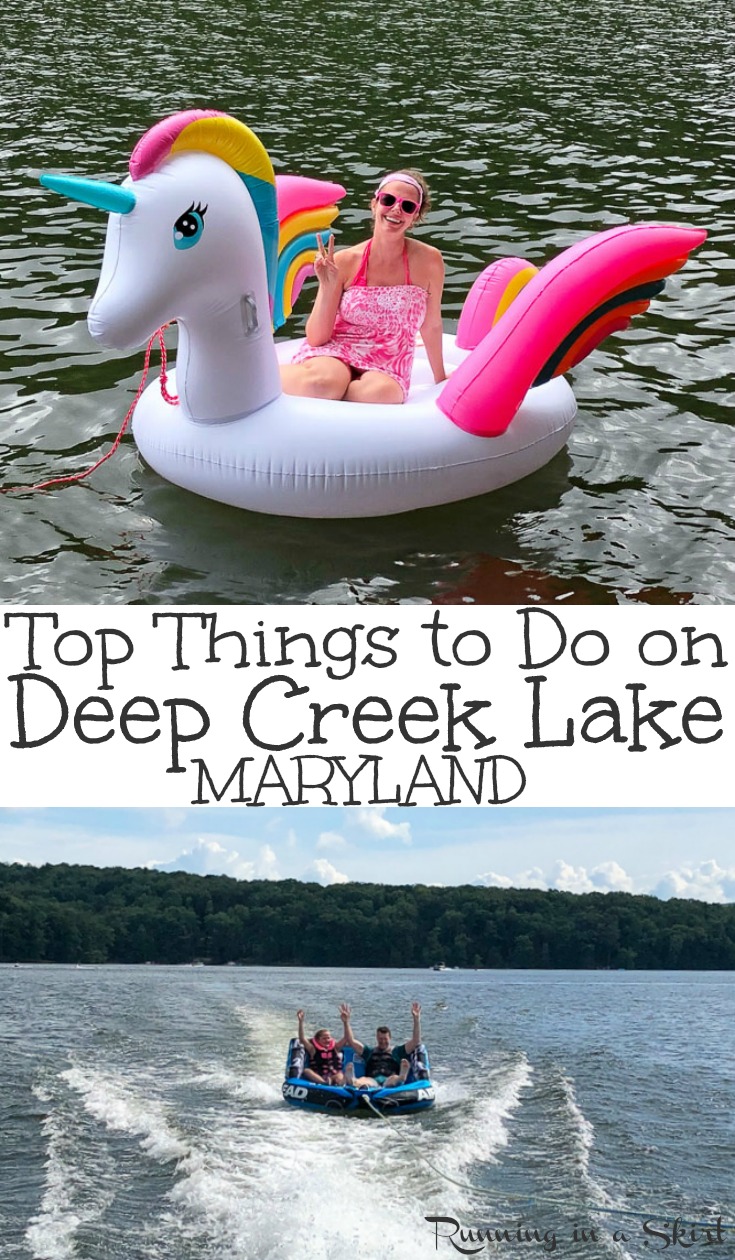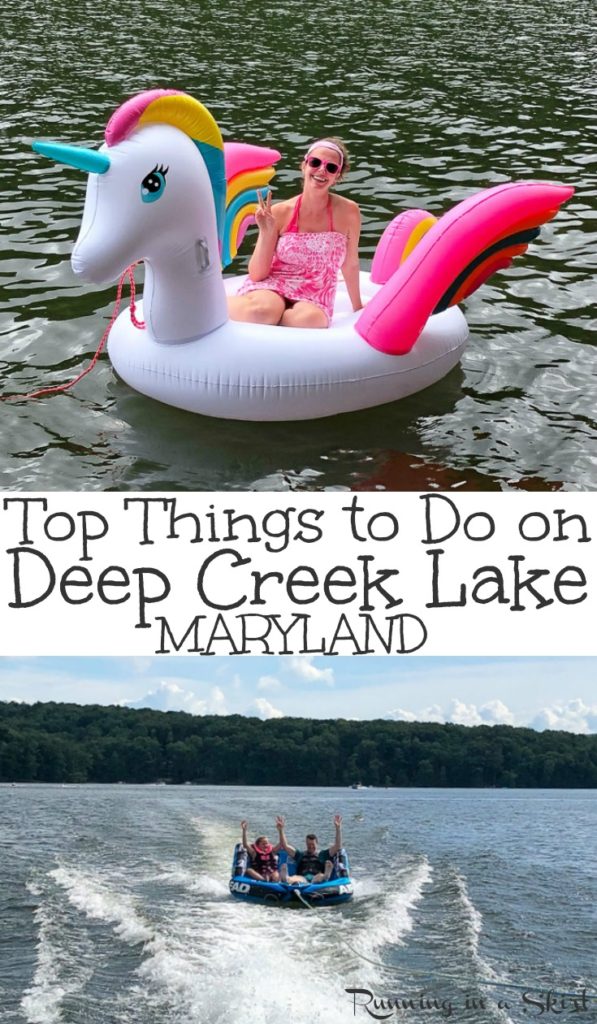 Your turn!
Have you been to Deep Creek Lake?
What does your family do for family vacation?