Hi everyone!
I spent this past holiday weekend in Pittsburgh with the Hubs family for his sister Danielle's wedding. It was a quick out Friday and back Monday trip.
Before we get into a few photo highlights, I wanted to remind everyone that as part of my ALDI party I'm giving away a $250 ALDI gift card to one of you! Honestly, that's probably a month's worth of groceries at ALDI unless you have a huge family. You must fill out the official giveaway form on the Grilled Sweet Potato Salad post and not just leave a comment on the post. Enter here!
I'd also like to congratulate Beth Ann Chiles for winning the Epic NOW Foods Swag Bag giveaway. There is still time to enter the QALO Ring giveaway too.
Saturday
The Hubs and I got into Pittsburgh Friday. He golfed with his future brother-in-law Dan and I helped the girls do some last minute errands for the big day.
Saturday was our turn to have some fun! We all went to the salon and got hair and makeup done for the wedding. My Mother-in-law and soon to be niece Kendall also joined us. I had them pin my curls to my head so they would last up until the ceremony.
We all had so much fun and talked about how wonderful it would be to be able to hang out like this all the time.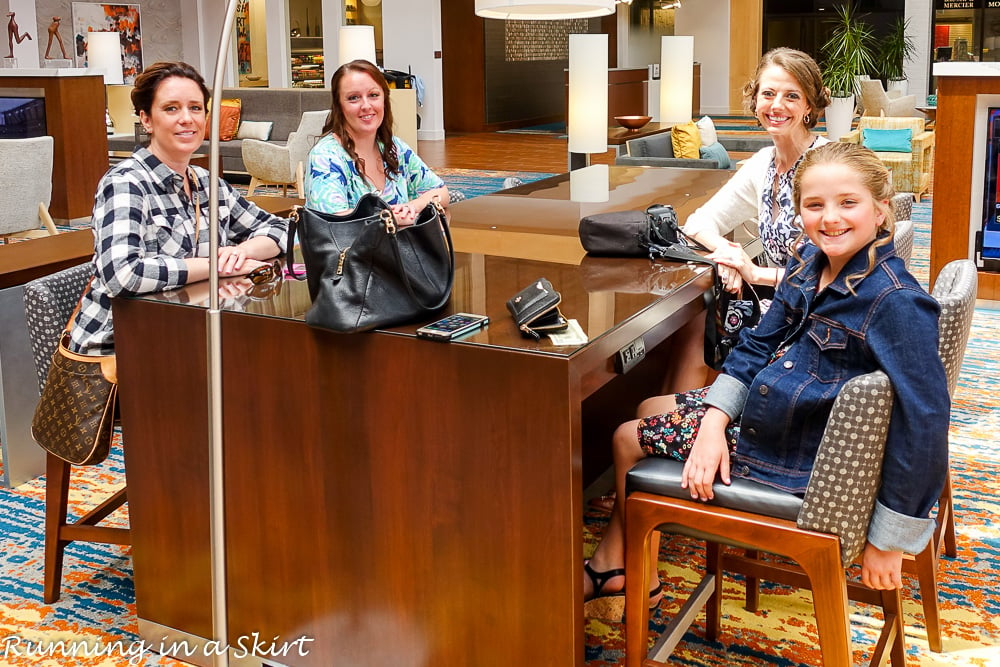 Danielle and Megan looked so pretty!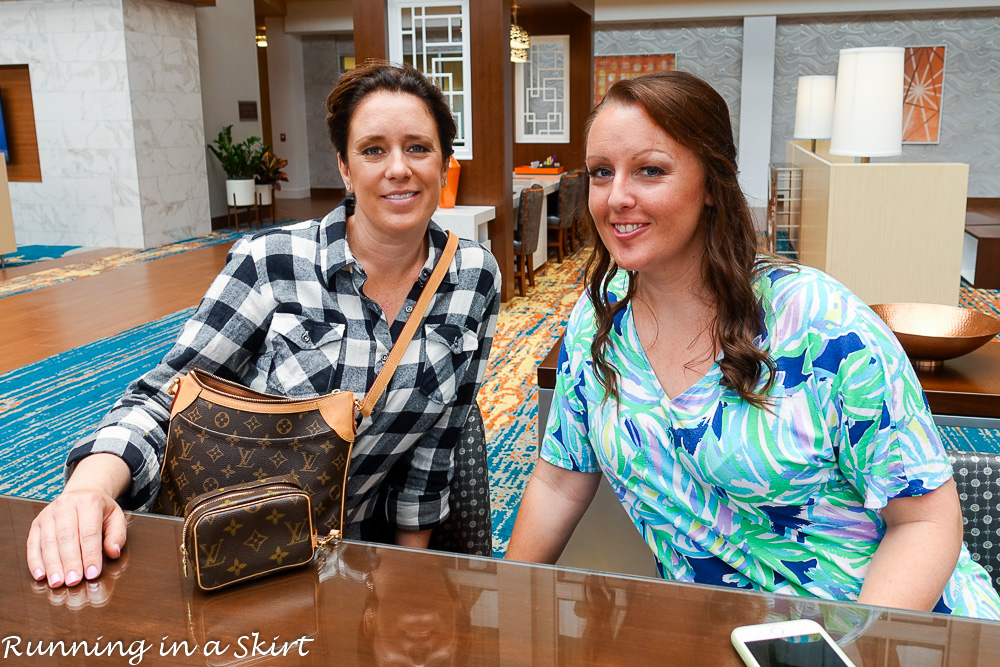 The ceremony was mid-afternoon at their church. It was just for immediate family. Dan and Danielle are blending their families, so now I officially have an entire team of nieces and nephews! I've considered them family for a long time, but it was nice to make it official. Don't they look insanely cute in their outfits?
From left to right.... Cole, Landon, Ty, Cam and Kendall.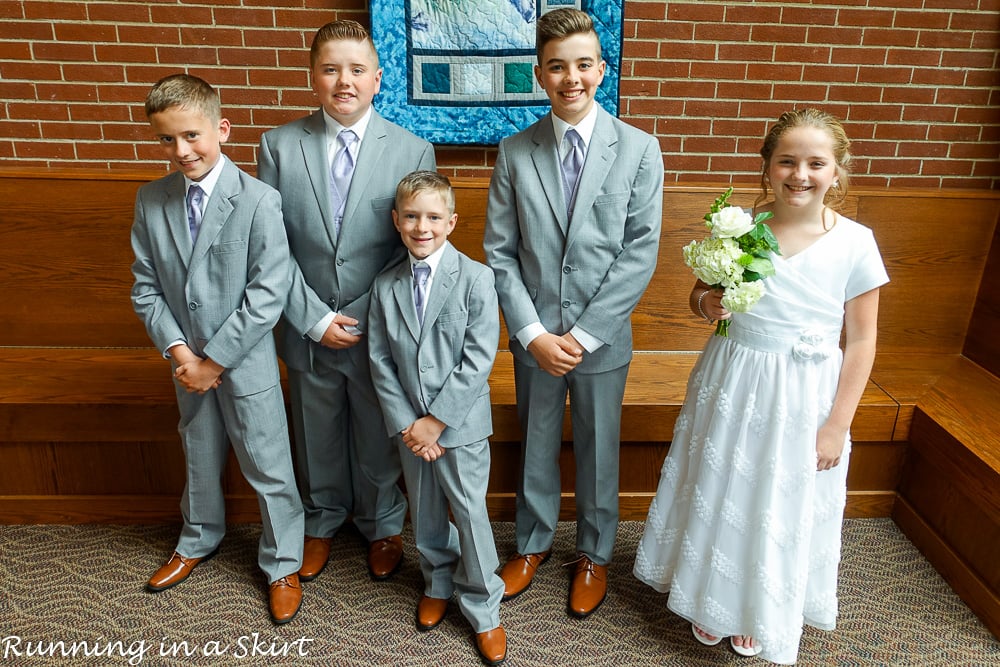 I took some more official photos of the wedding for them, but I don't want to steal Danielle's thunder by sharing them here. AND they aren't edited yet either! I'll be working on that this week.
After the ceremony, we went to downtown Pittsburgh and had a group dinner at Eleven.
It was so nice to hang out with everyone for a leisuring meal.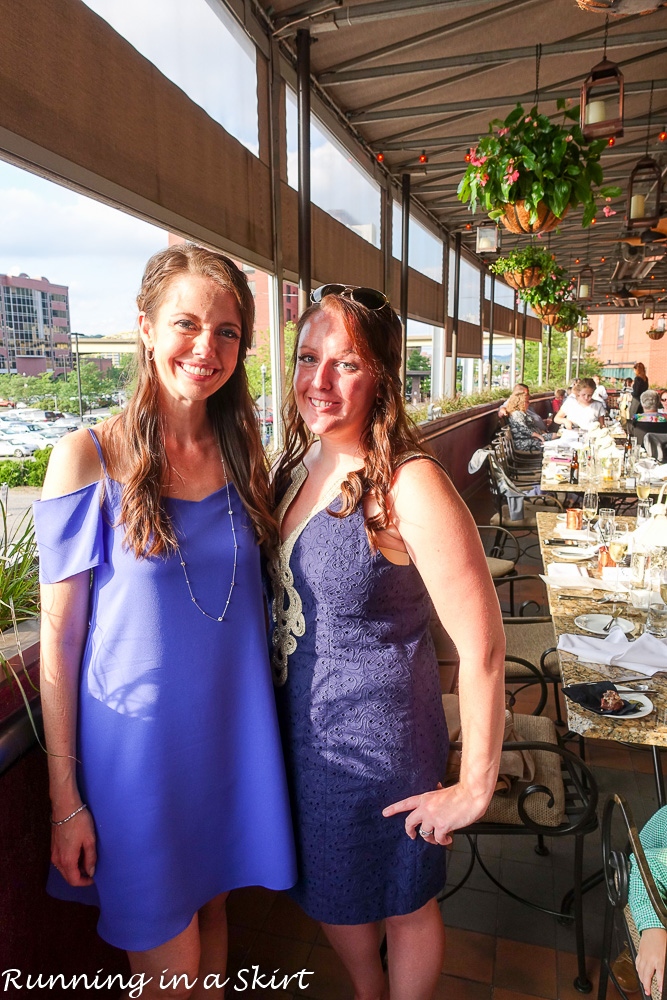 And here's the Hubs and I!
And no, my curls still didn't stay!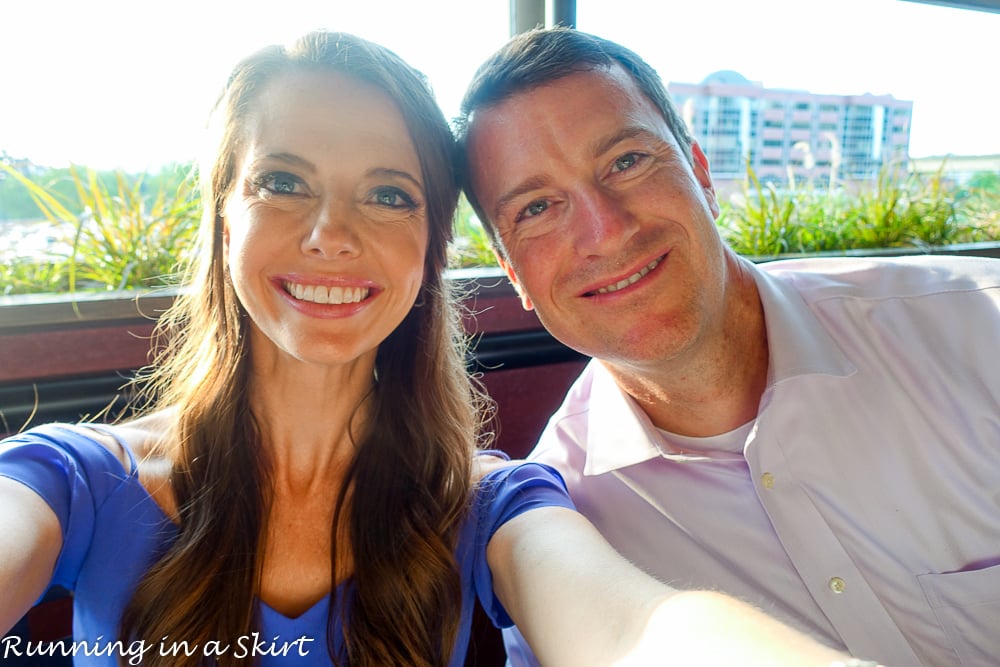 Dinner was a feast that seemed to never end!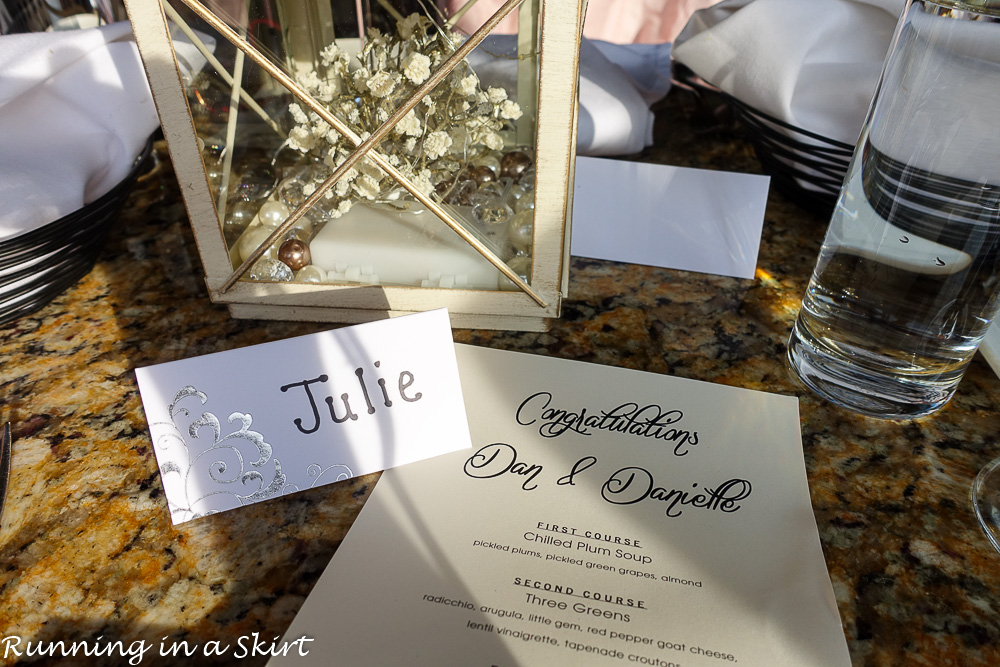 After three rounds of amazing shared appetizers, the first course was chilled plum soup. It was such an interesting flavor combination. Probably not something I would have ordered on my own, but I'm glad I got to try it.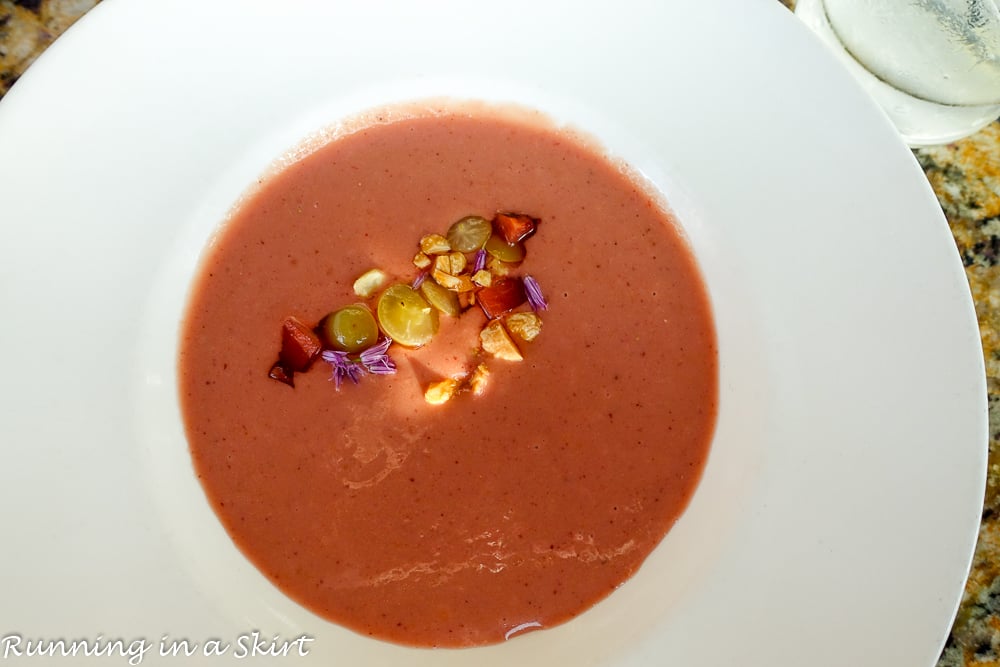 The next course was a delightful three greens salad with lentil dressing and red pepper goat cheese. It was incredible.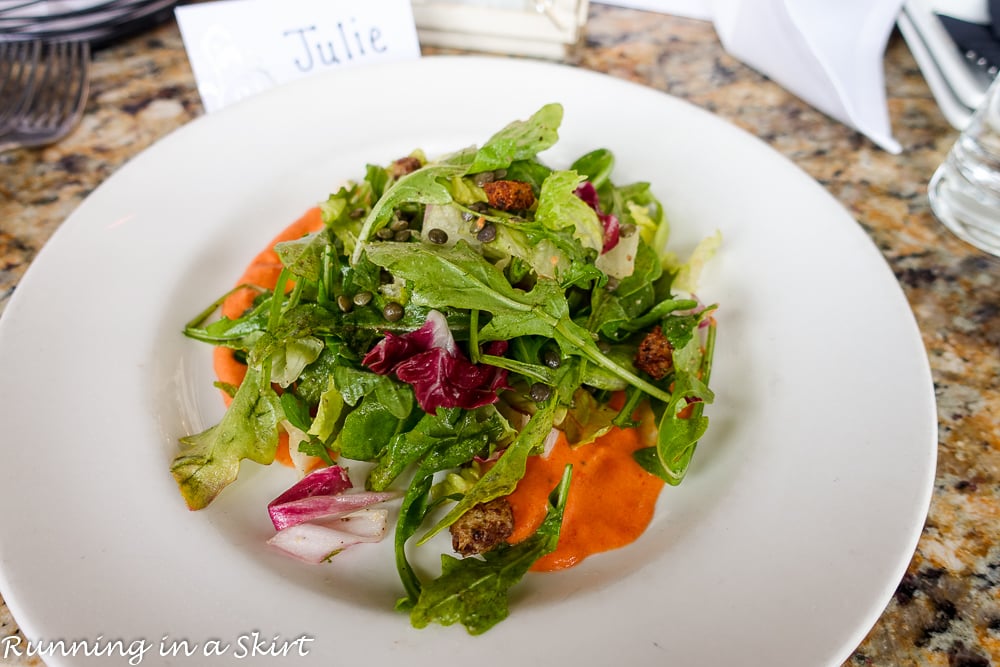 My main course was one of the prettiest dishes I've eaten in a long time! This is sheep's milk gnudi (like gnocchi but with cheese) tossed with marcona almonds, morel mushrooms and a pea puree. It was super tasty and I really enjoyed it.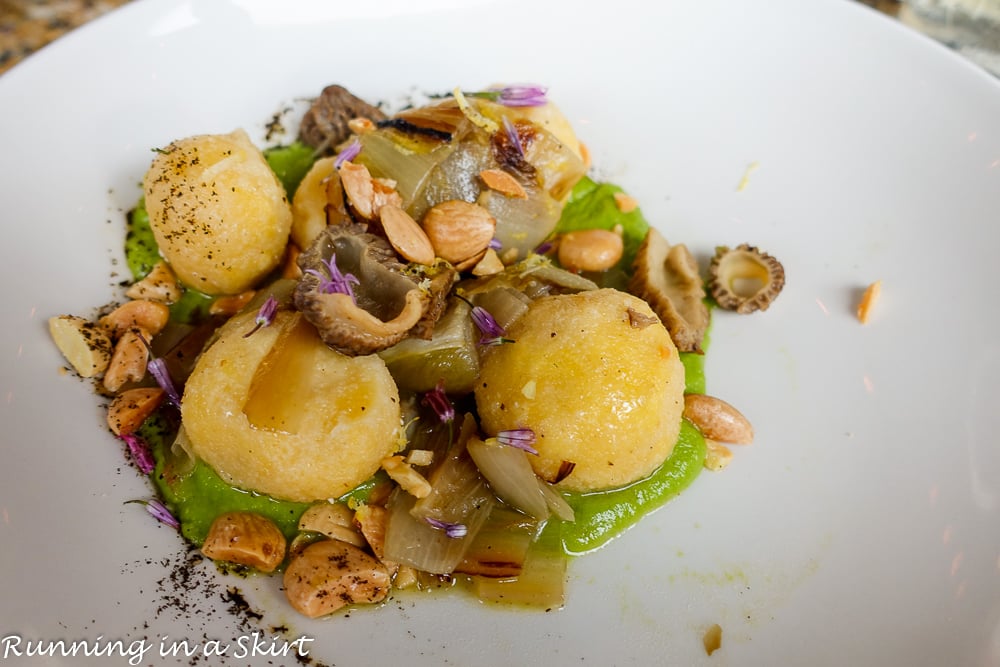 The final course was a dessert trio!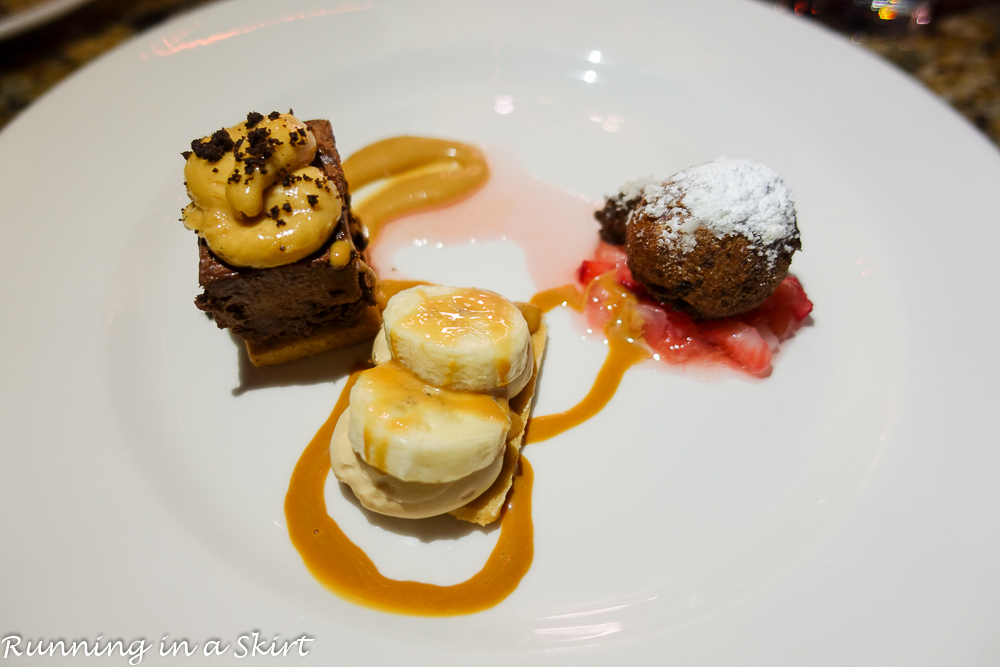 THEN they brought out cookies and wedding cake.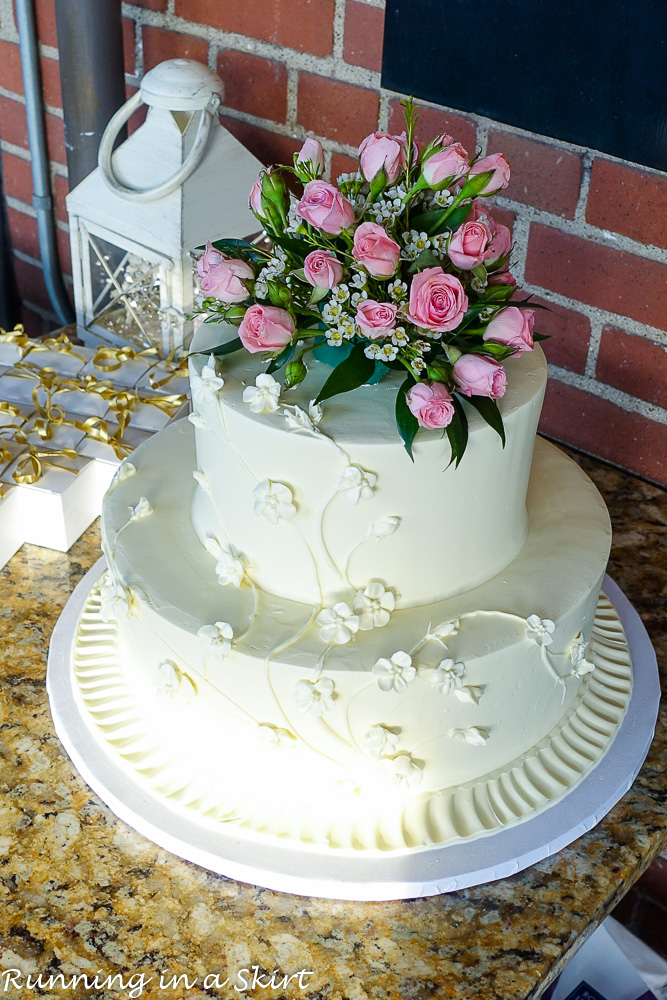 I was so full by the end! We all joked we were eating like hobbits.
After the dinner, Dan and Danielle wanted to go out in downtown Pittsburgh so we had a late night of fun. The evening could not have been more perfect.
The wedding was intimate, lovely and just what they wanted! I'm so happy for Danielle and Dan and their new family of seven. Congratulations!
Sunday
After a late night Saturday, Sunday was a slow day at my in-laws house. I hung out with her new dog Moose, who has tripled in size since I saw him at Easter. He is such a calm, mellow puppy... the total polar opposite of my crazy Makena.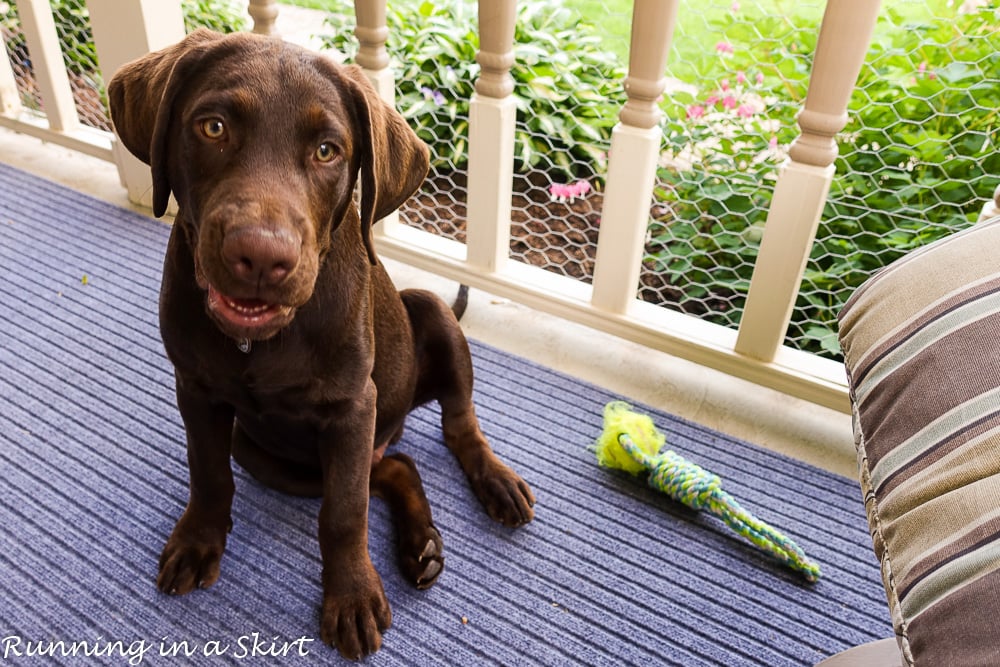 I also hung out with all the kids and did a french fish tail for my niece Kendall. Anyone know how to make these things not slip out? My french braids are pretty solid, but my french fishtail didn't want to stay.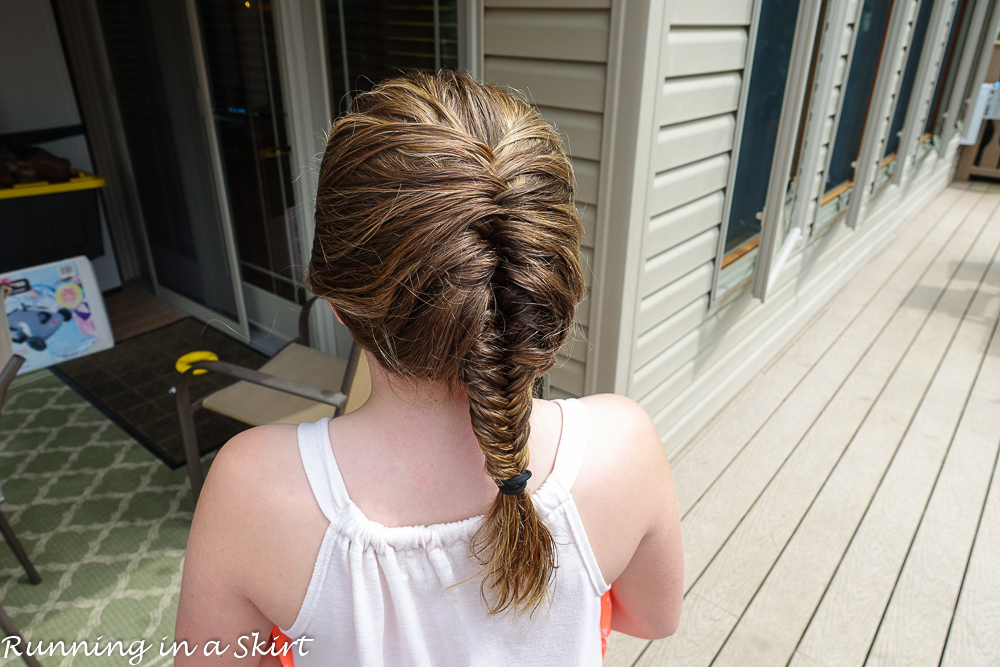 For dinner, Dan's parents hosted both families for a dinner at Bravo.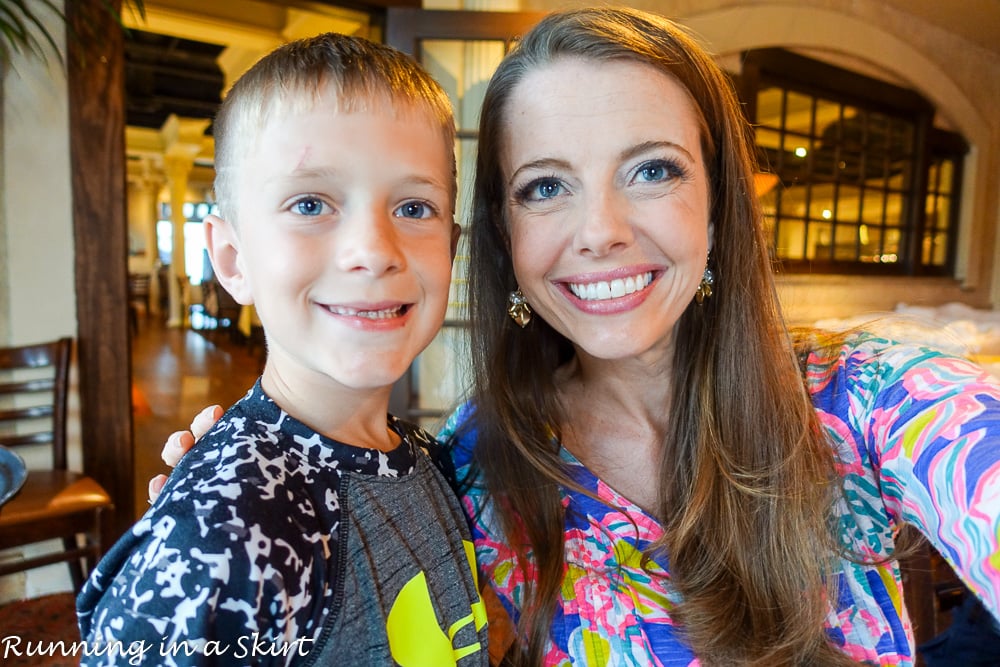 We had a great time getting dressed up for another lovely dinner. And Megan and I were pretty proud of ourselves in our matching Lilly. 🙂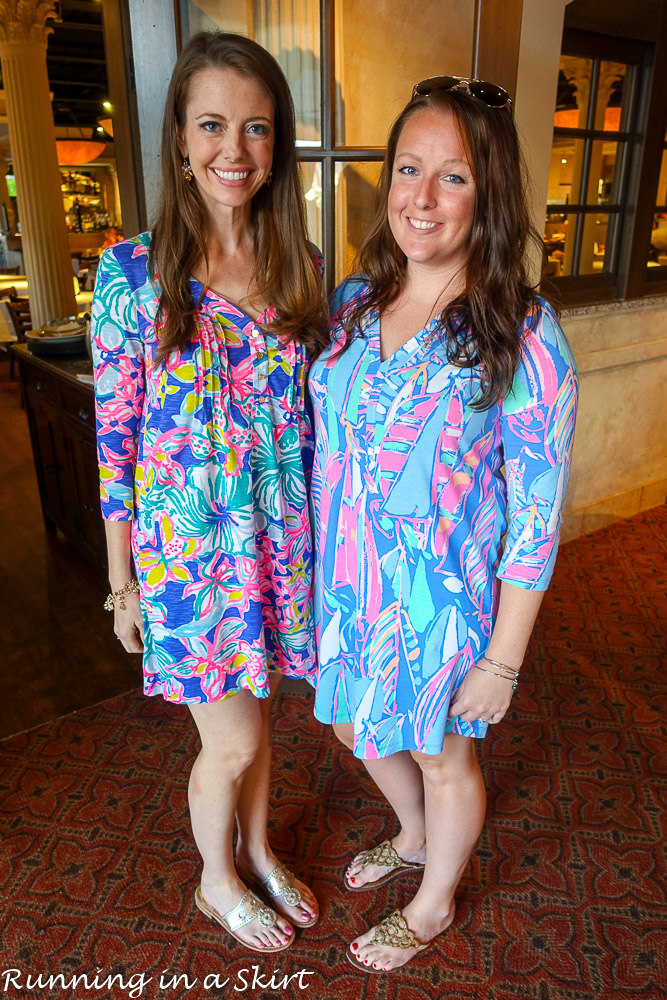 For dinner I got the Spicy Scallop Marinara. It was just the right amount of spice and I adored the nice pile of spinach on the top.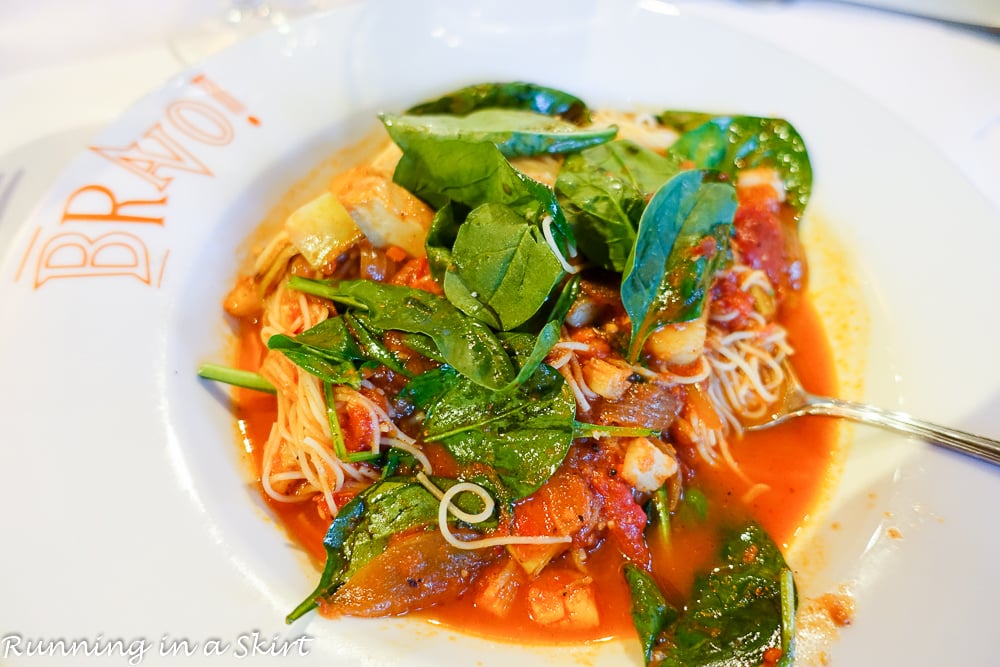 The Hubs and I flew home early Monday and are now getting ready for the next adventure!
Rhett Update
I have a pretty sad update for you guys. Those of you who read Instagram first got a little of this news Friday morning.
https://www.instagram.com/p/BUjeN1SD71q/?taken-by=julie_wunder
To elaborate a little, I woke up Thursday morning and Rhett was having trouble controlling his bladder. Since we were going away, I decided to take him to the vet. He hasn't been doing well for a few months, but honestly up until the bladder thing Thursday morning he had been doing better and even eating more. Other than his bladder issues he was acting like his normal self.
The vet ran some bloodwork and it came back that he had an infection and the his kidneys were starting to fail. They very kindly told me that it might be time to consider putting him down. They said if I didn't he needed to go to the doggy hospital to get fluid and meds. They also told me either decision was "right." I decided to take him home and think about it for a few hours. I was obviously a complete wreck. The Hubs even had to come home from work.
I'm going to give you the very abbreviated version here, but after some serious debate we decided that Thursday was not Rhett's time and we admitted him into the pet hospital for the weekend before we left for the wedding. I know he's 16 and I'm very realistic of what is going on. I know we are getting close.
The good news is after a few days on an IV, Rhett's infection and kidney numbers are completely back to normal! He's still moving slow, not wanting to eat the special kidney diet they put him on and showing signs of age now more than ever. They aren't sure how long he'll hang in there before the kidney problems return, but they told me they will. Due amount of stress on him to go into the hospital and the high cost, we've decided that admitting him to the dog hospital is not something feasible to do twice.
I'm officially on borrowed time with my little one, and I'm tearing up even writing this.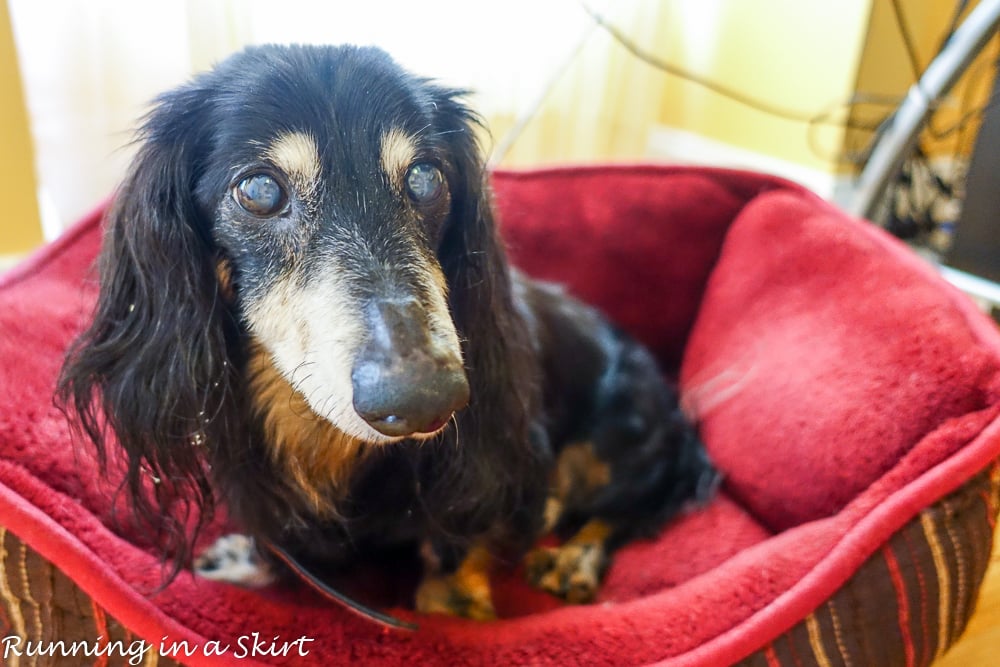 So to make a long story short, send some extra prayers and thoughts our way this week. We could really use them!
Thanks for stopping by today! Come back tomorrow for some critical information on how to keep your pets healthy this summer. <--- Which I wrote before all this happened with Rhett. 🙁
Your turn!
What did you do for Memorial Day weekend?