Travel doesn't have to be an obstacle to working out! With this quick No Equipment Hotel Room Workout you can get a quick full body fitness session in without even leaving your room.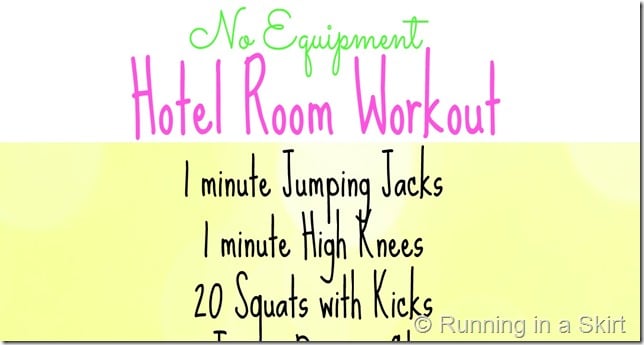 Hi friends!
It feels so good to be home. I might be playing catch up for a month, but I'm just trying to take it a day at a time right now.
My first priority has been getting my foot looked at. I went to the doctor about the cut on my foot from the coral. It is a really long story, but basically it was a pretty deep cut and the hospital in Brazil put butterfly suters on it. It took us so long to get to a decent hostital in Sao Paulo (I cut in Paraty,) that the doctors told me they could not do regular stitches. My doctor here said all considering, it is healing really well but I have to keep changing the sutures and stay off of it for two more weeks. It was just getting back from normal after my mild ankle sprain last month, so I'm kind of bummed. I know how lucky I am that it is not infected and it is healing, so I'm trying to keep it in perspective. However, I'm not going to lie, I could really use a good long run or even a walk right now! 🙁
Anyways, for all of you who have two good feet today, I have a workout for you.
When I am traveling I usually don't worry about workouts as much as when I am at home. But that doesn't mean I completly slack off. I try to plan activities that involve hiking, swimming or walking plus I will try to go for a few runs on a trip. If all else fails, I'll sneak in a version of this workout in the morning, before even leaving the hotel room.
I love this workout because it requires no equipment but still covers cardio, strength and abs. If you are super tight on time, you can do it once. However if you have more time, do it two to three times for thirty minute workout blast.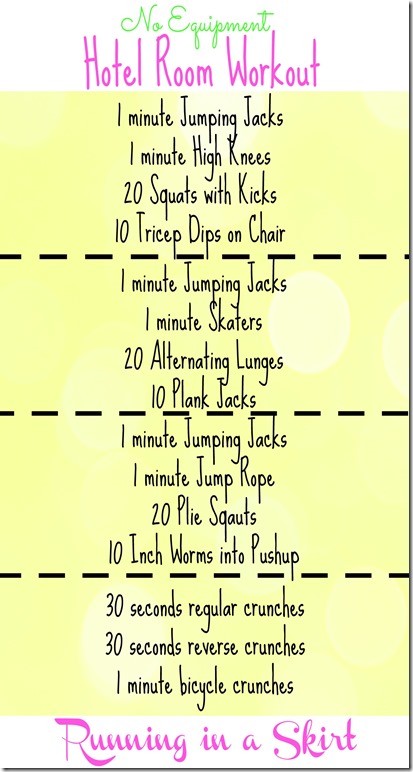 Links just in case you don't know the moves:
Thanks for stopping by today guys! I hope you enjoy the workout as much as I do.
I'm off to work some sort of exercising that doesn't involve my foot... it might just be 10 minutes of abs, but I'm sure anything will make me feel better.
Tomorrow I have a simple, yet delicious trick to make your own homemade salsa in minutes. So delicious and simple!
I'm linking this post with Wild Workout Wednesday and Wow! Workout Wednesdays. Also Jill Conyers for Fitness Friday. Thank you so much ladies for the link up party!
Your turn!
Do you workout on vacation?