Hate yellowing teeth? Here's how to keep your smile bright!
This is a sponsored conversation written by me on behalf of Oral-B and Crest at Sam's Club. The opinions and text are all mine.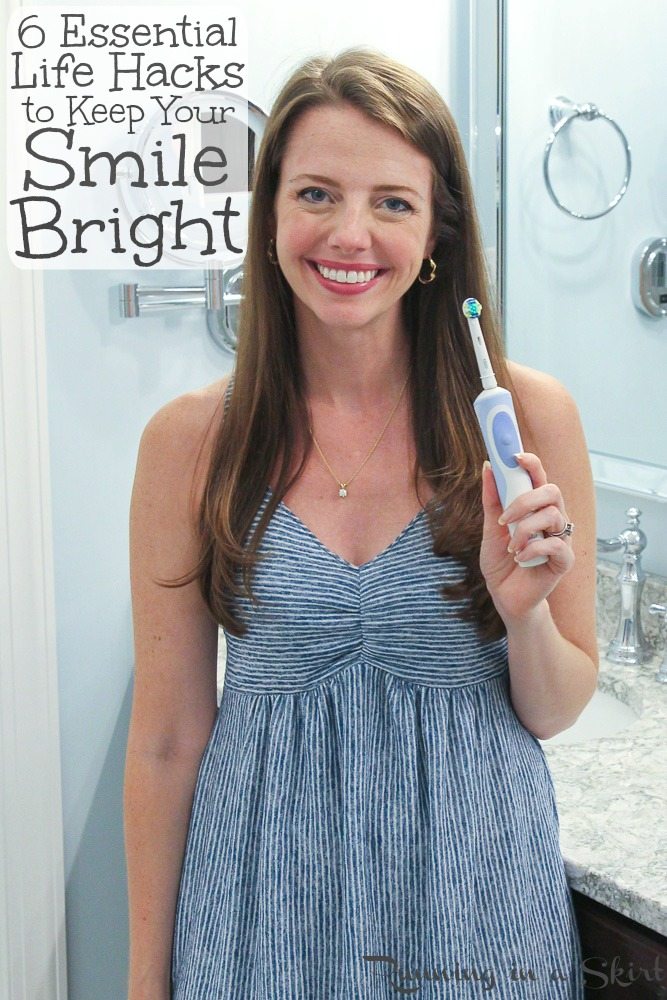 Hi guys!
We are all drawn to people who smile. Research has shown that more than 80% of adults say the first thing they notice about others is their smile. A simple genuine smile is a warm gesture of universal kindness. It can lift someone's day, regardless of their language or circumstances. Smiles bring people together. Smiling is also contagious, relieves stress and can help you be optimistic. I even had a dance teacher growing up tell me that anyone looked a lot prettier with a smile. So I started smiling even more for ballet performances and it just kind of stuck and became my thing. I'm a smiler and like many folks, my smile is my calling card.
My smile hasn't always been so bright, which is why I appreciate what I have now. I had a gap in between my front teeth growing up that braces fixed when I was a kid. My teeth started moving again a few years ago and I even got a set of invisible braces to slide them back into place because I was afraid of it coming back. My teeth also aren't even as naturally white as you'd think. As a kid I had a few dark spots removed off of them and they naturally aren't very bright so I have to work hard to keep them this way. I know how important a smile is, so I take mine very seriously. To help you do the same, I thought I'd share some of my tips on how to keep your smile bright.
How to Keep Your Smile Bright
Keep Your Dental Appointments
I'm a big tea drinker, so I am always getting stains on my teeth. For some reason, it seems to collect behind my front bottom teeth. Luckily I keep regular dental appointments and my hygienist is a rock star who diligently gets them back off every six months. Keeping those slightly annoying dental appointments is a big thing I do to keep my smile bright.
Drink Water After Coffee or Red Wine
Now most articles about how to keep your smile bright would tell you to stay away from drinks that stain your teeth like coffee, tea or red wine. For me, tea and red wine are two things I love and bring me joy so I'd rather just deal with the stains. My trick is to keep water nearby after you drink a staining drink and rinse your mouth out as soon as possible. Bonus points if you happen to be home and can brush your teeth after drinking.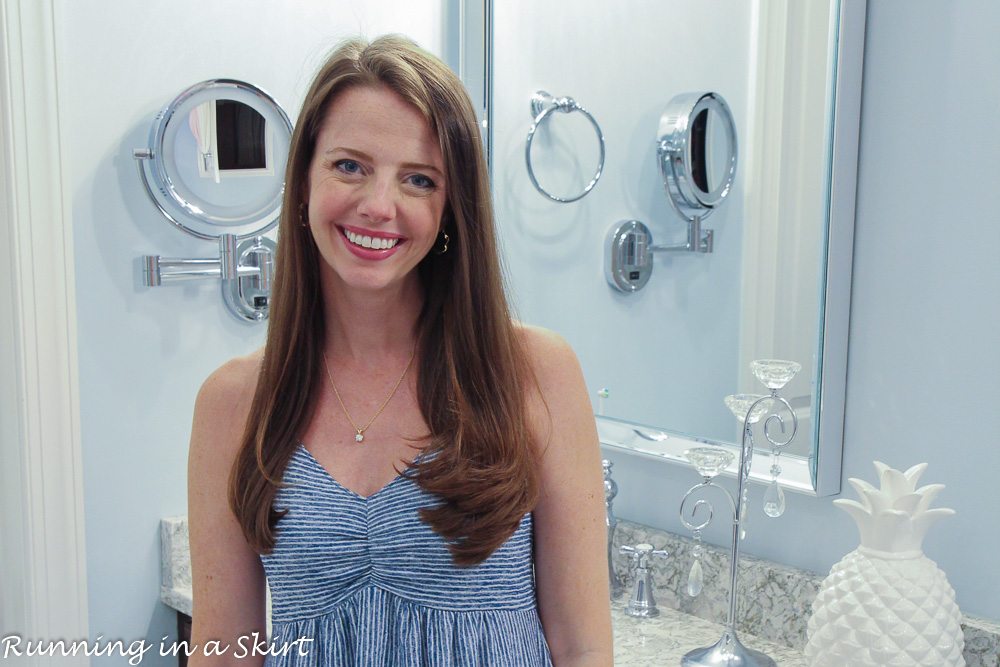 Use an Electric Toothbrush
I've had an Oral-B Electric Power Toothbrush for as long as I can remember. My dentist says it is the best thing to brush your teeth with and I agree. It gives your teeth that sparkling clean feel and helps you stay on top of stains. It even removes up to 100% more plaque than a manual toothbrush.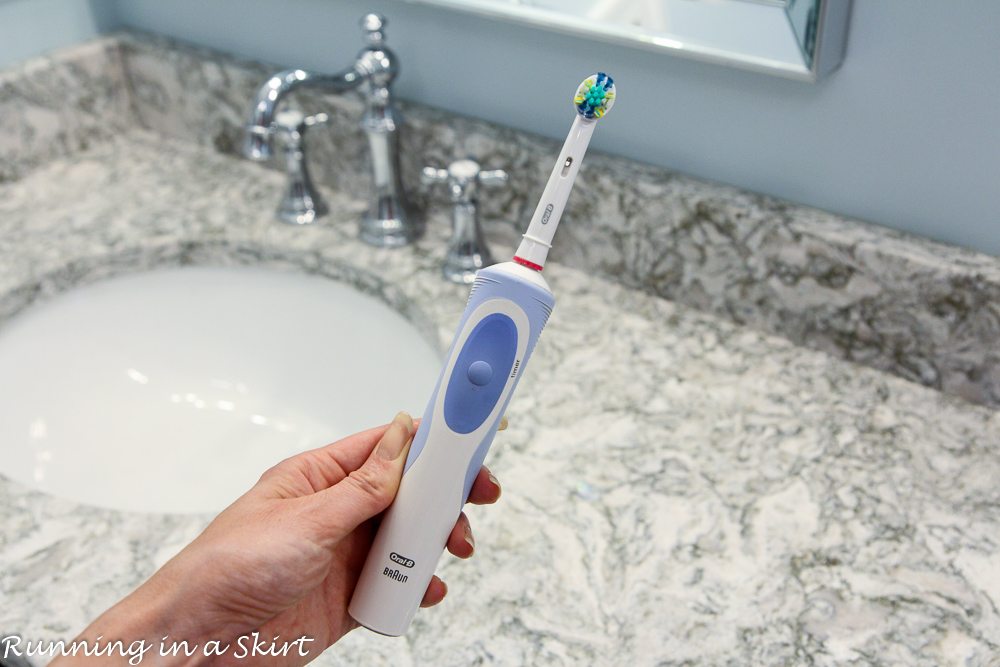 I love mine so much that I even have a travel version because I can't stand how my teeth feel after cleaning with a manual toothbrush. I honestly think it makes that much of a difference in my daily dental routine. My dental hygienist always comments on how clean my teeth are and I credit this toothbrush.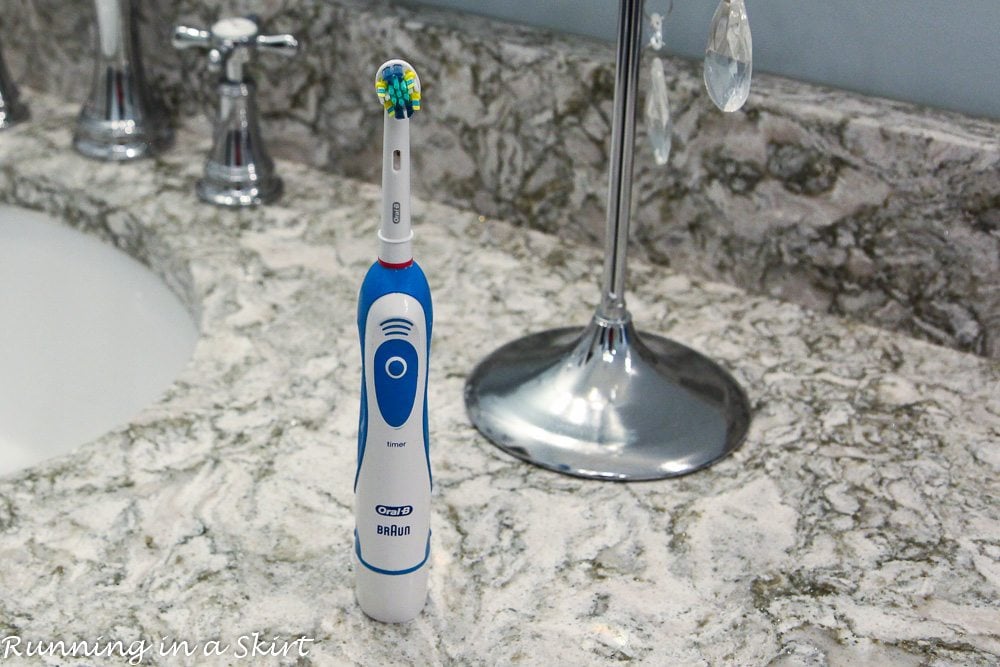 I stock up on the replacement brush heads at Sam's Club because I can get eight in a pack. The Hubs also uses and Oral-B so we go through them all. Until June 3rd Sam's Club is having a $8 off Instant Savings which means you can get the eight pack for less than $32.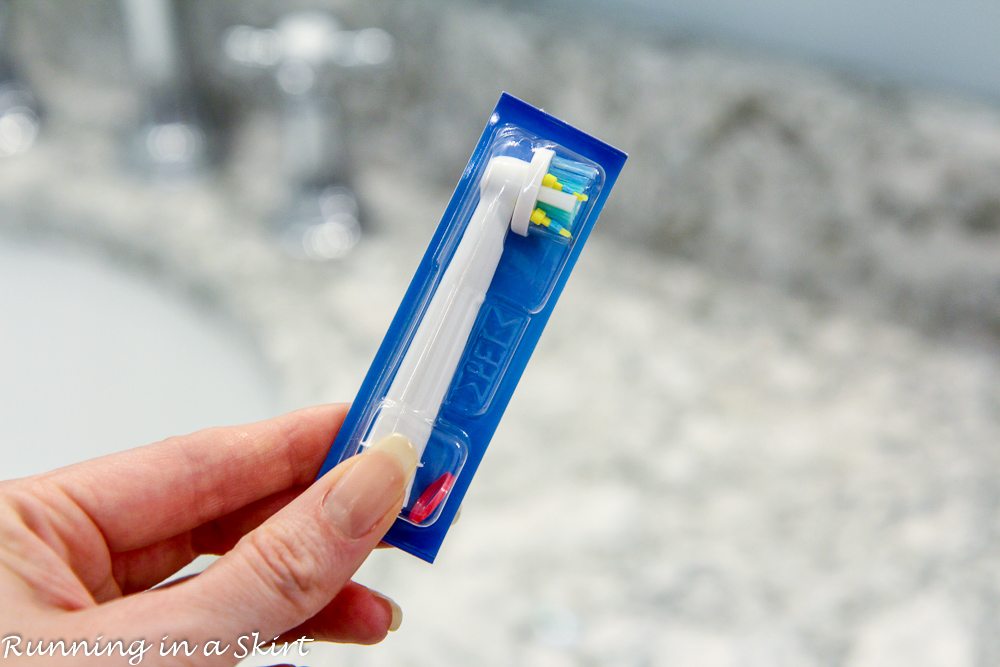 Getting an Oral-B is a game changer in how to keep your smile bright!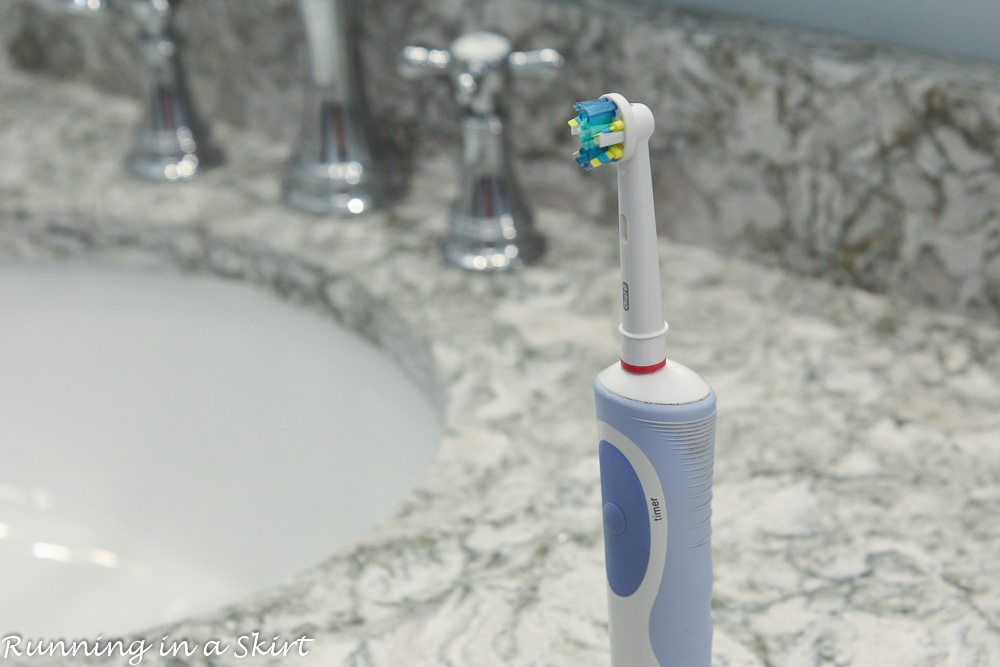 Switch to Whitening Toothpaste
My dentist also told me that if you're not whitening your teeth you're yellowing. That's why I love using the Crest 3D White Toothpaste. It whitens teeth by removing 80% of surface stains AND protects against future stains. It also protects your teeth against cavities.
I feel like I'm winning that yellowing battle with this stuff.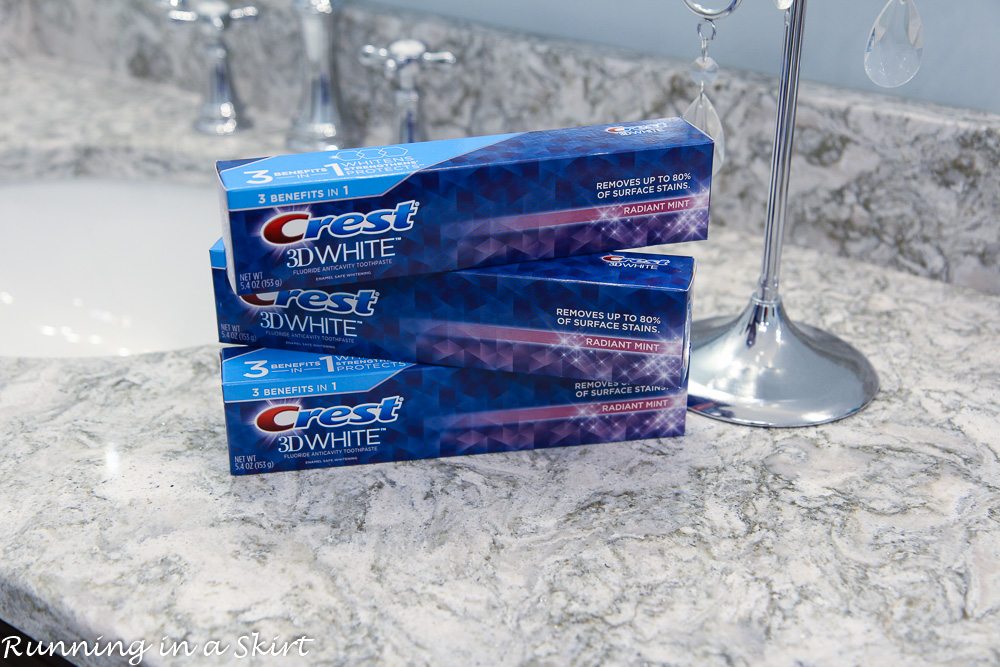 Sam's Club is also offering a $2 instant savings on Crest 3D White Toothpaste until June 3rd making five tubes less than $12.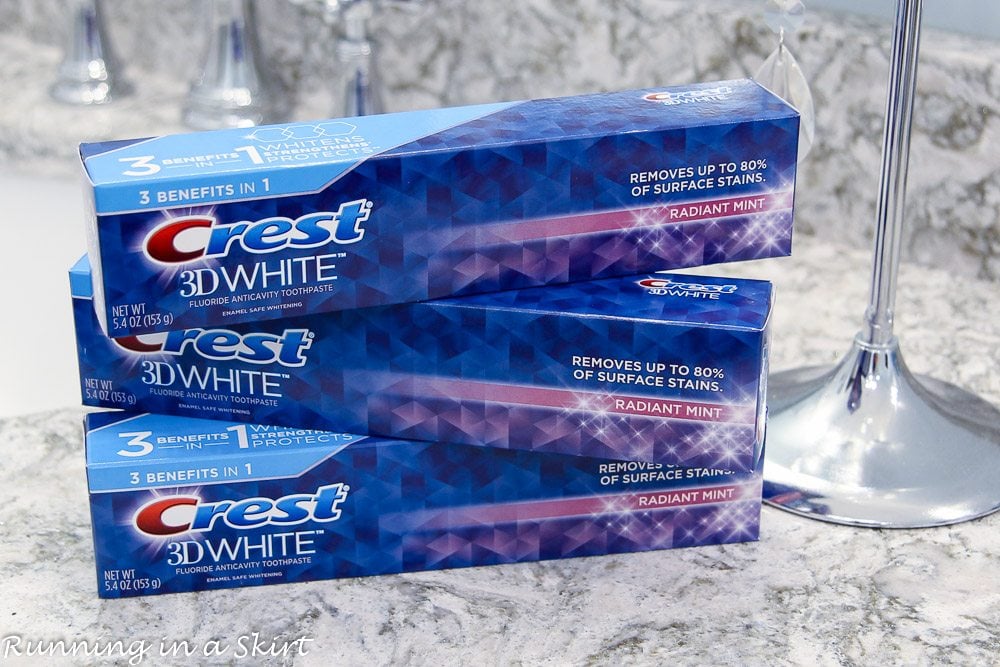 Don't Forget About a Whitening Mouthwash
Whitening mouthwash? YASSS!! I love this stuff and swear it helps especially if you love all those teeth staining drinks like I do.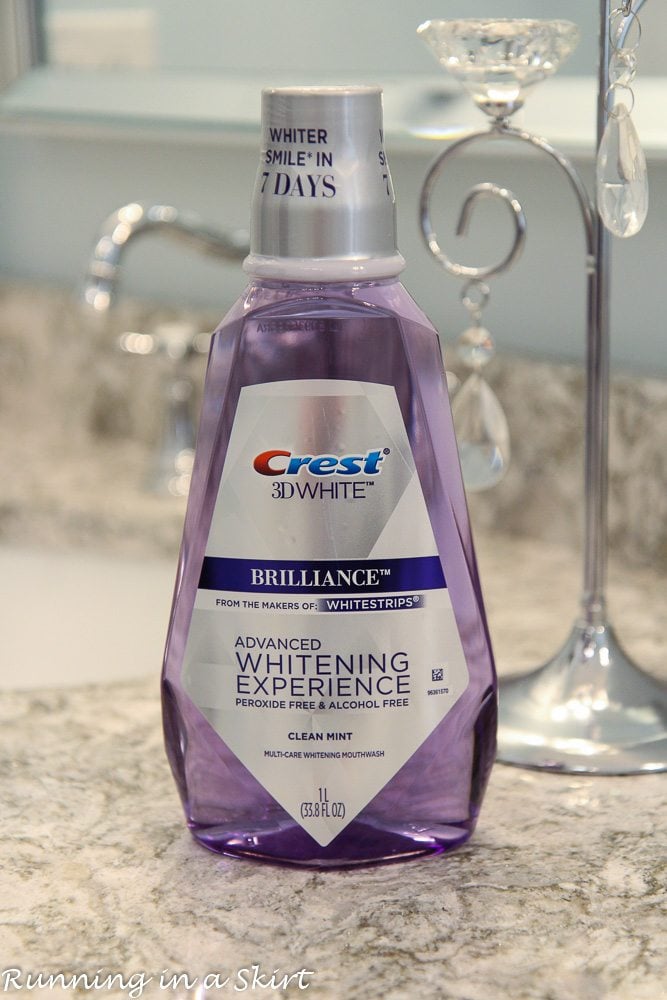 Crest 3D White Brilliance Whitening Mouthwash is another product I love and swears makes a difference.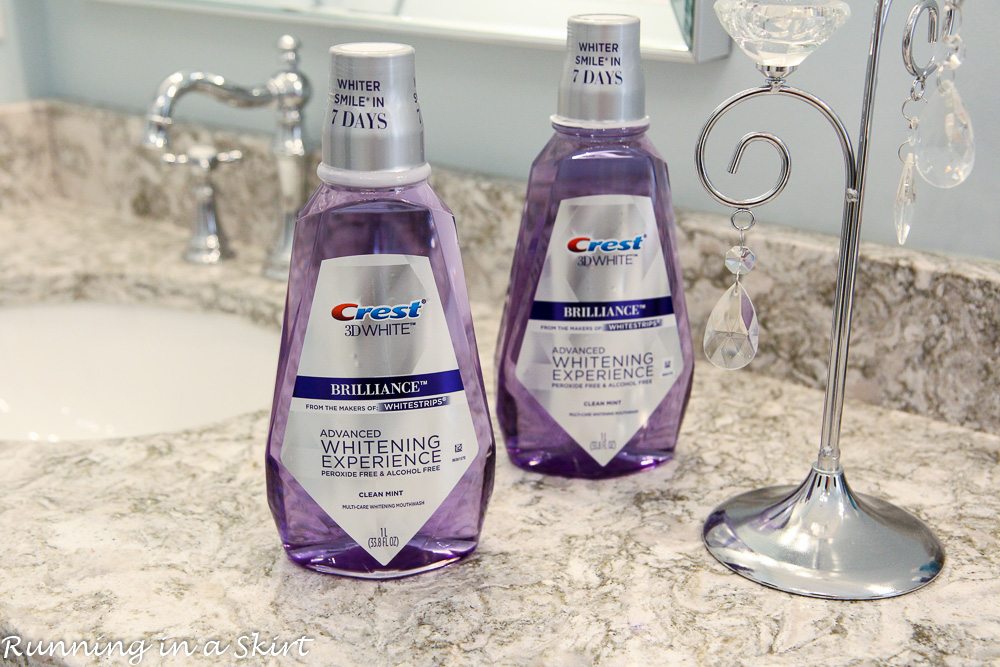 It's peroxide and alcohol-free and gives you a whiter smile in 7 days with brushing to remove surface stains. It's also on sale at Sam's Club with a $2 Instant Savings making two HUGE bottles less than $8.
At Home Whitener
Even with doing all of these things, I still notice some yellowness build over the course of a year or year and a half. When I feel like my teeth need a good makeover that's when I like to use an at-home whitening kit. Crest Whitestrips are one of my favorites to jump start your bright smile.
Oral-B and Crest at Sam's Club
Oral-B and Crest are helping you with you save money and get a bright smile! Now until June 3rd they are offering over $40 of instant savings. Here's the highlights...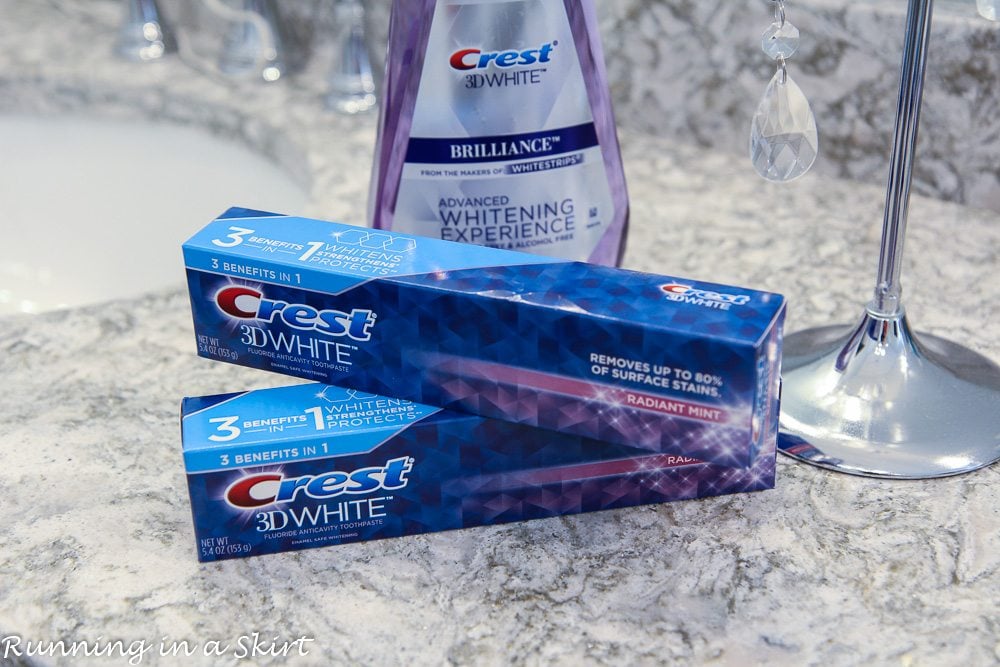 Happy shopping!
Like this post about how to keep your smile bright? Pin this to your favorite Pinterest board!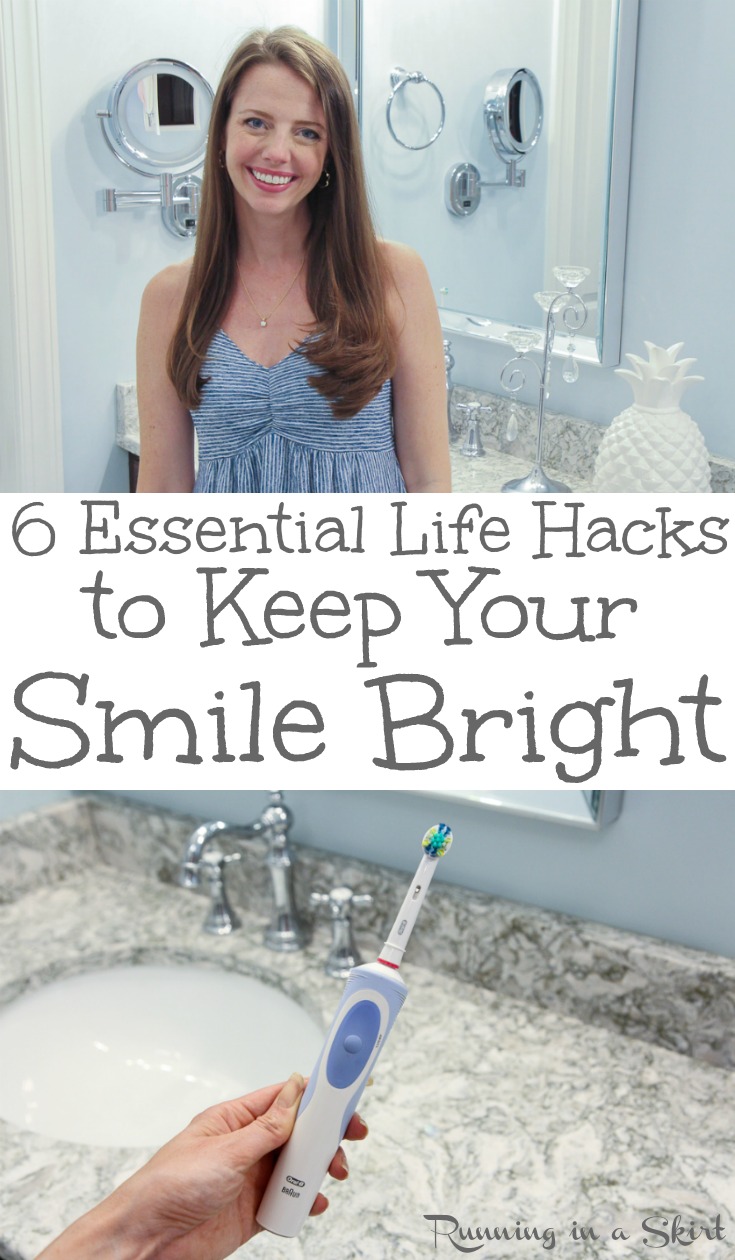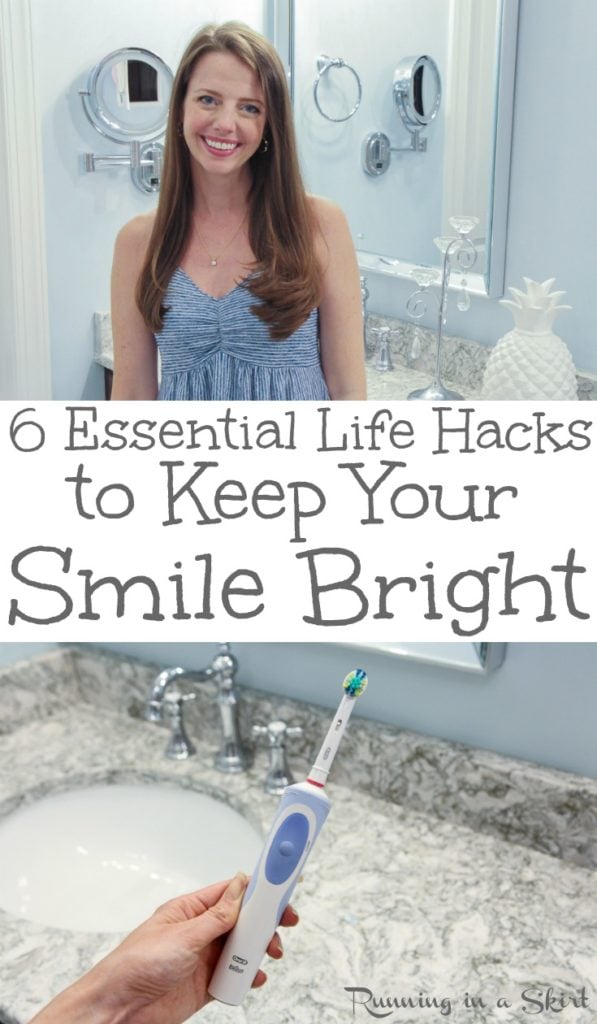 Want more health posts?
Your turn!
How do you keep your smile bright?