My big running comeback hit a bit of a roadblock following the Bele Chere 5K in late July.
Immediately following the race I was mentally ready to push myself farther and faster. I had my eyes on the Apple Festival 8K this past weekend as my next race. I set out the first week of August to push my 3 mile time well below 30 minutes AND to start adding miles so I could race the 5 mile distance.
You may be able to guess where this story is going. It turns out I pushed a little too hard, too fast. My hips started bothering me the week after the Bele Chere 5K. Even though the "pain" was minimal, I knew I had triggered a problem. The trouble spot reminded me of the injury I had with my hips at the end of marathon training last year. I believe the combination of adding too much speed to quickly AND running hills I had not trained on during the 5K caused the problem. Luckily I caught it early and was able to make a quick plan to relieve the hip problems.
MY HEALTHY HIPS PLAN…
1- Take 5 days off running (or until I don't have any pain)
2- Do lots of running related yoga. Including my Christine Felstead Yoga for Runner's DVD's.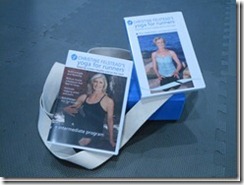 *I LOVE these DVD's and really think they help me from getting injured- Read my review of them HERE*
3- Do strength work that focuses on hips… Hello lunges!
4- When running again- don't push my time for several weeks.
I made one more important decision for my running health; no Apple Fest 8K this year. Even though I really wanted to do the race, I decided it was NOT in my best interest to amp up my miles and speed so quickly. I would rather be running healthy and SLOWER than not running at all. I really envy people who seem to be able to run so fast without triggering injuries. I am not one of those people. I have to find a balance between striving to do better and staying injury free. My hips don't lie about a potential injury!
My "healthy hips" plan worked. I am now a few weeks back into full time running without triggering more hip problems. YAY!
These are my watch times from my last three weekend runs. I haven't been pushing too hard but I am seeing some natural progression.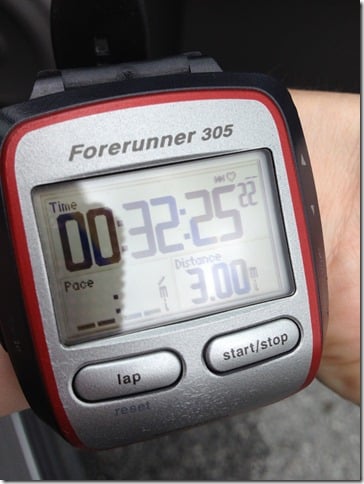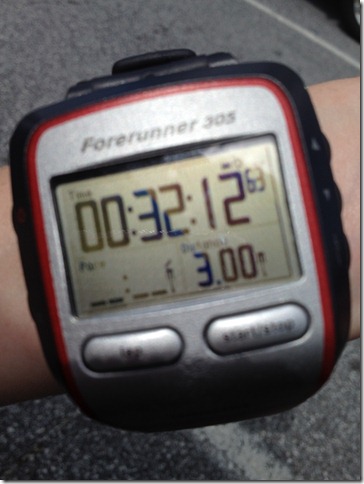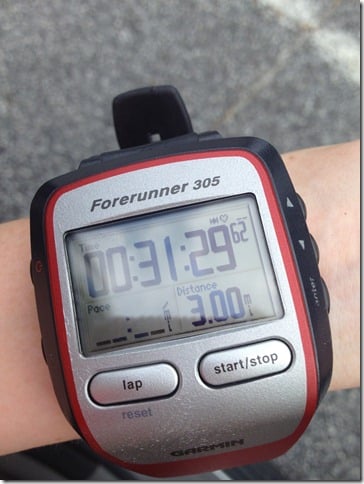 And here are my last 2 weeks workout boards…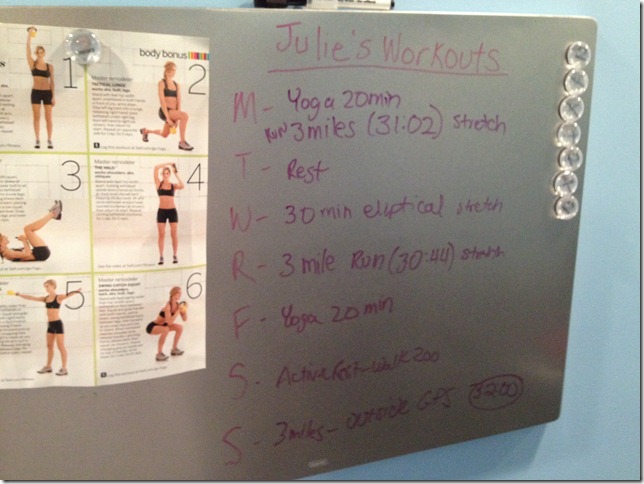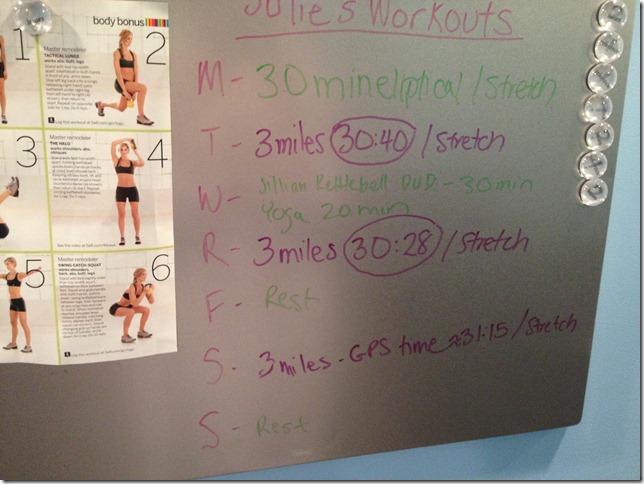 My treadmill 3 mile time is back to 30:16 as of yesterday and my goal is 29:59 in a week or two.
I lost a little momentum with my comeback, but I've had two good training weeks with no injuries or lingering hip pain. I feel back on track to start running faster again. Hopefully my hips have gotten stronger and with a little TLC they will not give me any trouble this time around!
----------------------------------------------------------------------------------
QUESTIONS:
DO YOU HAVE ANY INJURY PRONE AREAS YOU HAVE TO WATCH OUT FOR WHEN YOU RUN?
HAVE YOU EVER MADE A COMPLETE RUNNING COMEBACK? HOW LONG DID IT TAKE YOU TO WORK BACK TO YOUR PREVIOUS TIMES?
HAVE YOU EVER DECIDED THAT NOT RUNNING A RACE WAS IN YOUR BEST INTEREST?