NIGHT ON THE TOWN
I feel like Asheville puts on a show on Friday nights. My little mountain city has always been eclectic and lively at dusk, but it seems like it has really grown into its own in the past few years. Everywhere you turn there are people playing music, dancing and embracing the not so ordinary. The city seems like it's own entity, a living breathing work of art.
I feel like the rest of the world is catching on because every time we have gone downtown this summer it has been packed with tourists. I guess the word as gotten out on how cool Asheville is!
One of my favorite things to do, especially in the summer, is to go downtown to eat on Friday and on the way to dinner just walk around and see some of the craziness. I know it's the official Asheville public relations tag line to "Expect the Unexpected"… but it is so true because you really never know what you will see.
This past weekend the hubs and I went out for dinner and a walk. Asheville didn't disappoint. It seemed like the city was just holding onto the last bit of summer.
On our way to dinner we saw these guys…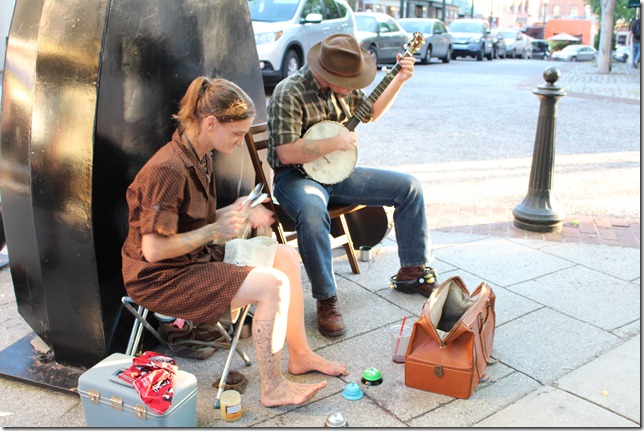 And this tree that someone had decorated in the middle of the night….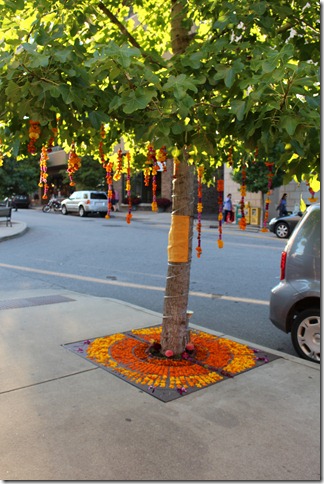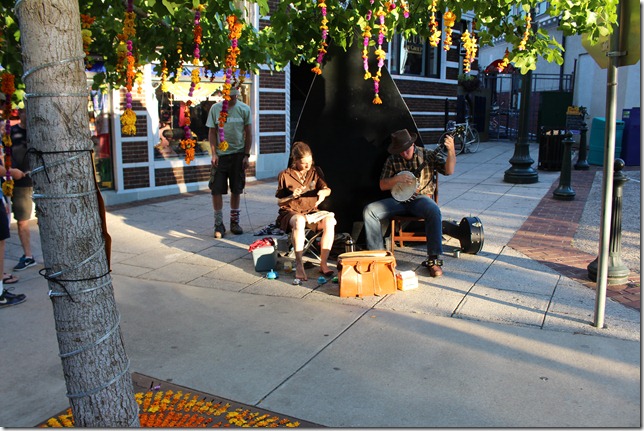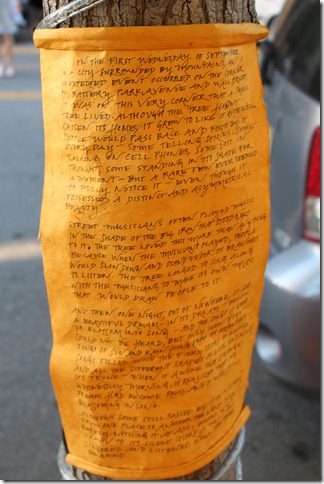 My mom would have loved this! She loved trees and Asheville's hippie spirit.
The drum circle (of course!)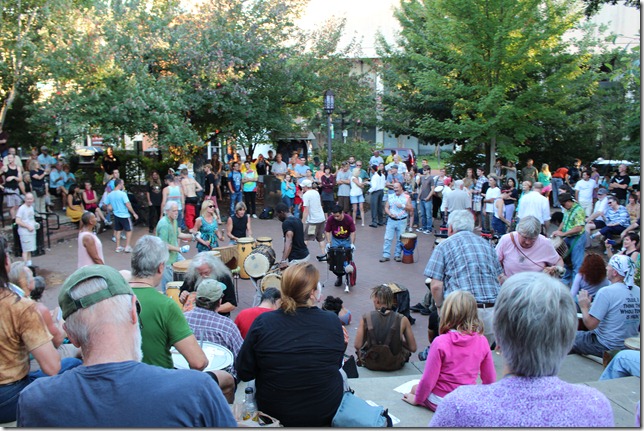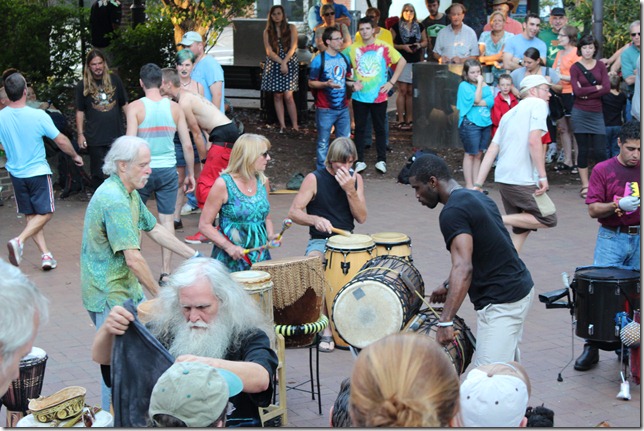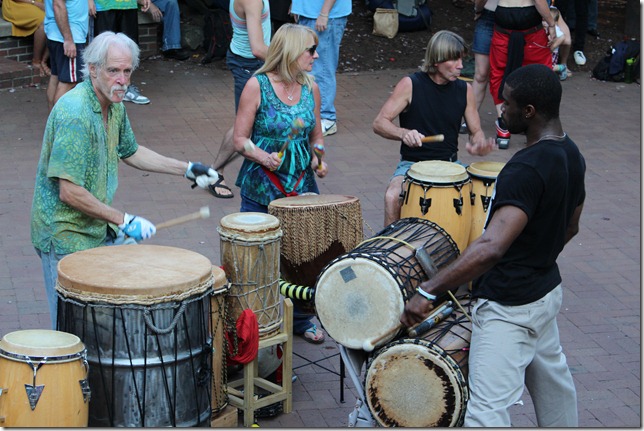 The folks giving away water at the drum circle…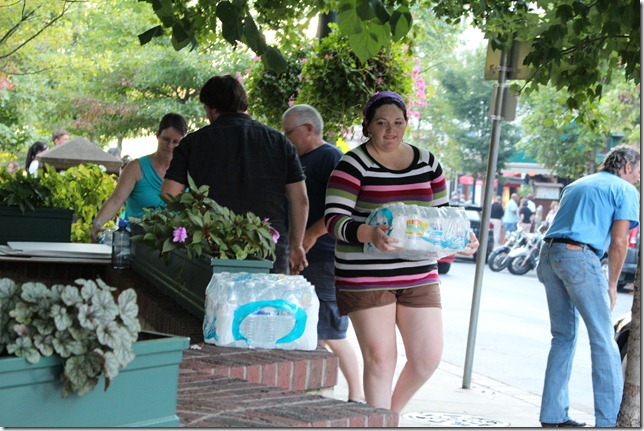 The purple bus….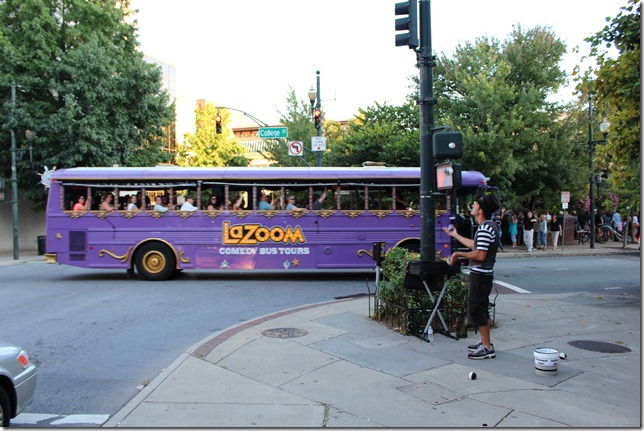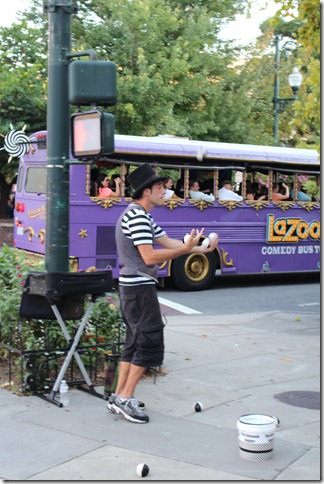 And the brand new "pubcycle…"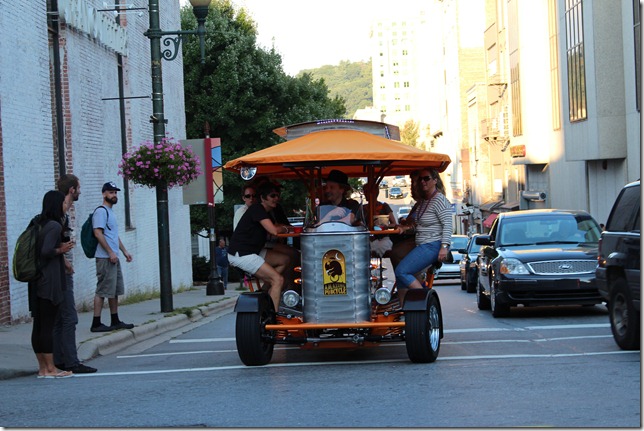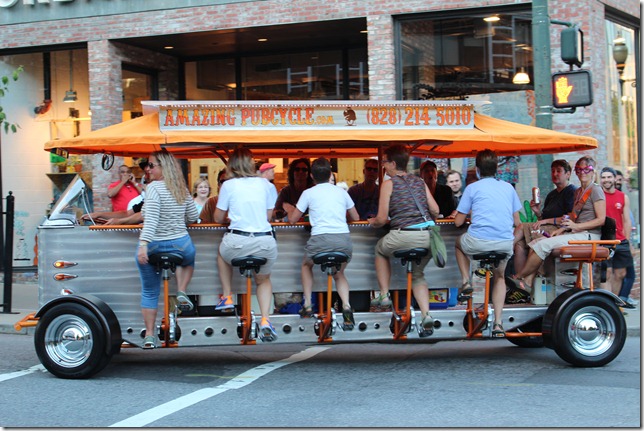 Mental note… must try this….
We meandered through downtown until time for our dinner reservation at Strada, which is one of my favorite places in town. We loved it before we went to Italy, but now we love it even more because it feels like authentic Italian food and reminds us of our trip.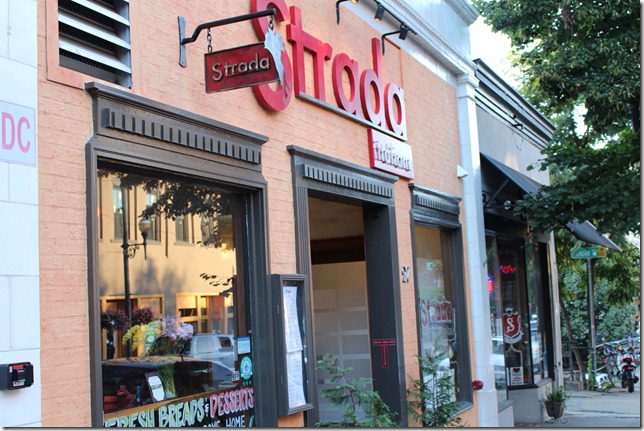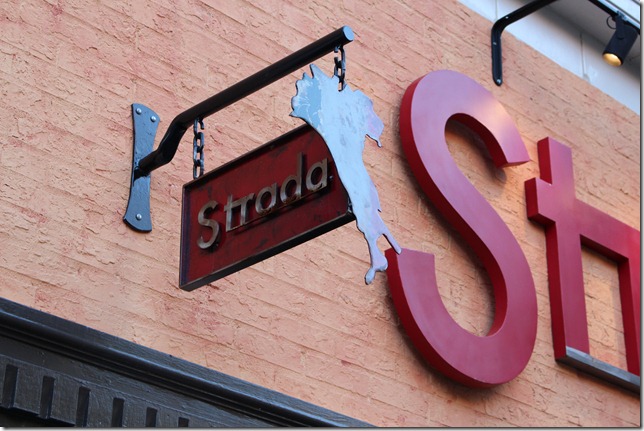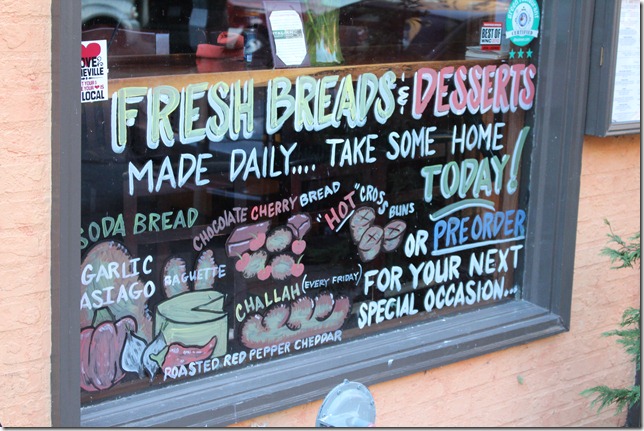 A perfect "Asheville" evening.
GLORIOUS MORNING RUN
After a beautiful Friday night I woke up Saturday morning for my run. It was cool and crisp outside and the fog was still hanging low over the trees. It was one of those mornings where you just love running and living in Western North Carolina. There is something magical about running in morning fog.
With the perfect weather something just clicked and without too much effort look what I did…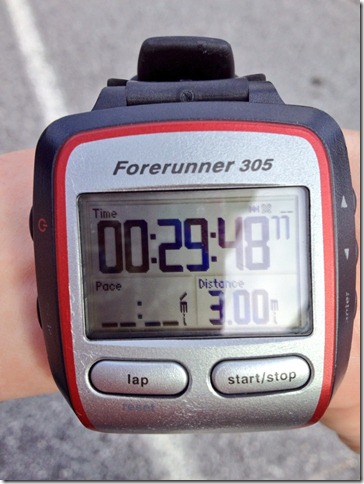 I finally broke 30 minutes in my 3 mile time during a regular run.
I am just starting to think this running comeback might eventually happen.
PRAYERS FOR FRIENDS
There was something about this past weekend where I just felt the need to embrace life and enjoy the moment. Twice this week I was reminded at just how short and fleeting life can be.
One of my coworkers and friends Tommy Greenwood passed away after a brief and unexpected illness. And my good friend Russ, who recently moved to Seattle, lost his Mom after some ongoing health struggles.
And this may go without saying, but when things like this happen, I end up really spending a lot of time thinking about my Mom. I think about her daily, but these two events left me really missing her and wishing I could talk to her one last time. I'm sure Russ and Tommy's parents are going through similar feelings right now. It hurts.
Death reminds us to live. To find something glorious in everyday.
I didn't want to start off the blog with such sad news, but I didn't want to ignore it either. So I will just end with asking you to pray for my friends, live for the moment, and tell your love ones how much they mean to you.
-----------------------------------------------------------------------------------------------------------------------------------------------------
WHAT IS YOUR FAVORITE PART OF YOUR DOWNTOWN?
ARE YOU ENJOYING FALL RUNNING WEATHER?
WHAT DID YOU FIND GLORIOUS ABOUT TODAY?