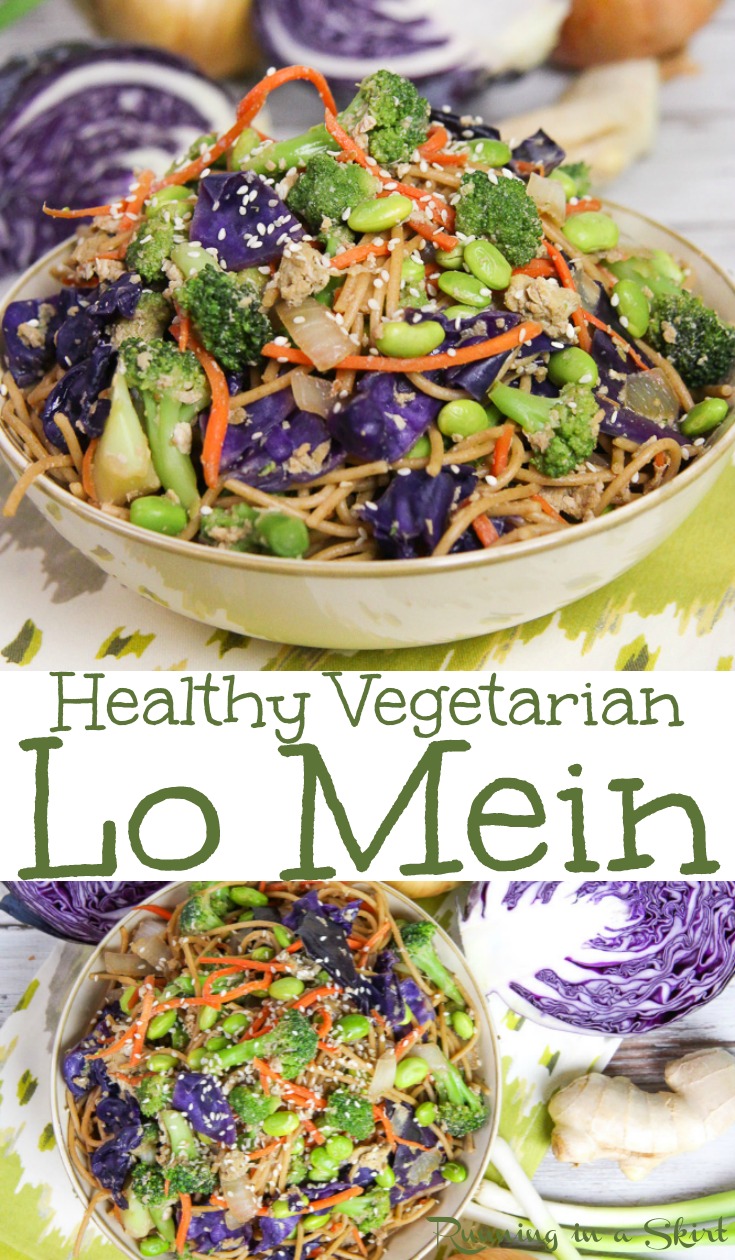 This veggie PACKED dinner is filled with color and protein! My Healthy Vegetarian Lo Mein recipe is a must try.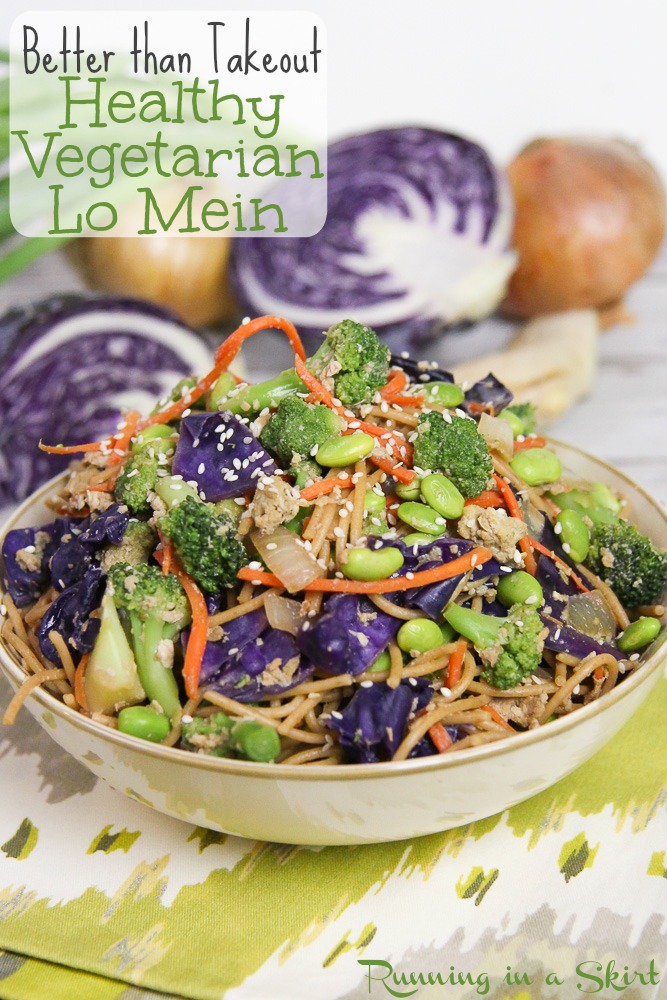 Hello! Hello!
This weekend was MUCH better than the last one. The Hubs and I finally got our night out and the babies stayed well. We needed a good weekend and we got one.
Today it's back to the grind and that means back to cooking some healthy weekday dinners. I thought I'd share a new idea with you today... a Healthy Vegetarian Lo Mein recipe. Takeout is great, but my version will take you about the same amount of time AND is packed with so much more goodness. It has a rainbow of vegetables and healthy vegetarian protein including eggs, whole grain pasta, and edamame. Plus this pretty dish is cooked in JUST ONE PAN! Can I get three cheers for that?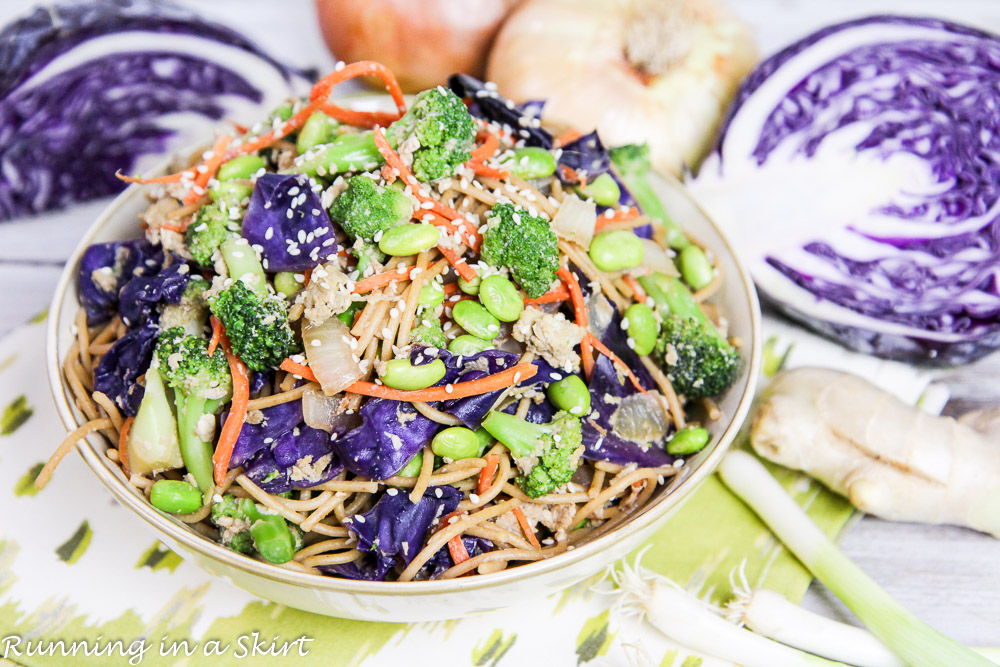 Healthy Vegetarian Lo Mein recipe
This Healthy Vegetarian Lo Mein recipe could not be easier! You start with your favorite whole grain spaghetti (ALDI has a fabulous one!) and add super easy pre-cut frozen broccoli, carrots and edamame to pasta water. ,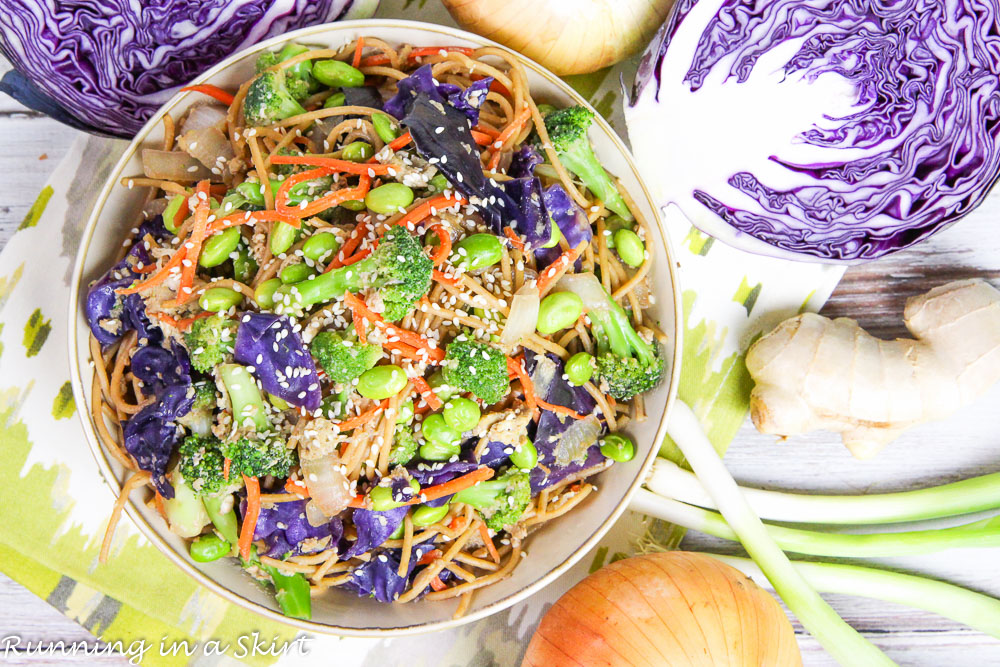 Next you pull the spaghetti, brcooli and edamame out of the pot and set aside. In the SAME pot, you then cook more colorful veggies like purple cabbage and onion in garlic and fresh ginger. Next, you scramble an egg and toss it all together with soy sauce.
It's just a couple easy steps to get a flavor and veggie packed homemade version of Healthy Vegetarian Lo Mein recipe. It's free of whatever strange things they put in a lot of Chinese takeout and filled with lots of flavors.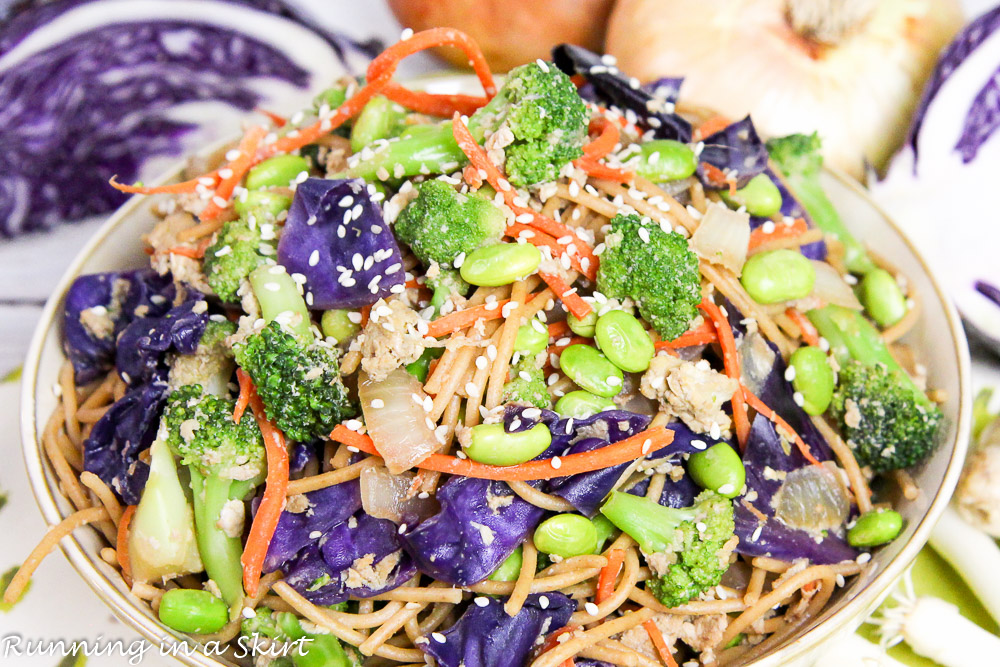 And with rainbow vegetables like this, I dare say it's even better than takeout!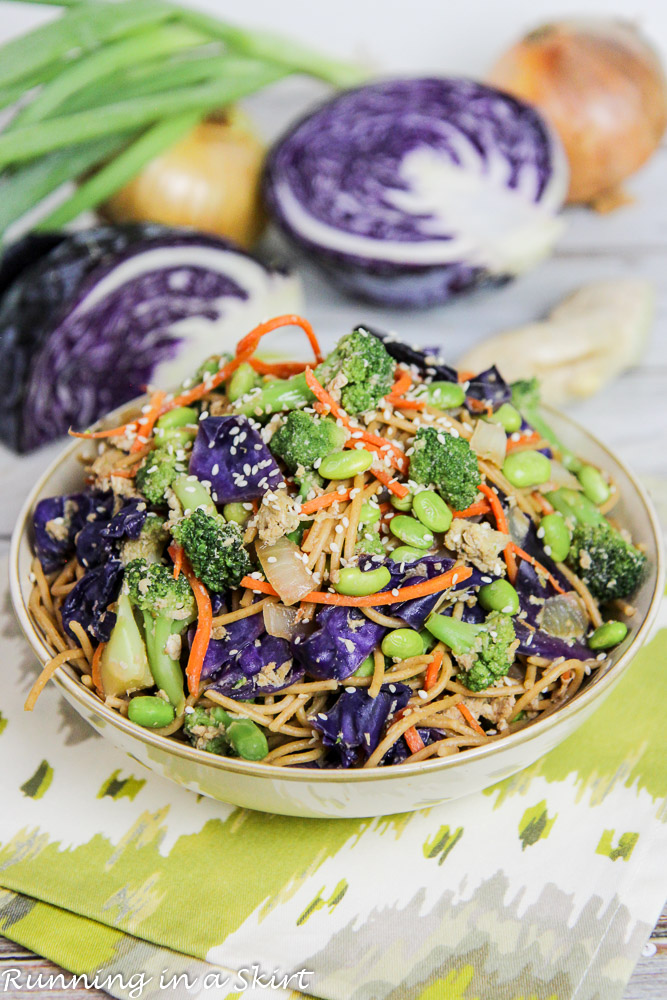 Give this hearty, vegetable-filled dish a try a try and let me know what you think!
More fast vegetarian dinner ideas...
Like my Healthy Vegetarian Lo Mein recipe? I'd love it if you could pin this to your favorite Pinterest board! Thank you so much for the support.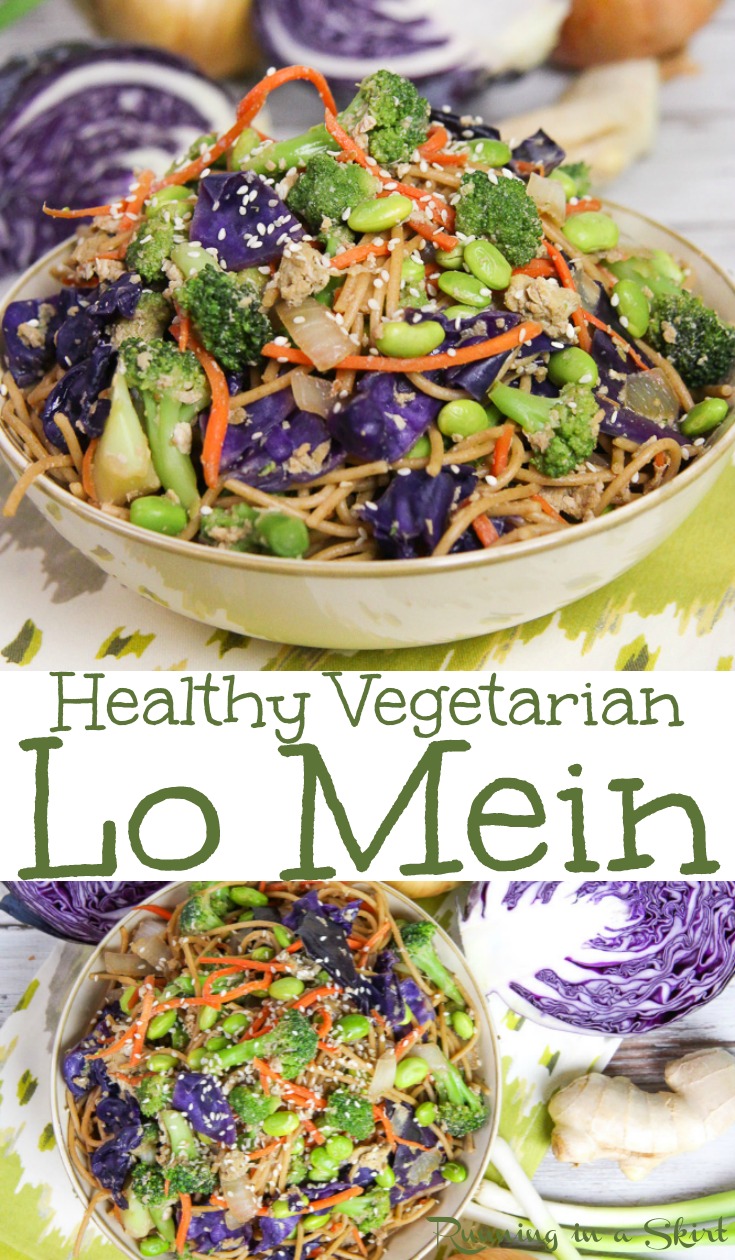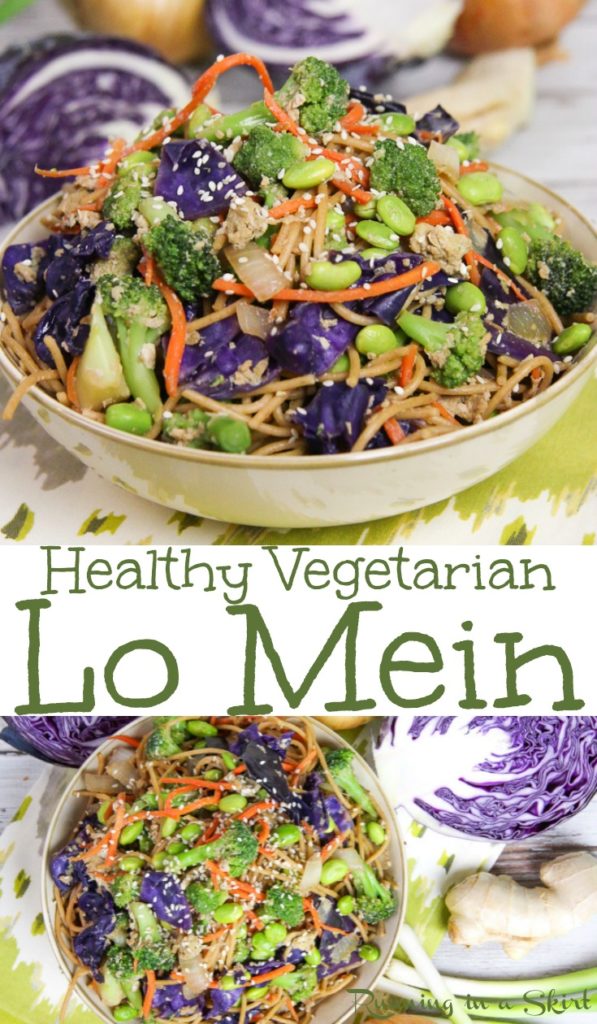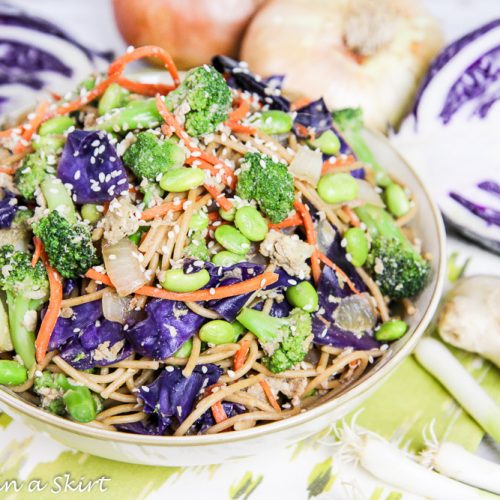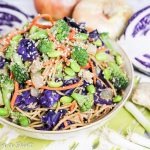 Healthy Vegetarian Lo Mein recipe
Move over take out! Try my Healthy Vegetarian Lo Mein recipe!
Instructions
In a large pot, cook the pasta according to package instructions. In the last minute of cooking add the frozen broccoli, edamame, and carrot to the pot. Drain and set aside.

In the same pot heat the sesame oil over medium heat. Add the onion and saute until tender... about 5 minutes. Add the purple cabbage about halfway through cooking. Then add the fresh ginger and garlic and saute for 30 seconds. Add this mixture to the noodle mixture.

Add the eggs and cook until scrambled. Break the eggs apart in pieces.

Add the noodle and veggie mixture back into the pot and stir until combined.

Serve with the sesame seed garnish and additional soy sauce to taste.
Nutrition
Calories:
781
kcal
Carbohydrates:
128
g
Protein:
41
g
Fat:
18
g
Saturated Fat:
3
g
Cholesterol:
164
mg
Sodium:
1855
mg
Potassium:
1839
mg
Fiber:
14
g
Sugar:
15
g
Vitamin A:
23178
IU
Vitamin C:
194
mg
Calcium:
279
mg
Iron:
9
mg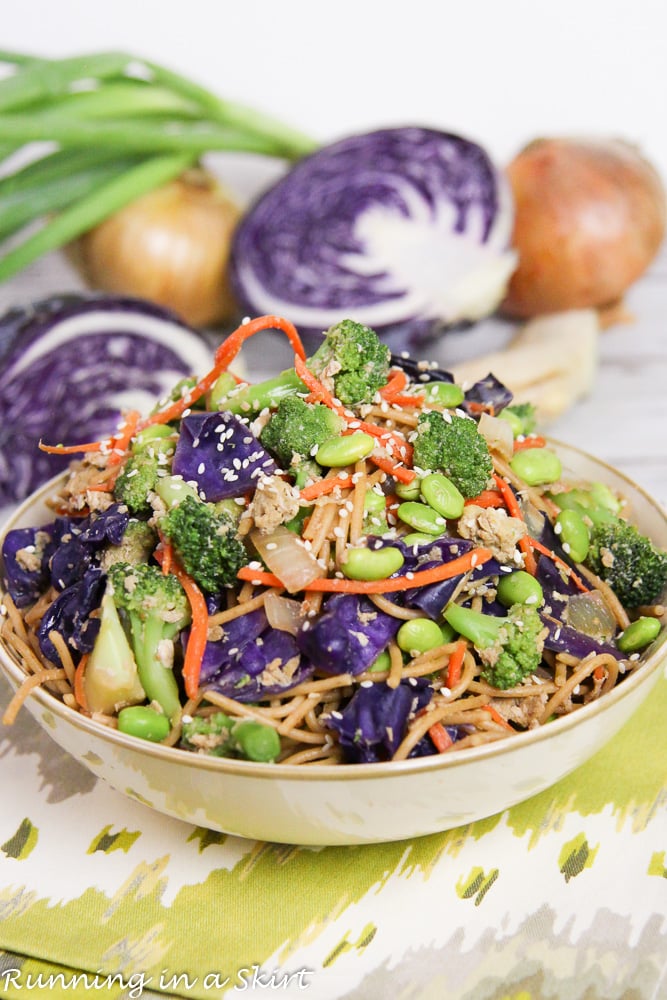 Thanks for stopping by today! Come back Wednesday for a new Things I'm Loving Lately.
Your turn!
What's your favorite kind of takeout?