Hi gorgeous readers and happy Fashion Friday!
I apologize if this is the second time you are seeing this post this week, I messed up Tuesday and somehow had two posts publish at the same time. It was basically a draft at the time, so I'm sorry if it didn't make sense. I'd blame the computer, but I think it was actually human error- DOH! So sorry about that. Thanks for hanging with me.
On another blog note, Don't forget about The Best of the Blogs linkup on Monday! Linkup your top post of the month. Don't know what I'm talking about? Read this!
Other than my screw up, what a great week! I had dinner with my local blogging buddies Susanna and Jaime AND my in-laws stopped over for a night on there way from Colombia to Pittsburgh. I've been eating all sorts of fabulous dinners this week. It's been a nice way to break up the winter monotony! This weekend, I'm helping with my goddaughter Isabella's 9th birthday party. Lot's of fun up in here!
But it is Fashion Friday after all, let's talk shopping. 🙂
When I was in Charlotte the other week I stopped by the fancy mall to walk around Nordstom for a few minutes. I love all the local stores in my town, but there is something comforting about walking into one of my all-time favorite stores. I've always liked that I can look at all the super fancy stuff, but still find some nice pieces in my budget. I also like to see what's currently on point fashion wise!
I looked through the sale rack and found this adorable and versatile long sleeve black and white tee. I thought it would be fun to mix up my regular winter uniform of leggings, tunics and sweaters. It's a great tee because it's long enough to wear with leggings. It's even cut with a high-low hem so the back is even longer.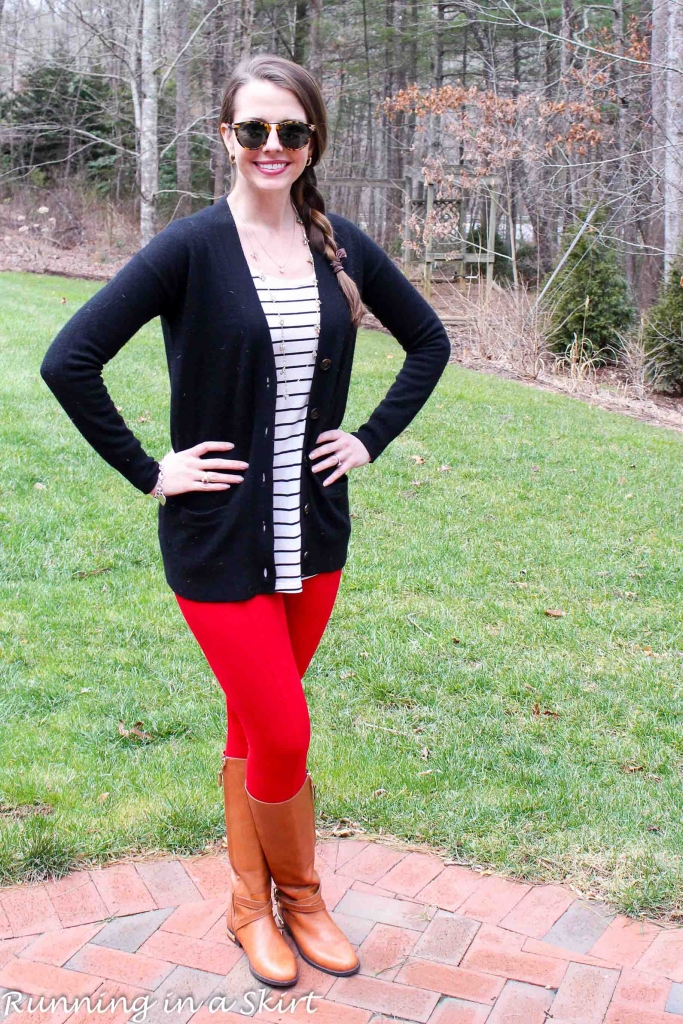 I paired the top with my red leggings! I've had these in my closet for quite some time. I don't wear them all the time, but it's a fun and easy way to mix up a look.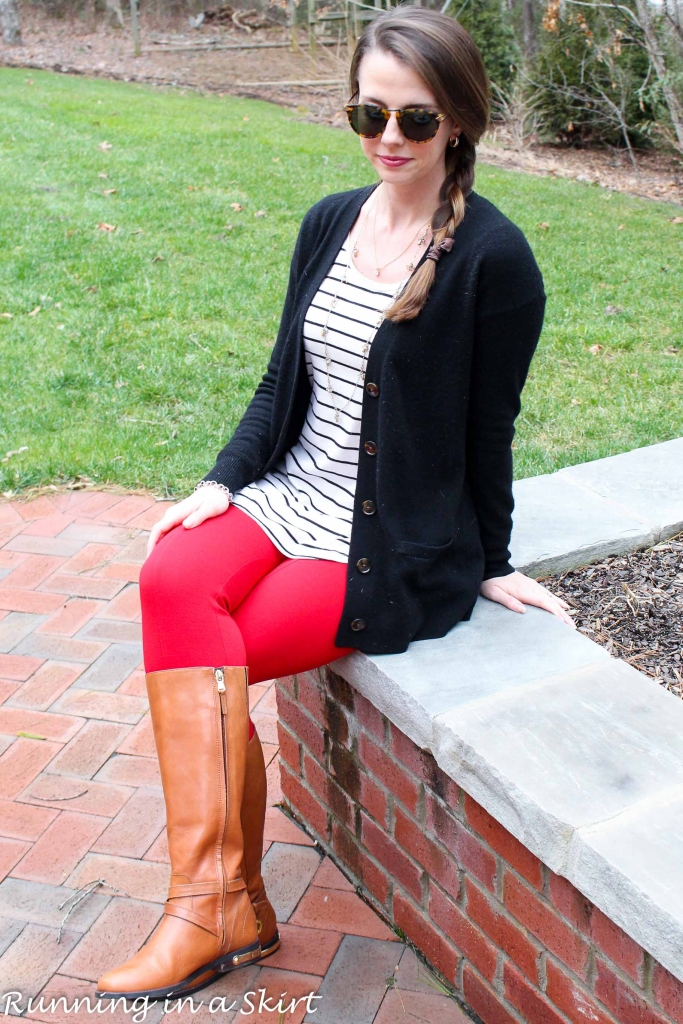 The finishing touch is my super warm and cozy drop sleeve cashmere sweater. I picked this up on an Ann Taylor clearance sale a few years ago too.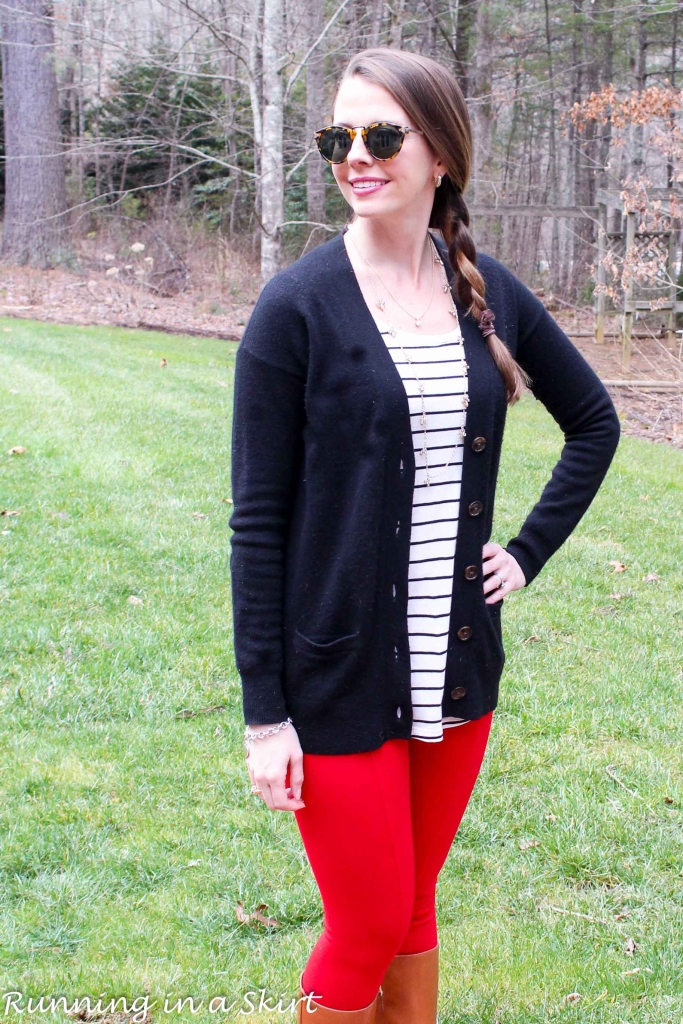 So basically this outfit is a lesson in making the clearance rack work for you! Haha! My favorite way to shop.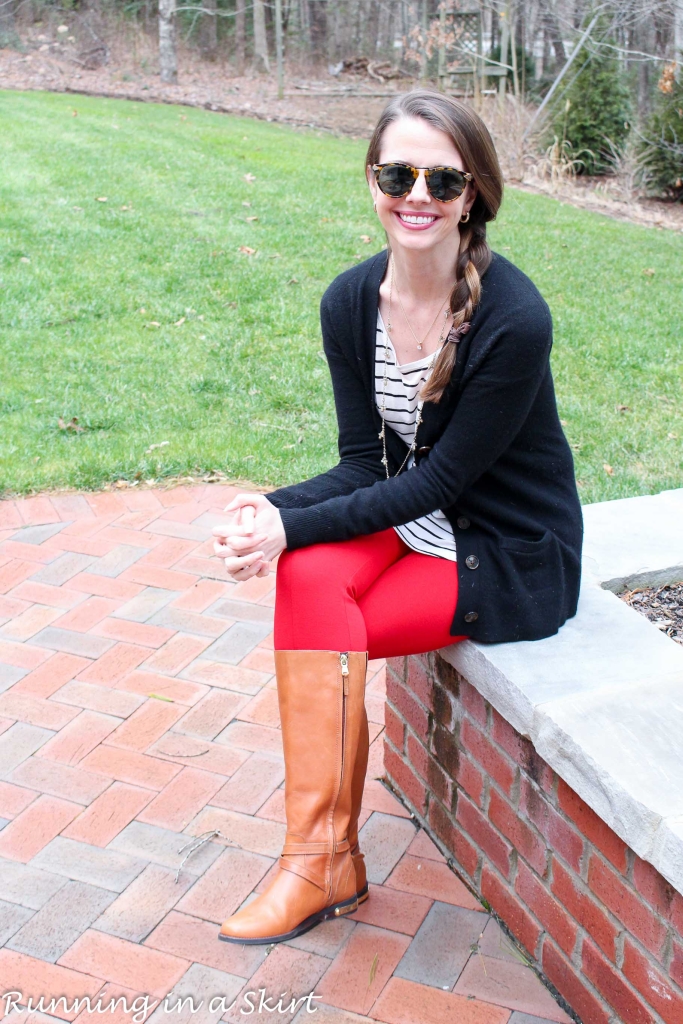 But, if you like shopping for the comfort of your own home, here are some links to get you started. I included links to this perfect BP Nordstom tee. The black and white stripe one is sold out, but the solids are still available. I like the fit and versatility of it so much, I'm considering buying a few more in solid colors. The price is right too.
Shop the Look:
Red Leggings: INC Macy's, Similar HERE <-- Free People, HERE <True Religion on sale for less than $90 or HERE <-- H&M less than $20!
Striped Shirt: BP (Juniors) at Nordstrom's, Same shirt in solid colors HERE (found the stripes on the clearance rack), Similar HERE <-- less than $30 or HERE
note: The BP tee arms are cut slim. Fits me perfectly.
Cashmere Sweater: Ann Taylor, Similar HERE <-- cashmere version or HERE <--- Less than $35
Boots: Ralph Lauren, Similar HERE (Slim pickings in boots this late in the year!)
Necklace: LOFT, similar HERE, HERE or HERE <-- SPLURGE version
So nice to see you today. Have a great weekend and come back Monday for another edition of Currently!
The above links are affiliate links. I do make a small commission for clicks and purchases. It cost you nothing. Thank you for supporting Running in a Skirt.
I'm linking up with: Nicole for the Fit and Fashionable, Tara for Fashion Friday, Fashion Friday , Jolynne Shane for Fashion Friday, Turning Heads Tuesday and Bloggers Who Inspire Me. Thank you so much for the lovely linkup ladies
Your turn!
Do you have any colorful leggings?
What are your weekend plans?