Hello! Hello! And happy Fashion Friday!
Thanks to everyone who entered the 80 Fresh giveaway. The winner is Annette Prejean. If you didn't win, don't forget you can still get meals with my exclusive RIS coupon code. You'll get 20% off if you enter SKIRT when you checkout. Don't know what I'm talking about? Check out this post.
It's been such a lovely week in Asheville. I can't get enough of this spring weather! Starting next week I'll be featuring my spring-y looks on Fashion Friday to get us in the mood for the season. Today I'm featuring another look to transition into the warmer weather.
As much as I love to shop, constantly buying new clothes is not practical for anyone. For today's Fashion Friday to shop my closet and find new ways to wear pieces I don't use very much anymore. The result was this look!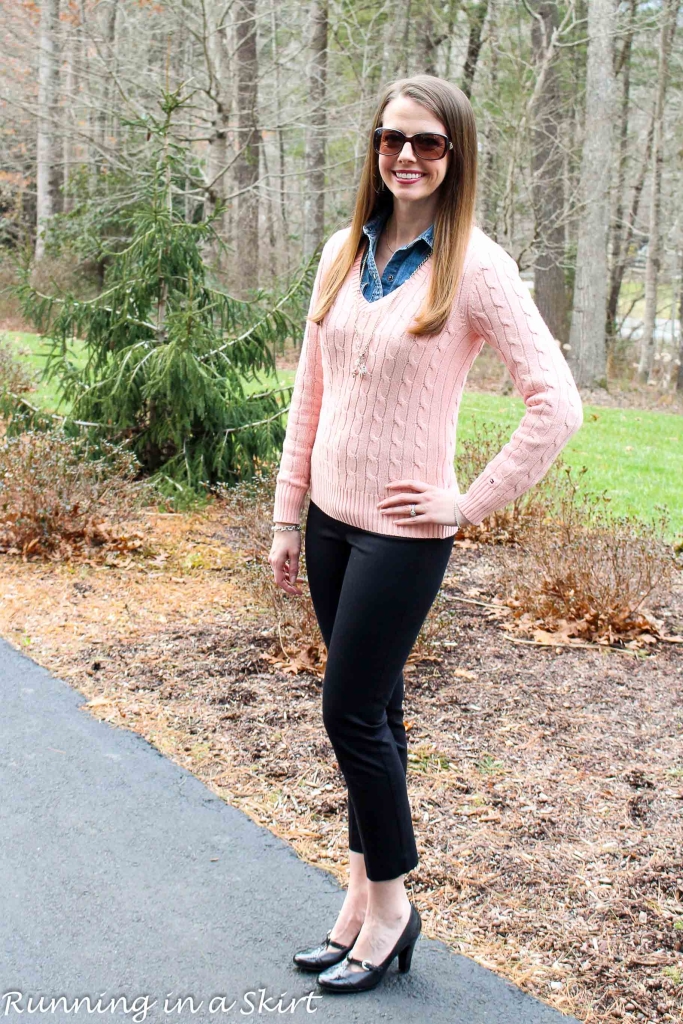 I like how the chambray shirt and menswear inspired heels, modernize this simple look.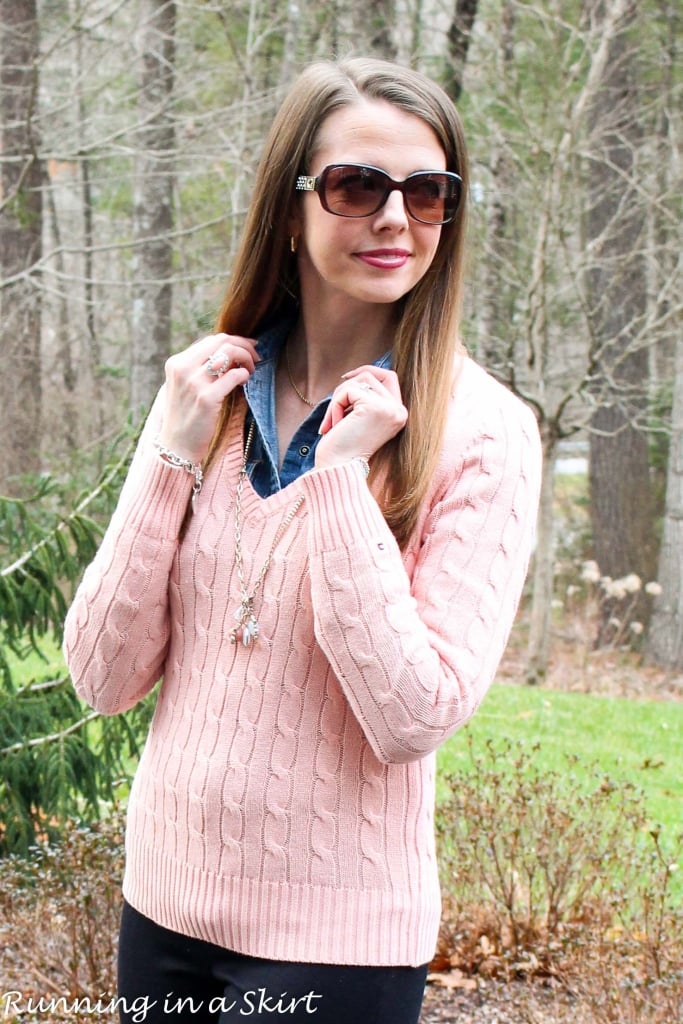 Since matching denim with everything is so popular right now, I think it instantly updates my classic peach cable knit sweater. The peach color is on point for early spring too.
The slim ankle cut pants are perfect for this season and modernize the look even more.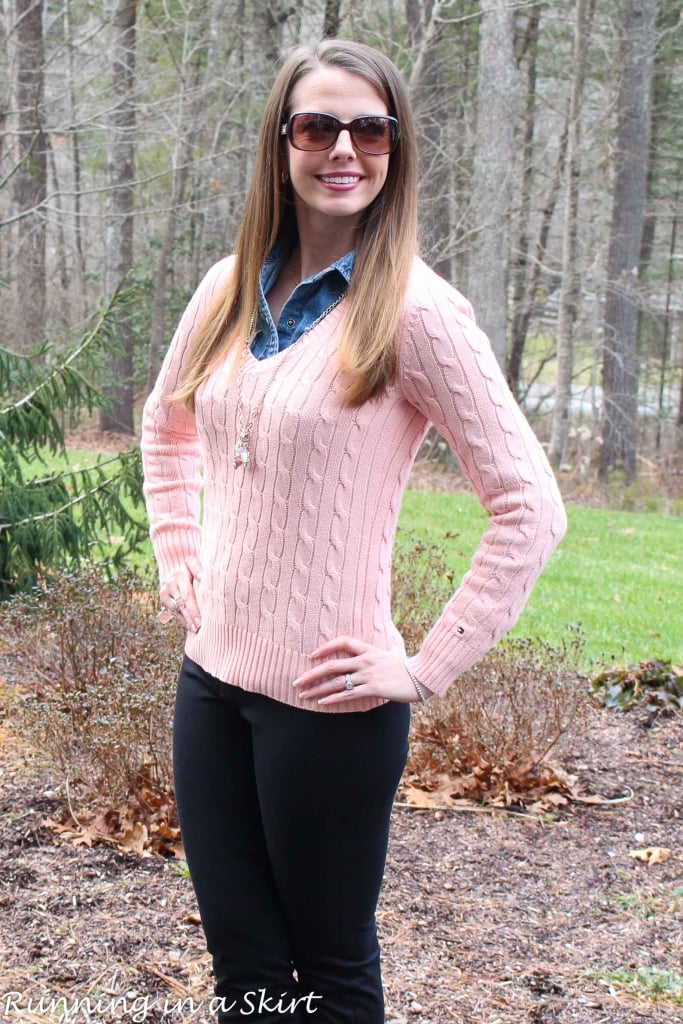 For a finishing touch I added a whimsical chain necklace and my Mom's coral ring. I layered the necklace by also wearing a simple pearl in the color. Laying necklaces is a great trick to add interest to an outfit.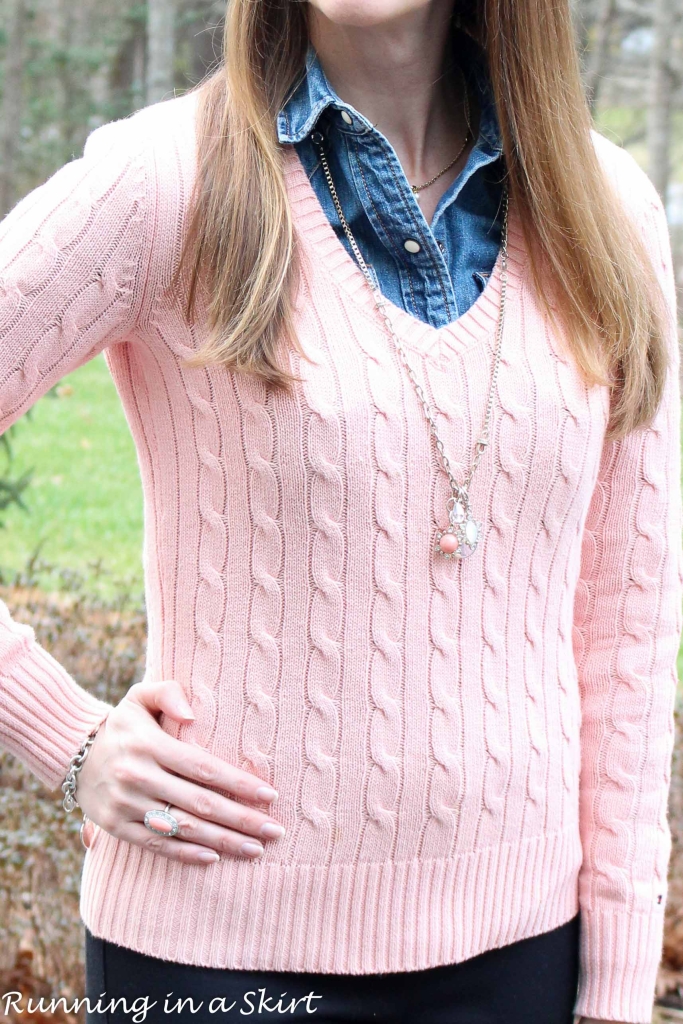 The finished look is perfect for a day at the office and gives these old clothes new light! I challenge you to try to do the same with your closet.
Shop the Look:
Sweater: Tommy Hilfiger, similar Polo, Kohls <-- less than $12
Chambray Shirt: JCrew, similar JCrew version HERE, HERE <--Target or HERE <--- Tommy Hilfiger less than $30,
Pants: Ann Taylor, similar HERE, HERE or HERE <--- Target version
Menswear Inspired Shoes: Dillards, similar HERE or HERE.
Necklace: LOFT, similar HERE or HERE.
Ring: Mom's, similar HERE or HERE.
Thank you for taking time to read Running in a Skirt. Come back Monday for a look behind the blog, Currently style.
The above links are affiliate links. I do make a small commission for clicks and purchases. It cost you nothing. Thank you for supporting Running in a Skirt.
I'm linking up with: Nicole for the Fit and Fashionable, Tara for Fashion Friday, Fashion Friday , Jolynne Shane for Fashion Friday, Turning Heads Tuesday and Bloggers Who Inspire Me. Thank you so much for the lovely linkup ladies
Your turn!
How do you freshen up old pieces?