Happy Fashion Friday!
First a little blog business! Bloggers, mark your calender's for the Best of Blogs linkup NEXT Friday. Remember it's the last weekday of each month. And everyone, please enter the $100 Visa gift card giveaway HERE.
How are you guys? Did you have a good week?
I hunkered down and tried to get a bunch of blog work done this week. We had this crazy gas crisis in the mountains. Almost the entire city ran out of gas due to the pipeline situation, so I decided to do my part and drive as little as possible. Since Asheville is a little harder to get to and more remote, we always seem to get hit first and hardest by anything like that. I work from home and had a stocked fridge, so this wasn't hard at all. The good news is I got some much needed work done! The two non-work highlights were getting sushi on Tuesday (We normally don't go out to eat during the week) AND putting up my fall decor.
As you read this, I'm heading to Chattanooga with my Brother to get a few things out of my Grandmother Bea's house and hopefully get to see at her at the assisted living facility. She hasn't been doing well at all and the situation is very fluid, so I hope it all works out. I feel like no matter how it goes, it will be a tough few days. It's so sad.
I'm hoping to make it back home late Saturday in time to recoup and enjoy some time at home this weekend too.
On a more positive note, I'm loving this outfit for Fashion Friday. I wanted to share one way I'm transitioning summer dresses into early Fall. It's a great way to get more bang out of your wardrobe bucks.
This gray dress is actually a tank dress from summer. I ordered it on clearance for less than $20!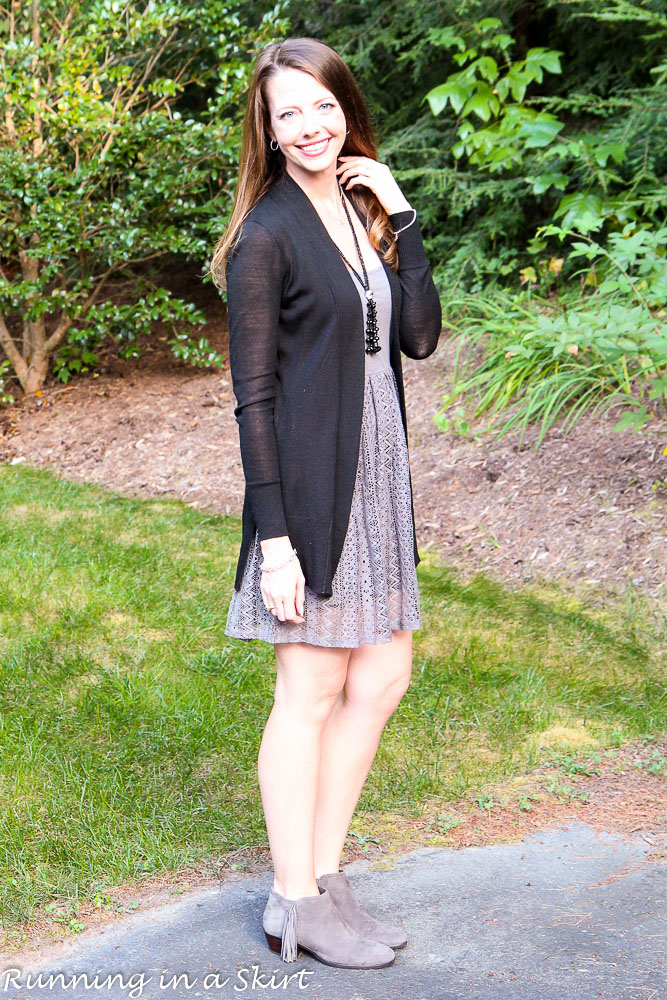 Since the bottom of the dress has lace, I paired it with a simpler black open front cardigan. A cardigan like this is a must for any wardrobe.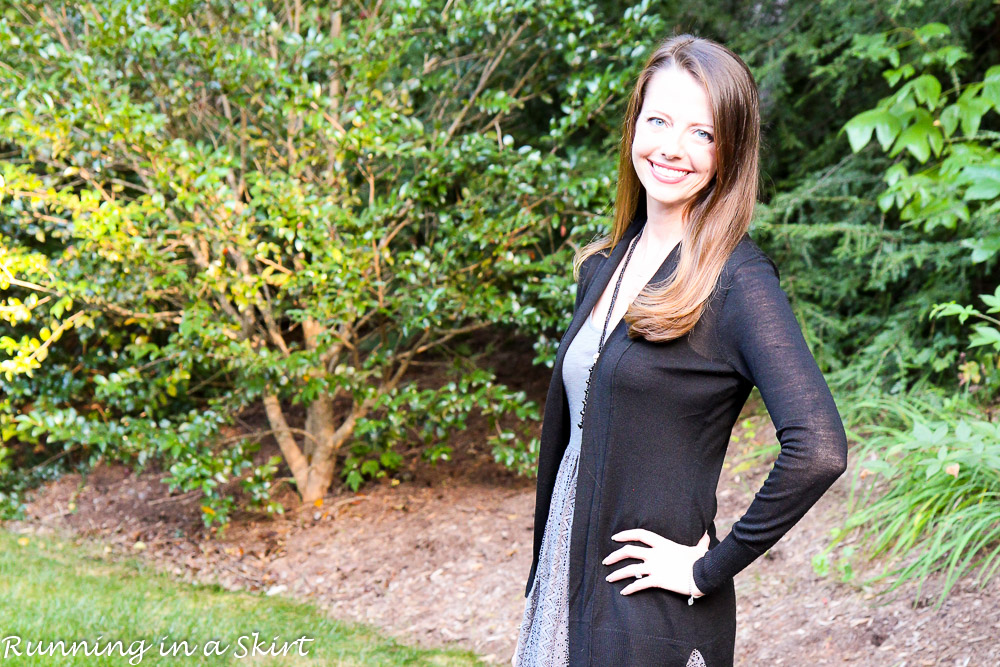 I updated the look by adding a very 2016 tassel necklace and fringe ankle boots!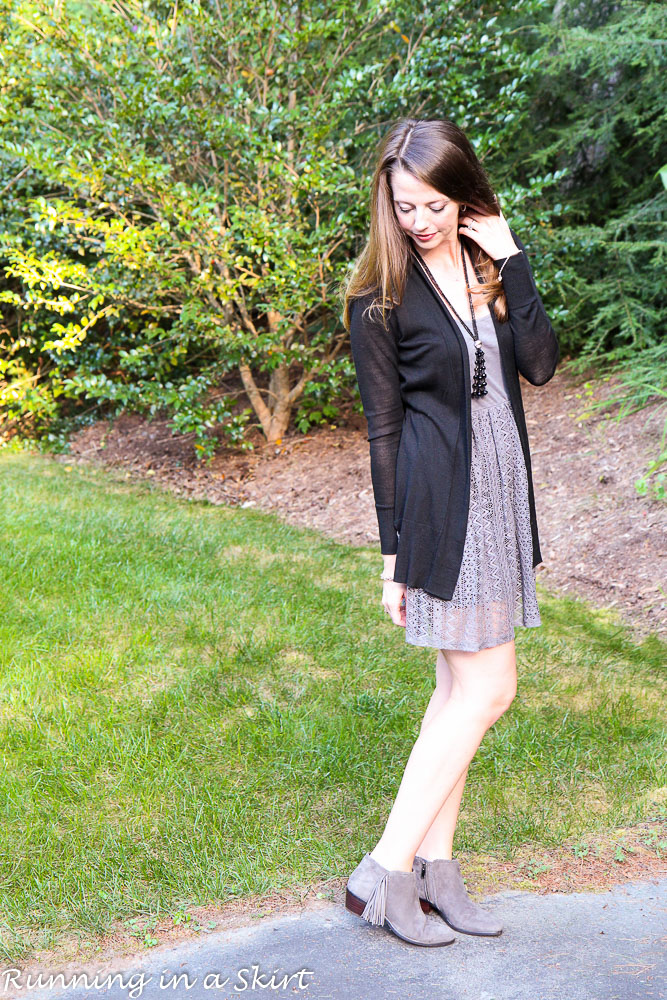 I suspect most of you already have some pieces like this in your closet, so this would be an easy outfit for you to throw together! I'd recommend adding some new accessories, like a tassel necklace, to update it for this season.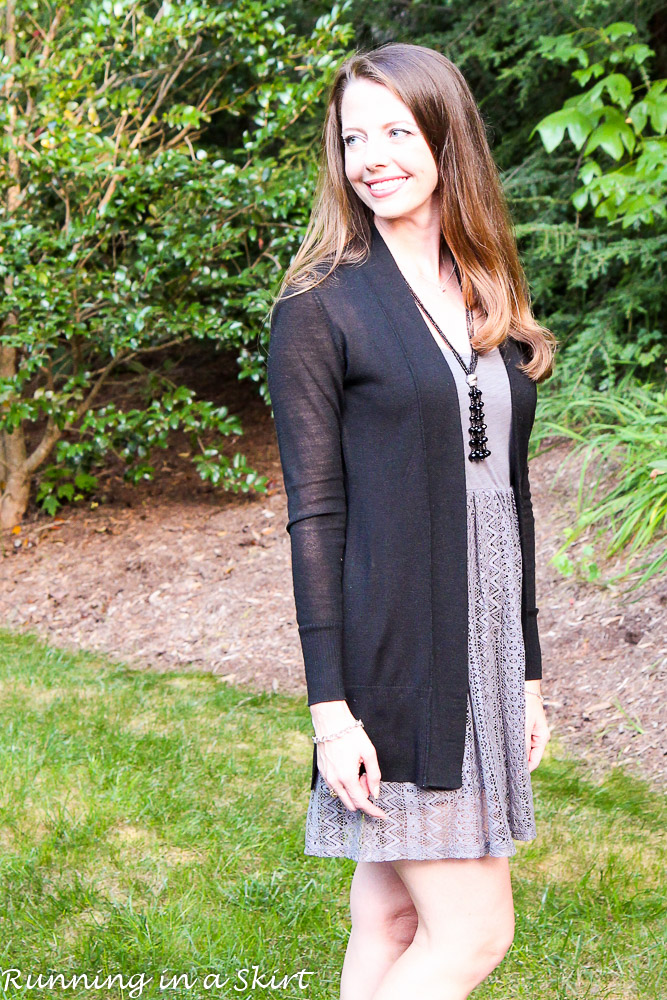 Happy shopping! Have a wunderful weekend everyone!
Shop the Look:
Gray Dress: White Plum, same dress available HERE. Similar HERE or HERE.
Long Black Sweater: Ann Taylor Outlet. This year's version HERE. Also styled HERE.
Fringe Booties: Sam Edelman, HERE.
Tassel Necklace: Similar HERE or HERE.
So nice to see you today. Have a great weekend and come back Monday for a personal story about the bold move that made me overcome my fear of flying in small planes!
This post is not sponsored, but contains affiliate links. I do make a small commission for clicks and purchases. It cost you nothing. Thank you for supporting Running in a Skirt.
I'm linking up with: Nicole for the Fit and Fashionable, Jolynne Shane for Fashion Friday, Turning Heads Tuesday. Thank you so much for the lovely linkup ladies
Your turn!
What are you looking forward to the most about fall?
What are you doing this weekend?