Happy Fashion Friday everyone!
Did you miss yesterday's post? My e-mail subscriptions have been acting up, so they didn't go out yesterday. These 5 Ingredient Crock Pot Rosemary Lemon Potatoes are pretty good though! Great for a crowd (football or holiday party maybe?!) and totally worth a look.
I feel like I'm channeling 1995 with today's look, but I kind of love it. I'll call it my grown up, slightly refined feminine version of the resurgence of the grunge look. No I couldn't bring myself to actually tie a flannel around my waist again, but I did see this dress at Nordsrom Rack and snagged it up.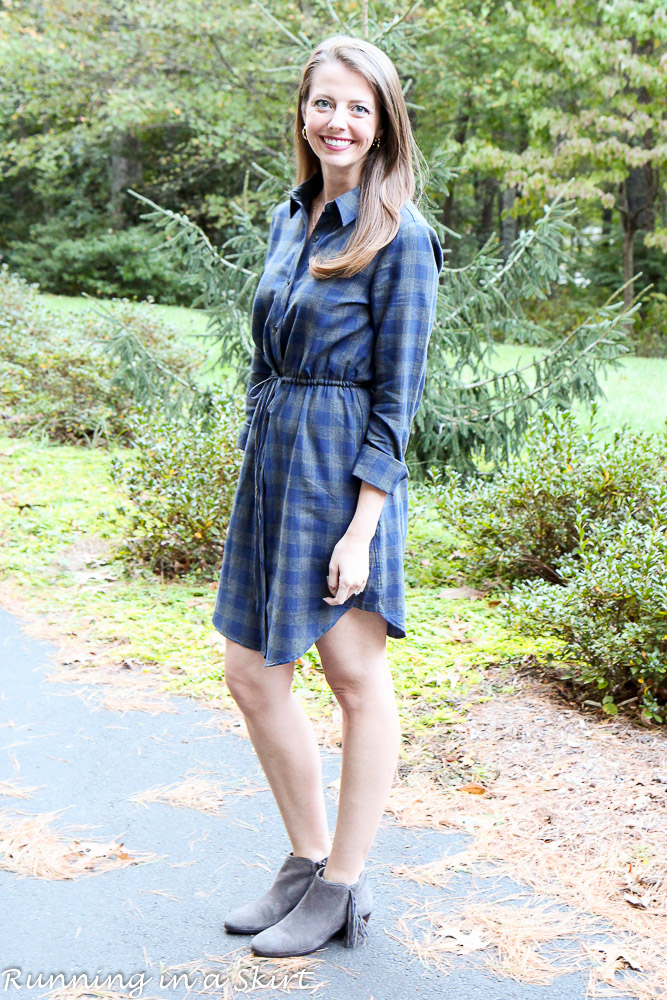 It's hard to find a warmer dress for fall and winter and this is perfect. It totally goes along with the flannel look for fall, but has a nice tie which really makes it a little more lady like.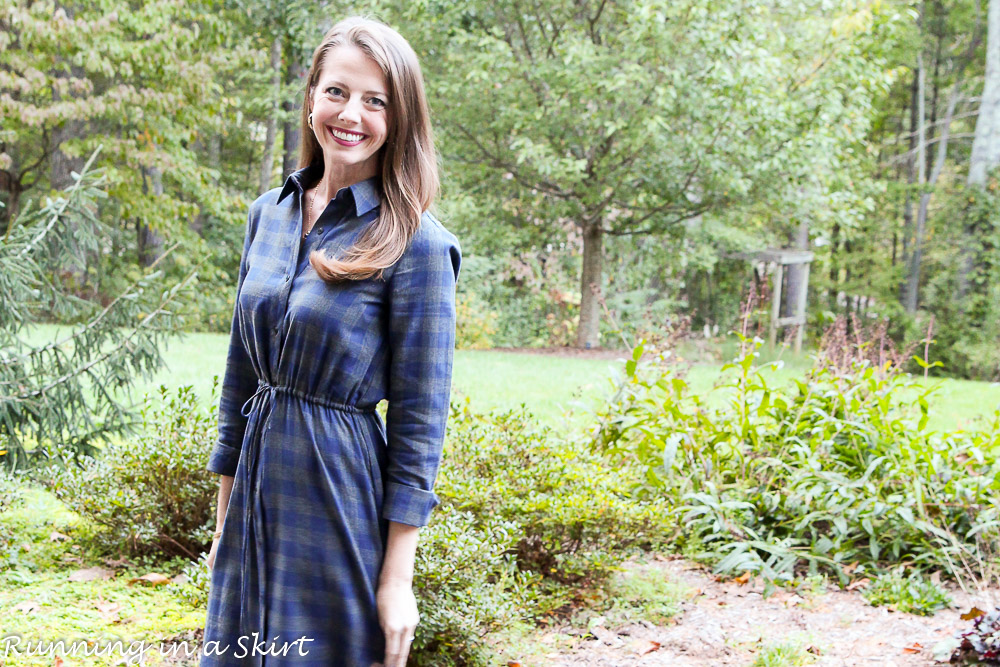 I wore this the other night when the Hubs and I went to a casual dinner out on our side of town. He's been busy at work again, so an evening with his attention is a real treat. Luckily his work calms down again next week, so I get him back. Yay!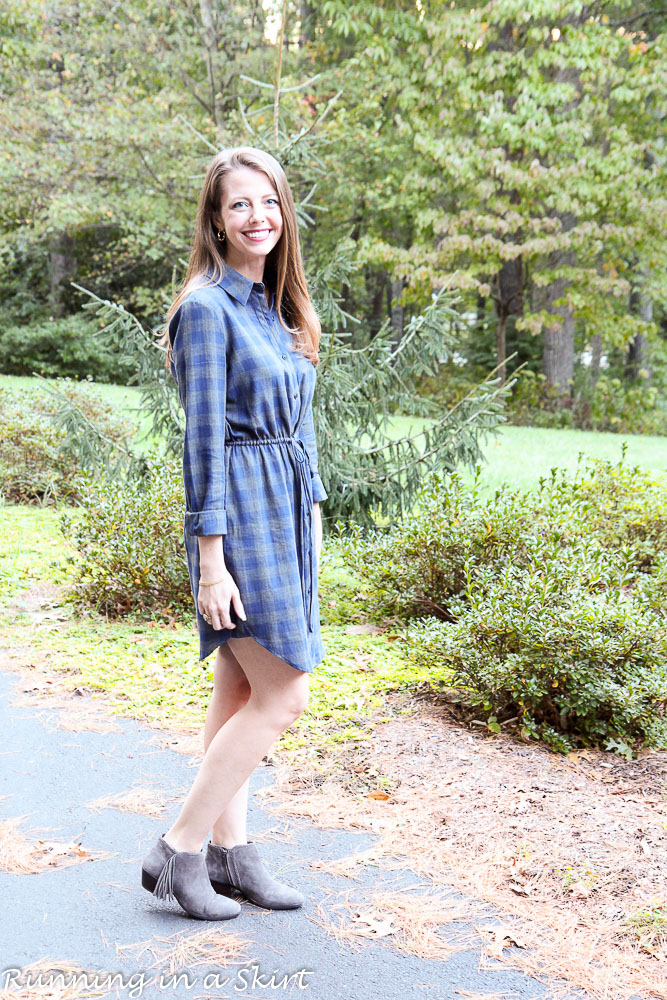 As for the outfit... as the weather continues to cool, I plan on adding my gray fleece lined leggings to this. Fleece lined leggings might be the only thing I'm looking forward to about winter- haha! Buy some for yourself here and you'll understand.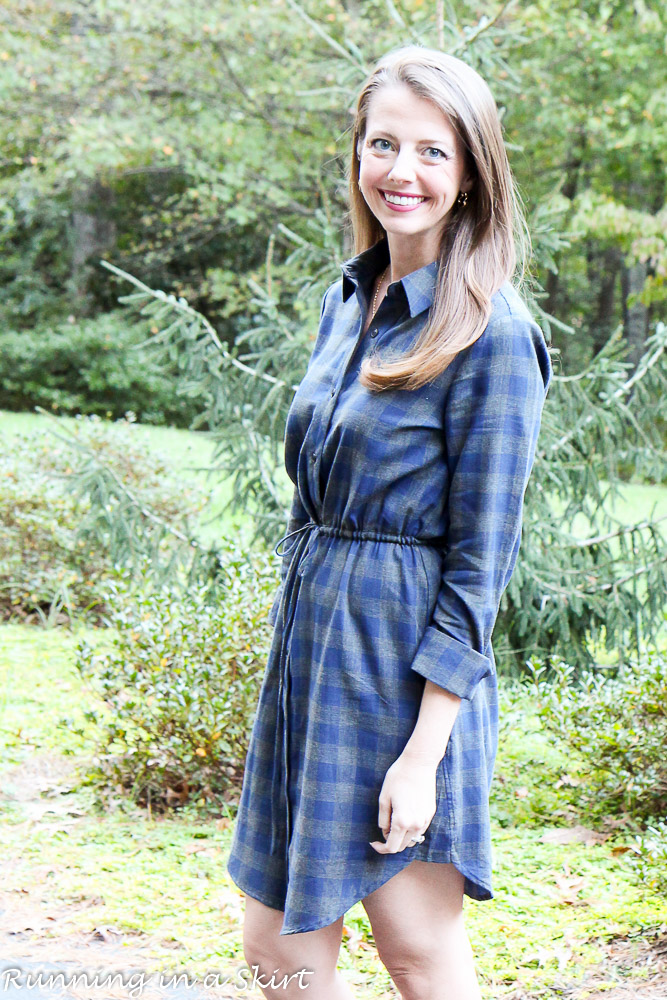 But for early fall, I just added my simple fringe booties. When I bought these I wasn't exactly sure what I'd wear them with, but I haven't had a problem at all. They are so comfortable and go with almost anything.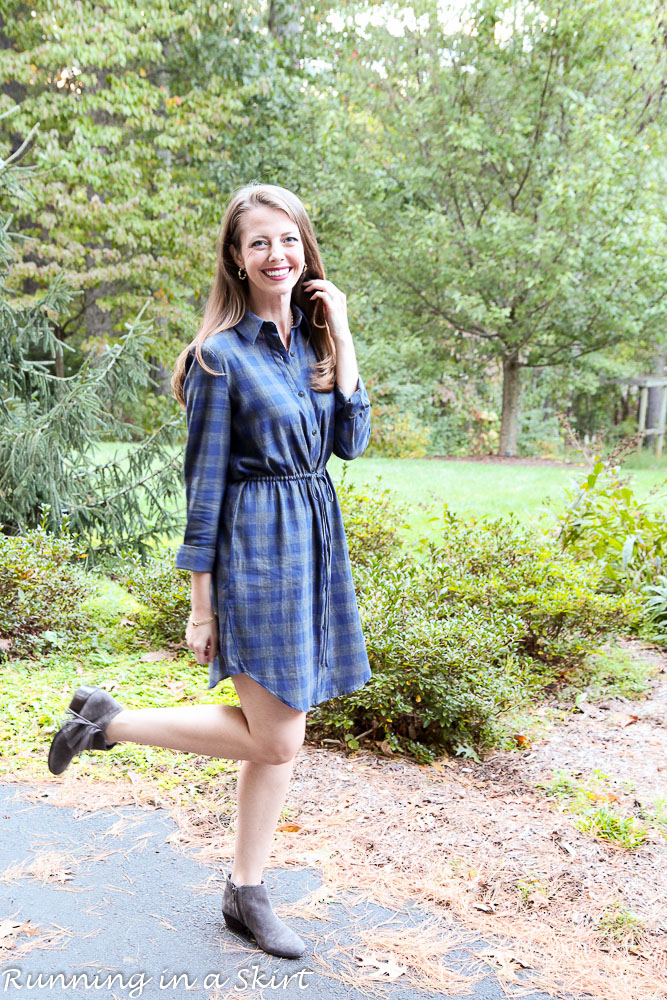 I hope y'all have an amazing weekend. I'll be watching the dogs and catching up around the house.
[fusion_builder_container hundred_percent="yes" overflow="visible"][fusion_builder_row][fusion_builder_column type="1_1" background_position="left top" background_color="" border_size="" border_color="" border_style="solid" spacing="yes" background_image="" background_repeat="no-repeat" padding="" margin_top="0px" margin_bottom="0px" class="" id="" animation_type="" animation_speed="0.3" animation_direction="left" hide_on_mobile="no" center_content="no" min_height="none"]Love this look! Flannel Dress & Ankle Booties #Fashion #fblogger #ootd #FashionFriday Click To Tweet
Shop the Look
Flannel Dress: Nordstrom Rack. Similar blue and red HERE. I like these from Forever 21 HERE, HERE and HERE. And these HERE and HERE as well.
Booties: Sam Edelman, without fringe HERE.
Flannel Leggings: HERE
So nice to see you today. Have a great weekend and come back Monday for a weekend recap.
This post is not sponsored, but contains affiliate links. I do make a small commission for clicks and purchases. It costs you nothing. Thank you for supporting Running in a Skirt.
I'm linking up with: Nicole for the Fit and Fashionable, Jolynne Shane for Fashion Friday, Turning Heads Tuesday. Thank you so much for the lovely linkup ladies
Your turn!
Do you have any flannel?
What are you doing this weekend?[/fusion_builder_column][/fusion_builder_row][/fusion_builder_container]