Happy Fashion Friday!
I'm still in Switzerland... winding down the trip in Lausanne, Switzerland which is on the French side of the country. They speak French there and it's on Lake Geneva. I'm hoping to check out some Switzerland wine (apparently it's a thing and it's good?) and sights before flying home tomorrow. I definitely having a little more swiss cheese and chocolate before I come home too.
You guys have seem some Lilly Pulitzer stuff pop up on Fashion Friday here and there. It's no surprise as a former-Florida, pink loving girly girl that I adore her stuff. I can't get enough of the bright colors and tropical patterns. I would live in it if I could. Sadly the line is kind of pricey so I always wait for the few sales they have a year to pick up an item or two.
I also want to make the looks I share for Fashion Friday attainable for everyone. So when I found a cute way to style Lilly for less I just had to share!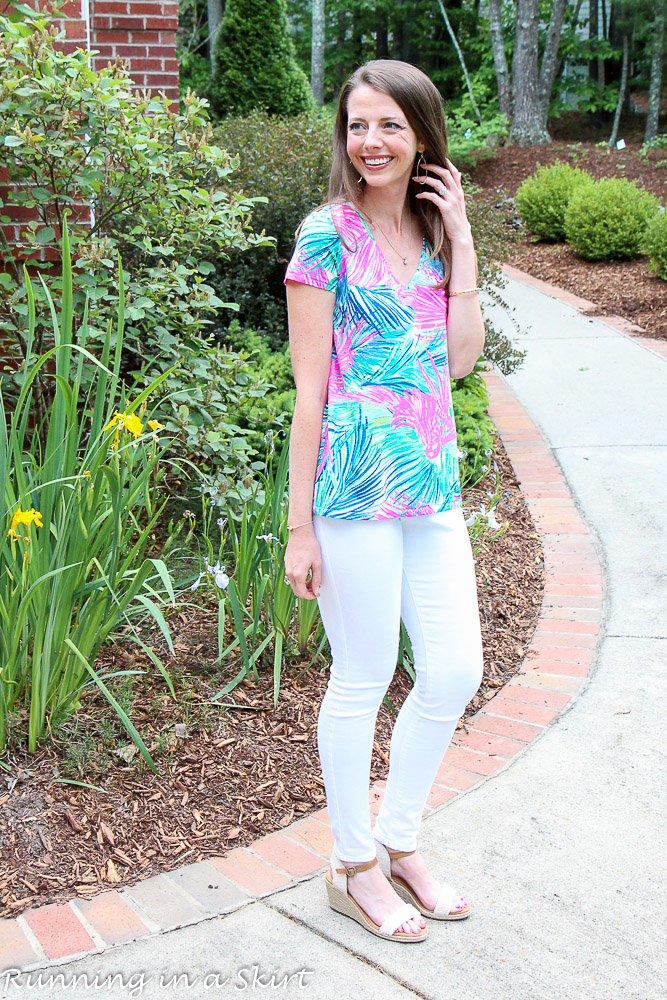 I picked up this shirt for about $40! Their t-shirts are still on the expensive side in the greater scene of things, but it's about the cheapest way to get something in the fabulous prints. I paired it with my Old Navy white jeans I got for around $20 and this entire look came together for less than $60!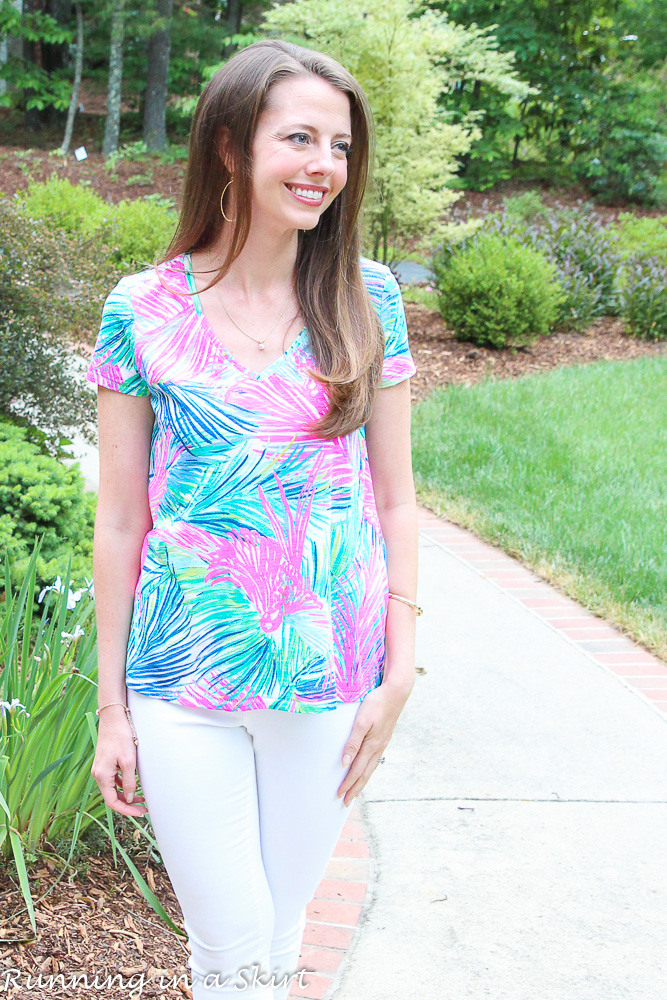 Considering the dresses are often $200+... I thought this was a steal!
I adore the fit of this shirt. It's a bit longer in the back and has a flattering v-neck. I also like that it's cut small, but isn't clingy.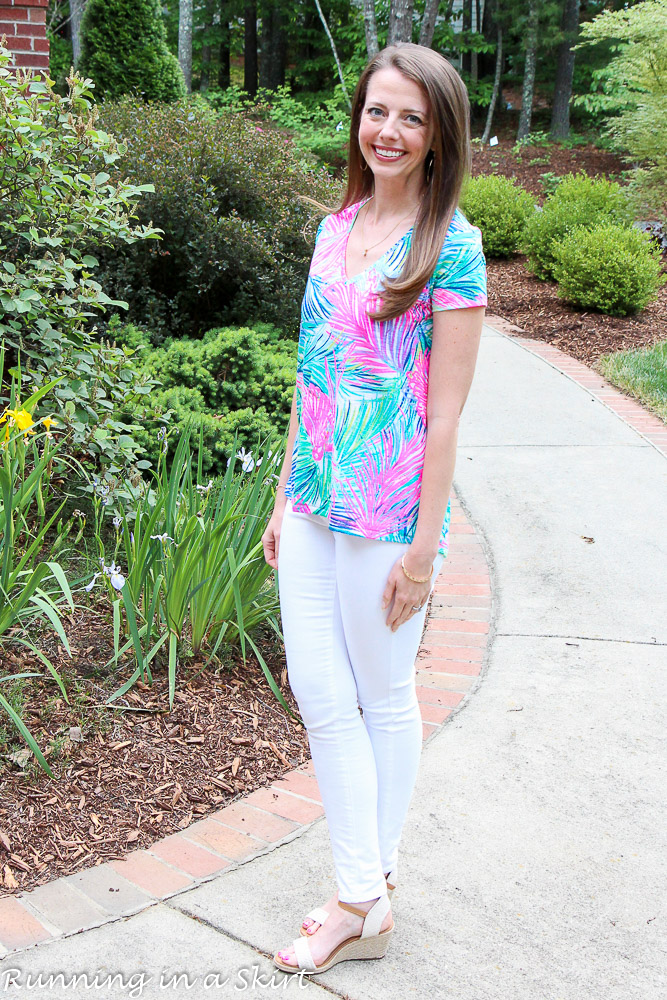 I also think the colors are just about perfect and remind me of my trip to Brazil.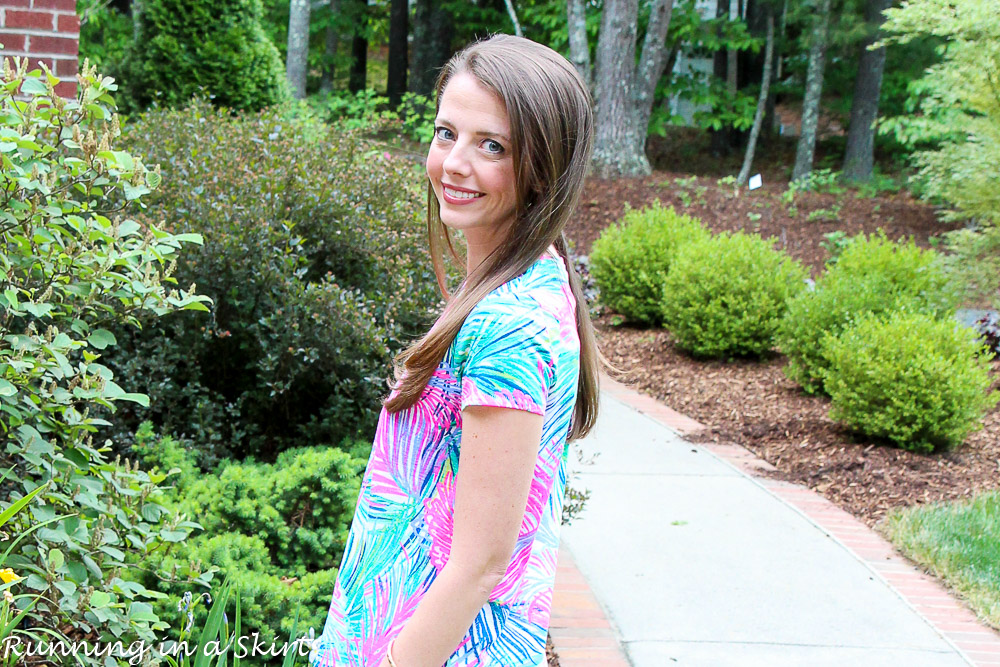 For size reference, I'm wearing an xs. Happy shopping!
Shop the Look
Shirt: Lilly Pulitzer
Jean: Old Navy
Shoes: Lucky Brand (Similar pair. The same style is still available in black and yellow)
So nice to see you today. Have a great weekend and come back Monday for a first look at some of my Switzerland pictures!
Your turn!
What are you doing this weekend?
This post is not sponsored, but contains affiliate links. I do make a small commission for clicks and purchases. It cost you nothing. Thank you for supporting Running in a Skirt.
I'm linking up with: Nicole for the Fit and Fashionable, Jolynne Shane for Fashion Friday, Turning Heads Tuesday. Thank you so much for the lovely linkup ladies