Happy Fashion Friday!
This week has been super hectic for me. It's crazy how all my commitments can cluster into one week, but that seems to be what happened this week. Luckily this is the first weekend in a while that is pretty much commitment free. I've really enjoyed spending time with friends and family over the past month, but it will also be delightful to have a little quiet time for the next few days. I really need that to recharge. I think the highlight of the weekend will be getting sushi tonight with the Hubs!
Did you miss this?
The weather here as been so wonky, it's been hard to figure out what to wear. I'm pretty sure many of you are in the same boat, so I put together a great look that work through early spring until it's dependably warmer.
It's all about classic simple layers with this black swing dress and denim jacket. If it's chilly outside wear this with black leggings or tights!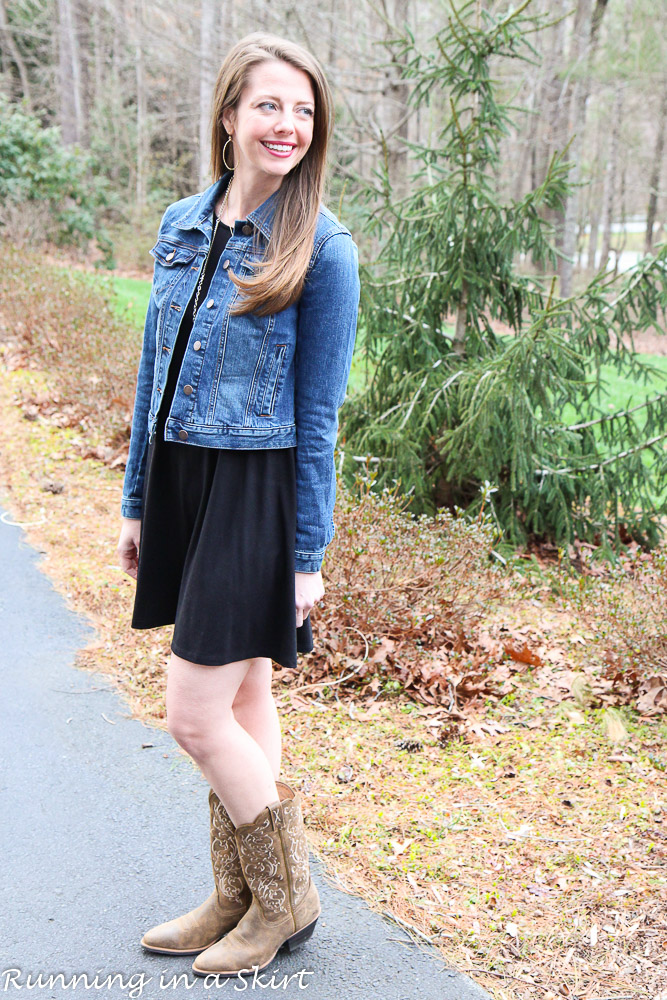 Let's first talk about this jacket. So yes... I already have way to many denim jackets in my closet but I could not resist this one at the LOFT last week. It's just fitted enough, adorably cropped AND super stretchy so you don't feel constricted. The sleeves also cuff really well. This is a must have piece for spring 2017.
I've got a feeling I'll be wearing this on repeat until it warms up for good.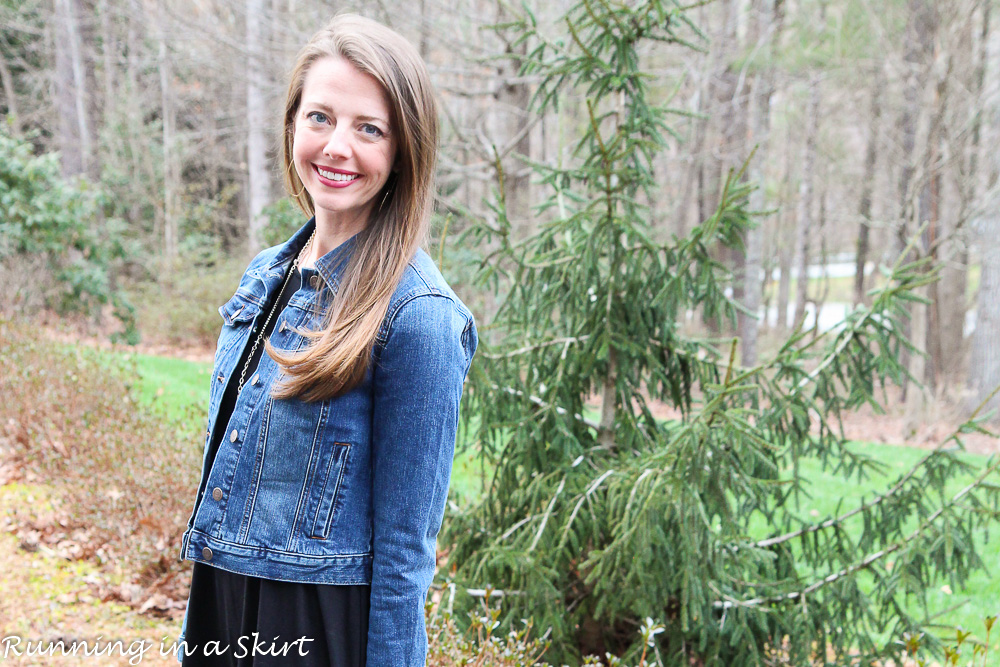 The black swing dress is another Old Navy find. They had a couple years of not so cute clothes, but seem to have found their stride again because I've been loving their stuff. This dress is by far the most comfortable and versatile piece I've bought in years. You can look put together without even trying.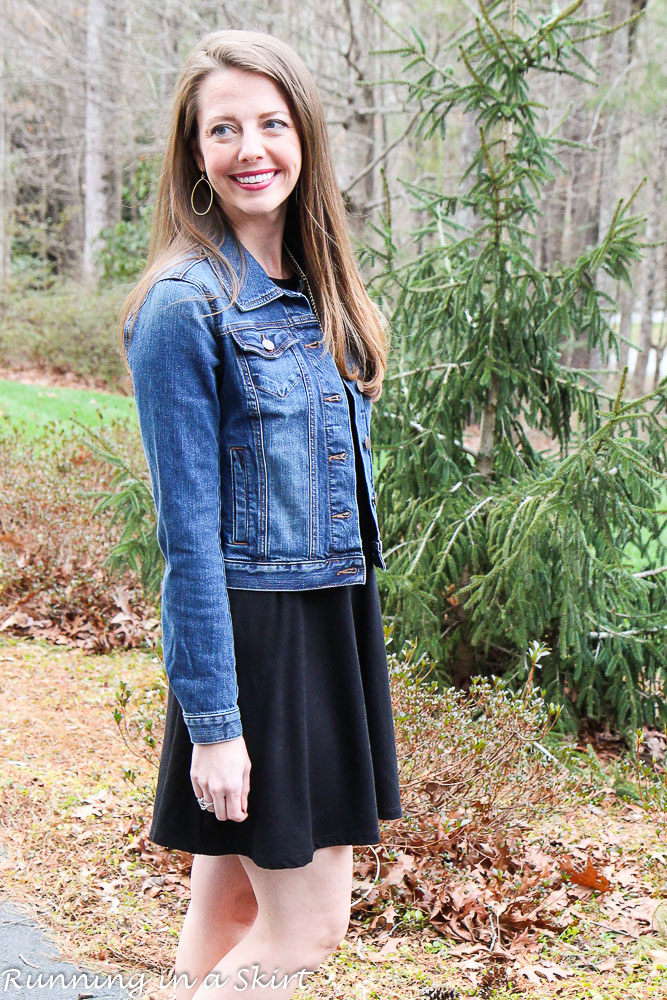 And finally the boots... yes I realize the time for cowboy boots has passed for much of the world... but I'm a country-loving girl from the South so they are staying :-)! I'll say it 100 times, I believe in being true to your own sense of style first!
If they aren't your jam, pair this with flats or cute ankle boots. I made some notes of other shoes I thought would work in the links at the bottom.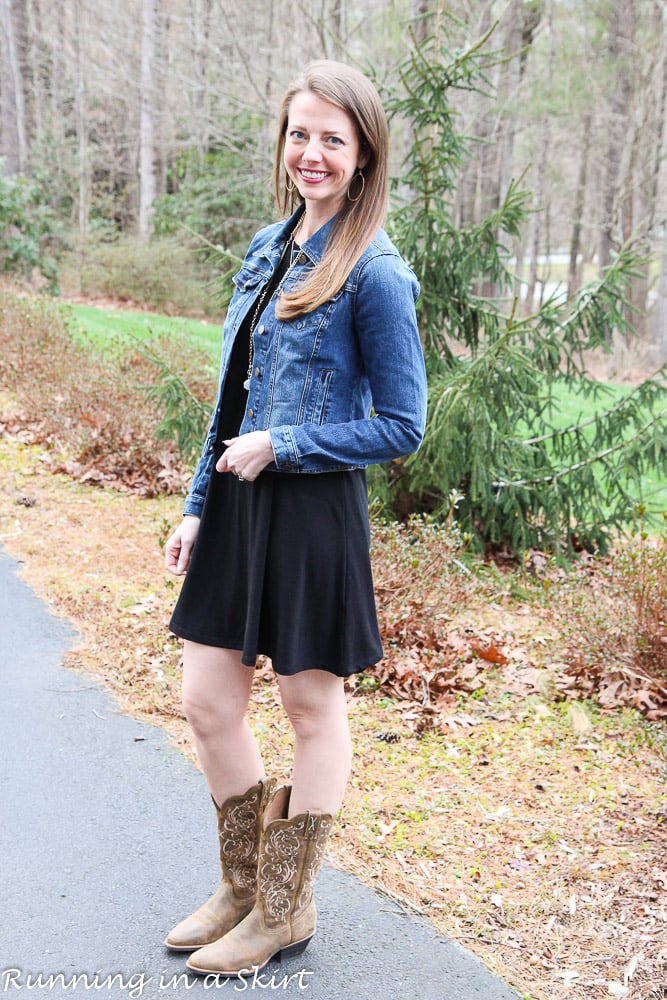 I hope you enjoyed this look. You can recreate it with the shopable links below. Have a beautiful weekend everyone. As always, I'd love to hear what you are up to this weekend in the comments below.
Shop the Look:
Jacket: LOFT
Dress: Old Navy
Necklace: old, similar here
Earrings: old, similar here
Boots: old, similar here or here. These peep toe ankle boots (budget friendly option) would also be cute as well as these flats (budget friendly option.)
So nice to see you today. Have a great weekend and come back Monday for Things I'm Loving Lately.
This post is not sponsored, but contains affiliate links. I do make a small commission for clicks and purchases. It cost you nothing. Thank you for supporting Running in a Skirt.
I'm linking up with: Weekend Wear Linkup, Nicole for the Fit and Fashionable, Jolynne Shane for Fashion Friday, Turning Heads Tuesday. Thank you so much for the lovely linkup ladies
Your turn!
Cowboy boots? yay or nay?
What are you doing this weekend?