Hi guys! Happy Monday! How was your weekend?
I'm so happy because my house is officially Easter ready! I try not to go overboard for Easter décor like Christmas and Thanksgiving, but I do like to put out a few springy things for the season. Easter has always been my favorite holiday because it symbolizes new beginnings and I'm all about a fresh start. Not to mention daffodils and warm weather! It's really a winning holiday in my book.
So here is a little home Easter tour! I hope you can get a few ideas.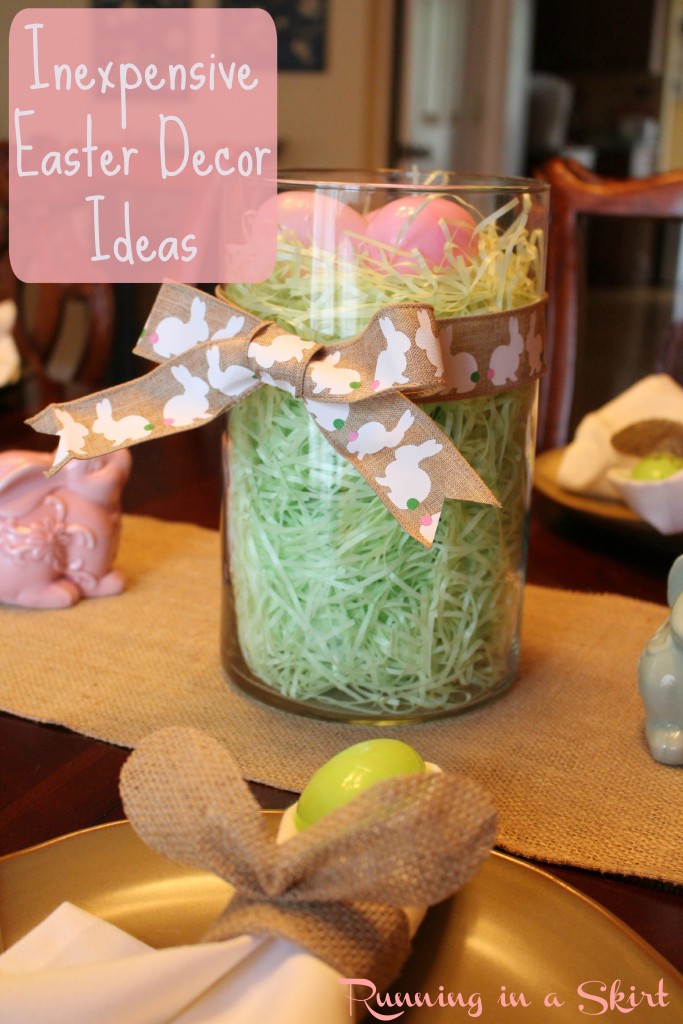 I got these guys at Marshalls a few years back. I like they way they are sort of country and rustic looking.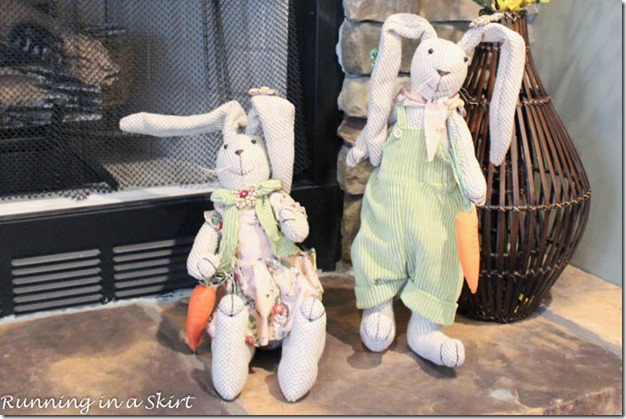 This bunny came from Michaels... aka... the place that takes my money and time.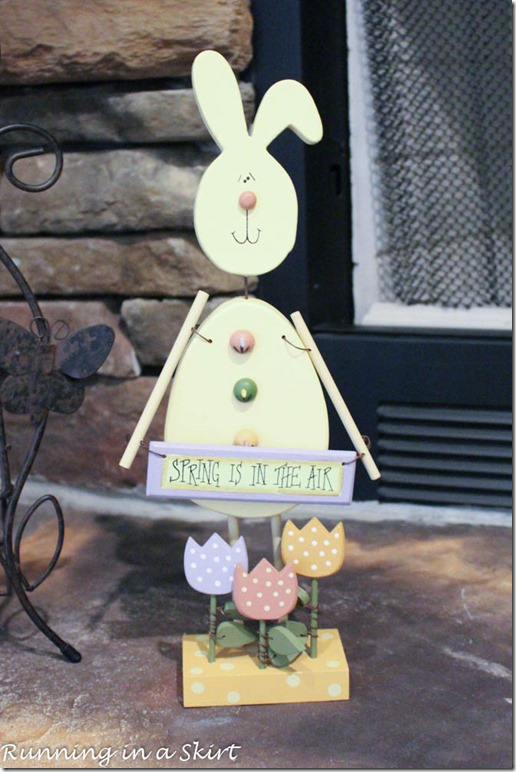 These are courtesy of my mother-in-law and Yankee candle. I adore them.
When looking for other stuff, I found the bunny salt and pepper shakers still for sale---> Easter Bunny Salt & Pepper Shaker Set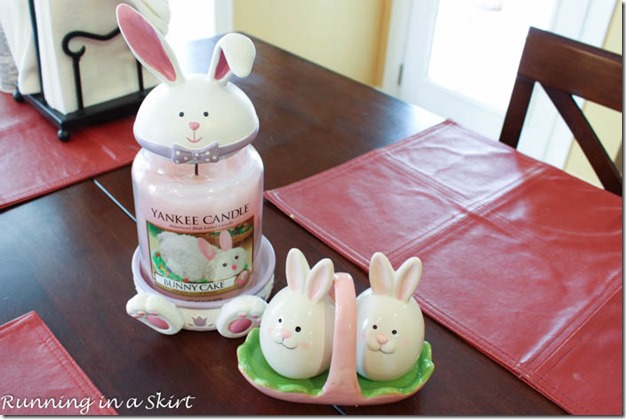 This candle is also a gift from my mother-in-law. It smells like Peeps!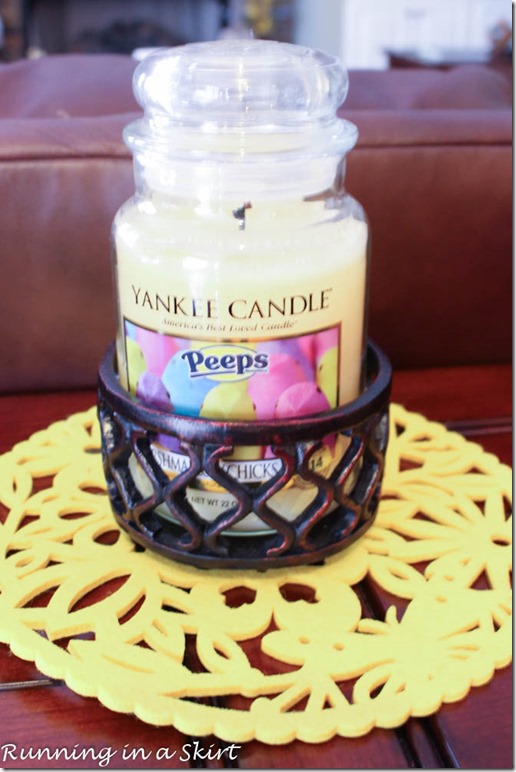 So basically my mother-in-law rocks. She sent me these too 🙂 They are from Pier One.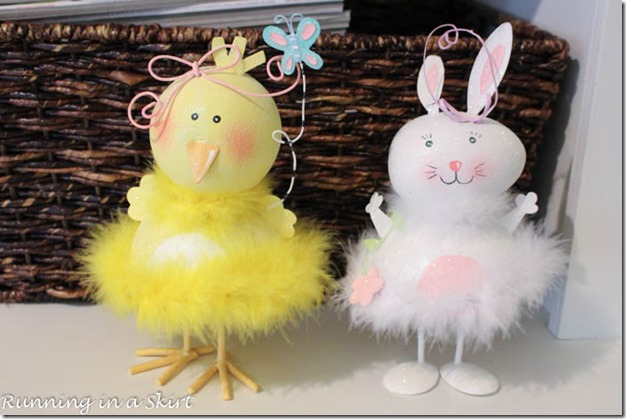 Finally, as per reader request, I put together a simple table for Easter. I'm not expecting a crowd, but I do love to keep the table looking nice during the holidays.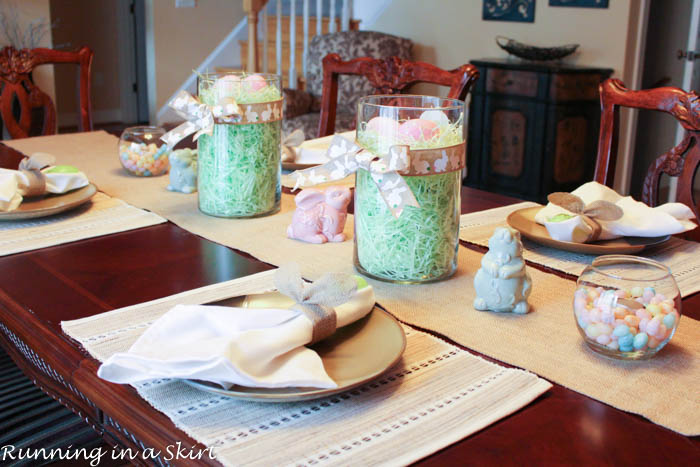 I love this tablescape because you can adapt it to your taste and it is so inexpensive!
You need:
Clear Cylinder Glass Vase
Glass bowls or votives
Paper Easter Grass
Jelly beans
tea lights
Bunnies Decorative Wire Edge Ribbon
ceramic bunnies (dollar store or Michaels)
Burlap Bunny Ears Napkin Rings
You can use glass containers you already have and fill them with grass. One bag fluffs up to fill the entire container. I also found the sweet bunny ribbon and used it as an accent to compliment the burlap runner I always keep on the table. Instead of using a bunch of color, I decided to focus on just the pink and green on the bunnies tales from the ribbon, so the table would look a little more put together.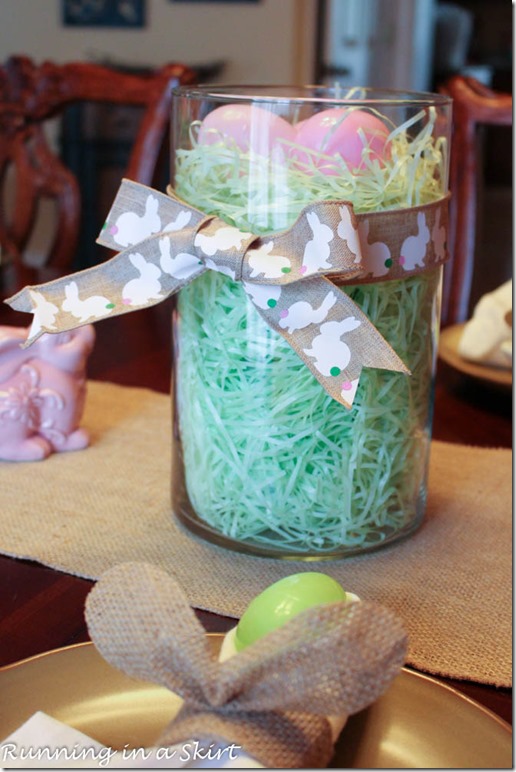 On top, I put just a few eggs to give some color contrast.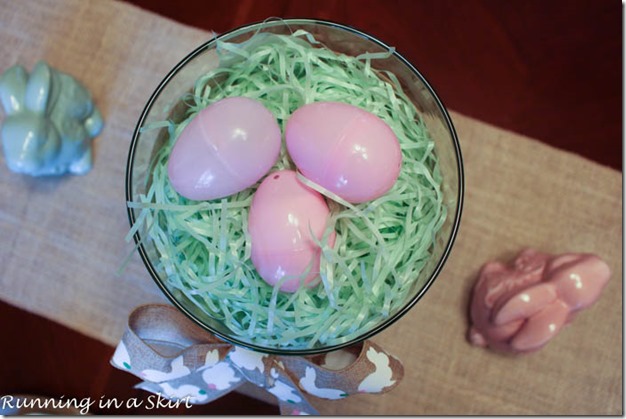 I then filled a small glass bowl/ votive holder with pastel jelly beans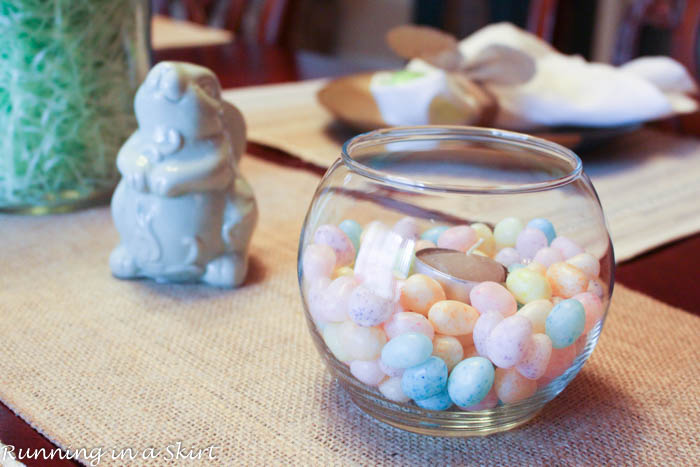 I put in a tea light so the table will have a little ambiance.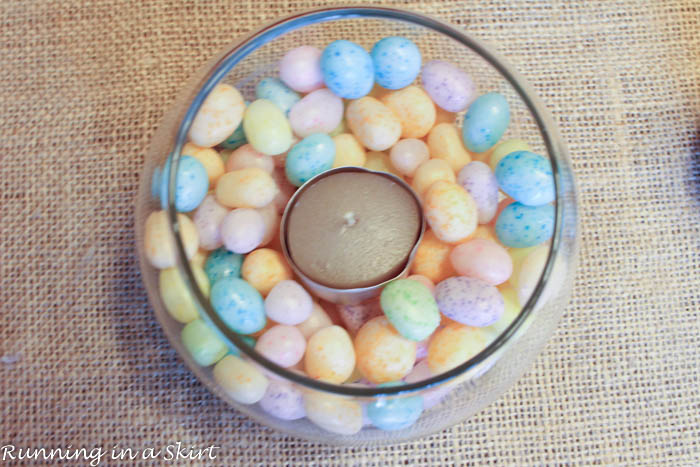 For the napkins, I started by folding them in half.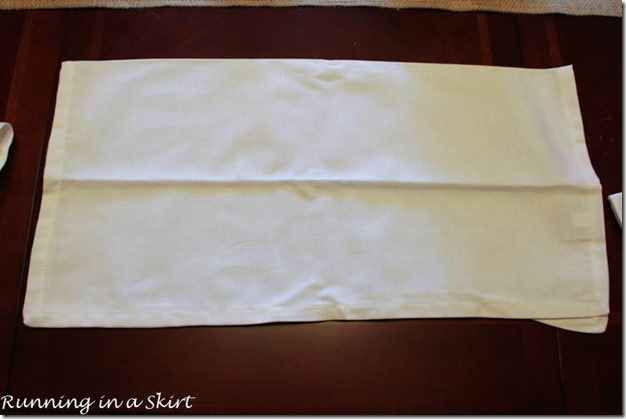 Then I grabed the top.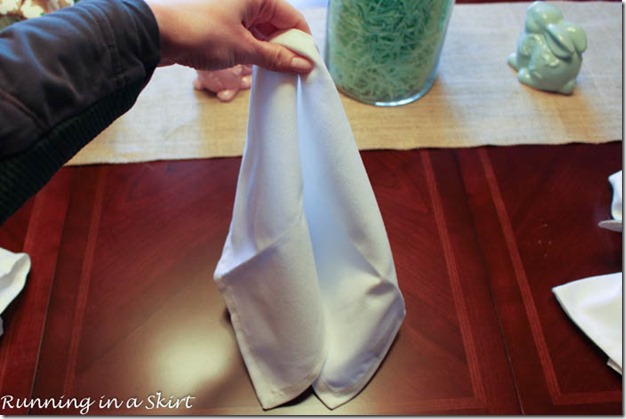 I slid the Burlap Bunny Ears Napkin Rings
over the middle of the napkin creating a little pocket for an egg to stay.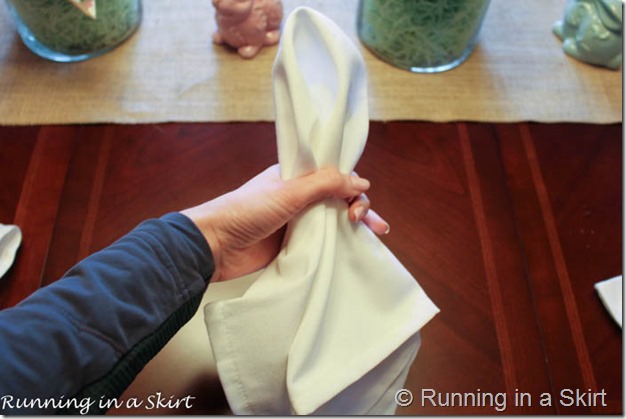 I used inexpensive plastic eggs and a gold sharpie to create the name cards for the table. Just put the egg in the hole above the napkin ring.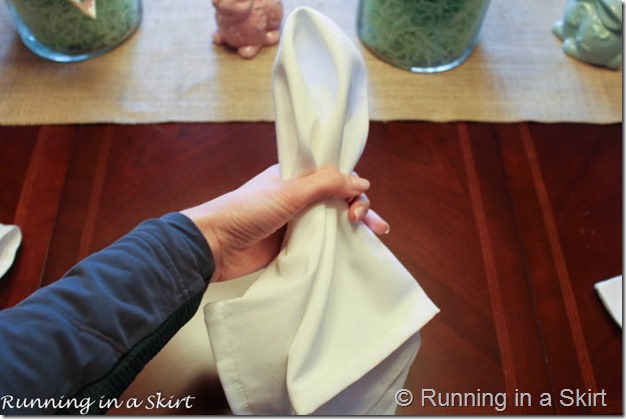 You could fill each egg with candy or a small gift for each guest.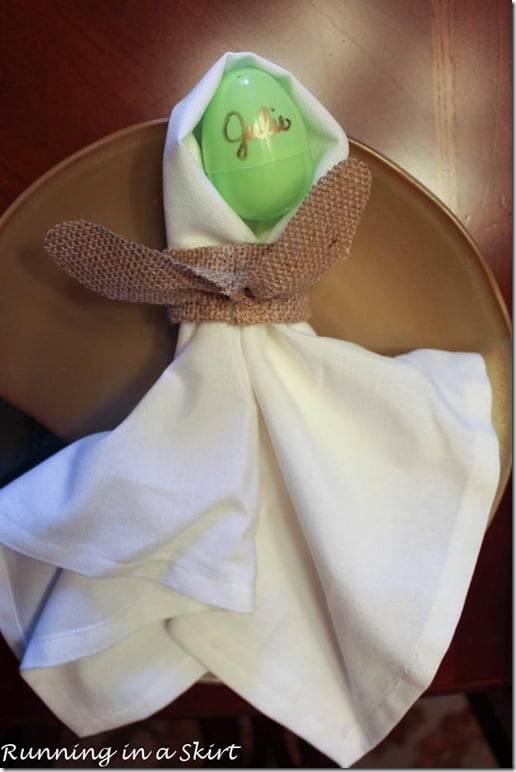 If you don't like the look of the plastic eggs, you could try these gorgeous paper ones.
Whimsical Painted Wooden Easter Eggs
A little more expensive, but so pretty!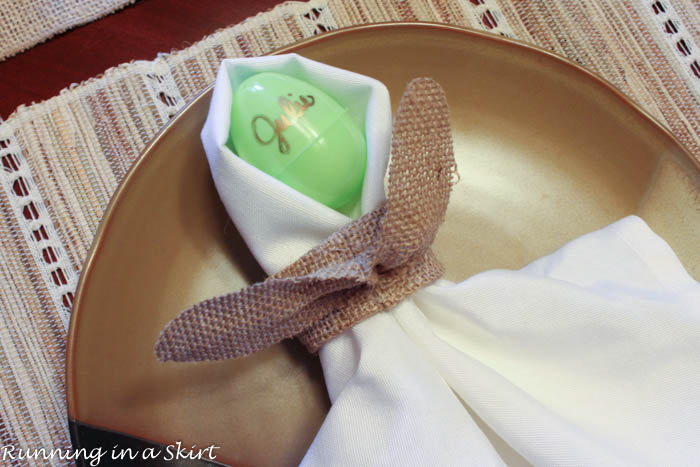 Even if you want to go the less expensive route, I think the plastic eggs are simple, and so classically Easter! I love the way they look.
Easter is less than two weeks away now. I can't believe it! Hopefully these ideas will help you get ready for the big day.
Thanks for stopping by today! Tomorrow I'm sharing a recipe for a coffee house drink favorite of mine. I'm including the way you can make it at home, with fewer calories AND for very little money. Hope to see you then.
And of course, have a Marvelous Monday! Thanks for the linkup Katie.
The above links are affiliate links. As always, I appreciate your support.
Your turn!
Do you decorate for Easter?