And just like that, Christmas 2021 has come and gone. It was the twins' fourth Christmas and this one was even more magical than the others. Catch up on their first Christmas, second Christmas, and third Christmas here!
I can't believe how much more engaged and excited they were about EVERYTHING thing year. From making gingerbread houses to Jackson telling me actually heard Santa on our roof... there was a lot of toddler magic happening at our house this past weekend. It really was everything I ever dreamed out when wishing for a family of my own.
I took so many photos and wanted to share a few of our weekend activities with you. It's been fun to establish some new traditions with the boys that now we can do each year.
The festivities started on Christmas Eve-Eve with making Gingerbread Houses. (Thank you Aunt Judy for the house!)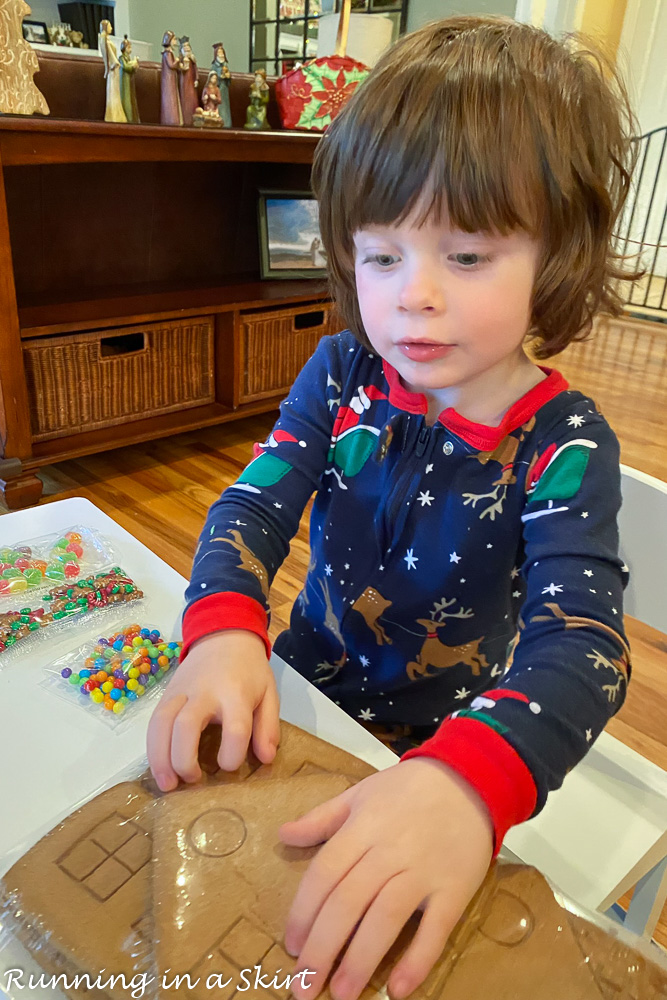 The boys were SO into it and enjoyed eating the candy too :-).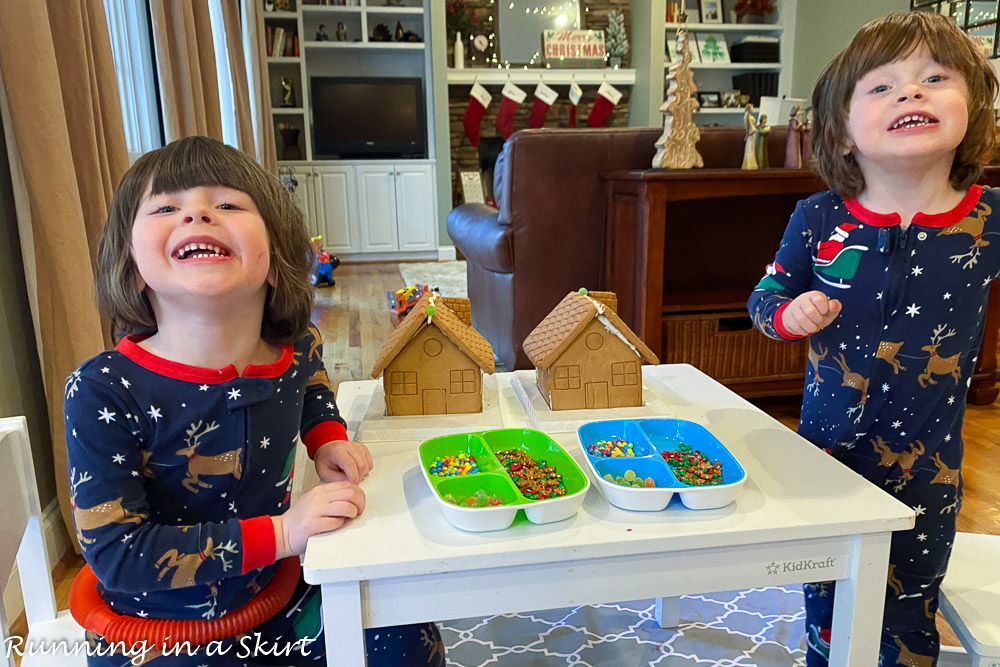 They actually put all these decorations on and we had so much fun doing this!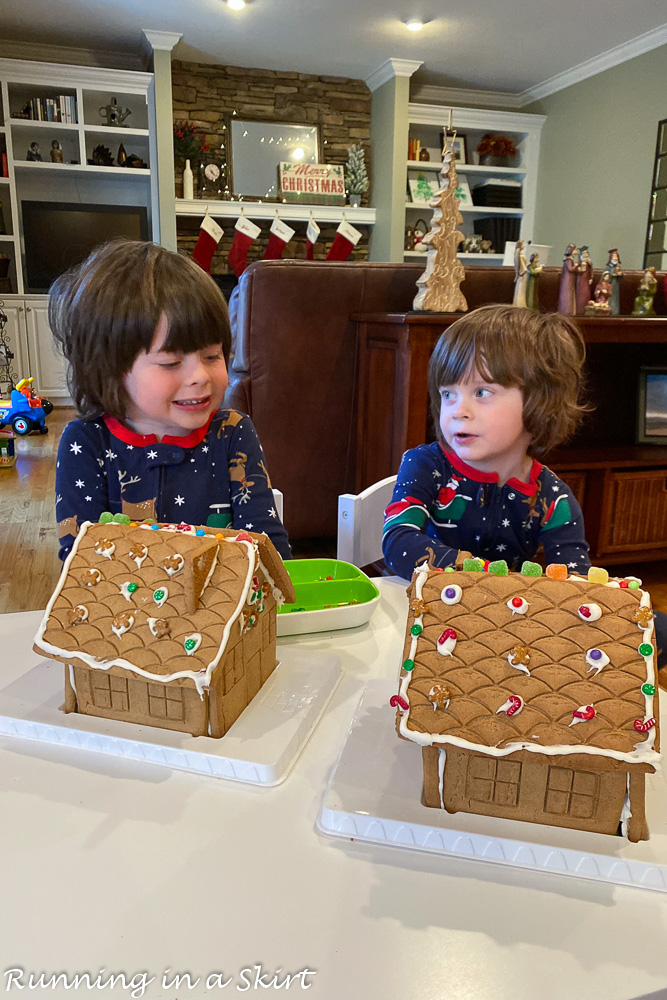 We also read their new Christmas book over and over again. It was super cute.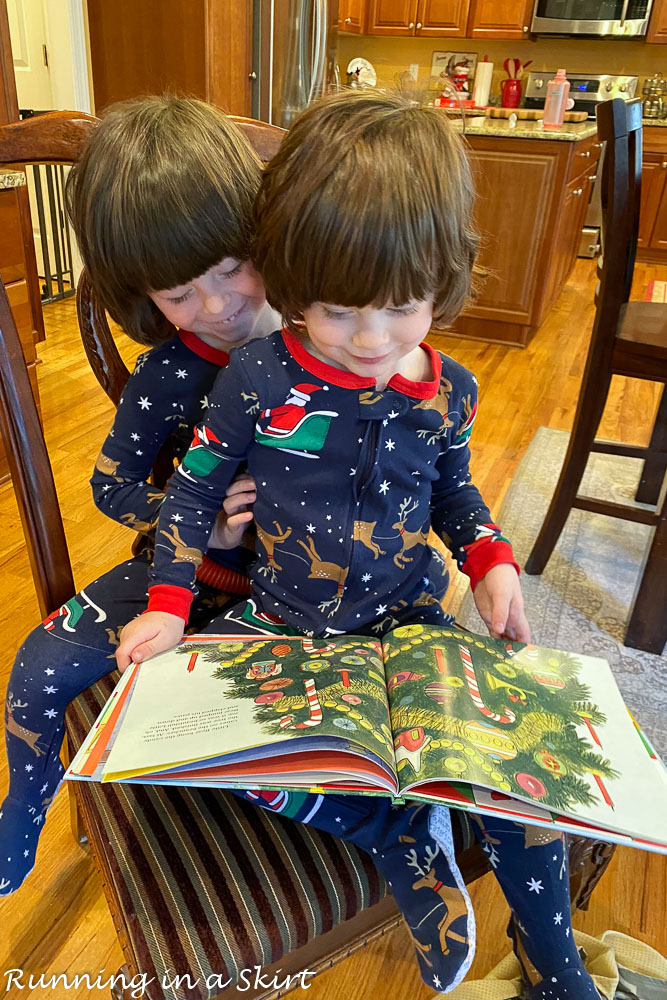 Christmas Eve was a packed day for the family. We started off by saying goodbye to our Elf for the year (The twins were so sad!) and then making Santa pancakes.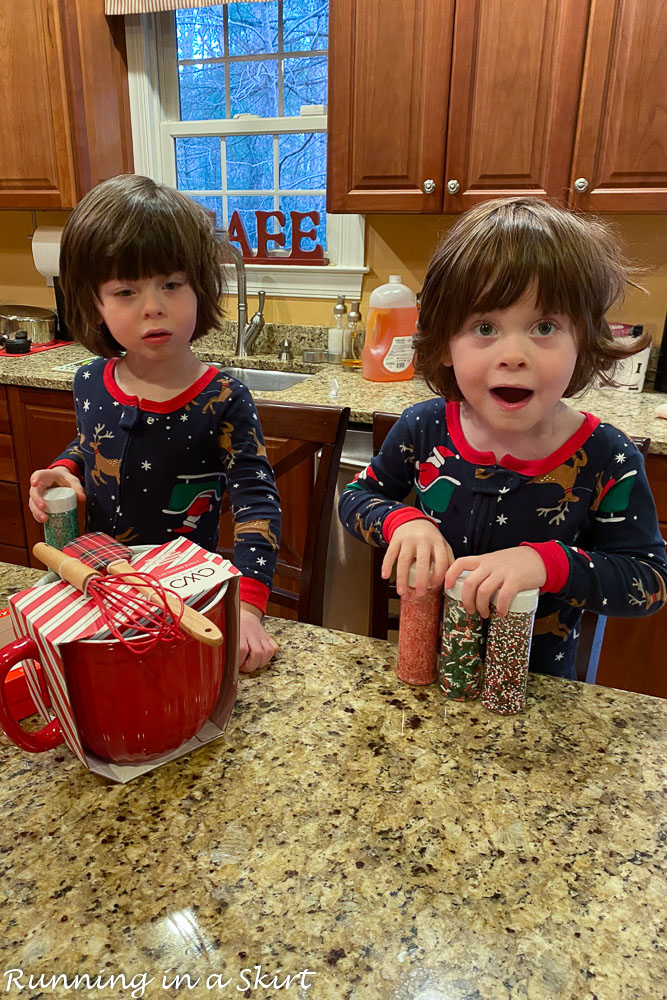 Here's how they turned out!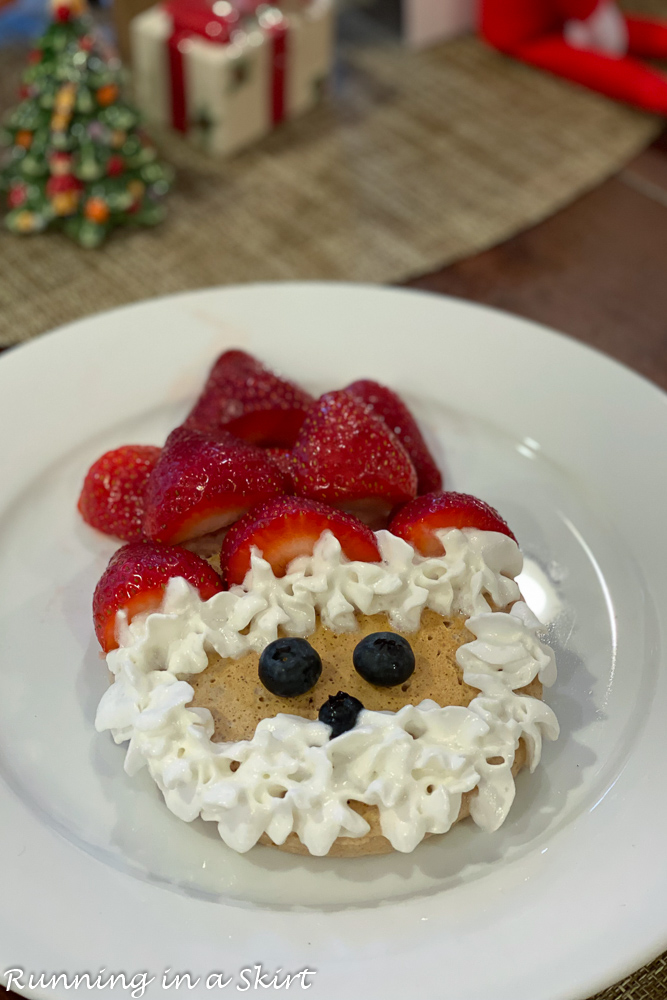 After pancakes, we rushed up our street to meet the neighbors for an annual tradition. Santa drives through our neighborhood in a fire truck! It was a hit for kids of all ages but our truck-loving toddlers were especially impressed.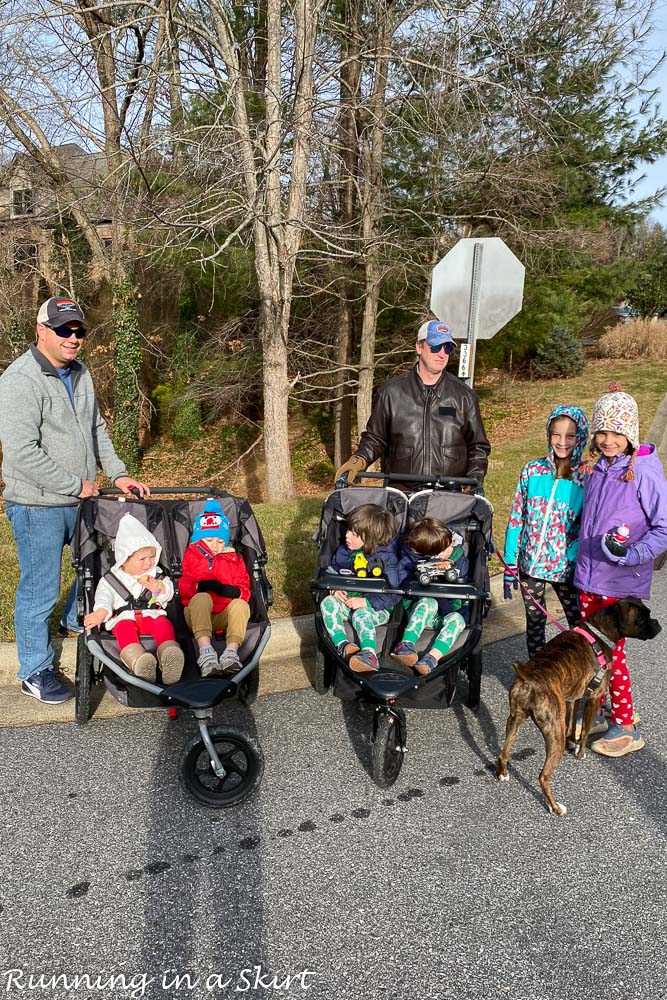 After seeing Santa off we made our cookies for him. I kept it simple by letting the boys ice the cookies and put sprinkles on them.
Needless to say, they loved them and had to make sure we left enough for Santa.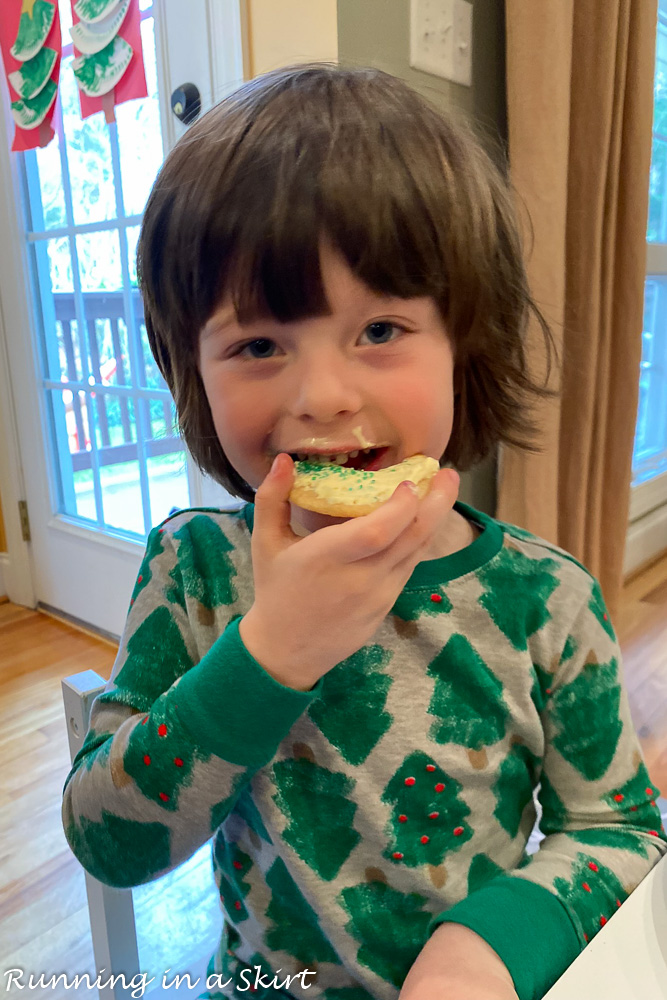 They were really into this too and it was super cute.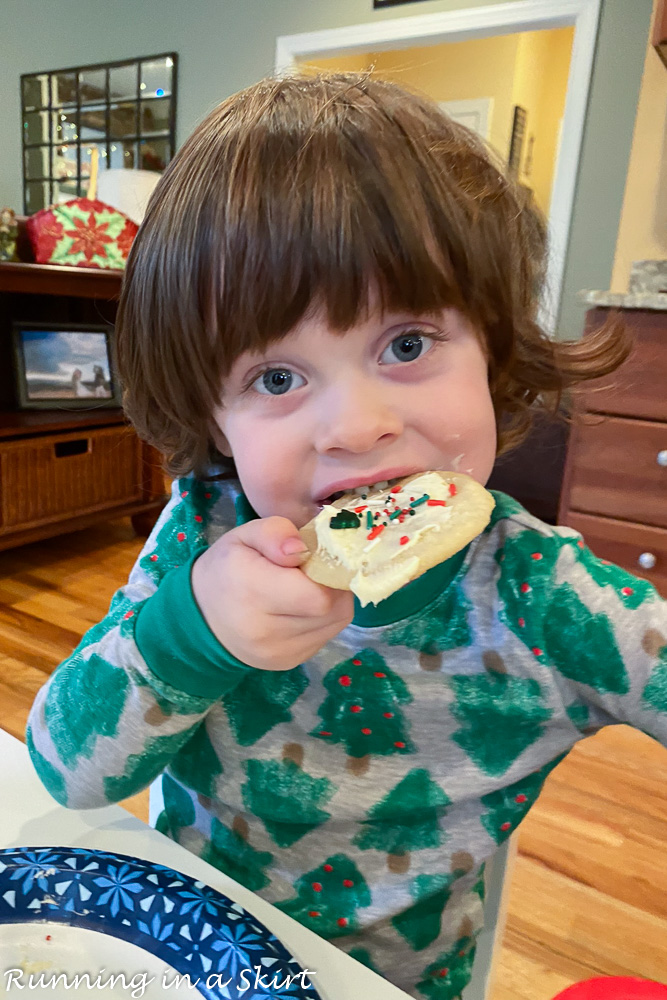 At bedtime, we got out our plate for Santa.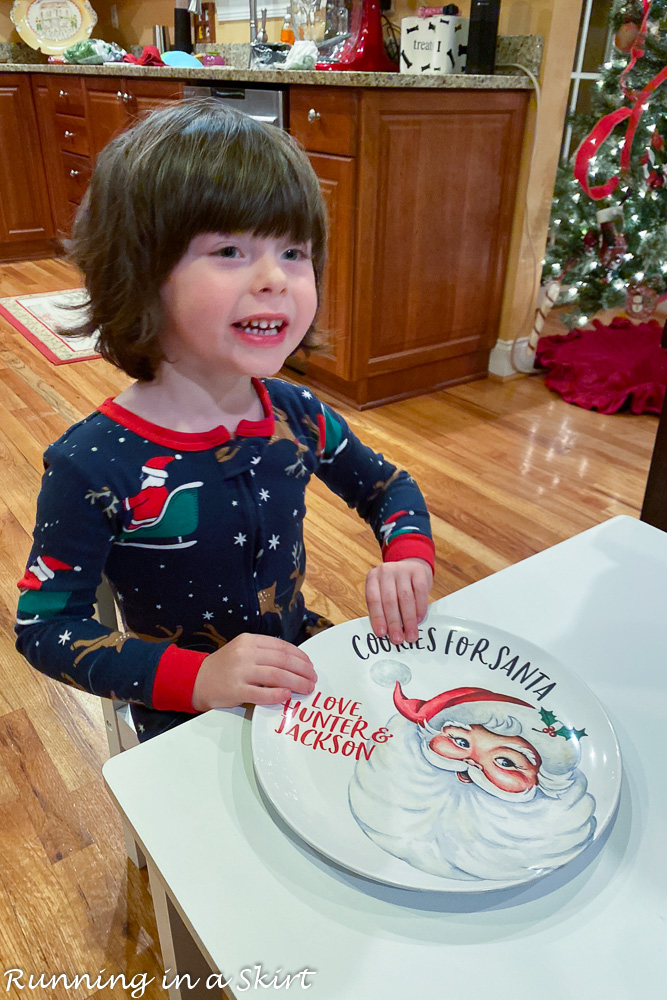 The boys picked out cookies for him and poured the milk. We put it on our fireplace.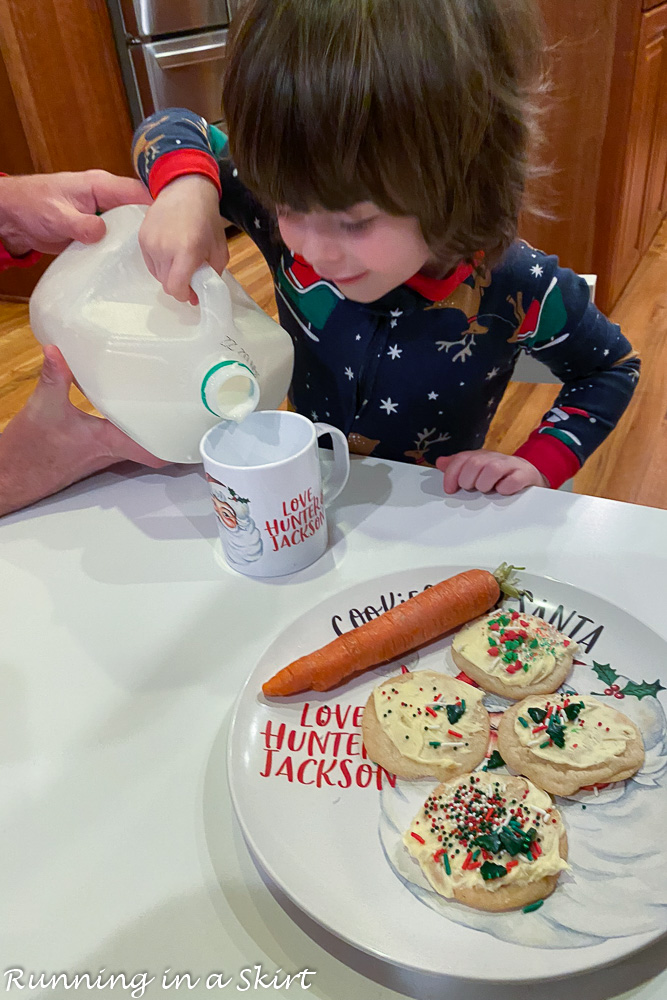 Then we went outside and sprinkled reindeer food over the deck.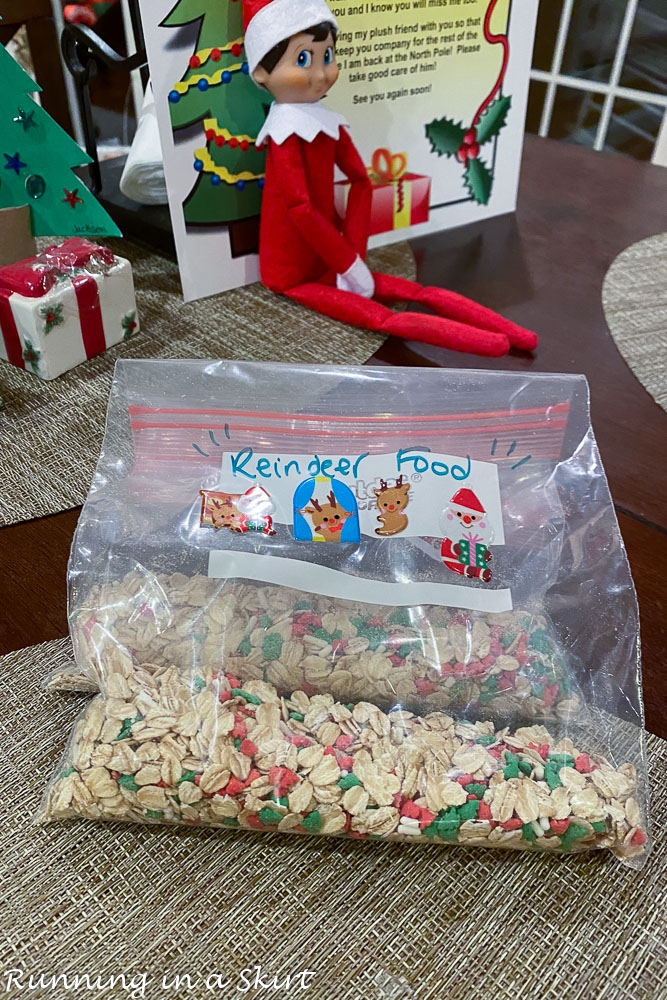 Finally, the boys sat for a few quick photos for me to remember the day by.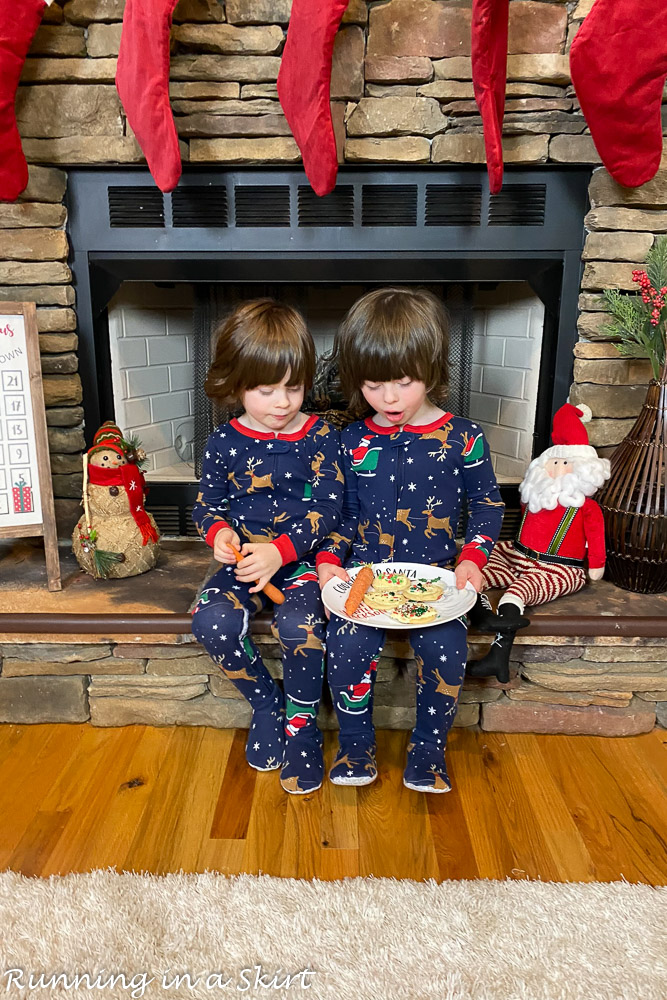 This one here is definitely going to need to be framed.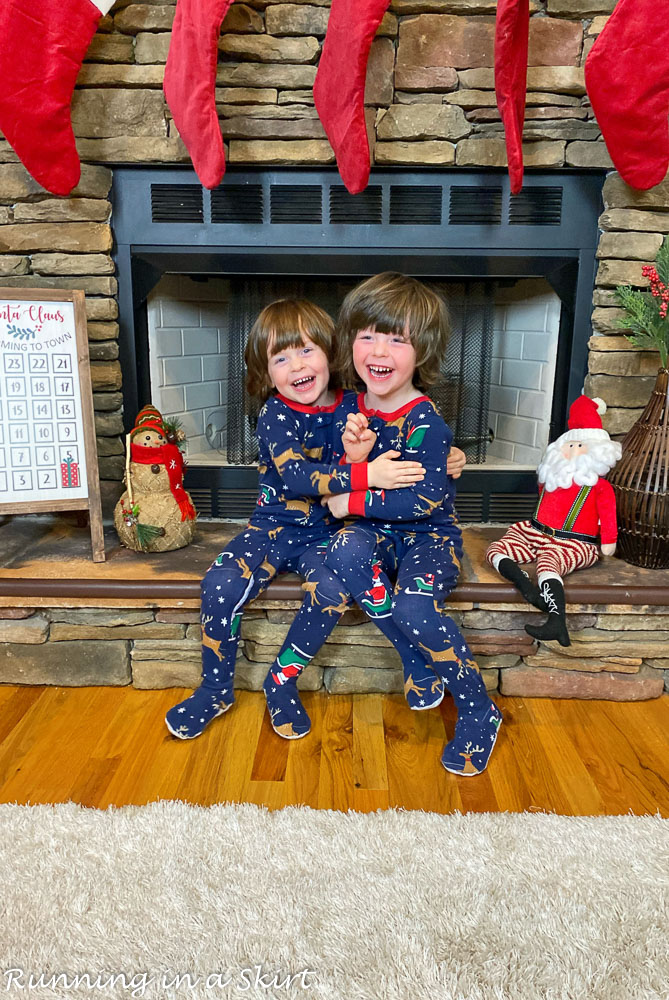 After the boys went to bed the Hubs and I made our own Christmas Eve dinner. We have a tradition of doing seafood all weekend and we got lobster tails this year.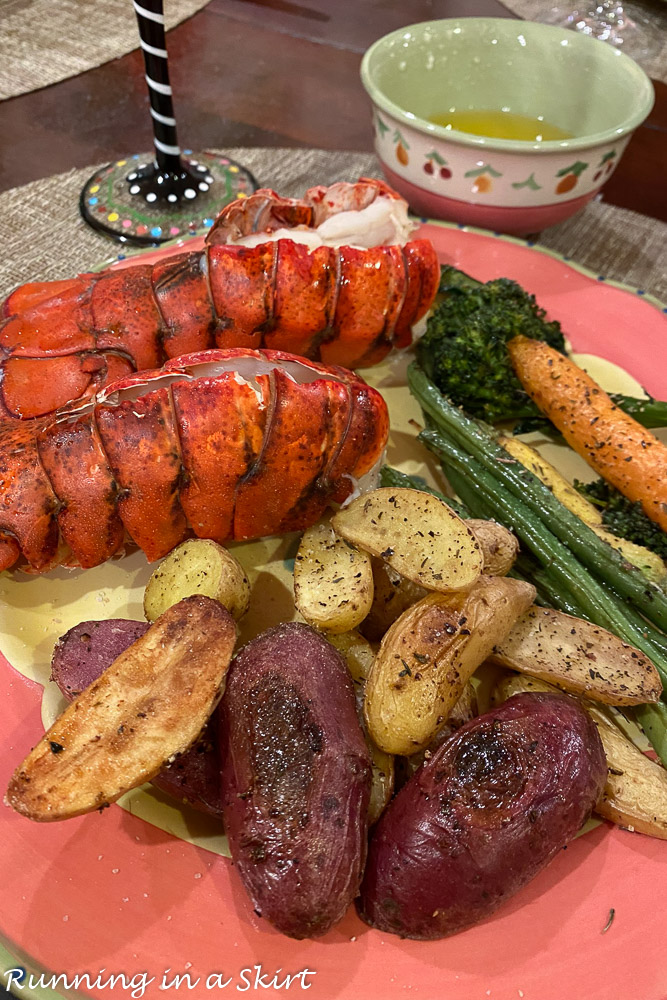 On Christmas Day the boys woke up and first opened their stockings upstairs. They couldn't believe Santa had come. We ate breakfast and then told the boys that Santa left more presents in the basement. They ran downstairs and were so surprised to see more fun toys.
We ended up spending nearly the entire morning opening and playing with the new gifts. They wanted to play with each one when they opened it so it took some time. It was very sweet.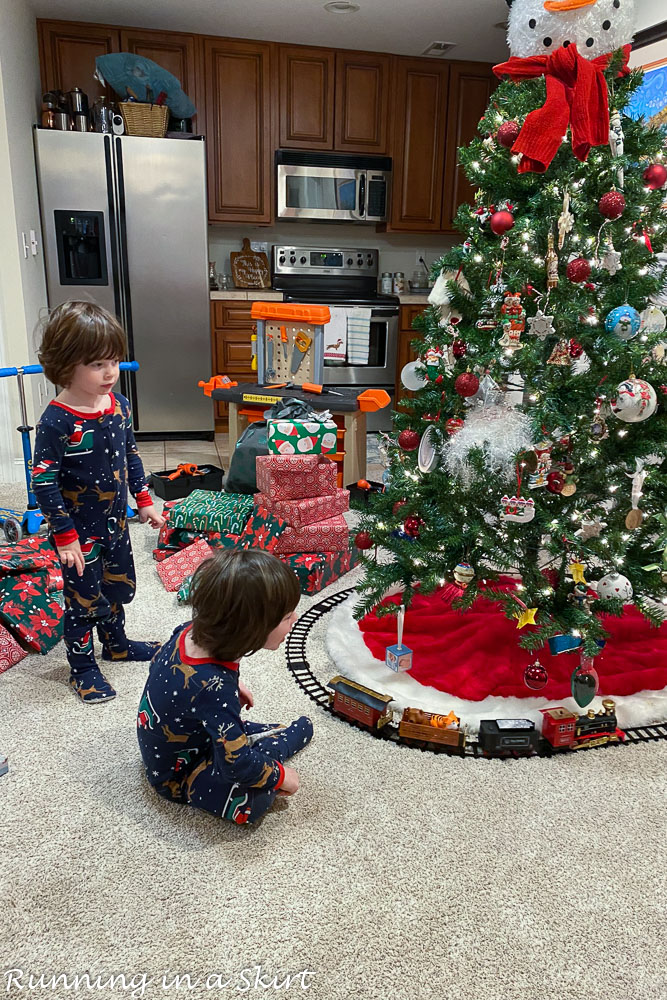 We actually spent the second half of the day playing outside with the neighbors because it was so warm. It was a lovely way to spend the holiday.
The boys went to bed exhausted and happy. It was quite a few days.
Once the boys went to bed we made our own Christmas Day dinner. We started with a Peppermint Martini!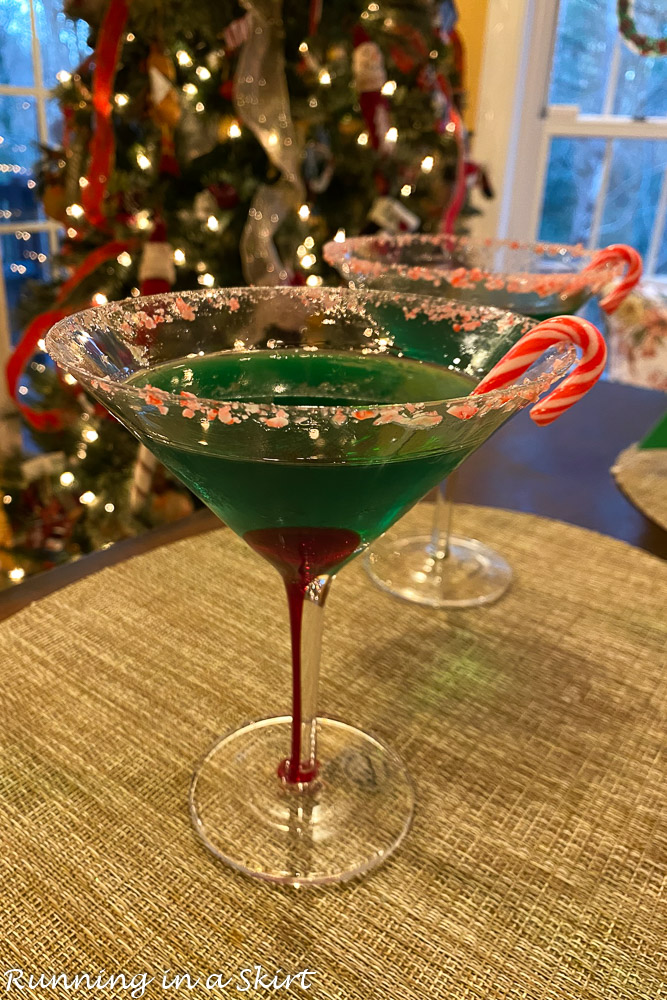 Next up was another tradition for us... mussels! I've actually lost track of how many years we've had mussels on Christmas Day. I make one with a spicy red sauce and a second with a classic white wine butter sauce. They were delish and perfect for us.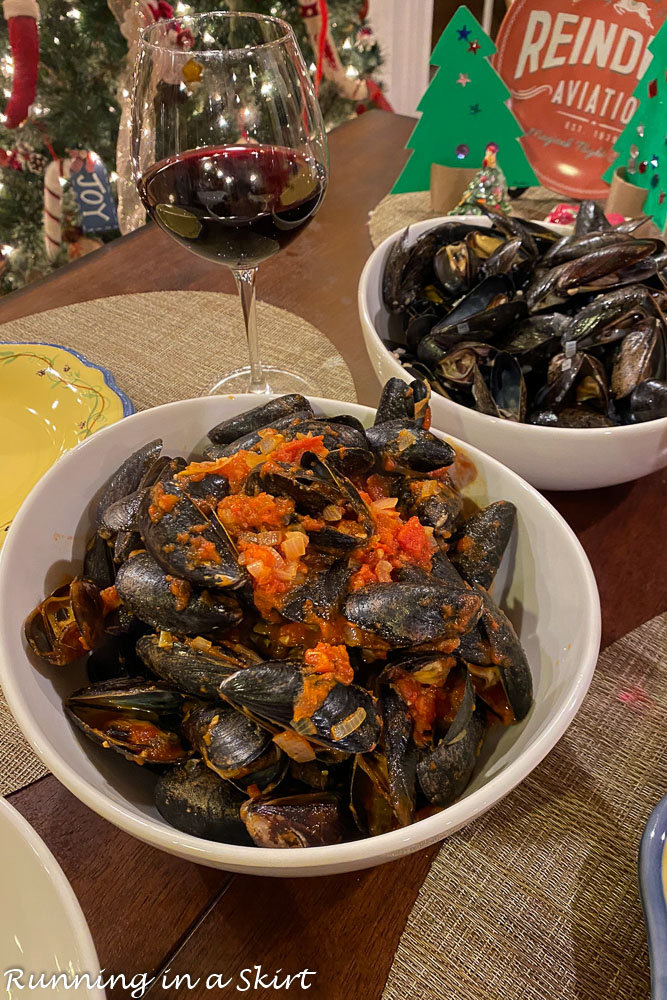 What a family Christmas! The twins certainly had a magical weekend and it was so fun to witness.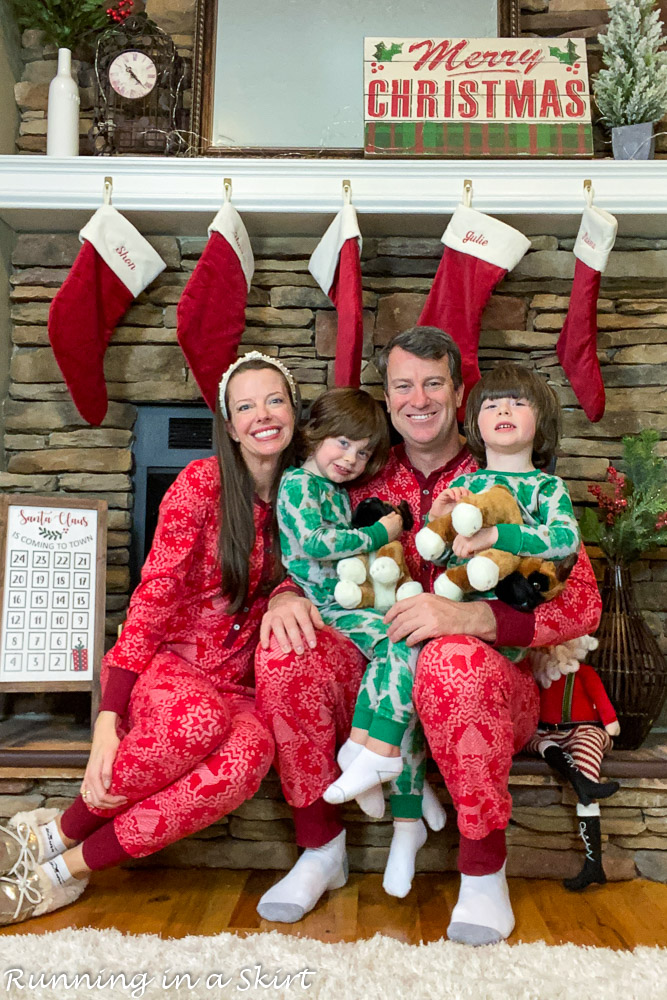 There is so much to be grateful for this year and at the top of that list for me is my family.
Merry Christmas week everyone. I hope you had a great one. I'll be back on the first of January with fresh new recipes to try.