Fall Fashion has never been easier to wear! Try these new easy to wear fall fashion must haves.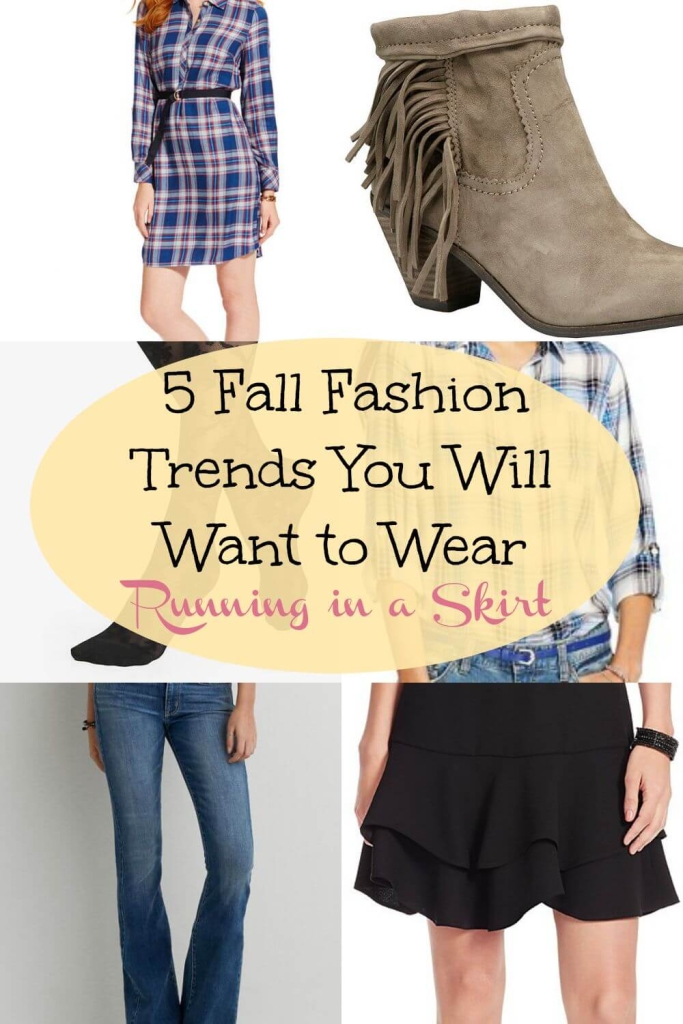 Hi friends! Happy Fashion Friday!
Now that we are officially past Labor Day, I've accepted that fall fashion must haves are just around the corner. It's been pretty warm in Asheville, but it's supposed to be cooler this weekend. I'm still not rushing to put away my sundresses just yet, but it's only a matter of weeks before the boots come out. Last year we had our first big snow of the year on Halloween!
But I digress... the former weather girl in me always wants to talk about the weather 🙂
Here are my picks of some of the most wearable fall fashion must haves of the season. There are always a lot of crazy trends out there, but I like to focus on the ones I think most of us could pull off! As always I've done my picks, steal & splurge style so there is something for most budgets.
Fall Fashion Must Haves
Plaid
Plaid was just gaining traction last winter and it is here to stay this fall. I feel like some plaids are channeling 90's grunge a little too much, so I like sticking with feminine cuts when you wear this look!
Splurge--->
Steal--->
Tommy Hilfiger Belted Shirt Dress, 59.99 (Sale!)
Target, Mossimo Plaid Button Down, $17.24 (Sale!)
Printed Tights & Leggings
Printed tights were all over the runway this fall season. I love the look and think it adds pizzazz to any business look. If you do wear these to work, just be sure to have an appropriate length skirt to go with them.
Splurge--->
Express, Baroque Lace Sheer Full Tights, $24.90
Steal--->
Target, Merona Printed Tights, $10
Fringe Booties
I'm a boot collector. I absolutely adore boots and they are one thing that gets me through the cold - winter boots with some style. Fringe boots channel the very popular 70's inspired clothing right now and are absolute perfection for fall. I got a pair very similar to these at the Nordstrom sale last month. I've been anxiously awaiting to pull them out. They might be the only thing I'm looking forward to with colder weather!
Splurge--->
Sam Edelman Fringe Booties, $140
Steal--->
American Rag Fringe Bootie, $49.99 (Sale!)
Flare Leg Jeans
It's still perfectly fashionable to wear your skinny jeans, but wider leg flared jeans are also making a big comeback. I have a bit of a hippie heart and have always LOVED this look. I had several pair in college that I wish I would have kept! The high waist is also very popular this season.
Splurge--->
7 For All Mankind, Ginger Flare, $189
Steal--->
American Eagle, High-Rise Boho Artist Flare
Flounce Skirts
Fancy skirts were all across the runway this fall. From car wash skirts to flounce skirts, most skirts had a little bit of fun built into them. I love this look and think it is the perfect way to make business casual more fun. Check out this look of mine from Spring!
Splurge--->
Ralph Lauren, Tiered Flounce Skirt, $115
Steal--->
Calvin Klein Flounce Skirt, $59.99 (Sale!)
So those are some of my top picks for fall! I'm currently in the market for a plaid shirt dress... preferably in pink 🙂 I'll keep you updated on the search!
Have a gorgeous weekend. See you back on Monday for another edition of Currently...
Thanks to Nicole for the Fit and Fashionable linkup! I'm also linking up with Joylynne Shane for Fashion Friday and Turning Heads Tuesday. Also the Friday Five Linkup! and High Five Friday.
Your turn!
What are you looking forward to wearing this fall?
What fall trends are you seeing?