Asheville is an amazing little mountain city that is no longer a secret. Here's a guide to the perfect 48 Hours in Asheville... from a local!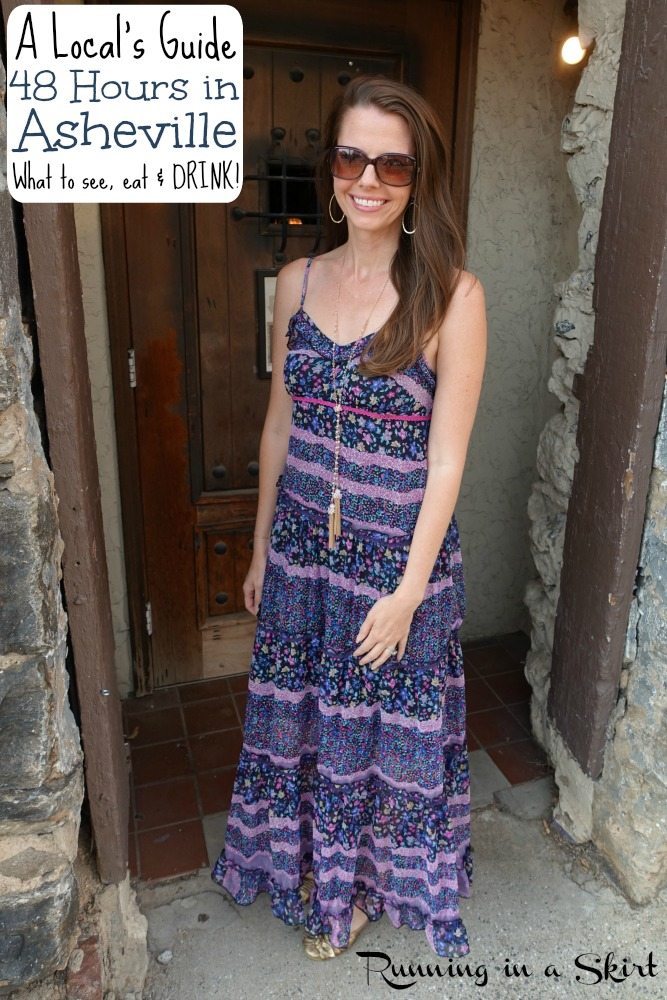 Weekend Asheville Trip - A Local's Guide
When I moved to Asheville 15 years ago, I had to explain to most people who asked about Asheville where I was moving. It was a gem of a city that was still largely unknown beyond the Southeast. Tides have changed and in the past 6 years or so Asheville has gotten so much press that now when I mention to strangers around the world that I live here they instantly want to gush about Asheville to me.
Asheville is a little mountain utopia and while I wish we would get a few fewer tourists, I understand why people flock here. It's for the same reasons that I love living here. There are gorgeous, highly accessible mountains with endless day hikes, handcrafted drinks of all kinds, a unique, quirky hippie vibe that you can't find anywhere else, and an epic food scene that promoted local food long before local food was cool.
For a pretty small city... Asheville has big draws.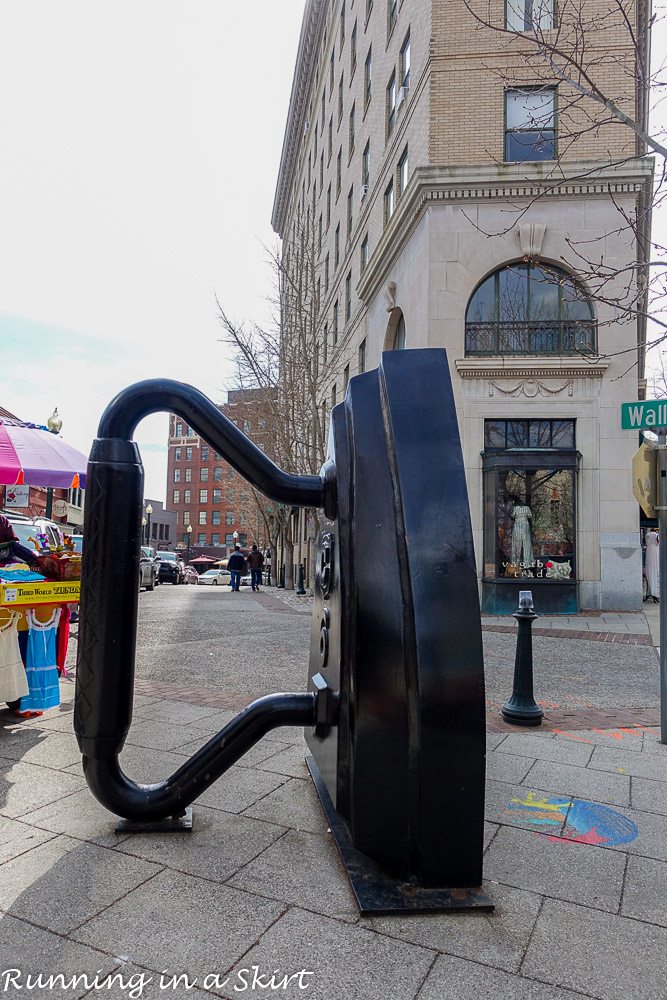 I write so many travel posts about places I've been to, but I realized I never actually wrote a travel guide for my own city... the place I live and breathe. Plus after the umpteenth person asked me for suggestions, I thought that perhaps it was time to write my travel guide down.
There are SO many places I adore in Asheville... that it was hard for me to pick favorites to do in only 48 hours in Asheville. I think that's one reason I've hesitated writing this too... because picking between my favorite things to do in Asheville is like asking me to pick a favorite pet... it's hard! But for your sake, I did it. I decided for this guide I'd assume you'd be staying downtown, just have a weekend (arriving mid-day Friday and leaving mid-day Sunday), and want to mainly explore downtown in the 48 hours in Asheville.
There are so many other places I simply adore, but these are the places and experiences that I think are most unique to this city and give you a taste of what we are all about. This is where I send my friends and family most often.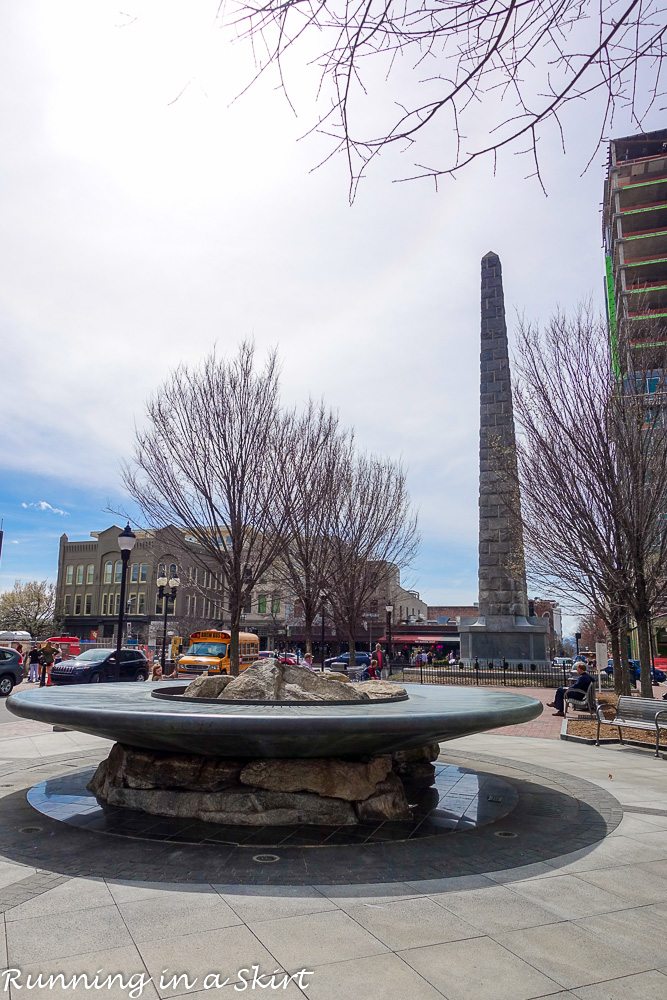 So with that... I hope you get a chance to visit Asheville and go on this little adventure!
The Perfect 48 Hours in Asheville
48 Hours in Asheville -Day 1
Arrive/ Check-In / Lunch
Welcome to Asheville! Start your 48 hours in Asheville with a visit to Wicked Weed Brewery to eat and drink. You've probably heard about Asheville epic beer scene, so you've got to start with a flight. The restaurant is a great introduction to the beer and food scene in Asheville. Try the Pernicious beer and soak in the atmosphere.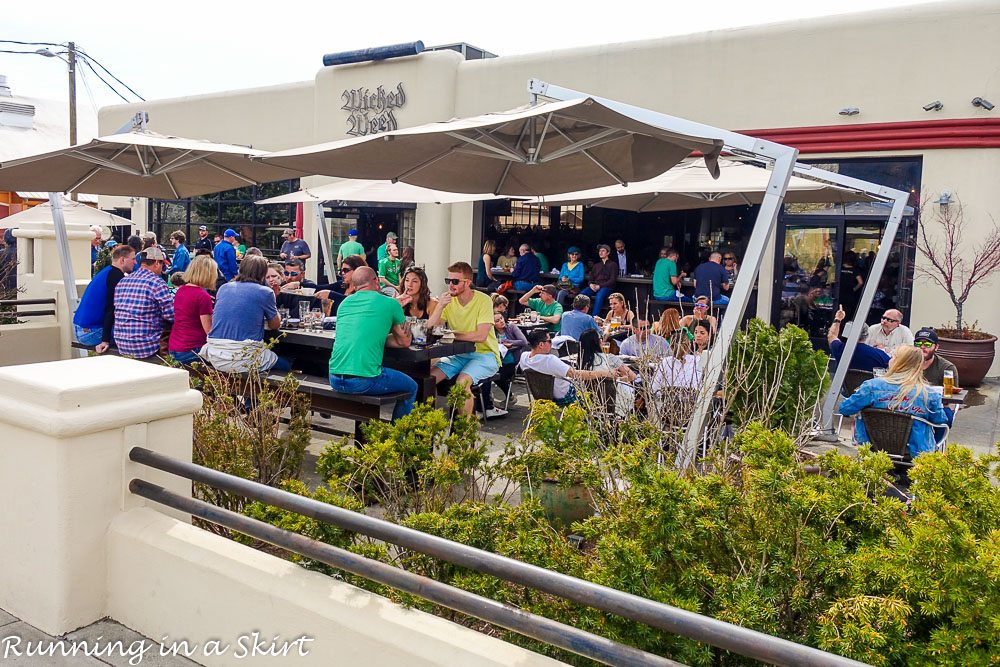 There is sometimes a wicked line there… try nearby Mamacitas for food if you don't want to wait... it's my favorite casual Mexican restaurant in town.
Afternoon
The LaZoom Comedy Bus Tour is a fun introduction to all things quirky about Asheville and is hilarious. It's also called the purple bus and you will see them around town all weekend. It's a very relaxed tour and comedy show rolled in one. I don't want to give too much away, but you will be rolling on the floor laughing! You are allowed to bring drinks on the bus so make sure to pick up a few in their office before heading on the bus. It's popular but is worth the hype.
Book your time online ahead of time.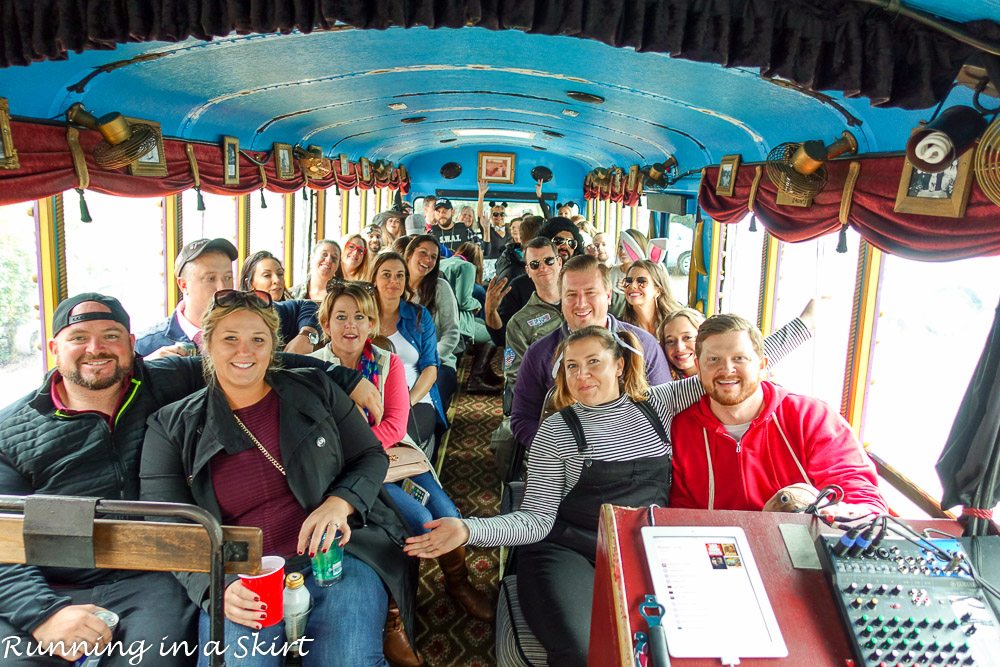 Drinks
Depending on which season you are visiting, stop by a rooftop bar for drinks and a chance to watch the sunset. Here are a few of my favorites.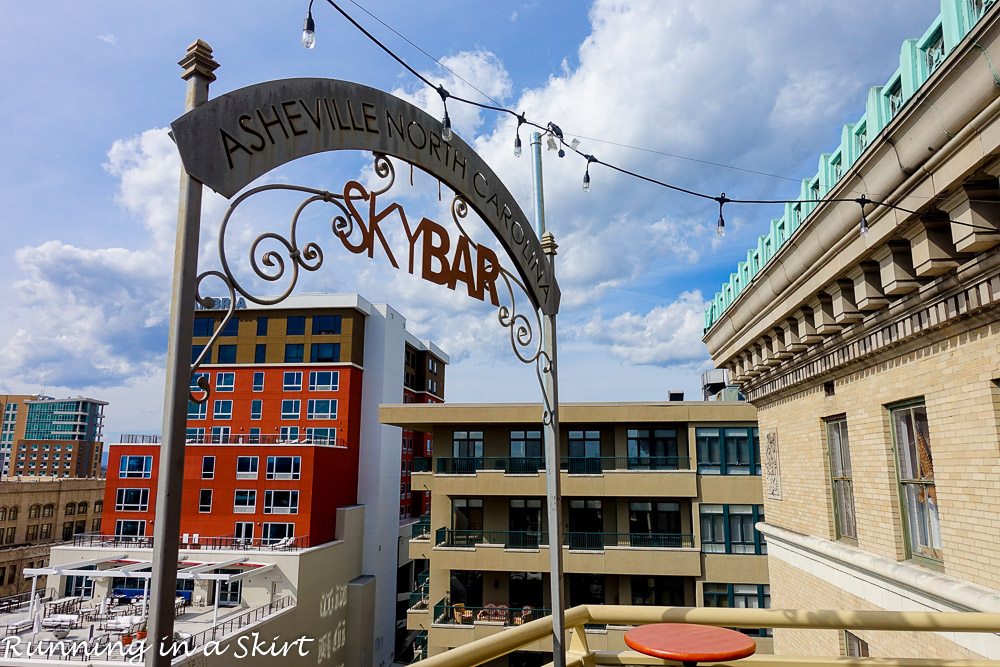 Dinner
Curate remains one of the hottest dinner tickets in Asheville and for good reason. It's a Spanish Tapas style restaurant with a James Beard-nominated chef. Reservations go fast, so make sure to book as soon as you decide to come.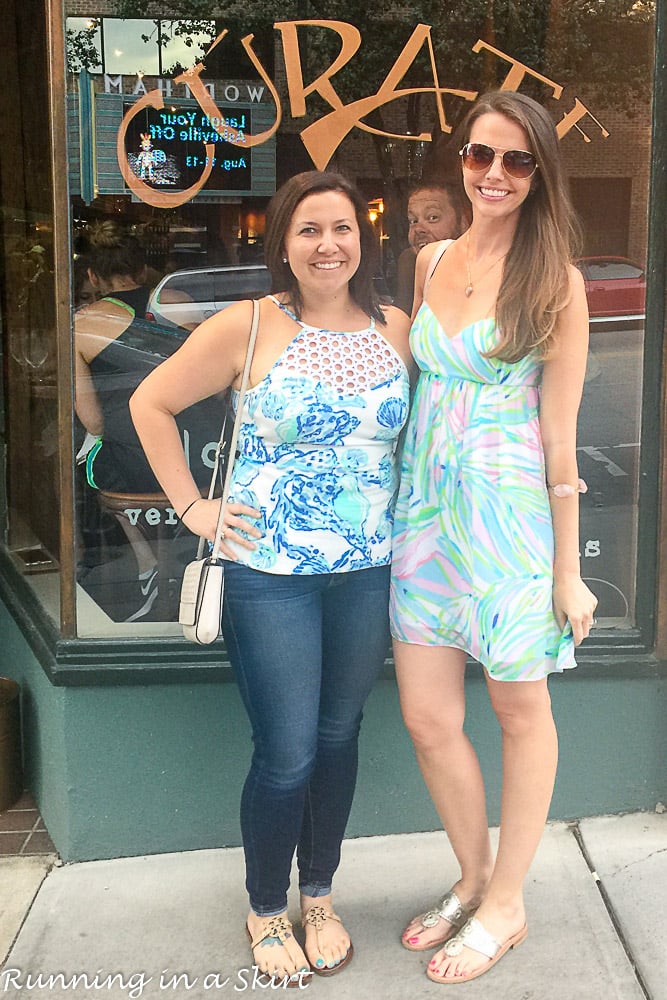 The handcrafted drinks and menu will leave you swooning. It's a place that absolutely lives up to the hype.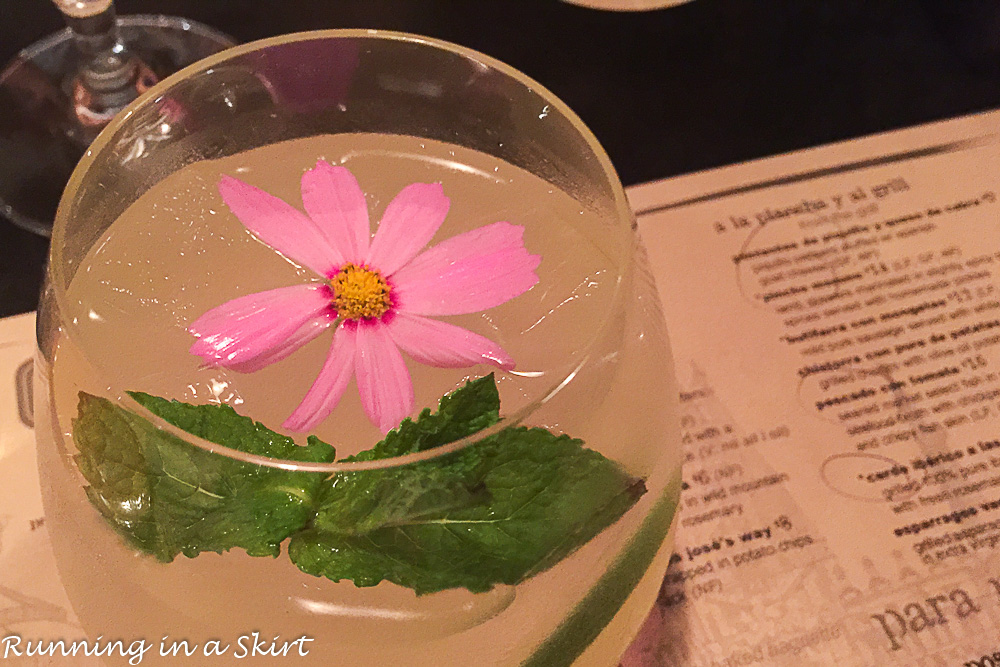 If you can't get into Curate a few of my other favorites are Cucina or The Marketplace. The Bull and Beggar is also delicious, although it is not downtown. Other great picks are Chestnut, Nine Mile, and The Lobster Trap. There are so many great restaurants in Asheville though... so it's hard to go wrong!
Dessert
If you are still hungry consider stopping by the French Broad Chocolate Lounge in Pack Square for a sweet treat!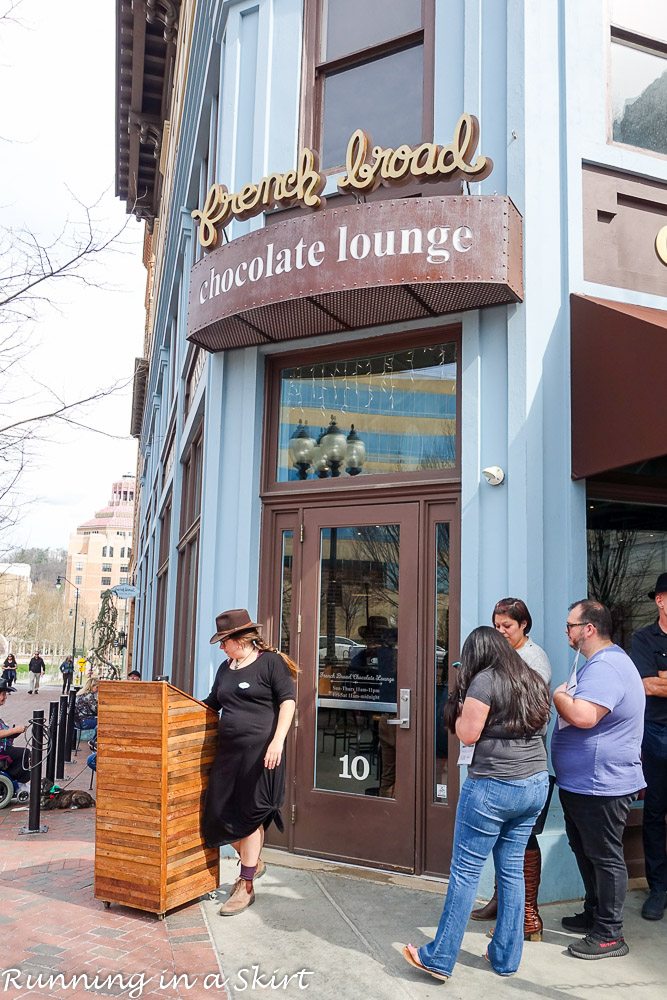 It's right up the street and is such a fun place to visit. I love all their sweets but am partial to their brownies.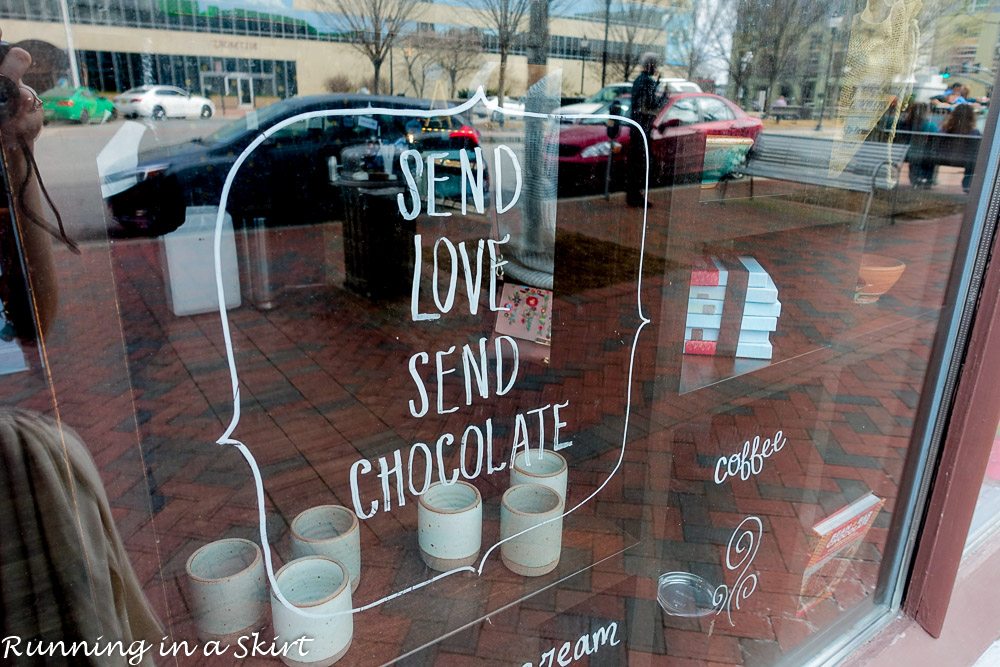 After Dinner Drinks
If you are still ready to celebrate stop by a local bar for some after-dinner drinks. Here are a few local favorites. You can also do more brewery visits after dinner.
48 Hours in Asheville Day 2
Breakfast
Enjoy a locally grown and raised Asheville breakfast at Early Girl Eatery. This restaurant was at the heart of the farm to table movement in Asheville and is southern comfort food at its best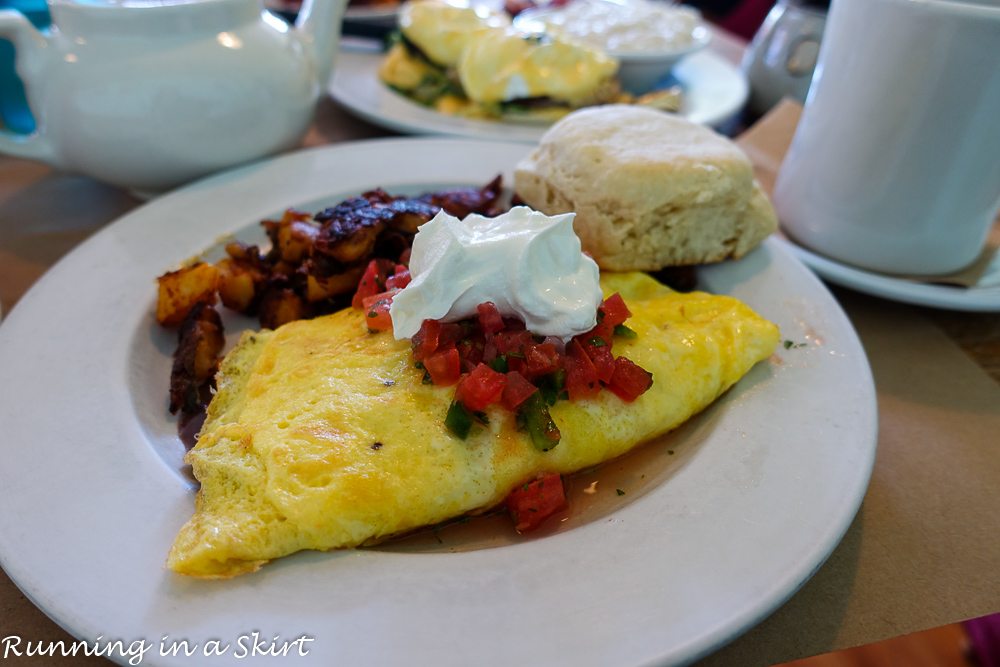 If Early Girl is booked you can also try Tupelo Honey or Over Easy Cafe.
Shopping or Hiking
Depending on your physical ability, the weather, and whether you have a car either go shopping or hiking in the morning. My suggestion for a close-to-town hike with epic views is Craggy Pinnacle. You don't have a lot of time to hike with only 48 hours in Asheville, but this is your best bet!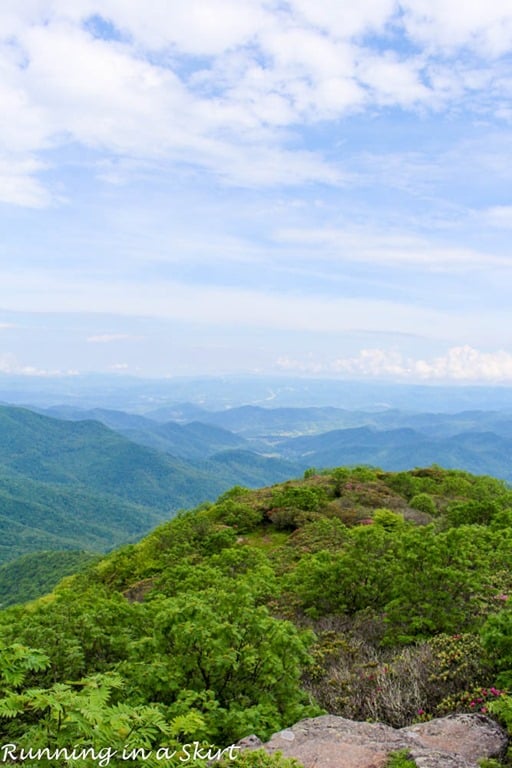 It's 24 miles from Asheville along the Blue Ridge Parkway but takes closer to 45 minutes to get there. The drive along the Blue Ridge Parkway is part of the fun too! It's about a mile and gains 252 feet in elevation... but it's a lot of bang for your buck in terms of hikes closer to town.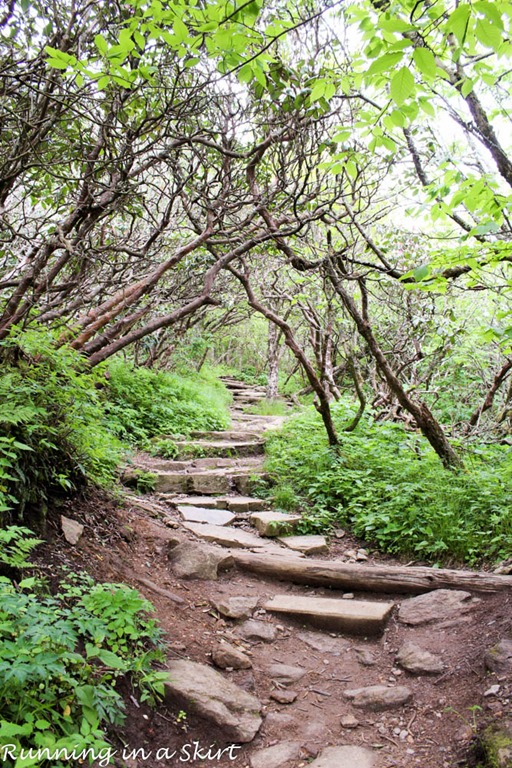 Only go if the weather is clear and remember to take a sweater. It will be much cooler than in town. Winter is not a good time to go.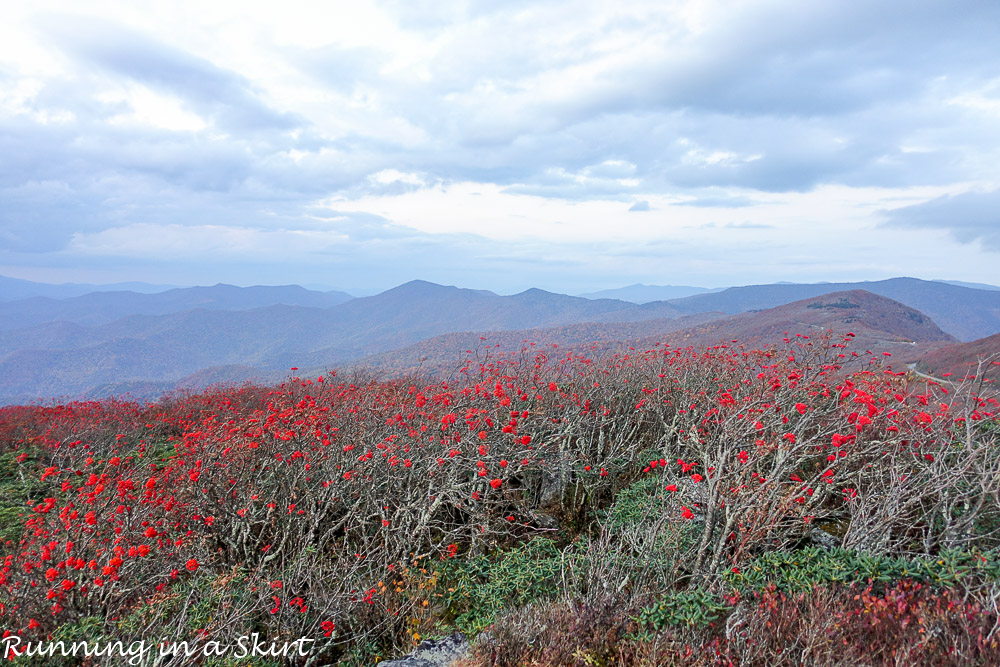 If you want to check out any other local hikes, here are the 10 Best Hikes Near Asheville with Epic Views.
If you don't have a car and/or aren't up for a hike... go shopping. There are lots of cute, quirky, and local shops around downtown Asheville. Lexington Avenue is a great place to start! Start at Tops for Shoes and walk north down Lexington Avenue, down the hill to see more. Stop for a morning tea at Dobra Tea. It's on the right-hand side at the bottom of the hill. It's a very hippie-style tea shop where they serve hundreds of teas from around the world. Each tea is served in an authentic style teapot and it's one of my favorite hidden gems in the city.
Lunch
Buxton Hall is one of the hippest places in Asheville right now. It's a unique BBQ joint run by another James Beard-nominated chef. It's been on all sorts of Best Of lists including best BBQ in NC, America's Best New Restaurants etc. My husband loves their Fried Chicken Sandwich and their catfish is super unique!
Afternoon
After lunch explore the South Slope Breweries. You can't come to Asheville and not explore the beer culture! The South Slope has lots of them concentrated together so you can experience several without driving. Try the Funkatoriam (for sour beers,) Asheville Brewing, Hi-Wire, Catawba, Burial, Twin Leaf Brewing! The Hubs is the beer lover in our family and recommends going to at least Burial and Twin Leaf. If you need a snack to soak up the beer stop by Vortex Donuts. If you missed Wicked Weed yesterday, you could also do this here because it's nearby. Explore this site for some more brewery information.
Dinner
There are so many restaurants in Asheville that it's hard to pick just two, but another one of my favorites for a great meal is The Blackbird. It's a charming restaurant with tables that are perfect for people watching.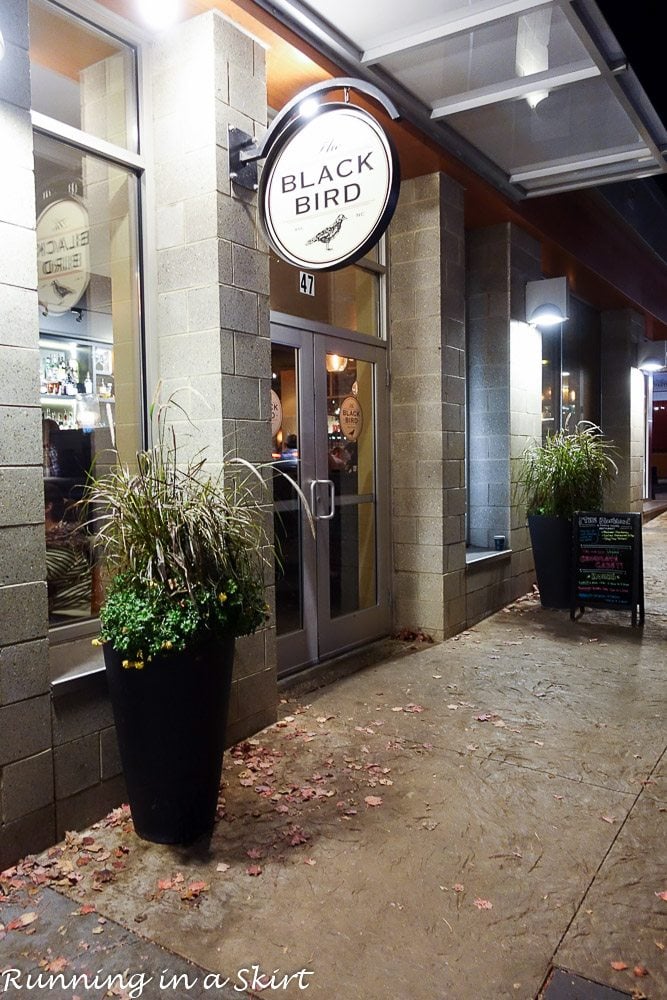 The seafood risotto is one of my favorite dishes, but they also have plenty of other delicious seasonal dishes. The wine list is also really tasty.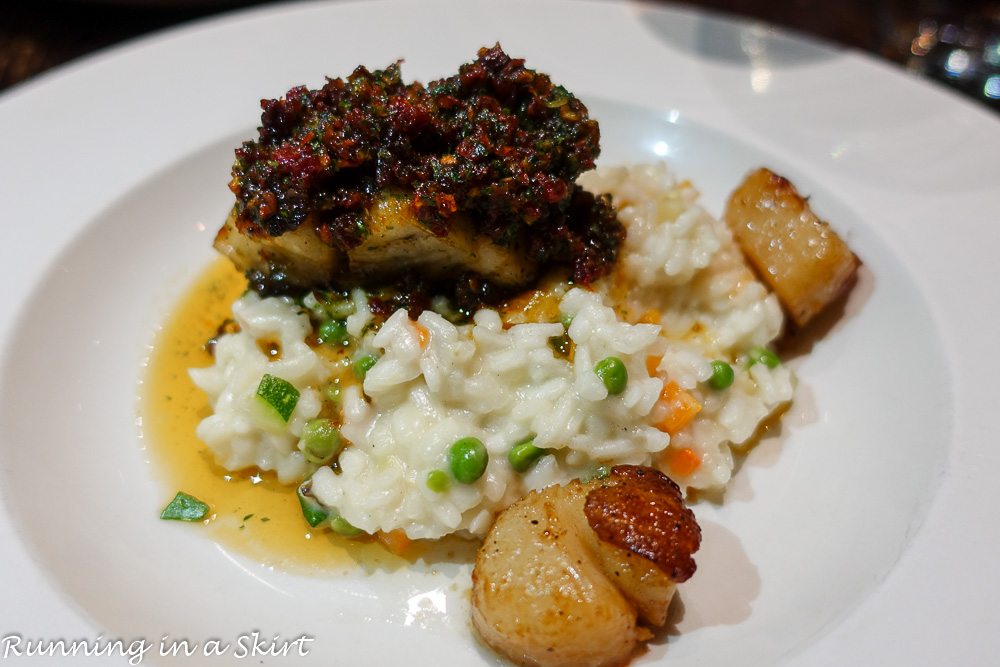 By far my favorite thing though is the coconut cake. It's light yet rich and nothing short of dreamy!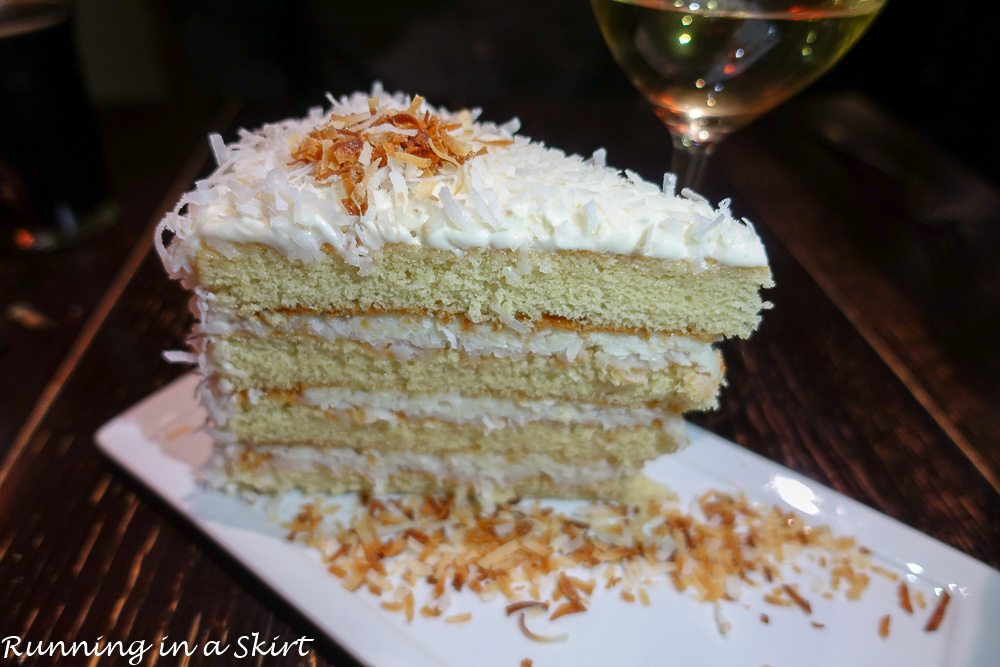 Another dinner option is Bouchon. Bouchon is a charming French restaurant that's been in Asheville for years. I highly recommend getting the cheese plate and then the mussels and fries! They do not take reservations but you can usually sit at the bar with a nice glass of wine while you wait. It's cozy and perfect in the winter. You could also do a dinner hop and get wine, cheese, and mussels at Bouchon and then move on to a shared main course and dessert at Blackbird. 🙂
After Dinner Drinks
Top of the Monk is another unique spot that makes really tasty handcrafted cocktails. It's a private club, but membership is free and you can sign up when you get there. They are perfectionists with their drinks, so it takes a few minutes to get your beverage but it's worth the wait.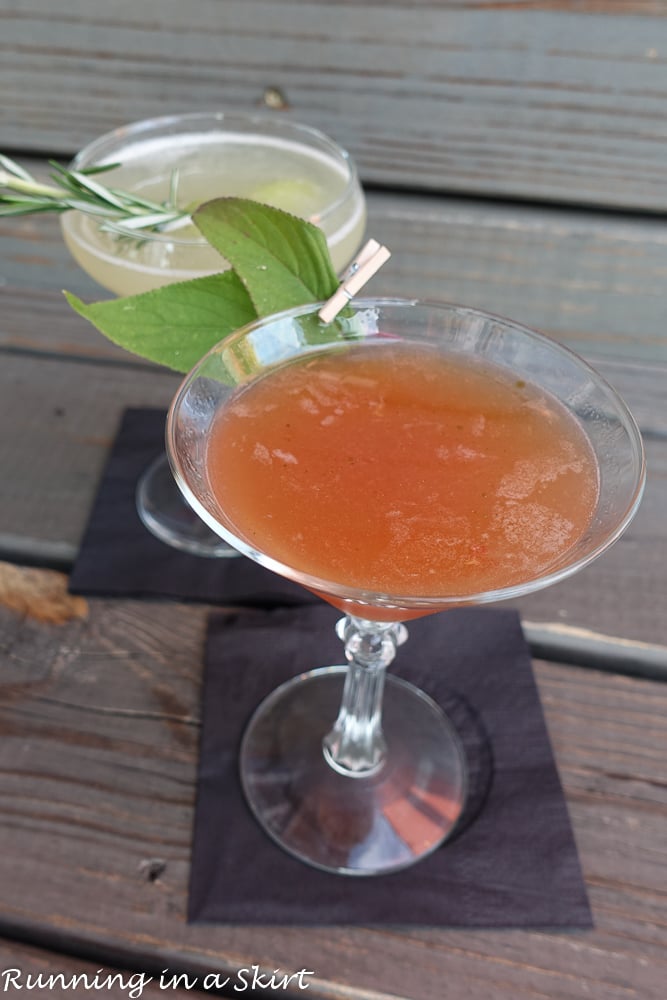 With each drink, you get a key to a cubby with a snack!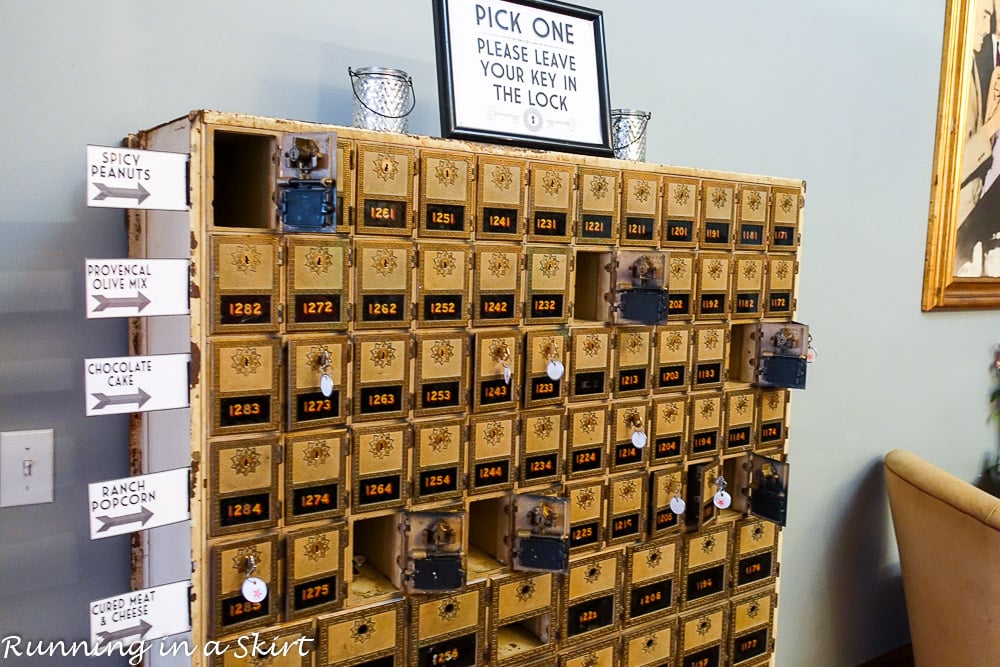 48 Hours in Asheville Day 3
Breakfast
Start the last day of your 48 hours in Asheville at Green Sage Café or Biscuit Head in West Asheville. Depending on your mood stop by Green Sage for a super tasty healthy meal or Biscuit Head for an indulgent brunch with biscuits the size of your head! They both represent Asheville well! Green Sage is walkable if you are staying downtown.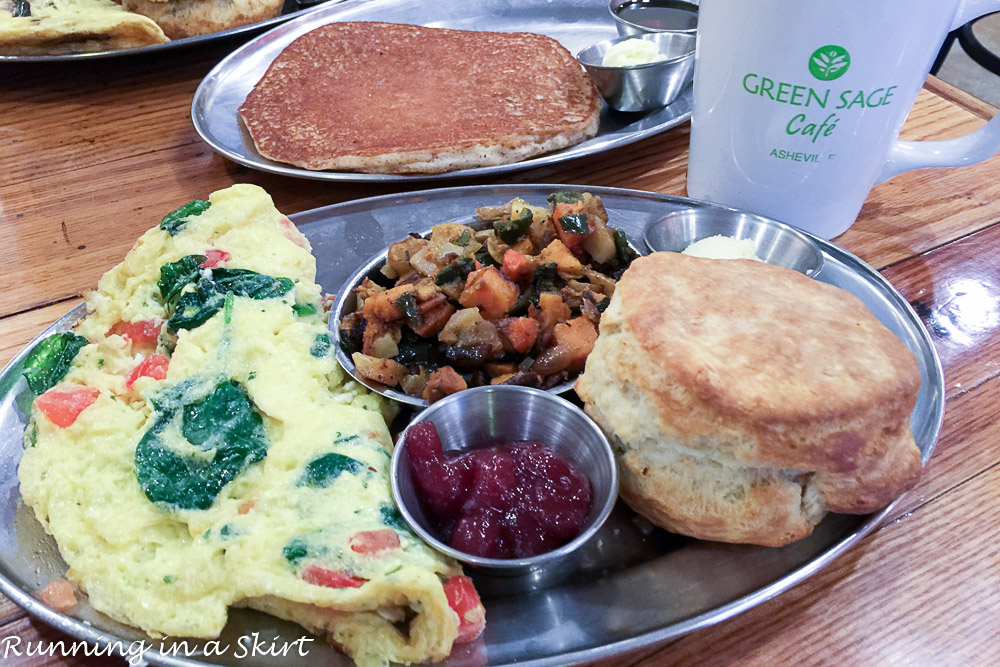 Biscuit Head is a short ride away to West Asheville. If you go there spend some time exploring West Asheville before you leave. It's quirky and charming.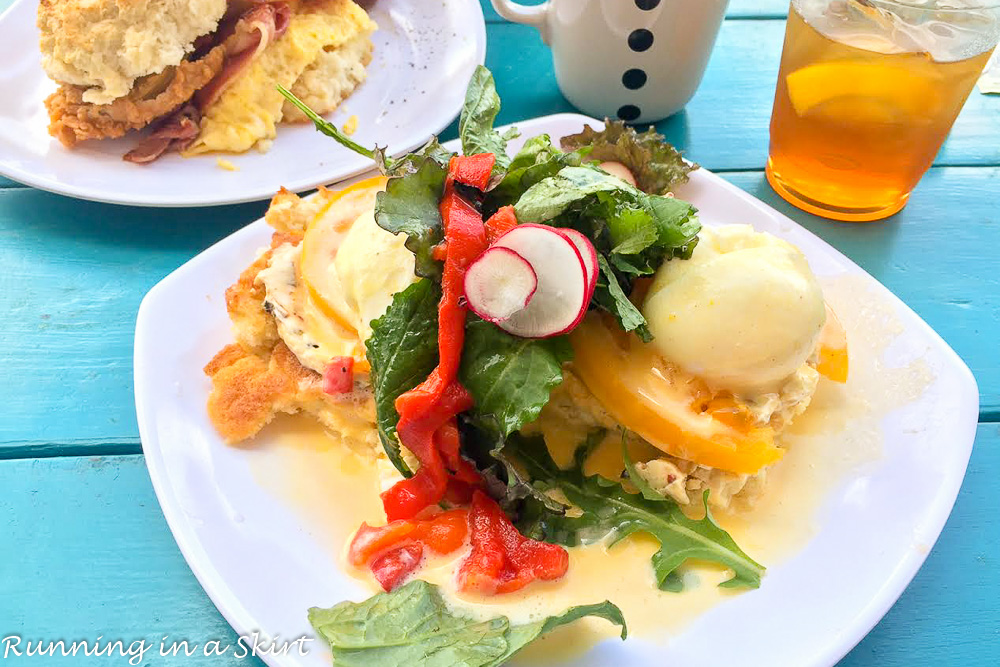 If you have time after breakfast either shop downtown Asheville (especially if you hiked the day before) or drive to West Asheville or Biltmore Village to explore.
Lunch
You will be stuffed at this point but don't leave Asheville without stopping at Chai Pani. Chai Pani is the most unique and delicious Indian restaurant you will ever eat at! This is another restaurant owned by a James Beard-nominated chef. Enjoy some of the tapas-style eats (Sev Potato Dahi Puri, Aloo Tikki Chaat, Okra fries, Uttapam) or get one of their daily thali plates or Tandori Fish Wrap. It is out of this world good.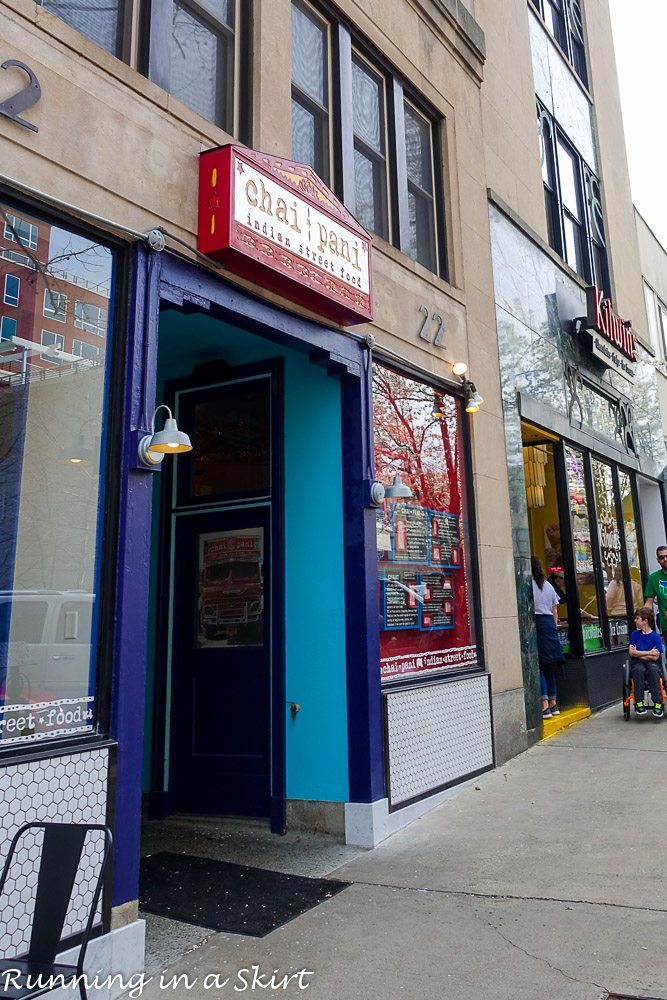 After lunch takes a left out of Chai Pani and find the Bee Charmer shop and walk around. Nearby there are several more stores as well. You can also pop your head into the Grove Arcade for more shopping if you like. In winter they have some of Asheville's famous Gingerbread houses on display.
Chocolate Break
After visiting those shops head back down the hill and up the street and pick up a truffle at The Chocolate Fetish.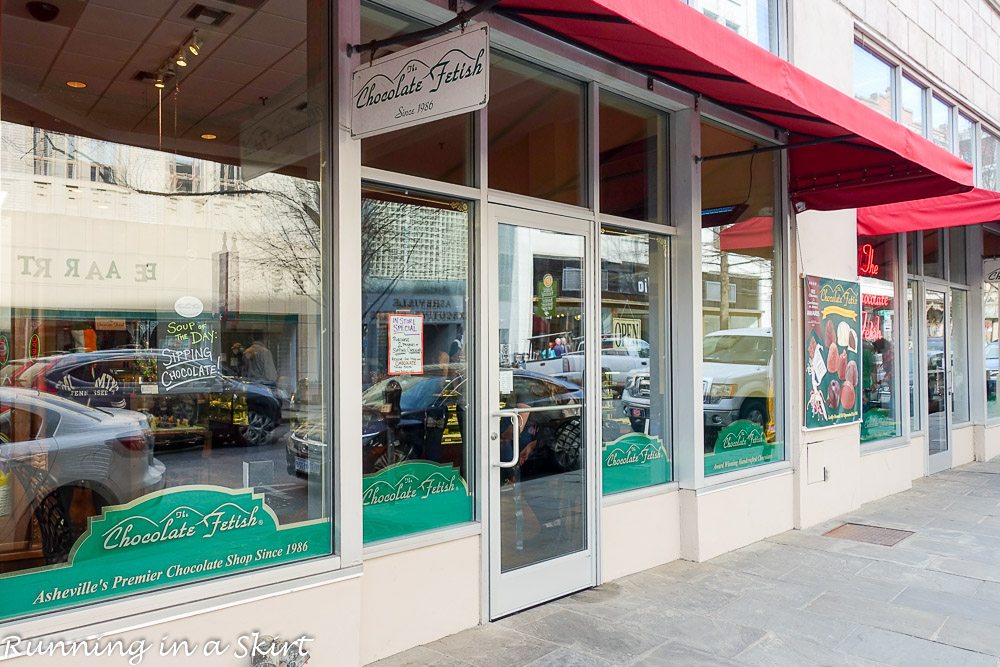 Even if you are full, pick up a box to remember your time in Asheville. You're welcome :-).
Hope you enjoyed your time in Asheville!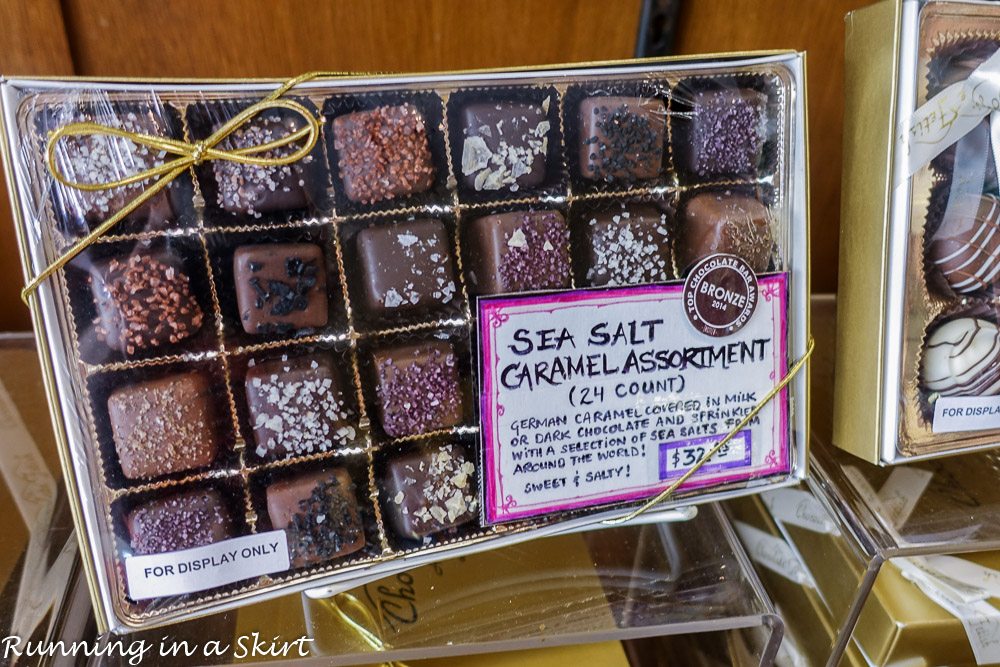 A Few Things to Remember about Your 48 Hours in Asheville...
Everything I mentioned with the exception of the hike, Biltmore Village and West Asheville is walkable. Asheville is a very easy city to get around. I listed a lot of things so if you find something you really like just stay and linger! This is a FULL packed 48 hours.
If you are interested, you may also want to consider trading at least a half-day- ¾ day of activities for visiting The Biltmore House. It's quite impressive and you can also go to their winery and Antler Hill Village. At Christmas, it gets very crowded so you would have to buy your tickets in advance and book the time you'd like to actually go into the house. It's pricey and touristy but I think it's worth seeing if you've never seen it. However you'd sacrifice seeing a lot downtown and it would be a very different kind of trip, so you'd have to decide what feels more you. You'd need a car to do go.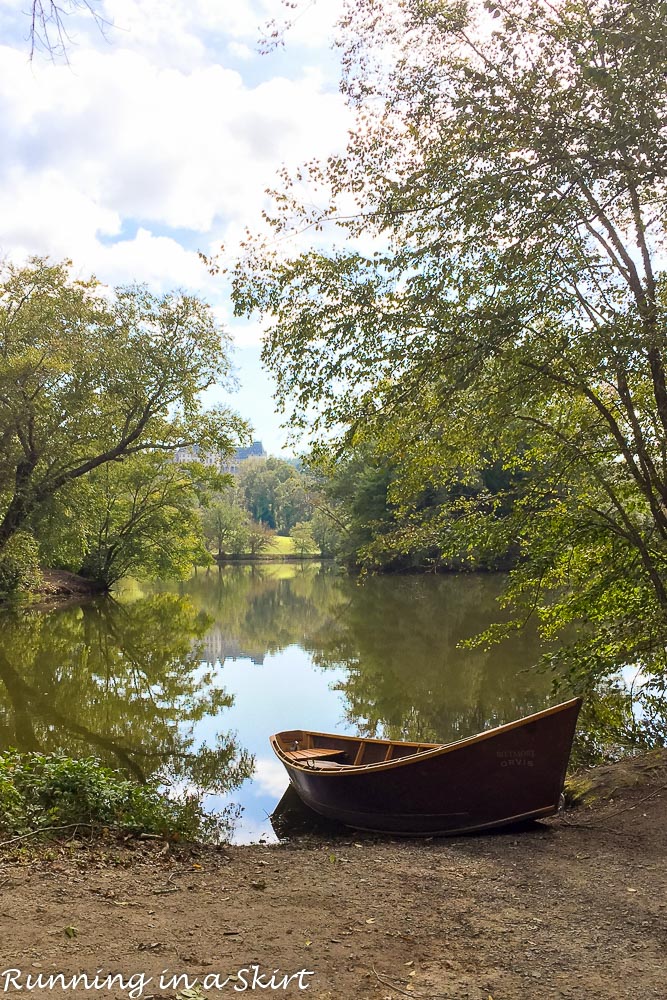 If you have extra time I'd consider visiting Sierra Nevada. The taproom is super impressive! They have tours, a restaurant, and a gorgeous outdoor area. It's about 30 minutes south of town near the airport so you could stop on your way in or out of town.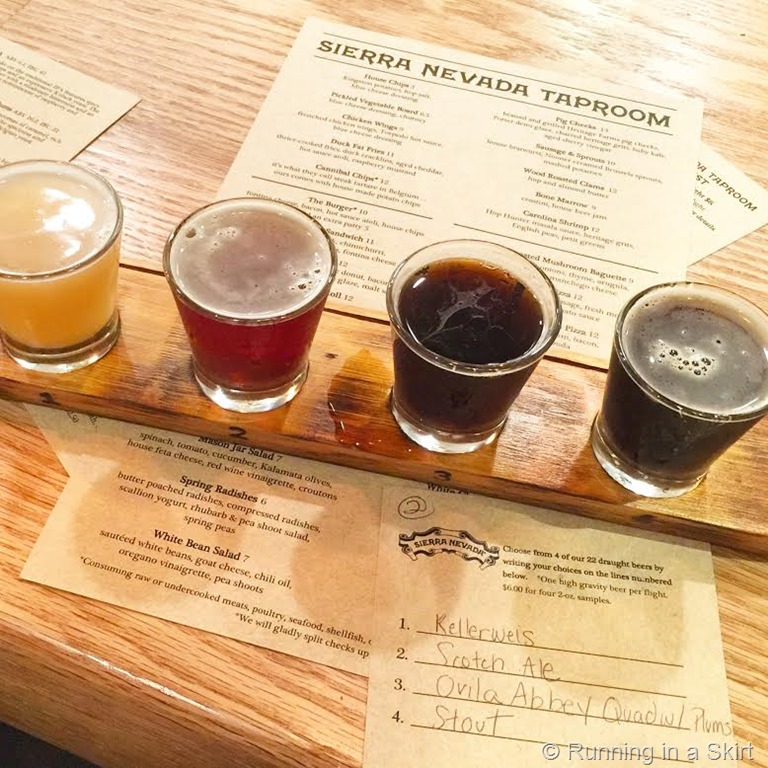 Like this post on 48 Hours in Asheville? Pin this to your favorite Pinterest Board!


Your turn!
What would you add to my list?