Rompers are back! Here are a few of my favorites for this spring and summer.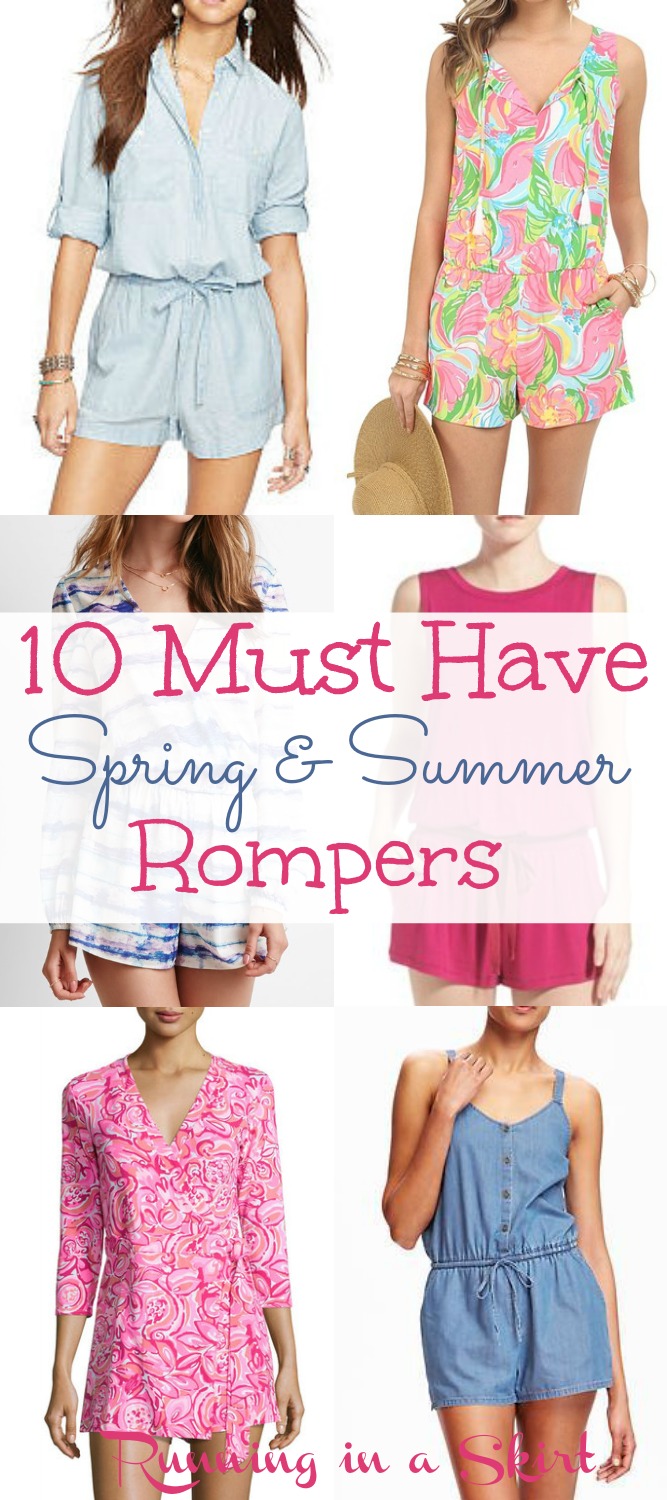 Hi friends and happy Fashion Friday!
Before we talk fashion, remember that next Friday is the Best of the Blogs linkup! I can't wait to see your best posts. Don't know what I'm talking about? Check HERE.
I'm a little obsessed with rompers right now. I think they are so fun for spring and summer (well late, late spring depending on where you live.) They are back in the big way for this upcoming season. I have been seeing them all over the stores, so I thought I'd share a few of my favorites. I made sure to share some at all price points so everyone can have a little shopping fun.
10 Must Have Spring and Summer Rompers
I love how simple this one is and you can't beat the price. I like Old Navy for trendy items like this.
Old Navy Chambray Romper, $25 on sale
This is also a good choice if you want one with a little sleeve. Both Old Navy options come in tall and petite, which is great! I buy the tall in these.
Old Navy Textured V-Neck Romper, $35 on sale
I really like the quality of this piece! The sleeves and longer shorts are also a bonus.
Ralph Lauren Denim & Supply Chambray Romper, $125
Swoon! I'm totally gushing over this new Lilly print!
Lilly Pulitzer Karlie Romper, $168
This pop or color and high neckline is perfection. How easy is this for summer?
Stem Sleeveless Romper from Nordstom, $58
This is stunning! Love the price too.
Forever 21 Watercolor Stripe Romper, $22.90
This boho sheek style is so cute for the season. Great price too, but may disappear quickly since it's at Rack.
Soprano Romper from Nordstom Rack, $28.97 on sale
I couldn't just pick one. I adore this Lilly one too.
Lilly Pulitzer Tybee Romper, $158
Loft brings sophistication to this romper!
Faraway Floral Romper from LOFT, $79.50
And you can't go wrong with black! This is a great first romper. You can dress it up or down.
Circle Lace Romper from LOFT, $79.50
Happy Shopping!
So nice to see you today. Have a great weekend and come back Monday for another Things I'm Loving Lately.
The above links are affiliate links. I do make a small commission for clicks and purchases. It cost you nothing. Thank you for supporting Running in a Skirt.
I'm linking up with: Nicole for the Fit and Fashionable, Tara for Fashion Friday, Fashion Friday , Jolynne Shane for Fashion Friday, Turning Heads Tuesday and Bloggers Who Inspire Me. Thank you so much for the lovely linkup ladies
Your turn!
Do you have a romper yet?