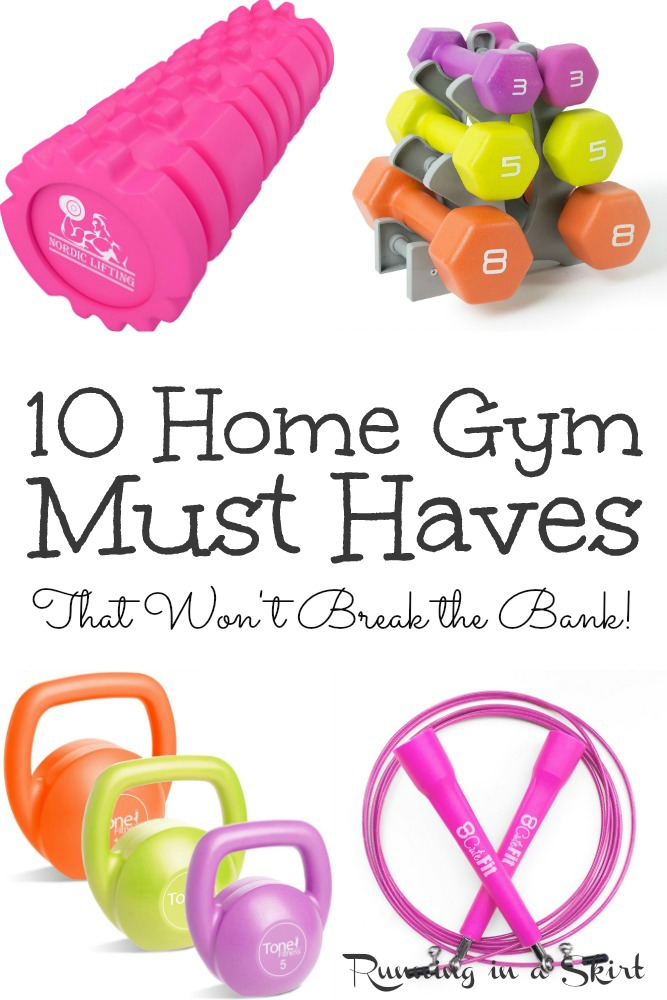 My 10 Home Gym Must Haves will have you getting fit at home in no time! If you are curious about home gym essentials, this is the perfect place to start. Whether you are looking for a treadmill, elliptical or weights, here are my top picks to do your workout routine at home.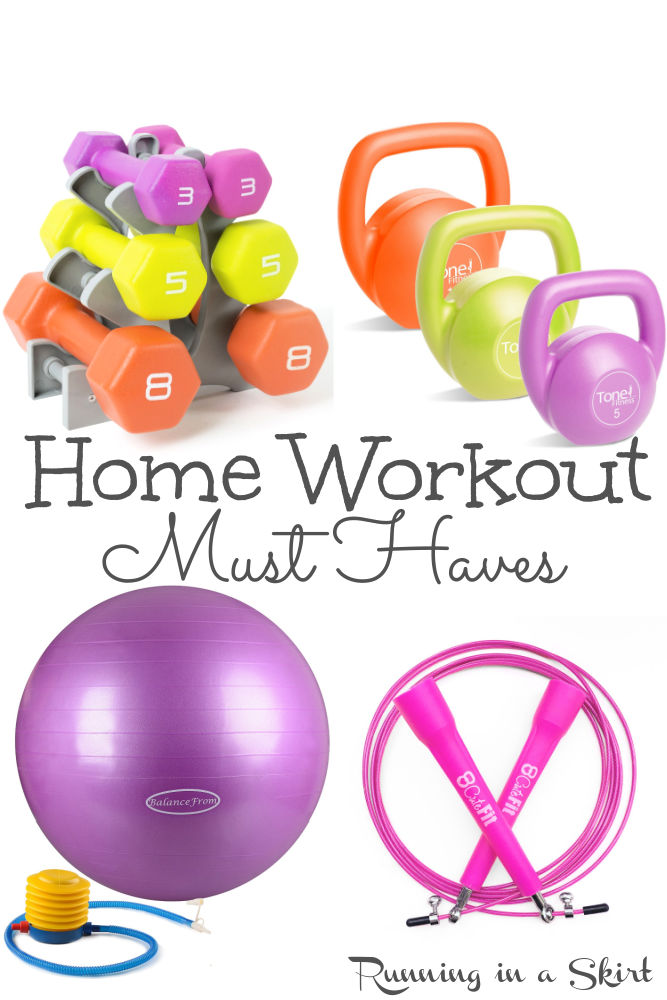 Home Gym Must Haves
This is the ultimate list of home gym must haves. I've been working out mainly at home for almost a decade. When the Hubs and I moved into our home we had an extra room in the basement that was perfect for some home gym equipment and I started stocking it full of goodies. Over the years I've bought items that have worked and some that are collecting dust. With that, I feel like I've got a great feel on home gym must haves... the items you really need for basic home gym needs and to keep on a fitness routine no matter what life throws at you. So with the new year and folks wanting to start their workouts home, I thought I'd share my 10 Home Gym Must Haves.
What are Home Gym Must Haves?
Before I dive into the small stuff, I wanted to mention I have a couple of big-ticket items that I've had and loved for 10 years. In my opinion, they were worth every penny. If you are starting with some basic pieces of equipment, start here.
With the twins, I LOVE having a treadmill because it means I can always get my run in... even if I can't get out of the house. The Hubs has a large weight set in there too. If you are into bodybuilding or powerlifting that could work great for you. I don't use the weight set but use ALL the items below.
Even though I do have the cardio equipment, you don't NEED it... especially since a lot of you might have gotten thrown into working out from home. YES, it's so nice to have and I'm lucky to have it... but you can also get a good workout with a collection of relatively inexpensive workout gear and must-have home gym accessories. Honestly, my weights, workout videos, and some of these items below get just as much game time as the bigger equipment.
Most of this stuff you could keep in a small closet or corner of your house to get a good home workout, even if you don't have space for a complete home gym or garage gym. So today I'm diving into my 10 home gym must haves!
10 Home Gym Must Haves
On the very top of the list of home gym must haves is weights. Yes, you can strength train at home. I'm all about bodyweight workouts, but there is something to be said about adding little hand weights. I have a small collection of hand weights that gets the job done. Most of us don't need anything too complicated and this 32-pound set works great for me. It's on the top of my list of the home gym must-haves. You can do weight squats or arm workouts.
A light hand weight is a great way to make your exercises even more effective. There are all sorts of studies that show women and men benefit from weight training including a decreased threat of osteoporosis, healthier bones, and leaner muscles. If you need some guidance on what to do with them, you can find all sorts of workout inspiration on blogs like Running in a Skirt and Pinterest. Start with this workout here!
If you are a beginner and need a little less weight, you can also try this set which maxes out at 5 pounds. And if you want more neutral colors, here are those same weights in black. For men looking for more weight or adjustable dumbells, this adjustable set will work well for you.
A barbell is also a great option. I like this one.
Kettlebells are just fun and another on the list of home gym must haves. Yes, you could use a hand weight to get the same kind of exercise done, but I love the momentum of a kettlebell. I like this set HERE which goes up to 15 pounds. I buy these heavier than my hand weights to really get impact from the exercises and have more versatility in the home gym. Most of the exercises using them involves swinging and it really engages the core and gives you a full body workout. They have a good grip and are fun to use.
I enjoy this Jillian Micheals DVD, Shred-It with Weights (Less than $8!) for kettlebell workout inspiration.
A Bosu is a little more of an investment, but it's one of the best things I ever bought for my home gym other than the big equipment. It's basically half of a stability ball and can be used for all sorts of exercise. You can use it for core exercise, to get more engagement out of lunges, and even as a weight. It's so versatile and can make you strong.
You can use it for high intensity workouts too. It has great durability.
It comes with its own workout DVD, which is always nice. I love this pink version (big surprise!) but it also comes in a more neutral blue and a dozen different colors that didn't exist when I bought mine long ago. I actually own the blue one, because pink did not exist when I bought mine.
I've had a stability ball in my house for probably a decade and another on the list of home gym must haves. It's my go-to tool to add more engagement to crunches. I'll also sit on it to do arm weight and use it as extra resistance for burpees.


They are pretty inexpensive and if you can't get a bosu, it's a great tool to have around. In keeping with the color theme, try this one. Depending on your height though, you may need to choose the blue or black one.
I swear by exercise videos. They have come a long way since Jazzercise, and there are many that provide really effective workouts. They are one of 10 home gym must haves... for sure!
I LOVE Maggie Brinkley's workout series on Amazon Prime. If you have Prime, it's totally free and super simple to use. The videos are no-frills, but I have found her short 15-minute workouts to be super effective. I've done THIS ONE more times than I care to admit. I do them with the boys and they jump around with me and try to crawl under me if I'm doing planks. I think it's good to show them that we workout!
A jump rope is pretty self-explanatory, but it's a fast, safe and inexpensive way to get some cardio in if you don't have the larger cardio equipment. Plus it can bring out your inner kid! It's a compact way to get a workout.
Plus it's fun and makes you feel like a kid. Of course, I found you a pink one... but feel free to go for the more neutral black.
I'd venture to say a foam roller is a necessity for the home gym, especially if you are a runner. It's another on the top of the list of home gym must haves.

It's inexpensive and can save your legs! Stop what you are doing and order one now! Here's one in pink and one in black.
Resistance bands are a great exercise tool that up very little space. I've used them in the past when I've had to work through some injuries, but have kept them because they are so useful.


Use them to strengthen your ankles, add resistance moves or even make leg lifts more effective. They literally fit in that small pouch, so if you are short on space, this is a great addition for limited for small space.
I know when you think step, you might be thinking cheesy 80's workout... BUT these tools can be great additions to the home gym! Use it as a way to increase your calorie burn with strength exercise and a simple cardio alternative.

Mine came with it's own DVD, which always helps too!
Even if you aren't into yoga or pilates, a yoga mat is something that really helps in your home gym. It gives you space to do floor ab or strength work without sitting on the floor and if you are yogi it's nice to have an extra mat for the house.
I'm a big fan of this Jade one...
But here's a more budget friendly option.
If you have space and money, I adore my treadmill and elliptical (I got both of mine at a crazy good Black Friday sale years ago.) But I know not everyone has the cash or space for such big items. Don't let that stop you from working out at home!
Even a handful of these 10 Home Gym Must Haves can really get you started working out at home. You can be your own personal trainer. If you need more inspiration, make sure to check out my Workouts page from Running in a Skirt OR my Workouts! Pinterest page.
More Home Workouts & Home Gym Must Haves
Pin for later!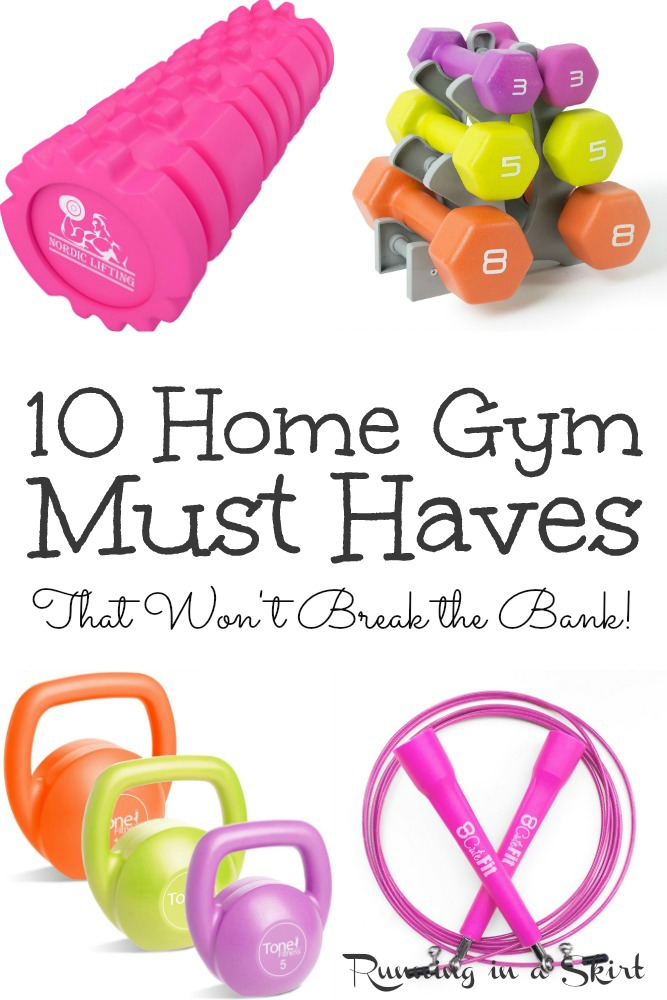 Workout at home with these 10 Home #Gym Must Haves (That Won't Break the Bank!) #fitness #homegym #fitfluential
Click To Tweet
Although this post is not sponsored in any way, it does contain Amazon affiliate links. I make a small commission on purchases through Running in a Skirt, but it costs you nothing.
Your turn!
Where do you workout? Has that changed in the past week?
What are your home gym must haves?