Spring has sprung! Update your wardrobe with these wearable spring fashion trends.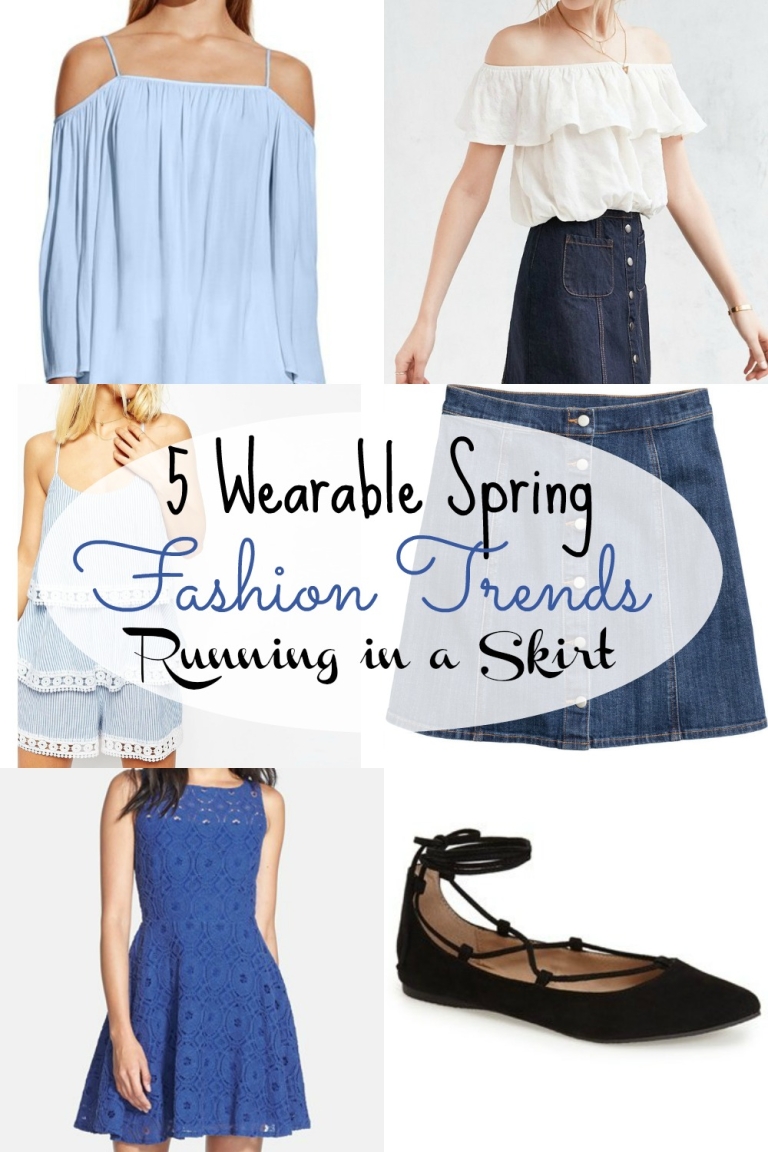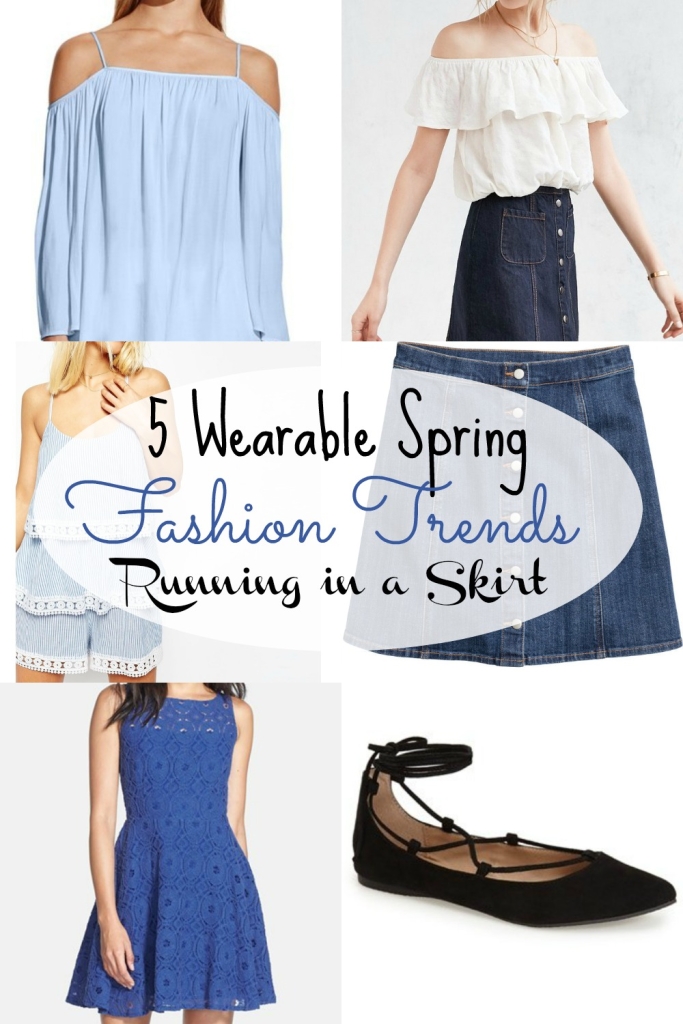 Hi everyone!
I'm doing a little happy dance about the arrival of spring on Sunday. This is my absolute favorite time of the year.
Since I consider myself a wannabe fashionista, I try to keep up to date with current fashion trends. It's so pretty to look at what is on the runway each season. Let's be honest though, some of the stuff on the runway just doesn't work in real small town life. Even if you life in a fancy city, you probably can't and don't want to actually wear most of that stuff. So I like to search the styles and shops to find which trendy looks are actually attainable and wearable for the new season.
This is what I've come up with for Spring 2016. Happy Shopping!
What to Wear Spring 2016
Front Button Denim Skirts
If you are looking for a quick update, consider one of these front button denim skirts. They are the it skirt of the year! You'll be able to use this year-round.
H&M Denim Skirt or BCBG Generation Denim Skirt
Off the Shoulder Tops
I'm hoping to get one of these off the shoulder tops soon. They are super cute and such a fresh look for this year. Some of the tops are a bit over the top, but these looks are balanced and cute.
Nordstom Rack <--- need this in my life
Vince Camuto <---Such a classy way to pull this look off!
Yellow
Yellow is once again the it color of spring. I love it in a cardigan this year. I found three similar options for you at different price points.
JCrew Jackie Cardigan, Also available at JCrew Factory HERE. Budget find at LOFT.<--less than$25
Romance
The runway had all sorts of romantic looks this spring. From lacy 90's inspired slip dresses, Victorian button ups and lace the looks were love inspired.
Dillard's, budget version at H&M HERE.
Nordstom, Lace Detail Dress <---less than $90
Asos Romper <--- I can't get enough of this romper. Someone should buy it 🙂
Lace Up Flats
These lace up flats are going to be big this season. I love how they are ballet inspired. I found a couple different options at different price points for you. Lots of color options are available.
Steve Madden, also available at BP at Nordrom
Thanks for stopping by today! Have a beautiful Palm Sunday and first day of spring. I'll see you back Monday for a look at a new show that focuses on beauty around the world and why you should watch it.
The above links are affiliate links and I do make a small commission from any clicks or purchases. It does not cost you anything. Thank you for supporting Running in a Skirt.
I'm linking up with: Nicole for the Fit and Fashionable, Tara for Fashion Friday, Fashion Friday , Jolynne Shane for Fashion Friday, Turning Heads Tuesday and Bloggers Who Inspire Me. Thank you so much for the lovely linkup ladies.
Your turn!
What spring fashions are you going to try this spring?
Which item would you think about buying?