Hi guys!
I hope y'all had a wonderful week. Mine has been hectic, tiring and amazing all at one time. The twins are still on a three-hour feeding schedule so by the time they finish eating there is only an hour or maybe two to do anything else before I'm back at it again. I know this phase is only temporary so I'm trying to take it one feeding at a time and find joy in their sweet faces. Hunter and Jackson's actual due date is today so they are growing so fast already.
I don't have a lot of time to put together a long post, but I snapped some photos during the week to share with you. 🙂
On Sunday the weather was freakishly warm in Asheville so we got everyone outside for our first walk. The twins both fit in one bassinet on our stroller and it's so sweet.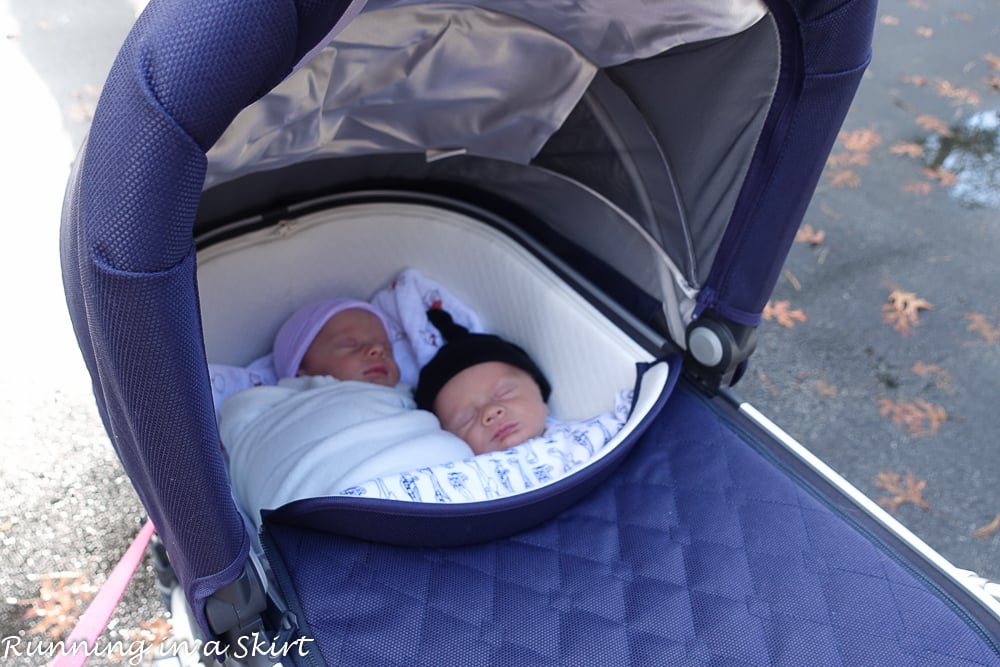 I'm in such rough shape from not moving much at the end of the pregnancy and still recovering from the birth that we only made it about a half mile. You have to start somewhere, right?
Can you even stand the cuteness?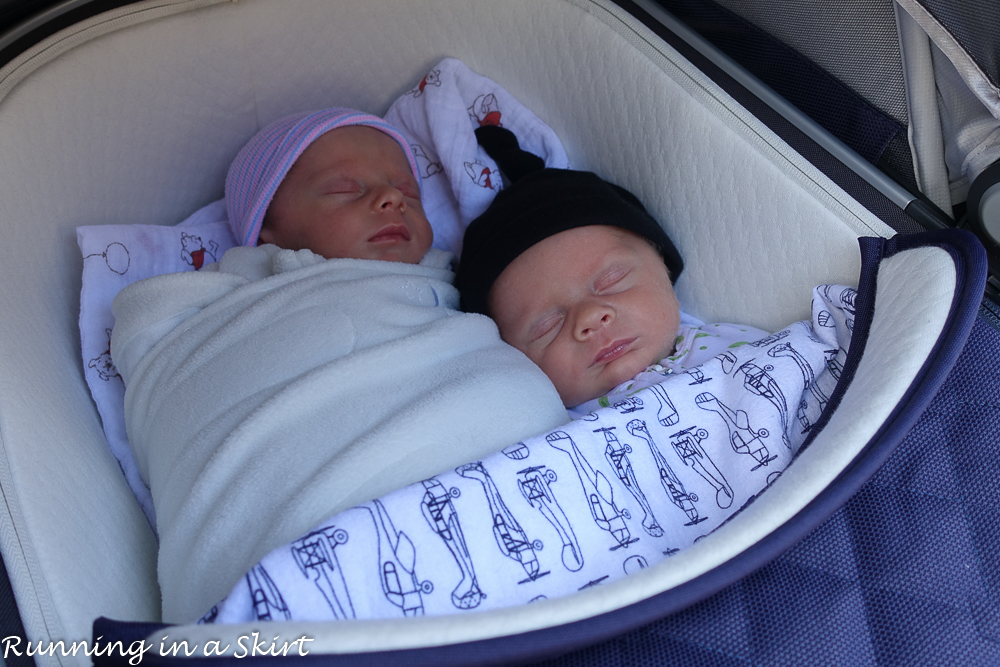 Since the weather was so nice Sunday we decided to take the boys out on their first outing! They got all dressed up for the occasion.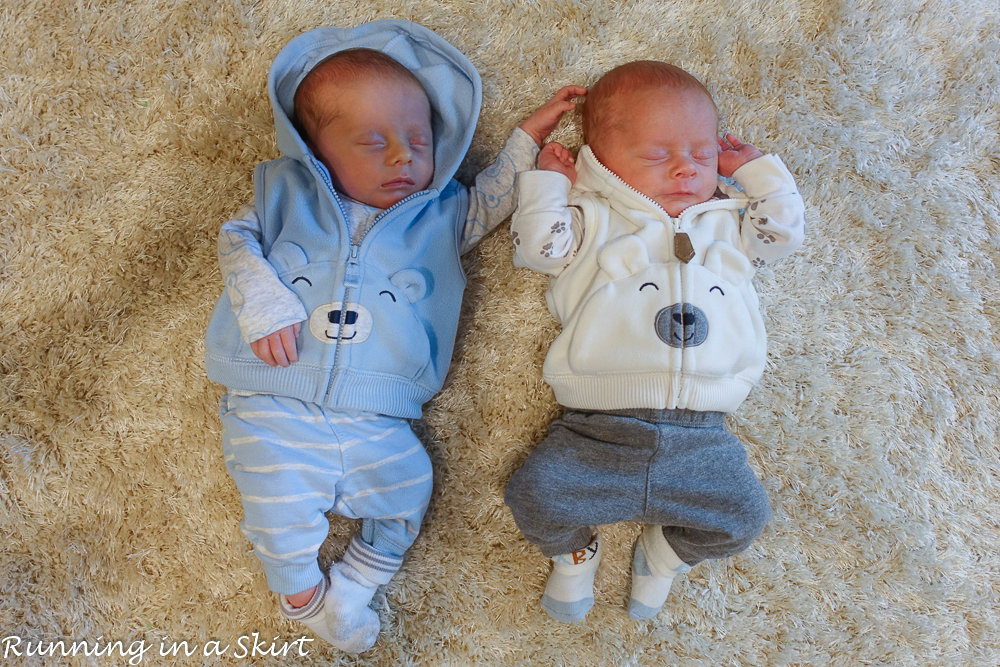 Since they are still so young, we aren't taking them into public places but we figured sitting outside at an uncrowded restaurant on off hours was probably fine. The babies stayed in their seats and didn't touch anything but I think the fresh air was good for all of us. It felt AH-mazing to leave the house.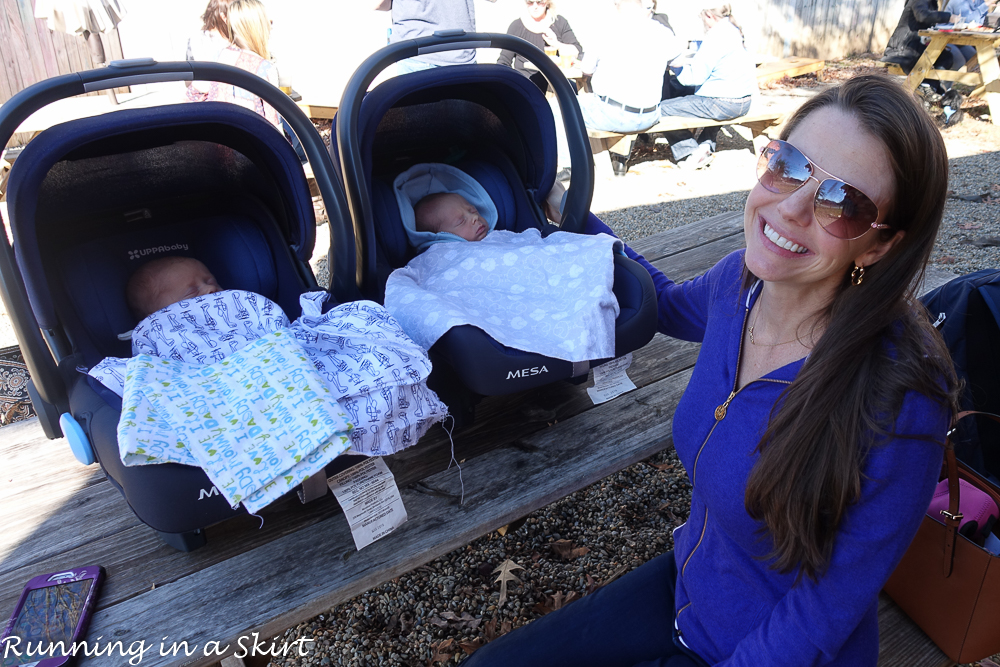 Sunday was also a sad day because the Hubs Mom left us and went back to Pittsburgh. I don't know how we would have gotten through those first few weeks without her. The boys will miss her too.
My Dad is here now though and he has also been a huge help. I'm learning it takes a village to take care of two newborns.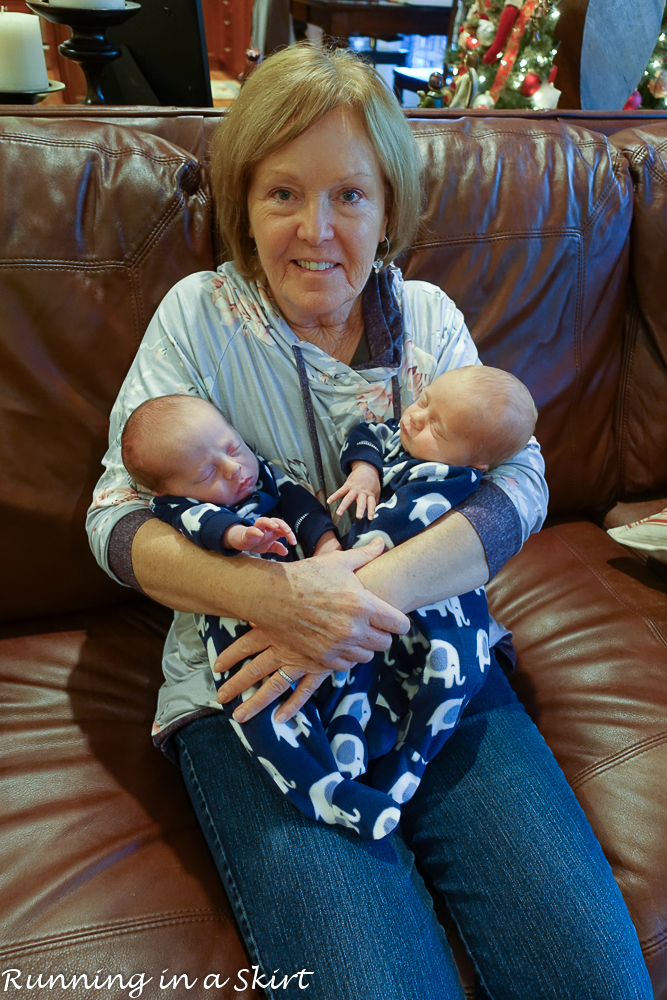 The twins have also been staying up a little bit after feedings and being alert when sitting on this mat.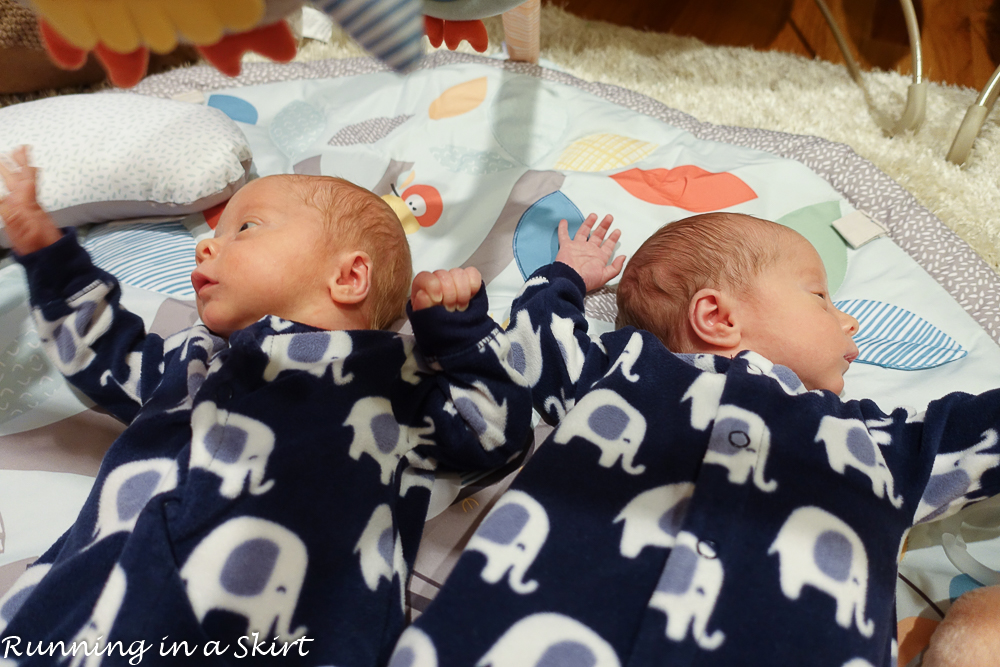 It's so sweet to see them together.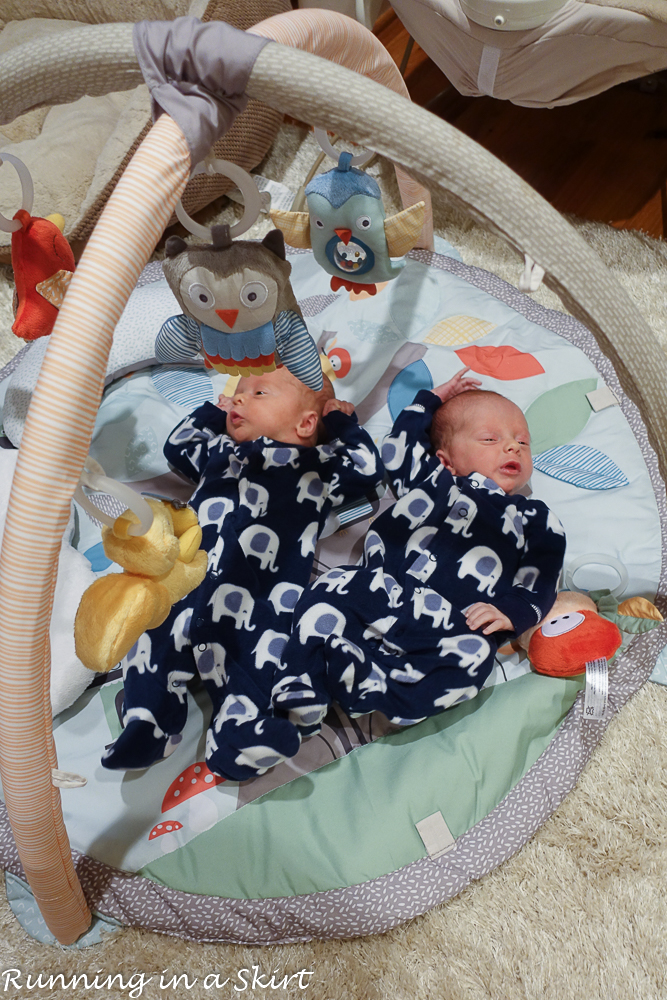 My friends wrote funny sayings on diapers at one of my showers and I've been going through them this week. They crack me up and make diaper changes a little more fun.
And just for good measure, I'll leave you with more of the twins sweet faces. This is Hunter.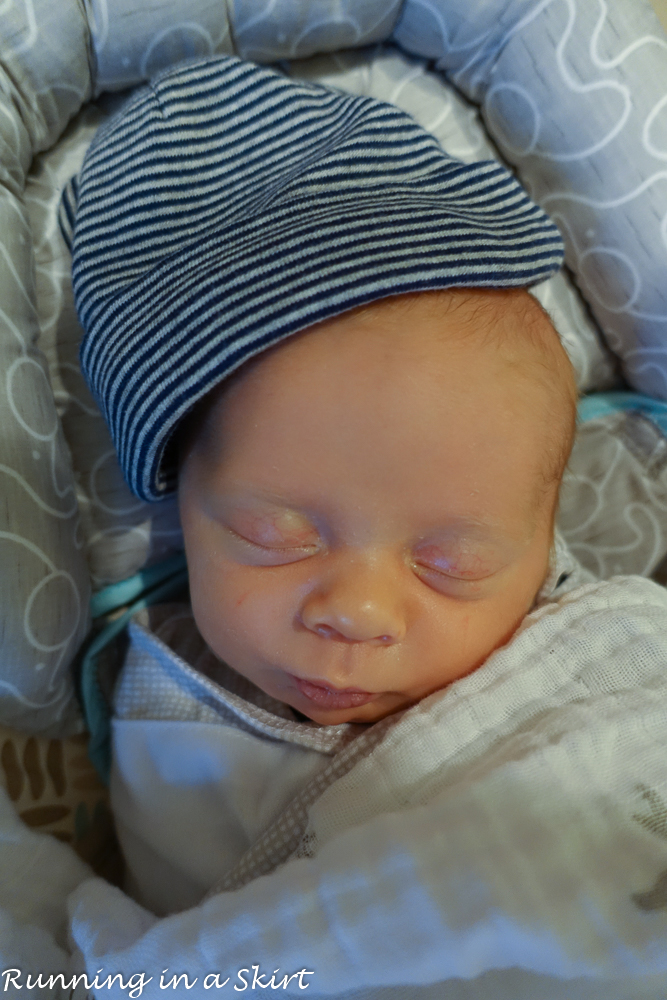 And this is Jackson. None of their hats fit either! They are all too big.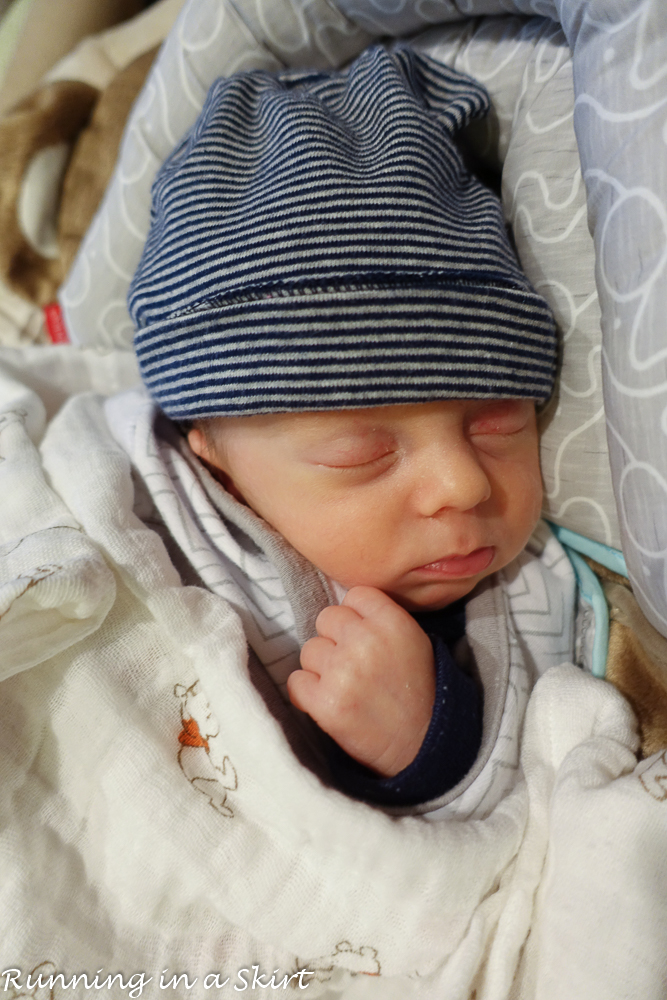 That's all I have for the week photo wise. I'm super nervous about this upcoming weekend because a potentially record-breaking snowstorm is heading to the mountains. There are some forecasts suggesting we could get up to 20 inches of snow. I don't mind being stuck inside, but losing power with newborn twins is definitely not ideal. Luckily our neighbors have a generator and have offered to help us, but I'm hoping it doesn't come to that! Pray for us and Asheville to get through this as easily as possible.
Have a blessed weekend everyone. Come back Monday because I'm sharing a really yummy new holiday appetizer idea.
Love, Julie