Thanksgiving was a huge success! My family and the hubby's family all came to Asheville from out of town to our house for a fantastic feast. It was the first time we had attempted cooking the main meal all by ourselves and I'm so happy it all worked out.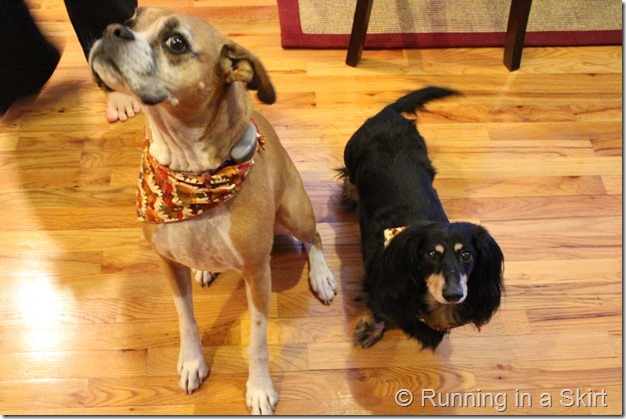 Rhett and Reina said it couldn't have gone better! I'm afraid they are a bit lonely now without the crowds.
Here is how it went down…
I had the Thanksgiving tablescape all ready to go the night before…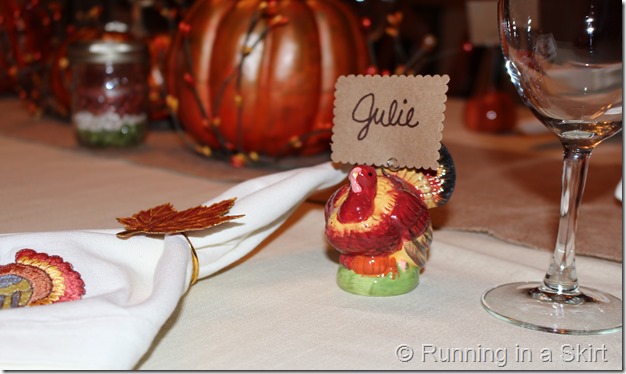 We had enough people for two tables so we added a small table to the end of our formal dining room set and dressed it up with a similar tablecloth to make it all look neat.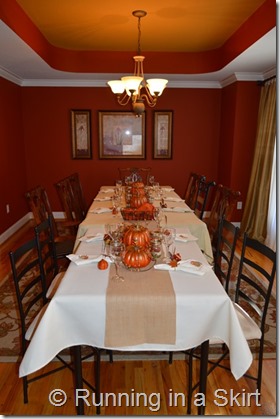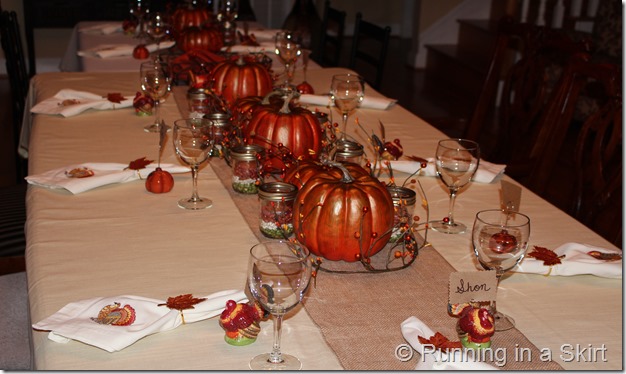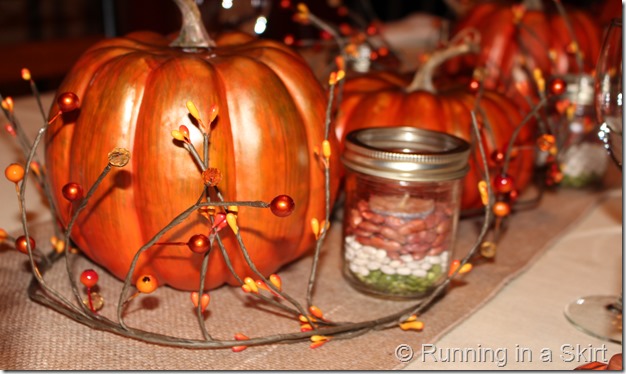 The day started with an early wake up call to get the first dishes in the crock pot and the turkey in the oven. The hubs was in charge of cooking the two (yes two for twelve people!) turkeys and I took on the side dishes. Since I don't eat turkey, the side dishes are actually my full Thanksgiving meal so I wanted a nice spread.
I had all my dishes, recipes and ingredients out the night before.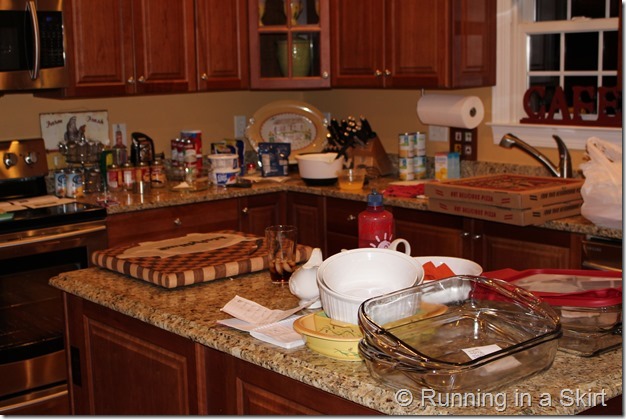 The day got a little hectic at times, but thanks to my Dad and Mother-in-law jumping in to help, everything was hot and ready to go just after 2 PM!
My Dad was amazing with keeping up with the dishes and my mixing bowl always seemed to be clean and ready for me. My mother-in-law jumped in when I was getting a little behind on a couple of dishes. We couldn't have done it without them.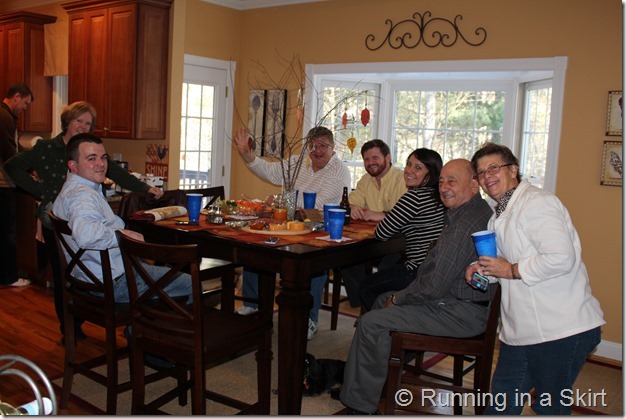 One of our turkey's went in the oven and the other one got fried outside. Everyone seemed to love watching my hubby fry the bird and it was a nice way for everyone to enjoy the brisk fall day.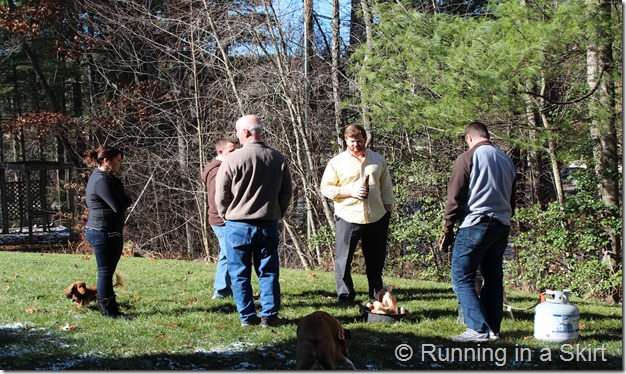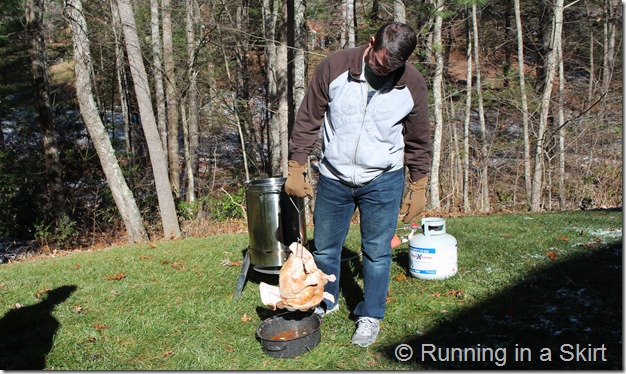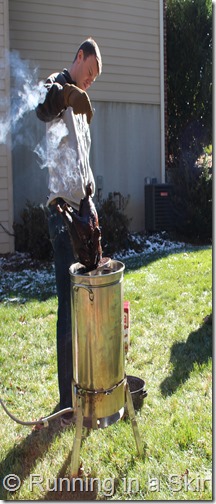 The turkey came out nearly charred dark brown when he pulled it out of the fryer. I think everyone was a little worried for a second…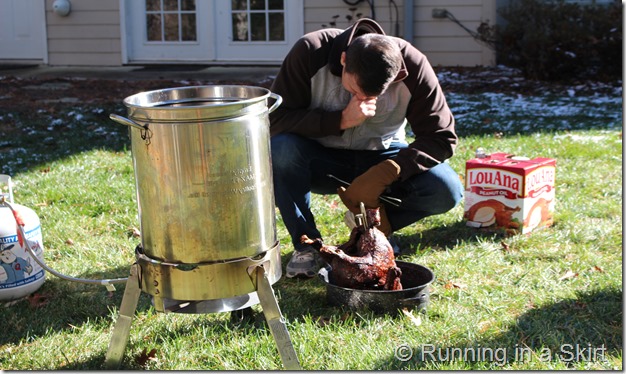 Yikes! But in the end, the meat was really juicy and tender (at least my family said so) and everyone loved it!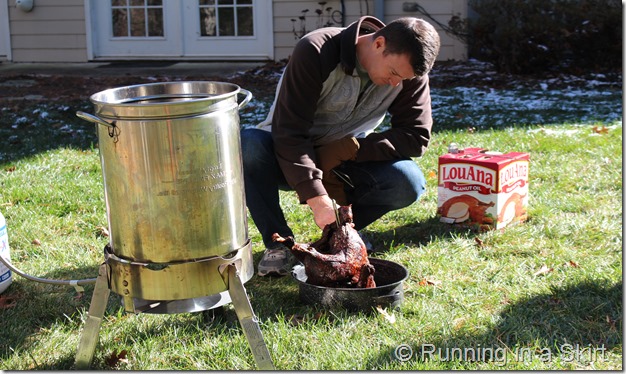 The family also got involved with a Wunder family tradition of making dumplings with canned biscuits.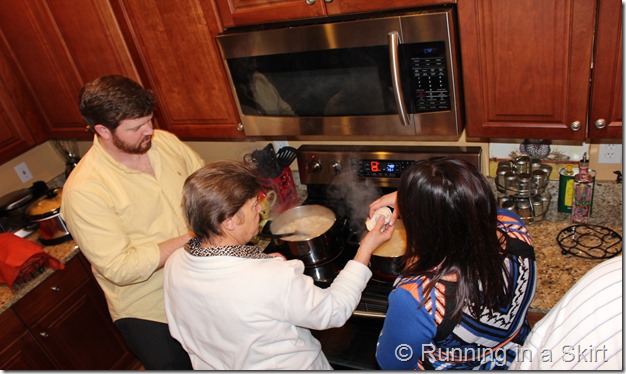 My favorite part of hosting events is creating small details and memories for everyone. My favorite this year was the Thankful tree. I set out leaf cutouts for everyone to add something that they are thankful for. I kept the leaves and plan to pull them back out next year and add to the collection.
I also served Turkey cookies when everyone arrived late Wednesday night.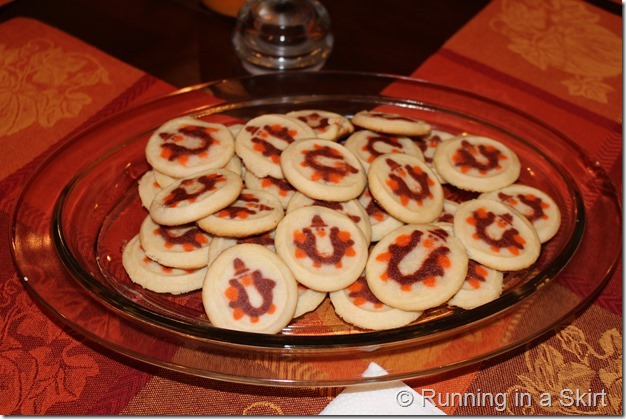 And some festive snacks before the big meal! I was laughing so hard when I was making this. LOVE IT! Thank you Pinterest!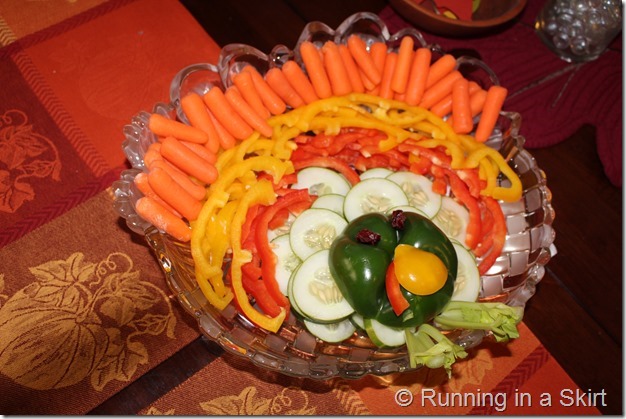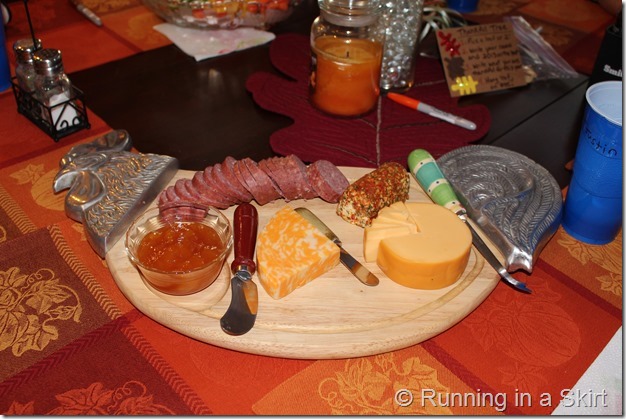 We had so much food that we decided to do a nice spread in the kitchen instead of setting the dishes on the table.
Big surprise, I used several crock pots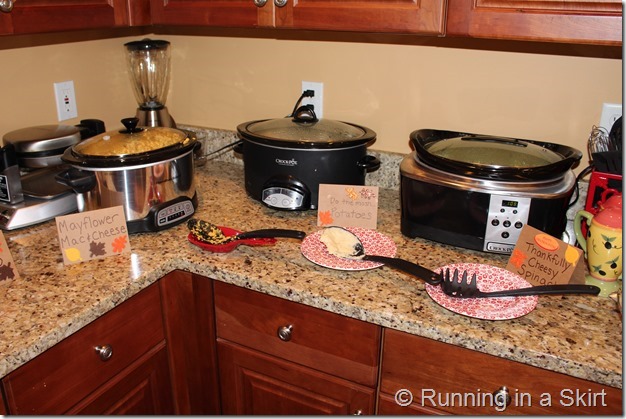 I made those signs ahead of time and had so much fun putting them together. I hope I made everyone laugh a little.
The turkey looks amazing here! The hubs did a knockout job!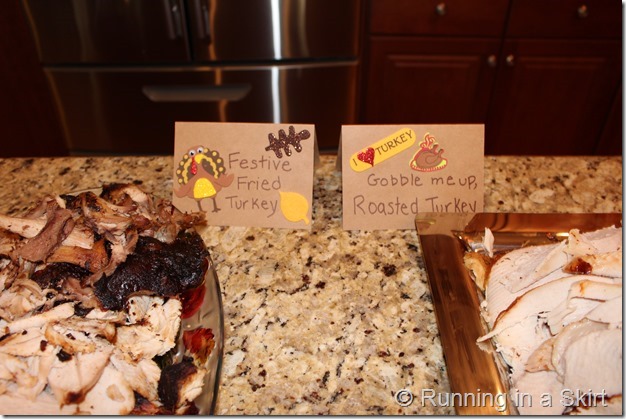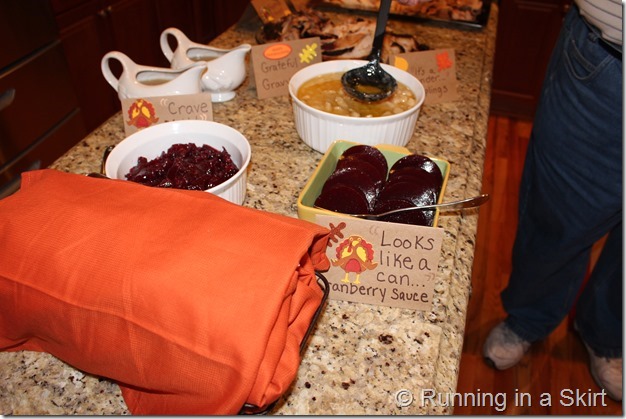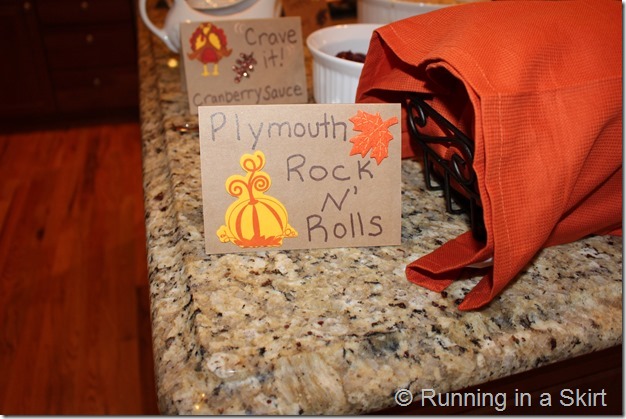 For dessert we had a classic trio of pie and pudding. I forgot to take a picture of them, but here is what their signs looked like!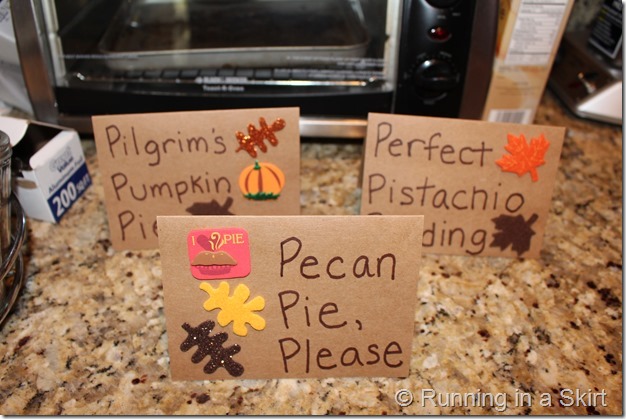 We hosted part of the group for the full weekend and it was so amazing to have so many of our loved ones in one place. We are so lucky to be able to spend time with our families and that they all get along so well.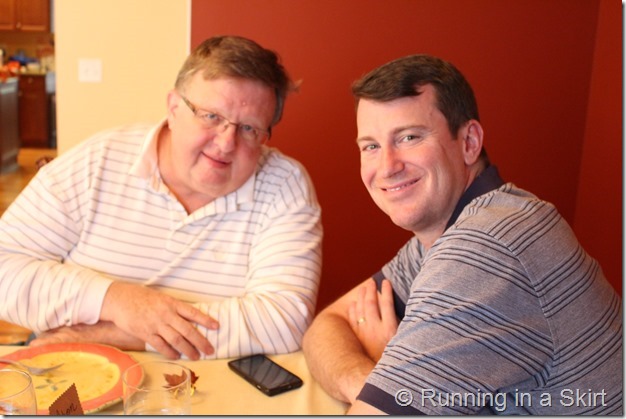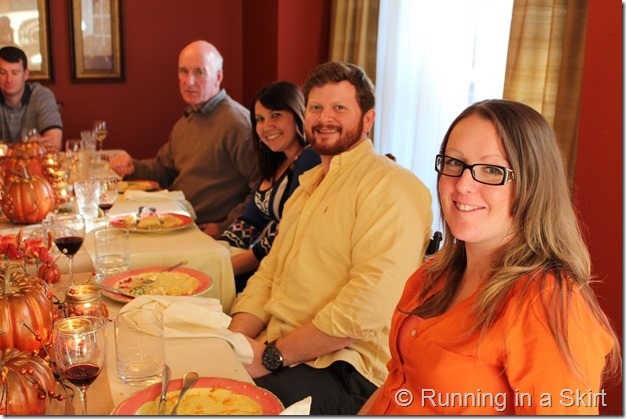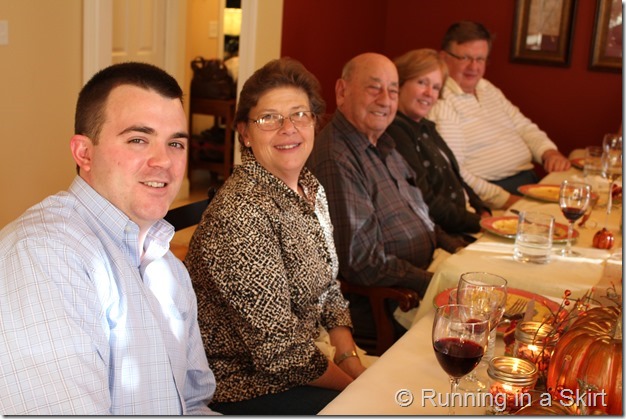 Here is my plate… I had to really pile stuff on there to try everything!
I can't believe it's over now. It was certainly a whirlwind weekend and I'm not exactly sure how it all went by so quickly. Even though it was busy I tried to take time to take it all in and enjoy the day.
I guess it's time to dive into Christmas shopping now! I think Christmas is going to be our low-key holiday this year. Someone should hold me to that before I start crafting for Christmas!
Oh… and you have to see this… Remember how my brother and his girlfriend Erica recently moved to Charlotte? Well… this was their first mountain snow. HA! I found this on my back deck after they left.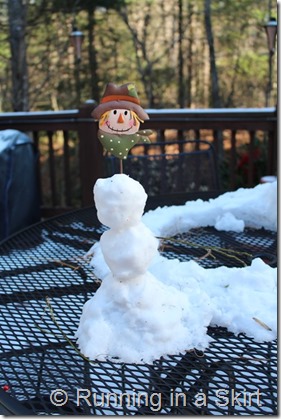 QUESTIONS….
How was your Thanksgiving?
What was your favorite Thanksgiving side dish?
What has been your most memorable Thanksgiving?