Baby Bok Choy is a yummy and versatile veggie! I make mine as a sautéed baby bok choy with garlic and sesame. It's an easy baby bok choy recipe that anyone can master!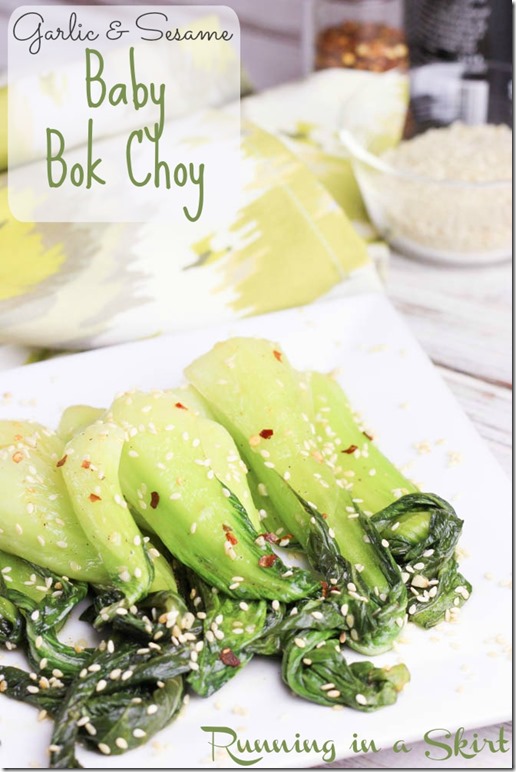 Hi friends!
I'm kind of on a baby vegetable kick lately. It must be because it's spring! I just made garlic and herb roasted baby red potatoes last week and low I've moved on to a super tasty sautéed baby bok choy.
There are three reason my easy bok choy recipe is awesome:
1- red pepper flakes
2- sesame seeds
3- toasted sesame oil
Nuff said.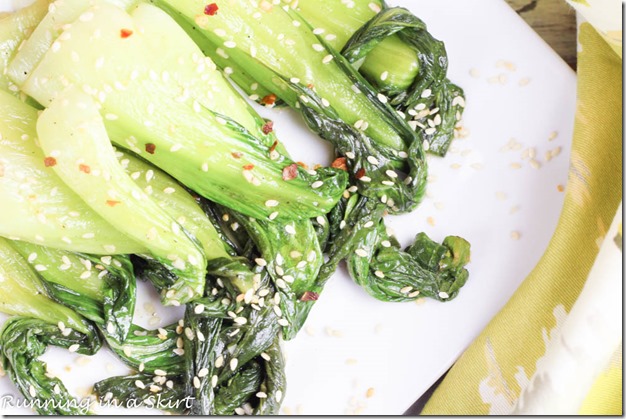 You start with two baby bok choys. So cuteeeeeeeee!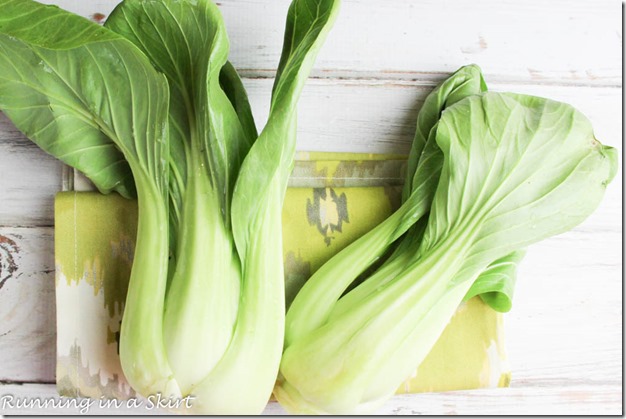 To prepare them, cut off the end and pull apart the leaves. You will probably need to wash it again when you pull it apart.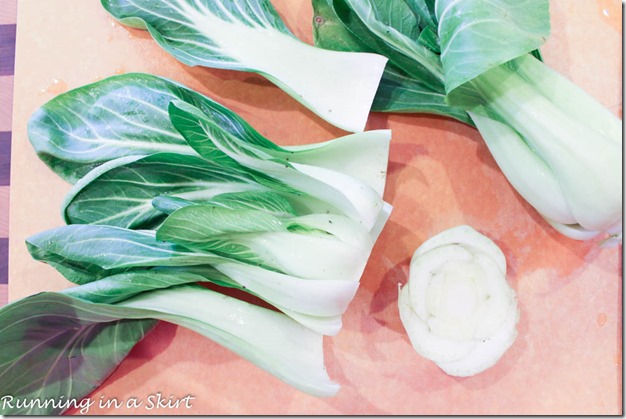 This is what you should have to cook with.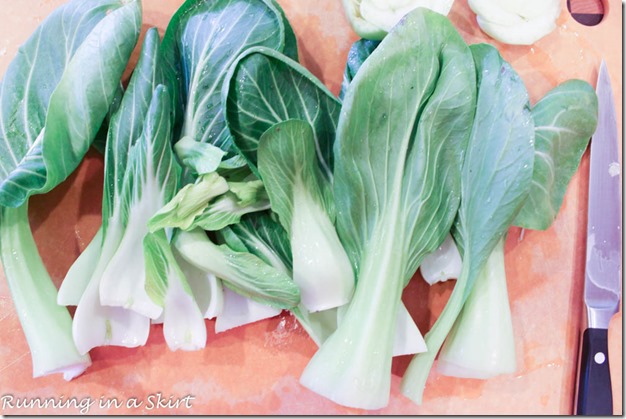 While you are cutting up the baby bok choy, roast some sesame seeds on the stove top. About 3-5 minutes on low heat or until slightly browned.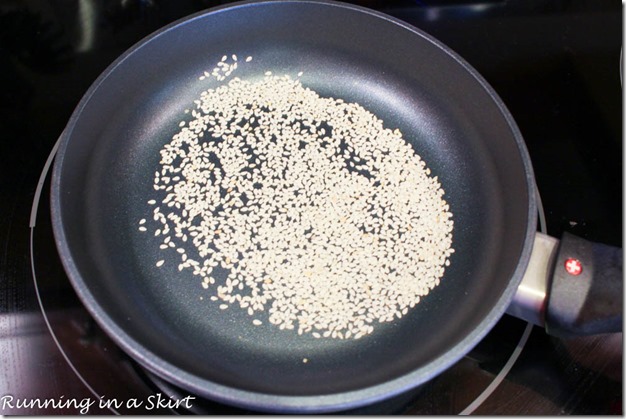 In a separate pan you heat garlic and chili flakes up in a small amount of oil. You want to use something like vegetable or canola oil for this part. Something without much flavor, but can withstand a little heat. Olive oil has too strong of a taste and sesame oil shouldn't be heated up to much.
Once you have that garlic aroma (don't burn!) you put the bok choy in the pan and stir around.
'
Then you add a little vegetable stock for the baby bok choy to cook in. Eventually your baby bok choy cooks down and gets tender.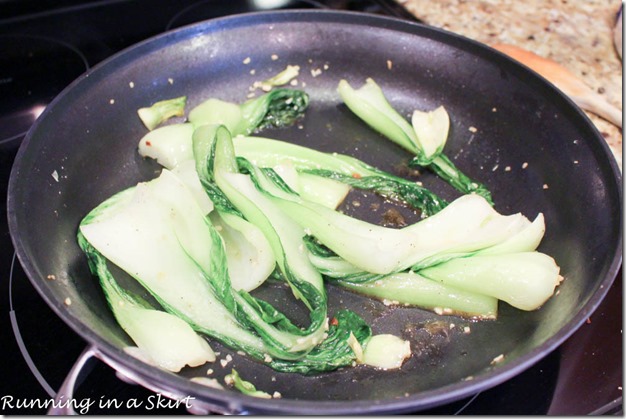 The final step is to stir in the sesame oil and sesame seeds.
They really bring a full flavor to this easy baby bok choy recipe!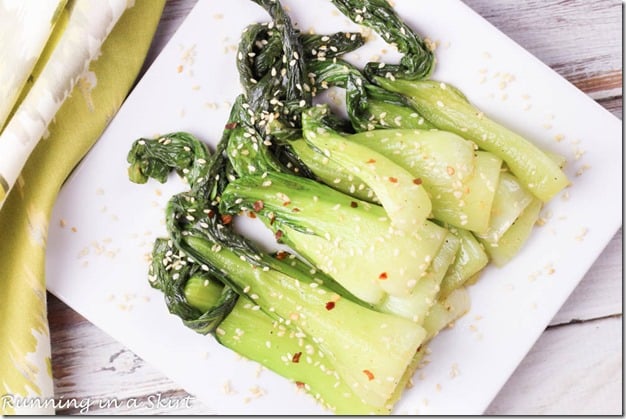 Simple, unique and delicious!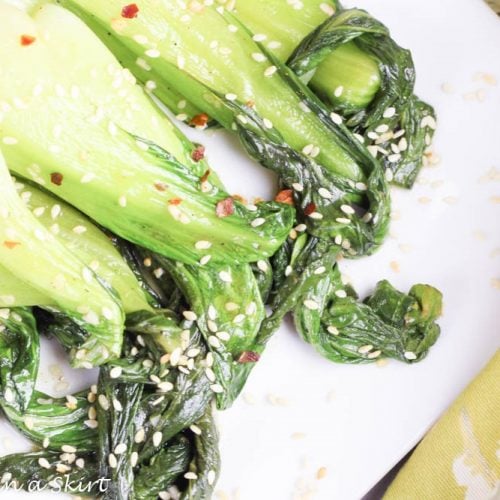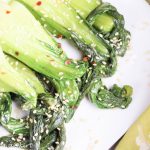 Garlic & Sesame Baby Bok Choy
Baby bok choy is a yummy and versatile veggie! I make mine as a sautéed baby bok choy with garlic and sesame. It's an easy baby bok choy recipe anyone can master!
Instructions
Toast the sesame seeds over low heat until light golden brown.

Warm vegetable oil (canola or coconut oil) in a large sautee pan over low-medium heat, add the garlic and chili flakes and cook until just fragrant. Be careful not to burn the garlic.

Add the bok choy and try to coat all the leaves with the garlic and oil. Turn up to medium and stir for 2-3 minutes.

Add the broth and stir for 3-5 minutes or until the broth evaporates/ cooks into the bok choy.

Remove from heat and toss with the sesame seeds and sesame oil. Start with less sesame oil and adjust to your taste.
Nutrition
Calories:
51
kcal
Carbohydrates:
6
g
Protein:
3
g
Fat:
2
g
Saturated Fat:
1
g
Sodium:
345
mg
Potassium:
17
mg
Fiber:
3
g
Sugar:
3
g
Vitamin A:
10716
IU
Vitamin C:
107
mg
Calcium:
274
mg
Iron:
2
mg
Have a great day, dear reader!
I hope to see you back tomorrow, for Fashion Friday I'm sharing some super cute spring floral pieces to update your wardrobe for this new season!
Your turn!
Have you ever made bok choy?