One of my favorite parts of participating in community races is a chance to support some great causes. Many of the 5K's that runners talk about are actually fundraisers for all kinds of charities and non-profits.
You can easily run a Saturday morning 5K and by lunch you have helped raise money for a great cause, surrounded yourself with positive people AND got in a solid workout.
In my book that is a win-win-win.
This past weekend I had a chance to run in a 5K to support breast cancer awareness and raise money for "Ladies Night Out" which provides mammograms to low-income women in Western North Carolina. October is breast cancer awareness month and so many people I know have been impacted by this terrible disease. We need to find a CURE.
My friend and coworker Holly came with me!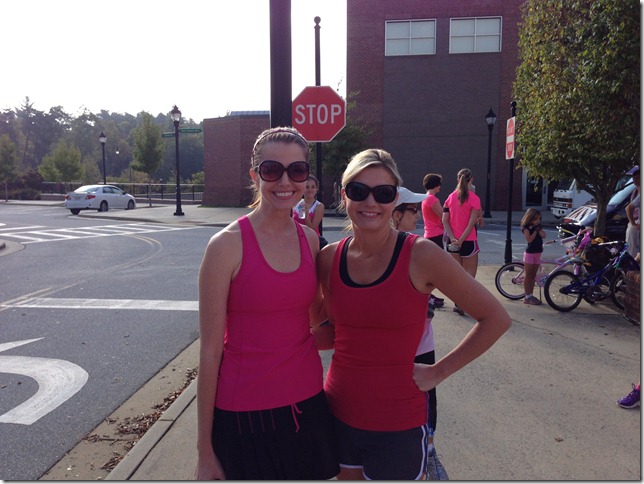 The 5K was described as an "event" not a "race." There were lots of walkers but they welcomed runners to run it like a race as well. A couple dozen runners lined up at the start, but it looked like most people were walking the course in teams or groups supporting a loved one who has cancer.
A lot of folks dressed the part in plenty of pink.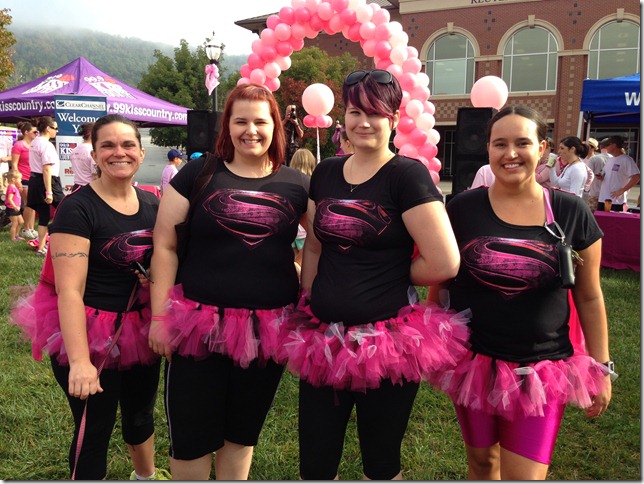 LOVE these ladies outfits.
And a dachsi in pink. The little guy would not hold still for a picture.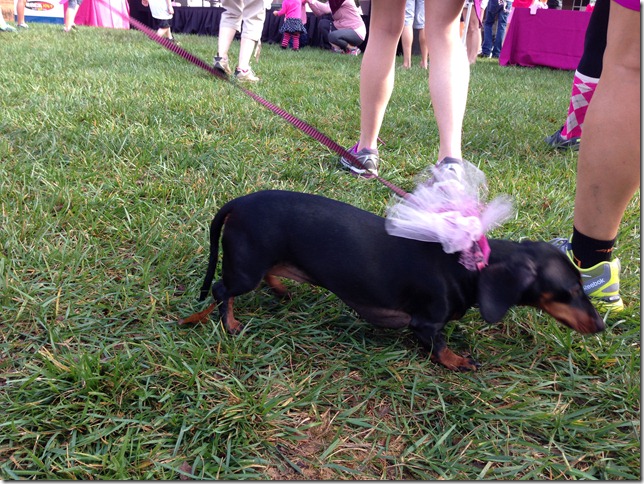 The 5K was held at Biltmore Park. The whole area was decked out in pink EVERYTHING…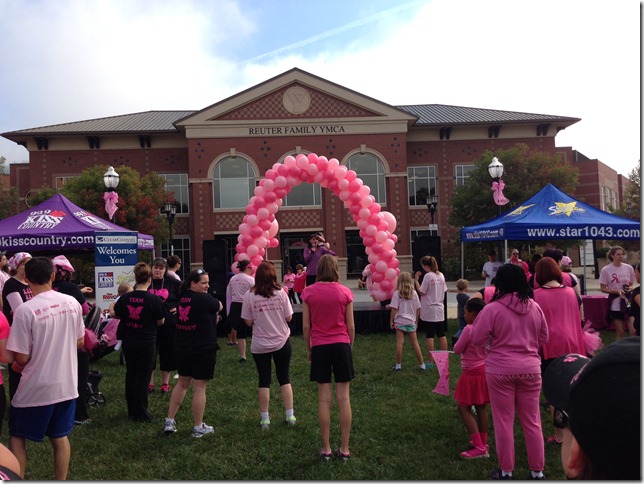 They held a thorough warm up before the 5K which was fun and entertaining.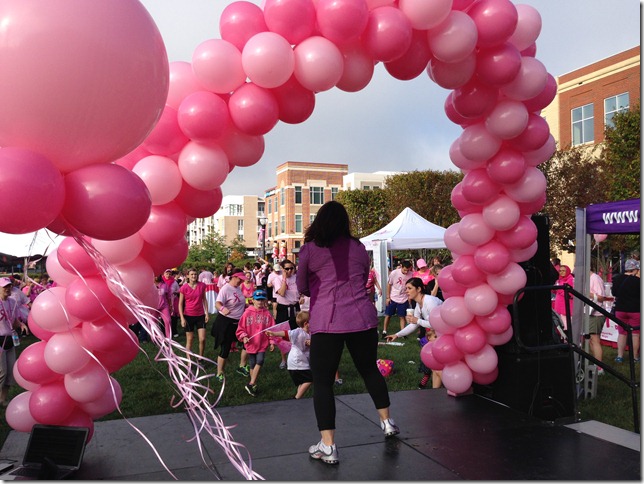 I promised Holly I would run with her and pace her to try to run a faster 5K. She has been running consistently lately and she felt like she was a stronger runner than her last race. We decided ahead of time to aim for 31:00 – 32:00 minutes. The course was not timed or competitive, but she still wanted to try her best.
We took two large laps around the very very hilly Biltmore Park neighborhood. It was a tough course and those hills almost got me again! I live in the mountains, so you would think I would be used to it, but I try to do most of my running on flatter loops in town. My ankles hate hills.
Since the course looped, there was less ground for spectators to cover and I was surprised at how many people were at each street corner to cheer people on. They also had lots of people ready to hand out water. Very nice! The course was really a lot of fun and had a great energy.
After our 2 big loops we picked up the pace for the last tenth of a mile to reach the finish line! 31:38. Not bad and a new PR for Holly. The course was even a little long.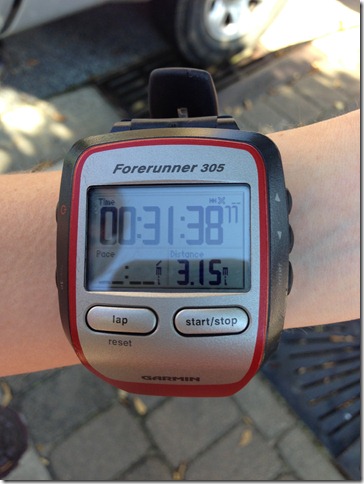 We finished, found some water and watched some great finish line moments.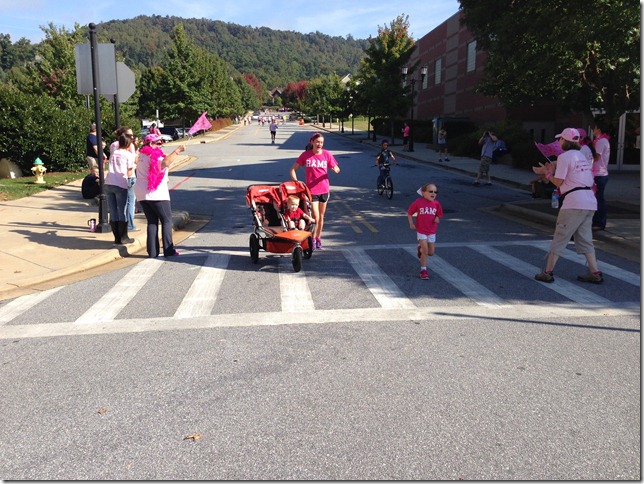 We saw strollers, kids and dogs crossing the finish line. I even spotted 2 HUGE dogs that I think were mastiffs while I was running. I really wanted to stop and pet them but I wanted to finish the 5K more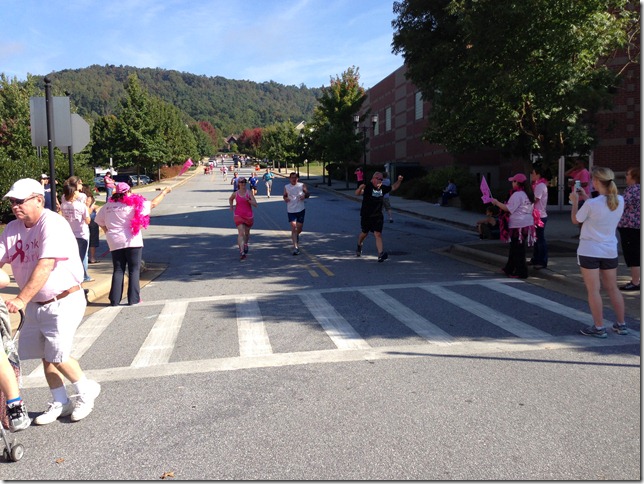 The Pink in the Park 5K was a fantastic low-key way to start the weekend. Holly and I had a wonderful time. We really enjoyed this event and helping to raise $9,000 for Ladies Night Out! One of those free mammograms could easily save a life.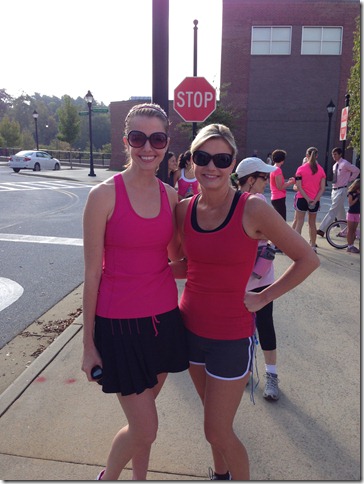 AND…. Curious about the outfit?
Running Skirt w/ pleats and pink stitching– Athleta (Birthday gift last year from my Mother in law- THANK YOU!)
Pink Running Tank – Avia (Marshalls)
Headband – J Crew (Outlet)
----------------------------------------------------------------------------------
QUESTIONS:
WHAT IS YOUR FAVORITE 5K CAUSE TO SUPPORT?
DO YOU KNOW ANYONE IMPACTED BY BREAST CANCER?
HAVE YOU EVER HELPED A FRIEND REACH A PR?