It's been a rough week for Reina.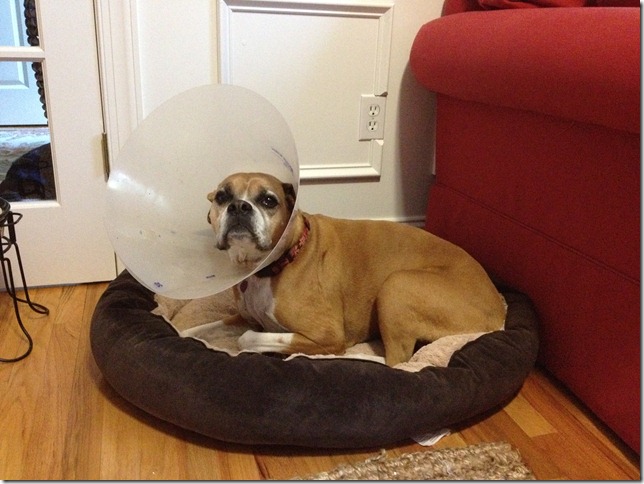 Yup. The Cone of shame.
I didn't intend on writing about the dogs, much less specifically about Reina, twice in such a short amount of time, but she has left me with no choice.
Last week I told you how Reina got a suspicious looking bump on her side that had to be tested for cancer. It was a little unnerving, but the drama was over quickly and Reina was fine. We all came home from the vet happy and healthy. All was well until last Saturday night.
The hubs and I were watching the Gator game when we noticed Reina's right eye looking a little agitated. She often has strange, but minor allergic reactions to things so we gave her some Benadryl and my husband slept with her on the couch to make sure it didn't get worse.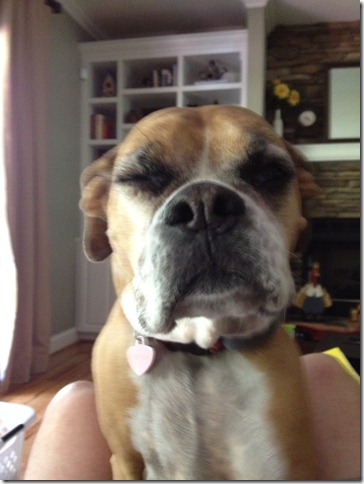 We woke up Sunday morning and it didn't look any better at all. We tried a second dose of Benadryl, but it had no impact either. In fact by lunch time her eye seemed even worse. Since it was Sunday, we called the emergency vet office, REACH, and they recommended we bring her in.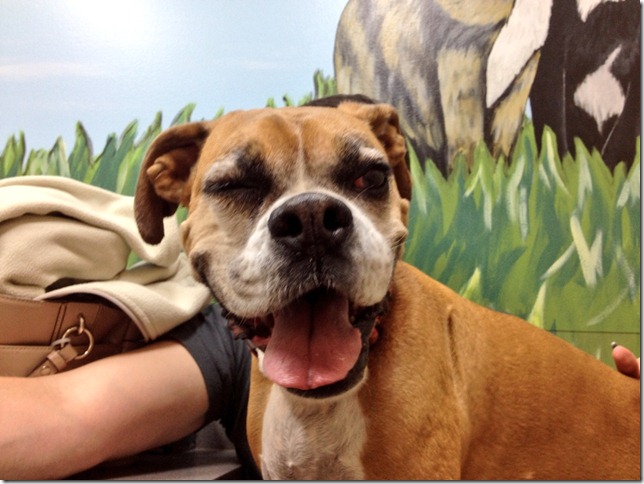 Her right eye is swollen shut!
The emergency vet immediately thought her eye looked like it had some sort of trauma like a scratch, not an allergic reaction at all. In fact when the vet held her eye open it looked like a cat had scratched her eye ball. We don't have cats and have never seen any in our yard, so we still aren't sure what happened. If only Reina could talk. I'm sure she would have a crazy story about how it happened.
The vet had to do an "eye stain" test to determine the severity of her injury and how we could treat it. That test determined she had an ulceration in her eye. Definitely serious.
Several hours later we left with 2 different types of eye drops to give her at 4 hour intervals (YES, every 4 hours!), pain meds and….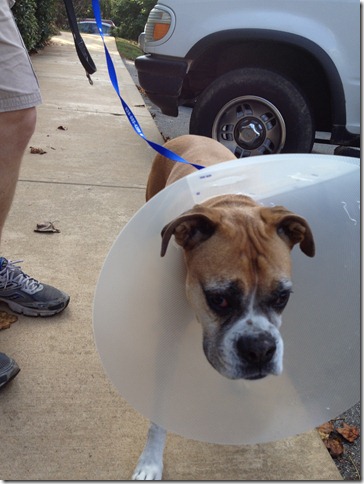 A CONE OF SHAME.
Poor girl.
She is so depressed. She can't eat well. She can't run. She keeps running into things and she can't even get to her tennis ball. Reach told us she has to wear it for a full week.
The good news is she is supposed to make a full recovery but we just need to keep her from rubbing her eyes. I feel awful and have desperately wanted to relieve her from her misery and just take it off, but I know it's in her best long term health interest to keep it on. She is making me feel SO guilty.
I'm taking her back to our regular vet today to see if it's healed. I really really hope it is so we can have our spunky and playful pup back! I'll keep you posted…
------------------------------------------------------
QUESTIONS:
HAS YOUR DOG EVER HAD TO WEAR A CONE OF SHAME?
HAS YOUR DOG EVER GOTTEN A STRANGE INJURY?