Happy Fashion Friday!
Traveling during the holidays can be rushed, hectic and try your patience. It's not my favorite thing to do, but often it can't be avoided. There is nothing like being with family for Christmas. I'm still nailing down my plans, but I hope it involves some family.
One things I've learned over the years, is I really don't like dressing down at the airport. You never know if your plane will be delayed and you will need to look presentable when you arrive. Plus it just makes me feel better to look put together.
This is one of my favorite travel dresses because it is that great jersey material that never wrinkles and still looks on point even after you are sitting all day. The tunic style dress has shape, but is still blousy enough to be completely comfortable. Adding leggings underneath keeps me warm on the plane.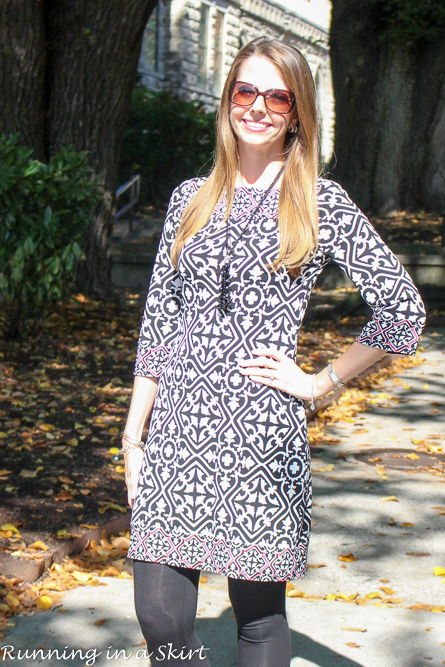 A nice long necklace dresses up the look and can be worn with many other items in my closet that I pack.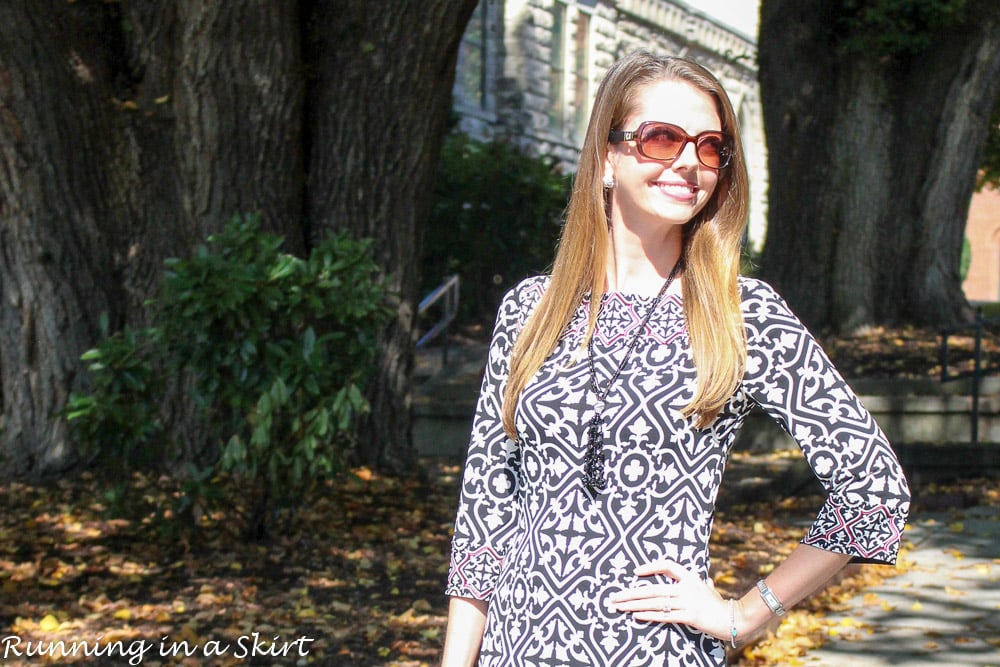 If I arrive and there is not time to change before seeing family or friends, I know I'll feel more like myself.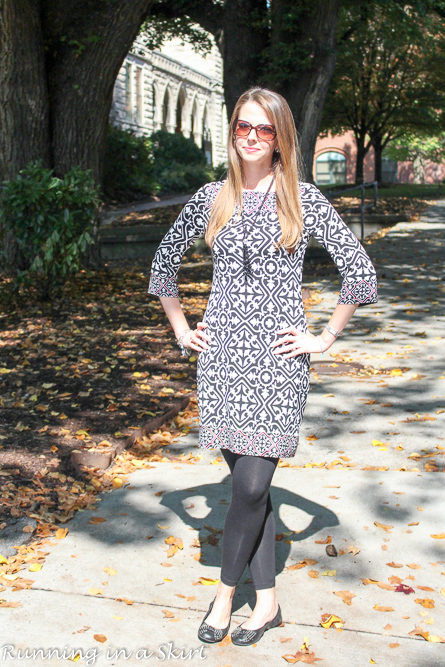 This is one of my go-to looks for this busy holiday travel season!
Shop the Look:
Damask Print Dress: White House Black Market. similar HERE, HERE <--- cute pink accents HERE<--- Total splurge, investment!
Leggings: Hue, similar HERE
Bow Flats: Dillard's, similar HERE <--- Sam and Libby at Target! My inner 12-year-old is obsessed!!! , HERE and HERE <--- splurge!
Thank you for taking the time out of your day to read Running in a Skirt! I hope to see you Monday where I'm sharing another Things I'm Loving Lately-- Thanksgiving edition!
I'm linking up with Nicole for the Fit and Fashionable linkup, Tara for Fashion Friday, Fashion Friday , Joylynne Shane for Fashion Friday, Turning Heads Tuesday and Bloggers Who Inspire Me. Thank you so much for the lovely linkup ladies.
Your turn!
Do you have a go-to dress?
What are you doing this weekend?