Get your heart racing for Valentine's day with this no equipment cardio workout you can do at home.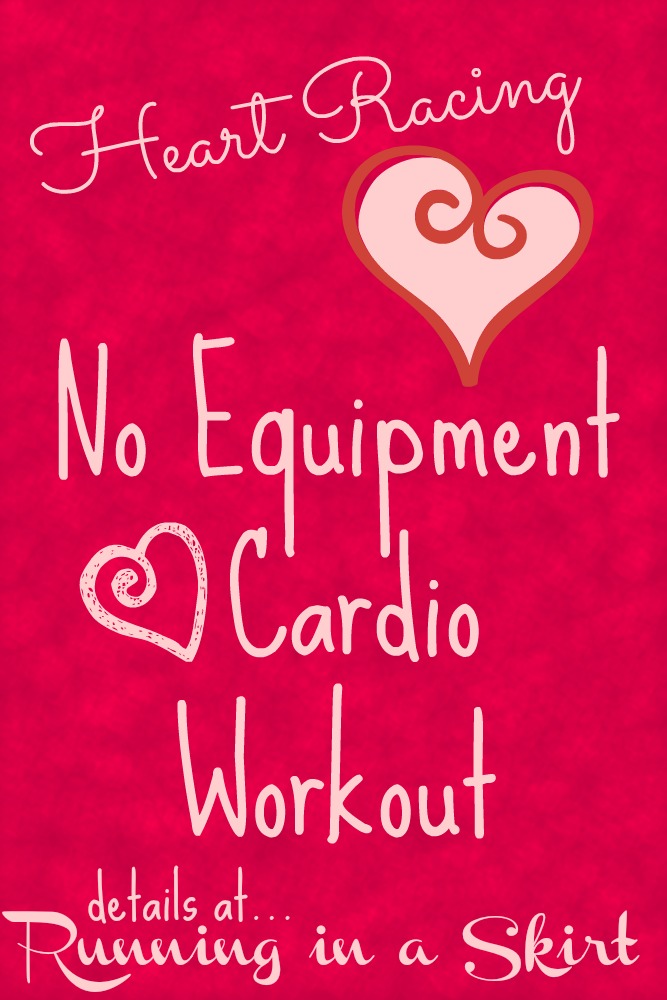 Hi friends!
I hope everyone had a great Valentine's Day. The Hubs and I weren't going to go out and at the last minute changed our mind when we heard a newer restaurant in town was having an oyster, cheese plate and wine (basically three of my favorite things ever!) special for Valentine's Day. I'm normally not one to go out on crowded nights, but I've had a bad case of cabin fever lately. I needed a pick me up and it was really nice to go out! I'll share some photos tomorrow. This weekend we already planned to cook lobsters at home... so I'm living large this Valentine's Day!
I have to admit, I'm not a huge Valentine's day fan and never have been. When I was single it was just a reminder that I was single and when I was not single, it was just a lot of pressure to figure out what to get! Just call me a Valentine's day scrooge! Is anyone out there a big fan of the holiday?
One thing I can get behind are some healthy Valentine's Day sweets like this and a good heart racing workout. I've been enjoying some of these non-running cardio burst, no equipment workouts lately to shake it up.
To spread the love and stretch out the holiday fun through the weekend, I created a new workout focusing on getting your heart pumping. It's great because it's cardio you can do without running and without a big cardio machine. You can literally do it anywhere so it's perfect for travel or if you don't have a lot of time to get your workout in. It takes 10 minutes to do, so repeat it two or three times depending on how long you have. Don't forget to do a dynamic warm-up and stretch when you are done.
If you like it, I'd love for you to pin it to your workout board! And don't forget to follow me on Pinterest.
Heart Racing No Equipment Workout


Want more workouts? Check out my workout page.
Thanks for stopping by today! Come back tomorrow for some weekly highlights.
Your turn!
What did you do for Valentine's day?
Are you a fan of the holiday?