World class views and fall color from the top of Hawksbill Mountain in the Linville Gorge.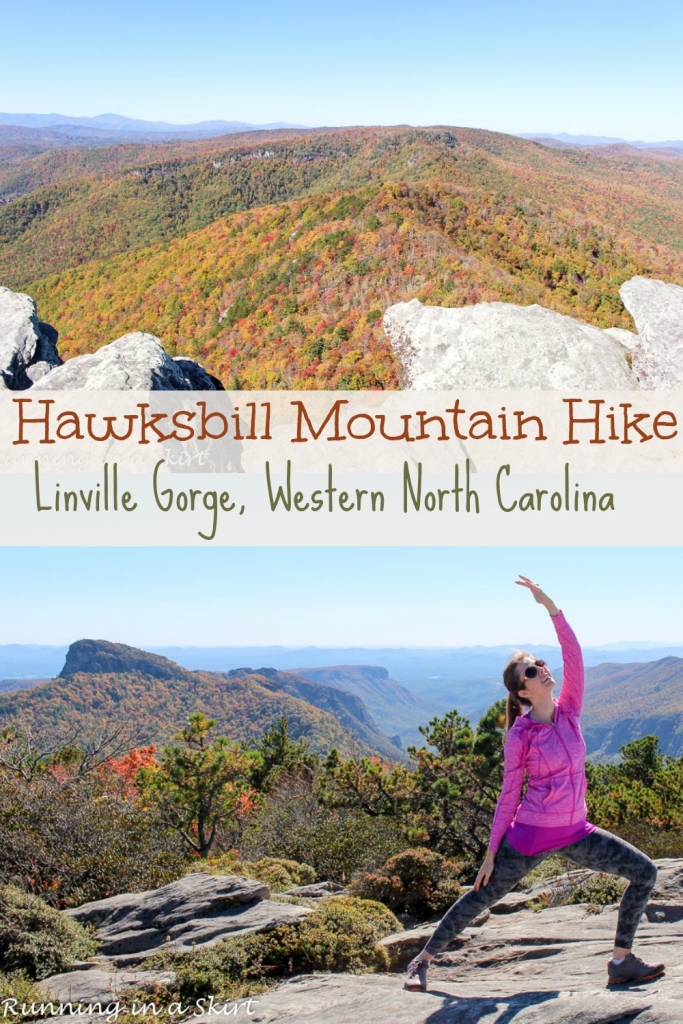 Hi friends!
Ohhh... do I have something fun for you today! If you follow me on Instagram, you might have seen that the hubs and I found a new hike this weekend. We took a leisurely drive up to the Linville Gorge area in the high mountains followed by a not so leisurely hike to the top of Hawksbill Mountain.
The views and fall color were totally worth the effort.
Hawkbill Mountain, Linville Gorge Hiking
We find the trailhead off a dirt forest service road. It is pretty easy to find and well marked. (I'll include specific instructions at the bottom)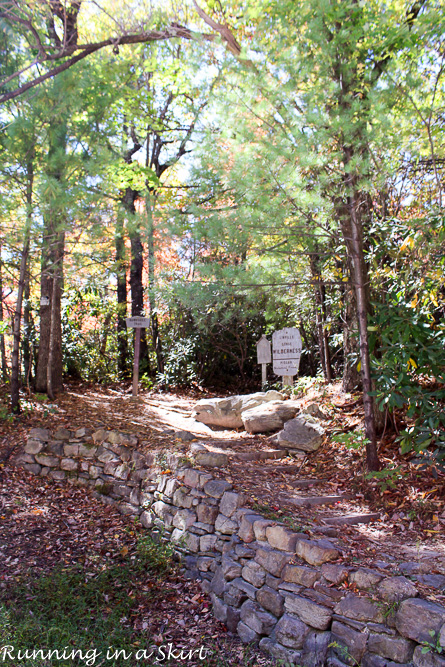 It is the coldest day of the season so far, so we bundle up! I even pack gloves and an ear warming headband in my pockets.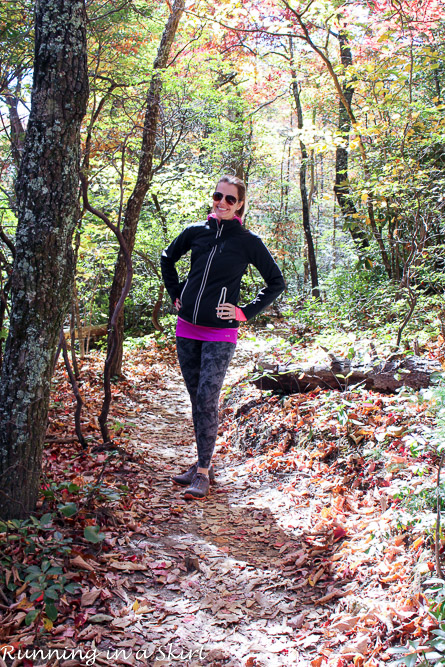 As we start the climb up the mountain, we get sneak peaks of what our view was going to look like. I am stoked!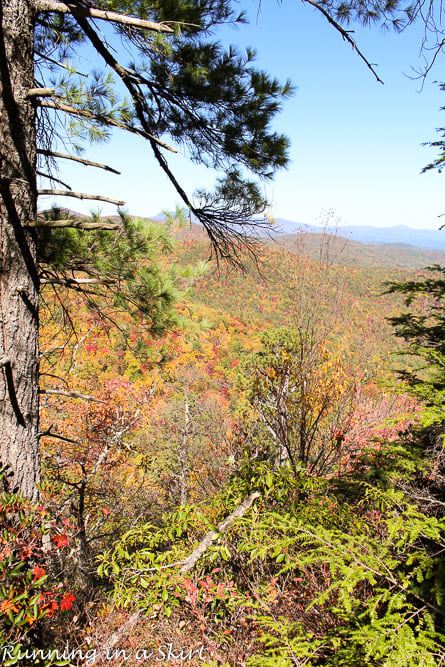 The total hike, round-trip is about 1.5 miles, but feels much longer because we gain serious elevation... about 700 feet!
About half way up we see another well marked sign pointing us in the right direction. From this point the path gets more rocky and steep.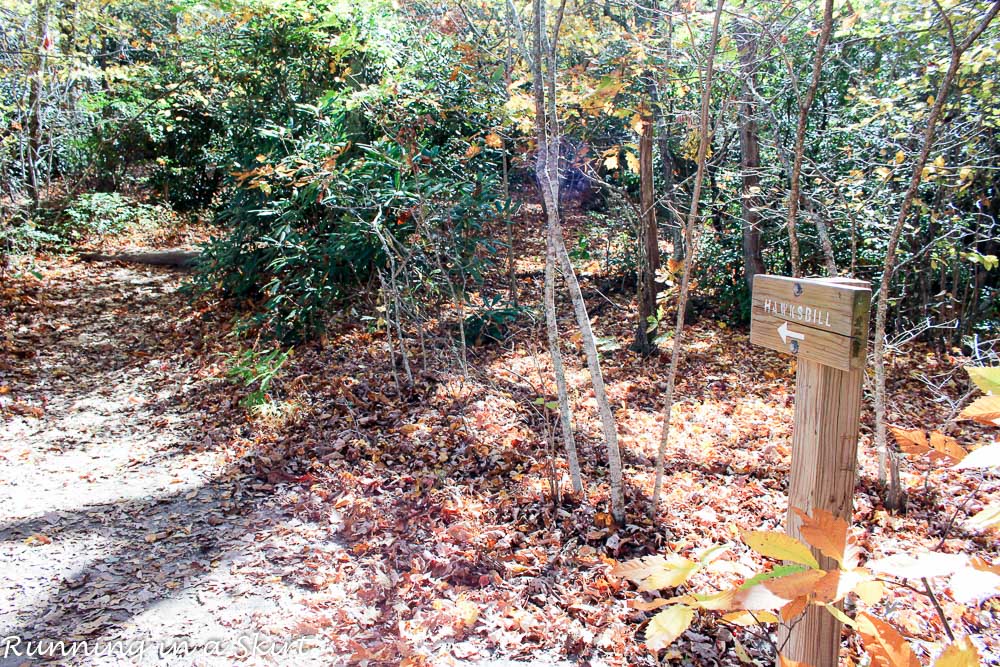 The final push is up some big boulders. The sky is so clear and so beautiful. The air is perfectly crisp!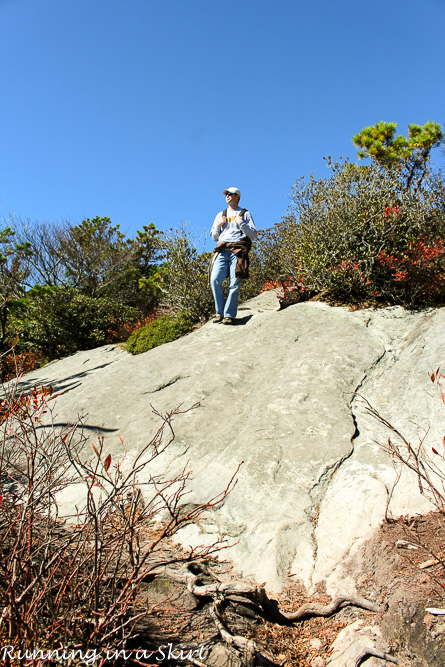 Once we catch our breath and take in the views - we are amazed! While the Asheville area is still a few weeks away from peak color, the Linville Gorge is at absolute fall perfection.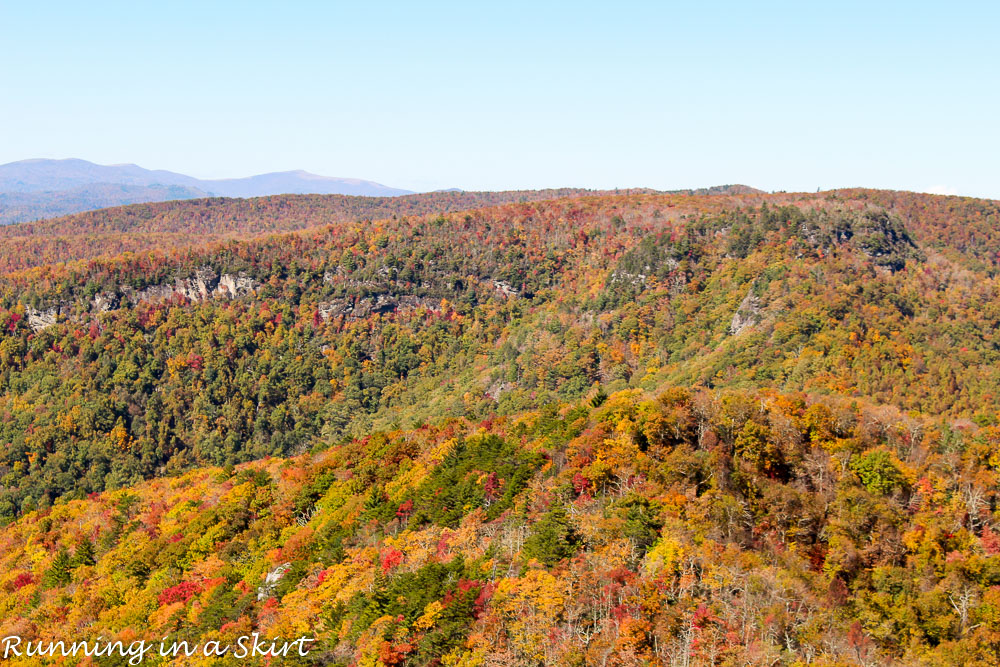 The rocky cliffs make the perfect backdrop for the fall show.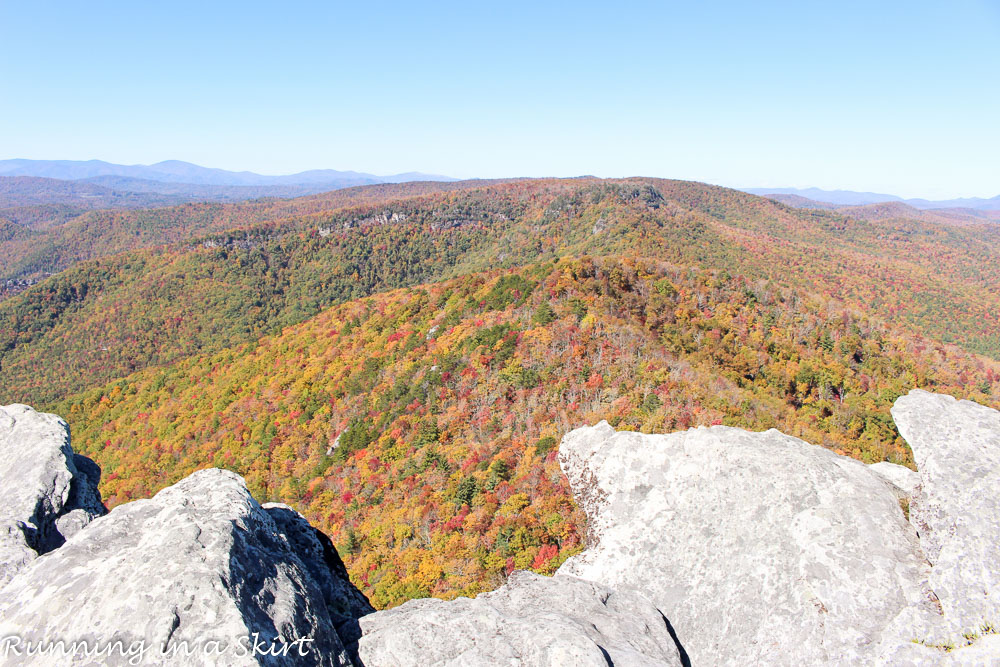 The best view is of Table Rock in a distance. You can hike nearby Table Rock in the same day if you like!
We got a late start in the day, so I settled for one hike... just added a little bit a zen yoga! (No judging my pose form in hiking shoes please!)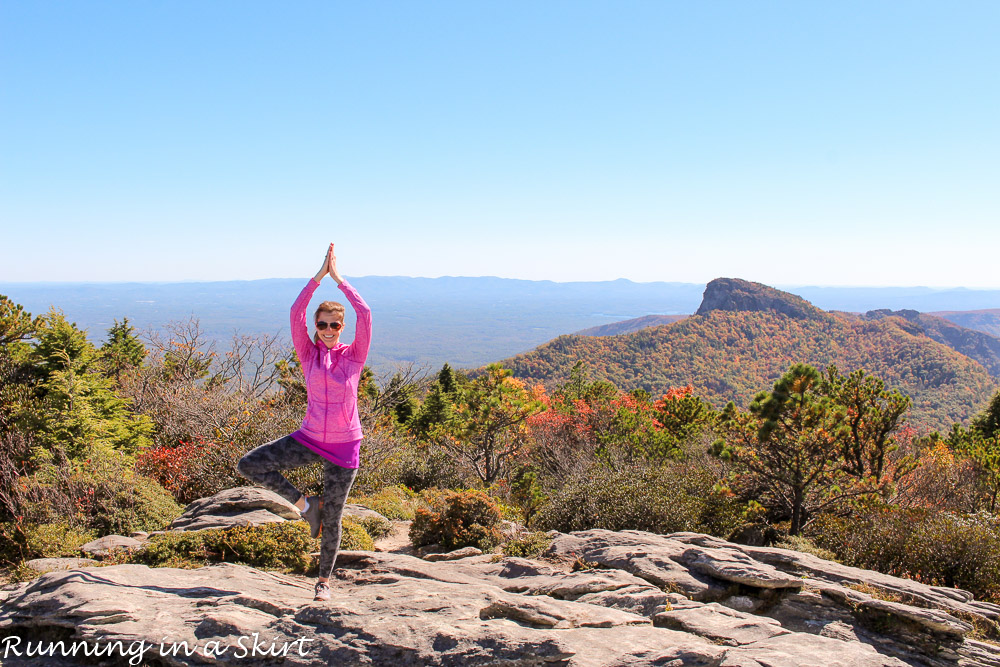 The crisp fall mountain air really makes me feel alive.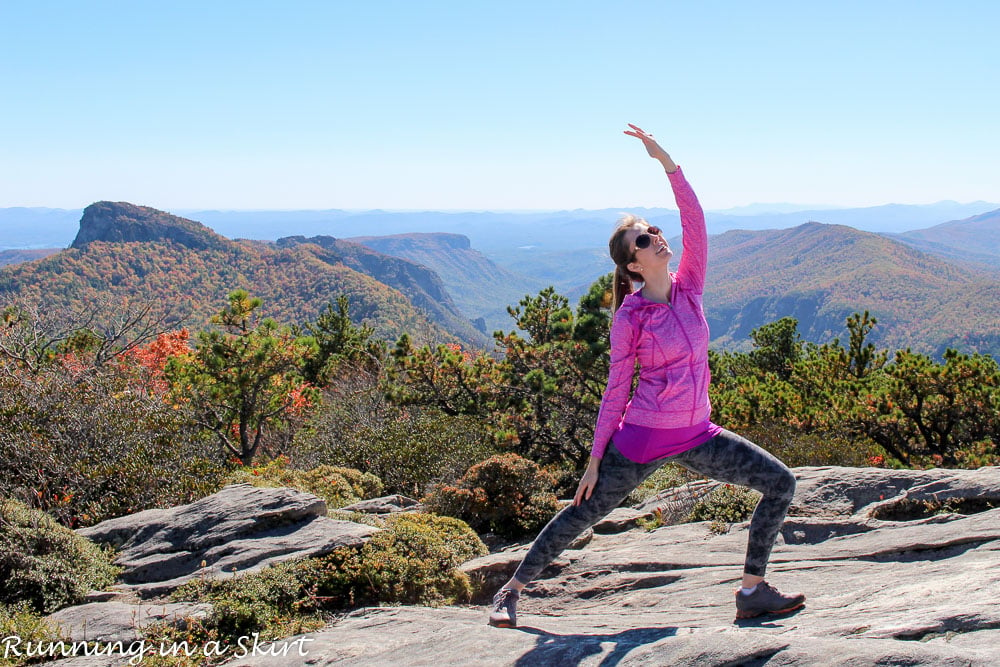 The wind is howling, but we both take our time looking around.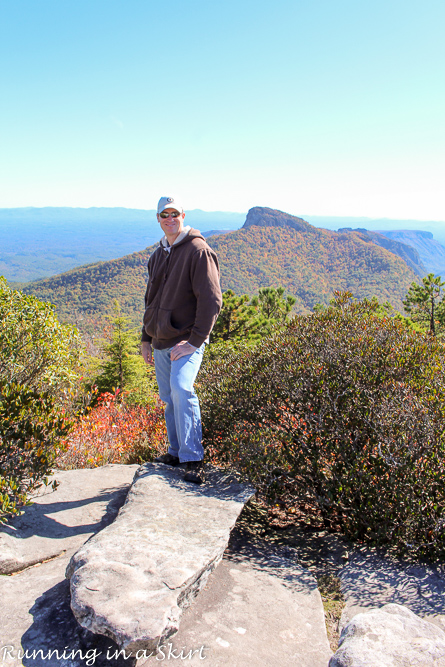 My favorite spot is this rock that makes you feel on top of the world. The 360 degree views are some of the best I've seen in the area. Black Balsam is the only hike I've done that comes close.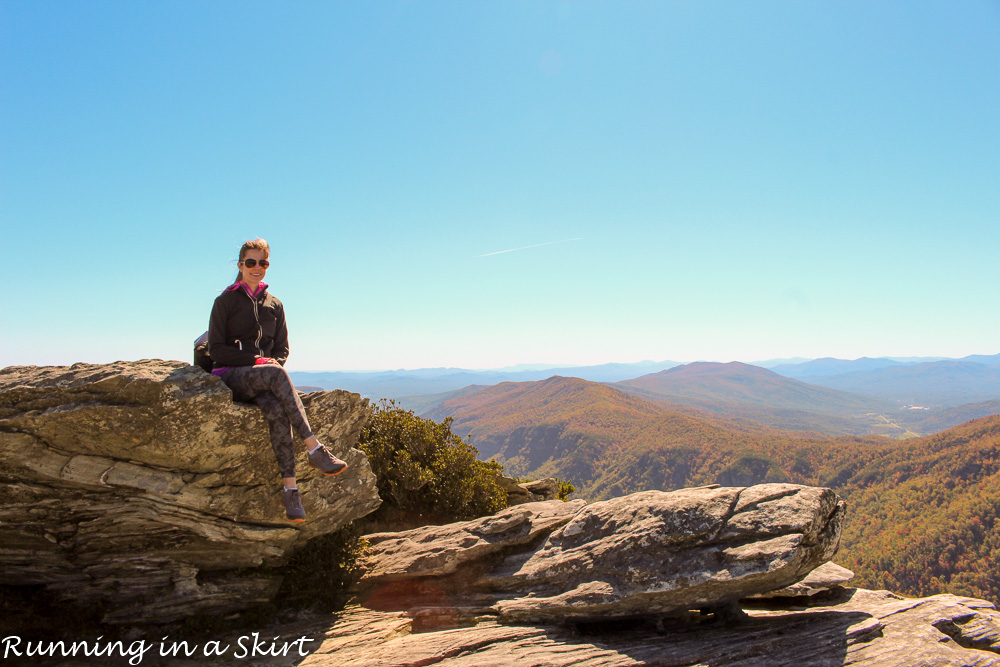 After spending about an hour taking it all in, we take one last glance before heading back down the mountain.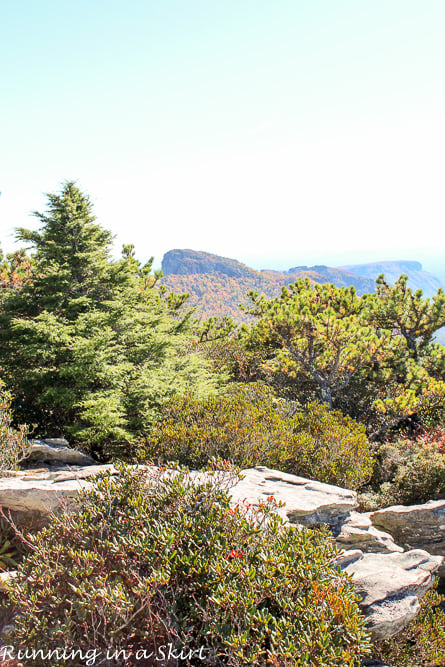 What a gorgeous hike and an amazing way to spend a day! I am so blessed to live in the mountains!
Want to see more hikes? Check out my hiking menu at the top of my site. It's divided by hikes with views, hikes with waterfalls, Blue Ridge Parkway Hikes and Pisgah National Forest Hikes. Or check out my Hiking Page to see them all!
Hawksbill Mountain Hike Information
The hike is 1.5 miles round-trip and due to the 700 foot elevation gain is rather strenuous. The last section of the path is very rocky. Be cautious on the way back down because it can be slick. While this hike is not super long, it is not a beginner hike.
The trail starts off the unpaved Pisgah National Forest service road 1264. Follow the signs to Hawksbill Mountain.
Hawksbill Mountain Driving Directions
This hike is about 65 windy miles from Asheville! It took us about an hour and a half to get there. You can go along the Blue Ridge Parkway or take I-40 East to Marion. Get on US Highway 221 North to Linville Falls. Next pick up Highway 183 to Highway 181. Go South 3 miles on Highway 181 to Gingercake Road. There will be two intersections with Gingercake... take the second one. A half mile down Gingercake Road, stay left on road 1264. There will be a small sign pointing to Table Rock. The road turns dirt in one mile. Continue 2.8 miles to the Hawksbill Mountain parking area on left. The service road is closed January to March.
If coming off the parkway get off on Highway 181 and head south 4 miles. Pick up the directions from Gingercake Road.
I'm linking this post with Jill Conyers for Fitness Friday and Annmarie for Wild Workout Wednesday.
So nice to see you today! Stop on by tomorrow for the start of my Thanksgiving recipe ideas! I'm taking a healthy spin on mashed potatoes!
Your turn!
Do you have fall color where you live?
Do you have a favorite hike?