I may still use a paper planner, but I love my iPod. It keeps me entertained and moving when I run! The ipod was a gift to myself after I ran my first 5K several years ago and it's been my favorite running toy ever since.
Over the years, I've loaded playlists to suit my mood or the type of run I'm doing. I usually try to make a unique playlist for big races. I haven't started my Chicago Marathon playlist yet, but it's going to be EPIC!
Sometimes I want to listen to music with fast pace that keeps the legs moving, but more often I'm looking for inspiring lyrics for mental motivation. This list is full of tunes promoting strong women. Many of these songs like "Stronger" and "Fighter" are standards on my big race playlists because the lyrics go beyond just girl power. My music tastes are all over the place and I like a variety when I'm running, so sometime my choices are a bit odd. But, I thought I'd share one of my favorite playlists. I call it my "Girl Power Playlist." It's about 41 minutes long, perfect for a nice weekday run. I hope you enjoy!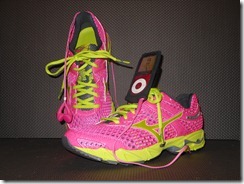 These new shoes scream girl power!!!
And speaking of girl power, don't forget I'm running the Chicago Marathon as a Solemate. That means I'm raising money for Girls on the Run of WNC! Please read my fundraising page to find out more about why this organization is so important to me.
www.active.com/donate/solemateswnc11-12/JulieWunder
If you want to listen to the songs on Spotify, this is a link to the playlist! It's a FREE program to download and listen to music! Click on the link below:
Songs on the playlist:
Stronger - Britney Spears
Hell on Heels – Pistol Annies
Just A Girl – No Doubt
Picture to Burn – Taylor Swift
Fighter – Christina Aguilera
Kerosene – Miranda Lambert
I Will Survive – Cake version
Red High Heals – Kelly Pickler
Stronger (What Doesn't Kill You) – Kelly Clarkson
Survivor – Destiny's Child
The More Boys I Meet – Carrie Underwood
If you would like to learn more about SoleMates,an awesome example of girl power, make sure to read my complete write up on the program.
https://www.runninginaskirt.com/solemates-help-me-raise-money-for-girls-on-the-run/
What's your favorite running music?
[/fusion_builder_column][/fusion_builder_row][/fusion_builder_container]