Happy Labor Day everyone! I can't believe it's here already? Seriously, where does the time go?
Labor day is about much more than just a three day weekend. It officially honors the achievements and struggles of American workers. But to most of us, it marks the unofficial end of summer, a chance to spend time with family and friends, the start of college football season, and time for great deals and sales at the stores. Did someone say shopping?
But since I work in a business that doesn't stop for holidays, I usually celebrate Labor Day by, well, working. No complaints though, I'm used to it. I just have to fit in three days worth of fun in two days! My husband and I celebrated by spending time with family, watching football and cooking out. The only thing missing was some shopping…. oh well!
We are lucky enough to have some company this weekend. My husband's parents decided to make a last minute trip to visit us. It's such a treat to have family visiting on a holiday.
I am of course in the middle of marathon training so in addition to family fun I had to continue my running. I had an awesome 8 mile run at my marathon goal pace! It was encouraging to run a little faster and my legs felt strong and ready. Afterwards, my husband and I watched some college football and I rested my legs.
Sunday we had our version of a Labor Day cookout. Nothing says holiday weekend and family time like using your grill!
The dogs love a cookout!
Reina actually tries to lick the smoke coming out of the smoker.
… And Rhett watches her and wonder's why his sister is so silly. He's so cool.
Since I'm a Pescatarian (vegetarian who sometimes eats seafood and fish) and don't eat traditional cookout foods, most of our grilling involves some sort of fish or seafood. My husband and his family love fish and seafood too, so this suits us all well.
For our Labor Day cookout we decide to splurge and get fresh fish from our local fish market, Blue Water Seafood.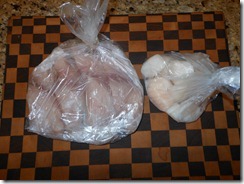 This makes me dream of a beach trip… sigh…
The choices at Blue Water Seafood are amazing and extensive. Since we live in the mountains we think it's a real treat to get fresh fish! My husband chose Mahi Mahi and huge scallops. We also bought some homemade potato salad and cole slaw.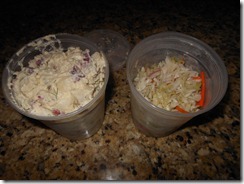 I normally make homemade, but this looked so good and so easy!
Can you blame me?
Making fresh fish can be intimidating, but it is actually very quick to cook and can be very healthy for you. The easiest way to prepare the fish is to salt and pepper it and then add some fresh lemon. Fresh fish usually tastes so good you don't want to overpower it.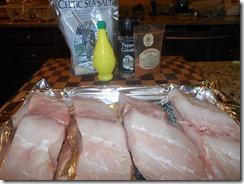 We added some grilling spice we got at a spice store on a trip to Savannah then put the fish on some cedar grilling planks.
Before!
15 minutes on grill and it's ready!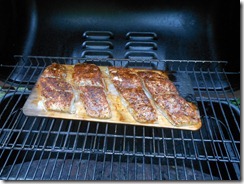 After! See? Super easy!
The scallops are simple too. My husband and I once had these amazing smoked scallops at a restaurant, so we have been trying to recreate our own version of them for months. We finally perfected it last night! First you salt and pepper the scallops and then put them in the smoker for 15 minutes. That is just long enough to absorb some of the flavor, without overpowering them.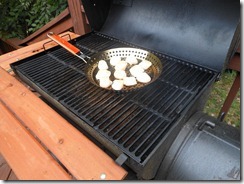 Then bring them inside and have a searing hot pan with olive oil ready. Place the scallops in the pan and leave them for about a minute on each side. You just want to lightly sear them. The extra heat will finish the cooking.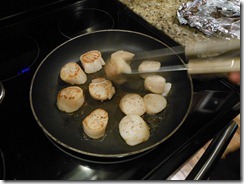 The trick with fresh seafood is to not overcook it. When in doubt, pull it off the heat!
We also picked up some corn from our local corner farmer's market. What a feast! It all came together in less than an hour.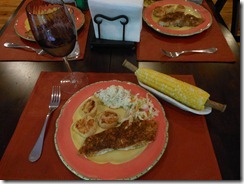 We'll call dinner "semi-homemade"
Serve it all with a fresh seedless watermelon for dessert, and you have a the perfect holiday meal!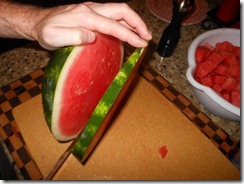 Nothing says summer holiday to me, like a watermelon!
So happy Labor Day to everyone! The holiday and long weekend means so many different things to different people. I hope you had as much fun as we did. My wish to you is that you found a little time to do something you love… whether it's run, eat, shop, watch football or just spend a little time with the ones you love.
How do you celebrate Labor day?
[/fusion_builder_column][/fusion_builder_row][/fusion_builder_container]