It's boot season! Check out some of my favorites for this fall and winter season- steal & splurge style!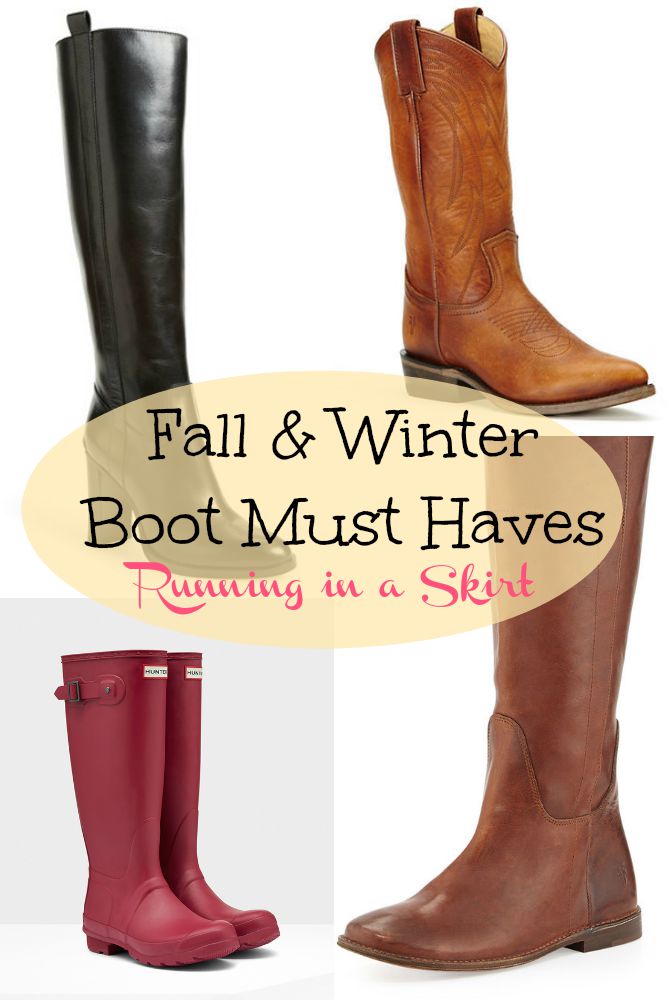 Happy fashion Friday, dear readers.
To be completely honest, spring and summer is my jam. I am not one who starts gushing about the glories of fall as soon as the first leaf turns. I'd love to live in a constantly 80 degree climate! However, I am also someone who tries to find a positive in any situation. Fall and winter isn't all bad. And I do have to admit, boots make winter more fun. I'm a certified shoeaholic and boots get a really special place in my heart.
So today, I'm sharing which boots are at the prime of fashion this season! The ones I have and am looking forward to wearing this year. As usual, I'm sharing boots at different price points so everyone can get in on the boot loving action.
Favorite Fall Boots
Tall Riding Boots
Riding boots are at the pinnacle of fashion right now, which is amazing because they are comfortable and go with so many things. I still have my Ralph Lauren pair from last year that I will be rocking, I love these picks as well.
Splurge...
Frye Tall Riding Boots, $388
Steal...
Madden-Girl, $59.99
Fringe Booties
Fringe is hot right now and so are booties! I adore these fringe booties and think they are the perfect addition to your boot collection for this year. My Mother-in-law gave me a pair very similar to these at the end of the summer and I've really enjoyed styling them this fall.
Splurge...
Sam Edelman Fringe Booties $140
Steal...
American Rag, $49.99
Tall Black Dress Boots
In my opinion, every girl needs a classy pair of tall black dress boots. They get your through winter in style and get you out of wearing work pants all the time. I feel like these are more of an investment piece that is not very trendy, so I'm willing to spend more money getting a quality pair. I am still rocking a very classic pair I bought several years ago, but I also love these picks.
Splurge...
Michael Kors, $294.95
Steal...
Rockport (full leather!), $96
Rain Boots
Not only are rain boots crazy functional, they are actually very much in style right now thanks to the rise of the Hunter brand. Once again, thanks to my Mother-in-law I'll be rocking my brown and black Hunter boots all season.
Splurge...
Hunter Rain Boots, $104+
Steal...
Kamik Rain Boots, $30+
Cowboy Boots
No surprise here, but I love a classic pair of cowboy boots as a statement piece! I got my pair in Nashville over three years ago and they are just as fabulous as ever. A good pair fits well and looks better with time! I love pairing them in unexpected ways.
Splurge...
Frye Cowboy Boots, $298
Steal...
Madden Girl, $25+
So those are my favorite fall boots for the season! Happy shopping!
The above links are affiliate links with ShopStyle and I do receive a small commission for clicks and purchases. Thank you for your continued support of Running in a Skirt.
Thank you for taking the time out of your day to read Running in a Skirt! I hope to see you Monday where I'm talking about healthy options for our pets! The Rhett-ster is going to show off his favorites.
I'm linking up with Nicole for the Fit and Fashionable linkup, Tara for Fashion Friday, Fashion Friday , Joylynne Shane for Fashion Friday, Turning Heads Tuesday and Bloggers Who Inspire Me. Thank you so much for the lovely linkup ladies.
Your turn!
What are your favorite kind of boots?
Any boots to add to the list?