Hello everyone!
Watch your back it's April Fool's day!
My best and only real April Fool's trick was in one of my early year's on TV. I was filling in on the evening news with a co-anchor who hated snow and cold as much I do. I gave my forecast like normal, but at the end I made a fake 7-day forecast with nothing but snow and cold. At the end of my three minutes, I sat back down at the desk and said we were getting a late blast of winter! My co-anchor starting chatting back dissapointed in the cold weather so late in the year. After playing along for a few minutes I put up the right forecast which was sunny and warm each day. April Fools!
I promise no tricks today! I did that one, but it's not really my thing.
As we start to transition to more reliably mild weather, I'm pulling out some of my spring favorites and updating them for 2016. Yellow is once again a hot color for spring and I'm fully embracing it.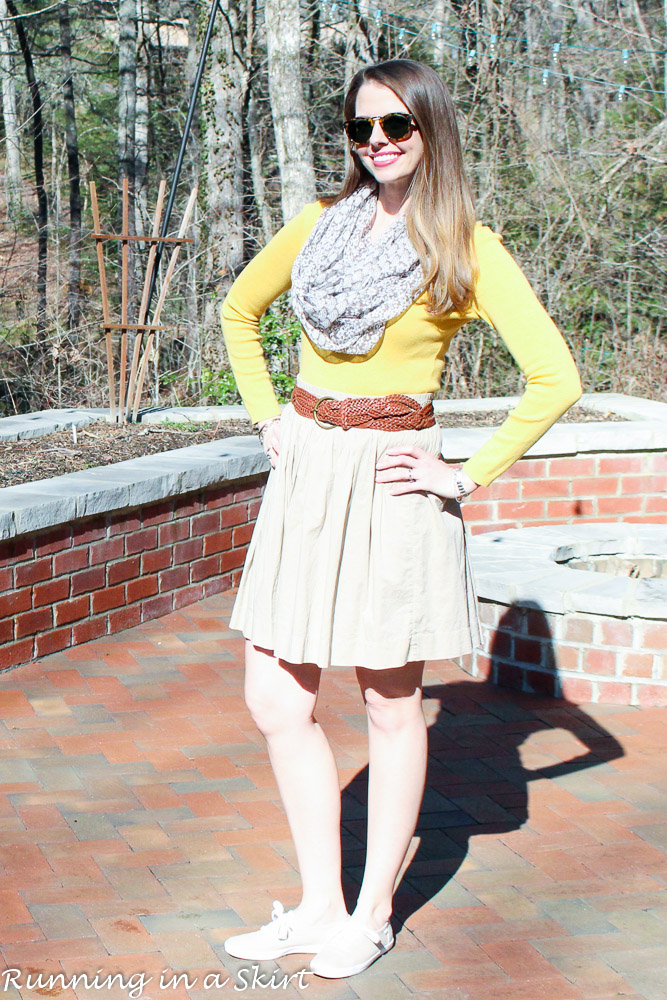 For this outfit I picked out a thin cotton sweater in yellow. I added a long tan and white scarf that I tied like an infinity scarf. It instantly updated the sweater and is nice to wear while we still have cool mornings.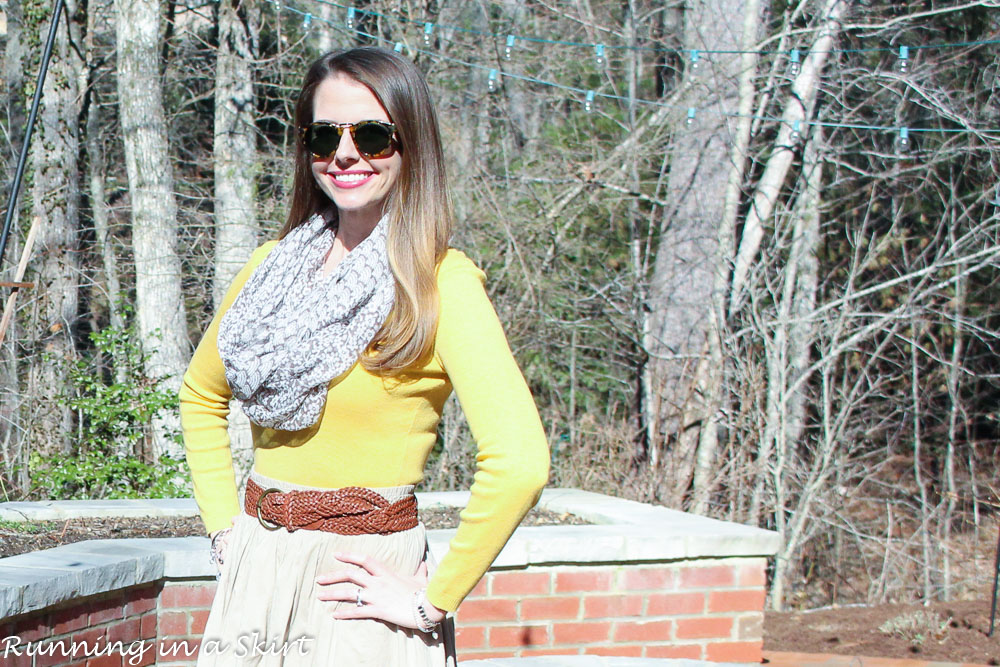 The skirt is a favorite of mine from Banana Republic outlet. It's gathered and almost has a poofy look to it. It doesn't go with a lot, but I still love to wear it with the few things it suits. I think this outfit is one of them.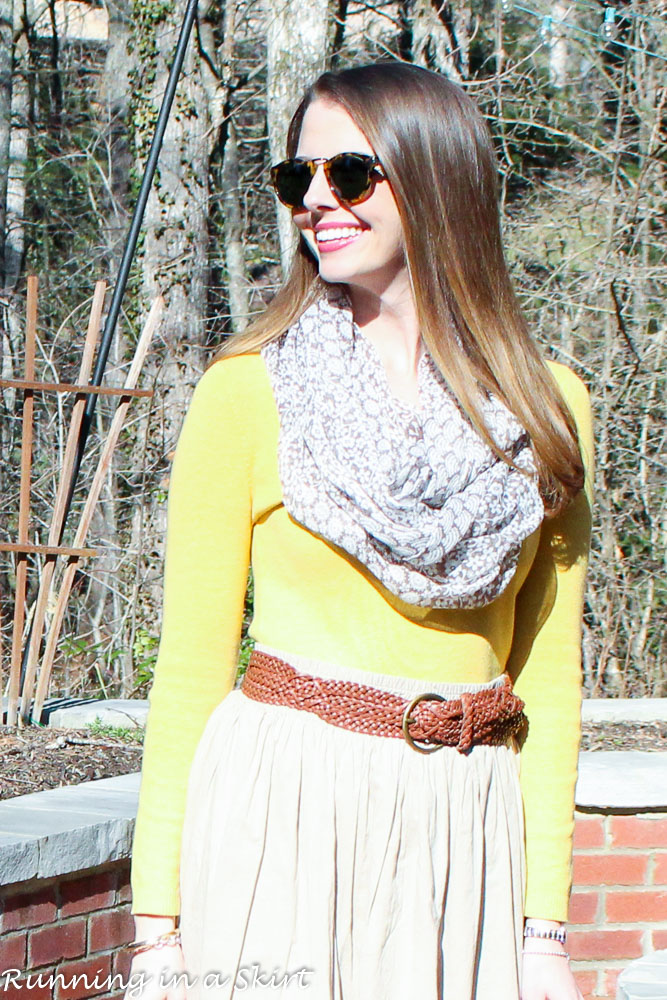 For shoes I went with my matching tan keds to keep the look casual. I trekked all over Italy in these things.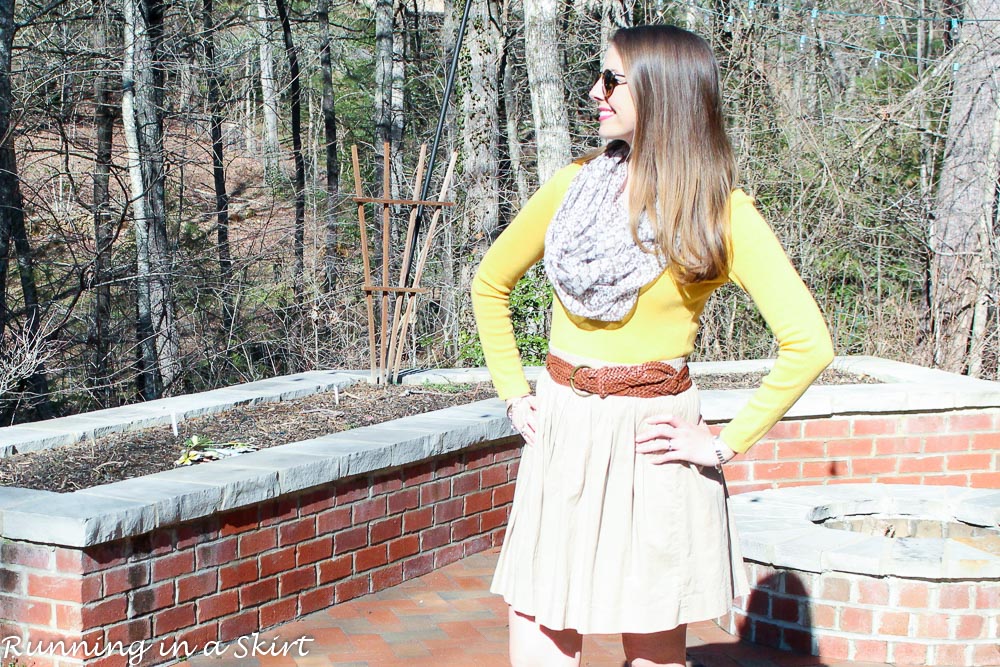 This looks is perfect for those first few mild days of spring!
Shop the Look
Sweater: LOFT, similar HERE or HERE.
Skirt: Banana Republic Outlet, can't find similar but I like HERE.
Scarf: Charming Charlie, similar HERE or HERE
Belt: Banana Republic, similar HERE, love this one HERE.
Shoes: Keds, HERE <--- you know you want a pair 🙂
So nice to see you today. Have a wonderful weekend. I'll see you back Monday for April's Currently post.
The above links are affiliate links. I do make a small commission for clicks and purchases. It cost you nothing. Thank you for supporting Running in a Skirt.
I'm linking up with: Nicole for the Fit and Fashionable, Tara for Fashion Friday, Fashion Friday , Jolynne Shane for Fashion Friday, Turning Heads Tuesday and Bloggers Who Inspire Me and The Mummy Chronicles. Thank you so much for the lovely linkup ladies
Your turn!
Are you doing anything for Easter?
What's your favorite holiday?