Happy Fashion Friday!
As this is publishing the Hubs and I are getting ready to leave for a last minute mini-vacation to Key West! Last week's snow made us realize how badly we needed a little tropical get-away before his schedule gets crazy busy with tax season and we made it happen. I'm hoping to share some happenings on Instagram and Instagram Stories while we are away. I see sail boats, seafood, sunsets and rum in our future! I've also got some great stuff ready to publish early next week blog-wise so you will not miss out on your daily Running in a Skirt fun. And of course I'll share all the highlights on the blog when I get back.
In honor of my Florida trip I thought I'd style my favorite Florida brand of clothes, Lilly Pulitzer, for the weather we are actually dealing with in the mountains. I know the look is generally pretty summery, but I love finding ways to make the brand work for the cooler weather. I like to call it making winter sunny.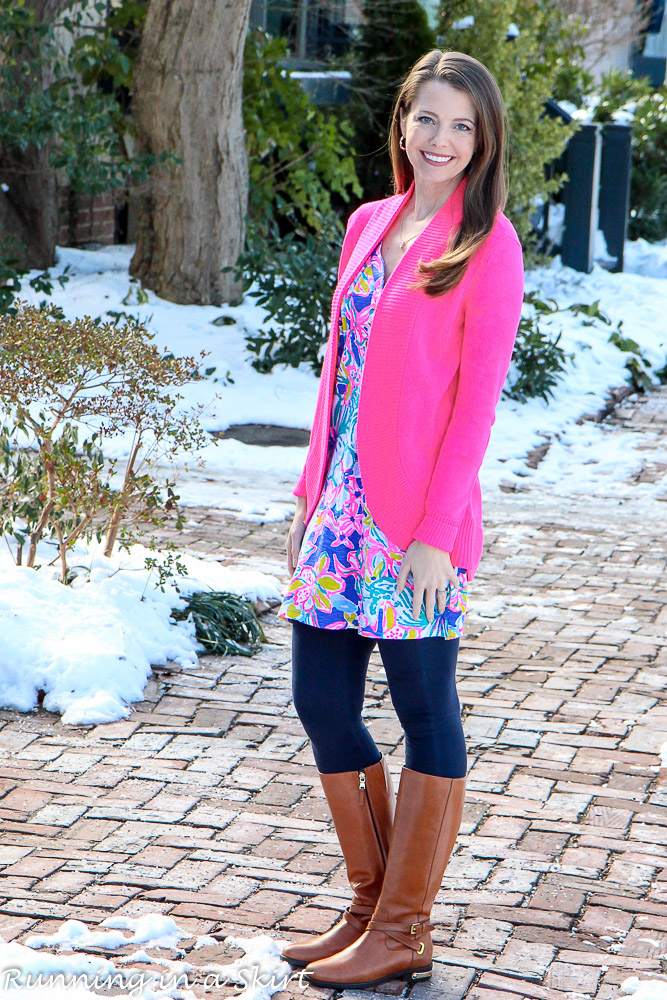 I actually got this dress in the fall and have been able to transition it to winter by adding navy leggings and a matching Lilly cardigan. And yes, I wore it on a "snow day" just to cheer myself up. I get a little crabby on day 3 or 4 with snow on the ground!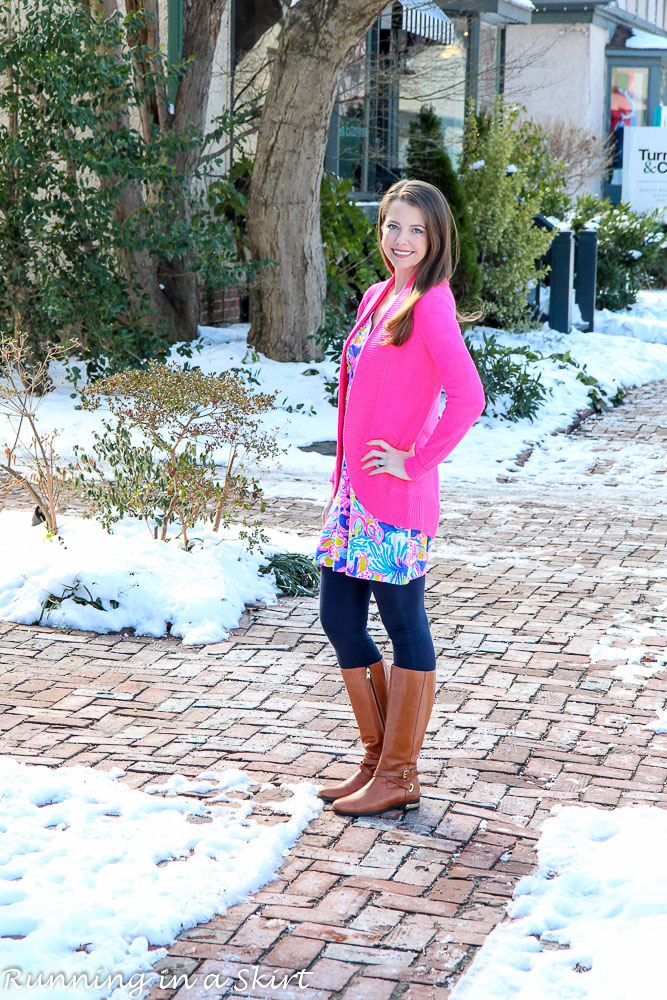 The color in this sweater is so luxurious. I got the sweater for Christmas and couldn't stop gushing about the color. It's pink perfection.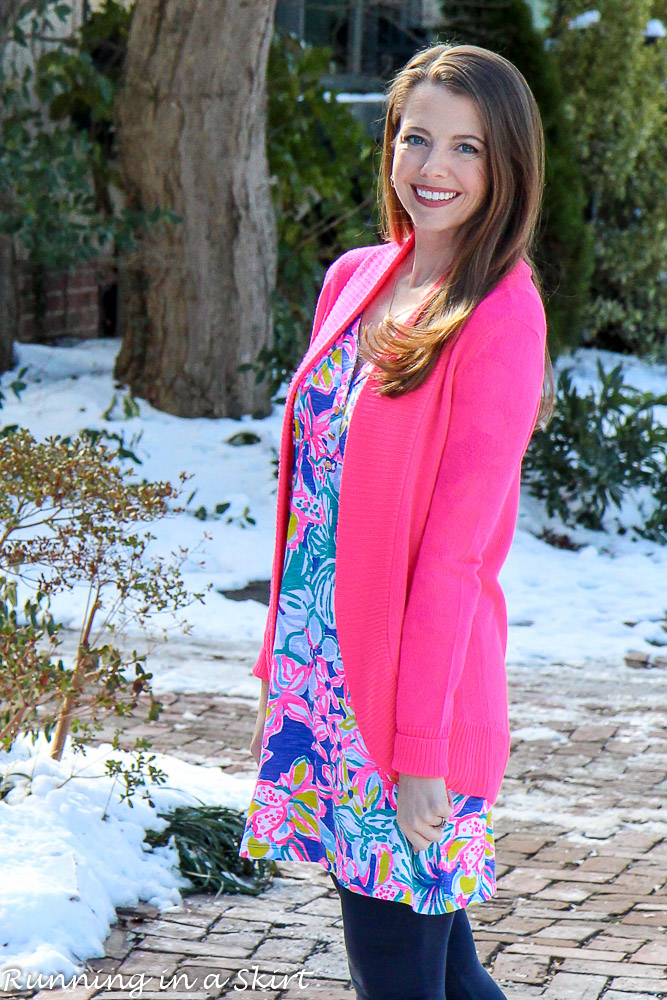 I just love this fun festive pattern. It really adds some beautiful color to a cold winter day. Now in the sake of full disclosure I picked up these items when my local store was having a sale, but unfortunately Lilly does not keep things marked down online. They just have once a season markdowns that only last for a short window. These same items are still available online if you want them though!
Regardless, I swear it's impossible to be in a bad mood when wearing this stuff and the iconic patterns are worth the splurge in my opinion!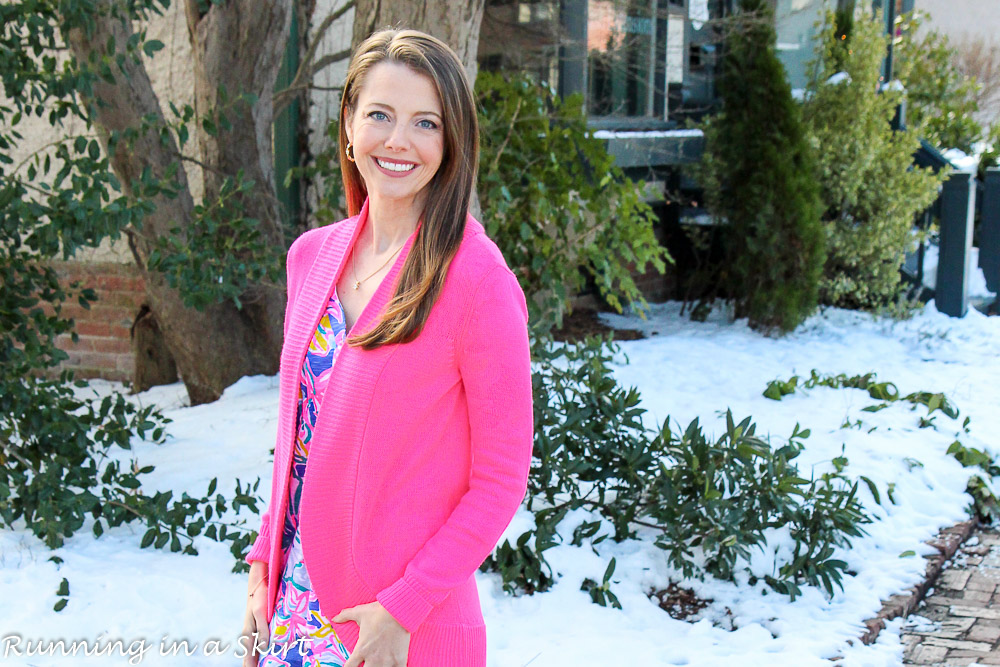 I hope y'all like the outfit and have an amazing weekend. I'll be sending warm vibes your way.
Shop the look:
Lilly Pulitzer Amberly Swing Dress
Lilly Pulitzer Amalie Cardigan
Ralph Lauren Boots, similar HERE, HERE or HERE
So nice to see you today. Have a great weekend and come back Monday for a weekend recap!
This post is not sponsored in any way, but contains affiliate links. I do make a small commission for clicks and purchases. It cost you nothing. Thank you for supporting Running in a Skirt.
I'm linking up with: Nicole for the Fit and Fashionable, Jolynne Shane for Fashion Friday, Turning Heads Tuesday. Thank you so much for the lovely linkup ladies
Your turn!
What are you doing this weekend?