Curious about twins? Read all about them in my twins FAQ.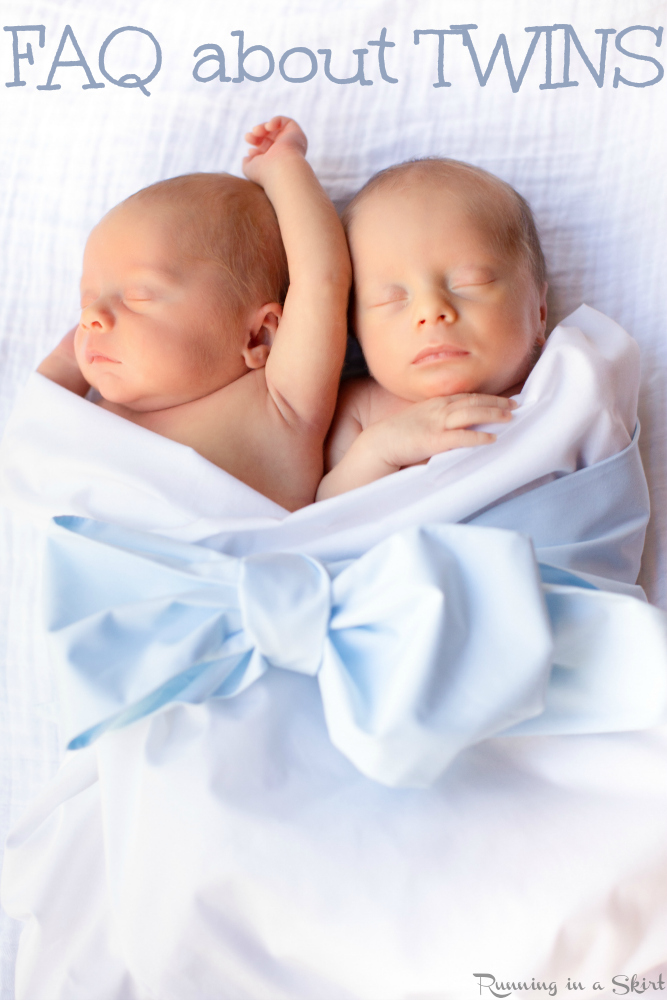 Hi everyone!
Ever since I found out I was having twins I started getting asked LOTS of questions. After I had the babies the questions kept on coming. Apparently having and raising twins is a novelty and something a lot of you are pretty curious about.
To be honest with you, I TOTALLY get it. I've always been fascinated with twins and thought the idea of having two at a time would be pretty cool. Turns out it is really, really cool... just a hundred times harder than I ever imagined. I often wonder HOW I'm taking care of two babies at a time, but somehow we all make it through each day. And even with those hard days I count my blessings daily that my dreams of having a family finally came true.
So I thought I'd answer some of those twins FAQ I get asked over and over again. Hopefully, it will help any curiosity you have about the subject. If you have any other questions drop them in the comments, I'll try to answer them in another one of these posts in the future.
Twins FAQ
What was it like being pregnant with two?
I've never been pregnant with one baby to compare, but from what I can tell my twin pregnancy was pretty hard. I had a lot of pain in my pregnancy in my ribs and back because there was nowhere for the babies to go. I'm still convinced one of the babies broke one of my ribs. While I wasn't on official bed rest by the end of pregnancy I felt so bad that's where I spent all my time.
Despite the pain and discomfort, I was SO lucky to carry the babies to 36 weeks and 3 days with no serious complications. Full term for twins is 37 - 38 weeks so we were all super blessed. I was scheduled to be induced the Sunday after I went into labor on my own.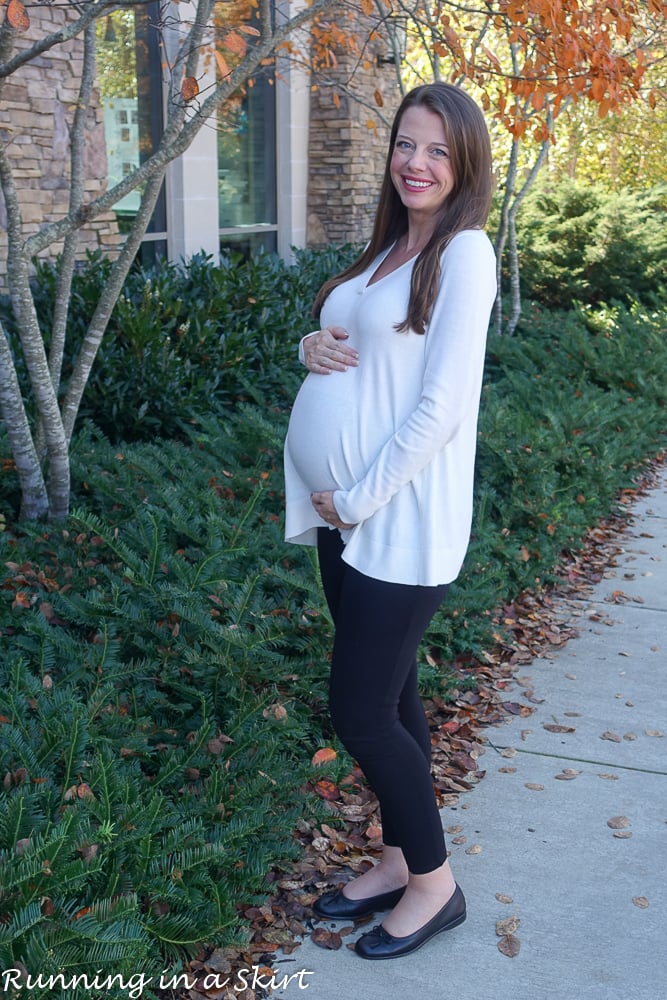 Did you have a c-section?
NO! I was also SO lucky to have a natural childbirth experience. Most twin Moms don't have a choice about how they deliver their babies, especially when the second baby is breech, but my doctor gave me the option. I wrote about all the nitty-gritty details in the twins birth story.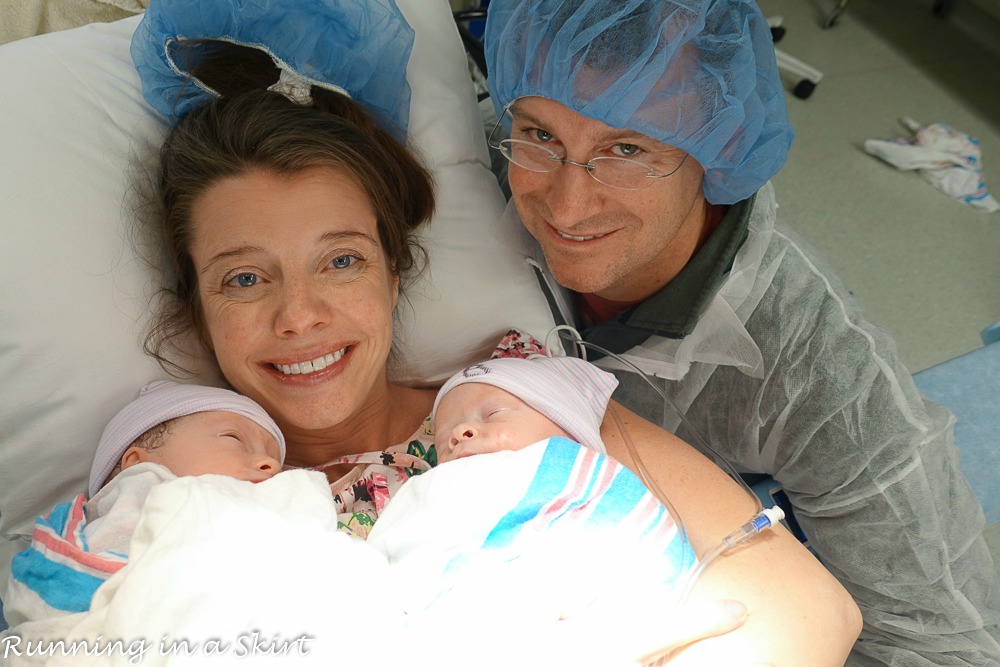 The babies did have to spend one and two nights in the NICU, but we were so lucky that nothing serious was wrong with them.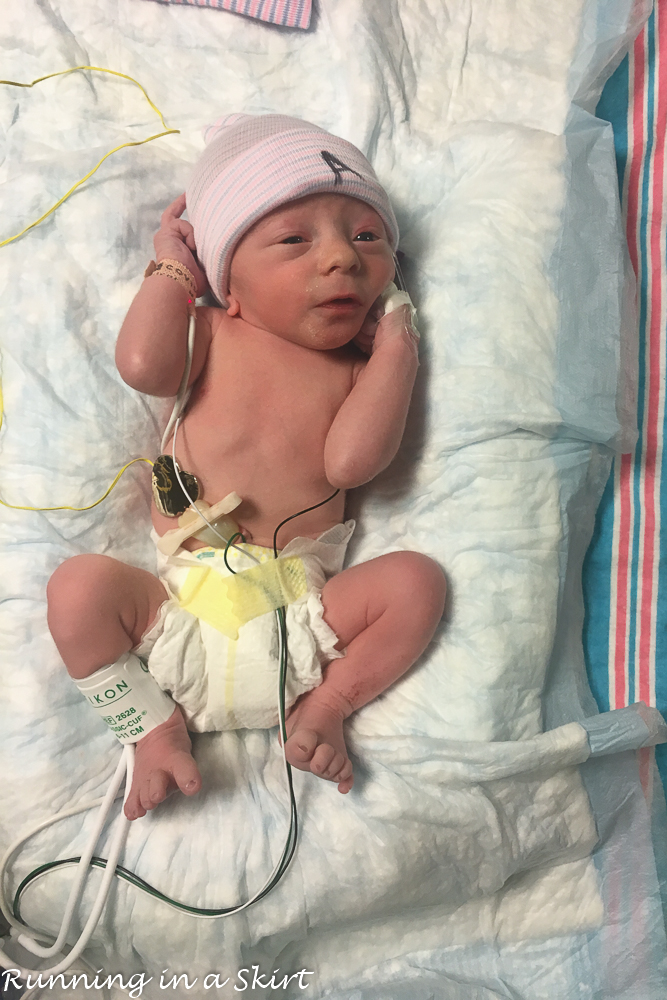 Do the twins sleep in the same crib?
They did. Up until about two months, we put them side by side in the crib. After that they started to look a little cramped, so we moved them into their own cribs but still in the same room right next to each other.
They do notice and reach for each other's hands now, which is so sweet. That started at 2 ½-3 months.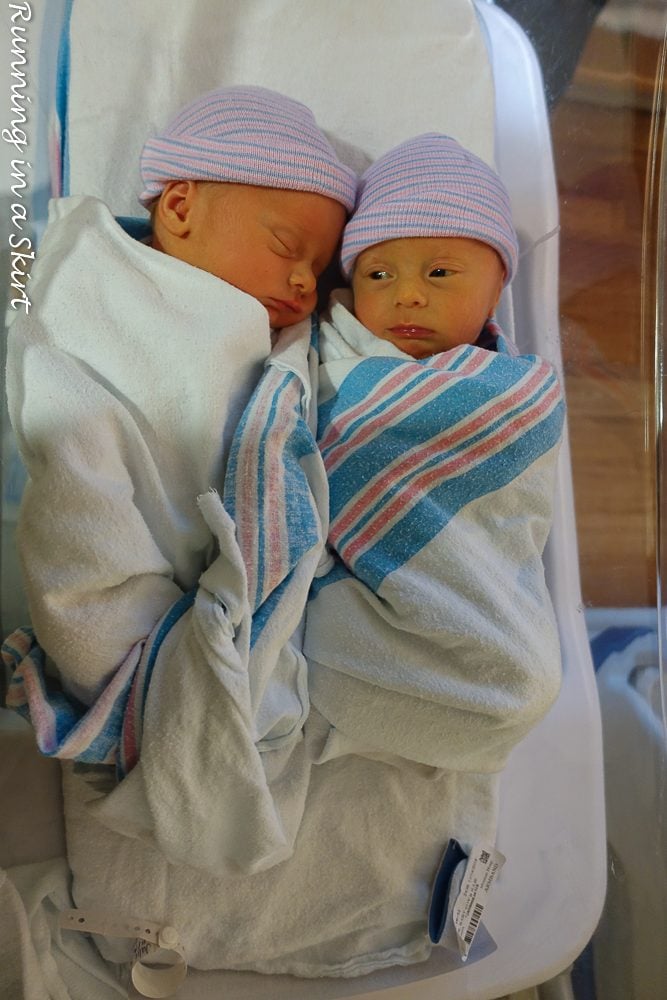 This also happens to be one of the most frequent twins FAQ I get!
How do you tell them apart?
The twins are actually fraternal and not identical. I feel like it's really easy to tell them apart and I'll let you know how I do it!
Hunter's nose is wider and his cheeks are more full and round. He also as of right now has lighter hair. He was born blonde, so it was really easy to tell in the beginning but his hair has gotten darker.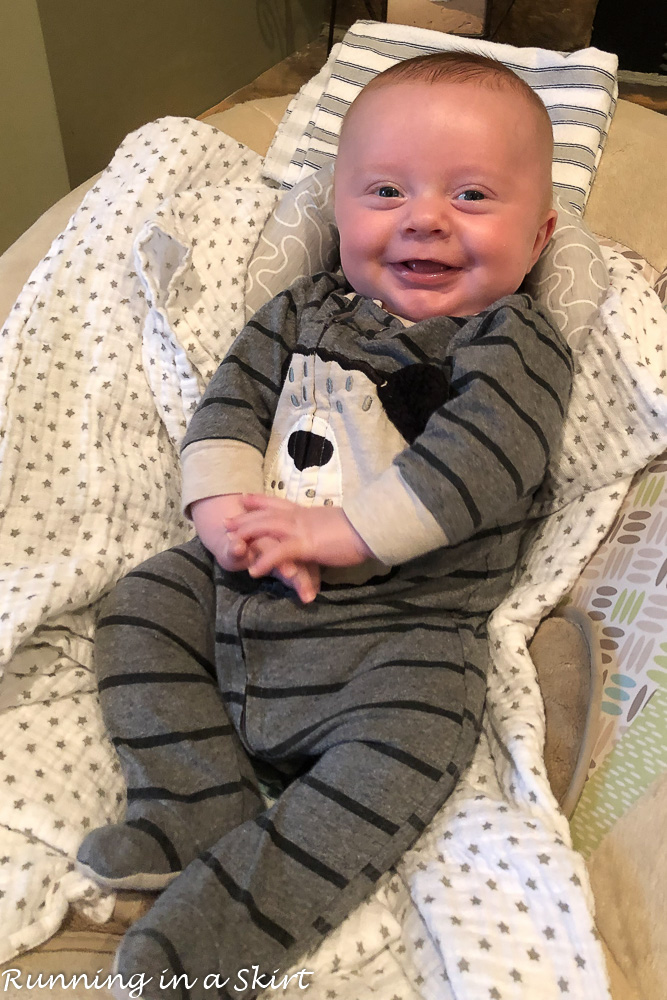 Jackson's features are overall a bit smaller and his hair is darker. As of right now, he is still the smaller babe.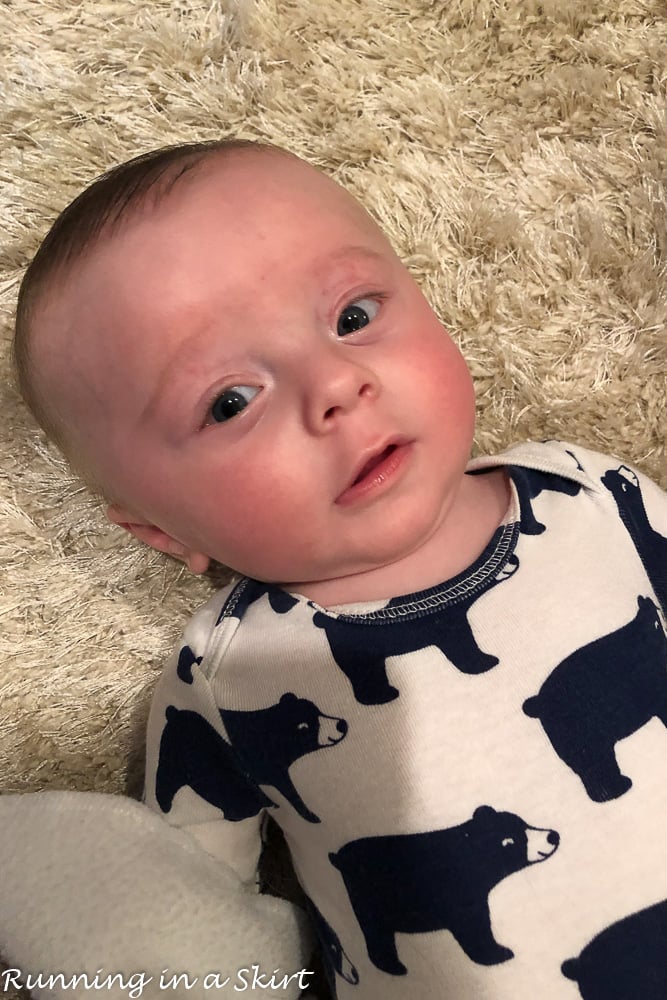 They both have big pretty blue eyes though. I hope they stay that way.
Soooo... pop quiz... which one is which? (The answer is at the end of the post!)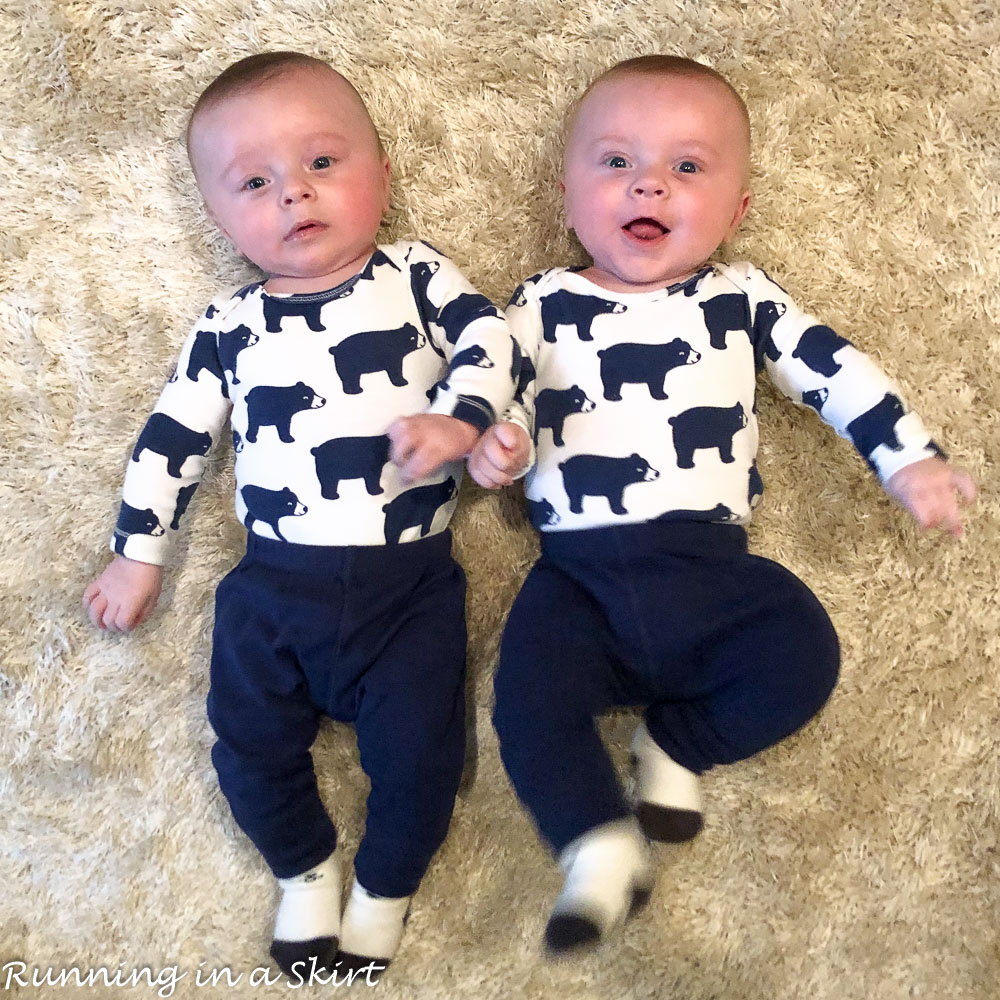 Do they wake each other up?
It's crazy but 95% of the time they don't wake each other up... even if one of them is having a screaming fit.
If they do wake each other up it's more likely to be during a nap. We've been working on crib naps at a set time, so in the past week, I've had them just taking their long nap in different rooms, which has helped.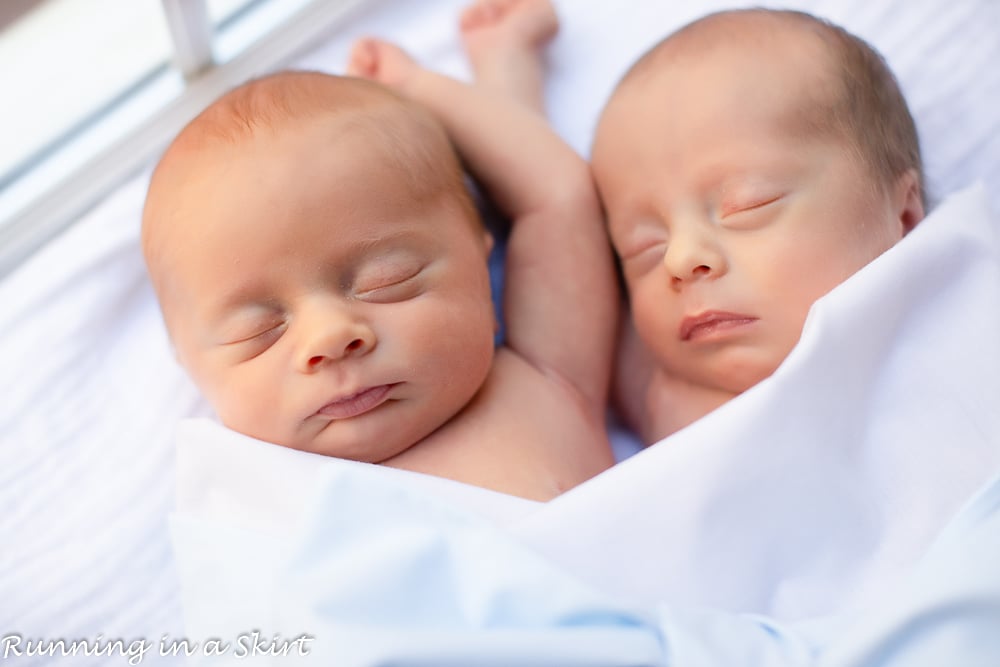 Do they sleep through the night?
We have been pretty lucky with the twins sleeping. From day one we loosely followed the book 12 Hours Sleep by 12 Weeks. The book is a lot more about setting up healthy sleep and feeding habits early on and getting the babies on a schedule than what you'd normally think of as sleep training. We got sidetracked a bit when company was visiting and especially when the babies got the flu around 12 weeks (which blew our entire schedule up!)
I think we would have hit the goal a lot earlier without getting sick, but by 16 weeks both babies had slept 11 hours in their cribs several times. They'll still have an off night, but it is going really well right now. I know there are some sleep regressions coming our way so I don't want to talk too much about it and jinx it! 🙂
In the beginning, they were eating every 3 hours and we had to wake them up to eat. At that point no one was sleeping so we are grateful for any good nights we get these days.
What's their schedule?
I wrote about this briefly in the twins 3-4 month update, but we have been schedule crazy since the boys got out of the NICU. The goal is to feed them at the same time, they nap at the same time and they play at the same time.
They are eating every four hours right now starting at 7AM. They play after they sleep and then nap. I've been constantly tweaking this to try to get the right combination of naps and play so they will sleep well at night. This is to the goal each day... although babies will be babies and it doesn't always happen this way. I'm hardly an expert though so if anyone sees anything I'm doing wrong, let me know - lol!
7:00 AM - wake up & heartburn meds
7:30 - eat
8:00 - play
9:00ish nap
11:00 - eat
11:45 - play
1:00 - nap
3:00 - eat
3:45 - play
4:30ish - catnap (less than 30 minutes)
6:30 - heartburn meds
7:00 PM eat & bedtime
How do you watch both of them? What happens when they both cry?
To be completely honest it was so hard watching them by myself for a while. After they woke up from the newborn phase, they went through a fussy stage and it was everything I could do to keep them both from crying. I'd often put one baby in a carrier and just carry the other until they fell asleep.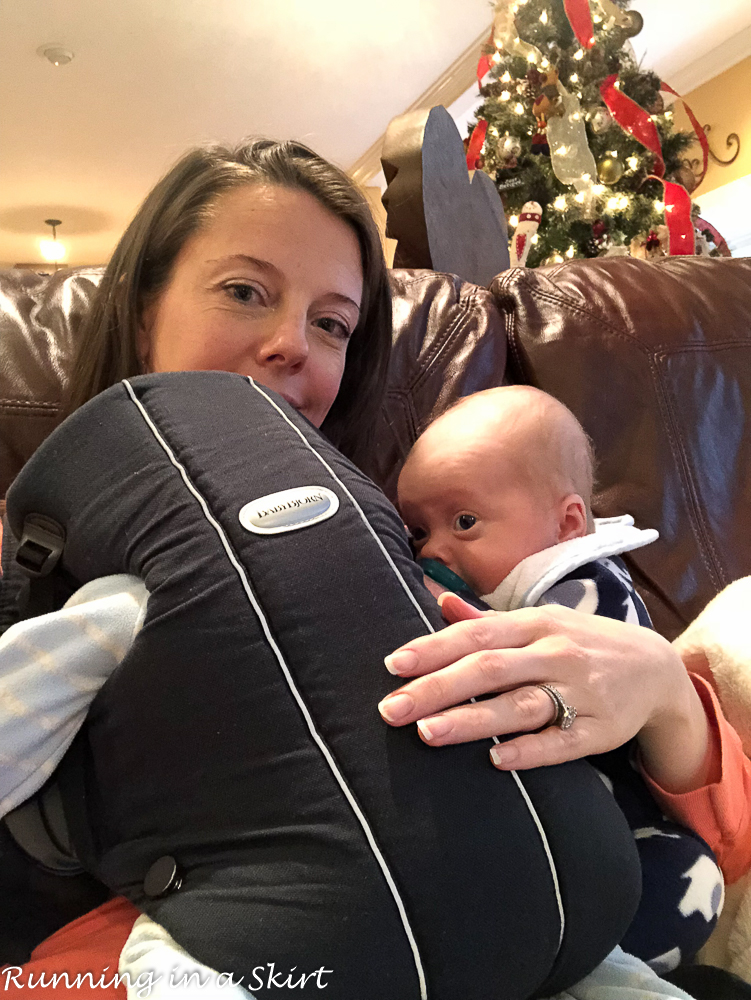 Sometimes when they both cry, I'd pick the one who's louder and just hope for the best. Then sometimes I'd cry too.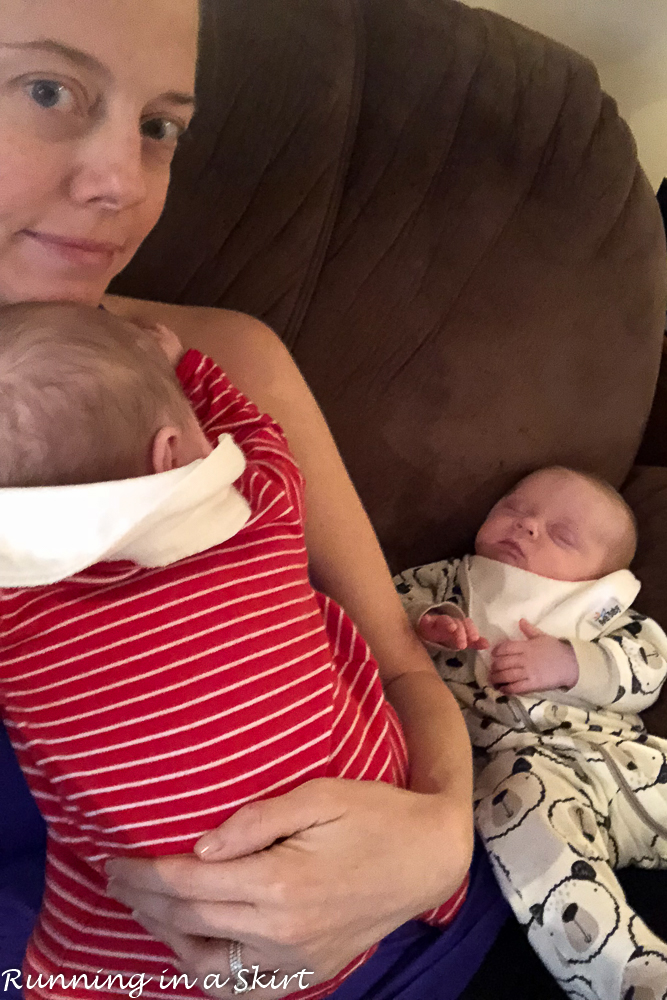 Fortunately, it has gotten SO much easier! I think taking the time to create a schedule with crib naps is helping them get more rest and stay in good moods.
Now they can play with different toys so I'll set up play stations and rotate the babies during our awake time. At four months they love their kick piano, jumparoos, and play mat.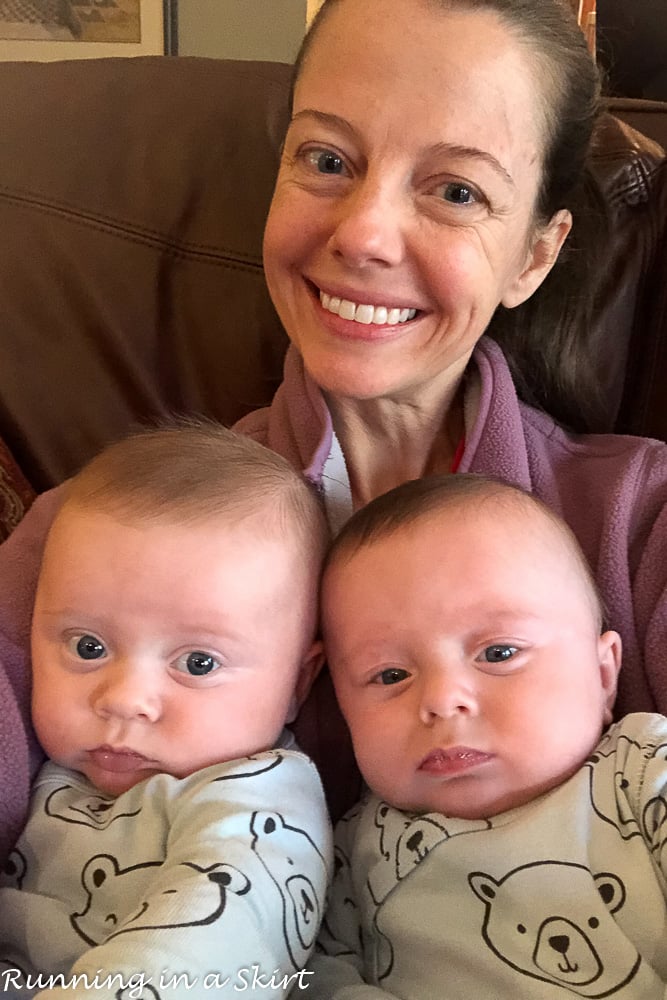 I've mastered the double cuddle, which is my favorite time of day.
Is one happier than the other?
YES! And it has actually changed. Hunter was the fussier one for much of month 2. His reflux kept him from being a happy baby but we kept tweaking his meds and routine and now he's a ham.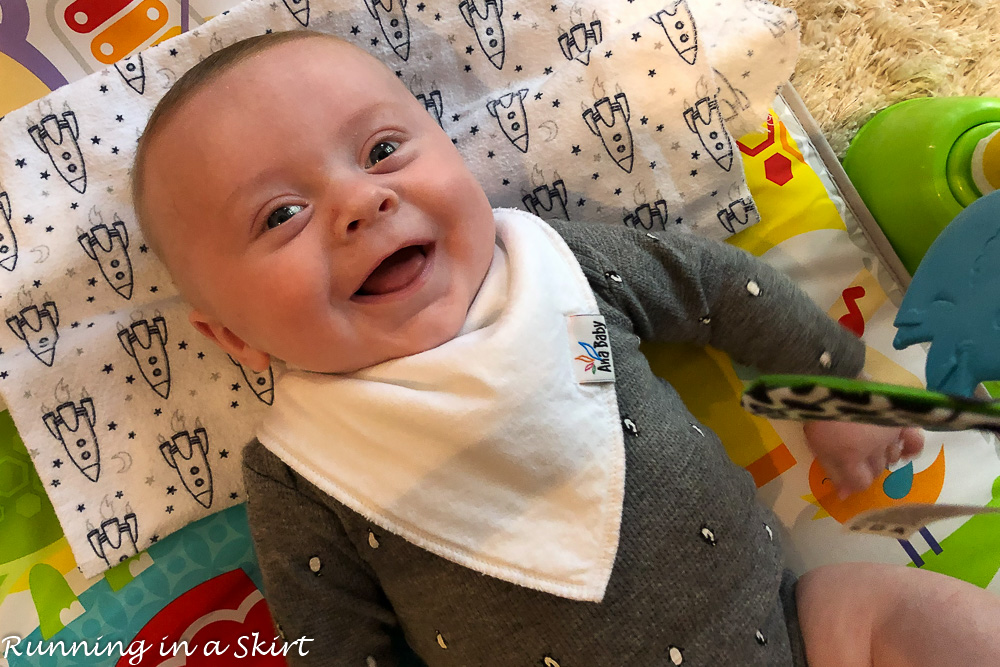 Jackson went through a fussy stage in month 3 and is luckily coming out of it.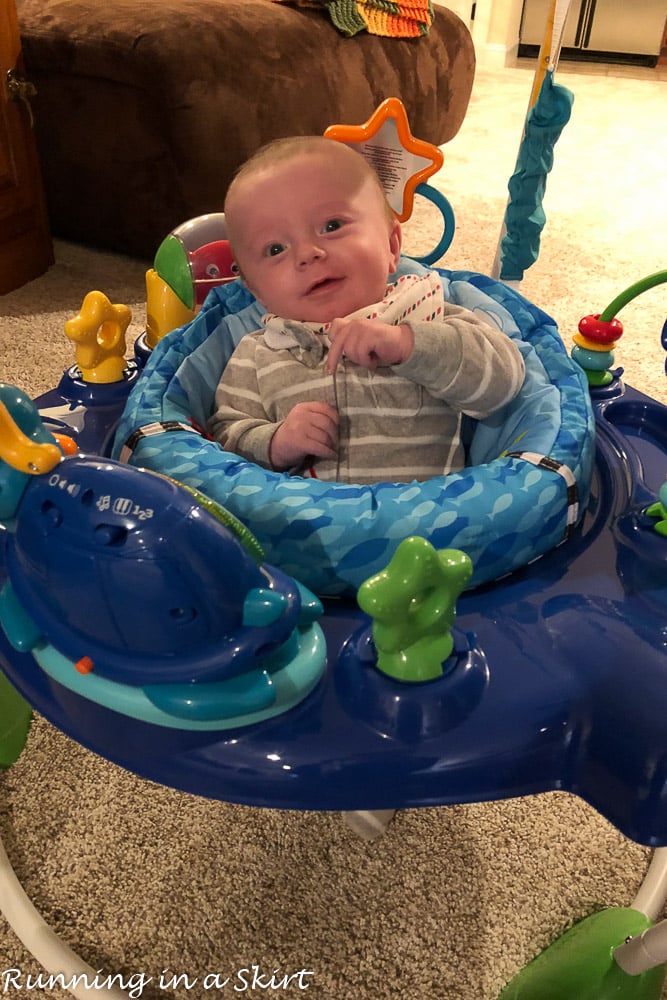 Right now Hunter is easier to get a smile out of but that makes smiles from Jackson even more special.
How is Makena doing with them?
She is SO good with them. We've never once been worried about her being around them because she is very careful. She is always right there hanging out with the babies. She even drops her gross toys in their bouncer seats to share with them.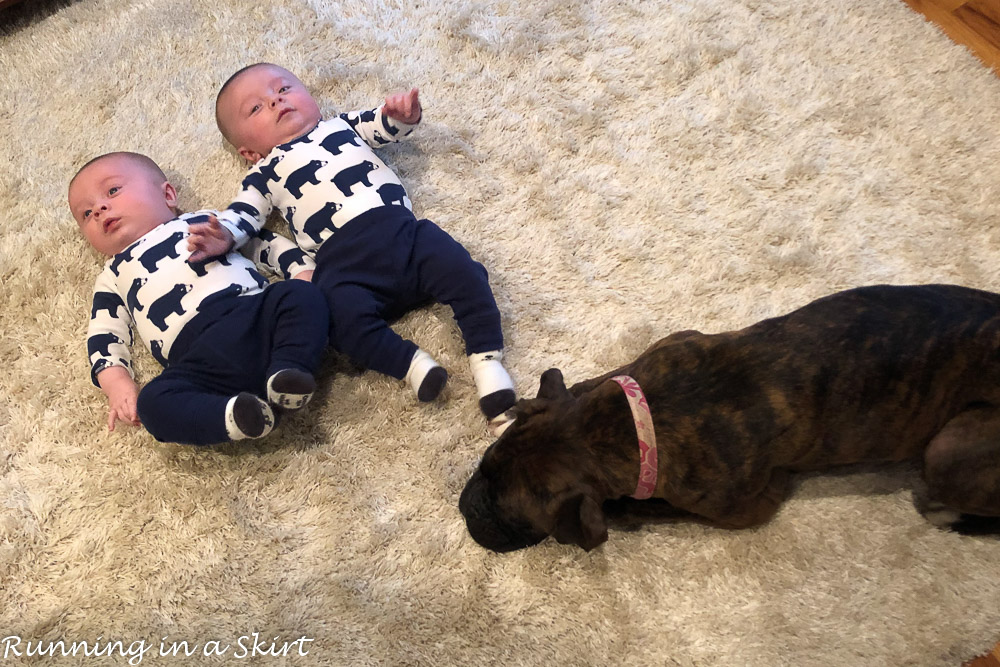 We do our best to give her enough attention, but I know it's not as much as she used to get and you can tell she's sad sometimes. BUT I know she will have the BEST time playing with the boys soon and her life will be even better than before.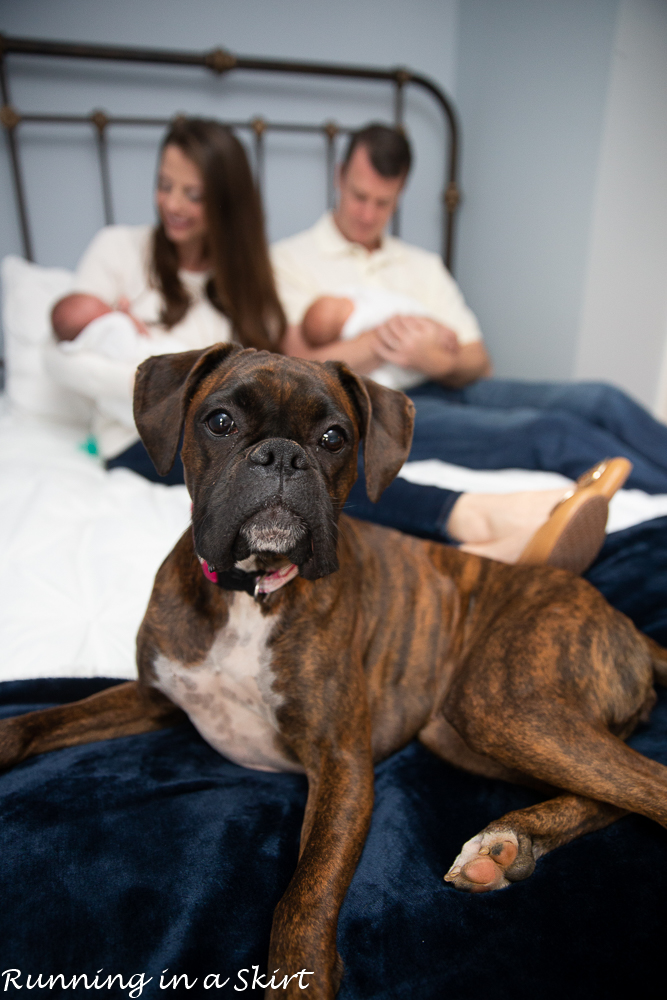 Pop quiz answer: Hunter on right and Jackson is on the left!
Pin for later!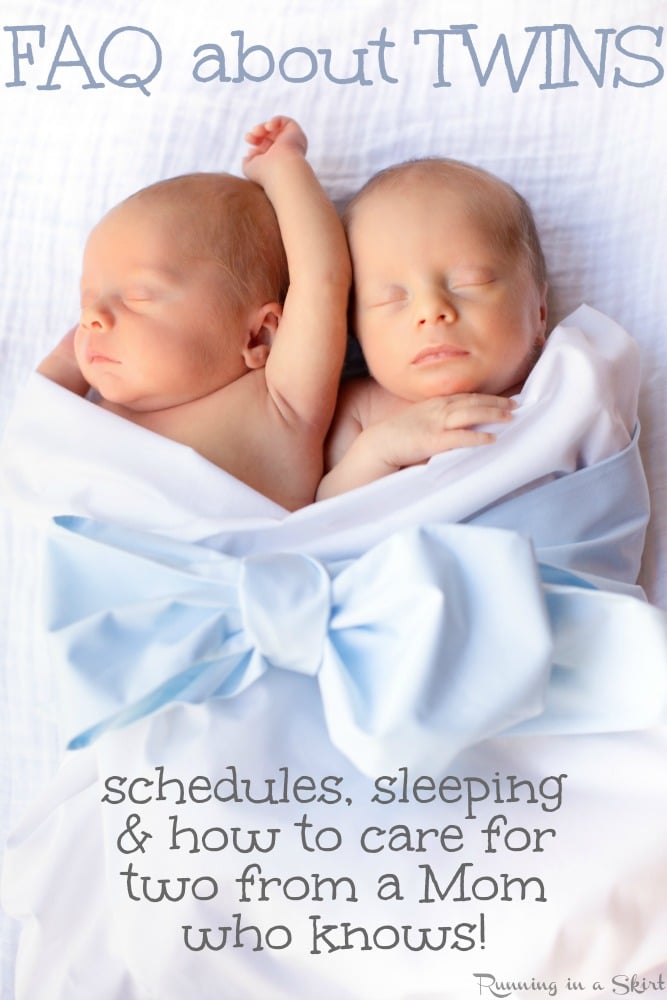 Your turn?
Do you have any other questions you'd like me to answer in another post?