Waking up happy is the best way to kick off your day on a positive note! Here are my 5 Ways to Wake Up Happier.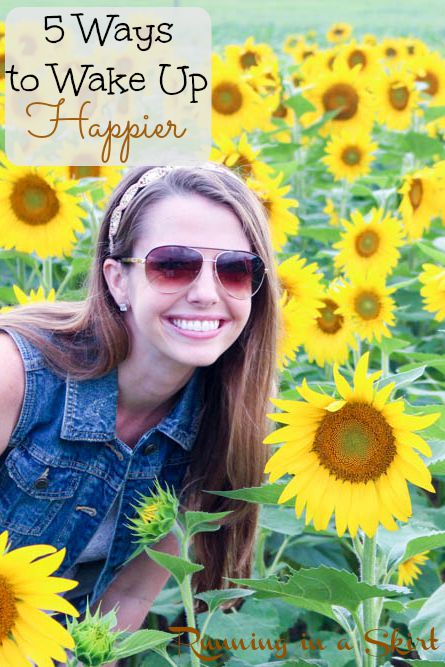 Hi friends!
I am naturally a morning person, so waking up happy comes much easier for me than it does many people. However there are many days I wake up grumpy or overwhelmed. I've been making a point to try to start my day on the most positive note possible lately, and it's been working. So today I thought I'd share 5 ways to wake up happier!
5 Ways to Wake Up Happier
Don't Hit Snooze
I know this is very hard for all of us, but getting rid of hitting the snooze button can really make a big difference. If you hit the snooze you end up losing valuable sleep time and it can actually make you crankier. It is a rough habit to break, but it is much better for you body to sleep for as long as possible and then actually get up on the first alarm. I'm still trying to convince the Hubs of this one! He's a snoozer and I'm not.
Prep Ahead
Facing an unorganized day is enough to make anyone feel overwhelmed. Pick out your clothes, jewelry, shoes the night before. Also make a list of important goals or tasks for the next day before you go to bed or at the end of your work day. Organization can really help your mood when you are first waking up.
Also prep your breakfast and have everything you need for your coffee in one place! Overnight Oats like my Peanut Butter Cup Overnight Oats is a great way to make breakfast the night before that you don't have to think about in the morning.
I outlined how I got ready and out the door by 2:45AM for my old job in this post, 5 Tips for Waking Up Early from the Ultimate Morning Person! It includes some great organizational tips. And yes, I just to be totally OCD about it but it's the only way I could make it happen for so long.
Don't Check E-mail
How many of you have woken up in a great mood, only to check your e-mail when you roll over and suddenly be mad as anything? I know I have and could tell you some stories!
There is plenty of time in the morning to get to your e-mail. At least have your breakfast first, if not leaving it until you walk into work. Use your waking up time to focus on all that is good in your life that you control, not e-mails.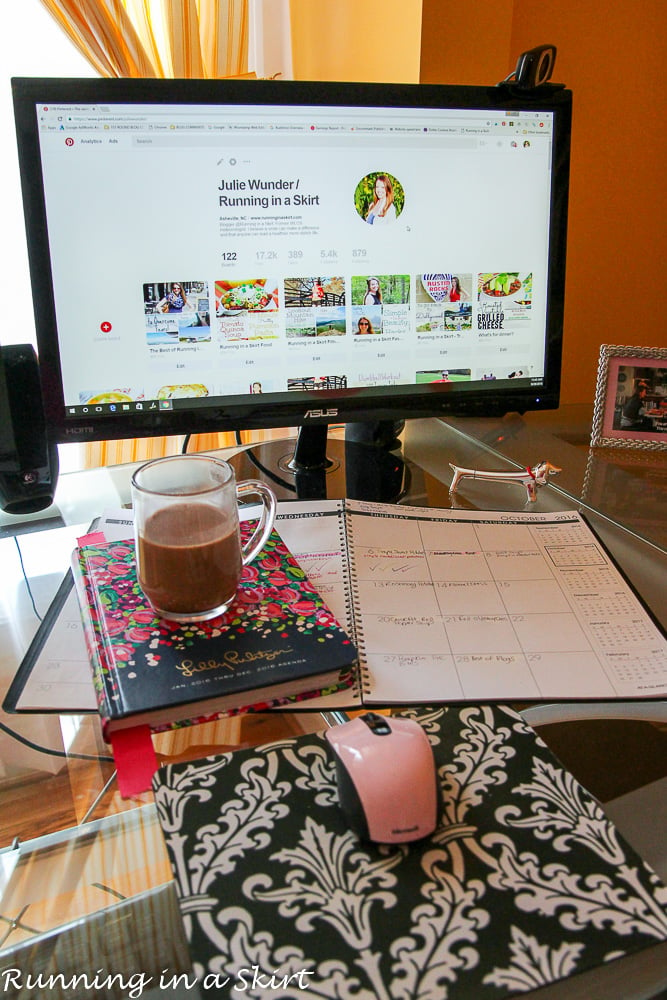 Get Moving
Even if you aren't a morning workout person, simply going through a 5-10 stretching or yoga routine can help you wake up refreshed. Better yet, take your dog out and get ten minutes of fresh air before you do anything else.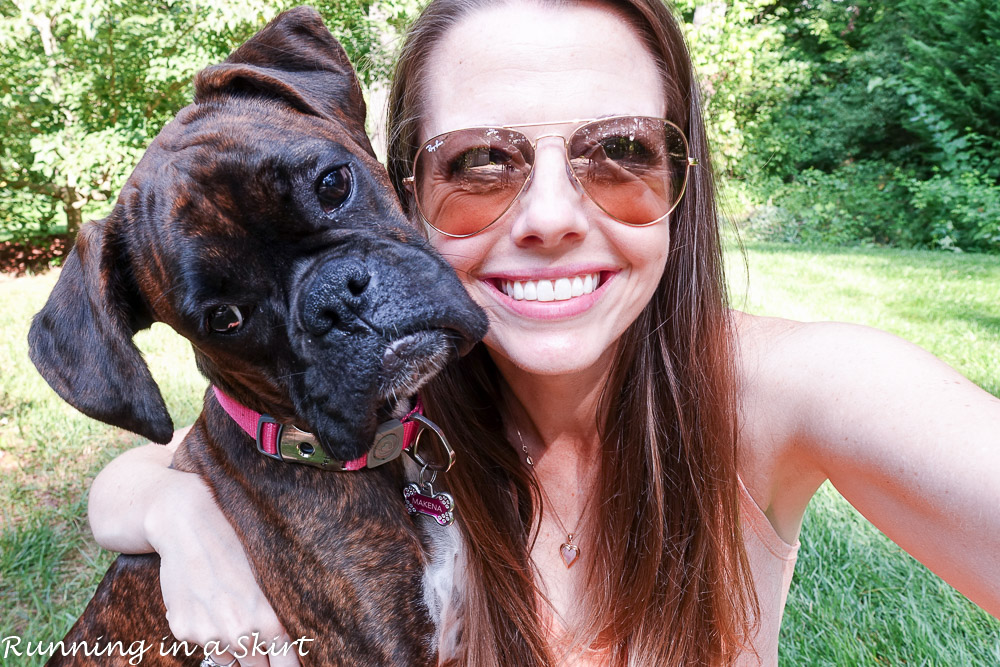 Your body craves that blood flow in the morning and that can help you wake up with ease.
Fake it Until You Make it
I know this is easier said than done, but this is one of my big mottos in life. When you wake up, smile and pretend to be happy. I know it feels a little fake at first, but I promise if you just try to put out positive energy your mind will eventually catch up. I'm not saying you have to pretend to be fake and happy all the time, but if you want to start your day off right, just try to smile and say and do positive things.
Even if you are annoyed, tell your partner one thing you really love about them or wish them good luck at their day. If you live alone, focus on a positive quote or mantra. Positive energy-- even slightly forced-- gets positive energy in return.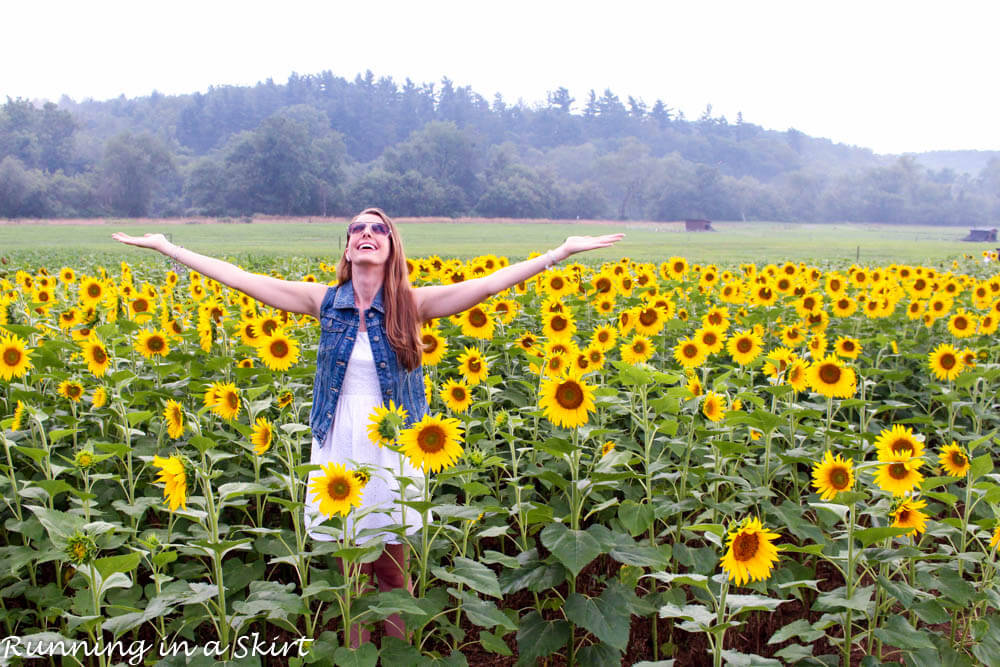 I hope these simple things to focus on can help you start off your day on a happier, positive note. If you are looking for more ways to stay positive check out this post, 25 Ways to be Positive Any Day.
Like this post about waking up happier? Pin this to your favorite board!


Thanks for stopping by today! I hope you enjoyed this Throwback Thursday post, where I'm sharing updated versions of Running in a Skirt posts you might have missed. Tomorrow I'm sharing a brand new way to style white jeans for fall.
Your turn!
Do you have any tips to add?
How do you overcome waking up grumpy?