The holidays are officially here! Today I'm sharing three ways to unwind during the busy holiday season. You also have a chance to win one of the things that keeps me calm: Old Factory Candles. This giveaway is perfect for this hectic time of year!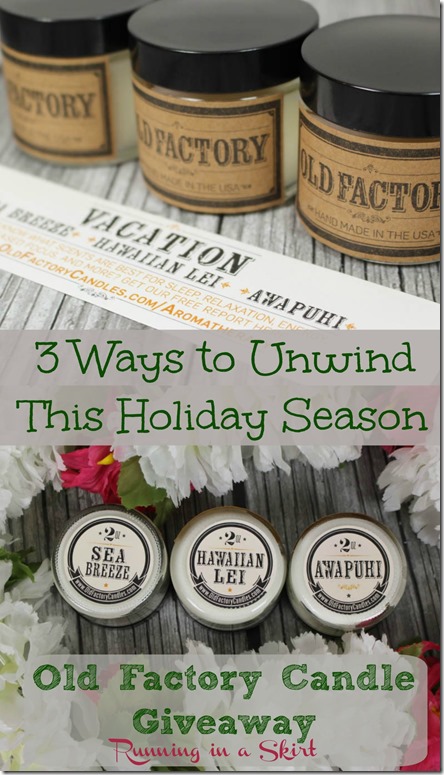 Holiday mayhem started this weekend in my house. I spent several hours getting the house ready for guests and the Thanksgiving dinner. I even set the fancy dining room table for the big dinner. I know that the more I get done ahead of time, the less stressed I will be on the actual holiday.
I have a confession though, I have done nothing to get ready for Christmas. Not. a. thing. I am usually all about Thanksgiving and then panic the day after when I realize the small number of days until Christmas. There should really be more time!
I know the holidays shouldn't stress me out, but they do. So I'm making a plan now to manage that stress and hopefully have a more care-free holiday season.
3 Ways to Unwind This Holiday Season
1. Epson Salt and Lavender Baths
I swear by Epson Salt baths with several drops of lavender essential oils. I got in the habit of taking Epson salt baths during Chicago Marathon training and have never turned back. Buy lavender scented Epson salt or just add a few drops of lavender essential oil to really calm down after a long day of holiday cheer.
I'm planning on taking a nice long technology free bath once a week!
2. Peppermint Tea
Peppermint tea is a favorite of mine year-round. At the holidays it feels especially festive and cheery. Peppermint tea is a natural stress reliever, natural decongestant and can calm your stomach. Bonus points: It's a lot less calories than a peppermint mocha!
I'm going to brew a guilt-free mug every night.
Candles are a tried and true way to unwind when you get home.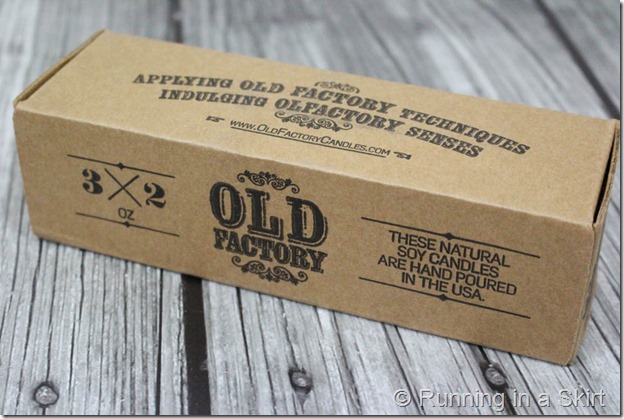 They make even the cluttered holiday house seem warm, friendly and inviting.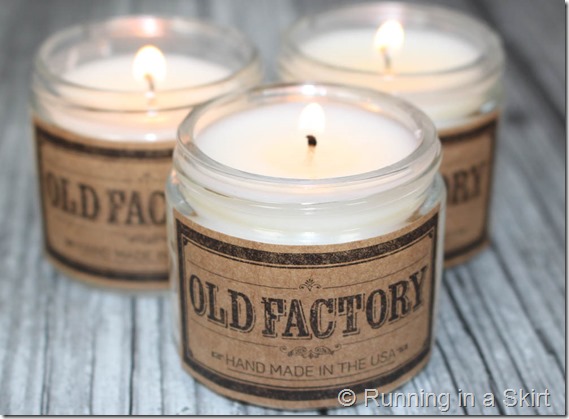 Old Factory Candles are a favorite of mine because they are a natural soy candle, hand poured, they are made in the USA and have self trimming cotton wicks.
All natural so you don't have to STRESS out about what chemicals you are putting into your home environment.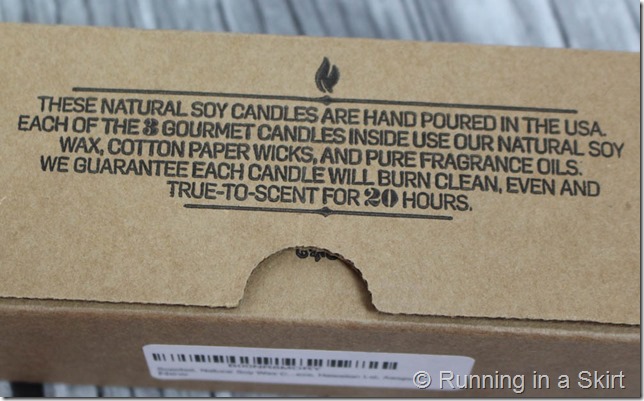 The coolest thing about them is the really unique scents. Each package of candles comes with three smells in one box, that combine for a theme.
Some of these I have never seen before in a candle!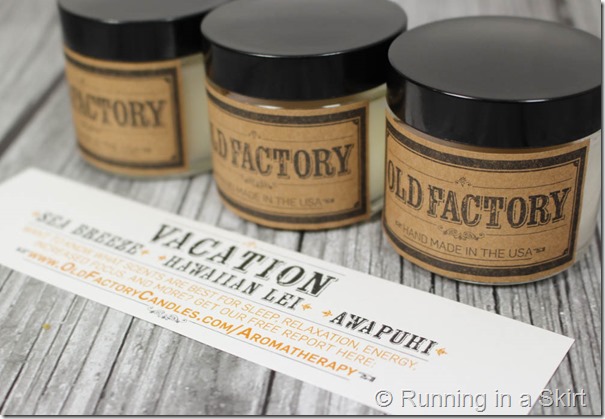 Fall Harvest -Pumpkin Spice, Cranberry, Autumn Leaves
Happy Holidays - Christmas Tree, Candy Cane, Gingerbread
Winter Wonderland -Hot Cocoa, Roasted Chestnut, First Snow
Romance - Rose Petals, Champagne, Dark Chocolate
Fresh & Clean – Lemongrass, Olive Blossom, Fresh Linen
Spa Day – Cucumber, Lemongrass, Green Tea
Vacation - Sea Breeze, Hawaiian Lei, Awapuhi
Coffee Shop - Coffee Bean, Hazelnut, Chai Tea
Man Cave - Straight Razor, Leather, Mahogany
New Born Baby - Baby Powder, Baby Shampoo, First Blanket
50 Shades – Leather, Vanilla Sex, Jasmine Bubbles
Since I am all about Hawaii and my anniversary is next week (I got married in Hawaii,) my favorite scent right now is the Vacation blend.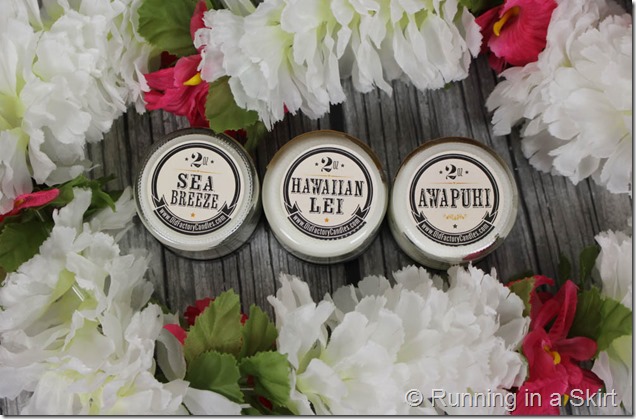 These scents take me back to my favorite vacation spot on the planet, and there is nothing more calming than that! I think Hawaii and I simply unwind.
I can't wait to try the Romance, Fresh & Clean, Spa Day and Winter Wonderland! Actually, I'd like to try them all.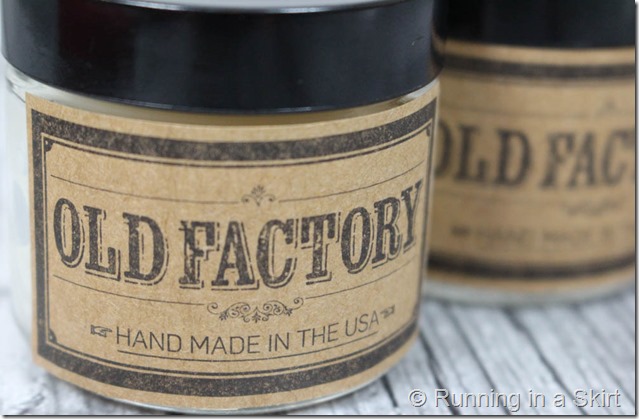 Old Factory Candles blend well with any decor (even holiday) and produce the most beautiful smell almost instantly. They burn for 20 plus hours. The candles are a small jar (2 ounces) size.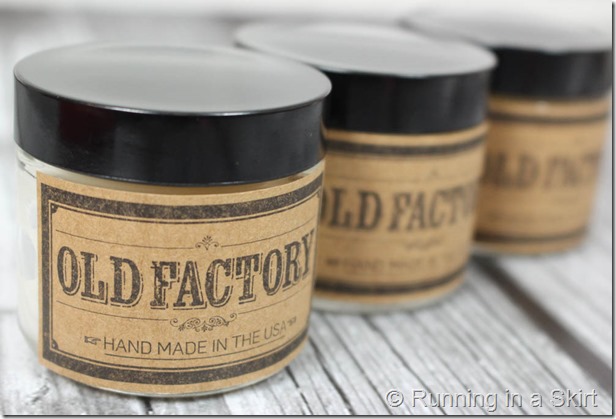 It may sound simple, but candles are such a great way to unwind during the holidays. I'm even thinking about giving some as gifts!
I'm going to burn these and the holiday scents each night through December!
Now for the giveaway!
You can win your own three pack of Old Factory Candles. If you win you can choose which theme you like most. Enter via the Rafflecopter giveaway below.
The giveaway is only open to the the continental US. It will close midnight December 3rd, 2014 and I will announce the winner on Running in a Skirt December 5th (my anniversary!!!)
Good luck!
a Rafflecopter giveaway

Disclosure: This post and the giveaway is sponsored by Old Factory Candles. All opinions though, as always, are my own. I appreciate your support!
Your turn!
How do you unwind during the holidays?
What is your favorite scent?