Hi everyone!
I hope y'all had a wonderful week. The highlight of mine was finally getting to go on a Valentine's Day date last week. I curled my hair and everything. 🙂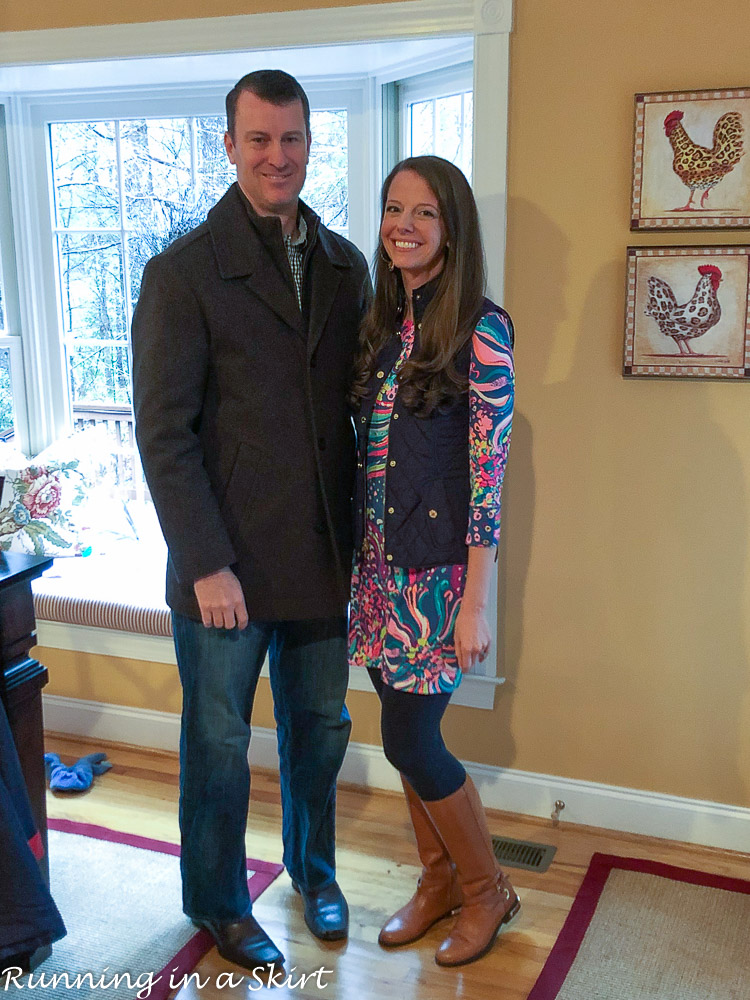 The date had been postponed several times because of the flu/plague that hit our house it felt amazing to get out. I love the twins, but I was in dire need of an actual conversation with the Hubs.
We originally planned to stay close to home because the weather was so yucky but at the last minute we changed our mind and decided to go downtown. We visited a new craft cocktail bar called Antidote. The building was gorgeous inside and I thoroughly enjoyed my strong gimlet.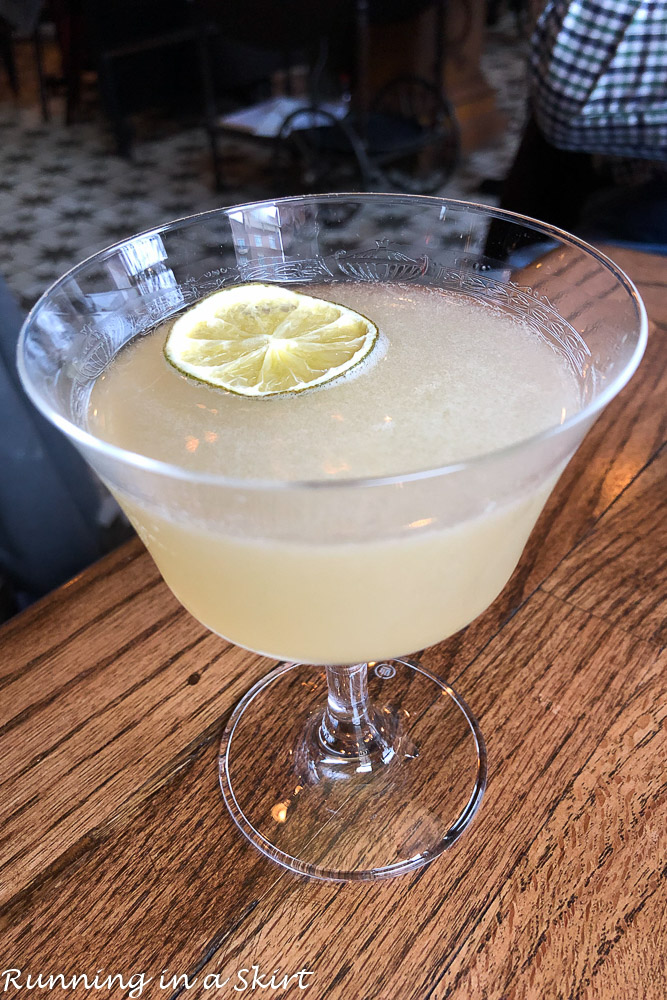 Our date night was more of a date late afternoon so we struggled to find a nice restaurant that was open before 5. On a whim, we poked our heads in Curate, which is one of those places you can never get a table at. We lucked out and two seats were available at the full-service bar overlooking the kitchen and we snagged them.
We had a lovely tapas meal and really enjoyed watching the chefs prepare the food. The highlights were these stuffed peppers.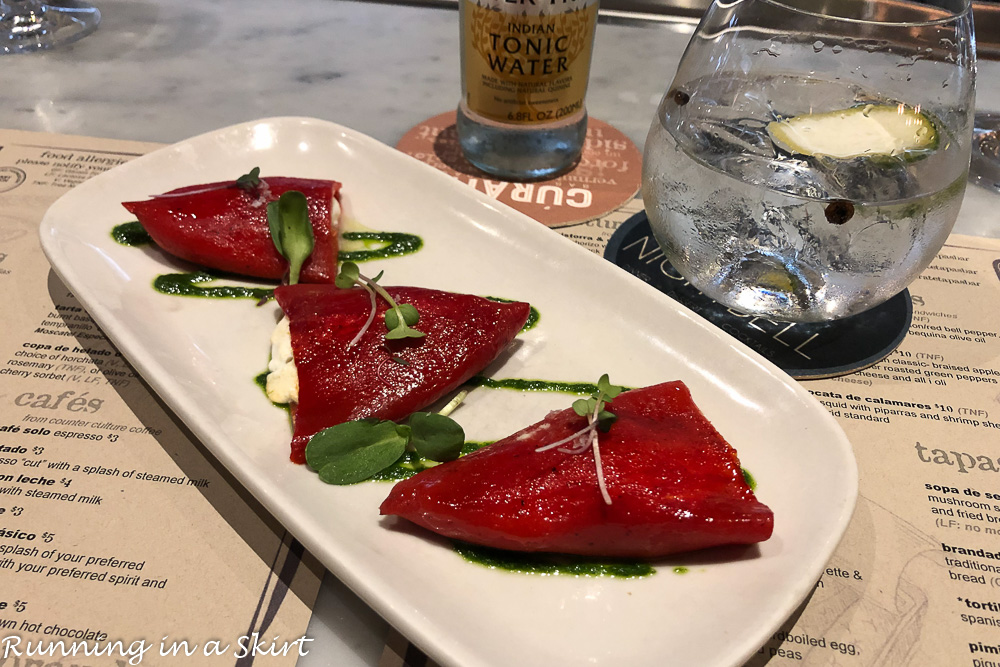 I also loved this octopus.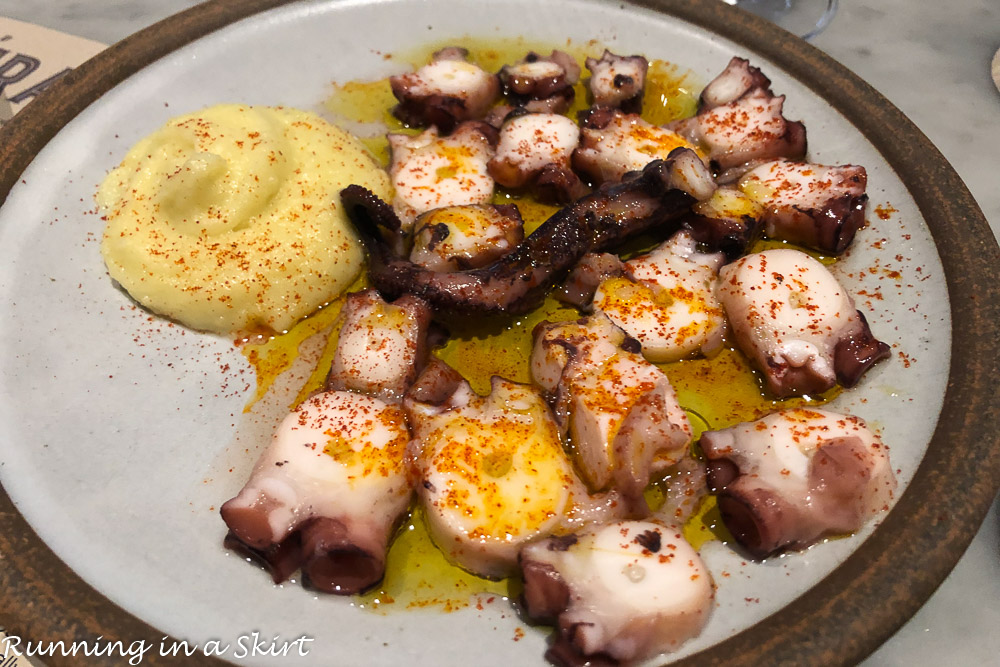 We ended the date with a giant cone of ice cream from Marble Slab. I'm not sure how I didn't get a picture of that... but I promise it was delicious!
I also got to meet the Hubs for a lunch date one day this week and we ate at Salsa's, which is another one of my favorite restaurants.
Speaking of food, I am back to shooting recipes! Most of the recipes you've seen on Running in a Skirt since late in the pregnancy through now have been ones I shot last summer and early fall. I worked hard to shoot a bunch ahead of time so I'd have content to share with y'all while the babies were tiny. I've written them live, but it has been so nice to have the photos and recipes done.
I'm almost out of recipes, so I'm back to shooting and it actually feels good to be at it again. I love the creativity that goes into food photos.
Please let me know if you have any special requests for recipes or types of recipes and I'll do my best to develop them. I want to be creating food you want to make!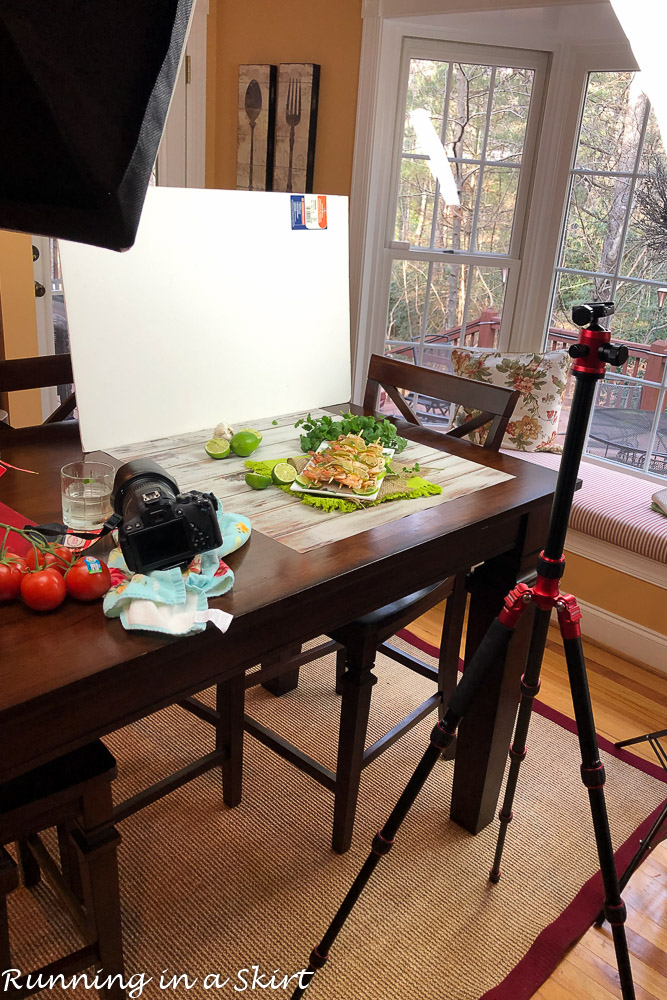 And after all that food, I have to balance it out by saying I had two delightful runs outside this week. I've been running on the treadmill a lot, so getting outside to run feels amazing. I ran for 3 solid miles on Thursday which is my longest post-twin run to date.
I also did another treadmill run and a couple of days of HITT workout videos and stroller walks. I'm enjoying being able to workout again.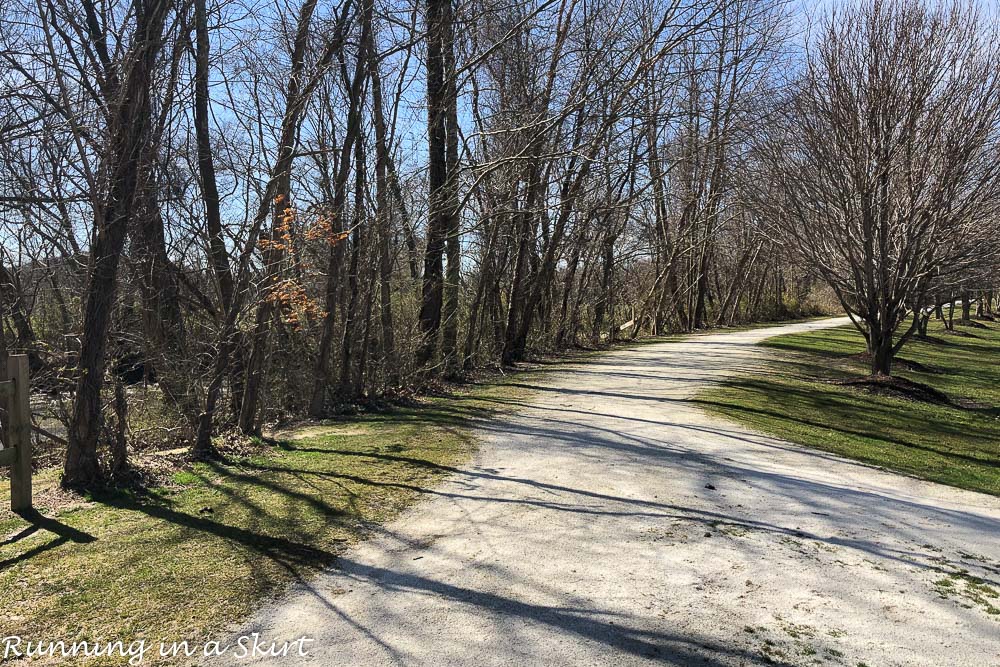 And how can I get through a weekly happenings post without talking about the sweet babies? They turned 15 weeks on Wednesday and Makena is pretty sure they are her babies. 🙂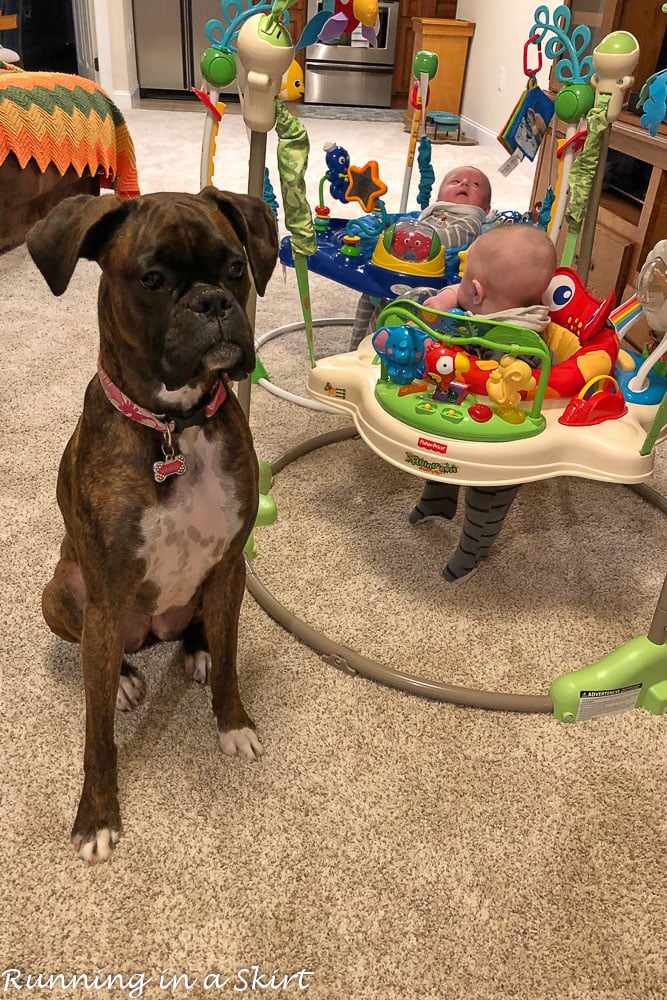 Poor Jackson has had a rough week. He's been particularly fussy and I feel like he is going through the rough phase Hunter went through a few weeks ago. He's generally been two weeks behind Hunter in developments. There has been a good amount of fighting sleep and screaming so I hope this phase will pass soon. I'm as tired as I've been in a while.
He's been crabby in almost all the photos I've tried to snap of him. Poor baby!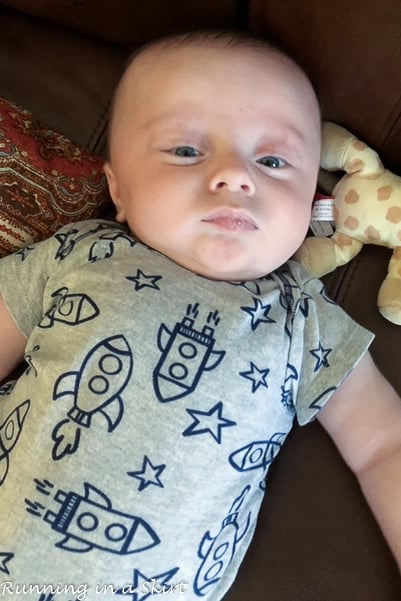 On the other side, Hunter has broken out of that phase and has turned into Mr. Personality. He's full of smiles these days and his acid reflux is doing much better!
I just can't get enough of his sweet face and I knew there was a happy baby in there. I hope Jackson will be at this place soon.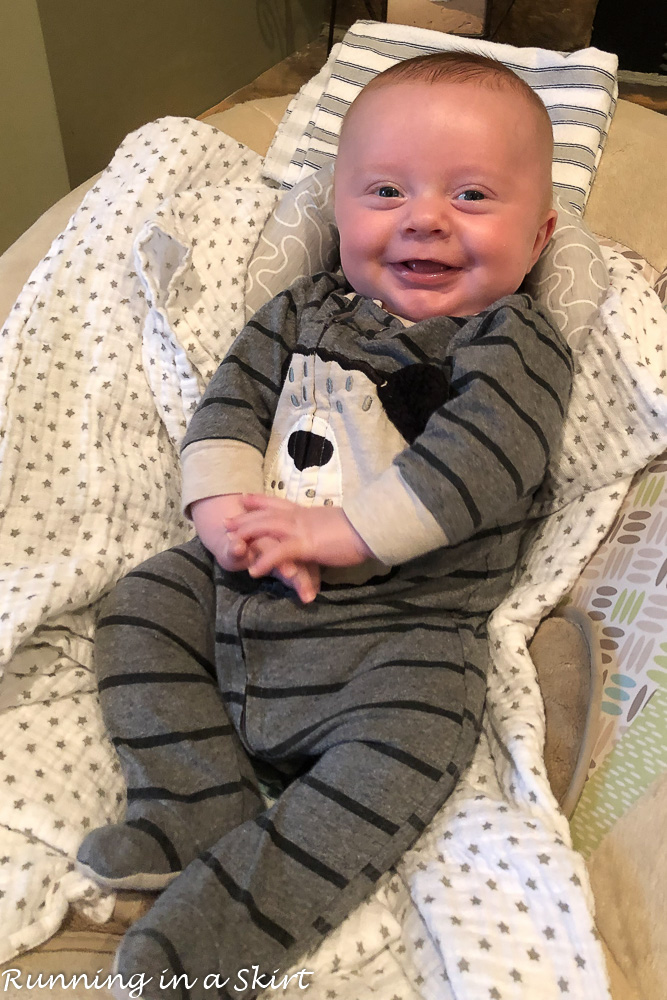 That's all for the week! Thanks so much for sharing this journey with me. Come back Monday for 5 Recipes to Try in March.
Love, Julie