Turks and Caicos is such a nice place to visit. Out of the places I have been in the Caribbean, it has by far been the nicest. The hubs and I stayed on Providenciales or "Provo" which is supposed to be the most populated island in the chain and the one with the most tourist infrastructure. We spent our days sitting on the beach and watching the gorgeous turquoise water from our balcony. I really wanted to capture the beauty of the water for you, so I added a new filter to my camera.
What do you think?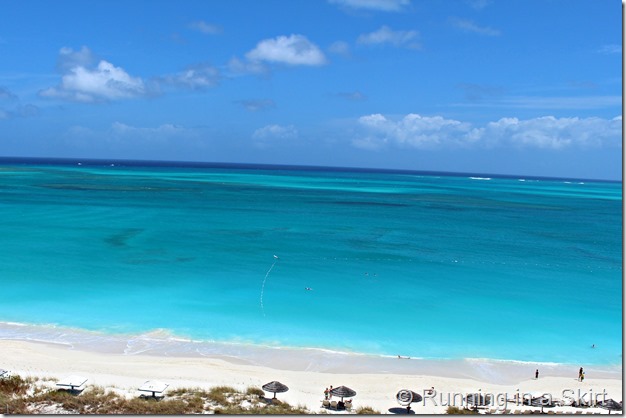 The water is almost electric turquoise. One day was so calm that the water literally looked like a clear bath.
Since a day by day recap of our Turks and Caicos trip would be a bit redundant (We woke up, we had coffee on the balcony, we went to beach…,) I decided to organize this vacation recap a little differently. I'm going to list my favorite things about our Turks and Caicos trip "Things I'm Loving Lately" style! We did a lot of lounging, but we also saw a good bit of the island (it is very small!) and had such a nice time. I hope you enjoy the recap and pictures.
My Favorite Things – Turks and Caicos Edition
Grace Bay Beach
Words cannot describe how beautiful Grace Bay Beach is. The water is pristine and clear. The sand is the softest white you have ever seen. Even in the heat of the day it somehow stays cool.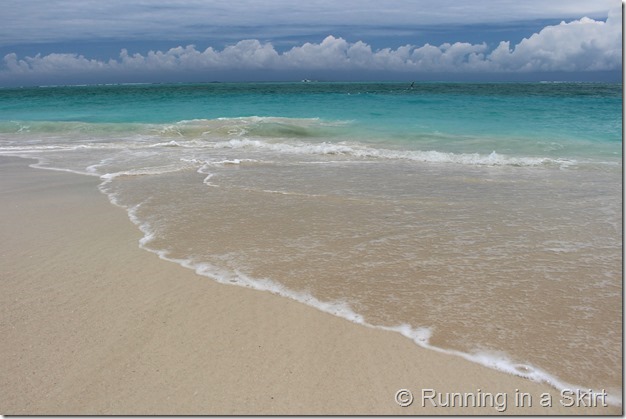 These pictures are actually from the day the ocean was the roughest. And even then it looks so clear and calm.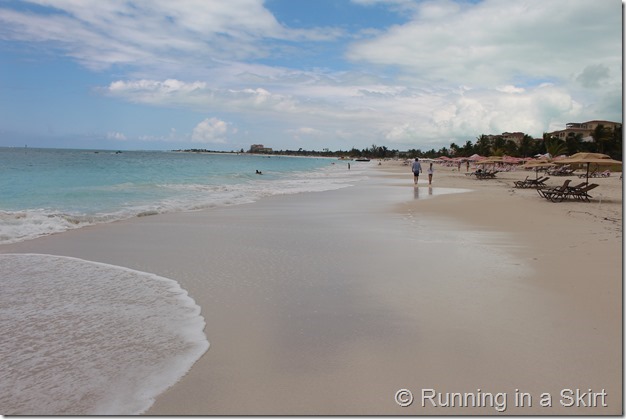 Grace Bay is 12 miles long with mainly more discrete hotels and condos. I was surprised that there was still undeveloped land along it. You can walk for miles enjoying the scenery, which we did several times. When we got hungry we stopped at the next hotel's restaurant.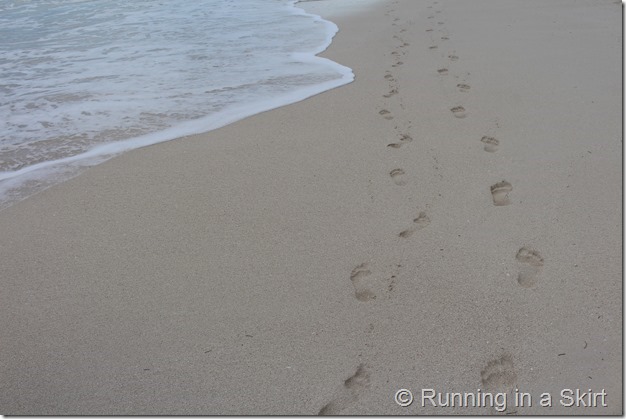 Sailing
As a surprise my hubby booked us a few hours on a sailboat. We loved every minute of our mini tour of Turks and Caicos from the water.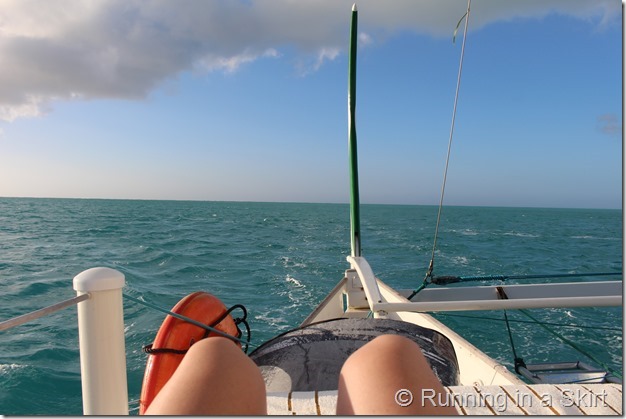 It was fairly windy the day we went, so we got to go fast and see some of the surrounding islands. The landscape is very flat with little vegetation. It's the water that makes the area so beautiful.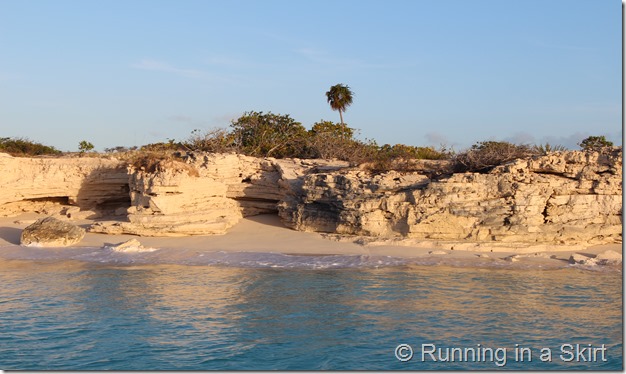 Those buildings are part of shell of a hotel that never got finished after the big financial crisis. Look carefully, the structures may have roofs, but that is about it. We went beachcombing on this strip of sand. So nice and eerie to see the abandoned project.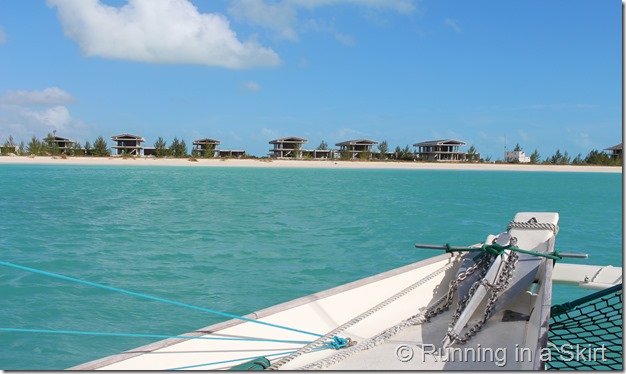 The sailboat, Sail Beluga, had a resident dog.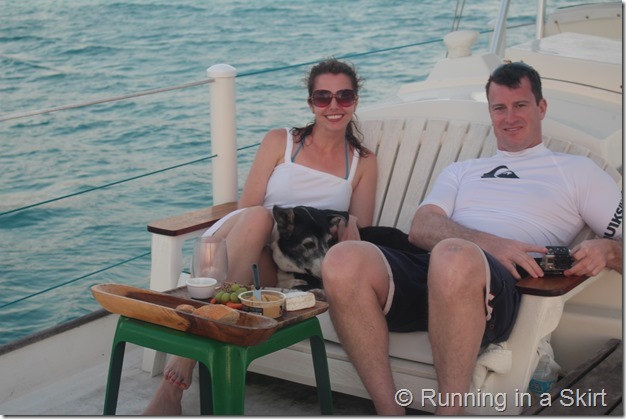 This guy loved being on the water and so did we!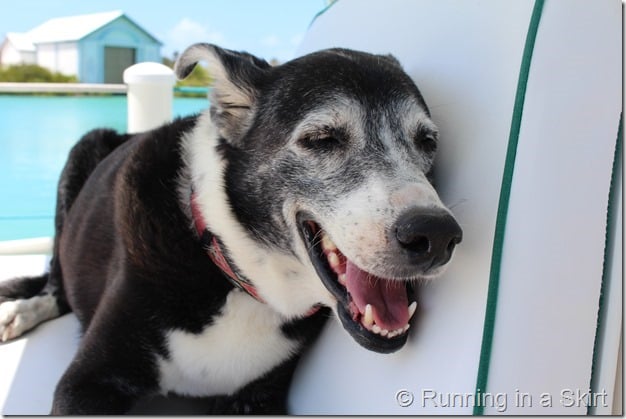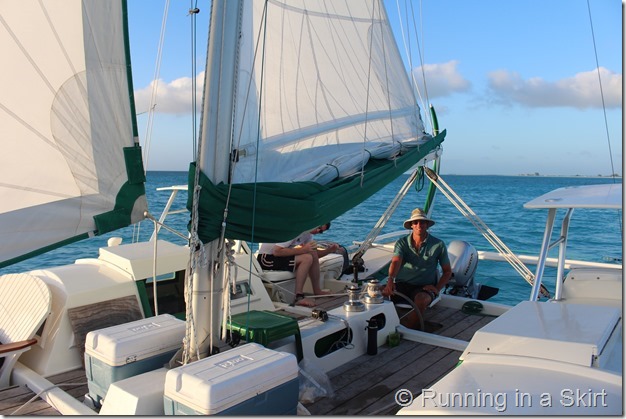 We even saw the sunset from the boat and it was the clearest night we had.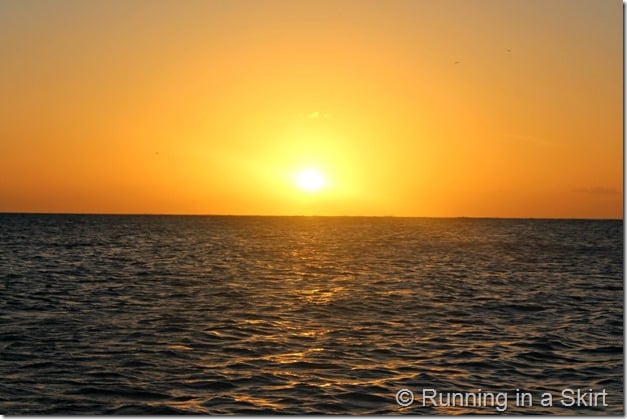 Stand up Paddle Boarding
I actually don't have pictures of this because I couldn't take my camera with us. To be honest I sort of had a love-hate relationship with standup paddling boarding in Turks and Caicos. I was SO excited to go and really wanted to be good at it. The anticipation to do it was high because our tour group cancelled on us several times because it was too windy.
We were nearing the end of vacation when they finally told us to come to the marina because the wind had calmed down. The guide showed us how to stand and paddle. I thought the hard part would be balancing on the board, but I didn't have any trouble at all. I didn't even fall off once. My struggle was paddling. I was TERRIBLE!
Our guide with Big Blue Unlimited was excellent and took us to the mangroves to learn more about he ecosystem and see some animals. By the time we got out there, the wind picked up again and I really struggled to get myself back to where we started. The wind kept blowing me back into the mangroves faster than I could paddle. I was cursing the mangroves after my board hit them several times. Luckily the guide helped me out some.
I'm so glad I did it though and I would really like to try again… without the headwind!
Touring the Island
The hubs and I love to explore no matter where we are, so we rented a car for part of the trip and found some stunning less discovered beaches.
This is Taylor Bay Beach. The water is level and is only knee deep for almost a mile. I've never seen anything like it before.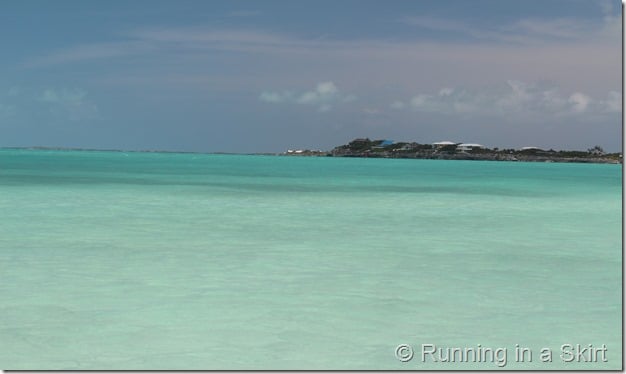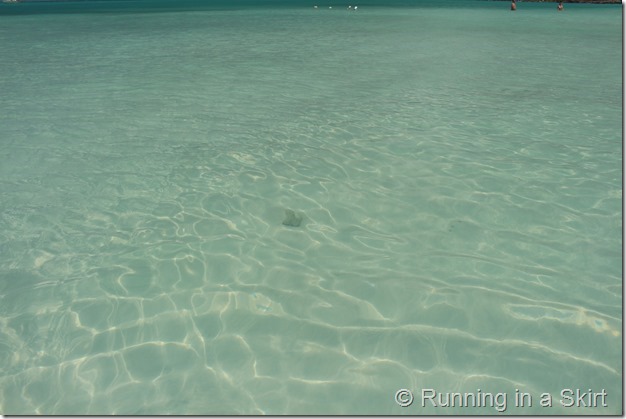 This beach would be great for kids to play around in because there isn't' a huge drop-off close to shore.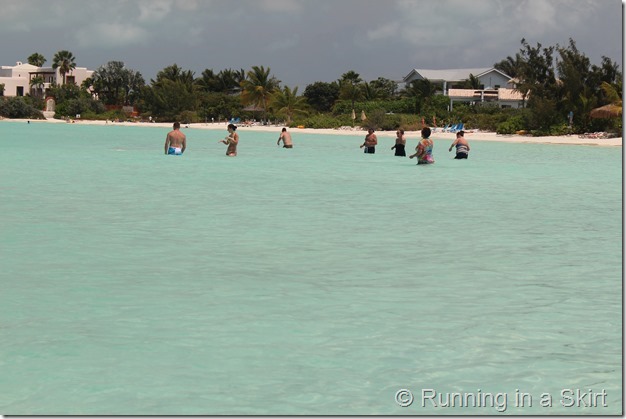 We also drove by Caulk Sound. It's a stunning bay with little mushroom like land masses.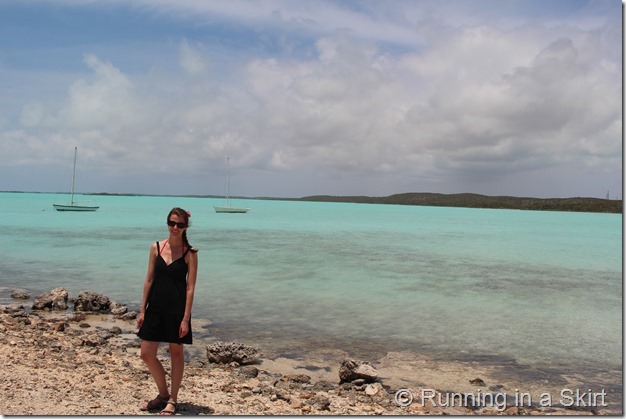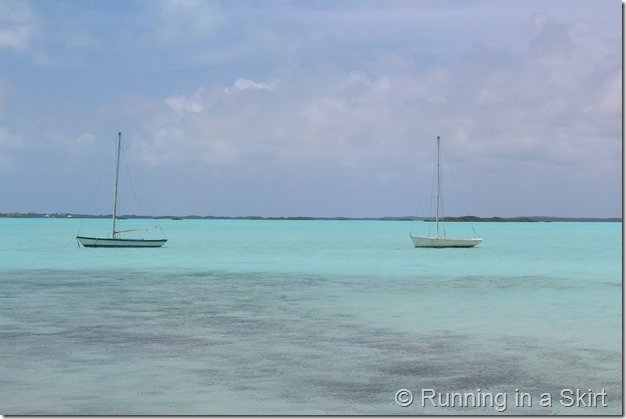 The inland parts of the island are sort of run down with not much to see, but anything involving the water took our breath away.
Sunsets
Oh, I am a sucker for a sunset and we had a ridiculously perfect view from the balcony.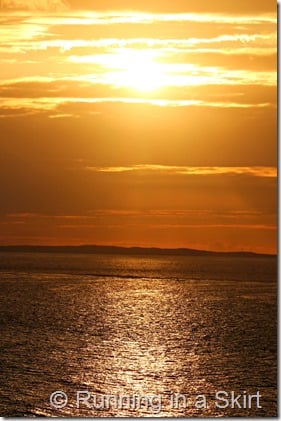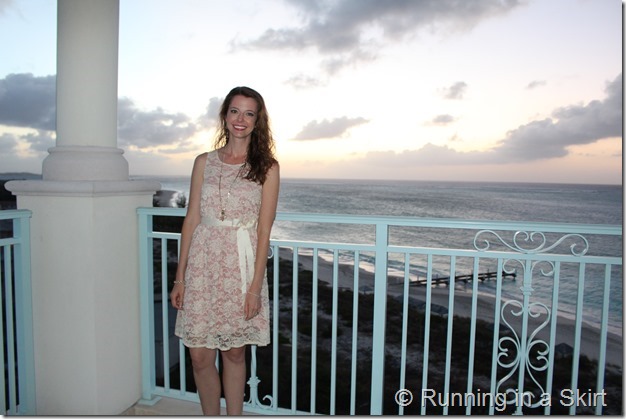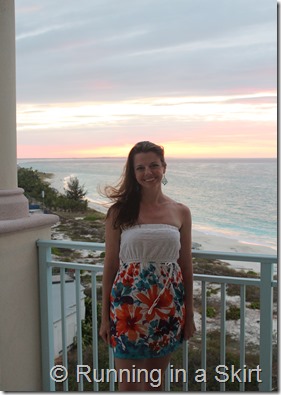 Nuff said. We made our dinner reservations late so we could watch views like this each night.
Conch
Conch is the island specialty. These guys are actually pulling the conch right out of the water before they took it to the kitchen.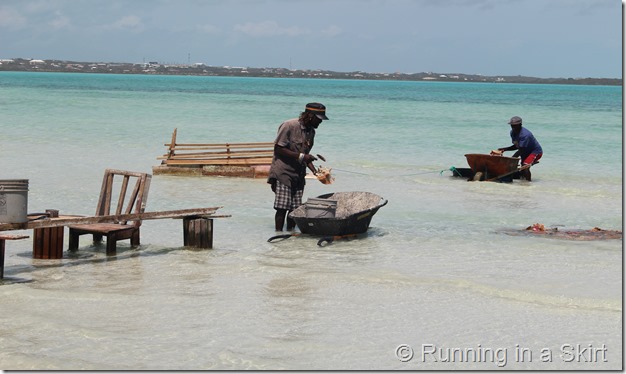 The huge shells were everywhere!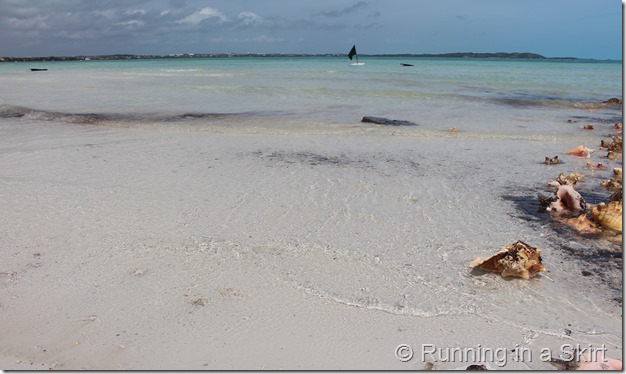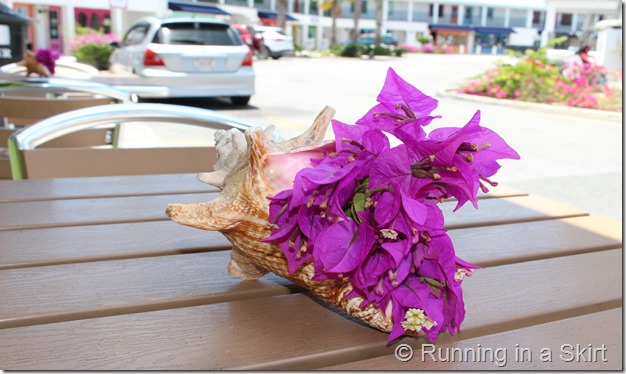 We tried fried conch…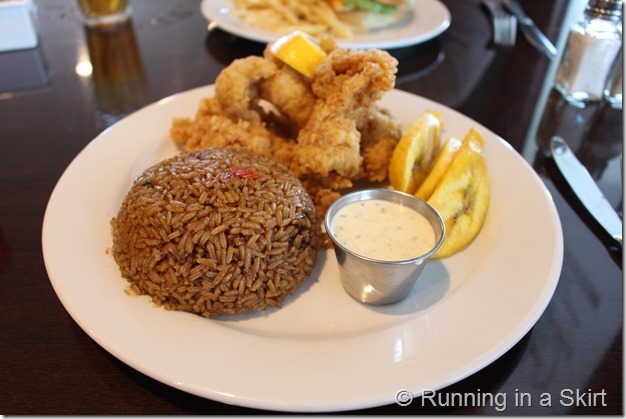 … conch salad…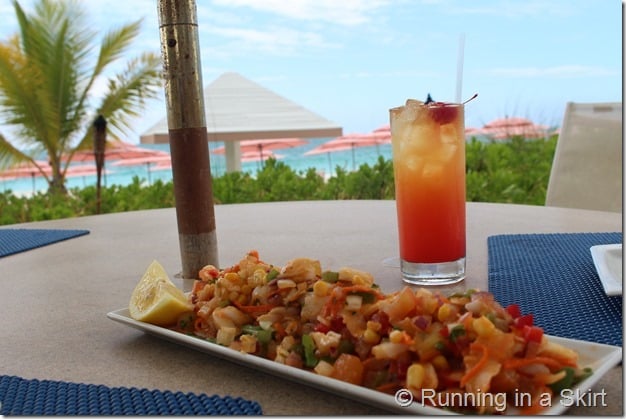 … and delectable conch ravioli.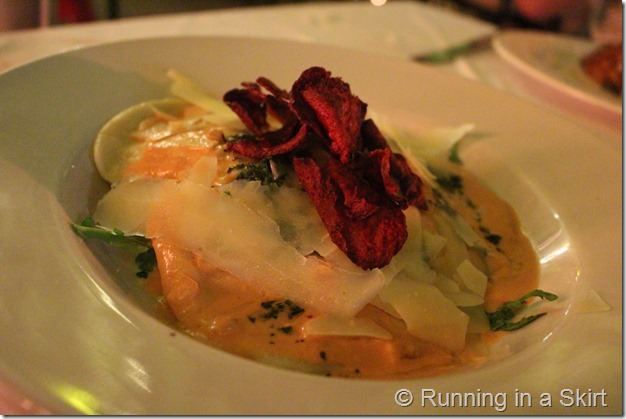 Just like the shrimp in Forest Gump, you can make conch any way you like it, and it is all delicious.
Potcake Place
The people on Turks and Caicos call the dogs Potcakes. They call them Potcakes because they used to feed them whatever foot was left at the bottom of the dinner pot.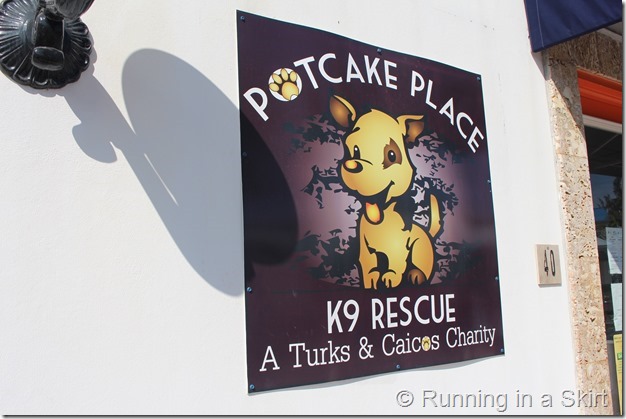 Near our hotel there was a dog rescue group called Potcake Place. They let tourists take dogs for a couple of hours to help socialize them and hopefully adopt them. They will even arrange for folks to fly home with dogs they want to adopt. It's an ingenious plan!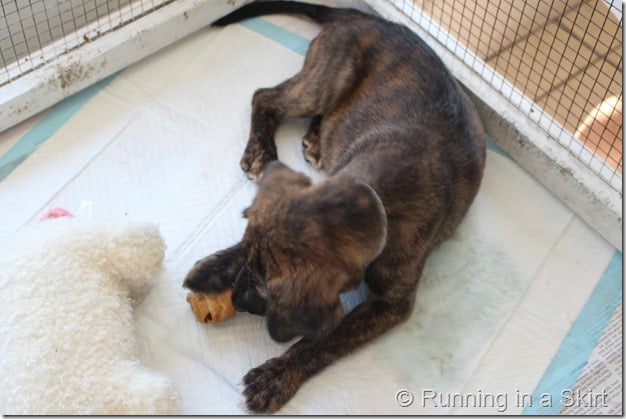 We found out about this place a little too late in our trip to actually take a pup for a day, but on our last morning I insisted we go at least see them. Oh… this face…… I really wanted to bring him home with me! I *heart* potcakes!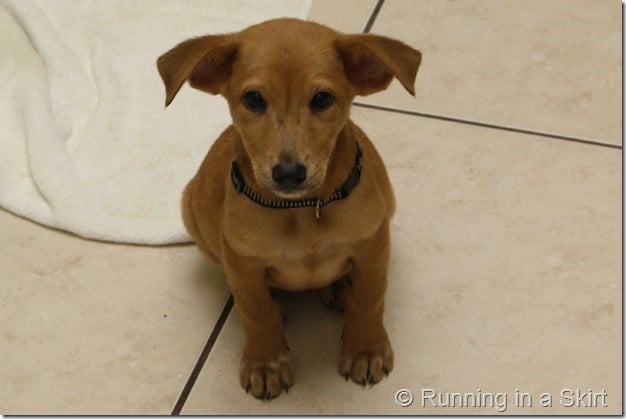 Seven Stars
We loved our hotel Seven Stars. It is the perfect location on Grace Bay Beach. You are centralized between the few tourist shopping and restaurant areas and close to a nice (but crazy expensive) grocery store.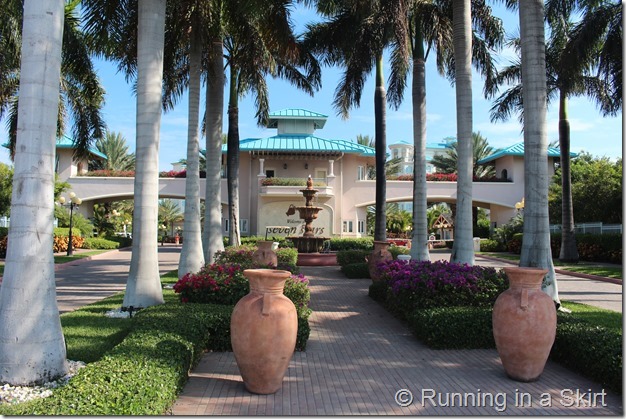 The view was unbelievable and the people were so helpful and nice!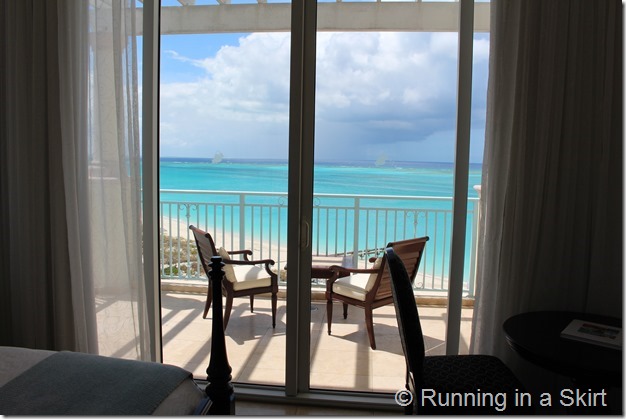 They even had complimentary bikes to use, which we both really enjoyed.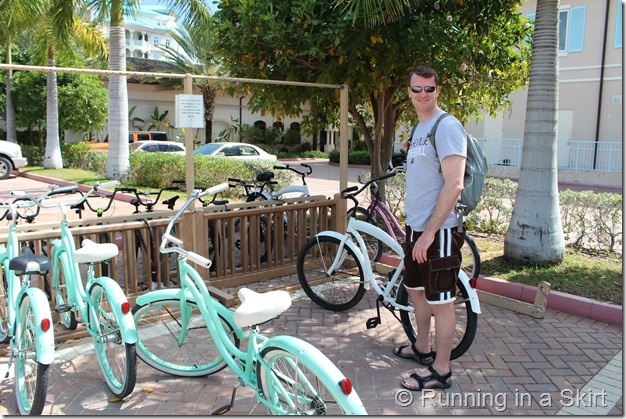 Your turn!
What's your favorite part of vacation?
Have you ever eaten conch, been sailing, ridden a bike on the beach OR tried standup paddle boarding?