Happy Monday dear readers!
I am so excited because my site re-design is finally a reality. I hope you love it as much as I do!
Today I thought I'd walk you through some of the features on the new site, so you can get the most out of your time here. We'll call it a new site tour!
Let's start at the top.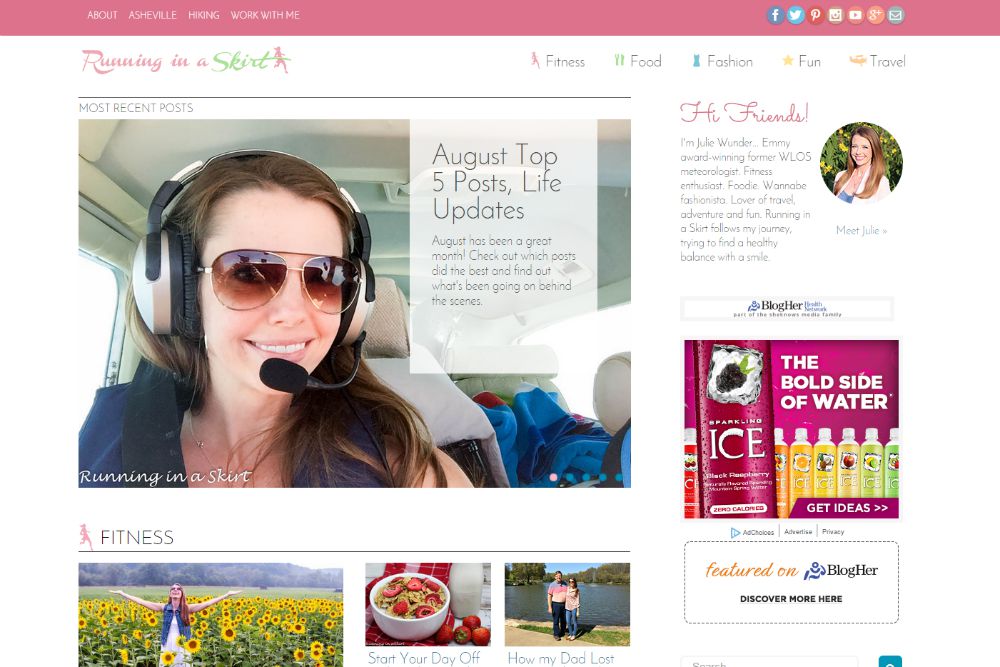 Running in a Skirt now features two menus.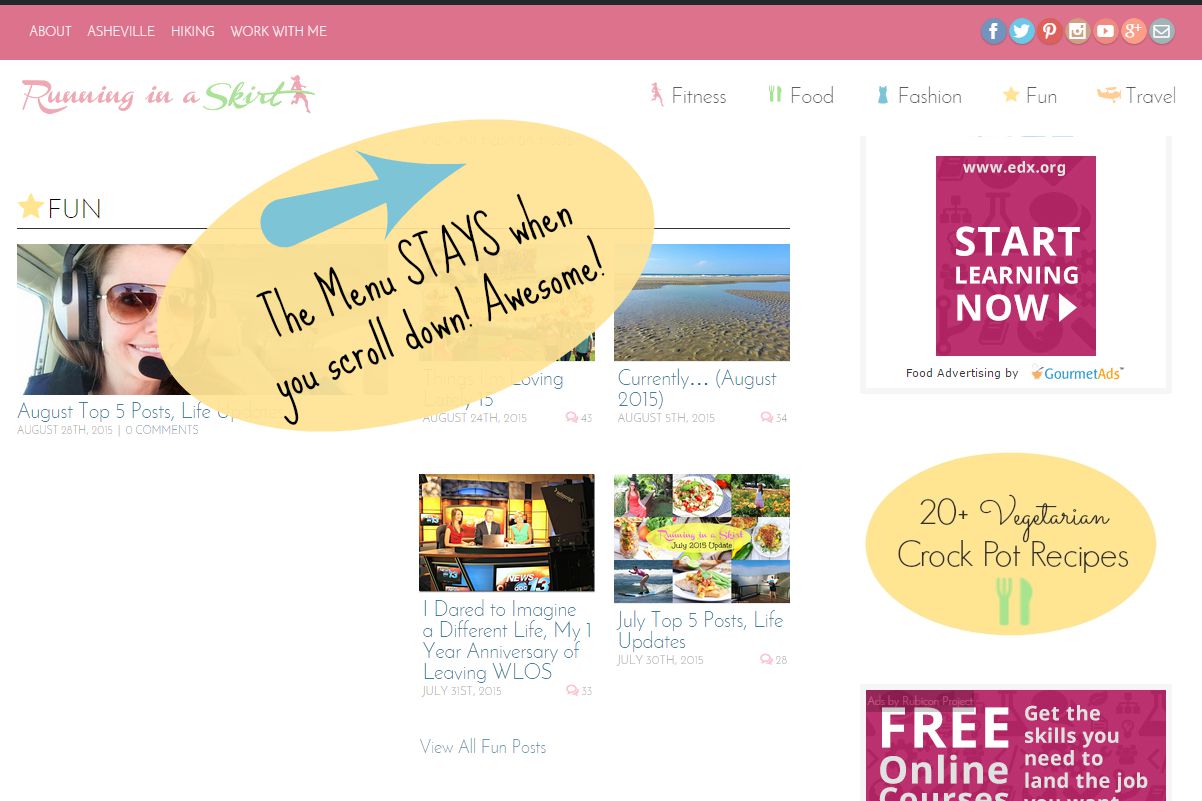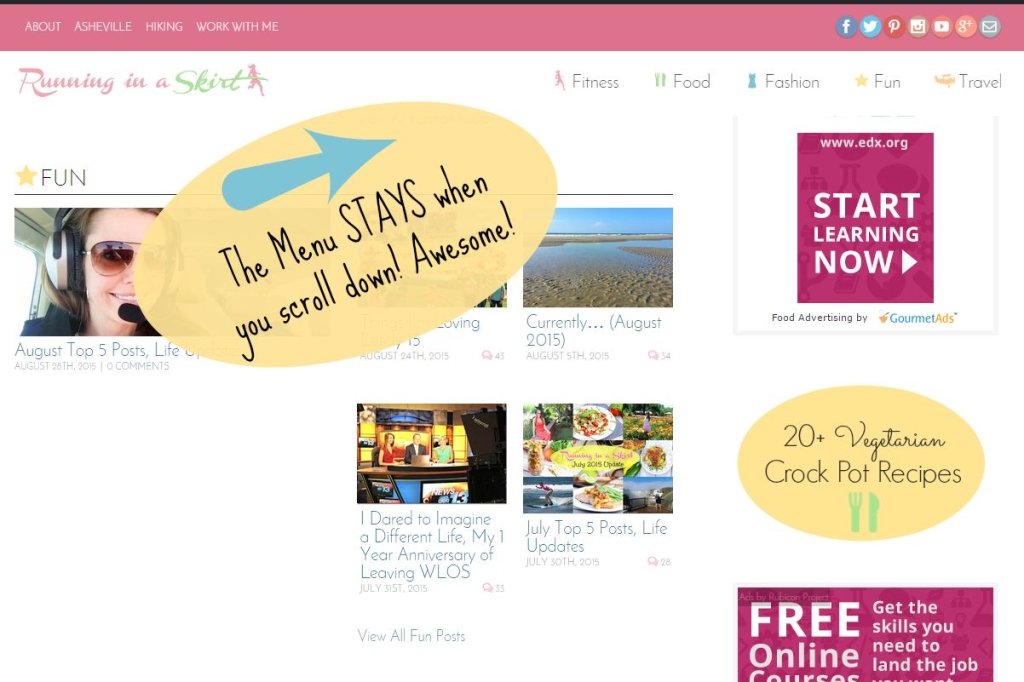 Slide down and these menus are sticky! You can access them from anywhere on the site. I LOVE this feature because it makes it so easy to jump around and reach more similar posts.
The top menu has some great resources in the ABOUT section, including Meet Julie and About Running in a Skirt. Old favorites like my wedding page, race log and must reads can still be found here. The top menu is also is a great resource for people who live in Asheville and Western North Carolina. If you click on Asheville, you reach all posts about this area. You can now also easily find my hiking posts by location and whether you'd like to see a view or a waterfall. This top menu also features all my social media channels with easy to find buttons!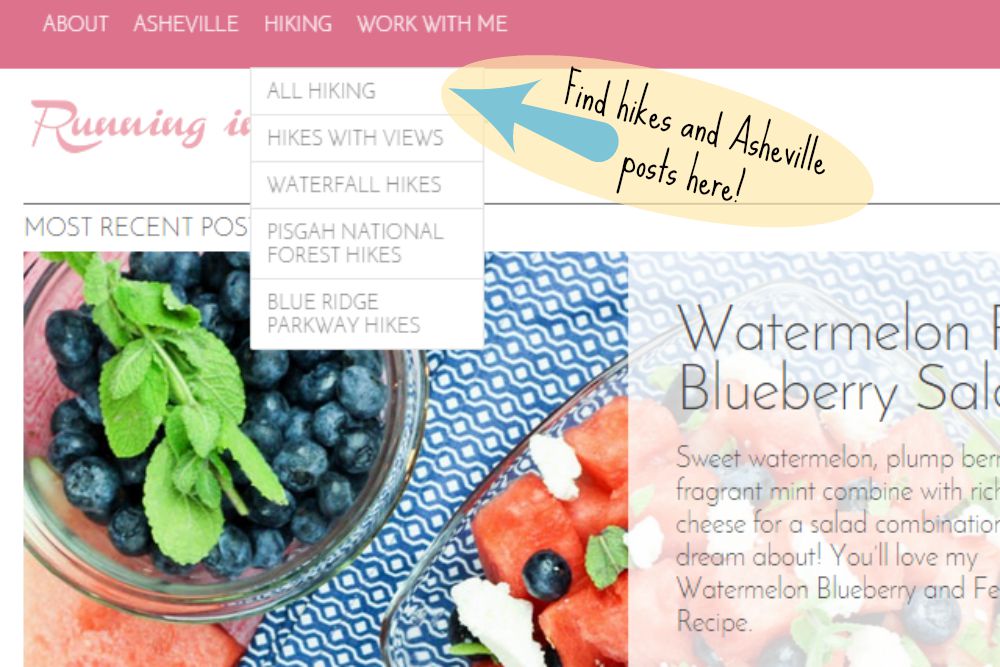 The second menu is my favorite part of the site! It now predominately showcases the topics I talk most about on Running in a Skirt: Fitness, Food, Fashion, Fun & Travel! I've been writing about all of this stuff for a long time now, but I felt like my old home page didn't reflect that.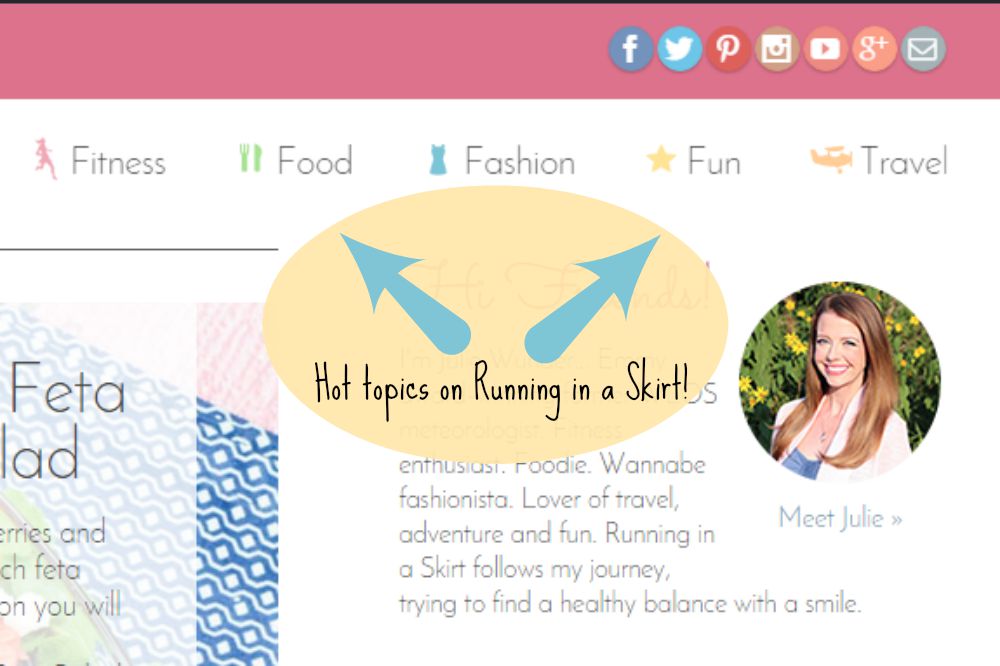 Click on those icons and you reach pages made for each main topic!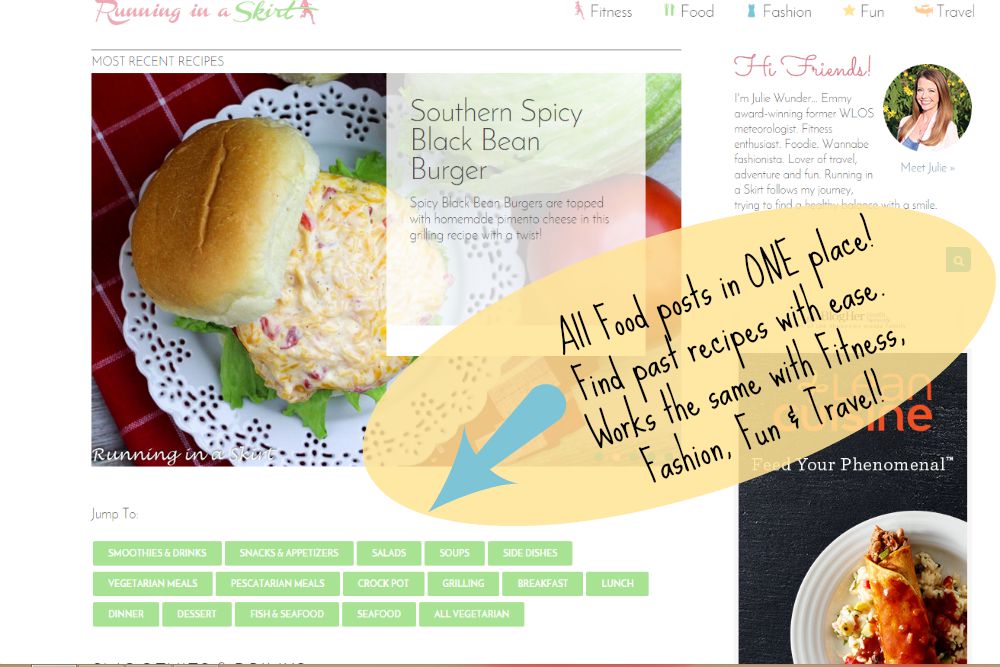 From there you can jump to any of the subcategories in the topic. This feature is most useful on the Food page. You can now reach and find Running in a Skirt recipes with ease.
If you are still looking for a post, use this great search bar at the top of the sidebar. And you can always quickly find the box to subscribe to my site!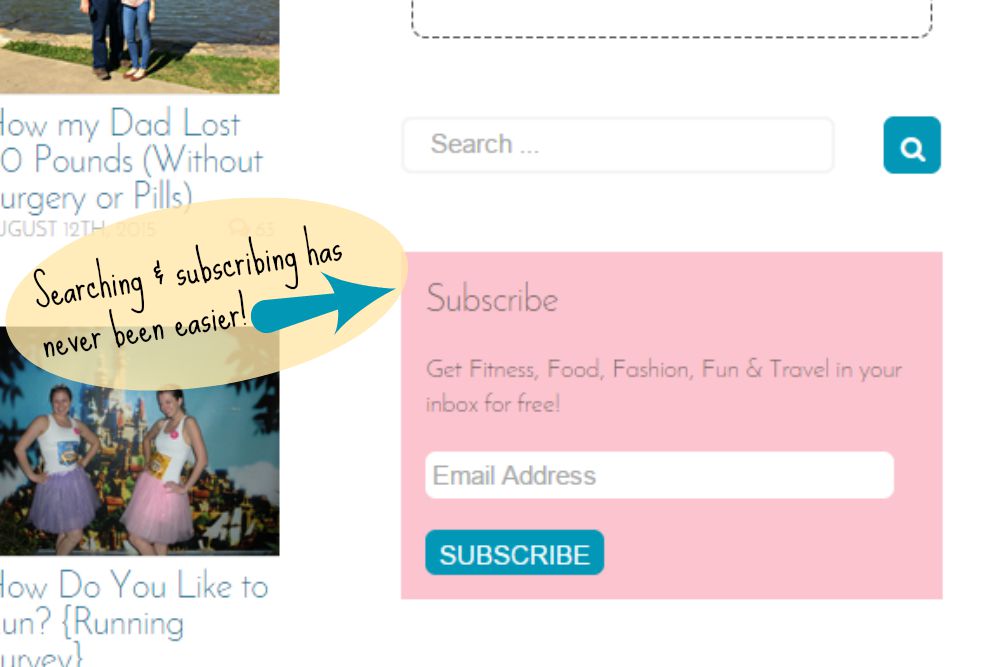 Going back to the main page, you can quickly see my most recent posts in the scanner box. This is where you can quickly catch the newest post in the morning or catch up if you've been gone all week.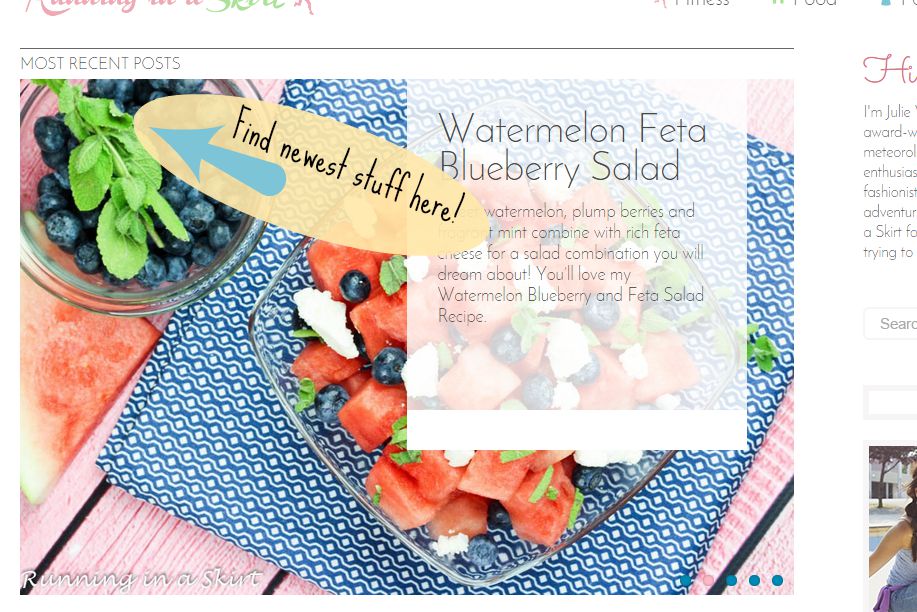 Scroll down and you will see the most recent posts in each category.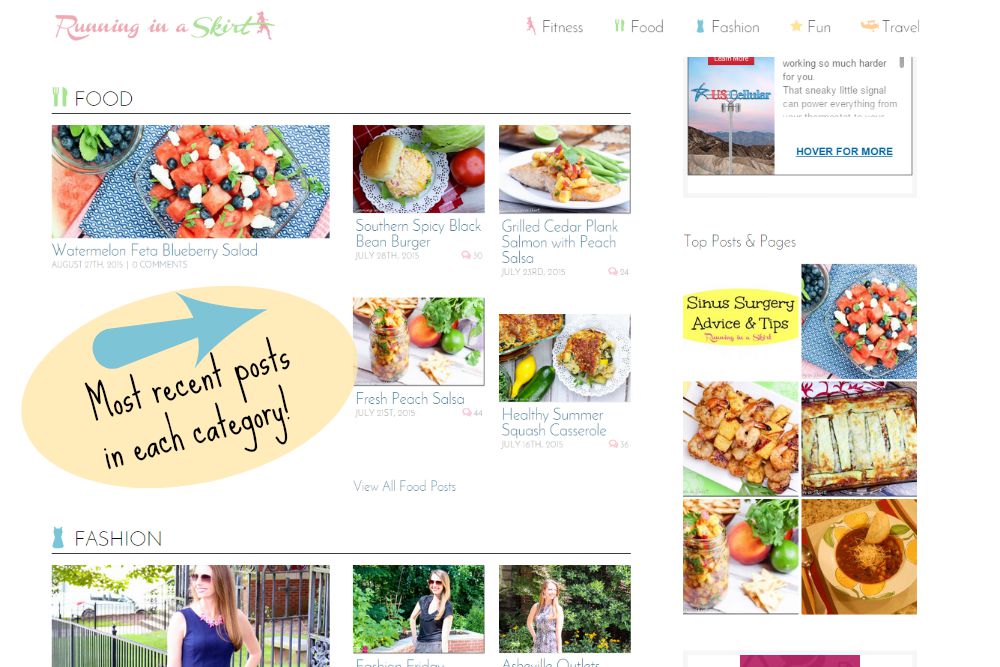 Don't forget to find your way to the bottom! This is where you can find my Instagram feed, archives, category list and another subscribe bar! Another feature I love is the scrolling box supporting the wonderful groups I'm affiliated with.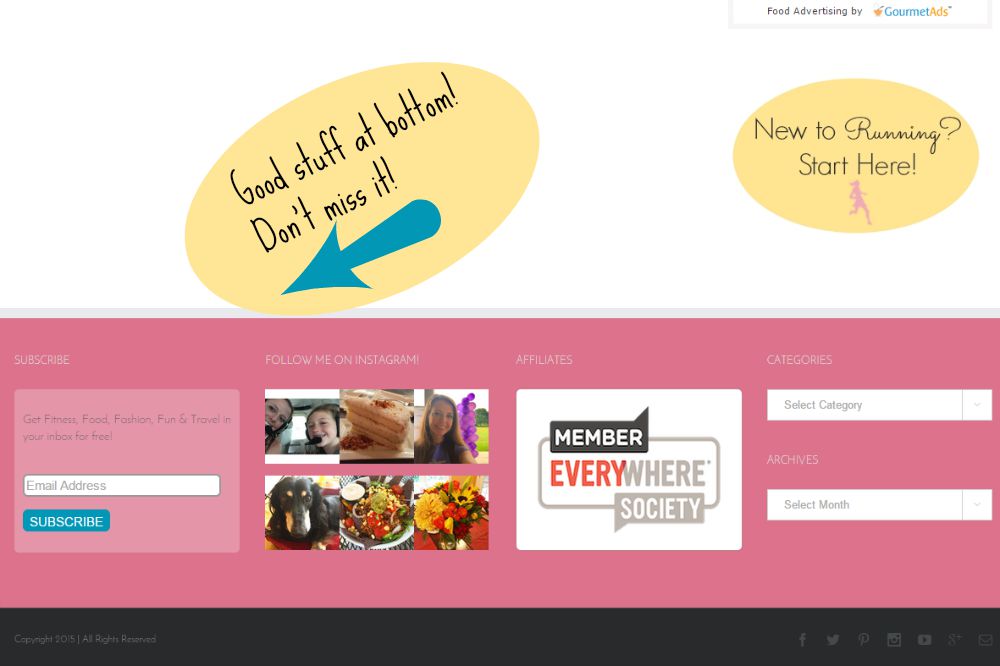 You can now SHARE a post from any point! Either click on the icons on the left hand side of the screen or at the bottom of the post. It's the best way you can support my new site.
Please take some time to look around today! A LOT of hard work went into the new & shiny Running in a Skirt and I am very proud of it.
Thank you so much for taking the time to see my new site today! I love this blog and the community it's created. As a thank you for reading, I'm hosting a JUMBO giveaway tomorrow with hundreds of dollars worth of prizes. There will be a great prize that fits into each of the new categories of the site: Fitness, Food, Fashion, Fun & Travel! So make sure to come back tomorrow.
And of course, have a Marvelous Monday! Thanks for the linkup Katie.
Your turn!
What do you think?
What is your favorite part?