You don't have to go out on Mother's Day! Stay home and make these perfect Mother's Day Brunch Ideas from ALDI.
I'd like to thank my friends at ALDI for sponsoring this post. Thank you for considering supporting companies who support Running in a Skirt!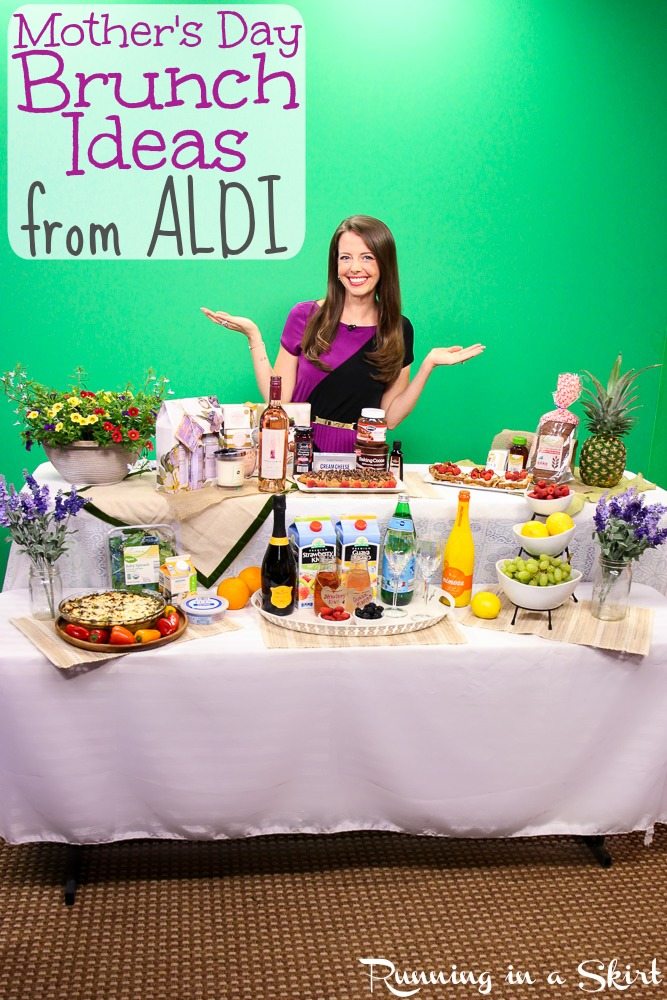 Hi guys!
Mother's Day is THIS Sunday. I know a lot of folks like to go out, but I've put together a pretty epic spread of goodies for Mom that you can make at home without all the trouble of going out. This delicious collection of recipes is sure to WOW Mom and give her that rest and relaxation she really deserves. Plus you can get everything you need for your brunch at ALDI meaning you'll throw a luxurious party without breaking the bank.
I shared this collection of Mother's Day Brunch Ideas from ALDI with the Carolina Spotlight. We taped the segment last week and it aired this past Wednesday. Here's the host, Mark, and I just before taping. The segments are actually shot on the same green screen I used to do the weather on! The lovely production folks at the station then turn everything that is green into the set you actually see in the video.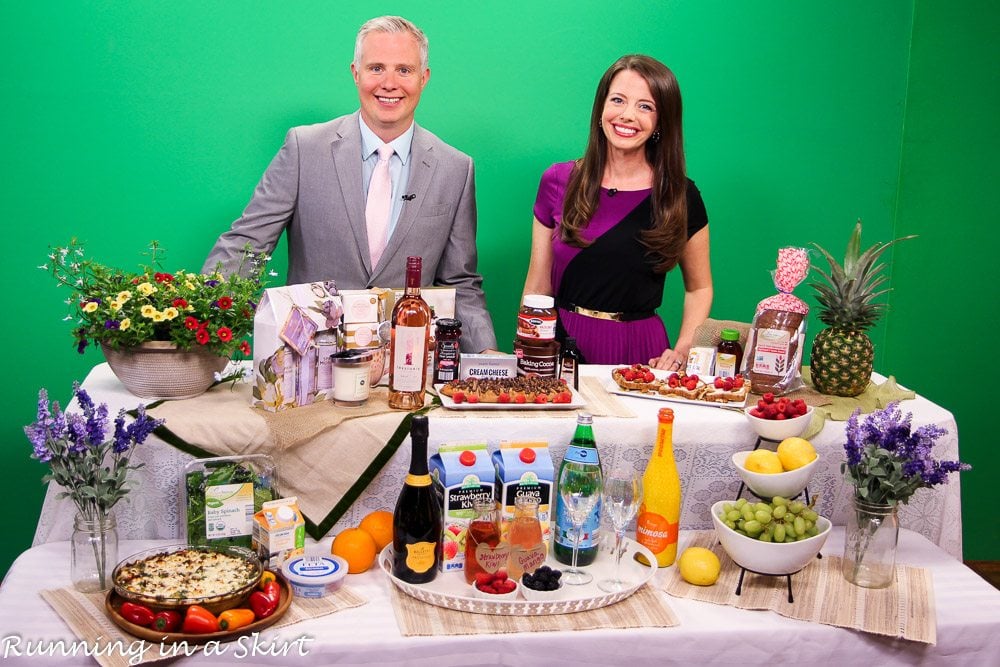 Look in the left corner of the picture and you can see what it looks like in the screens!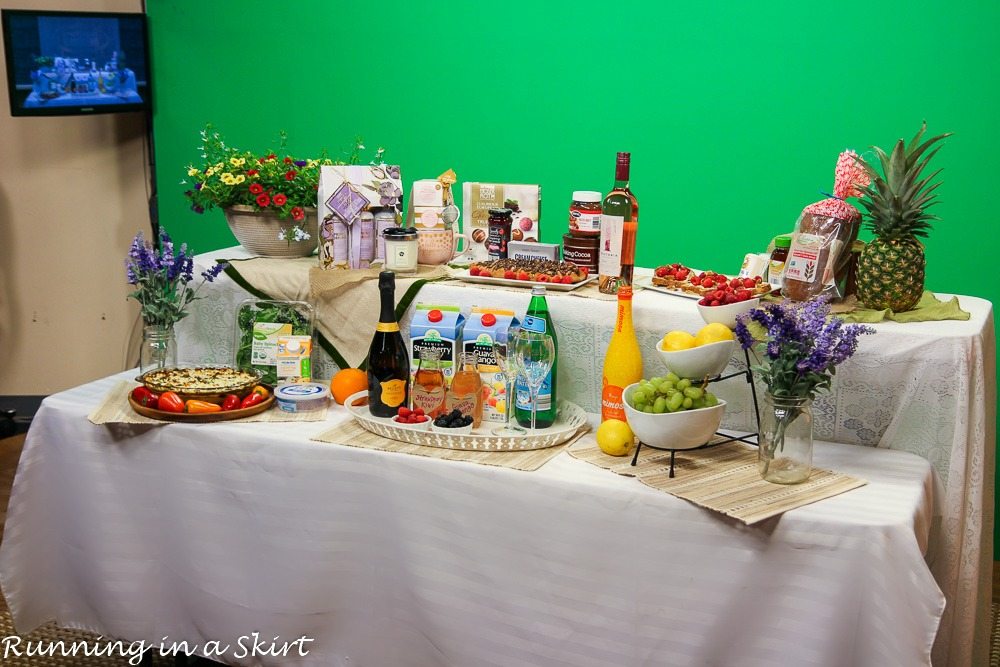 This is what it looked like all put together...
If the replay is not working here... watch the segment on the WLOS site here.
I love shopping for ALDI any day, but it's especially fun when you are shopping for an event or party because they have so much to pick from. I'm always amazed at what I can get in my cart and still keep my total to under a $100... -which is pretty hard to do anywhere else these days! ALDI is all about high quality food and low prices. They have everything you need for a family brunch from egg casseroles, fun toasts, homemade coffee cakes and even a mimosa bar! <--- yassss
You can even stock up on all kinds of fresh, often organic, produce while you are there. ALDI is always expanding their organic lines!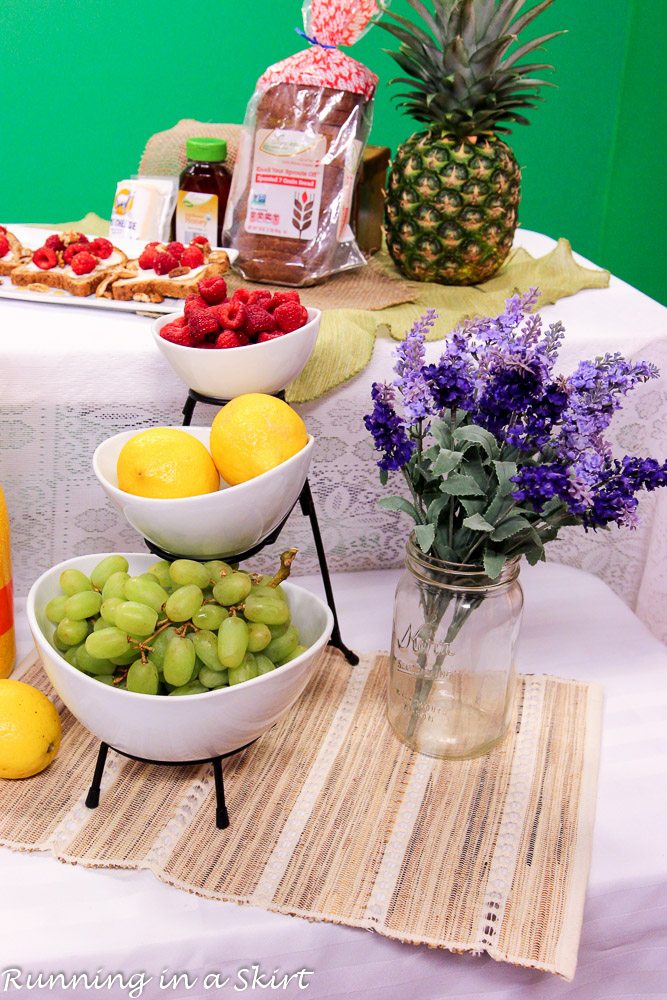 So what about those Mother's Day Brunch Ideas from ALDI?
First up is a Spinach and Turkey Egg Casserole. This dish is so versatile and uses some of my favorite products from ALDI including their SimplyNature Organic Spinach, the Fit & Active Liquid Eggs and the Happy Farms Preferred Crumbled Feta. It also has fresh broccoli and peppers... -also from the ALDI produce department.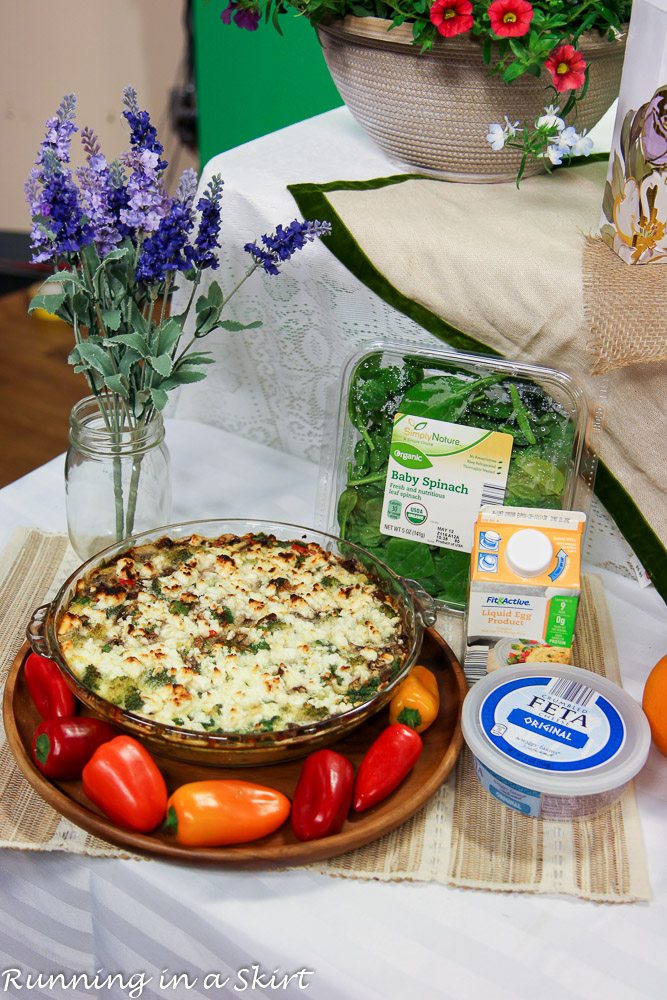 I actually even made this one vegetarian by subbing chopped mushrooms for the ground turkey. You can make it with any vegetables Mom likes and with the Fit & Active Liquid Eggs it could not be easier to put together. All you do is put the veggies and/or meat in the bottom of the pan and add the liquid eggs on top. About halfway through the cooking time you add the cheese. DONE!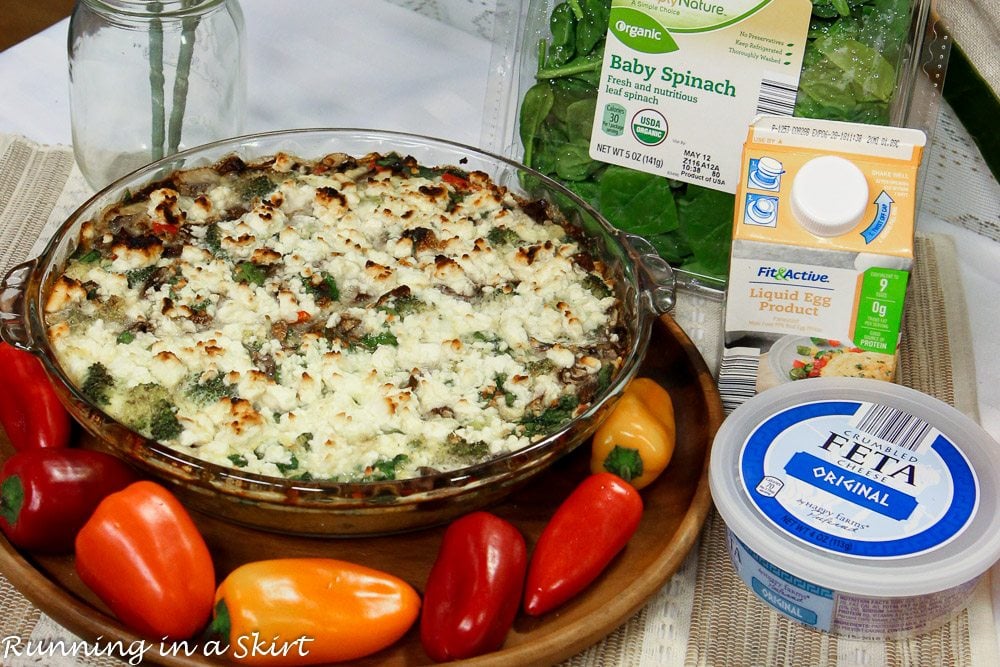 Next on the menu is Strawberry and Goat Cheese Toast. The day I shopped at ALDI they had so many gorgeous fresh raspberries that I had to make the swap.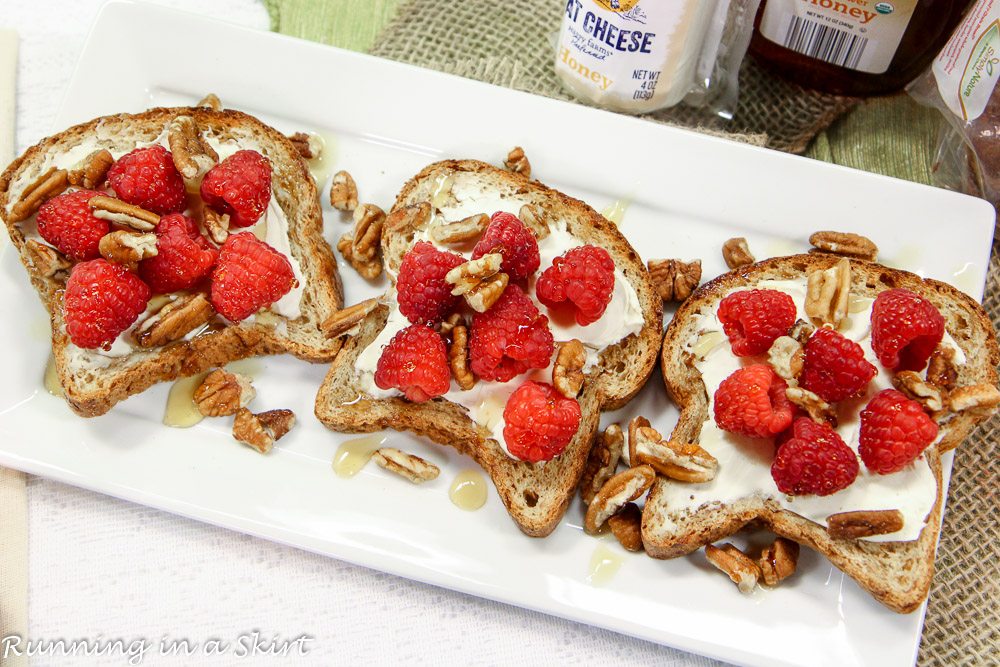 This recipe uses the SimplyNature Knock Your Sprouts Off Sprouted 7 Grain Bread, SimplyNature Organic Wildflower Honey and the Happy Farms Prefered Goat Cheese with Honey. If you haven't tried ALDI cheese yet, you are missing out. They are beyond delish at some crazy low price points.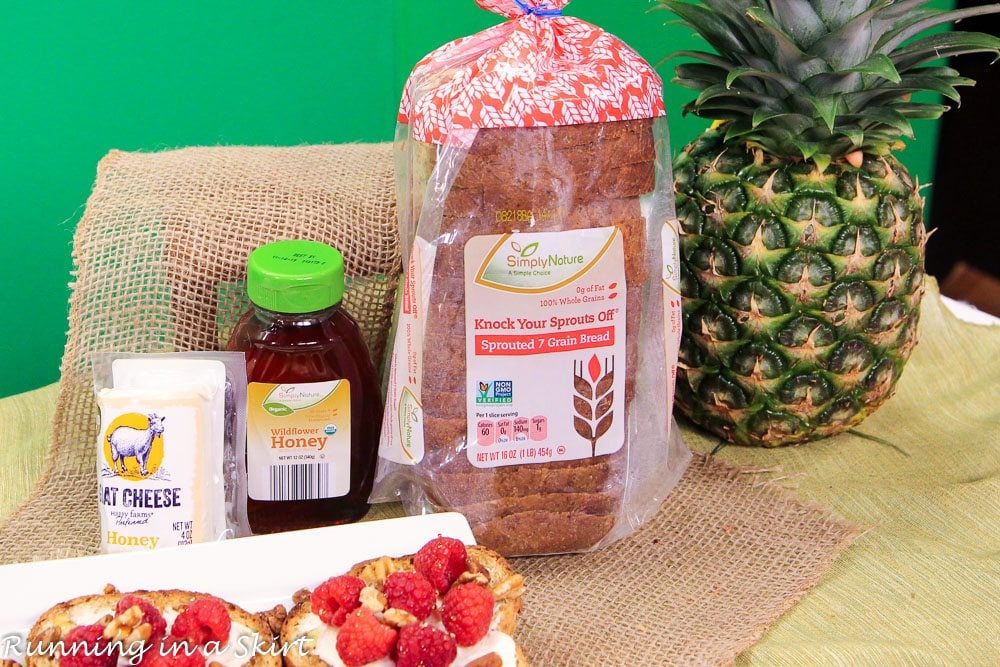 The third dish on my menu is this Decadent Hazelnut Raspberry Coffee Cake. This one is a little more work to put together but that drizzle will have Mom DROOLING.
This recipe uses some fabulous Baker's Corner baking supplies, Specially Selected Raspberry Fruit Spread and Happy Farms Cream Cheese - all from ALDI!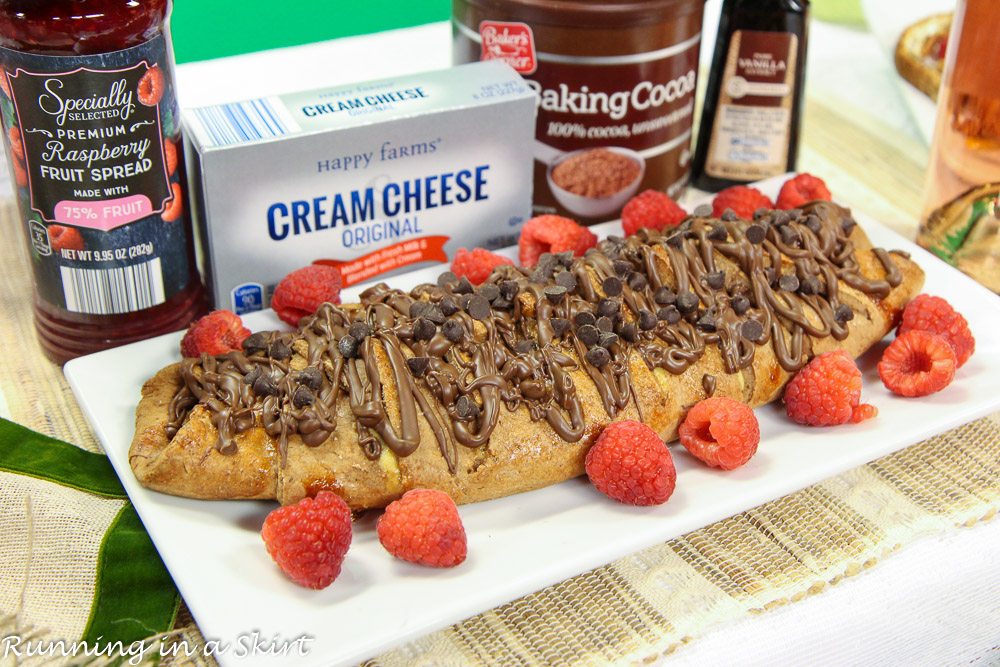 Now to truly treat Mom, I also put together this beautiful Mimosa Bar! All I did was pick up some Nature's Nectar juice. It comes in classic orange, but I thought Strawberry Kiwi and Guava Mango was just fancy enough. Pair it with fresh fruit, Belletti Prosecco and some sparkling water for the kiddos. Add some cute signs and wine glasses and you are done.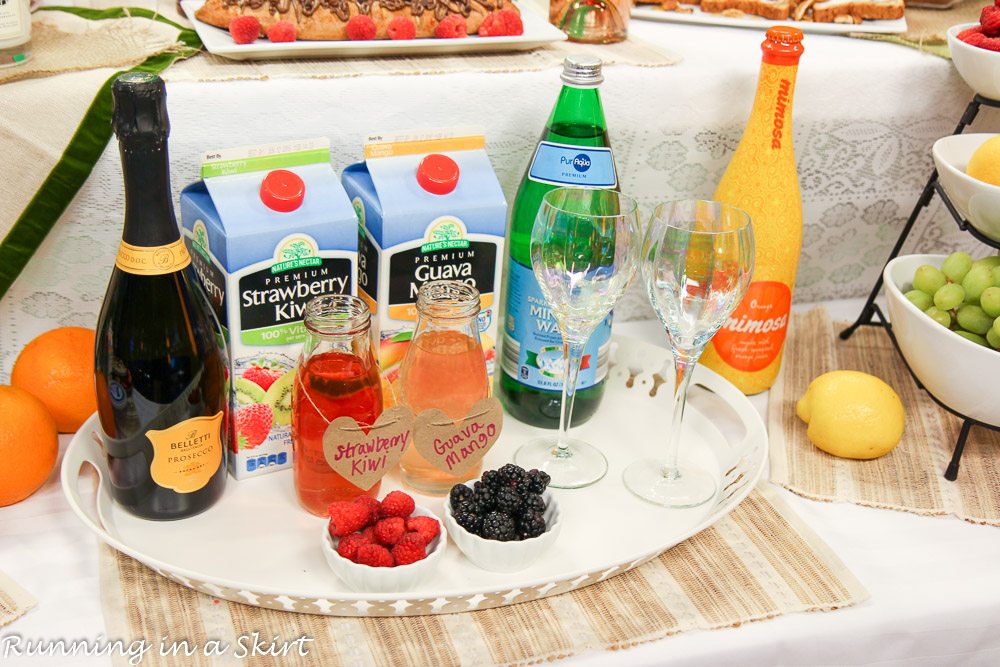 ALDI has delicious award-winning wines for significantly less than the national average so everyone can toast Mom for less.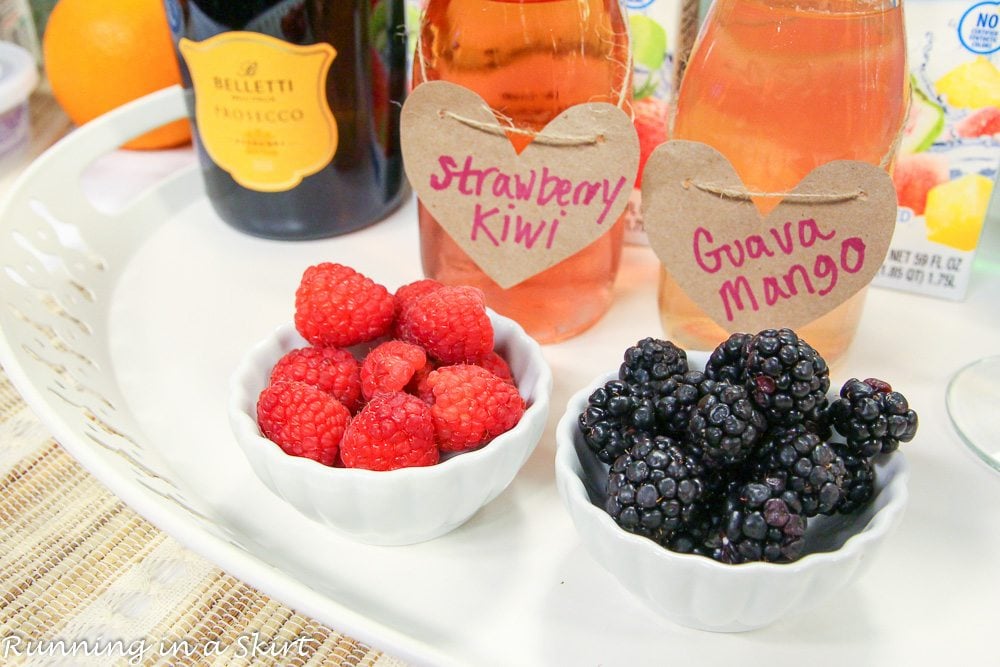 If you don't want to go to the trouble of making the whole bar, just pick up a premixed and bottled Mimosa ($8.99) or award-winning Trestoria Rosé ($6.99) from ALDI. They both are really tasty and affordable.
Before you leave ALDI also check out their ALDI Finds for Mother's Day gifts. It's a section of the store that is packed with all kinds of seasonal goodies at amazing prices. I found a bath set, tea kit and luxurious European chocolate when I was shopping for my Mother's Day Brunch Ideas.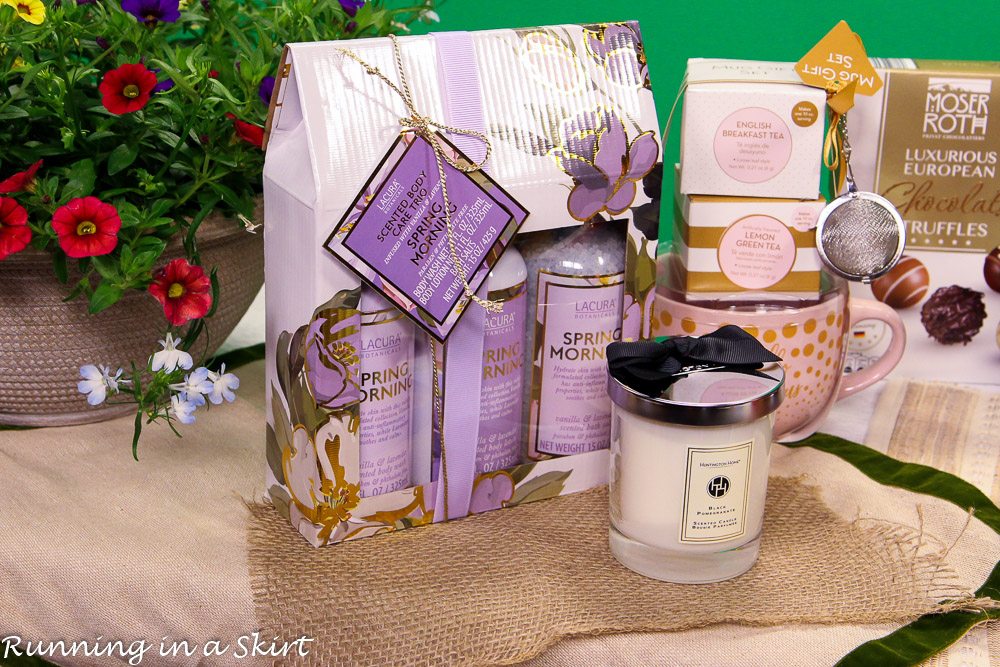 They also have this highly fragrant Huntington Home Luxury Scented Candle. It's the same premium quality as the coveted Jo Malone ($65+) brand for only $6.99! It burns for 45 hours and comes in Black Pomegranate, English Pear & Freesia and Lime Basil Mandarin.
ALDI finds are only available for a limited time on a first come, first serve basis.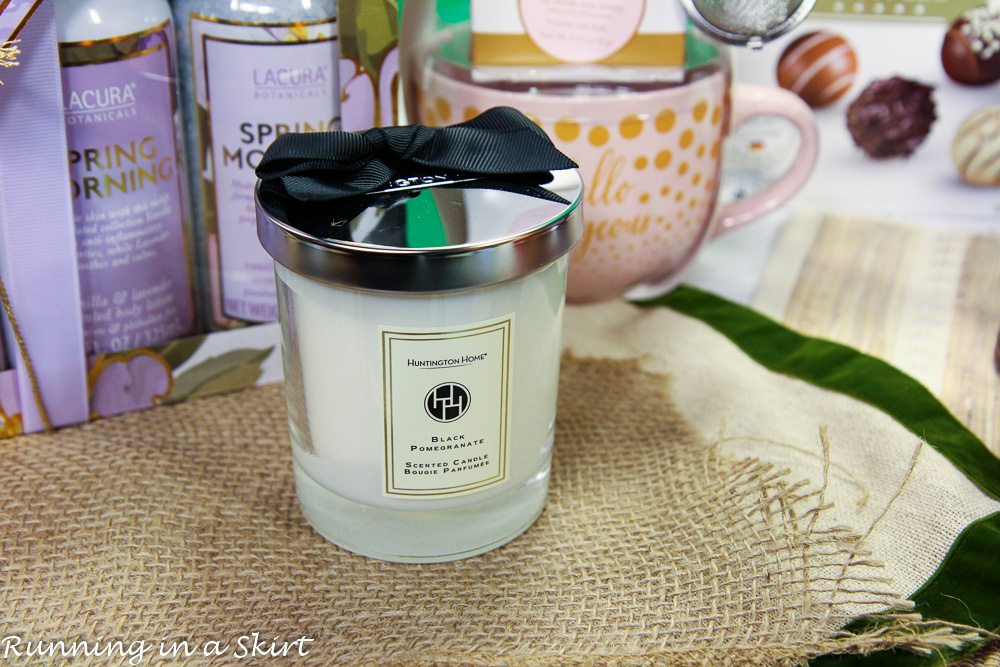 These Mother's Day Brunch Ideas from ALDI come together in no time! The combination is perfect and I promise Mom will love it.
Just promise me you will do the dishes... K? 🙂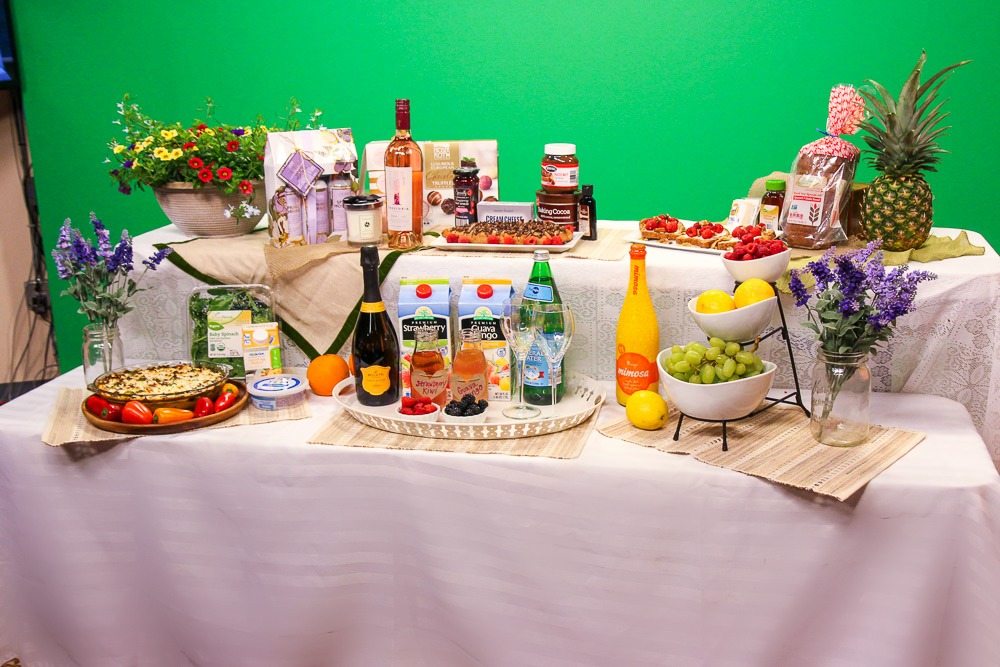 ALDI has also enhanced the shopping experience in the Asheville area, so be sure to stop back by. They've done upgrades at all four stores making it a more welcoming place to shop. They've done the same thing at many of the stores across the country too... so if you haven't been in awhile it's time to go back!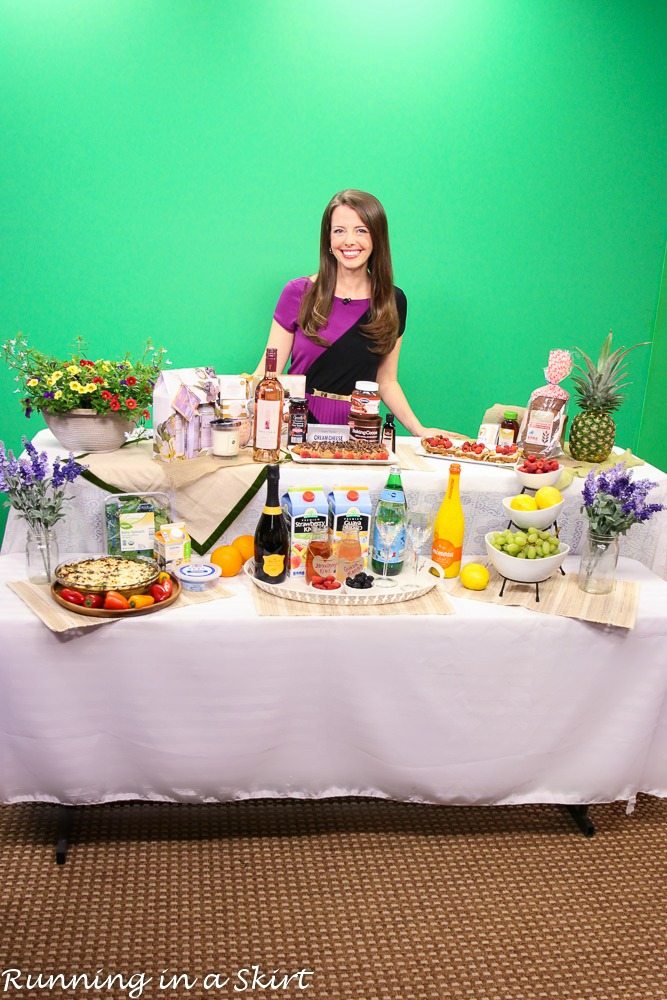 Mother's Day Brunch Ideas from ALDI
Get more ALDI recipes at ALDI.us and when you make them share with the tag #ALDILove.
Like this post on Mother's Day Brunch Ideas from ALDI? Pin this to your favorite Pinterest board to find it later.


Thanks for stopping by today! Come back Monday to see what I planted in my garden this year.
Your turn!
What are you doing for Mother's Day?