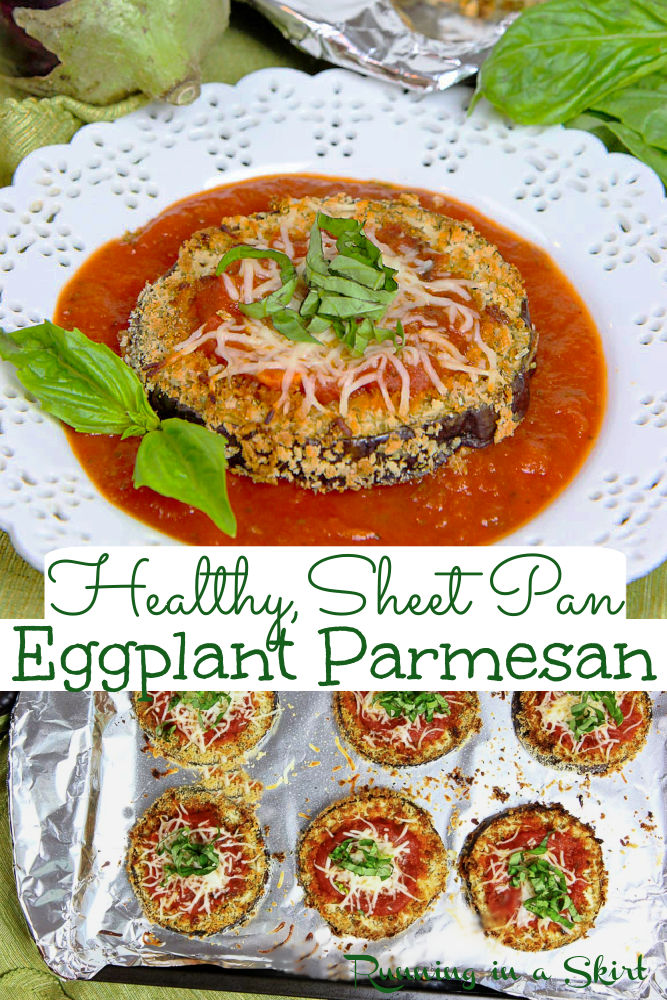 Love Eggplant Parmesan? You've got to try my Baked Eggplant Slices with tomato sauce!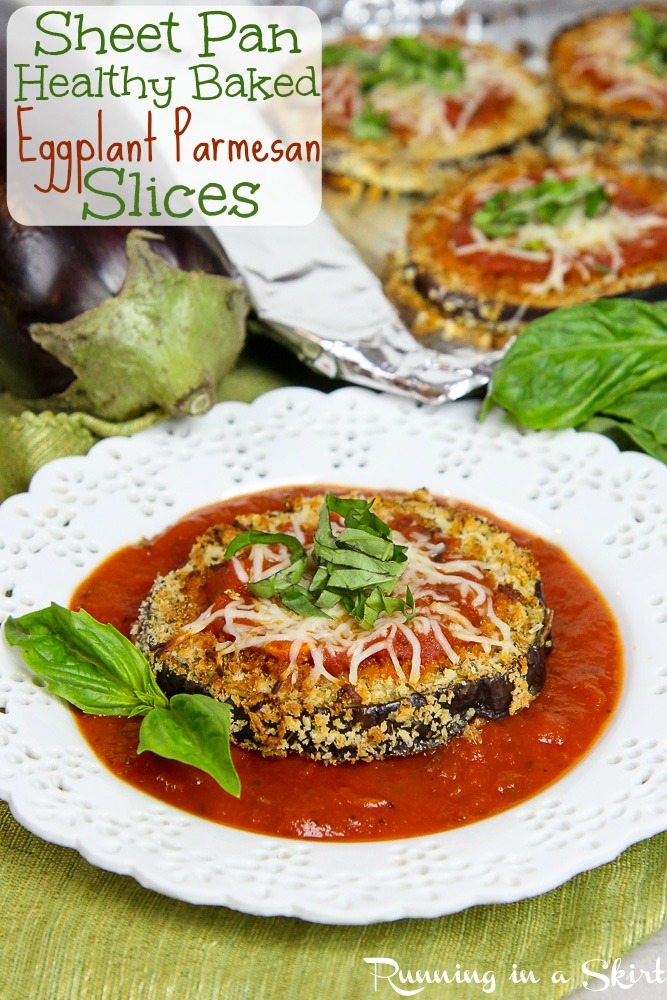 Hello! Hello!
Happy tax day everyone! I get my Hubby back today, so I'm celebrating with another delicious recipe.
Last summer I planted a single eggplant plant. It was slow to take off, but by late summer and early fall I had more eggplant than I knew what to do with! I remember taking some all the way to Charlotte just to pass them along to my Brother, who's an amazing chef. I ended up roasting a lot of them, but I also tinkered around with eggplant casseroles, grilled eggplant and this fun, healthier twist on Eggplant Parmesan. So when one of my friends asked for a good eggplant recipe the other day, I was shocked to realize I had NO eggplant recipes on Running in a Skirt. I feel like I failed you guys!
To redeem my foodie status, I went to work actually writing down one of those recipes I worked on last summer... Baked Eggplant Slices with tomato sauce.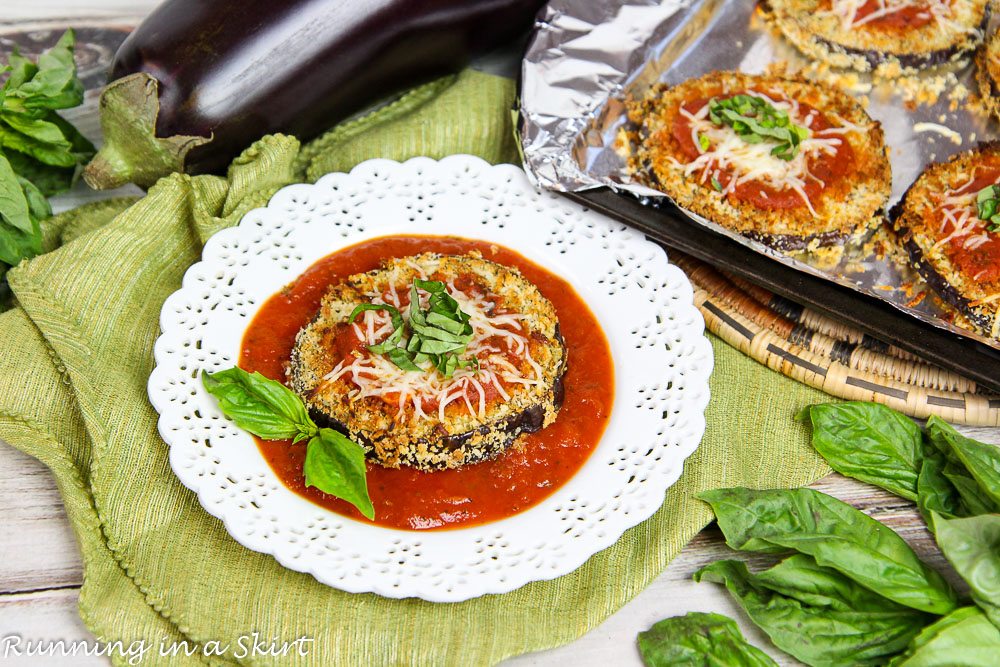 Here's why you need to try my Baked Eggplant Slices with tomato sauce...
So these delightful and downright pretty eggplant slices look pretty, but are really not that hard to make. Plus they are made on a sheet pan... woop! woop!
The first step is salting the eggplant to get extra moisture out of it. If you haven't done this before, I left some detailed instructions in the recipe. It's easy and helps with the extra moisture and texture of the eggplant.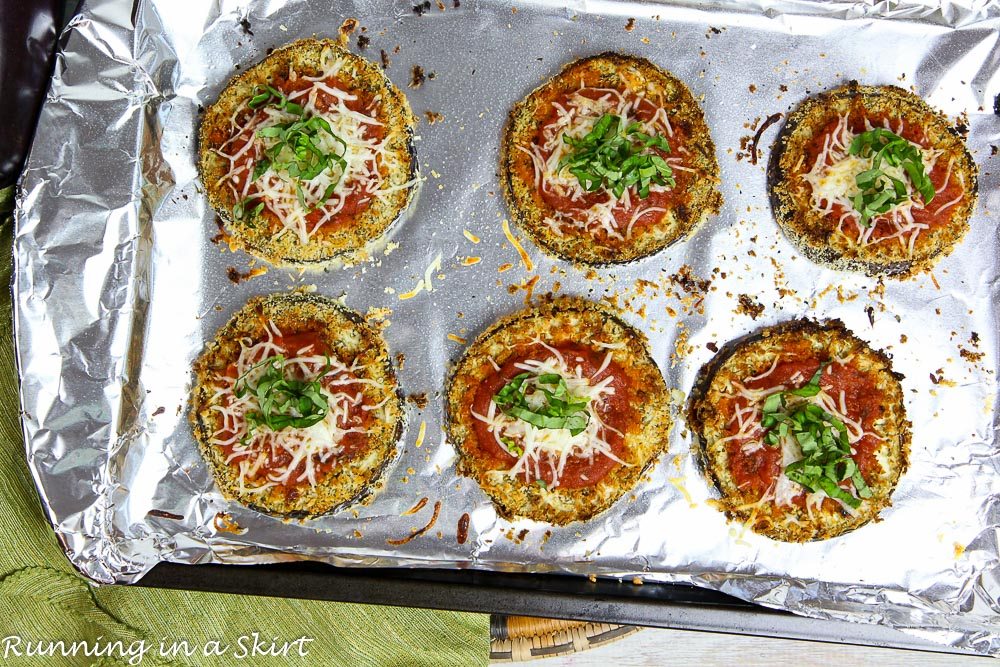 The next step is to set up an assembly line of sorts. Get out one flat bottomed bowl for an egg mixture and another for a panko mixture. A dunk in each creates that gorgeous, crunchy crust. You first bake the slices plain so they can get golden brown... no frying here.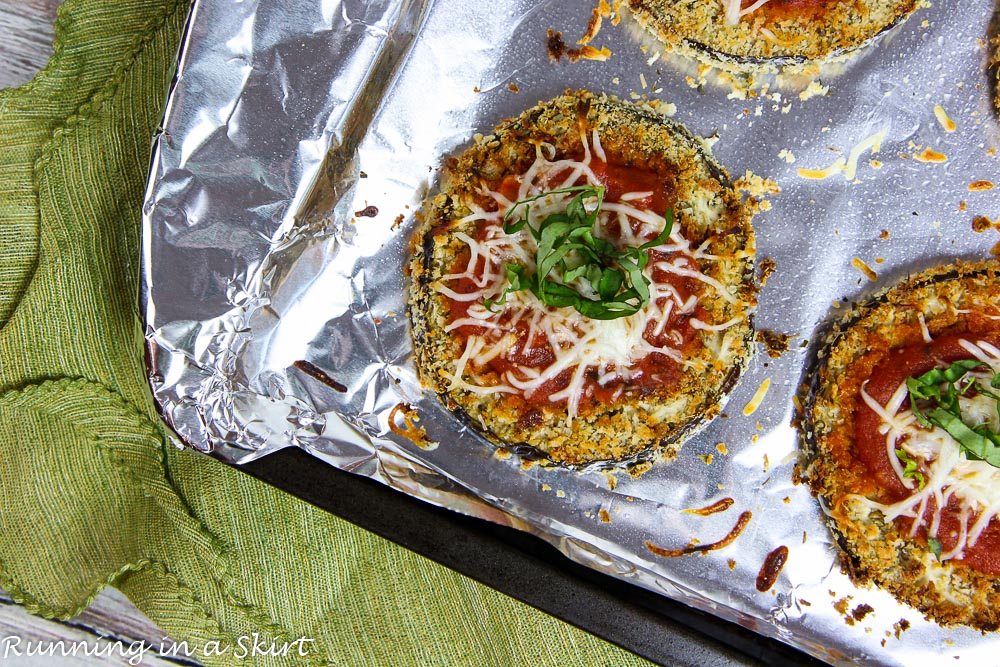 The final step is to top the Baked Eggplant Slices with tomato sauce! You can use either your favorite canned version or use a homemade no sugar version... try my Crock Pot Marinara if you are feeling especially fancy. A sprinkle of cheese gives these beauties the feeling of a more indulgent meal. To finish them off, you just pop the slices back in the oven long enough to melt the cheese.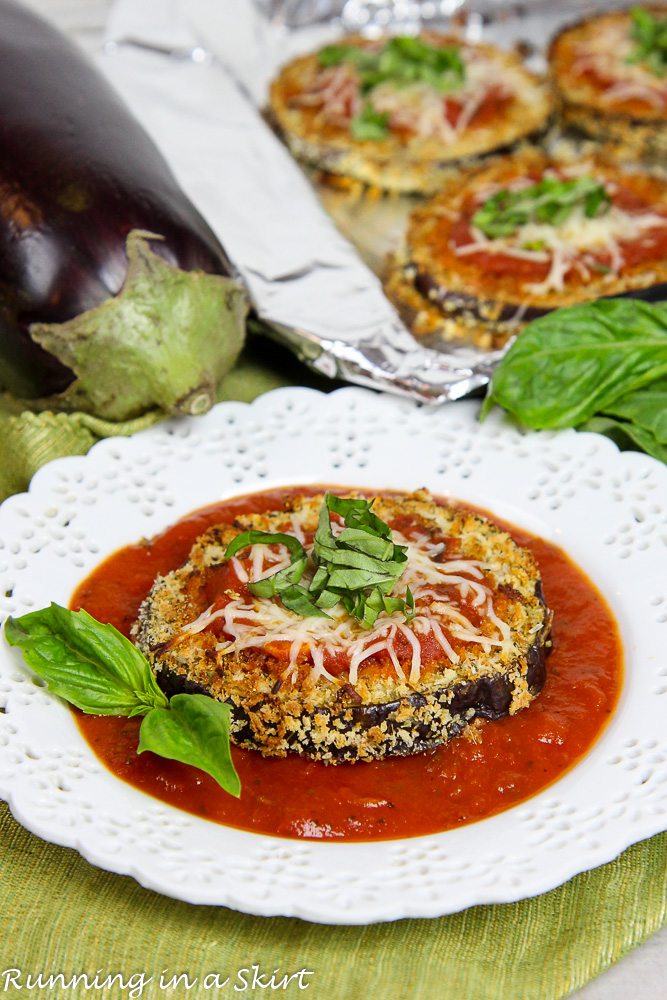 The fresh basil on top is optional, but in my opinion you can never go wrong with fresh basil!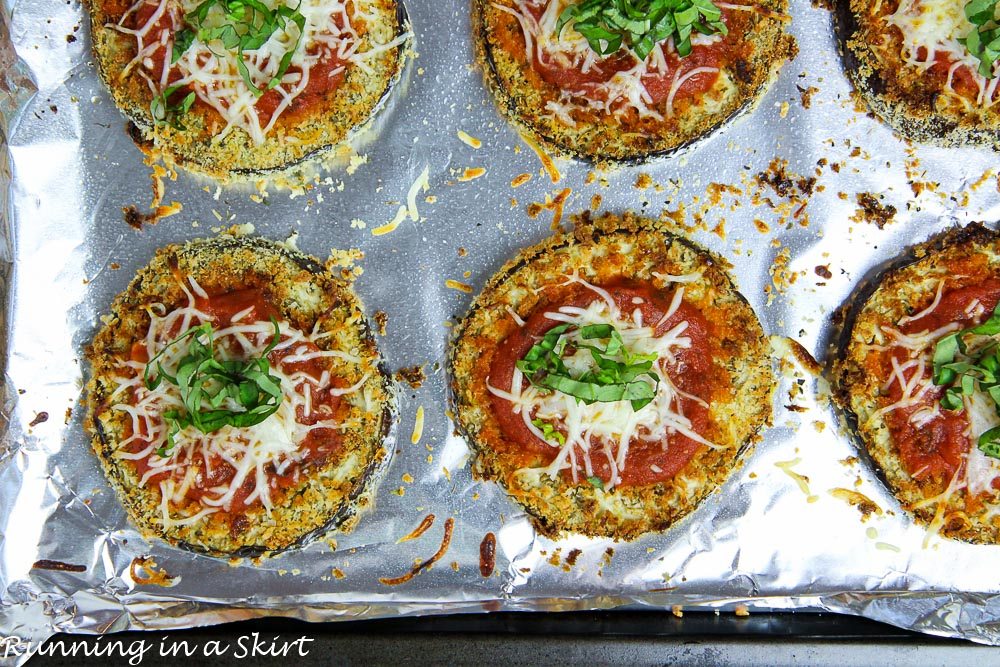 The end result are delicious Baked Eggplant Slices with tomato sauce that you'll be making over and over again. Serve it with pasta or even zucchini noodles and more sauce for a more traditional meal OR a packed Italian style salad... either way you'll have a meal where everyone will be wanting seconds. You can plate it with or without the extra marinara... whichever floats ya boat.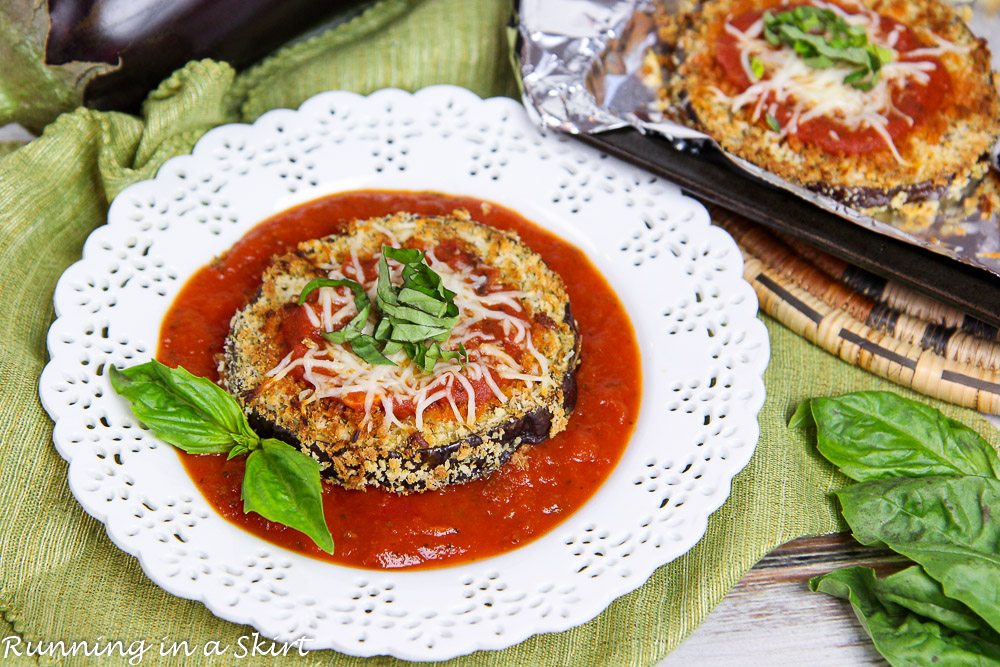 I hope y'all like eggplant because I'm absolutely planning to ramp up the selection of recipes here this summer... but first... try this. 🙂 Enjoy!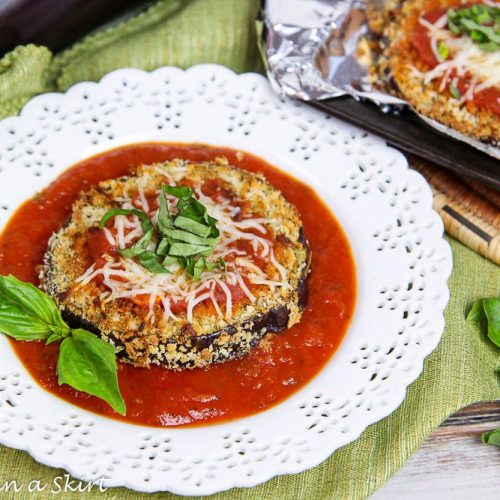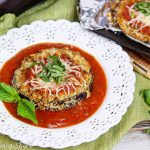 Sheet Pan Healthy Baked Eggplant Parmesan Slices
This Sheet Pan Healthy Baked Eggplant Parmesan Slices is so good! It's a faster and healthier take on Eggplant Parmesan.
Ingredients
1

large eggplant

2

eggs

1 ½

cup

panko

1 ½

teaspoon

dried basil

1 ½

teaspoon

dried oregano

1 ½

teaspoon

garlic powder

¼

teaspoon

salt & pepper

1

jar

tomato pasta sauce

1

cup

shredded mozzarella cheese

fresh basil

cooking spray
Instructions
Prepare the eggplant by slicing the eggplant into ¼ inch slices. Lay the slices flat and generously salt on both sides. Allow to sit for 15 minutes and pat dry. Repeat for both sides. This can be done ahead of time for faster preparation.

Preheat the oven to 375 degrees and line a baking sheet with foil. Spray with cooking spray. Depending on how large your eggplant is, you might need two sheets.

Get two small flat bowls that are large enough to dunk the eggplant in. In the first bowl whisk the two eggs together. In the second bowl mix the panko, basil, oregano, garlic powder and salt and pepper.

Set up an assembly line where you can dunk the eggplant slices first in the egg, then in the panko mixture and then transfer to the baking sheet. Try to get the slices as coated as possible with the panko.

Bake for 15 minutes. Flip the eggplant slices and bake for an additional 15 minutes.

Spoon the tomato sauce on each slice and top with the cheese. Bake for an additional 10 minutes or until the cheese starts to melt.

Remove from the oven and top with the fresh basil. Serve with pasta, zoodles or a salad.
Notes
Serve as shown or it also goes great with a side of pasta with more tomato sauce.
Nutrition
Calories:
280
kcal
Carbohydrates:
34
g
Protein:
16
g
Fat:
10
g
Saturated Fat:
5
g
Cholesterol:
104
mg
Sodium:
1266
mg
Potassium:
953
mg
Fiber:
8
g
Sugar:
13
g
Vitamin A:
1083
IU
Vitamin C:
14
mg
Calcium:
248
mg
Iron:
4
mg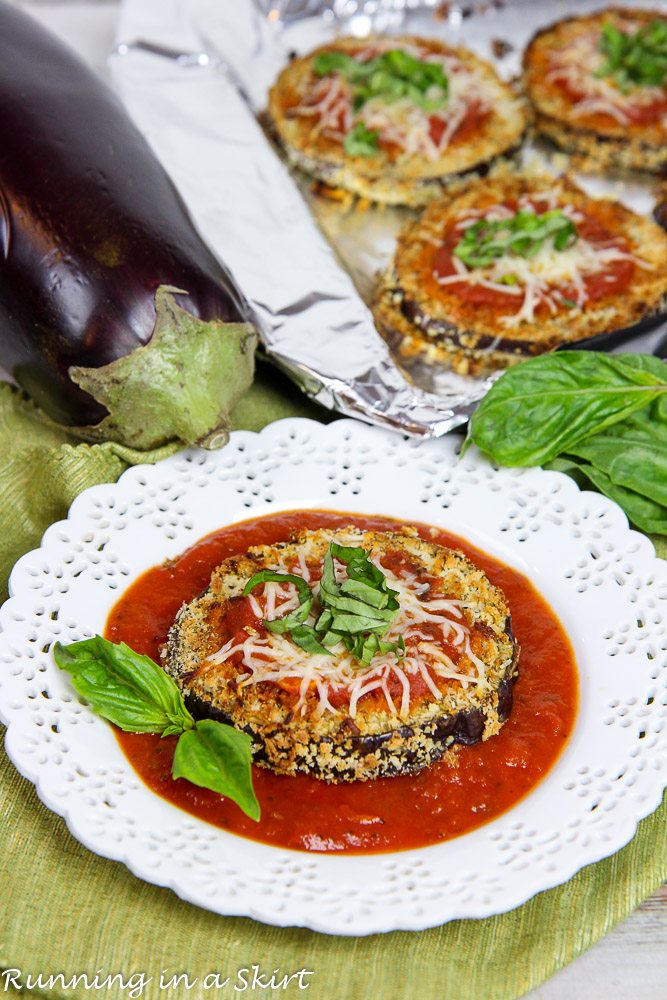 Also try...
Like my ? I'd love it if you could pin this to your favorite Pinterest board! Thank you so much for the support.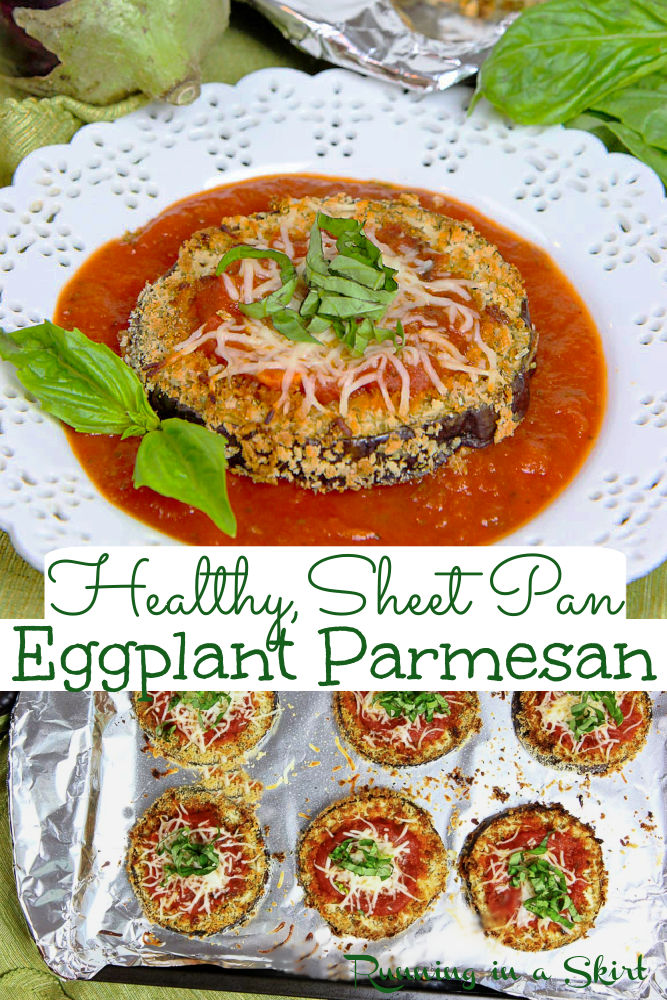 Thanks for stopping by today! Tomorrow I'm sharing my favorite ways to beat hearburn.
Your turn!
Do you like eggplant?
What's your favorite way to cook it?