My husband is on a board for everything. He's on the Mission Hospital board, ones at the local universities, ones for the professional organizations he's involved in. I am so proud of his involvement in the community.
One of the boards he serves on is on a state level and meets twice a year at different interesting hotels around North Carolina. I love a fancy hotels, so I usually tag along for these meetings, and play the supporting wife role.
ohhh…. how regal looking!
This time, the meeting is at The Carolina on Pinehurst Resort. It's a beautiful hotel in one of the world's most prestigious golf communities. The hotel itself is a National Historic Site. It's a beautiful place to spend an overnight trip.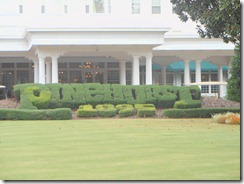 I wonder how long it takes them to keep these plants like this?
All of the plants are perfect here.
It's like Disney World, for golf!
I don't play golf (a shame, I know!!) so I enjoyed the pool while he was in meetings on Friday. It was in the mid 80's, and with our mountain air so much cooler already, I thought it might be my last time to enjoy a pool day until next Spring or Summer.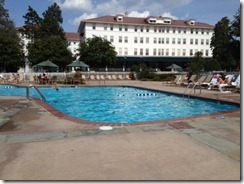 Ahhh! Pool, sun, bliss!
More perfectly groomed plants.
There is always a formal dinner and event in the Evening.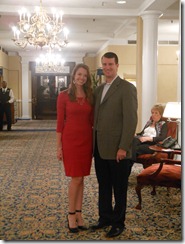 I didn't notice that lady in the background until right now.
Ha, sorry lady…
The hotel seemed busy while we were there and Saturday morning I figured out why. They were having call backs for the American Idol auditions in one of the ballrooms. I love American Idol and was curious, so I found a nice chair far enough away not get kicked out, but close enough to see a little of the action. The judges were not there for this round, but you could hear some awesome singers. Maybe I heard one of the future finalists!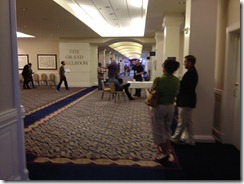 Just curious?
Do you blame me?
By lunch Saturday the meeting winds down and we head back home. These meetings actually give me some much needed time to myself to enjoy some down time without the obligations that haunt you when you are home. It forces me to slow down a little and that's really nice sometimes.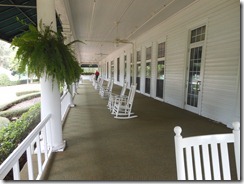 I wrote this post on one of these beautiful sweeping porches!
Along side the impeccable landscaping…
I spent a little (or a lot) of time thinking about the marathon, which is now just a week away. I feel ready for the big event and I'm staying positive, but there are a few things lingering in the back of my mind that worry me.
1) How will I handle the crowd? I spend most of my time running on park paths that run along rivers, though woods and even along corn fields. I'm afraid I'm going to feel like a country girl in the BIG city when you shove me in the group of tens of thousands of runners. I've run in a couple larger races before (Disney Princess Half Marathon and Cooper River Bridge Run.) But nothing of this scope before, I hope I don't get claustrophobic!
2)Will I be able to pace myself well? I've read online that my GPS running watch will probably not be able to pick up satellites in downtown Chicago. The tall buildings will get in the way. I have been very reliant on my GPS watch during training. I'd look at my pace and speed up or slow down as necessary. My goal is to pace myself a little slower to start the race. I know going out too fast is a marathon killer. But without my handy GPS, will I be able to feel the pace?
3)Will my hip freak out? I had trouble with my hips on my last two long runs. I went to the doctor last week to make sure it wasn't anything serious. He said I had a slight strain in my gluteal muscle… yes, my butt. But that if I took it easy between now and the marathon I'd be fine. I've read so many other marathon stories of people that have had really bad injuries to deal with before a marathon, so I'm so grateful it's nothing serious. But I'm still worried it will lock up or something during the race! yikes!
Anyone have any tips or advice?
Those are just a few things lingering on my mind as the marathon gets closer and closer. But mainly I'm excited. SO excited. The countdown is on!
Sitting on this porch though really makes me think we need to work on the landscaping at our house…. Sorry hubby

Our shrubs look nothing like this…[/fusion_builder_column][/fusion_builder_row][/fusion_builder_container]