Happy Monday Friends!
As most of you probably know my full time job is the morning news meteorologist in Asheville, NC. This blog is a personal project for me, so I don't talk a whole lot about work on this forum. But something so amazing recently happened to me at work, that goes beyond the realm of my day to day duties, I just had to share.
This story revolves around a sweet 13 year old boy named Logan.
Last month Logan's father, David, had a chance encounter with one of WLOS's sale representatives, Jennifer Cable. David explained to Jennifer that his son, Logan, was autistic and was using my weather forecasts to learn to speak for the first time.
As Jennifer learned more about Logan and his amazing family she decided to see if she could help. She came to me and asked if I would be interested in meeting this young man and inviting him to the studio to practice what he has been learning at home. His Mom and Speech Pathologist hoped that being in the studio could improve his speech.
Two of our stations finest story tellers, John Le and John Kirtley, got involved as well. They were hoping to document the experience and see if there was a story to tell. None of us really knew how the day would unfold.
I was very nervous going into the project because I wasn't sure If I could live up to their expectations. We were taping it, but we weren't really sure if anything would happen that would be worth a full news story… We just genuinely wanted to help Logan.
The video picks up the story from there….
The one thing this story doesn't show is that after working with Logan he gave a nearly one minute unassisted weather forecast on his own. It was amazing to see him go from having trouble with one or two words to a full presentation.
As someone who has struggled with voice problems (in an entirety different realm than Logan,) I found it especially satisfying to be able to help him.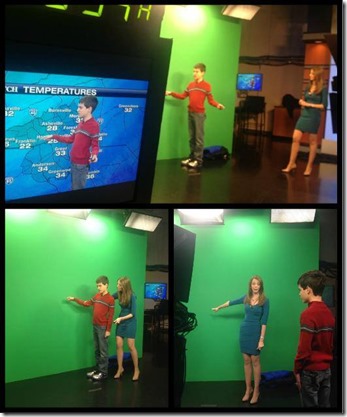 Since this story originally aired a few weeks ago, it has brought more positive feedback than anything I've done in nearly 13 years in the news business. Parents with autistic children have reached out to me saying this story gave them hope. Others have reached out with weather materials and tools to help Logan learn more about weather. Many are comforted to see someone else going through the same thing they are.
I am so honored and lucky that I got to be small part of Logan's life. His support team is incredible and I know he will continue to learn. I hope one day he will be able to tell his Mom all those things she wants to know.
Many people have reached out to me wanting to help. If you would like to personally do something for Logan, you can e-mail me (runninginaskirt@gmail.com or jwunder@wlos.com) and I'll let the family know.
If you would like to help autism research to bring more long term solutions for children like Logan you can donate to The Autism Society of North Carolina. Logan's family supports this group.